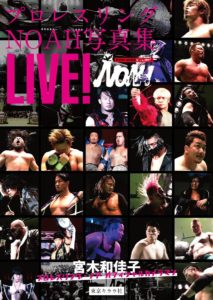 "PHOTOTHELIVE" is an exhibition of NOAH photographs, which have been taken by Miyaki Wakako, NOAH'S official photographer responsible for the match photography and for the wrestler photo portraits (she also used to be the official photographer for Big Japan and has worked with other promotions besides that); in 2013 she started teaching photography and has taught more than 500 students in four years.
It has been a long time since NOAH have released a photobook (the last where done in the early and mid 2000s, KENTA & Marufuji's "Shin Uchi", Kenta Kobashi's "DOCUMENT", and the Mitsuharu Misawa memorial photograph album). The book will be released in September (I am going to do my best to get hold of a copy of it).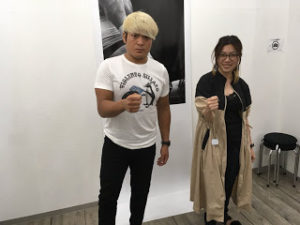 The exhibition was held in a gallery in Shibuya, Tokyo, in August. A sticker of Kenoh telling "you bastards" to go to the fourth floor was put in the lift (it changed to a different wrestler each day), and various NOAH wrestlers came to visit and to do talks, in particular Kenoh, Masa Kitamiya, Atsushi Kotoge, Kaito Kiyomiya and RATELS.
The exhibition ran for a week, ending on the 26th August. The exhibition sold portraits of the NOAH wrestlers, (unsurprisingly RATELS are the most popular with women, alongside Kaito Kiyomiya and Kenoh). Miyaki Wakako also had some merch available in the form of a manga style acrylic key ring and a glossy sticker. The photos were said to have captured things that are difficult to communicate on TV and the matches are powerfully conveyed. The most emotional pictures are said to be Go Shiozaki and Katsuhiko Nakajima in particular, you can feel the force of the Veterans, and there is a good transmission of the "generation struggle" too. The pictures are said to "be alive".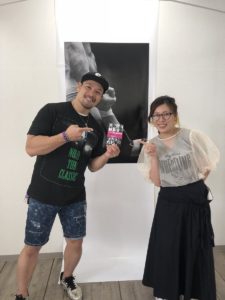 Unsurprisingly, the only photography allowed in the event was by the picture above, the wrestlers, the fans, the photographer, all had their pictures taken next to it.
I have listed below some interesting points from the wrestler talks:
HAYATA talked (yes, he actually said more than one word), with the photographer's (or else a staff members) little Shiba dog "Hana" on his lap (YO-HEY patted it). HAYATA and Kenoh in particular were "out of character", with Kenoh described as having a "gentle facial expression" (not his usual scowling petulant tantrum throwing one)
Seiya Morohashi and family visited the exhibition (he said he was hungover). Naomichi Marufuji was also there that day, and they had a group photo taken.
RAN (the lady who does NOAH's intro and half time shows) also did a talk at the exhibition
Kenoh was asked his advice on dealing with stress caused by an "unreasonable boss", his response was to throw things.
Daisuke Harada said that if you don't go, you will regret it, and each time you visit you will see something new.
Kenta Kobashi appears on the back cover of the book
Kenoh was asked what the most painful match has been so far. He says that following the GHC Heavyweight title match with Eddie Edwards, he had a pain in his legs for the rest of the year.
When asked what wrestlers from outside groups they would want to face, Masa Kitamiya said Michael Elgin, with Kenoh saying Yohei Nakajima.
All the participating wrestlers signed autographs and had their pictures taken with fans after their various events.
Kenoh (who is apparently unmarried) was asked if he would like to get married, Kenoh said that regardless of that, he would like children one day (he's not bothered by what sex it is though, he can see the merits in both).
RATELS event was called "Daytels" as they appeared at lunchtime and each had a can of beer. They also played "Rock Paper Scissors" (not a "Roshambo Tournament" as my auto-text suggested)
Kenoh says he gets his hair bleached and cut about once a month (and if you want to know what shampoo he uses, its "Ichikami" EDITORS NOTE: same brand as I use)
Kaito Kiyomiya says that he likes Jazz, Atsushi Kotoge joked that had they met at school, he and Kiyomiya probably wouldn't have been friends.
Kenoh was asked a question (which apparently was meant for Daisuke Harada) asking him why he didn't wear a cloak and join in with Kotoge's "revolution" as the fans would be delighted with it, Kenoh'a answer was "I don't think so." He was also asked what he did on tour when he had a day off. Kenoh says that he usually stays in the hotel, and "enjoys hotel life", it is usually the gaijin wrestlers who make plans and go out to see something (editors note: Takashi Rikio must have been an exception to this as he and some other NOAH wrestlers all hired bikes and went to do some sightseeing, unfortunately Rikio was knocked off of his by a reversing taxi)
Apparently there aren't that many pictures of Marufuji in the photobook.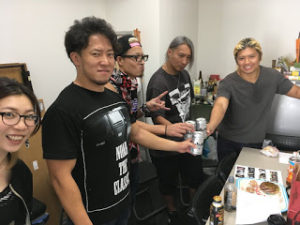 Daisuke Harada is wearing a "Noah The Classic T-Shirt", these are sold through the online NOAH shop, and the t-shirt picture is one of the old lockers at Differ Ariake (NOAH's home for sixteen years).
WITH THANKS TO: Maitake, Fujiwara Armbar, NOAH GHC, Abeshin, Go Shiozaki