Top 5 Matches: Week Ending 8/19/2018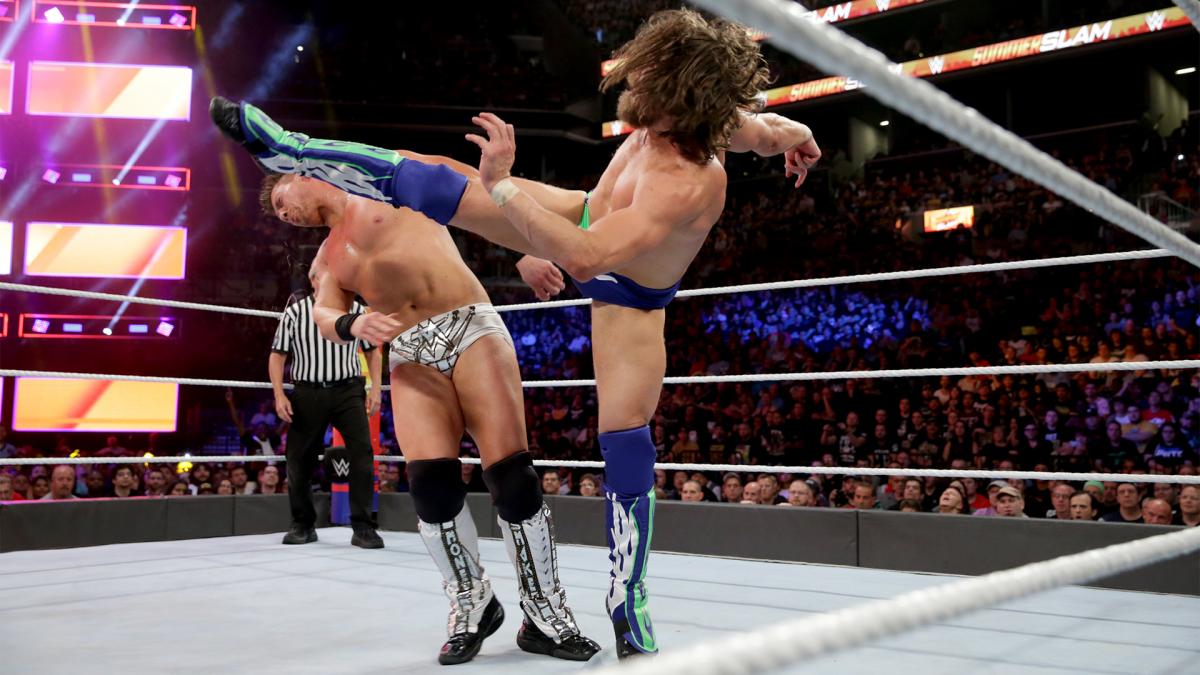 Oh my god, plans on Saturday meant I had to watch TakeOver and SummerSlam back to back, so I'm soo tired. Also I didn't have the time to watch any outside stuff, so for everyone who was mad about all the G1 Climax matches, this will be all NXT/WWE.
So before we get into the Top 5 this week, we need to address the winner from last week. G1 Climax 28 Finals Hiroshi Tanahashi vs Kota Ibushi, won by a decent margin, but Kota Ibushi vs Kenny Omega had the lead for a portion of the week.
Anyway, let's see what we got to work with this week.
5. WWE SummerSlam: Daniel Bryan vs The Miz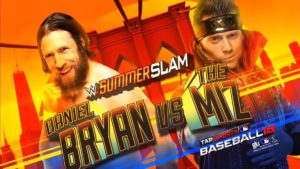 Another really good match, with solid ring work and an overall story that you can sink your teeth into. Daniel kept wanting to make Miz pay for the verbal harassment last few years and to prove he's a joke of a wrestler. The Miz just wanted to prove that his style is the best style for professional wrestling, and that he was superior because of it.
Both men pulled off the signature Roundhouse Kicks, Bryan doing his best Strong Style impression as he kept pushing forward into Miz's kicks. Daniel kicks out of a Skull Crushing Finale, Miz fights to the ropes while in the Yes Lock, just a lot of good spots and moments where you weren't sure who was going to win, Daniel hits a big Avalanche Belly to Back Suplex, and Miz moves out of the way to make sure Daniel kicks the ring post.  A lot of good back and forth.
The finish comes when the match spills to the outside in front of Maryse in the crowd with the baby, and it looks like she hands Miz something. So Miz absorbs some more punishment to shield the foreign object from the referee, and as Bryan goes for a Suicide Dive, Miz just cold cocks him with the Loaded Fist. He gives the item back to Maryse and slides into the ring for the pinfall victory.
Winner: The Miz via Loaded Left Hand
Rating: **** 1/2
4.  WWE SummerSlam Intercontinental Championship Match: Seth Rollins vs Dolph Ziggler (c)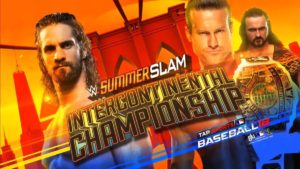 Well it looks like they have Ambrose's return being a reunion tour of sorts. Return from the injury and be a deciding factor in the match, it makes sense.
When it comes down to the match, it was pretty damn good. The dynamic between McIntyre and Ambrose on the outside for most of the match was tenuous and added a different air to the match. It started off very deliberately paced and didn't really feel like it sped up until Rollins hit a Reverse Superplex into a Sidewalk Slam for a near fall.
McIntyre gets involved by taking out Ambrose, allowing Ziggler to hit a Zig Zag for 2. Ambrose then nullifies McIntyre with Dirty Deeds, Seth hits a Super Kick before Ziggler can, and wins with a Curb Stomp, Blackout, The Stomp…whatever they call it anymore. Match told a solid story, so I guess we're gonna see different iterations of tag matches and maybe even McIntyre getting a shot at the title by Hell in the Cell.
Winner: Rollins via Stomp
Rating: **** 1/2
3. NXT Takeover Brooklyn 4 NXT Tag Team Title Match: Undisputed Era (c) vs Moustache Mountain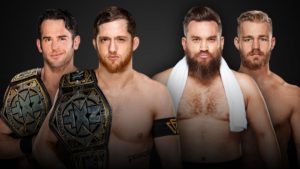 NXT really likes the tag teams to go on early, but this match lived up to the story. The third match in about 5 weeks, with both teams getting one win, the rubber match was damn good.
Numerous callbacks to their previous matches, including the towel spot. Tyler Bate still did that stupid Fireman's Carry/Giant Swing move, with makes no sense, but the match still flowed well. Trent Seven pulled off a move I've never seen him do, which looked like a Vertical Suplex lift, into a Flowsion, But the pace was so fast it felt a little too much, there were even times it looked like Kyle O'Reilly wasn't quite ready when Strong was calling for tags.
Aside from nit picks, this was the best match I've seen between the two, I just wish it was paced slower. Undisputed Era came out the gates hot, and aside from one moment where O'Reilly had Tyler Bate in a Heel Hook submission, the frantic pace never seemed to change.
After Kyle kicks out of a Burning Hammer/Knee Drop tandem move, Strong slides in to cut off Bate and they land Total Elimination out of nowhere. The ending seemed a little abrupt, but with how the match was paced, it seemed very fitting.
Winner: Undisputed Era via Total Elimination
Rating: **** 3/4
Honorable Mentions:
WWE SummerSlam WWE Championship Match: AJ Styles (c) vs Samoa Joe
Winner: Samoa Joe via DQ
Rating: **** 1/4
NXT Takeover Brooklyn 4 NXT Women's Championship Match: Kairi Sane vs Shayna Baszler (c)
Winner: Sane via Submission Reversal Roll
Rating: **** 1/4
WWE SummerSlam SmackDown Women's Title Match: Charlotte Flair vs Carmella (c) vs Becky Lynch
Winner: Charlotte via Natural Selection
Rating: ****
NXT Takeover Brooklyn 4: EC3 vs Velveteen Dream
Winner: Dream via Purple Rainmaker Elbow
Rating: *** 3/4
WWE SummerSlam Cruiserweight Championship Match: Cedric Alexander (c) vs Drew Gulak
Winner: Cedric via Cradle
Rating: *** 3/4
Lucha Underground Gift of the Gods Championship Match: Dragon Azteca Jr (c) vs Killshot
Winner: Dragon Azteca Jr via Tornado DDT
Rating: *** 1/2
WWE SummerSlam SmackDown Tag Team Titles: Bludgeon Brothers (c) vs The New Day
Winner: New Day via DQ
Rating: *** 1/2
Lucha Underground Trios Championship Match: The Snake Tribe vs Son of Havoc, Killshot & The Mack
Winner: Snake Tribe via Shoulder Breaker
Rating: *** 1/4
WWE SummerSlam United States Championship Match: Shinsuke Nakamura (c) vs Jeff Hardy
Winner: Nakamura via Kinshasa
Rating: *** 1/4
WWE SummerSlam Universal Championship Match: Roman Reigns vs Brock Lesnar (c)
Winner: Reigns via Spear
Rating: ***
WWE SummerSlam Raw Tag Team Championship Match: B-Team (c) vs The Revival
Winner: B-Team via Inside Cradle
Rating: ***
2. NXT Takeover Brooklyn 4 NXT North American Championship Match: Adam Cole (c) vs Ricochet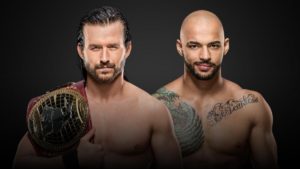 Ricochet's talent versus Adam Cole's ego. Not sure if the battle is which is better or which is bigger, but it should be fun to watch.
Adam Cole talked smack most of this match, but the exchanges were pretty impressive. Cole showed a lot of spots of being the clever heel, but Ricochet threw haymakers and Cole ran out of answers. Tiger Feint in the corner ropes, Fosbury Flop, Inside Out Frankensteiner off the apron, all big impressive moves. But Cole had fantastic moments from timing a Thrust Kick perfectly to dodge the Asai Moonsault and kick Ricochet in the face as well as a nice Backstabber catching Ricochet mid Back Handspring.
The climax moment had to be the strike exchange that ended in a random near fall. Going back and forth and then Adam Cole falling on top of Ricochet made you wonder if the match was gonna end in a fluke way, or if Ricochet would realize what was going on. As you can see, Ricochet realized, overcame and picked up his first WWE championship.
All in all, the selling was solid, the story it was telling was great and amplified by Adam Cole running his mouth in the ring. It's just one of those special moments and this was the first glance the WWE Universe got to see at a really great Ricochet match.
Winner: Ricochet via 630 Senton
Rating: *****
1. NXT Takeover Brooklyn 4 NXT Championship Last Man Standing Match: Johnny Gargano vs Tommaso Ciampa (c)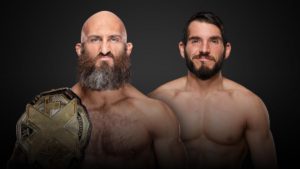 Best friends turned bitter rivals, who love gimmick matches. I'm fully aware this is only a match because Aleister Black got legitimately injured, but I also can't stop myself from being burnt out by this story. Hopefully whatever happens in this rubber match, puts some space between these two.
Well this match starts off slowly, but that's necessary since there's so much to unpack in this rivalry. After the Spanish Announce Table destruction, the match starts to really pick up. No amount of me talking about moves or spots will do this justice.
Going through tables, but propping himself up on a crutch is a layered moment for Ciampa. The handcuffs, the exposed ring, ripping the padding apart on the outside and even the end. Johnny has a tendency to let his emotions get the best of himself. All the way back to when Zelina Vega distracted him with a DIY shirt, to Chicago II when he knocked down the ref so when he had Ciampa beat there was no one to count his victory and then he literally walked into a DDT. So I've seen some complaints about the ending, but it makes so much sense that Gargano would do something to screw himself over.
There's probably some layered comment about Cleveland and shooting himself in the foot, but damn, this was the best of their trilogy…and now I'm not completely sure what I said earlier holds up. Even if I'm sick of the story, these matches are tremendous.
Winner: Ciampa
Rating: ***** 1/4
Thoughts:
Well ya it's all WWE, and it's not even a bad thing honestly. SummerSlam and NXT were both pretty great, and when it comes down to match choice from this Top 5, that's not easy. Honestly, I liked, The Miz vs Daniel Bryan, the best of all these matches. Ciampa and Gargano always kinda show up and add new wrinkles, but The Miz isn't known to always put on quality matches.
Daniel even managed to express the overall story in a backstage segment later on. That being, Miz has always said his style was better than Daniel's, and Miz winning means he was technically correct. So it's nice to see where the story is going, but all in all, I just really enjoyed the whole thing. Any of these are always a good choice, cause damn, WWE really brought some quality wrestling this weekend.