WWE Needs To Slowly Build Dean Ambrose's Heel Turn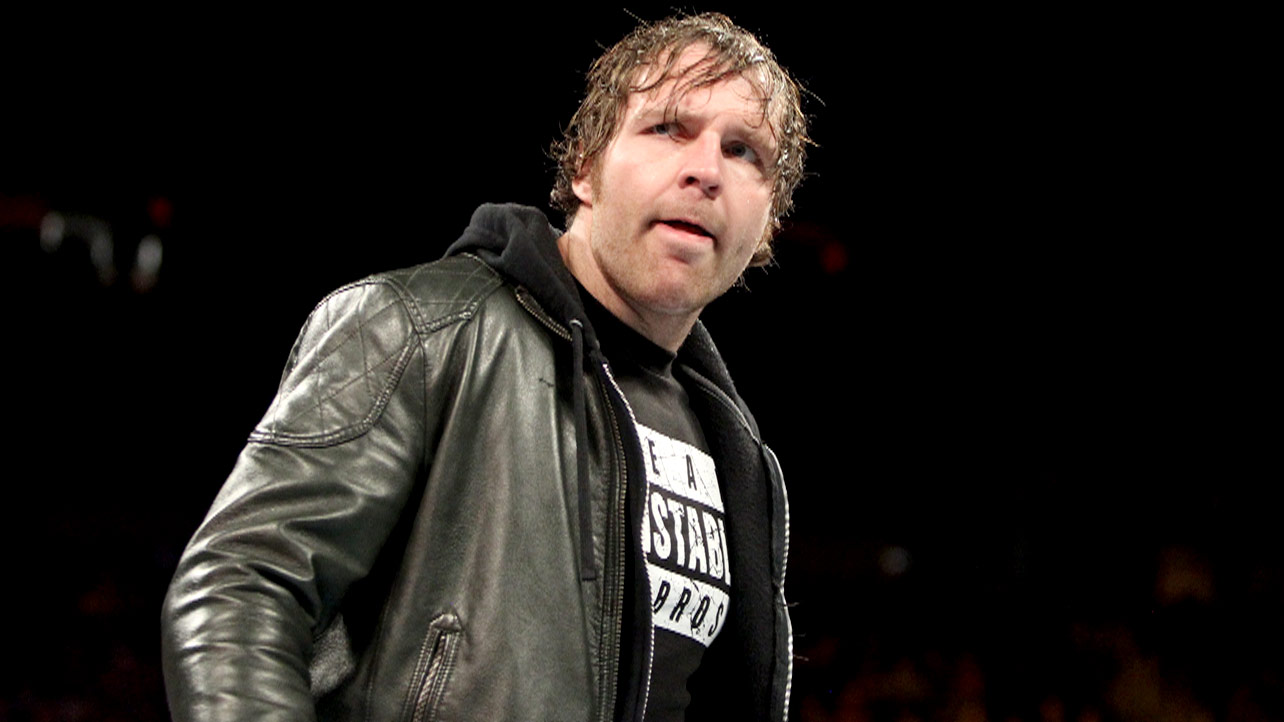 No WWE Superstar has been more missed this year than Dean Ambrose. The wrestler underwent surgery for a triceps injury in December, which would put him out of action for nine months. Since his absence, Dean's fans have been awaiting updates on his status, often bombarding fellow Superstars with questions about his return.
Well, there's good news for fans of The Ambrose Asylum.
According to recent reports, Ambrose has been cleared and he's set to make his return soon, possibly at SummerSlam.
It's obvious Ambrose will return to RAW and team up with his Shield brother Seth Rollins. Currently, Seth's involved in a feud with Dolph Ziggler over the Intercontinental Championship. Thanks to interference from Dolph's protégé Drew McIntyre, Seth has come up short in his quest to recapture the championship.
With Seth being outnumbered heading into SummerSlam, WWE has been dropping hints that Ambrose could show up in some capacity during the match. The number one theory floating around the web is that Ambrose is going to cost Rollins his shot at the championship, thus setting up Dean's heel turn.
Prior to his injury, the original plan was for Dean to turn on Seth. Reports suggest that WWE still wants to make Ambrose a heel, but should they immediately do it upon his return.
Personally, I say it's a mistake to turn Ambrose heel too soon.
Like all fans, I'd like to see a heel Ambrose; it'd help revitalize his character, whom many critics have called stale. Yet, there's no need to dive right into it on the night of his epic return.
Instead, they should let him continue to be a babyface and what better way than reuniting him with Seth Rollins.
There's no denying that Dean Ambrose and Seth Rollins have amazing chemistry inside the ring. Before Ambrose was taken out of action, he and Seth were one of the biggest duos in RAW's tag team division. Having the two men team up again would be beneficial for two reasons.
First, they bring some much needed star power to RAW's lackluster tag team division. Since the draft, many of the top tag teams got moved to Smackdown. On RAW, the only top team they have is The Deleters of Worlds, yet the combination of Matt Hardy and Bray Wyatt isn't enough to get fans invested. But having Dean Ambrose and Seth Rollins will add more interest to RAW's tag team circuit, while also helping to establish Authors of Pain and The Revival as main roster stars.
The second reason Ambrose needs to team with Rollins is to help build his heel turn. When Ambrose becomes a full-on heel it's got to happen when no one expects it. Ambrose's reunion with Rollins will create the suspense that comes with great WWE storytelling. By prolonging the evitable, fans will be left wondering when Ambrose will unleash his wrath on Rollins and fully embrace his status as WWE's next villain.
So to all those fans out there waiting for a Dean Ambrose heel turn, just be patient. The wait will be well worth it.
Andrew's G1 Climax 29 Ratings & Analysis: Night 3 A Block
A Block second matches! Do Okada and KENTA keep momentum? Do Tanahashi or Ibushi get on the score board?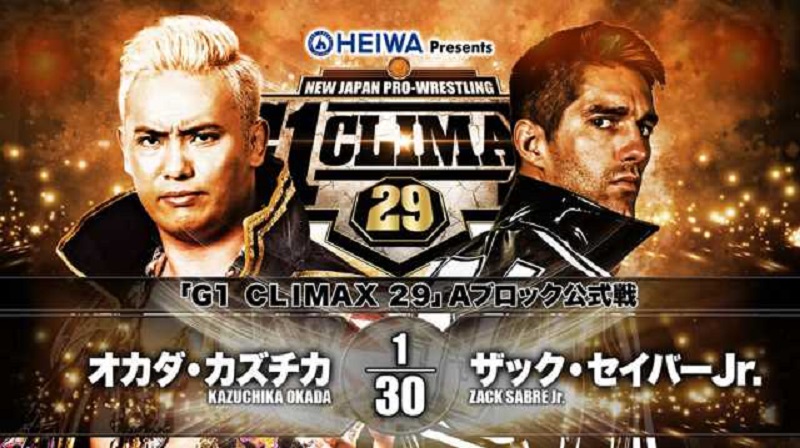 A Block second matches! Do Okada and KENTA keep momentum? Do Tanahashi or Ibushi get on the score board?
So we've got the irresistible force/immovable object match with Fale and Archer! Who is the dominant big man?
Plus there's of course the bigger names that have yet to get points, like, Ospreay, Tanahashi and Ibushi. It's early on, but still a few surprising early wrinkles.
Ratings:
Tomoaki Honma, Yuya Uemura & Hirooki Goto vs Yota Tsuji, Toa Henare & Juice Robinson: Toa Henare wins via Uranage @6:30 – **
Jeff Cobb & Ren Narita vs Jon Moxley & Shota Umino: Cobb wins via Tour of the Islands @4:55 – ** 1/4
Yujiro Takahashi, Chase Owens & Jay White vs YOSHI-HASHI, Tomohiro Ishii & Toru Yano: Yano wins via Brenda Roll Up @9:20 – ** 1/2
Yoshinobu Kanemaru, Minoru Suzuki & Taichi vs Tetsuya Naito, Shingo Takagi & BUSHI: Suzuki wins via Gotch Style Piledriver @8:35 – ***
Block A: Bad Luck Fale vs Lance Archer: Archer wins via EBD Claw Hold @10:10 – ***
Block A: SANADA vs Will Ospreay: Ospreay wins via Storm Breaker @17:10 – ****
Block A: Kazuchika Okada vs Zack Sabre Jr: Okada wins via Rainmaker @12:05 – **** 1/4
Block A: EVIL vs Kota Ibushi: EVIL wins via Everything is Evil @19:10 – *** 1/2
Block A: KENTA vs Hiroshi Tanahashi: KENTA wins via Go 2 Sleep @18:35 – *** 3/4
Analysis:
Basic undercard tag with not a ton going on with the competitors about to face each other in the next block night. The Young Lions started off hot trying to cut their teeth on one another, and then Uemura eats the pin as to protect everyone who's already established on the main roster.
This was quick, but Shota and Moxley have a little bit of tag team chemistry as the pulled off a Hart Attack, and generally looked to work well together. Moxley was relegated to taking out Narita and then getting tied up once Cobb took control of the match. Another very simple match, but not bad.
So White and Ishii had very good interactions, YOSHI took most of the beatings and Chase ate the pinfall. But generally speaking this was fun. It was also nice to see Yujiro since he's been M.I.A. due to injuries off and on the last few years. We need our Tokyo Pimp.
Naito and Taichi continued their feud through the better portion of this match. Taichi had Naito reeling at numerous moments but Naito eventually got enough space to start the LIJ tags. So the whole story of Suzuki-Gun versus LIJ, Naito versus Taichi, just a lot of stories continued to grow here. Nice story telling.
Lots of power moves and both men trying to position themselves as the Alpha. Fale had an early advantage especially thanks to Jado and Marty Asami not feeling like tossing out DQs like candy. Both men had a few close calls with signatures, but after countering the Bad Luck Fall Archer hits a Pounce and builds his momentum. A chokeslam and Everybody Dies Claw later, Archer gets his second win.
Well now, this went back and forth quite a bit. SANADA proved his athleticism, Ospreay proved that he can hang with heavyweights and it was close the whole time. The only really awful spot was Ospreay slipping out of the Paradise Lock. There's a gimmick there, and we don't need the allure of it to be cheapened for a dumb flip spot. Aside from that worthless moment, the match was really wrestled well and SANADA had a few attempts at victory. SANADA's constant desire to use the Moonsault still proves to be his downfall. He really needs a new move.
Okada has the amazing ability to wrestler his opponent's style of match. Sabre stretched him and tried to break him, but Okada fended off every attempt. We saw numerous counters, submissions and great wrestling. Okada's Rolling Rainmaker to set up the traditional Rainmaker is always a fun transition. Awesome match.
Well I guess this was the palate cleanser before the main event. This match was slow, plodding and EVIL did the worst Scorpion Deathlock I've ever seen. And I mean worse that 50+ year old Sting when he'd basically fall over. Like it was a Scorpion Hot Garbage Lock. But once Ibushi hit his second life bar, the match picked up a little, but it wasn't close to a great match. It was fine, but a major step down from the previous two matches.
This main event told a solid story of KENTA proving himself against the Ace and stepping into the place of Katsuyori Shibata. The match was deliberately paced but there were some noticeable hiccups. A match that basically took about a decade to happen because of how NOAH and NJPW were run, lived up to a first time meeting. If we saw this match before KENTA left for the WWE in 2014, I feel it would've been much harder hitting and more of a classic puroresu match. This wasn't bad by any regard, but it was carried by the story and hampered a little by the fact that both men are older and adjusting to injuries.
Overall Score: 7.5/10
The block matches were on average a little better than the first Block A night, but the energy felt down a little. Undercard served it's purpose well and all the matches that were expected to be bangers, delivered fairly well on the expectation. KENTA with the hot start is a little concerning for me though. Historically, freelancers have good showings but don't win the tournament.
Judging from early positioning it feels like either Okada or Goto are being positioned for the win, but with all the new faces…this is definitely harder to call. Adds to the fun, doesn't it?
Block A Standings:
Kazuchika Okada: 2-0 (4 Points)
Lance Archer: 2-0 (4 Points)
KENTA: 2-0 (4 Points)
SANADA: 1-1 (2 Points)
EVIL: 1-1 (2 Points)
Will Ospreay: 1-1 (2 Points)
Bad Luck Fale: 1-1 (2 Points)
Zack Sabre Jr: 0-2 (2 Points)
Hiroshi Tanahashi: 0-2 (0 Points)
Kota Ibushi: 0-2 (0 Points)
Chris Jericho vs. Shawn Michaels And The Interesting Place Chris Jericho Wrote Out Their Classic WrestleMania XIX Match
Chris takes a look at the amazing Shawn Michaels vs Chris Jericho history.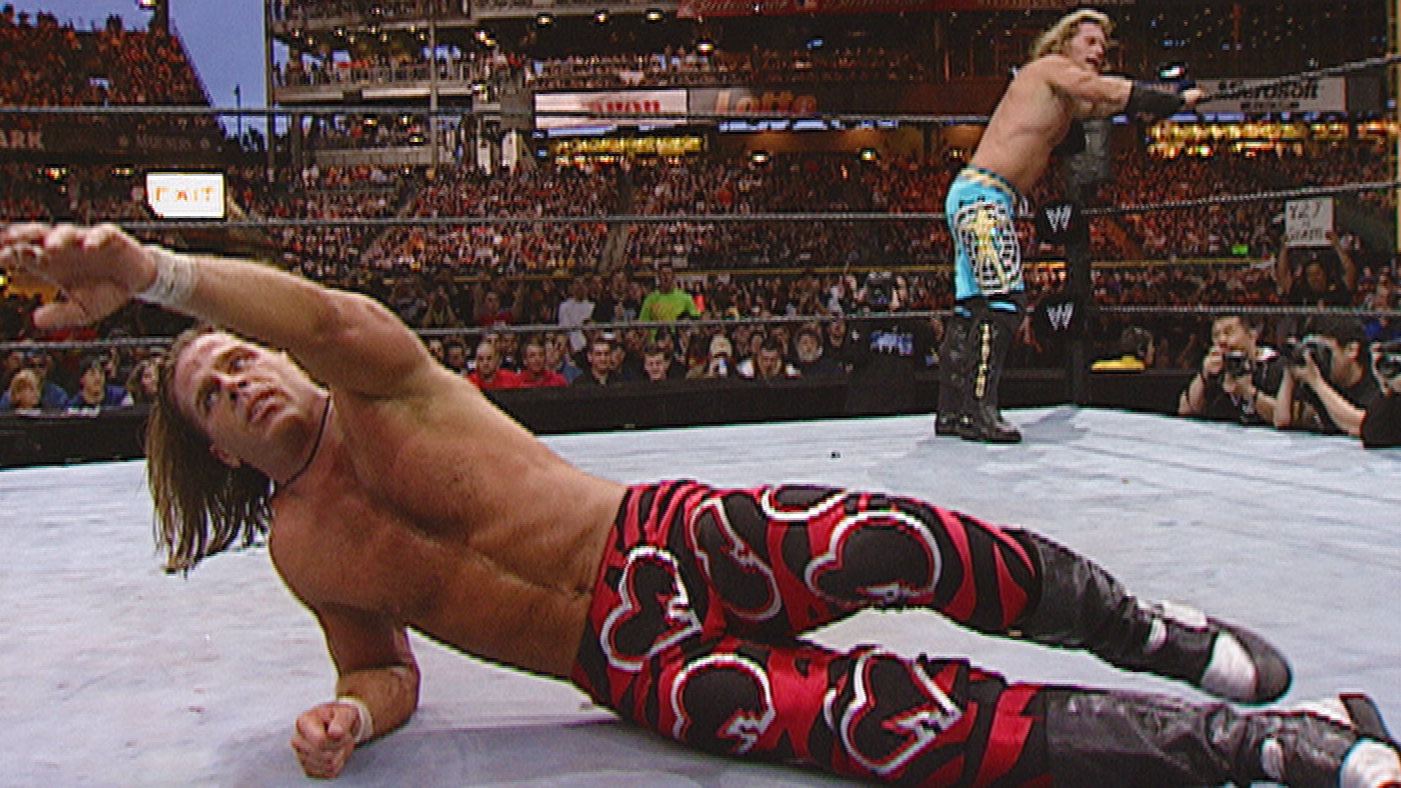 Chris takes a look at the amazing Shawn Michaels vs Chris Jericho history.
On March 30, 2003, WWE held the 19th edition of The Show of Shows for the first-time-ever in Seattle, WA and broke the attendance of 54,097 at Safeco Field. Two of the greatest sports entertainers of all time clashed for the first-time-ever. The Showstopper Shawn Michaels and The King of the World Chris Jericho; it was the ultimate dream match where the young star would face his childhood idol on The Grandest Stage of Them All. Below I will be recapping the stellar build-up for their five-star classic at WrestleMania XIX, and share the unique manner Jericho planned it.
A Miraculous Return For The Heartbreak Kid In WWE
At Summerslam 2002, one of the all-time greats in sports-entertainment "The Heartbreak Kid" Shawn Michaels made his triumphant return to the squared circle, after a career-ending back injury that led to his in-ring retirement in 1998. There was only one opponent that HBK wanted to face, his real-life best friend and former D-Generation X bandmate.
"Shawn hasn't been in the ring in five years, and we did like two things. I remember in five minutes going this guy hasn't lost a step, it's like I've gone back in time…five years". –Said by Triple H
The two rivals competed in one of the most brutal contests an Unsanctioned Match, to prove once and for all who the better man is. With some insane spots and Michaels getting busted wide-open. HHH hit the Pedigree for a long two-count but Michaels surprised him with a surprise roll-up to score the victory.
Fast Forward to November 17, 2012, where at Survivor Series Michaels alongside HHH, Chris Jericho, Booker T, RVD, and Kane all competed in the first-ever Elimination Chamber Match for the World Heavyweight Championship. To add an impressive stamp to his triumphant return to WWE; Michaels shocked the world by winning the WWE World Heavyweight Championship in his first title match in his comeback.
"Shawn Michaels is back in the record books. Shawn Michaels is back on top. Shawn Michaels is the man. Shawn Michaels is the world's heavyweight champion," shouted Ross.
On November 17, 2017, on the fifteenth anniversary of the initial Elimination Chamber Tim Fiorvanti from ESPN took an inside look and the never before heard true stories from the six participants themselves.
The bitter rivalry with HHH would culminate at next month's Armageddon pay-per-view where "The Cerebral Assassin" bested Michaels in a Three Stages of Hell Match, and took back "His" World Heavyweight Championship.
WrestleMania Rewind: Shawn Michaels VS. Chris Jericho–And Their Epic Show-Stealing Match
In the opening credits on the WrestleMania Rewind titled Mr. WrestleMania Returns, these are Jericho's comments on Michaels being one of the best performers of all time.
"There's nobody in the history of this company who's had as many great five-star classic matches at WrestleMania than Shawn Michaels and there never will be and you can't. For whatever reason Shawn was genetically created to steal the show at WrestleMania".
While Michaels was nowhere to be found from 1997-2001 in what is dubbed "The Attitude Era"; another individual burst on the scene with an appealing flashy moveset and a wildly entertaining personality and with canary blonde hair, that superstar was none other than "The Ayatollah of Rock n Rolla" Chris Jericho. With his unwavering determination to be the best on any given night, resembling his childhood idol Michaels. As Jericho would enter the arena he would grab a microphone and scream "Welcome to Raw is Jericho" and the WWE Universe ate it up. They were 100% behind him because in every match he delivered a five-star performance.
On December 16, 2002-edition of Monday Night Raw, twenty-four hours after losing the world heavyweight championship Michaels was interrupted by an unimpressed Jericho.
The cocky and arrogant young star told Michaels that all the fans spent their money to see the King of the World. He goes on to elaborate how he started his pro wrestling career looking up to Michaels. Jericho claims that's he's better than him, by accomplishing something Michaels never could–defeating Stone Cold and The Rock in the same night to become the first-ever Undisputed Champion.
Shawn Michaels shares a conversation between the CEO of WWE Vince McMahon, himself and Jericho when he went back to gorilla.
Vince: "Did you feel that"?, "DID YOU FEEL THAT"?
Shawn Michaels: "What", "It was at this time Chris came back".
Chris Jericho: "I think we got something here, and that led to us having the WrestleMania match".
The Incredible Build-up To The Dream Match Jericho/Michaels
In the weeks leading up to the 2003 Royal Rumble; Michaels goaded Jericho into entering at #1 to prove he was the best, this all culminated with Jericho claiming the #2 spot and his foe entering at #1 spot. At the event Michaels is waiting for Jericho's arrival in the match, Christian who was aligned with Y2J distracted Michaels which allowed the vindictive heel to grab a steel chair and bust Michaels wide open and eliminate him. Later in the match, Michaels returned the favor by running and beating Jericho up and clotheslining him over the top rope.
"Chris and I get to talk and he goes on to tell me how he sort of mirrored his career after mine, he says he's got pictures and all sorts of other stuff with similar outfits everything under the sun. Obviously, Chris and I also bond over this then we did our best to build this nice little storyline and then-and then go to WrestleMania". –Michaels said
On March 3, 2003-edition of Raw, Jericho and Christian were delivering a post-match attack with a steel chair to Test. When they began to set up his girlfriend Stacy Keibler for one, Michaels made the save and Jericho missed Stacy and busted his WrestleMania opponent wide open. Jericho said, "He had tried to be the hero one too many times". Jericho then proclaimed that his sole focus is ending Michaels career at WrestleMania.
A few weeks later both rivals would have another heated encounter; this time with Jericho sharing that he began his early pro wrestling career imitating his childhood idol, he displayed a few pictures of Michaels and him side-by-side performing reminiscent maneuvers.
Jericho used to believe being dubbed "the next Shawn Michaels" was flattering at first but, now it's extremely insulting and he now only cares about being the first Chris Jericho. Michaels refused to look him straight in his eyes, so Jericho slapped him and Michaels returned the favor.
On December 25, 2015, Alessandro Passalalapi from www.therichest.com published an article titled 10 Behind The Scenes Secrets The WWE Never Wants To Reveal. One of the biggest and deepest secrets about the art of professional wrestling was revealed, whether or not the entirety of a match is planned out from the start to finish.
The only real part of the match that is discussed and planned is the finish. Matches are usually improvised with one wrestler calling most of the match. This usually falls on the heel of the veteran who controls most of the action, and he usually tells his opponent what to do throughout the bout. In more prestigious cases (like PPVs), some wrestlers do go over some things in advance. They usually practice some moves in the ring before the show.
In Chris Jericho's Autobiography titled Undisputed: How to Become the World Champion in 1,372 easy steps he gives a stellar inside look into how their classic match was created.
"We went twenty-seven minutes and it was the best of Jericho and the best of Michaels. We constructed an amazing match(with most of my ideas coming a week earlier while shopping for a speedo undertights at Dick's Sporting Goods) filled with so many twists and turns that the crowd in Seattle was on the edge of their seats the whole time.
False finish after false finish unfolded until finally, Shawn rolled me up with a move I'd seen Owen Hart use fifteen years earlier. Afterwards, the crowd gave us a standing ovation. In the middle of the applause, we shook hands and embraced in a classic WrestleMania moment–until I kneed him in the plums. He collapsed and looked up at me with his puppy-dog eyes, asking, How could you?"
Had Michaels competed in his one-off match at 2002 SummerSlam against HHH and returned back into retirement, we never would have witnessed this incredible feud and five-star match at WrestleMania XIX. Thank God that Michaels decided to stick around long enough for this dream match to come to fruition.