WWE Rumors: Did WWE Purposely Create A Rift Between Colt Cabana & CM Punk?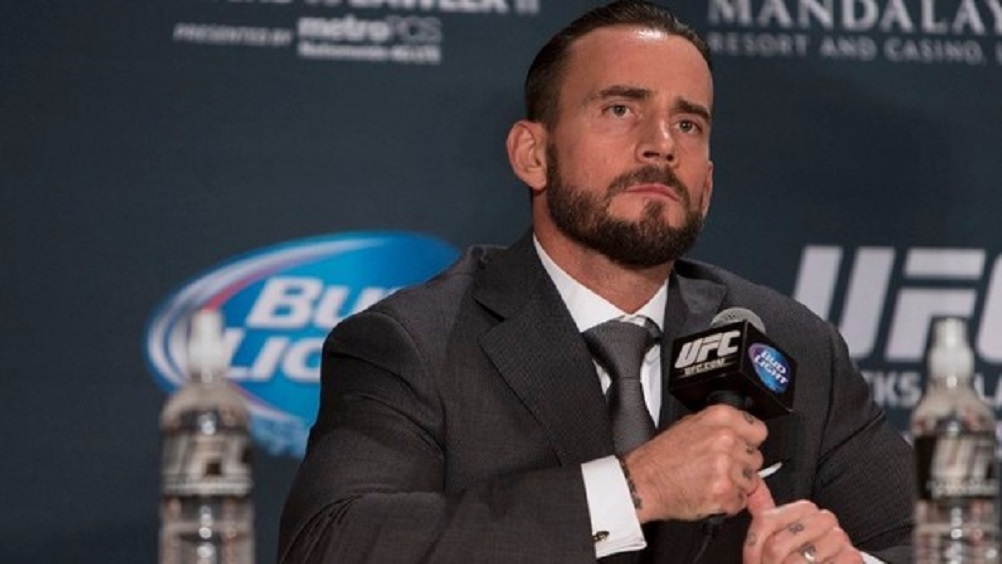 As has been noted this week, the saga between WWE Doctor Chris Amann, Colt Cabana and CM Punk isn't quite over for all parties as Cabana has now filed a lawsuit against Punk, alleging that he backed off on his word to cover Colt's legal fees stemming from the Amann lawsuit (read about that here).
More details regarding the spat between the now-former friends also emerged, as Cabana alleges he also received an email from Punk that looks to be quite damning for the former WWE Champion (check that out here). However, some are speculating that perhaps this is all WWE's doing and may very well have been one of their goals from the outset.
On the recent edition of Wrestling Observer Radio, Dave Meltzer has speculated that WWE may have planned the rift, hoping that Punk would turn on Cabana at some point in the legal process. While it clearly did not have any bearing on the verdict of the Amann lawsuit, if this is the case then WWE has certainly succeeded.
EA's Take: What the…what? Conspiracy theories much? To be perfectly honest, I wasn't sure if I even wanted to cover this and give Meltzer any more free pub than he already gets. However, I felt that I needed to take this opportunity to offer my opinion, which is this…ARE YOU F******* KIDDING ME? To me this screams, "Let's throw some s*** at the wall and see if it sticks". It's no secret that CM Punk is a dick, no two-ways about it. He's turned on other friends for a lot less, just ask Hornswoggle. I mean, I GUESS I can see why Meltzer would say this if you want to play devil's advocate, but man, it's a REALLY hard sell for me and I just don't buy it. How could WWE know for a fact that something like this would happen? They wouldn't. It's just complete and utter stupidity to me that Meltzer would throw this out there. What exactly is HIS goal by saying it? I honestly don't have any idea, it makes no sense and I don't know what the reasoning would be. Probably because there's little-to-NO reasoning to it at all. I think your phone's ringing Dave, Alex Jones wants to speak with you and be friends.
Continue following TheChairshot for all the latest skull smashing opinion, news, reviews and so much more! @theCHAIRSHOTcom on Twitter
Always #UseYourHead
Jimmy Jacobs On WWE's Ratings, Seth Rollins & Matt Jackson Respond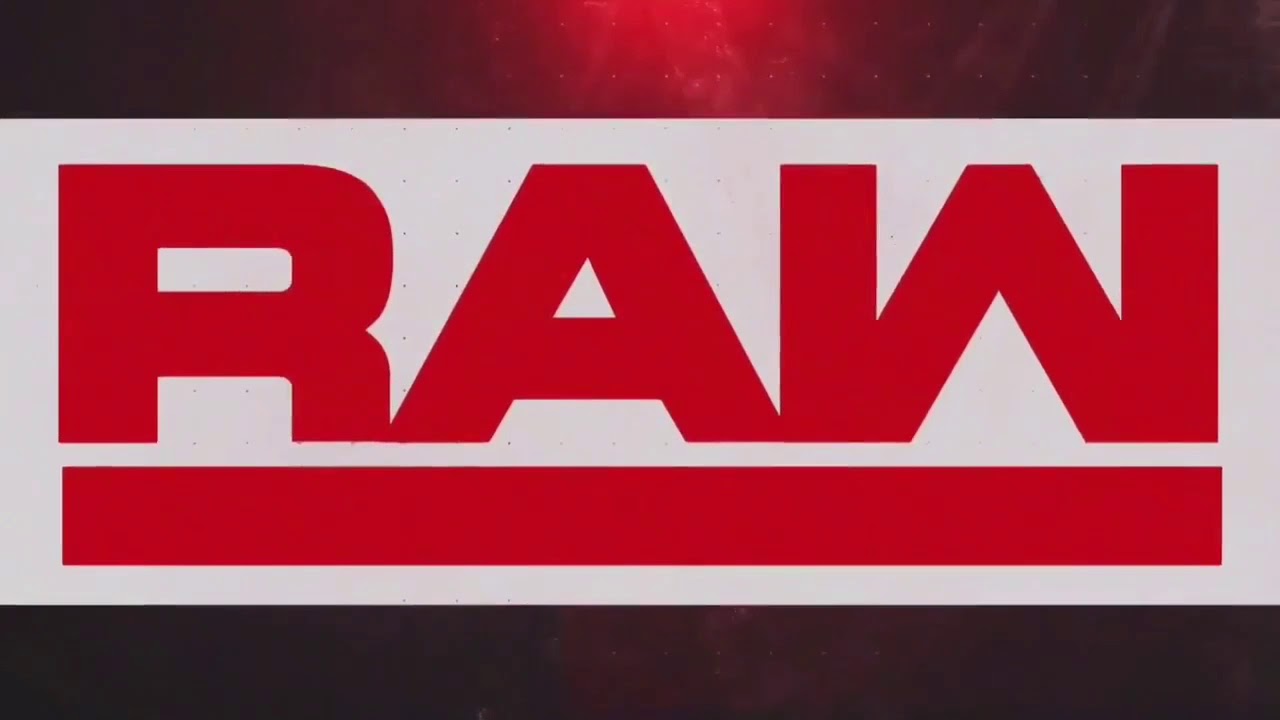 Jimmy Jacobs defends against criticism of WWE's recent RAW ratings!
To say that many fans and members of the wrestling media have been taking WWE to task in recent weeks over the ratings, most specifically for Monday Night RAW, would definitely be called an understatement.
After declining viewership for three consecutive weeks and record lows (check out this week's numbers), the criticism of the company's booking has not been hard to find. So much so that it has even been put into angles on television, as we saw this past Monday with the opening segment involving Seth Rollins and Baron Corbin. When the ratings for the red brand were revealed yesterday, The Wrestling Observer's Bryan Alvarez took to Twitter to offer his thoughts on the results:
This is embarrassing. https://t.co/0YXmFXukNH

— Bryan Alvarez (@bryanalvarez) December 12, 2018
One person who took notice and would actually come to WWE's defense would be former member of the company's creative team and current independent star, Jimmy Jacobs. Jacobs was let go last year after he took a photo with members of The Bullet Club while they were outside of a Monday Night RAW taping. Now competing for the likes of MLW and IMPACT Wrestling, Jacobs was quick to point out the other side of the coin to Alvarez: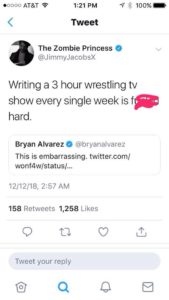 Not only did this earn a reply from WWE Superstar Seth Rollins, but interestingly enough, Matt Jackson of The Young Bucks would also agree with Jacobs:
That's the one thing I don't think people understand. 5 hours of live TV every week. EVERY WEEK. Add in all the extraneous variables that affect the final outcome….and it's a modern miracle that the shows come together as well as they do.

— Seth Rollins (@WWERollins) December 12, 2018
Dude. 15 minutes a week is hard!

— The Young Bucks (@MattJackson13) December 12, 2018
Jacobs would continue, replying to a number of fan responses:
Everybody is allowed to their opinion. I take zero offense to it. But one of the 1st things I learned writing is that it's easy to point out the problems. The job is to come up with solutions. https://t.co/YYBQmBuAGG

— The Zombie Princess (@JimmyJacobsX) December 12, 2018
This is the most common response I've gotten. While as a fan, I agree, the bottom line says differently. WWE gets paid way more to have 3 hours of RAW than for 2. So that seems to be off the table. https://t.co/mKD2Vxdpey

— The Zombie Princess (@JimmyJacobsX) December 12, 2018
I know very little & what I do know is bounded on all sides by infinite ignorance. I can only speak to my experiences. In those experiences I've found writing a wrestling tv show isn't an easy task. Thanks to all that engaged in meaningful dialogue with me! I love the passion!

— The Zombie Princess (@JimmyJacobsX) December 12, 2018
Which side of the fence do you land on when it comes to WWE's recent creative? Let us know on social media @theCHAIRSHOTcom and always remember to use the hashtag #UseYourHead!
WWE News: Updated Card For TLC Following Additions/Changes This Week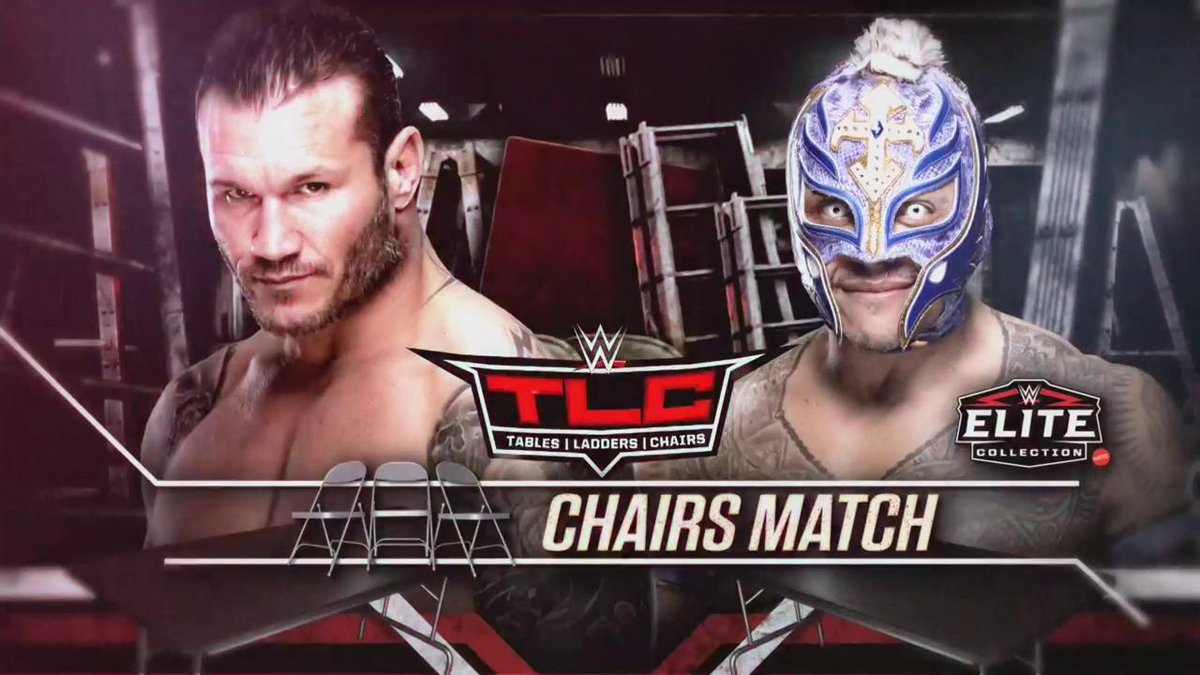 The updated card for Sunday's WWE TLC!
Now that this week's editions of Monday Night RAW, SmackDown Live and the Mixed Match Challenge are officially in the books, the WWE Universe turns its attention to Sunday's TLC pay-per-view.
There were some alterations and additions to the card at the SAP Center in San Jose, California, but not the ones some fans expected with Braun Strowman still recovering from surgery and Finn Balor off of the road due to an illness (read that story here). On RAW, we learned that the Elias vs. Bobby Lashley bout will now be a Ladder Match where a guitar will be hanging above the ring and the first main to gain possession can utilize it (see the announcement here).
Then yesterday, it was announced that Buddy Murphy would defend his Cruiserweight Title against Cedric Alexander (find that here) and on SmackDown Live last night, it was revealed that Randy Orton would take on Rey Mysterio in a Chairs Match (check that out here). Plus, the Finals of the Mixed Match Challenge are now set after Carmella and R-Truth, as well as Alicia Fox and Jinder Mahal solidified their spots (read the breakdown with Mitchell's Mixed Match Challenge Report).
Here's a look at the updated lineup for TLC, which you can catch Sunday live on pay-per-view and the WWE Network (Mixed Match Challenge Finals will also live stream on Facebook Watch) beginning at 7PM EST with the Kickoff starting at 6PM. At this time, it's not known what will be on the Kickoff, however it's speculated one or two matches will be moved there instead of any new ones being announced. Of course, that's not confirmed:
Tables, Ladders & Chairs for the SmackDown Women's Championship
(C) Becky Lynch vs. Charlotte Flair vs. Asuka
WWE Championship
(C) Daniel Bryan vs. AJ Styles
Tables, Ladders & Chairs Match
If Braun Wins, He Gets Universal Title Shot At Royal Rumble
If Baron Wins, He Becomes Permanent RAW General Manager
Braun Strowman vs. Baron Corbin
Intercontinental Championship
(C) Seth Rollins vs. Dean Ambrose
RAW Women's Championship
(C) Ronda Rousey vs. Nia Jax
Triple Threat for the SmackDown Tag Team Championships
(C) The Bar vs. The New Day vs. The Usos
Chairs Match
Randy Orton vs. Rey Mysterio
Finn Balor vs. Drew McIntyre
Tables Match
Natalya vs. Ruby Riott
Ladder Match
Elias vs. Bobby Lashley
Cruiserweight Championship
(C) Buddy Murphy vs. Cedric Alexander
Mixed Match Challenge Finals
Carmella & R-Truth vs. Alicia Fox & Jinder Mahal
Which match at TLC are you looking forward to the most? Let us know on social media @theCHAIRSHOTcom and always remember to use the hashtag #UseYourHead!