AJPW 6th Oudou Tournament Final Results & Review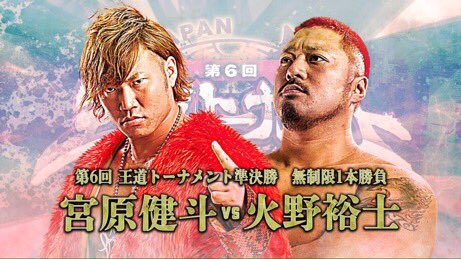 While I wait for the final show of Stardom's Grand Prix to be fully uploaded, AJPW's Oudou Tournament just finished wrapping up and I decided to cover the rest of the matches on here.
We had a very successful first round and it appears that the rest of the tournament is going to be a hit here and hoping to see if I get my pick right for this one. Who will win the tournament?
Let's find out and…dive right in.
Royal Road 2018 Second Round Match
Yuji Hino vs. Ryoji Sai
Review: My pick, Yuji Hino has made it to the second round despite having a bit of a lackluster match against The Bodyguard. His next opponent though is someone that has defeated him in the Champions Carnival in an upset, Ryouji Sai. This could be a chance for Yuji to redeem his previous loss and can get one step closer to the semi-final. Can Yuji chalk up another win or will Ryouji get the upset once again?
This was a much better match for Yuji Hino this time around since it wasn't Bodyguard as he would do what he does best, flipping people off and destroying people with his chops. Yuji had Ryouji on the outside and started chopping him until he missed on one and hits the turnbuckle post to give Ryouji an opening he needs to try and take control of the match, even if it doesn't really last that long. Not sure if I liked this match better than their CC encounter but it was still solid enough to get over at the very least. Ryouji would go to the top rope and his head reached the ceiling, so he decided to hold onto it for a moment and went for a Double Stomp which he missed. Hino would keep attempting to hit his Lariat but Ryouji would keep on ducking them for a moment until Yuji would eventually hit the Lariat, but he's not done here as he picks him up to hit the FUCKING BOMB and he's down with him as he advances to the semi-final.
Rating: Eric Bischoff
Royal Road 2018 Second Round Match
Zeus vs. Suwama
Review: After having a solid performance against Naoya Nomura, our Triple Crown Champion Zeus moves on to the next round and his opponent is against the former ace, Suwama. The last time they fought one on one was at the Champions Carnival and Zeus would be the victor of the match. If Suwama does somehow beat the champion here, then he'll most likely be in line for a future title match whether he wins the tournament or not. Can Zeus keep moving forward or will the champion stop here?
Just looking at the beginning of the match, it was more of a test of power and you can see that up until near the ending of it really. They would start off with grapples, trying to shoulder tackle each other down but none of them were falling until Zeus hits a Dropkick, even when they were doing chops and power moves to each other, you would feel the impact of each thing they did together and it makes sense due to them both being powerful guys and just want to overpower each other to get that needed win. Suwama would almost have the match early on when he applied the Sleeper Hold onto Zeus and would even have him falling down to nearly passing out that even the referee had to slap Zeus a couple of times to see if he was awake, but he was able to kick out at two when Suwama would try to go for the cover.
The second half of the match would be when things start getting more interesting when Suwama would get Zeus back into the Sleeper Hold after jumping over him when he attempted a Gorilla Press and it looked like he was going to get it until Zeus flipped him over, but Suwama meets him with a Lariat, a Backdrop Driver, and hits a German Suplex only for Zeus to keep kicking out of everything. Suwama picked him up to go for the Last Ride and Zeus gets off of him to hit a high kick which looked like he didn't fully connect it, but he made up for it by hitting a Lariat, a Chokeslam, and ends it with a Jackhammer to score the victory and moves on to the semi's.
Rating: Eric Bischoff and a half
Royal Road 2018 Second Round Match
Joe Doering vs. Kengo Mashimo
Review: What an impressive victory Kengo Mashimo showed in the first round when he defeated Shuji Ishikawa by putting him to sleep and now his next opponent is another giant, Joe Doering. Joe had a very solid bout against Dylan James and I'm hoping he can keep that same type of pacing in his matches to give us better quality. Will Kengo pick up another surprise win here or will Joe overpower Kengo on the spot?
Since Kengo is much smaller compared to Joe, he had to rely on his quickness to try and maneuver around him and he would do that most of the time when he slides under him during a Big Boot and landed outside of the ring as the crowd popped for it. Despite the cool little dodge, the match felt a little slow at times with how Joe would try to have some control over Kengo while he would just mostly dodge or get some quick kicks in him to try and slow him down. Joe hits a Lariat so hard that he made Kengo do a backflip and kicks out at two. Kengo would have Joe in an Armbar until Joe picked him up for a Sidewalk Slam and Kengo would kick out once more. Joe would throw Kengo into the ropes to try and hit another Lariat but Kengo ducked him as Joe would try to go for it again and instead of going for the Lariat for a third time, he attempts his Diving Body Press to catch him by surprise but Kengo ducked leading him to hit the ropes and Kengo rolled him up for the pin!
Rating: Tony Schiavone and three quarters
Royal Road 2018 Second Match
Jake Lee vs. Kento Miyahara
Review: A couple of months ago, Jake Lee requested a match against Kento Miyahara and they did have that match but Kento would come out the victor of that match. Now Jake appears to have a second chance in this tournament as the two would cross paths with each other once again in the second round of the tournament. Can Jake Lee find a way to defeat Kento or will Kento make him Blackout?
If we're gonna talk about the progress of Jake Lee between the last time he fought Kento in early July from how he did now, you can say he definitely made a lot of progress in his performance in those past two and a half months. The match was much better than their previous one, it flowed much better, had a much faster pace, and the aggression in the story definitely gave it a much better impact. Jake is slowly getting back to where he was and the more he performs like this, the better he'll be in the future and is definitely a future Triple Crown Champion, and I feel like it very well could happen in 2019.
Despite all of this progression Jake Lee has shown in this match and showing he can be a big player, Kento is still a much better talent than Jake and still on his A-game as he just destroyed Jake with his kicks and Blackouts. Even though Jake was taking quite a beating, he would kick out of everything at two and would even get some offense in with his running knee strikes. Kento would eventually hit the Shutdown German Suplex Hold and gets the three count and advances to the next round.
Rating: Bruce Prichard and a half
Royal Road 2018 Semi-Final Match
Kento Miyahara vs. Yuji Hino
Review: Is this some kind of cruel joke? Why would you do this to me and make them fight each other now instead of having this done in the final round? It's not fair, not fair I tell you! Anyway, Kento Miyahara and Yuji Hino are now set to fight each other and I'm really torn since I was hoping for Yuji to make it to the final round and now it looks like it's going to be a little bit difficult due to him fighting Kento. They fought on the final A Block day of the Champions Carnival and Kento defeated him there to even advance to the finals of that tournament and has a chance of doing it again. Can Kento go to the finals or Yuji gonna give him the FUCKING BOMB?
Kento did seem to get the early advantage when he would Dropkick Yuji to the outside or so we think since once Kento followed him outside the ring, he would get destroyed and destroyed good with each chop Yuji would deliver to him around the outside of the ring and even sent him flying over the barricade on one of them. Yuji is just a beast with those chops and some of the stiffest I've seen this year with how he can just destroy his opponents with just that alone is something else. The chemistry between Kento and Yuji is something else since they just click together with their swagger in the ring and their styles just meshing up to give us something enjoyable.
Once Kento would punch Yuji during their trade-off of blows, Yuji would put his hands behind his back to tell Kento to hit him as hard as he can and each punch Kento did to him was not enough to phase him, so Yuji returns it by chopping him back and Kento this time wipes it off his chest and tells him to hit him back, this is starting to get really good. After their little exchange, Kento would kick Yuji in the face and Yuji returns the favor with a stiff Lariat for a two count. Yuji went to go for the FUCKING BOMB but Kento fights out of it to get behind him to go for the German Suplex hold which leads them to hit the ropes and Kento doing the European Clutch to get the win over Yuji! Well, there goes my pick for the tournament now since Yuji is eliminated and we won't get that match with him and Zeus anytime soon, still a great match regardless and good luck to Kento in the finals.
Rating: Bruce Prichard
Royal Road 2018 Semi-Final Match
Zeus vs. Kengo Mashimo
Review: Now that we have Kento Miyahara going on to the final round, later on, we have Kengo Mashimo taking on our Triple Crown Champion, Zeus. Kengo was able to get back to back surprise victories in this tournament and he could keep up with that trend if he can defeat Zeus here in this match and go on to fight Kento in the final round. Will Kengo be three for three or will our champion make it all the way to the finals?
It would start off with a basic wrestling match without and tricks from both of them or testing any strengths as this one was mostly based on skills this time around and Zeus had the opening when he hits a Diving Clothesline to Kengo to put him down for a bit. Kengo would eventually find an opening by targeting Zeus' arm in the match and you can see him starting to sell it for a little, so now we know where his opening is going to be here. Most of the time you'll see Zeus fighting through the pain since he's more focused on winning the match and if he distracts himself by showing more vulnerability with his arm, then he knows Kengo would win the match.
Once Zeus started chopping Kengo, you can see him selling the injury more and that was what Kengo needed to try and make the champion tap out as he went for a Fujiwara Armbar and would turn it around into a Triangle Choke as he looks to have it here, but Zeus would fight through the pain here and pick him up to slam Kengo down to break the hold. Zeus moves his arm around to get circulation in there as he hits a Lariat and a Chokeslam for a two count and once Zeus went for the Jackhammer, Kengo fought out of it and he would apply the Mudo hold on him to make Zeus tap out and move onto the final.
Rating: Eric Bischoff and a half
Royal Road 2018 Final Match
Kento Miyahara vs. Kengo Mashimo
Review: We're now down to our final match as it comes down to Kento Miyahara and Kengo Mashimo. Both of these men have had impressive victories during their tournament matches but now only one of them can win the whole thing and earn the right to challenge Zeus for the Triple Crown Championship. Will Kento win to get his rematch to reclaim his prize or will Kengo pick up four big wins in a row and fight Zeus once again?
This is where we see Kengo's technical side of his wrestling starting to flourish here when he started to target Kento's arm when they were outside when Kengo would slam his arm against the guardrail and Dropkick it for good measure, and now he has the strategy he needs to destroy Kento's arm just like he did to Zeus earlier. I liked that this was more of a wrestling match since these two are extremely talented wrestlers as they fed off of each other and telling the right story of the match since the crowd was super into it and were fully supportive of Kento and you can hear it in the audience.
The more we got into the match, the more interesting it was starting to become when they were going at each other with Kento using his knees and Kengo working on his arm to try and make him tap out. Kengo would land a Crucifix and applies the  Mudo hold like he did to Zeus to make him tap out and the crowd starts cheering for Kento not to tap out and somehow makes it to the ropes. Kento starts to fire back with a few Blackouts to knock him down a peg and the match is getting rather explosive that it can go either way here. Kento would hit another Blackout for a two count and he quickly picks him up for the Shutdown German Suplex Hold and Kento wins the Oudou Tournament!
There's one little problem I have with Kento winning the tournament and it's that I feel like he'll most likely win back the title from Zeus and as much as I love Kento and he's my favorite wrestler right now, I don't want to see him win the title back. The reason why I'm saying this is because Zeus has worked very to get his first title run and it would be a shame if they ended it in a three-month reign with only one successful title defense. Another thing they could do is to have Zeus retain the title against Kento and don't let him get the belt back until at least after next years Champions Carnival if he does win it and challenge Zeus around May, that way Zeus would get a nice long run and a few solid defenses in his reign instead of kinda doing hot potato. Let's just see how it goes and I have no doubt it'll be a good match.
Rating: Bruce Prichard and a half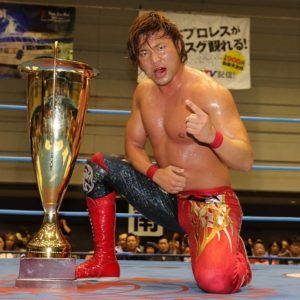 Overall: None of the matches from the second round and up were bad at all as they all had solid to great bouts to make each of them all enjoyable. Kento Miyahara was the highlight of the entire tournament since all of his matches were great to see while Yuji Hino and Kengo Mashimo also did a great job in the tournament and I hope to see them come back soon.
Favorite Match: Kento Miyahara vs. Kengo Mashimo
Least Favorite Match: Joe Doering vs. Kengo Mashimo
Score: 8.5/10
Mitchell's WWE Raw Results & Report! (12/6/21)
The Man's gold is on the line!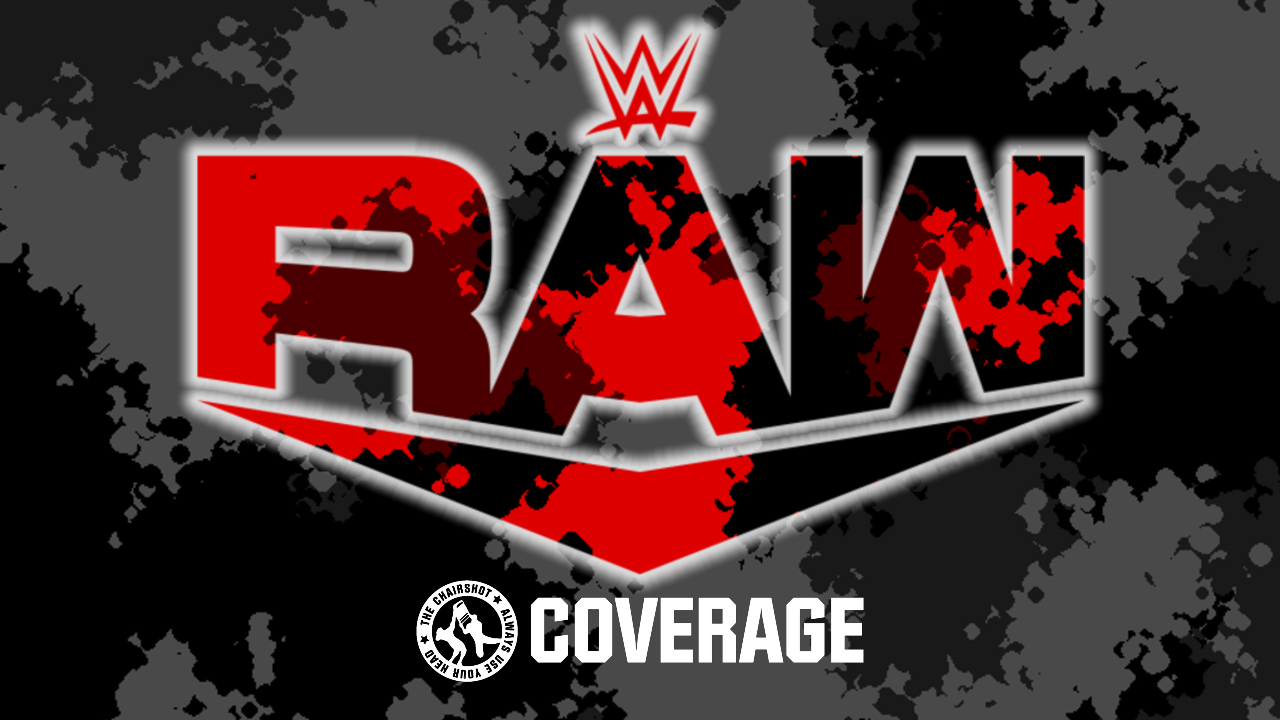 Will Big Time Becks still be Raw Women's Champion?
Liv Morgan takes on The Man for the Raw Women's Championship! Will she catch Becky Lynch underestimating her? Or will Raw still be Big Time Becks'?
OFFICIAL RESULTS
Steel Cage Match: Big E VS Kevin Owens; Big E wins.
Zelina Vega w/ Carmella VS Nikki A.S.H. w/ Rhea Ripley; Vega wins.
Tag Team RKBRO-nament: The Street Profits VS AJ Styles & Omos; The Street Profits win and advance to the second round.
WWE United States Championship Open Challenge: Damian Priest VS Robert Roode w/ Dolph Ziggler; Priest wins and retains the title.
Bianca Belair VS "Doudrop" Piper Niven; Belair wins.
Tag Team RKBRO-nament: Rey & Dominik Mysterio VS The Alpha Academy; Rey & Dominik Mysterio win and advance to the second round.
Finn Balor VS T-Bar; Balor wins.
Raw Women's Championship: Becky Lynch VS Liv Morgan; Lynch wins and retains the title.
PLAY BY PLAY
Seth Rollins is backstage.
"Welcome, everybody, to Monday Night Rollins. Where last week, Kevin Owens connived his way into MY title match at WWE Day 1. But tonight, oh tonight! Kevin Owens, in just a few moments actually, finds himself going one on one with WWE Champion, Big E, inside the steel cage! Hahaha! A match where they will rip each other apart in, and I will enjoy every single second. And at Day 1, we will usher in a new year. We will usher in a new era with a NEW champion when I beat both Big E and Kevin Owens and reclaim my rightful place as WWE Champion! Hahahaha! Enjoy the show."
Big E speaks.
"Man, I've been through hell and back to get my WWE Championship. And tonight is no different. Kevin Owens, it may be you and me and Seth Rollins at WWE Day 1 for my WWE Championship, but tonight, we're locked inside a steel cage! And boy, there is no easy way out! There is no shortcut home! But not only am I going to beat you, Kevin, I'm gonna punish you. Oh, you got to feel that, SUCKA!"
Kevin Owens speaks.
"Big E's been calling me a liar for weeks, months really. But he's the liar. Because earlier he said it was his WWE Championship." It's KEVIN's championship! Big E is just holding it for Kevin until Day 1. That means there's 26 days left until Kevin takes the title and the fans can rejoice. Big E wants to punish Kevin but Kevin will be the one to punish him. And that is no lie.
Steel Cage Match: Big E VS Kevin Owens!
The gold may not be on the line, but there is pride and physical well-being at stake! Who gets out of this cage in better shape going towards the New Year's Day Triple Threat?
The door closes, the bell rings and Kevin goes right for the exit! Big E stops him so Kevin throws hands then tries again. Big E rains down fists but Kevin kicks back. Big E denies the stunner but Kevin boots him! Big E still stops Kevin from getting out the door! Big E throws body shots, then runs into the corner. Kevin BOOTS Big E again, then goes up the wall! Big E trips him up and Kevin lands bad on the ropes! Big E grabs Kevin by his beard, then throws forearms! Kevin is against the steel, so Big E dribbles him off it! Kevin hits back but Big E throws body shots and forearms. Kevin hits back again, climbs up the corner then the cage, but Big E catches up to him!
They brawl on the ropes, Kevin headbutts and pushes Big E. Big E hits back with more body shots, then climbs up to dig Kevin's face into the girder! Kevin elbows Big E until Big E hops down. Kevin then hotshots Big E away, and goes along the wall towards the door. Big E runs and RAMS into him! Kevin falls back into the center and Big E drags Kevin up. Big E whips Kevin and smacks him off steel! Kevin goes to a corner, Big E brings him around and SMACKS him off steel again! Fans fire up as Big E paces around. Big E has Kevin against the wall again with more body shots and more dribbling. Big E scrapes his forearm off Kevin's face, then runs, only for Kevin to move!
Big E only gets steel and he tumbles back! Kevin catches his breath in a corner while Raw goes to break.
Raw returns and Kevin stomps a mudhole into Big E! Kevin lets off to shout, "This is MY show!" Kevin then climbs, but Big E gets up to bring him down again! Kevin kicks back then QUEBRADAS! Cover, TWO! Kevin rains down fists, then drops a senton! Fans rally up for Big E, Kevin brings Big E up to talk trash and whip. Big E reverses and RAMS Kevin into steel again! Big E hurries to cover, TWO! Big E grows frustrated, but he goes for the door! Kevin hurries after and clamps onto Big E to dribble him off the steel now! Kevin has Big E in the ropes to CHOKE him! Kevin lets off to stomp Big E down, then he goes to climbing the cage.
Big E catches up to Kevin again! Big E climbs up, CLUBS Kevin and brings him back to the top rope. Kevin dribbles Big E off the steel again! Big E tumbles down and Kevin adjusts, but he goes back up! Big E hurries but Kevin's already at the top! Big E gets Kevin's legs, brings him down into Electric Chair position, but Kevin fights free! Kevin SUPER SUNSET FLIP POWERBOMBS! Cover, TWO!! Big E survives and Kevin can't believe it! Kevin scowls as fans rally up for Big E. Kevin scuffs Big E, but Big E powers up! Kevin throws hands but Big E just glares. Kevin runs, into an OVERHEAD Belly2Belly! And another! And then the SIDE Belly2Belly!
Fans fire up as Big E swivels them hips! Big E runs but Kevin gets away to the door! Big E stops Kevin, brings him in but Kevin elbows him away. Kevin then ducks the clothesline to SUPERKICK! But Big E falls to the door! Kevin runs in, CANNONBALL! Cover, TWO! Kevin crawls over Big E to go to the door, but Big E grabs at Kevin again. Big E clubs Kevin, Kevin ROCKS Big E! Kevin throws forearms to back Big E down, then he trips Big E to turn him! BOSTON CRAB! Big E endures, powers up, and powers his way not to the ropes but to the door! But Kevin sits deep, shifts around, and grabs at Big E's head! Big E keeps crawling, but Rollins SLAMS the door shut on them both!!
Rollins wants to lock the door so that no one can escape that way! The Architect had a plan all along, and he laughs maniacally as Raw goes to break.
Raw returns again and Kevin climbs a corner while Big E crawls! Rollins mockingly ushers Big E on and Big E drags Kevin down! Kevin hits back, they brawl up top, Big E turns around to throw back elbows. Big E brings Kevin onto his shoulder, but Kevin rakes eyes! Big E hops down, Kevin kicks him away. Big E is down, Kevin FROG SPLASHES! Cover, TWO! Rollins is loving this because the match continues! Big E crawls to the corner, Kevin runs in, but Big E elbows him away! Big E gives Kevin the Urenag-E! Cover, TWO! Rollins says it was THAT close. "What a fight! This is amazing!" Fans rally for Big E and he waits for Kevin to rise. Big E scoops, but Kevin slips out to kick and-
NO, Big E stops the stunner again, only to run into the POP-UP POWERBOMB! Cover, TWO!! Rollins again says "That close!" Kevin gets up, steps on Big E's leg, then goes to a corner. Kevin tells Rollins to shut up already, and he climbs up. Rollins shouts to Big E, and Big E hurries to get up! Kevin is halfway out but Big E clubs him! Big E drags Kevin back in, throws back elbows to force him down, and even more back elbows to get him into place! SUPER BIG ENDING!! Big E doesn't cover, he heads for the door! Big E crawls as it opens, but Kevin gets a foot! Big E kicks Kevin away, Big E is free, and he is out! Big E wins!
Winner: Big E, by escape
And Rollins attacks him anyway! Rollins stomps and punches Big E down, then the cage rises, so Rollins goes after Kevin! Rollins soaks up the heat from Memphis as he aims from a corner. Rollins runs in, but Big E catches him! OVERHEAD Belly2Belly! Big E gets Kevin back up to give him a BIG ENDING! The world champion stands tall, but can he do it again on Day 1?
Raw returns as everyone is down around ringside.
Big E may have stood tall just before the break, but what we didn't see during the break was that BOBBY LASHLEY just appeared and wrecked all three of them! Big E, Kevin Owens AND Seth Rollins got dominated by the Rocky Mountain Machine! Will Lashley be waiting on the Monday after Day 1 to take the title from the Triple Threat winner?
Zelina Vega w/ Carmella VS Nikki A.S.H. w/ Rhea Ripley!
"Hear ye, hear ye," the Queen of the Ring says. "How lucky are all of you that the Queen and the Women's Tag Team Champions decided to grace you with our presence tonight? Uh, the queen is talking. The queen is talking! Would you rather be cheering for that loser, Almost a Superhero, Nikki A.S.H?" Zelina feels sorry for Nikki, but not as much as when she'll beat Nikki tonight and send her into the pit of despair. AKA, Memphis! But Zelina stops gloating as Nikki & Rhea make their way out! Will the Almost Super Hero humble the Queen of Raw?
The bell rings, the two tie up, and Zelina powers Nikki back. The ref counts, Zelina lets off at 4, but Nikki elbows her away. Nikki goes up but Zelina YANKS her down! Zelina waves, but Nikki gets to ropes. Zelina pulls Nikki against ropes, thrashes her about, and then taunts Rhea as she lets off to take a royal bow. Zelina KNEES Nikki down, covers, TWO into a crucifix cover, TWO! Nikki gets around Zlinea to roll her up, TWO! Zelina knees low, whips Nikki to a corner, but Nikki goes up and over and keeps moving to LARIAT Zelina down! Fans fire up with Nikki and she run sin to SPLASH in the corner, then hits a BULLDOG!
Nikki brings Zelina back up, but Zelina slips out of the fisherman! Zelina trips Nikki from the corner, high stack and feet on the ropes! The ref sees it and stops the count! Zelina protests but Nikki fires forearms! Zelina kicks back, whips, but Nikki reverses and hits a NECKBREAKER! Nikki climbs up the corner, for a CROSSBODY, but it FLOPS as Zelina moves! Zelina hops on, CODE RED!! Cover, Zelina wins!
Winner: Zelina Vega, by pinfall
The Queen stands tall and Rhea is frustrated. Mella shouts at the assistant to get Zelina's crown for her, and the WWE Women's Tag Team Champions gloat all the way to the back. Will Rhea & Nikki ever get those belts back off such an arrogant duo?
RKBRO meet backstage.
Matt Riddle is in his ring commentator best. He got one for Orton, where is it? Don't start. But Riddle was watching this movie and- Kevin Patrick walks in to ask them about tonight's Raw Tag Team Championship tournament? No, no, it's the RKBRO-nament. They put their favorite holiday movies in a tournament style bracket to debate which is the best, and that gave them the idea for this tournament tonight to determine their next #1 contenders. Adam Pearce & Sonya Deville both loved the idea and- Randy says none of that happened. That is all Riddle's idea. All Orton said was that if they had to defend their tag titles, that is all they would focus on. And then Riddle replied about how Home Alone changed his life.
Bro, he shared that in confidence…! But on a more important not, RKBRO will be special guest hosts and correspondents, doing all the interviews courtesy of RKBRO. Orton never agreed to that, either. Riddle loves his sarcasm. And so… here's your blazer! There is no way in hell Orton is wearing that. But Orton will look so good in it! And the fans want it. Plus the voices in Riddle's head are telling him to slap the blazer on. Is that so? He wants Orton to wear the blazer? And Memphis wants to see it? Yes, they need it! FINE! Orton puts on the blazer! RKBRO head out, who will win this very professional Raw Tag Team Championship Contenders Tournament?
Rhea tries to talk to Nikki backstage.
She wants her not to worry, they'll get it next time. But then a fan comes by and says she's their biggest fan. Nikki would love to! Sorry, she was talking to Jerry the King Lawler. Jerry doesn't mind. And sorry about that loss, kid. Want an autograph? Nikki sulks away and Jerry shrugs. What will it take for the Almost Super Hero to cheer up?
Tag Team RKBRO-nament: The Street Profits VS AJ Styles & Omos!
Raw returns and the Phenomenal Styles and the colossal Omos make their entrance. RKBRO are on commentary, or at least Riddle will be, just as Riddle said. The Profits then make their entrance, and fans fire up for the red Solo cups raining down! The teams sort out, Styles starts with Montez Ford and Styles fires right off! Styles CHOPS, whips, but Ford reverses to dropkick Styles down! Ford brings Styles up, wrenches the arm, whips him into the corner, then tags Dawkins. The Profits double whip, Dawkins dropkicks Styles down! Then they coordinate, BACK SUPLEX SPLASH, to Dawkins' RUNNING SPLASH! Cover, TWO!
Angelo Dawkins brings Styles up, Styles RAMS him into the corner! Styles digs his shoulder in, the ref counts and Styles lets off. Dawkins dodges to ROCK Styles, whip him corner to corner, CYCLONE SPLASH! Dawkins runs but Omos holds the ropes down! Dawkins tumbles out and Omos shrugs. Riddle says that is not in the spirit of the RKBRO-nament! But Styles DECKS Ford, then SLINGSHOT FOREARMS Dawkins! Styles has control as Raw goes to break!
Raw returns and Omos is in! He drags Dawkins up, whips him hard into a corner, and Dawkins falls to the mat. Omos drags Dawkins back up, scoops him and then SLAMS him! Omos stares Ford down, then he brings Dawkins back up to CLUB him down. Omos drags Dawkins up, Dawkins throws body shots but Omos knees him low. Omos CLUBS Dawkins, looms over him, but Dawkins hits a JAWBREAKER! Omos checks his teeth as he staggers back, but he CLOBBERS Dawkins down! Omos scowls, drags Dawkins back up, then tags Styles in. Omos holds Dawkins in place for Styles to stomp. Styles brings Dawkins up but Dawkins fires forearms!
Styles KICKS the leg but Dawkins throws more forearms! Styles throat chops, runs but only gets buckles! Hot tag to Ford! Ford rallies on Styles, brings him up but Styles blocks the suplex, so Ford rolls him up! TWO, and Ford mule kicks then front kicks then ENZIGURIS! Ford fires up, taunts Omos, runs in but Styles BOOTS him! Styles runs in but Ford dodges to then LEAPING LARIAT! Ford takes off the glove, and he BACK HAND SLAPS Omos! Omos is furious! Ford screams but Dawkins ROCKS Omos! DOUBLE DROPKCIKS sends Omos off the apron! Styles PELES Dawkins, slides under Ford, but Ford fights the lift to switch the waistlock!
Styles lands out of the back suplex to ENZIGURI, and PELE! Then Styles suplexes, BRAINBUSTER!! But Styles won't cover, he goes to the apron! Styles aims, but Omos gets up to tag himself in! Styles is surprised by that, but Dawkins drags Styles out to ROCK him! Omos runs over to RUN OVER Dawkins! Ford PLANCHAS, but Omos catches him! APRON POWERSLAM! Omos throws Dawkins into barriers but the ring count! Omos didn't hear it in time, he gets counted out!! The Profits win!!
Winners: The Street Profits, by count-out (advance to the second round)
Riddle says that is an upset! But he admits, he's relieved he doesn't have to worry about Omos. Styles tells Omos he has to listen, to do what he's told. But Omos just leaves Styles behind! Is this the end of their phenomenal partnership? Riddle gets in the ring to say breaking news! Riddle is "Howard Brocell" and he asks for a comment on this crazy event. AJ, a word? What? Is Riddle talking to him? Yes! Styles tells Riddle to go interview the winners. Well, AJ, Riddle's integrity tells him to follow the biggest story, and the Profits got out way too fast. But things got juicy there between Styles and Omos. Would he like to explain what's going on?
What is this? Dateline? Kinda. Styles says that was a disagreement between a great tag team, that's all. Not that Riddle would know anything about that. Now get the mic out of Styles' face or he'll shove it down your throat! Styles storms off, Riddle says this was an explosive start to the RKBRO-nament. It's anyone's game! Except for Styles & Omos. They're out. Would Randy like to add anything? Fans cheer and Orton gets a mic to say, "Nope." Always beautiful insight from Randy. But dude, things are just heating up for the tag team tournament, brought to you by the three most dangerous letters in sports entertainment, R K BRO. "Back to you, Jimbo Slice."
Backstage interview with Becky Lynch.
The Raw Women's Champion has a big match with Liv Morgan> yes, a big, big night. For Liv. The biggest night of Liv's career, going in with a lot of momentum. Liv won her match last week, hit her finisher afterward. The week before that, sucker punched Becky as hard as she could, and the week before that, countered the Manhandle Slam. The Liv Morgan bandwagon is big and the train is rolling. But the real battle isn't in the ring with Becky, no. It'll be in the mind and in the heart, and out in the crowd where fans want to tear her apart. No one really wants Liv to win. You do well enough, they cheer. You do too well, they turn on you.
Liv is in the perfect position as the underdog who will never join the stars. Becky is the biggest star there is! So it's just another Monday for your champion, Big Time Becks. Will Becky prove herself right through and through when she takes on Liv later tonight?
RKBRO talks backstage.
Riddle says that was the coolest! When Orton said, "Nope," the fans went insane! But Riddle says Orton left some money on the table. They gotta bring the fans on a roller coaster ride, dude! Is that right? A little bit. Orton says his broadcasting career is over. For now, at least. Have fun, it's all on you, now. Thanks, Randy! Riddle vows not to let him down!
WWE United States Open Challenge: Damian Priest VS ???
The Archer of Infamy continues to be a fighting champion, not even worrying about who'll answer the call! Who steps up and tries to take Priest's title? We find out, after the break.
Raw returns and Robert Roode is in the ring, Dolph Ziggler in his corner. The belt is raised, and we see if the GLORIOUS One can get himself some gold!
Priest and Roode circle, tie up, and go around. Roode puts Priest in a corner, throws body shots, then haymakers. Roode stomps, punches, but lets off as the ref counts. Priest comes back to grab Roode by the neck and throw him to the corner! Priest fires off heavy hands and ROCKS Roode! Priest whips, Roode kicks back, then runs, but into a shoulder! Priest drags Roode up and bumps him off buckles. Priest ROCKS Roode, whips him to ropes, then jumping back elbows him down! Cover, TWO! Priest bumps Roode off buckles again, throws knees in again and again, then snapmares to KICK Roode in the back. And then KICK him in the chest!
Priest brings Roode up to ROCK him with a right, fans fire up and Priest runs corner to corner, but Roode moves! Priest stops himself to then BOOT Roode down! Ziggler takes a swipe but Priest avoids it to swipe back at Ziggler! Ziggler runs away as Priest goes out after him! Roode comes up and CLOBBERS Priest, and Priest hits steel steps! Roode then TOSSES Priest over the barrier! Roode gloats that he'll be the new champ, but Raw goes to break.
Raw returns again and Priest throws heavy haymakers on Roode, then BOOTS him to a corner. Priest runs in but Roode BOOTS back! Roode goes up, GLORIOUS BLOCKBUSTER! Cover, TWO! Roode is frustrated but Ziggler coaches "Big Bob" on. Roode taunts Priest, "I'm the champ!" But Priest counter punches and ROCKS Roode! And again! And again! Priest fires off fast hands, Roode staggers to a corner and Priest even hurt his own hand. Roode runs in, but into a FLAPJACK! Fans fire up, Priest runs corner to corner to back elbow! Priest suplexes, Roode slips out and shoves, but Priest LARIATS on the return!
Priest kicks low, suplexes again, BROKEN ARROW! Cover, TWO! Priest keeps his cool as he brings Roode back up. Priest reels Roode in but Roode wrenches out, only to get a BELL CLAP! Roode ducks the heel kick to shove, ducks the lariat then hits a BACKSTABBER! Cover, TWO! Roode snarls and throws forearms, but Priest forearms back! Roode kicks low, Priest knees low! Roode CHOPS, Priest KICKS, KICKS and KICKS! ROUNDHOUSE! Roode staggers, Priest springboards, but Roode gets him for a SPINEBUSTER! Cover, TWO! Roode grows frustrated again, Priest crawls to ropes. Priest drags himself up, Roode wants him, kicks him in and reels him in, but no DDT!
Priest dragon sleepers, but Roode fights free! Only to run into the choke grip! Roode fights out of that, rolls Priest up, TWO! Priest catches Roode to the dragon sleeper, RECKONING!! Cover, Priest wins!
Winner: Damian Priest, by pinfall (still WWE United States Champion)
But Ziggler SUPERKICKS Priest down! The Show-Off took out his frustrations, and promises that next time, Priest is done! But will the Archer of Infamy shoot down these Dirty Dawgs next time they meet?
Bianca Belair VS "Doudrop" Piper Niven!
Finally, the EST gets the grudge match with Doudrop that she's wanted for weeks now! But she doesn't even get to finish her entrance before Piper CLOBBERS her from behind! Fans boo but Piper just gets in the ring. Can Bianca pull off the quickEST recovery she's had to in order to get the sweetEST revenge?
Raw returns and Bianca is ready now. The bell rings and she dropkicks Piper! Piper comes back and they start throwing hands! Bianca shoves, but Piper fights the spinebuster! Piper tries to whip, Bianca blocks but Piper powers through. Piper runs in at the corner, Bianca slips to the apron! Piper hits buckles, Bianca hits Piper! Bianca then jumps in to stomp a mudhole into Piper while fans fire up. Bianca whips, Piper reverses, Bianca goes up and tells her to "Kiss this." Piper runs in but Bianca flips over and does her dance. Bianca runs, ducks and redirects but Piper avoids the dropkick to drop the SENTON! Cover, TWO!
Piper stalks Bianca to a corner, brings her up and CLUB her, then brings her up to CLUB her again. Piper CLUBS Bianca down, kicks her around, then drags her up by an arm. Fans rally for Bianca but Piper headbutts the arm! Piper gets Bianca's arm for a COBRA CLUTCH! Bianca endures, Piper leans on the hold, but Bianca throws elbows. Piper ripcords and short arm LARIATS! Bianca rolls away but Piper stalks her to a corner. Piper wraps the arm around ropes, pulls, but the ref counts. Bianca shoves Piper, too, but Piper runs back in, into an elbow! Bianca boots Piper, but Piper CLOBBERS Bianca! Piper scowls, covers, TWO!
Piper grows frustrated, she soaks up the heat and brings Bianca up to HEADBUTT her again. Piper drags Bianca back into the cobra twist and thrashes her around! Bianca endures, fights up, fans rally and Bianca RAMS Piper into the corner! Bianca gets free, runs back in but Piper puts her on the apron to SLAP her! Piper goes to the apron and scoops Bianca, but Bianca fights her way into the ring! Bianca fires forearm after forearm but Piper shoves her away. Bianca handsprings to hit Piper off the apron! Fans fire up with Bianca as she eggs Piper on. Piper slowly gets up, she drags Bianca out! Piper RAMS Bianca into the apron! Piper SPLASHES down on Bianca! Bianca is down and Raw goes to break!
Raw returns again and Bianca fights with body shots, only for Piper to ripcord her. Bianca ROCKS Piper with forearms and a dropkick! Piper stays up but Bianca brings her in. But Piper is the one who suplexes Bianca! Bianca slips out, shoves and hits a SPINEBUSTER!! Fans fire up with Bianca and she runs at Piper in the corner to RAM in her shoulder! And again! And again! The ref counts, Bianca lets off to climb up! Bianca rains down fists, but Piper slips out! Bianca kicks her away, leaps, CROSSBODY! Cover, TWO! Bianca is a bit surprised but Piper shakes her head. Bianca drags Piper up and fans rally behind her, but Piper blocks the whip!
Piper reverses Bianca, runs in but into a back elbow! Bianca goes up and sunset flips but Piper SITS on her! Piper then goes up the corner, VADER BOMB!! Cover, TWO!! Bianca survives and Piper is seething! Memphis is thunderous as Piper pulls at her hair. Piper pushes Bianca around, fans rally up and Piper stands Bianca up. Piper pulls out the butterfly hairpins and even pulls at the braid! Bianca windmills haymakers but Piper CLUBS her down! Piper scoops, Bianca slips off but Piper HEADBUTTS her down! Bianca ends up in a corner, Piper runs in, CANNONBALL only gets buckles! Bianca gets Piper up and torture racks!
Fans are thunderous but Bianca can't keep Piper up and Piper slips out of the ring! Piper wants to walk!? Bianca seethes but she doesn't chase after, Piper lets herself get counted out! Bianca wins!
Winner: Bianca Belair, by count-out
Piper tells Bianca to kiss this and then walks backstage. Bianca doesn't get it, but she still gets the win. Will this be the end of it? Or will Piper come back when Bianca least expects it?
Austin Theory visits Vince McMahon's office again.
They sit down and Theory is a bit wary given last time, Vince slapped him. Theory's been doing good? Yeah, good. Vince reminds Theory that asking about how someone doing is fake. Now time to learn something this week. Theory will be in a match tonight. Really? Okay! Wait, did Vince expect him to do that? Was he surprised? Yeah, definitely. Oh. Well then he didn't really learn from last week. Will Theory learn much of anything with the cryptic ways Mr. McMahon is teaching him? Or is it just Theory who's out of touch?
MizTV returns!
The Miz struts his way out to the ring, and he's inviting the Rated R Superstar to be his first guest! Will Edge give the Hollywood A-Lister the satisfaction? We find out, after the break.
Raw returns and Miz welcomes us back to the Most Must-See WWE Talk Show, and he knows what we're thinking. They want to know where his beautiful, gorgeous, sexy wife is, but Maryse doesn't go to places like Memphis, Tennessee. Have you seem yourselves lately? She's not coming here. But Miz rewatched his confrontation with Edge from last week, and he couldn't believe his eyes. It was unbelievable. Edge complimented him! A heartfelt compliment from Edge! Miz has known Edge for 15 years, it doesn't sound like him. He's a shell of his former self! Or is he? We'll find out. Miz introduces the Rated R Superstar, the music hits, and Edge appears!
Edge has the fans fired up and he heads down the ramp and even Miz fires up for the pyro. Edge gets in the ring, Miz takes a seat but Edge just takes the mic. Edge decides to sit after all and sees Miz is confused. Edge says he meant those compliments, and he still means them this week. Aww, how sweet. But Miz can't help but think that the Rated R Superstar has lost his edge. Wow, a clever pun, Mike. But the ultimate opportunist, the master manipulator would've just speared Miz out of his $9000 shoes. And honestly, this Edge is definitely physical in the ring, but Miz can't help but think that mentally, Edge is weak.
First off, $9000 for ugly ass shoes? Edge's Jordan 3's are way cooler. And don't mistake kindness for weakness. Whatever is going on here, Miz has bigger issues than Edge. Miz says Edge doesn't need his kindness. When he needed that was in 2006 when Miz started in the WWE. Miz walking on eggshells, everything he said and did was wrong, and how he got kicked out of the locker room! But they both know Miz wasn't kicked out for eating chicken, he was kicked in because he didn't fit the mold. He was an outcast, he was ostracized for having "it," but everyone else wanted to protect their spot.
So instead of protecting the kid who came off the hit show, MTV's The Real World, he was treated like a peasant when he was already more famous than 90% of the locker room! Miz doesn't need Edge's kindness, nor does he want it. So then Miz is painting Edge with "that brush?" Glossing over some key points here. It was in this arena where Edge pulled Miz aside, told him he has "it," and that he could endure the BS. Oh wow~. Well does Miz remember what he did after that? He brushed Edge off! Or did Miz forget? Edge went through the same things seven years before that! And if someone had pulled him aside, Edge damn sure would've listened.
The biggest difference between Edge and Miz, is that Edge didn't walk into the locker room and already think he was a bigger star than everyone else. And Edge isn't afraid of losing the spot. When he sees a new face, he sees a new opportunity and a new opponent. He never puts anyone down. But Miz wants to blame everyone else? Here's what he should do: At the end of the day, Miz should look himself in the mirror, and that mirror will tell him what it would've in 2006. "Miz, you're an ass!" Miz gets up and so does Edge. Miz seems to think things over, and then he chuckles. "And you're a hypocrite, and you're vulnerable, and I've surpassed you in and out of the ring."
2022 will be the Year of Miz, and Miz can't think of a better way to usher it in than beating Edge on January 1st! Well if that's a challenge, Edge accepts! But Edge is right here, they're in Memphis, and there's nothing between them but air and opportunity. What's Miz say to that? Fans fire up, but Miz says, "No." But here's why. Edge thinks Miz is afraid? He's- Edge steps and Miz falls over! "Not afraid?" Edge chuckles and leaves. Will the Rated R Superstar make this A-Lister feel like just an extra on WWE Day 1?
Backstage interview with Liv Morgan.
Sarah brings up Becky's strong words, how does Liv respond? Liv heard that, and Becky isn't wrong. Liv did all of that, and Becky is right, people are watching. That scares Becky, because what she got wrong is that fans are watching to see Liv win. They believe there is a chance that things won't go Becky's way. Becky's used to getting what she wants, but Liv will do everything in her power to get what she wants: that Raw Women's Championship! Liv is ready, but will her moment finally arrive?
Tag Team RKBRO-nament: Rey & Dominik Mysterio VS The Alpha Academy!
La Familia has had their run-ins with Chad Gable & Otis Dozovic before, but now there's a title opportunity on the line! Will Rey & Dom get a step closer to becoming the first-ever two-time father-son tag team champions? Or will Gable & Otis win this one #ForTheAcademy?
Raw returns and Riddle is back on commentary! The Alpha Academy make their entrance, the teams sort out and Dom starts against Gable. They circle, they tie up, Gable trips Dom and knuckle lock covers, ONE! Dom gets up, goes shoulder to shoulder with Gable but then breaks to fire off forearms. Dom goes up and up and FLYING ARM-DRAGS! Then another arm-drag for a cording hold! Gable whips Dom away from Rey, and Gable says, "Don't go running to daddy!" Gable then SLAPS Dom! Dom runs in, Gable slips around to BUTTERFLY SUPELX! Bridging cover, ONE, but Gable wrenches, only for Dom to whip Gable and SLAP him back!
Gable can't believe it but fans fire up! Gable waistlocks, Dom throws him out of the ring! Gable gets back in, Dom dropkicks him down! Dom brings Gable away, but Gable reels him in for an OVERHEAD Belly2Belly! Otis talks trash, Gable crawls over to Dom, but Dom grabs his leg! Gable stomps Dom then YANKS the leg! Gable stares Rey down, goes back to Dom, but Dom throws forearms, Gable shoves, Dom runs but into a rolling HALF CRAB! Dom endures, Riddle likes the seamless transition. Dom powers up, rolls Gable to a cradle, TWO! Gable blocks a kick but not the ENZIGURI! Gable staggers, Dom trips him up! Dom brings Gable away from Otis, but Gable CLUBS him!
Gable brings Dom up, Dom counter punches! Dom fire so haymakers, whips, but Gable reverses. Gable runs in but blocks the boot to put it in the ropes! DRAPING DRAGON SCREW! Gable goes up top, MOONSAULT, but Dom turns it into a roll-up, the Mysterios win?!!
Winners: Rey & Dominik Mysterio, by pinfall (advance to the second round)
No one even tagged out in that match! Gable keeps Otis back, the loss is on him! Riddle gets back in the ring to interview the losers. The first ever RKBROnament, how do they feel- Otis scoops Riddle! Riddle shouts, "I'M A JOURNALIST!" but he still gets the POWERSLAM! Will Riddle learn when not to talk? Will the Mysterios get past the Profits to go after the tag titles?
Austin Theory warms up in Vince's office.
While Vince was testing Theory, he was serious about making a match. Vince is on the phone but then ends the call. He has Theory take a seat and says unfortunately, because Theory wasn't ready to start, no match tonight. But last time he had a match was the WWE title against Big E. Yes, and it was impressive. But Theory is not having a match tonight. So find another way to impress him. Uh, okay. Theory unzips to show off his abs while doing jumping jacks. #AllDay, Mr. McMahon! All day. No, please stop. Vince says to find another way. Use your brains! Right, okay. Theory has an idea and heads out. Vince is ready to see what Theory comes up with.
Finn Balor VS T-Bar!
The Prince is ready to make Memphis part of the Balor Club, but the towering T-Bar is ready to destroy everyone! Will Balor avoid that destruction to make tonight Too Sweet?
Raw returns and T-Bar is in the ring. The bell rings, T-Bar and Finn tie up. Finn gets the arm but T-Bar CLUBS him with the other. Finn KICKS a leg, T-Bar choke grips. Finn headlocks, T-Bar powers out, Finn ducks and dodges then leaps, but into T-Bar's arms! T-Bar KNEES then TOSSES Finn, covers, TWO! T-Bar rains down fists, drags Finn up and bumps him off buckles. T-Bar stomps, ROCKS Finn then digs his boot in! The ref counts, T-Bar lets off at 4, and he gives Finn a BACKBREAKER! Cover, TWO! T-Bar clamps on with a chinlock! Finn endures, fans rally, and Finn fights up. Finn fights the chinlock but T-Bar knees him low!
T-Bar TOSSES Finn to a corner, but Finn BOOTS back! Finn throws forearms and body shots, then whips. T-Bar reverses to choke grip and CHOKE- NO, Finn wheelbarrows to a victory roll, TWO! Finn trips T-Bar to DOUBLE STOMP! Fans fire up with Finn and he aims from the corner, but T-Bar denies the slingblade! T-Bar CYCLONE BOOTS Finn down! Cover, TWO!! Finn survives and T-Bar is furious! T-Bar drags Finn up, scoops him, but Finn slips off to SLINGBLADE T-Bar down! Finn goes up top, fans fire up, but T-Bar choke grips Finn then climbs up! Finn ax handle chops and elbows free! T-Bar falls, Finn adjusts, COUP DE GRACE!! Cover, Finn wins!
Winner: Finn Balor, by pinfall
Finn rebounds from his loss to Seth Rollins over a literally huge challenge! Will Finn be able to fight his way to- Oh no! Theory goes after Finn! This is him impressing Vince with an ATL to Finn! Oh, and a selfie, too! Will Theory score points with Vince along with the likes? Or will Finn show Theory to never cheap shot the Prince?
Dana Brooke sneaks around backstage.
The WWE 24/7 Champion has to be careful at all times, of course. But then R-Truth AND Akira Tozawa jump out and surprise her! They could've gotten her right here, but Truth doesn't even know if that's PG. They'll have to read up on the rules. Take care, Brooke. But wait! Here comes Reggie like an American Ninja Warrior! But he tells Dana not to worry. He just wanted to finish that conversation from last week. He was impressed by that move she pulled on Cedric. And that title looks nice on her. But Tamina comes storming in! Reggie helps delay her so Dana can get away. Will Reggie win something other than the title from Dana Brooke with that assist?
MVP and Bobby Lashley head out backstage.
Time to paint the town red. But Kevin Patrick asks as to why Lashley attacked Big E, Rollins and Kevin Owens. MVP says KP knows how this works. "We live in an area where people have become way too comfortable disrespecting other people, because there are no consequences for those actions. Not so in the All Mighty Era." Those three had the audacity to have a WWE Championship match without even mentioning Lashley's name. That was disrespectful, and that attack was the consequence. "When you disrespect me, Kevin, that's what happens." MVP adjusts KP's tie, and the Hurt Business heads out. Is this all further setting up the Rocky Mountain Machine on the other side of Day 1?
WWE takes a closer look at Liv Morgan.
The youngest of six children to a single mother who worked 60 hours a week. Most times, they were above water. But there were times where things didn't work. A confused kid who couldn't find her way in life. But Liv loved the WWE her whole life. With a dream in her head she couldn't express, that only she could understand, now she knows who she is. From NXT to SmackDown to Raw, from confused kid to confident woman who fights for her dreams. She won't be pushed aside or shamed for feeling her feelings. She won't be denied the moment she's waited an entire life for. She knows who she is: the next Raw Women's Champion.
Raw Women's Championship: Becky Lynch VS Liv Morgan!
This could be the moment where it all comes falling down for The Man! Emphasis on could, as far as Becky is concerned. Will she overlook and underestimate Liv enough for Liv to finally live that championship life? Or is Liv still too small time for Big Time Becks?
Raw returns as Liv makes her entrance. Is it her moment? We find out after the break!
Raw returns again, and the introductions are made. The belt is raised, and we see if a dream lives or dies in Memphis!
Liv and Becky circle, tie up, Becky waistlocks and SLAMS Liv down. Becky talks trash, "Welcome to the big time." Liv gets up, circles with Becky again, but Becky gets around to headlock. Liv powers out, Becky runs her over, and Becky flexes on Liv. Liv gets up but Becky pie faces her around. Liv gets the arm to arm-drag, then runs in. Becky avoids Oblivion by mere seconds! Liv tells her how close that was, but she lets Becky get on the apron,. Becky kicks Liv, Liv forearms back! Liv headlocks, Becky powers out, but Liv runs Becky over! Liv gives back the trash talk, things speed up and Liv rolls over Becky to then sidestep. Becky catches the hurdle to throw Becky down!
Becky wants the arm, Liv slips out to Oklahoma Roll, TWO! Liv sweeps the legs, covers, ONE as Becky goes Matrix! Becky smirks, but Liv goes Matrix to dodge the lariat! Becky wants the arm, Liv rolls her up, TWO! Liv gets the arm, La Magistrol! TWO, Liv trips Becky to a jackknife, TWO as Becky bridges up and spins Liv around! Liv reverses the backslide, TWO! Liv has the leg for a lateral press, TWO! Becky DECKS Liv to stop that! Becky stomps Liv, talks trash, then SLAPS Liv down! Becky kicks Liv around, whips her to a corner, but Liv elbows her back. Liv goes up and up and missile dropkicks! Becky scrambles away, Liv runs in to DOUBLE- NO, Becky dodges to JUMP KICK!
Liv falls out of the ring, Becky builds speed. Becky slides, Liv ducks it and hits a CODE BREAKER! Liv gets in the ring, sees Becky slowly get up, and now Liv builds speed! Liv DIVES! Direct hit and down goes Becky! Fans fire up but Liv clutches an arm! Liv still gets up and gets Becky in the ring to cover, TWO! Liv grimaces, but she goes to the apron for a breather. Fans rally up, Liv climbs up a corner, but Becky stops her with a forearm! Becky climbs up, throws more forearms, then brings Liv up. Liv fights back with body shots, but Becky still SUPERPLEXES! Both women are down as Raw goes to break!
Raw returns once more, and the forearms are flying! Becky knees low and throws Liv out to the apron, to then bring her in the ropes for more forearms and uppercuts! Becky sobats, then goes to the corner, GUILLOTINE LEG DROP! Cover, TWO! Becky is getting frustrated but she thinks of what else to try. Liv slowly gets up, Becky straddle attacks then chinlocks to stretch Liv back. Liv endures, fans rally up, and Liv fights up to throw body shots! Liv arm-drags Becky to a corner, Becky comes back but into counter punches! Becky shoves Liv, shoots after a leg and trips Liv to roll her and dragon sleeper, INVERTED DDT! Cover, TWO!
Becky paces while Liv gets to a corner. Becky runs in but Liv dodges! Liv throws Becky down by her hair, then hurries up top! But Becky YANKS Liv off and Liv hits buckles on the way down! Becky goes up top now, to leap, but she has to bail out as Liv dodges! ENZIGURI! Both women are down but fans rally up. Becky gets up, brings Liv around, but Liv forearms! And again! Liv kicks low, front kicks, then dodges to THESZ PRESS! Liv fires fast hands and fans fire up! Becky shoves Liv away, goes to a corner, but Liv back body blocks! Liv rolls and runs in to SHINING WIZARD! Liv has Becky on the ropes, but still no Oblivion! But she SWING KICKS Becky away!
Liv runs, goes up the ropes, FLYING CODE BREAKER! Cover, TWO!! Becky survives and Liv can't believe it! Liv is growing frustrated, but she hears the fans firing up for her! She gets Becky up but Becky sobats and EuroUppers! Liv staggers to a corner, Becky runs in but into a RANA! Becky tumbles to the apron, Liv KICKS her down! Liv goes up the corner, to DOUBLE STOMP her onto the apron! Liv adds extra stomps and fans fire up again! Liv climbs again while Becky crawls into the ring. Liv leaps to missile dropkick! Cover, TWO! Liv gets the arm to RINGS OF SATURN!! Becky endures, rolls it to a cover, ONE! Becky gets the arm, DISARM-HER!!
Liv flails, scrambles, ROPEBREAK! Fans fire up as Becky lets off, but Becky drags Liv away. Liv gets a cradle! TWO!! Becky escapes, gets Liv, but Liv wheelbarrows out of the Manhandle Slam to victory roll, TWO! Becky has it, with the ropes! BECKY WINS!
Winner: Becky Lynch, by pinfall (still Raw Women's Champion)
Just like Survivor Series when Becky beat Charlotte Flair! But if The Man had to cheat Liv like she did The Queen, what does that say about Big Time Becks' confidence? Will Liv get another chance down the line?
---
My Thoughts:
Not a bad Raw, but there could've been better things. For one, don't do two commercial breaks before the main event even starts. And that Liv Morgan vignette should've been shown last week instead of right before her match as filler. That was almost like rubbing it in that she wasn't going to win tonight. The match itself was good, though that same double commercial break might've killed the crowd's energy. It did get going once Liv had her rally, but Becky getting the dirty win is surely to extend this. You can't have WWE Day 1 feel like it matters if you keep Becky Lynch off it.
The Women's Tag Division continues to be poorly booked with how quick Zelina VS Nikki was, and I swear they better be making Nikki go back to her SAnitY ways, not turning on Rhea. This tag division barely has teams, they can't take away one of their more popular ones. Also when are Zelina & Mella going to show up with these belts on SmackDown? They need to be taking on a team like Shayna Baszler & Natalya to scare them for a minute. But Bianca VS Piper was an awesome match, exactly what we needed from that feud. A bit disappointed that Piper literally walked away, but maybe they cue up a rematch.
We got great stuff from the WWE Championship story tonight. Great opening promos, great Steel Cage match, even if it was a fairly typical steel cage match with the outside interference. The rather lame thing was that the TV audience didn't get to see Lashley's attack on the three of them until the replays. Was that just bad timing since this is all live? And while MVP & Lashley had a good promo later that could imply wanting to make things a Fatal 4 Way, I would rather they wait for a winner at Day 1, and then Lashley goes after the winner at the Royal Rumble. Also, why aren't the Hurt Business all together? Didn't they work together at Crown Jewel?
Just as I thought there was no one for the US Championship Open Challenger, the Glorious Jobber to the Stars pops up. But it was still a really good match, and naturally Priest wins. Ziggler getting his shot in probably means he'll answer the challenge next time. Not sure who will ever take this title off Priest since so many good choices got released. I was thinking Finn, to revisit their NXT TakeOver: In Your House match, but seems he goes from being fodder for Rollins to have something with Theory just so this Vince-Theory story has something happen. But even then, what happens there? Finn putting Theory over so Theory can go for a title?
The tag team tournament was really fun tonight. Riddle and Orton continue to have good promos together, and it seems Omos and Styles are close to breaking up. Styles putting Omos over in a singles match could be quite the moment. Alpha Academy losing by it basically being just Gable VS Dom the whole time was quite the surprise. But Riddle was talking up the Mysterios on commentary, and I myself want to see RKBRO VS Mysterios, so I hope the Mysterios win. Profits VS Mysterios will be a really good one, that's for sure.
My Score: 8.3/10
Mitchell's AEW Dark: Elevation Results & Report! (12/6/21)
Hotlanta gets elevated!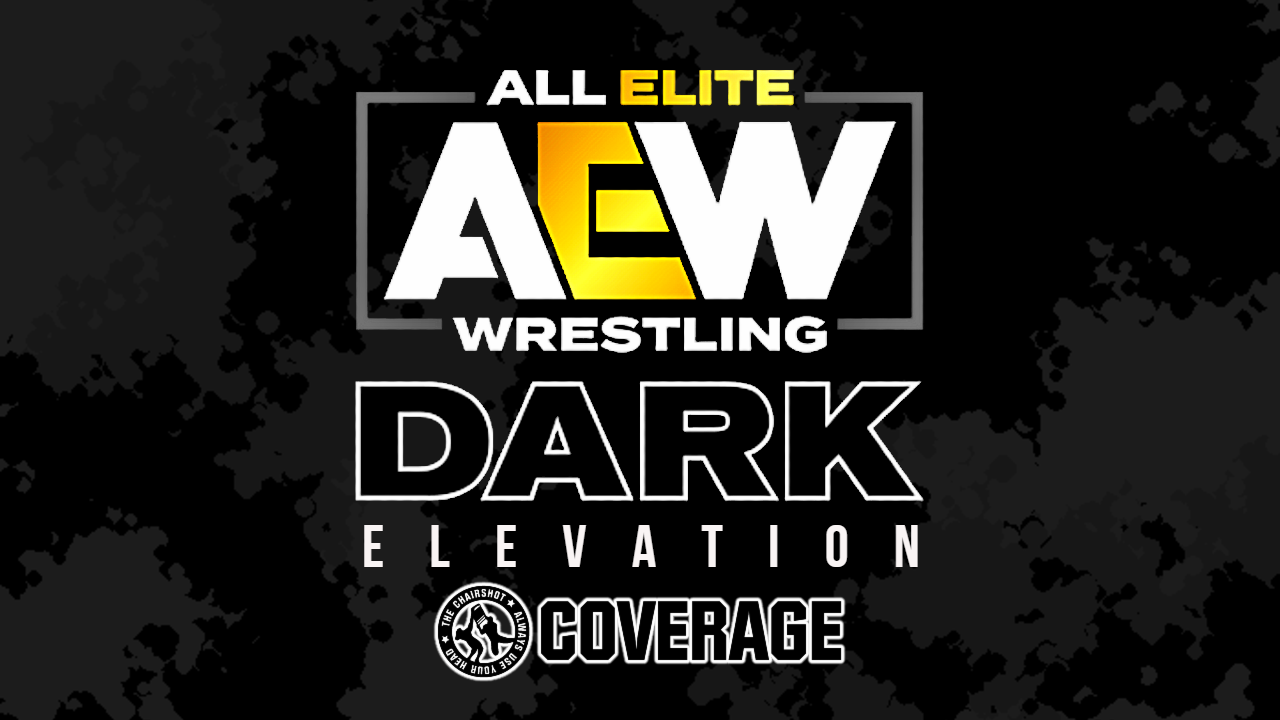 A lucky seven for Elevation!
AEW keeps up the heat in Hotlanta with seven more sizzling hot matches! And hottest of all, Anthony Ogogo returns to action alongside The Factory!
OFFICIAL RESULTS
Riho VS Angelica Risk; Riho wins.
Six Man Tag: Dustin Rhodes, Lee Johnson & Brock Anderson VS The Wingmen; Rhodes, Johnson & Anderson win.
Brian Pillman Jr. w/ Julia Hart VS Serpentico w/ Luther; BPJ wins.
8 Man Tag: The Factory VS Baron Black, Shawn Hoodrich, Tony Vincinta & JD Munoz; The Factory wins.
Emi Sakura & The Bunny w/ Mei Suruga & Lulu Pencil VS Abadon & Ryo Mizunami; Abadon & Mizunami win.
Jurassic Express VS The Tate Twins; Jurassic Express wins.
The Acclaimed VS Shawn Dean & Carlie Bravo; The Acclaimed win.
QUICK NOTES
Great to see The Wingmen's Peter Avalon, JD Drake and Cezar Bononi back in action together. Abadon and Mizunami make for a rather interesting combo. And great to know that Anthony Ogogo is back so that The Factory is back to 100%. Maybe those guys can get into feuds not having to do with Cody Rhodes.
AFTER WATCHING
Seven matches in only 40 minutes, none of these go all that long. Though, Angelica Risk got to give Riho quite the match in those five minutes or so. Still fun stuff, and I'm a little surprised The Factory with Ogogo's return was the middle match. Ogogo winning that match with a knockout was wild. I wonder if he'll get a TNT Championship match. Abadon and Mizunami definitely made a unique combo, and I like that even Mizunami was creeped out by the Living Dead Girl. But it also fits that Bunny, who is crazy, doesn't even flinch staring her down.
Didn't expect The Acclaimed to get the main event when Jurassic Express is so popular, but another good rap for Max Caster and quick win for The Acclaimed. What happened to that feud with The Varsity Blonds, though?