Chairshot Classics: WCW Halloween Havoc '92 – Spin The Wheel, Make The Deal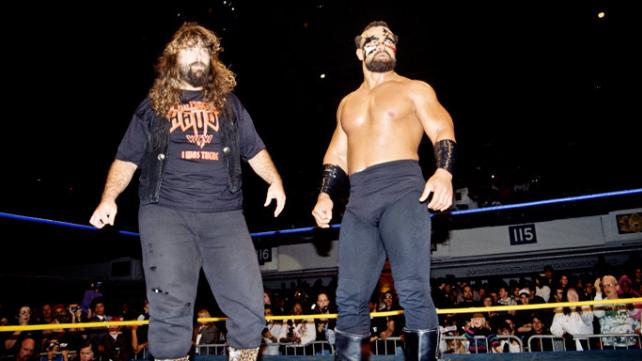 Open: Tony Schiavone & Bruno Sammartino introduce the show, specifically talking about the "Spin the Wheel – Make the Deal" match between Sting and Jake 'The Snake' Roberts. WCW World Heavyweight Champion Ron Simmons must be cautious of The Barbarian, and there has been some conflict between Dustin Rhodes and Barry Windham. Missy Hyatt is backstage to figure out whether or not Rick Rude has decided who his choice of guest referee will be for the NWA World Heavyweight Championship match. She has no information at this time and sends it off to the commentary team.
Match #1: Arn Anderson, 'Beautiful' Bobby Eaton & Michael 'P.S.' Hayes vs. 'Z-Man' Tom Zenk, Johnny Gunn & Shane Douglas
Anderson and Gunn get us going. Collar and elbow tie up, Anderson with position, the veteran with some condescension before beating the young kid down. Irish whip, Gunn puts on the breaks and lands a drop kick. Anderson gets a knee to the midsection after a distraction by his teammate, he goes to the top but the Z-Man takes care of him with a drop kick of his own. Anderson's team regroups on the floor, Double A comes back to the ring. Collar and elbow, Gunn with a wristlock and a tag to Z-Man. Zenk with an elbow and he grabs the wrist. Anderson with a drop toe hold and he tags in Eaton.
Beautiful Bobby with some rights. Zenk reverses the Irish whip and Eaton digs his heels in giving Z-man a shot. They hit the ropes and Zenk executes a high elevation back body drop. He follows it with a drop kick back to Eaton's corner and Michael Hayes is tagged in to a big pop. Hayes with a side headlock, Z-Man forces him on the ropes, they run and Zenk delivers a hip toss. Hayes slows it down. Collar and elbow tie p and Zenk makes a quick tag to Douglas. Shane twists the wrist, they hit the ropes and Shane is quick with an arm drag. He hangs on with an arm bar until Hayes gets a knee to the gut and tags in Eaton. Shane greets him with an arm drag and he locks in.
Bobby gets position with a vertical base, he moves to the corner for a break but takes some liberties. Douglas reverses the Irish whip and elevates with the back body drop. Headscissor takedown by Shane followed with a single leg takedown. A tag is made to Zenk and he goes right to work on Bobby's leg. Eaton is able to crawl his way to his corner and tag in The Enforcer. Arn with a forearm and a side headlock, they hit the ropes, Double A gets a shoulder tackle but he's caught in a sleeper hold on the comeback. Anderson escapes it with a belly to back suplex. Hayes is tagged in and he hits a quick elbow, followed with a fist to the face before grabbing a reverse chin lock. Z-Man fights out with elbows to the gut, he hits the ropes but Hayes catches him with a kick.
Swinging neckbreaker by Hayes and he gets two. Eaton is tagged back in, Z-Man trying to fight him off. Z-Man lifts Eaton for an atomic drop, unaware Eaton tagged in Anderson. Eaton reverses the Irish whip, Z-Man ducks his clothesline but runs into the elbow of the legal man. Anderson with a lateral press and he gets two. Anderson feeds Z-Man to the corner and he tags in Michael Hayes. The Freebird locks in a modified camel clutch, he breaks it, goes for a vertical suplex but it's reversed. Hayes tags Anderson while Zenk tags Douglas. Shane goes to work on all of his opponents. A front face lock is placed on Anderson, and Eaton cheap shots him at the knees.
Double A goes to work on the leg that was clipped, Eaton is tagged in and he enters with some flying knee to knee contact. Beautiful Bobby locks in the figure four and he gets some help from Michael Hayes. Douglas tries to roll it over and Eaton smartly tags in Anderson. Arn sends him for an Irish whip, he comes off the ropes and catches Double A with an atomic drop but both men knock heads and they're down. Anderson crawls and tags in Hayes but Douglas is able to tag is Gunn right after. Johnny sends Hayes for the ride and a back body drop, he's rushed by Eaton who gets a scoop slam and a melee breaks out. While all six competitors brawl, Johnny Gunn hits a Lou Thesz Press on Michael Hayes and they pick up the win!
Winners: 'Z-Man' Tom Zenk, Johnny Gunn & Shane Douglas (Gunn/Lou Thesz Press)
EA's Take: This match felt like a collection of guys with nothing meaningful to do storyline-wise (which is basically the case), but they still delivered a perfectly fine opening bout. With three grizzled vets on the other side of the ring, I'm not sure who they're trying to put over here, if anyone. No one on the winning team stood out, but I sincerely enjoyed the match all the same.
Backstage: Missy Hyatt is still outside Rick Rude's locker room. She can't get in, but here comes Harley Race. The former World Champion is just here to watch a championship match and he won't let Hyatt into the locker room.
Match #2: Ricky 'The Dragon' Steamboat vs. 'Flyin' Brian Pillman
Collar and elbow tie up, Pillman gets position and chops away. Steamboat retaliates with a chop of his own, they hit the ropes and Ricky takes Pillman down with a shoulder block. He tries another and gets a two count. Pillman tries flipping Steamboat over the top rope but The Dragon hangs on and grabs a victory roll for two. Off the kickout, Steamboat hits the turnbuckle and Pillman scoop slams him. Pillman taunts and Steamboat plays possum, baiting him into an arm bar. Pillman up to a vertical base, they hit the ropes, Steamboat with a shoulder tackle and a hip toss. Deep arm drag by The Dragon and he hangs on.
Steamboat moves to the wrist and he puts a lot of power on it. Pillman reverses with a drop toe hold, he can't grab the chin lock and Steamboat reverses back into the hammerlock. Steamboat with knees to the kidneys, they're up to vertical. Pillman fights back with forearms and Steamboat retaliates with chops and a back body drop. Scoop slam by Steamboat, but he's met with a slow blow, an eye rake and a clothesline. Pillman hangs Steamboat on the ropes and throws him back. Steamboat is sent for the ride, he leap frogs Pillman and catches him in a choke on the comeback. Pillman meets the turnbuckle, Steamboat tries to send him for the ride but Brian drops down. The ref backs Steamboat off and Flyin Brian takes a cheap shot.
Brian rubs Steamboat's face into the canvass. Steamboat fights back with some chops and sends Pillman into the turnbuckle. They run the ropes and Pillman counters with a head scissor take down. Pillman takes Steamboat to the middle rope, he sends The Dragon for the ride and he counters into a back slide and a two count. Pillman quickly hammers Steamboat's head into the canvass and chokes him out. Ref breaks it up. Pillman sets Steamboat on the top turn buckle and slaps him in the face. He sets up for a superplex, Steamboat blocks it and throws Pillman to the canvass. Steamboat comes off the turnbuckle but he runs into a drop kick by Flyin Brian.
Pillman says its over, Steamboat gets his shoulder up on multiple covers. Brian checks in with the ref and is victim of a belly to back suplex. The ref starts his 10 count, Steamboat is up first, Pillman reverses the whip to the ropes and catches The Dragon in a sleeper. Steamboat drives into the corner, Pillman hangs on, but not the second time. From the apron, Pillman snaps Steamboat's neck off the top rope. He climbs the turnbuckles, Steamboat catches him with a gorilla press. Steamboat is fired up, Pillman escapes to the floor. Ricky gives chase and chops him on the outside. Pillman is rolled back in, Brian regains the advantage with a knee to the face and some chops.
Steamboat is sent into the turnbuckle, The Dragon fights back with chops. Steamboat tries to grab him, again Brian rolls to the floor but he's followed again. Irish whip by Steamboat and he runs into a knee. Pillman with a cross body press from the 2nd rope and he gets a two count. Standing switch into a back breaker by Steamboat who heads for the top rope. A big sunset flip earns him two. Pillman counters the pin, but The Dragon flips him back and he picks up the 3 count.
Winner: Ricky 'The Dragon' Steamboat (Roll-Up)
EA's Take: This was exactly what you would expect, Pillman is showing some heel behavior. He's also taken quite a few losses, albeit to legitimate opponents, you'd hate to see his talent get buried. Unfortunately, this is kind of his road until a partnership that wasn't fondly remembered until years after Pillman's early passing.