Chairshot Classics: WWE Survivor Series 2015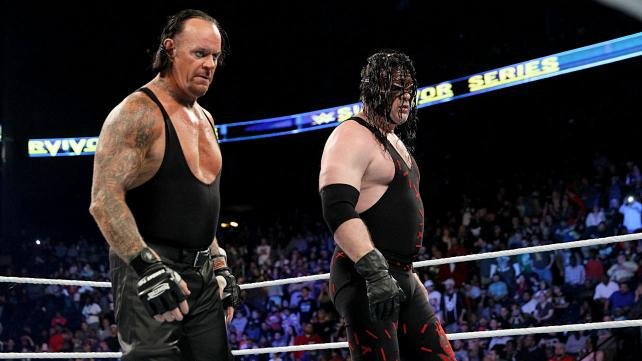 With all signs pointing to The Brothers Of Destruction teaming up at WWE's Crown Jewel on November 2nd, today we're looking back at another time The Undertaker partnered up with his brother Kane, Survivor Series 2015! It was a celebration of 25 years of 'The Deadman' on this evening, but The Wyatt Family looked to spoil the party. Could 'The New Face Of Fear' defeat The Brothers Of Destruction and take his place as WWE's newest evil?
Kickoff Show Match – Traditional Survivor Series Elimination Match: The Miz, Bo Dallas, Stardust & The Ascension (Konnor & Viktor) vs. Neville, The Dudley Boyz (Bubba Ray & D-Von), Titus O'Neil & Goldust
Gold & Stardust will kickoff the action, Stardust tries a boot, Goldust catches the foot and they slug it out, The Cosmic One falling back into his corner and tagging out. Viktor hits the ring, charges right into a powerslam, Goldust with the cover and he scores an early elimination. Viktor has been eliminated.
Konnor steps in and has words for The Bizarre One, Titus calling for the tag and he gets it. Collar & elbow lock-up, Konnor backs O'Neil into the corner, doesn't break clean and hammers away with right hands before celebrating prematurely, Titus turning the tables and unleashing a series of his won. Konnor reverses a whip across, charges in, O'Neil hops up and over and delivers a slam, following with a leg drop before tagging out. D-Von enters the match, connects with a couple of rights and brings in his brother, Bubba hitting a slam and calling D-Von to the top, hitting the Wazzup Headbutt. Bubba gives the orders for tables, Stardust and Miz charge the ring, only to get clotheslined to the outside. The Man That Gravity Forgot comes in, sees Dallas running in and elevates him out to the floor, hits the ropes and flies to the outside with a moonsault plancha as we go to a break….Konnor whips Bubba into the ropes for a back body drop when we come back, drops a big elbow and covers for 1. Bubba ducks a right hand and plants Konnor with a uranage out of nowhere, hooks the leg and gets a sneaky 3 count. Konnor has been eliminated.
Stardust rushes the ring and runs into a hiptoss, D-Von tags in and takes a knee to the breadbasket, The Cosmic One tagging out and Miz pummels D-Von in the corner. Bo tags and does more of the same, quickly tags out and Stardust rips at D-Von's face. The A-Lister re-enters the match, snapmares D-Von over and hits the ropes for a running boot that gets a count of 2. He goes to a front facelock, D-Von battles to his feet, Miz with a kneelift, hits the ropes and D-Von plants him with a spinebuster. Stardust gets a tag, climbs to the top for a double axe handle and catches a right hand to the midsection on the way down. D-Von crawls to a tag, The Man That Gravity Forgot spingboards into the ring over Stardust, takes down Dallas and Miz on the apron, then connects with a flurry of kicks to The Cosmic One. Neville scores with an enzuigiri, shoots him in for a back body drop and Stardust with a kick to the chest. He charges Neville in the corner, The Man That Gravity Forgot side-steps it, Bo makes a blind tag and plants him with the Running Bo-Dog, Miz with a blind tag, follows with the Skull Crushing Finale and finishes Neville off. Neville has been eliminated.
The A-Lister runs his mouth at The Dudleys on the apron, Goldust slides in from behind with a schoolboy and gets the 1-2-3. The Miz has been eliminated.
Miz can't believe it and argues with the referees on his way out, Goldust is distracted and Stardust takes advantage as we go to another break….Bo has Goldust on the floor when we return, rolls him back inside and covers for a 2 count before going to a rear chinlock. The Bizarre One finds his footing, breaks the hold and hits the ropes, running into a dropkick by Dallas for another count of 2. Stardust tags, clobbers away at Goldust on the apron, feigns going for a table and changes his mind, stomping away at his brother in the ring. The Cosmic One grabs a crossface chickenwing, pulls Goldust up for a suplex, The Bizarre One counters to a small package for a count of 2, but gets immediately laid out by a clothesline. Stardust with some early celebration, Goldust takes advantage with a schoolboy for 2, The Cosmic One angrily pounding away and bringing Dallas back in. The Inspirational One continues the onslaught, levels Goldust with a short-arm clothesline for a near fall, then goes back to the rear chinlock to wear him out. Bo slams him to the mat trying to get to his feet, Stardust tags and they split The Bizarre One with a wishbone, then drops The Dudleys & Titus off the apron. The Cosmic One runs at Goldust in the corner, meets a boot to the midsection and The Bizarre One plants him with a sunset flip bomb. Bo gets the tag as Goldust reaches Titus, O'Neil with a shoulder to Dallas, squashes Stardust in the corner, then clotheslines Bo and shoots him in for a back body drop. The Inspirational One sees it coming and hits a kick, but gets dropped by a big boot, Titus turning around and catching Stardust coming off the top into multiple backbreakers. O'Neil stacks them in the corner, squashes them both and Goldust & Bubba enter the ring with synchronized Dusty tributes, Clash Of The Titus to Bo and we're down to 4 on 1. Bo Dallas has been eliminated.
Stardust realizes he's all by himself, drops off the apron and tries to take a walk. O'Neil goes out to meet him, Goldust comes up from behind and catches a back elbow, The Cosmic One tries to run away, slides in the ring and runs into a 3D to finish it.
Winners & Sole Survivors: The Dudley Boyz, Titus O'Neil & Goldust
EA's Take: I think Renee Young is overblowing just how 'good' this match really was. To me it was just an appetizer, a time-filler, something to get the people in the arena a little more hyped up for the main show. The match was not bad by any means, but it was merely a bunch of thrown-together parts and the only significance was the return of Goldust.
Open: Everyone rises to their feet in the arena, as Lilian Garcia is in the ring to sing our National Anthem.
Video: "Once in a generation there comes a phenom. An individual not measured in seconds, days, weeks or even years, but by the legacy he's built. A presence that's risen above all challenges and gone head-first into the unknown. But, when a Phenom joins a Demon from the depths of Hell, only time will tell us what the future will bring." Tonight marks the 25 year anniversary of The Undertaker in WWE, as he and his brother, Kane, look to cement their spot as the keepers of the darkness over The Wyatt Family. A change is coming, as tonight we crown a brand new WWE World Heavyweight Champion. "History is written, by the survivors."
Match #1 – WWE Title Tournament Semi-Finals: Roman Reigns vs. WWE United States Champion Alberto Del Rio w/Zeb Colter
Collar & elbow tie-up to start, Alberto backs Roman into the corner and they break clean. Another lock-up, Reigns with a side headlock, Del Rio pushes him off into the ropes and gets knocked down by a shoulder, re-thinking his strategy. The champion with a leg kick, backs Reigns into the corner for more to the ribs, then fires off right hands from the 2nd rope. Roman powers out of the corner with Alberto on his shoulder, flipping him to the mat, Del Rio coming right back by pulling Reigns to the outside. The Big Dog drags Alberto out by the foot, looks to drive him into the barricade, Del Rio counters and Roman is sent into the wall, then rolled back inside.
Alberto comes off the top with an overhand chop for a count of 2, Roman reversing a whip into the corner, climbs to the 2nd rope with right hands, Del Rio pushes him off, charges in and gets planted by a tilt-a-whirl powerslam for 2. Roman drives the champion into the top turnbuckle, whips him hard into the corner, charges in and gets elevated to the apron, Alberto hanging him across the top rope and dropping him to the floor with an enzuigiri. Del Rio heads out and rams Reigns into the steel steps as Triple H watches from the back. Back in the arena, El Patron tosses Roman inside, heads up top for another overhand chop and goes to a rear chinlock.
The Big Dog battle to a standing position, whips Del Rio into the corner, rushes in and misses, hitting the ring post shoulder-first. The champion keeps the pressure on with kicks and right hands, charges for a running dropkick, Roman avoids it and Alberto flies through the ropes to the outside. Reigns rolls outside, catches Del Rio climbing up the apron with the Drive-By, bashes his head off the apron and announce desk, then rolls him back in the ring. Alberto tries a clothesline, Reigns ducks it and connects with one of his own, then clobbers the champion in the corner with a flurry more before hitting the ropes for a big boot. The Big Dog calls for the Superman Punch, El Patron ducks out of the way and scores with a Backstabber, makes the cover and gets a near fall.
Del Rio goes back to kicks in the corner, spikes Roman with a DDT for another count of 2, arguing with the ref about the count. The champion sets his sights on a superkick, The Big Dog ducks out of the way, plants Alberto with a Samoan Drop and gets 2. Reigns props Del Rio on the top turnbuckle, attempts a superplex, Alberto with headbutts, gets Reigns in the tree of woe and tries the double stomp. Roman avoids it, Del Rio's knee buckles on the landing, Reigns coming back with a Superman Punch and positioning himself for the Spear, Alberto countering with a superkick for a near fall.
The champion thinks it's time for the Cross Armbreaker, Reigns counters into a schoolboy powerbomb, Alberto kicking out at 2. Both men struggle to get to their feet, Alberto grabbing a Cross Armbreaker out of nowhere on the canvas, Reigns powers Del Rio up to a vertical base, but the champion hanging onto the hold in the ropes. The referee finally forces the break, El Patron heads to the top, jumps over Roman who's getting to his feet, turns around and takes a Spear, Reigns covering to advance.
Winner: Roman Reigns (Spear)
EA's Take: Del Rio clearly still hasn't quite gotten his footing back yet, there were some mix-ups at the beginning of the match that were glaring, things were a bit choppy for a bit there. They were able to turn it around towards the end of the match, but I've had Roman as a lock for the finals since the tournament was announced. Nothing surprising here in a match that was similar to a Raw main event.
Backstage: Jojo brings in Roman Reigns for some words, Dean Ambrose coming right in and congratulating his friend on the victory. Roman tells Dean that all he has to do is win and it'll be them for the title, Ambrose walking away. The Big Dog tells Jojo that once Dean's done, it will be best friends fighting for the championship. Kevin Owens comes in to remind Roman that he's not eliminated yet, telling Reigns he's been close before and tonight, he's the guy that will stop him. KO walks off, Reigns stating that Owens is about to get his ass whooped.
Match #2 – WWE Title Tournament Semi-Finals: Dean Ambrose vs. WWE Intercontinental Champion Kevin Owens
Ambrose with a hammerlock to start, switches to a side headlock, Owens fighting out and grabbing one of his own. The Lunatic Fringe pushes KO into the ropes and gets dropped by a shoulder knockdown, Owens back into the ropes and Dean with multiple armdrags. The champion reverses whip into the ropes, Ambrose with a schoolboy for a quick 1, gets a waistlock and Owens with a back elbow, using a schoolboy for a quick 1 of his own. KO with shoulders to the midsection in the corner, shoots Dean across and charges in, The Lunatic Fringe hops up and over, hits the ropes and takes Owens down with a forearm.
He rakes KO's face on the top rope, clotheslines him to the outside and flies with a slingshot crossbody to the floor. Ambrose sends the champion back inside, charges him in the corner with a forearm, follows with a running bulldog and covers for 1. The Lunatic Fringe heading upstairs, Owens hits the ropes and crotches Dean, dropping him to the mat with right hands and scoring with the Cannonball that gets 1. The Prize Fighter utilizes a rear chinlock, Ambrose gains a vertical base and breaks the hold with jabs and chops, Owens countering a whip into the corner and Dean goes in sternum-first.
The champion plants Dean with a torture rack neckbreaker for a 2 count, hits the ropes for a running senton and gets another count of 2. He chokes Ambrose on the middle rope, levels him with a short-arm clothesline, fires away with heavy rights, sends Dean into the ropes for a back elbow and gets another near fall. KO back to the rear chinlock, again Triple H is watching from the back as The Lunatic Fringe fights to his feet. Owens catches him in a sleeper, Dean counters to a back suplex, then avoids a running senton, hits the ropes and they double down off a double clothesline. The Lunatic Fringe tries Dirty Deeds, KO blocks it, they exchange right hands, Ambrose hits the ropes and Owens hangs him on the top rope.
He splits Dean with a gutbuster, heads up top for a moonsault and misses, The Lunatic Fringe scaling the corner to follow with a diving elbow drop and a near fall. Ambrose props Owens on the top turnbuckle, hooks for a superplex, KO blocks it and drops Dean back to the mat. The Lunatic Fringe fires back up to attempt a superplex, the champion counters and powers him into a 2nd rope fisherman's buster, but still can't get a 3 count. Owens yells at Dean to stay down, sends him into the ropes for a Pop-Up Powerbomb, Ambrose rebounds off the middle rope and scores with the Lunatic Lariat, KO rolling to the outside.
Ambrose flies through the ropes with a suicide dive, tosses the champion in, Owens rolls out the other side and Dean tries another suicide dive, but gets caught. KO drops The Lunatic Fringe on the announce table, tosses him back in for a Pop-Up Powerbomb, Dean avoids it and lands on his feet turning around into a superkick. Ambrose rebounds off the ropes for another Lunatic Lariat, walks into another superkick, the champion attempts the Pop-Up Powerbomb again, Dean counters with a hurricanrana, then spikes Owens with Dirty Deeds to head to the finals.
Winner: Dean Ambrose (Dirty Deeds)
EA's Take: A better match, a lot cleaner than our first semi-final. I had a hard time believing Ambrose wouldn't win this, but figured the odds were greater than that of Reigns, so it definitely helped make the match more interesting. I'm hoping for something more interesting to happen in the main event, as everything thus far has been expected.
Chairshot Classic: Andrew's 2019 AEW Double or Nothing Ratings & Analysis
Take a look back at AEW's first PPV effort, the 2019 Double Or Nothing in Andrew's Retro Ratings and Analysis!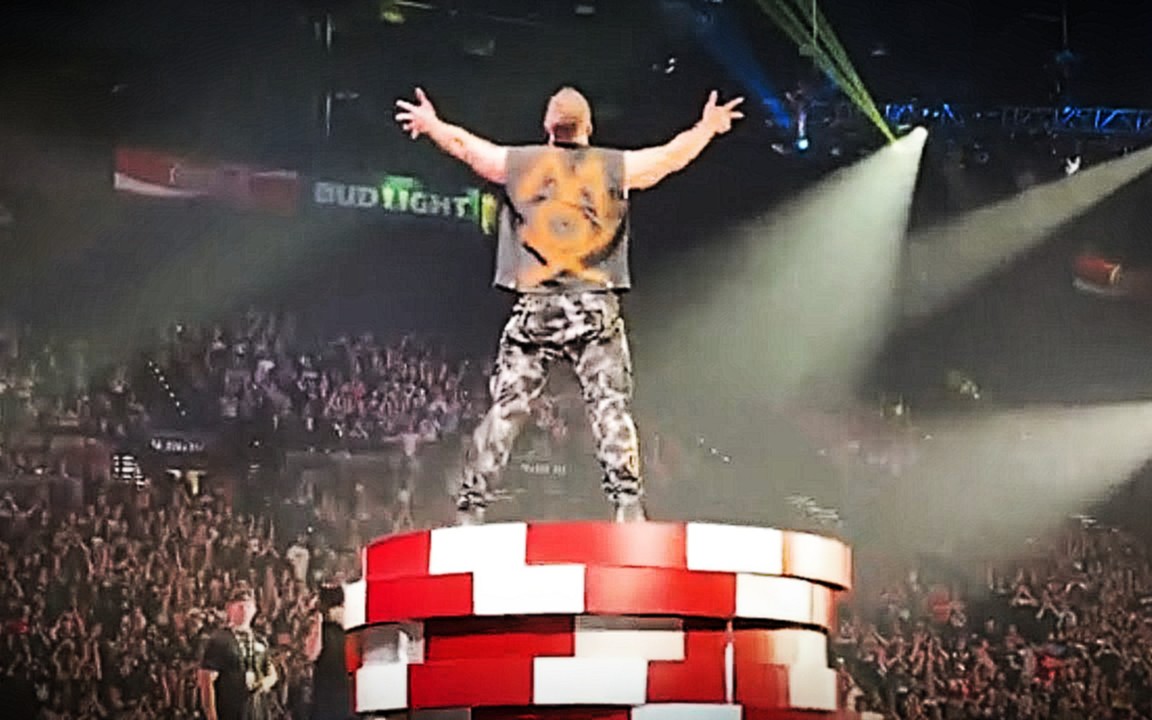 Take a look back at AEW's first PPV effort, the 2019 Double Or Nothing in Andrew's Retro Ratings and Analysis!
With AEW Double Or Nothing–the 2022 edition–on the horizon, enjoy this trip down memory lane as Andrew Balaz reviewed the inaugural Las Vegas AEW pay-per-view…spectacular?
Well this is history boys and girls. Good, bad or indifferent, it's the first show of the IWC's favorite t-shirt company. What becomes of Hangman since he's injured and PAC cancelled? What surprises will we get?
We all sit here with bated breath. Some want it to fail, many want it to succeed. Me? I just want it to not suck.
Let's see what we got!
Ratings:
Casino Battle Royal: Hangman Page wins @10:45 – **
Sammy Guevara vs Kip Sabian: Sabian wins Argentine Facebuster @9:55 – ***
So Cal Uncensored vs Strong Hearts: SCU wins via Best Meltzer Ever @14:00 – *** 1/2
Britt Baker vs Nyla Rose vs Kylie Rae vs Awesome Kong: Britt Bakers wins via Kneecap Brainbuster @11:05 – ***
Best Friends vs Angelico & Jack Evans: Best Friends win via Strong Zero @12:55 – ** 1/2
Riho, Hikaru Shida &  Ryo Mizunami vs Aja Kong, Yuka Sakazaki & Emi Sakura: Hikaru wins via Three Count @13:10 – *** 1/4
Dustin Rhodes vs Cody Rhodes: Cody wins via Crossroads @22:35 – *****
AAA Tag Team Championship: The Young Bucks (c) vs Lucha Brothers: Bucks retain via Meltzer Driver @25:00 – *****
Kenny Omega vs Chris Jericho: Jericho wins via Judas Effect @23:50 – **** 1/4
Analysis:
This was definitely a mess. A few spots, a bunch of messy spots and just generally awkward moments. Flying Brian Jr had a few decent spots, Luchasaurus looked good and Orange Cassidy is awful. Hangman being the 21st entrant made a lot of sense, but probably already upset a few people since it wasn't CM Punk or Jon Moxley. Of course Page won. He can fight with a bum leg, cause he has three of them. So yeah, not an awful match, but it had a lot of issues.
Sabian looked tremendous in this match. Guevara definitely did too much. Shooting Star onto Sabian draped over the outside barricade, a bad double Moonsault and standing Shoot Star hurt the match a little. But Sabian's technically proficient, charismatic and can hang in the air a bit too. So Sabian was the star here. Solid match.
Well now, this was great. Strong Hearts trio pulled off some great fluid offense and SCU did fantastic. This was just a great match, I can't really accurately describe more than great match. Best Meltzer Ever is a little dumb when it comes to names, but damn was this a good match.
So Brandi comes out in her gear to swerve us that she's adding herself to the match, but instead she adds Awesome Kong! So the Triple Threat turns into a Fatal 4 Way and it's not bad. A lot of the early portion is focused on taking out Kong, then Nyla becomes the target. Britt and Kylie are the ones left in the ring after the collateral damage. Kylie looks to be firing up for a finish, but Britt catches her in a Kneecap Brainbuster (Adam Cole's Last Shot in ROH).
Excessive spots, excessive near falls, I knew to expect it to a degree with these four, but that doesn't make it better. This was definitely an 'Indie style" match, but the crowd seemed to enjoy it. There was a lights out attack on both teams from…some team, with masked minions. The "Who Are You" chant kicks up and commentary doesn't lend any information. So that's really not helpful.
Everyone got their stuff in, we got to see a lot of personality from the different women and the action was solid. I also appreciated Emi Sakura trying to rally momentum doing We Will Rock You stomps (since she was dressed as Freddy Mercury). Save for the big mess up with the bell ringer calling the end of the match when the referee obviously held up 2 and said 2, just messed up the flow and gave away the finish since Hikaru's music played. Not bad, just the ending did kind of take the air out of a pretty good match.
Wow. Dustin and Cody brought it, Dustin bladed pretty deep, I think even Dusty would've blushed. New moves from Dustin like the Misawa style Apron Senton, a Code Red and a few classics. The blood, the desire to keep fighting, this was everything wrestling should be. It made sense for Cody to win the match of course, but wow after the match was a beautiful moment. Also call of the night might have to go to Excalibur when Cody hit a Pump Kick aka Bicycle Kick and you hear him say something like " He hit him with a BICYCLE".  In a huge homage to Dustin and Dusty's Heart to Heart promo, Cody tells Dustin he can't retire, because he needs a partner. He doesn't just need a partner, he needs his big brother. This was a great way cap off such a hard hitting personal match. Wow.
Belt reveal with a few extra curricular and Bret Hart. Much like Bret Hart, the belt doesn't do anything for me. It looks a lot like Big Gold, but it's so ostentatious it's hard to love it. Just too shimmery or whatever. It's not bad, but I in no way love the belt.
I'm very happy there was the unveiling ceremony between the Rhodes match and this one. Cause this was a great match and moving it out too quick could've hurt the crowd immersion. Great tandem moves, a decent thread of the ring rust playing a part against the Young Bucks early on and just generally great spots. There definitely was a lot of stuff, big spots and it was "spot monkey" style, but it all worked. The Lucha Brothers pulled out crazy moves to try and get the AAA belts back and the Bucks were trying to prove they still had it with most of the year off. Just really really good.
Well now Jericho and Omega pick back up where they left off. Referee Paul Turner allows for a lot of out of the ring shenanigans. Jericho busts Omega open, tries to use a table as a shield, but Omega still throws himself at Jericho.Jericho focuses on Omega's face with the Triangle Dropkick, a Lionsault went high and this was pretty damn solid. A few missteps and Jericho not countering the first One Winged Angel was car crash worthy, but aside from that, this was nice. Multiple Codebreakers followed by the new Judas Effect, leave Omega laying for the 1, 2, 3.
Jericho says AEW is for him not for fans, and he deserves a thank you. When the crowd pops, Jericho thinks it's for him, but Jon Moxley makes his debut through the crowd! Almost as if it were a reference to Lex Luger showing up on the first Nitro, it looks like Jericho basically says "You don't work here". Dirty Deeds to Jericho, Dirty Deeds to referee Paul Turner and Omega manages a burst of energy to brawl for a little bit. They end up on the poker chips, Moxley hits Dirty Deeds and then just dumps him off, onto some other stage item.
Overall Score: 8.5/10
Well damn, I was skeptical since All In didn't rate as highly for me as other fans, but this was great. Aside from a few personal gripes, and not really enjoying the cluster that was the Battle Royal, this was one of the better shows of the year thus far. Good surprises like Awesome Kong, Bret Hart and Jon Moxley. Jericho winning the main event breaks up The Elite getting the clean sweep, so that shows it's not as predictable as All In.
Oh and yes, I can't express how good the Rhodes match was. The match itself, the story it told, the promo after, everything was just beautiful. That is my number 1 match of the year personally, cause it was just too damn poignant.
Good job AEW. Great show, and the symbolic moment where Cody used the sledgehammer to break the replica throne Triple H used for his WrestleMania 22 entrance. It was awesome.
Chairshot Classics: "Stone Cold" Steve Austin vs. The Rock from WWE Backlash 1999
Ahead of WrestleMania Backlash, Chris King takes a stroll back to WWE Backlash 1999 as Stone Cold Steve Austin defends his WWE Championship against The Rock.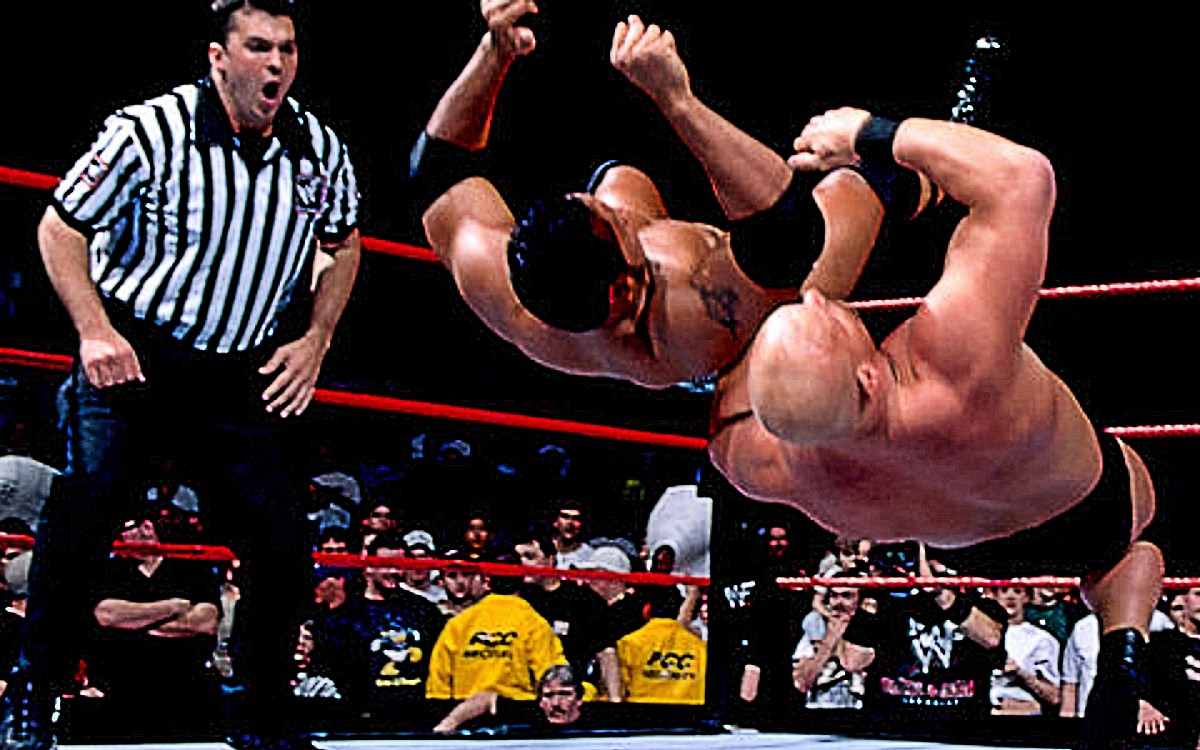 Ahead of WrestleMania Backlash, Chris King takes a stroll back to WWE Backlash 1999 as Stone Cold Steve Austin defends his WWE Championship against The Rock.
Let's set the scene for a minute, you've got "The Texas Rattlesnake" and Corporate Rock going one-on-one at WrestleMania XV. Austin wins the championship and the McMahon family is livid. Stone Cold wants his Smoking Skull Championship belt back, and Vince and Shane McMahon are trying to keep it from him by hook or by crook.
Damn, things were different during the Attitude Era, The Rock threw Stone Cold over a bridge and held a funeral for his rival. The storytelling was captivating and exciting, and it kept you guessing what would happen next. Keep in mind this match was conclusively built around a championship belt, something that would never work in the current product.
It was a high-octane no disqualification match with Shane as the special guest referee for their latest encounter. Austin began the match running straight into the ring for a brawl which spilled out all over the arena.  I miss how exciting these two superstars were. Rock hit a vicious Rock Bottom through the Spanish announce table and then got on commentary to talk some smack.
The arrogant challenger took the camera to talk trash while Austin laid on the other announce table, and ate a Stunner through the table. Man, the WWE Universe was on fire throughout the entire match. I feel like both superstars can't put on a bad match because they have such strong in-ring chemistry.
The finish of the match came when Austin had Rock set up for the three-count but Shane refused to count. Vince came down and struck Shane with the Smoking Skull belt. Austin hit another Stunner and decked the challenger with the belt for the victory. Vince then tossed his rival his precious Smoking Skull Championship.