Chris Jericho Discusses Why He Changed His Mind About Appearing At All In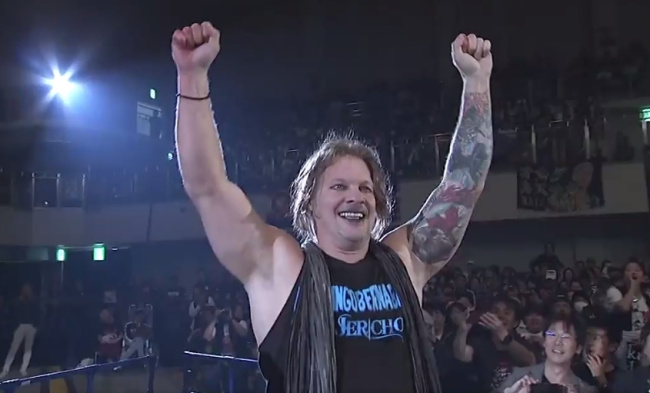 While some fans still predicted, there were many others that were surprised when IWGP Intercontinental Champion Chris Jericho showed up at All In last Saturday after the Kenny Omega vs. Pentagon Jr. match to attack 'The Cleaner'.
Of course we know that previously Jericho stated he didn't want to work shows in the United States out of respect for WWE Chairman Vince McMahon, however 'Y2J' addressed why he changed his mind about All In on the most recent edition of Talk Is Jericho:
"So months ago when All In was announced, Cody called me and said, 'Do you want to be involved?', and I said, 'No, I'm not really wanting to work any shows in the States that aren't WWE shows', for various reasons. I just didn't feel like it was where I was at, you know, career-wise. So I told him I appreciated the offer, but I'm not going to do it. I also got asked to do Long Beach and then those New Japan shows and all that other stuff as well. So that was kinda the thing, but over the course of the last few months my mindset's kinda changed a bit to where I'm enjoying being a part of this kinda new revolution of wrestling that's going on and you know about it too, Jack. So I just thought, 'Well you know, I'll consider it, but the idea has to be right'.
So Cody called me again and originally asked me if I wanted to be, you might know more about this than me, but Bernard the Bear? I guess sometimes people take off the bear mask and it's certain people. So the idea was maybe do something in the main event where The Bucks come down with Bernard the Bear or something and then I attack Kota Ibushi, obviously Kenny's partner in The Golden Lovers. I was like, 'Why don't I attack Kenny?', and it's like, it's not really an angle, match. We just couldn't really figure it out and I was like, 'Nah, I'm not really interested in it again'. And then Cody called me again and I started thinking like, 'I wonder if I can make this work' and we started kicking around some ideas and the idea was, well what if I could come in earlier in the show and attack Kenny because that's the idea of kinda keeping this angle alive from the Tokyo Dome to the [Jericho] Cruise and you know, maybe elsewhere. I just thought, 'What a great to kinda last-minute promotion for the Cruise'."
To listen to the entire episode of Talk Is Jericho, you can do so at this link.
If you use any of the above, please credit The Chairshot for transcription.
Continue following TheChairshot for all the latest skull smashing opinion, news, reviews and so much more! @theCHAIRSHOTcom on Twitter
Always #UseYourHead