Parallel Rhodes: Dusty & Cody Breathe Life Into The NWA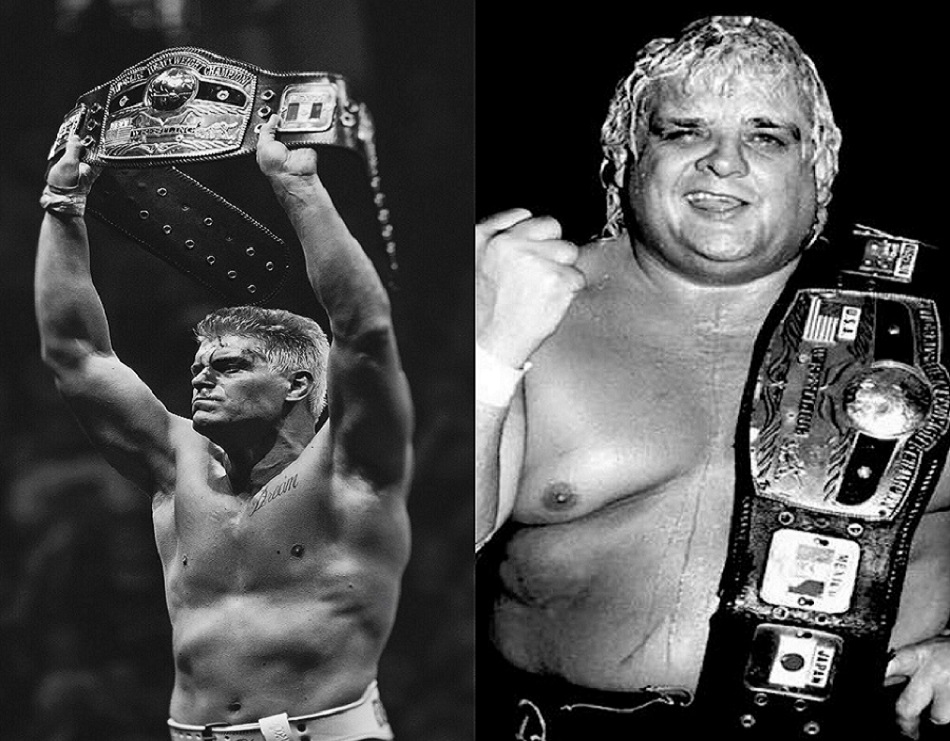 Some 39 years and 10 days after his father, Dusty Rhodes, won the National Wrestling Alliance Heavyweight Championship, Cody Rhodes replicated this win against Nick Aldis on Saturday at All In from the Sears Center in Chicago, Illinois. Coincidentally both Dusty and Cody were 33 when they won their first NWA World Heavyweight Title. Both happened at shows that they were booking. Though some may argue this was the reason they won the championship but we must remember that the NWA Committee decided Dusty's reign was to be and Billy Corgan more than likely decided Cody was the face that the NWA needs to bring it into the new approaching 2020's. But this list of coincidences strikes deeper than that.
In August of 1979, the NWA had been in a dry spell of champions. The last truly charismatic champion was Lou Thesz who held the title from 1963-1966, then we saw some names including Gene Kiniski and Giant Baba who most wrestling historians describe along the lines of "Drier than the Sahara desert" but out of Tampa, Florida, a new challenger emerged. A rather large fellow with curly bleach blonde hair billed "the son of a plumber" and "the American Dream", came charging to the ring against one of the toughest men in wrestling, Harley Race. This new charismatic character only held the title briefly in his first run lasting a mere 5 days. Dusty Rhodes would go on to hold the NWA World's Heavyweight Championship a combined 107 days over 3 reigns which is hard to believe names like Ron "R-Truth" Killings, Steve Corino, Jax Dane, Blue Demon Jr., and even Rob Conway held the title longer than The American Dream. Chris Candido's single reign was 10 days shorter than Dusty's 3 combined. Despite this Dusty Rhodes is forever remember with the names such as Ric Flair, Harley Race, and Jack Briscoe and is no doubt a part of NWA History.
We've seen a similar lull in the NWA after their partnership with Total Nonstop Action ended in May of 2007. Some fantastic wrestlers such as Adam Pearce, Brent Albright, Jax Dane, and Tim Storm have held the title while some other such as The Sheik and Colt Cabana left a little to be desired. We saw a small resurgence with one of my favorite people in wrestling, Tim Storm, and Nick Aldis serving as the Terry Funk and Harley Race boosting the championship back to prominence through the 10 Pounds of Gold YouTube series which deserves an award for being the most outstanding non-in-ring product of the year by far. But as we near the 70th Anniversary of the NWA being founded and rumors swirl about with rumored TV deals, special pay-per-views, and streaming services the National Wrestling Alliance needs that strong charismatic figure to come and guide the ship and be in the public eye carrying the domed globe. Once again a bleach blonde with charisma unlike most in wrestling today steps forward to hopefully carry the NWA into another era of success as we see non-big 3 companies growing and expanding at a pace never seen before.
Now, where does Cody's title reign lead? That we can only speculate I mean we don't even know who his first title defense, presumably at the NWA 70th Anniversary Show in Nashville on October 21st, will be against. But with the sellout crowd at All In, the NWA title more than likely being shown on Ring of Honor and New Japan Pro Wrestling tv internationally, perhaps we're seeing the rebirth of territories, the NWA, and multiple competitors in the market for largest wrestling group. I expect a sell out crowd for the NWA 70th Anniversary Show as well as high draw numbers on the FITE app. This will be the first NWA Event at the old "TNA Asylum" at the Tennessee State Fairgrounds since their 57th Anniversary show which didn't even feature NWA Champion at the time, Jeff Jarrett. I say long live the NWA and may it be like a fine wine or cigar and only get better with age.