James' Ring Warriors Results & Review (9/16/18)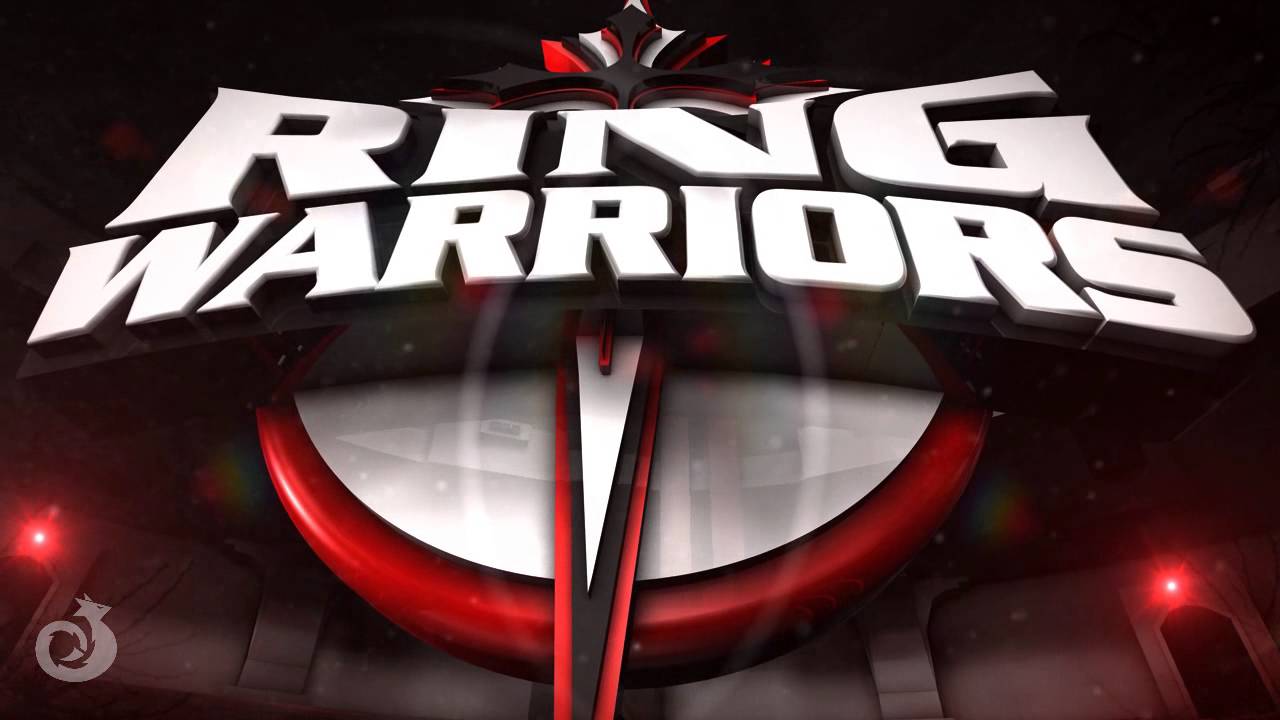 Rolling out of bed at 6:45 on a Saturday morning for no reason is far from my idea of a good time. But this morning is different, today is the first episode of Howard Brody's Ring Warriors TV show on WGN America. Words cannot begin to describe how happy I am when I see a new promotion getting a national TV deal. So that being said the good folks right here at The Chairshot and myself will be bringing you a weekly review.
Austin Aries is the first face we see as he tells us the belt collector and a taping with some names I immediately recognize including Kahagas, Desi Derata, Jeff Cobb, Kahagas, even stars from the original Ring Warrior show such as Alex Chamberlain and Chance Prophets. Blake Chadwick and Larry Brannon welcome us but are quickly interrupted by the title collecting, banana eating, Austin Aries.
Austin Aries seemingly cut his usual babyface promo before leaning heel the goes beyond this saying he was pulling out of the Ring Warriors Grand Championship tournament and he was part owner of Ring Warrior. My favorite part was the scrolling breaking news update across the bottom of the screen confirming that he, in fact, had become a partner of Ring Warriors. He then makes his first executive decision and joins the commentary team at the Sam's Town Casino tapings.
Damian Drake vs Martin Casus
Our first match sees a guy I'm a huge fan of and think highly of Martin Casaus, Lucha Underground's Marty the Moth, taking on a guy I'd never heard of. Austin Aries compares Martin to a "jacked Jack Black" in typical fashion. It was a classic big man little man story with Martin Casaus throwing Damian Drake around. Drake reminds me of Will Ospreay not just in appearance but in what little offense we saw. It didn't take long for Casaus to hit Lights Out and pick up the win.
Winner: Martin Casaus
Desi Derata vs Santana Garrett
We get a promo from Santana Garrett mentioning that her first match was with Ring Warriors and she won the Ring Warriors Ladies Championship. Desi Derata I've had the pleasure of working with many times with the Imperial Wrestling Revolution, now the World Class Revolution. Desi has a solid 5-6 inch height advantage so she gets the majority of the middle offense before being cut off by Santana Garrett. Garrett lands a beautiful side Russian leg sweep and floats over into a pin attempt. Santana Garrett attempts a handspring only to have her hair pulled allowing Desi to hit the North Wind. Oddly the referee stopped counting the pinfall. Austin Aries refers to the referee as Mr. Lahey, which being a Trailer Park Boys fan popped me.
Winner: Desi Derata
We now get a promo from Wes Brisco, son of WWE Hall of Famer Gerald Brisco. Wes says he is here to prove to people that the black cloud that followed him is gone and he is here to win the Ring Warriors Grand Championship. He says he's never going to quit, he is going to remember the bad times to make sure he solidifies his name in the history books.
Luke Hawx vs Chris Bey
Luke Hawx looks as jacked as ever and the "Southern Stomper" looks ready to go. Luke Hawx interrupts Chris Bey's entrance and demands to be announced first. The 19-year veteran of the business is quickly taken down by the high flying, fast paced offense of Chris Bey. Hawx turned it around and slowed it down landing a series of chops, the first of which almost sent Bey over the ropes. Chris Bey jumps on Luke Hawk's back before jumping up and stomping the back of his head. Luke Hawx catches Bey in mid-air and puts him away after a series of backbreakers. Luke then proceeds to help Bey up after the match raises his hand and even does the head rub like you would give a kid who just lost.
Winner: Luke Hawx
Kahagas vs Alex Chamberlain
Ken Resnick gets us some comments from The Tokyo Monster and his manager Dante Brown. Alex Chamberlain has definitely put on some muscle and looks older which makes him look more like a wrestler and less like a kid. Austin Aries teases an Impact Wrestling title match in Ring Warriors next week. Kahagas and Chamberlain go back and forth trading blows and brawling in and out of the ring. After a few meetings with the barricade, Chamberlain is seemingly out of this match. A Stan Hansen like lariat out of the corner almost ended Kahagas' reign of punches on Chamberlain. After a series of sneaky pinfall attempts an inside cradle puts The Tokyo Monster away.
Winner: Alex Chamberlain
Words cannot begin to describe how impressed I was with this show they're truly blending old and new school wrestling. Having homegrown talent that's had time to mature and hone their craft as well as some of the up and coming names on the independent scene vs trying to us former major company names to draw in fans is a smart move in my opinion. Seeing Ken Resnick made me smile as I remembered ever post Mean Gene AWA show I had watched. The staging was simple but effective. The video production including David Marquez of the United Wrestling Network and his own promotion Championship Wrestling from Hollywood, was phenomenal. The in-ring action can only really be shot one way but the cinematic shots of the commentators, the matches themselves during the pre-break segments, and the drone shots of Las Vegas were gorgeous. I must say Howard Brody and the Ring Warriors crew might have just made me a morning person.
Wrestling with the Revolution from the Desk of James Southard
Adam's UWN PrimeTime LIVE Ep. 8 Review 11-3-20
Corona mixes up some of the UWN World Championship tournament matches! Fill ins, different match ups and helpers we haven't seen on UWN so far. How'd it all play out?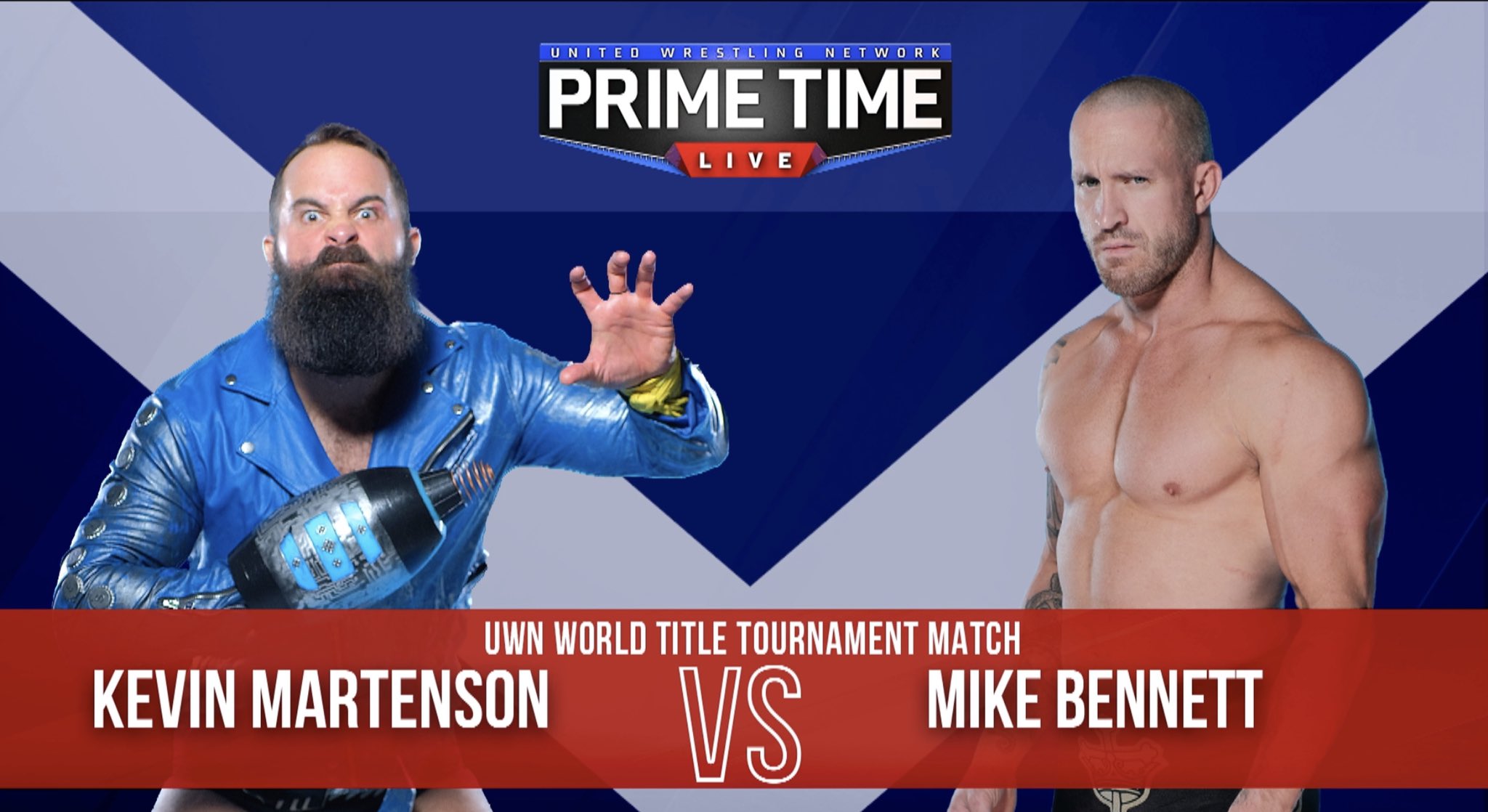 UWN rolls on with their World Championship tournament in the first round with such names as Fred Rosser, Erick Redbeard, Mike Bennett and others being announced. Sadly, there needs to be replacements with the first rounds now with the pandemic still going on.
So let's see who they have gotten to try to become the Inaugural UWN World Champion.
Results:
Fidel Bravo vs Lio Rush: Lio Rush wins via Final Hour – **
Fred Rosser vs Erick Redbeard: Rosser wins via DQ – ** ¾ –  Rosser Advances
Heather Monroe vs Miranda Alize: Monroe wins via Michinoku Driver- ** ½
Rocky Romero vs Shawn Daivari: Daivari wins via Roll-Up – *** ½  –  Daivari Advances
Kevin Martenson vs Mike Bennett: Bennett wins via Hail Mary- ***  – Bennett Advances
Review:
Fidel Bravo vs Lio Rush
Lio Rush comes out during the announcement of competitor changes for the UWN Tournament and puts whoever wins the championship on notice since he is not one of the competitors. The match starts after the proper intro and trying to get the match started off the bat, not losing control from the start. After slapping Bravo in the face, Lio's hubris gets the best of him for a minute and momentum goes to Fidel Bravo, almost getting a pinfall but, Lio misdirects Fidel in the ropes and takes control again, getting cocky once again. Lio Rush gets a full head of steam, tornado Enziguri, quick rolls and flips and trying the Final Hour Frog Splash but misses. It doesn't slow Rush down though with rapid kicks and knockouts to Fidel Bravo and looking at the clock, hitting the Final Hour.
They announce the changes to the UWN Tournament. Chris Dickinson still advances but Fred Rosser goes to the other side of the bracket to face Erick Redbeard instead of Watts. Kevin Martenson will replace Davey Boy Smith Jr and a brand new match up has to be announced for the fourth match. Shawn Daivari will face Rocky Romero in a first round match up.
Fred Rosser vs Erick Redbeard
So here on WWE Main Event, Erick Rowan will take on Darren Youn—oh… ahem. Let me correct myself. Erick causes Rosser to go and powder out to get a feel of how to take it to Redbeard. After putting a headlock on and failing some shoulder tackles against the big man, Erick takes over. Rosser gets a small advantage, taking it to the big man's legs to get some offense in but it slowly fails as Erick takes over with his intimidating offense. After Redbeard gets some damaging offense, he does one mistake and misses in the corner, losing the momentum of the match as Rosser takes it to Erick as much as he can, getting the big man down for a moment. Erick gets more offense started, Side Effect and Spinning Leg Lariat with a near fall right after that heavy offense and yelling at the ref, shoving him. Since he shoved the referee, Redbeard gets disqualified and Fred Rosser advances.
Aftermath: Redbeard gets infuriated and dismantles Fred Rosser after the match for getting disqualified and attempts to shatter the arm of Rosser following the match.
Heather Monroe vs Miranda Alize
The match begins with Alize messing with Monroe's hair and taking it to her technically. Both women getting lucha offense against each other with springboard arm drags, quick pins and Alize even doing a Tijeras into a La Magistral just to no avail as they get back to even ground. Heather gets some offense started but her cockiness getting the better of her and losing the momentum and taking it to Heather Monroe with mind games and physical beat down. After more and more back and forth, Heather gets a slight advantage and catches Alize in a Michinoku Driver after Alize is sent to the ropes.
Rocky Romero vs Shawn Daivari
I… would lie if I said this didn't excite me to see as a REPLACEMENT of all things but, Daivari will face Romero and I am so happy about this. Daivari showing he still has it in the early goings with his power but Rocky picks up the pace and takes over with the speed and wit. Both men doing a lot of back and forths, Daivari hitting hard and going for the back of Rocky but, Rocky taking it to Shawn's shoulder. Rocky putting Daivari to the corner for some Lariats that look like they will go on Forever but Daivari moves out of the way after the second and does a lariat of his own to make them both go down and go to the ramp. Daivari goes to do more back damage to Romero but gets counter into a Sliced Rocky to the outside ramp but still kicks out once they both get back in the ring. Rocky goes for another Sliced Rocky but, going to the well too many times and gets caught, hitting the post and gets rolled up. Former X Division Champion defeats the former IWGP Junior Heavyweight Champion.
Kevin Martenson vs Mike Bennett
There is no give between both of these men, nobody getting an early advantage going from the ring, to the ramp and back in, nobody getting an advantage until Bennett gets some steam going. After taking Martenson to the outside of the ropes and taking Bennett's legs out from under him and more back and forth outside of the ring between the two. Bennet gets the advantage again with a Death Valley Driver on the ring apron and Spear, setting up the Hail Mary Piledriver but gets his legs taken out and gets two  Stomps, one Mushroom Style and the other across Bennett's neck. Instead of going for a pin, Martenson goes for possibly a third stomp from the top but tricks Bennett to put his legs up, putting him in a Sharpshooter on the way down. Martenson has to let go because of his back but still fighting, getting more near falls against Bennett with a massive brainbuster and hitting a suicide dive and trading punches with Bennett after the fact, looking for an Avalanche Brainbuster to the ramp but pushed off the ropes. Bennett capitalizes on the opportunity with another Spear and finally getting that Hail Mary to advance to the next round.
Overall Score: 6.5/10
Well, COVID strikes again with replacements in the tournament. As much as I wanted to see Davey Boy going wild against Mike Bennett, the Romero and Daivari matchup was a great surprise and a great match up. Next week, those semifinal matches will happen along with the NWA Tag Team Championships being defended with The Question Mark and Aron Stevens getting their match against Eli Drake and James Storm. Will we see new Tag Champions within the National Wrestling Alliance or will the two Dummies be Sorry 'Bout Their Damn Luck?
We'll see next week on UWN PrimeTime LIVE!
Adam's UWN PrimeTime LIVE Ep. 7 Review 10-27-20
UWN brings us two title matches, one being an AEW rematch & a first round match for their UWN Championship tournament! Let's see what happened!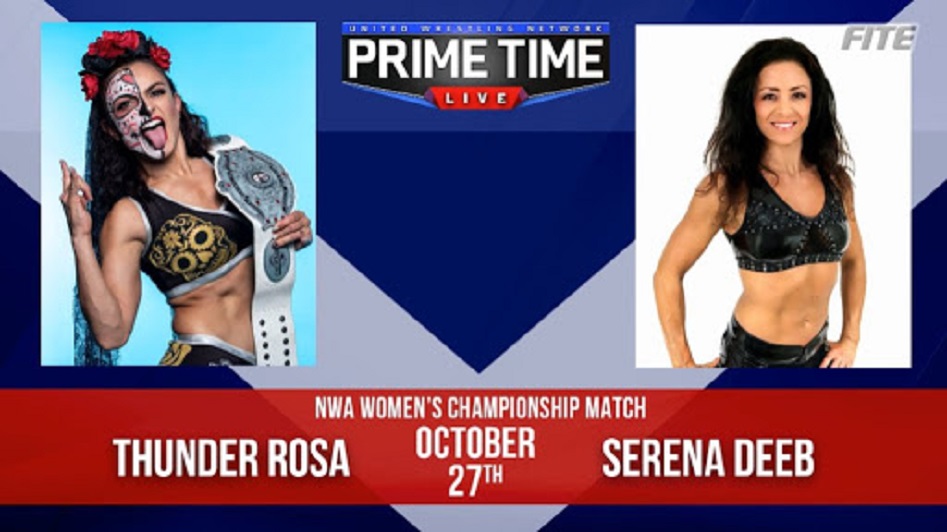 It must be AEW's lucky night with Avalon and Deeb showing up in very high stakes matches, Avalon to try to become the UWN World Champion by progressing past the first round of the tournament and Serena getting a rematch for the NWA Women's Championship from Dynamite weeks ago.
Another day and another good amount of matches on the card so who will we see this week on PrimeTime LIVE?
Results:
Kevin Martenson vs Ray Rosas(c) for the CWFH Heritage Championship:  Ray Rosas wins via Bed of Rosas- *1/2 – TITLE DEFENSE!!
The Bodega vs Real Money Brother$:  The Bodega wins via Bodega Bomb- **
Serena Deeb vs Thunder Rosa(c) for the NWA Women's Championship:  Serena Deeb wins via Roll Up –*** 1/2 –
TITLE CHANGE!!!
Peter Avalon vs Chris Dickinson: Chris Dickinson wins via Burning Lariat- ** 1/2
Review:
Kevin Martenson vs Ray Rosas
The match starts very back and forth, Rosas doing more heel tactics by going into the ropes to separate himself from Martenson. Martenson goes to target the neck and back of Rosas and tries to take to the skies along with a flurry of German Suplexes but, that was the beginning of the end. Rosas sweeps Martenson's legs from under him on the top rope and breaks down his back so he can't do his offense of suplexes and finishes the match up with the Bed of Rosas backbreaker.
The commentary team announces the first rounds of the World Championship Tournament and the tag team action later on until Aron Stevens awkwardly comes out for commentary and keeps repeating that he was robbed from his NWA National Championship and challenges Eli Drake and James Storm for the NWA Tag Team Championships when he can get the Question Mark.
The Bodega vs Real Money Brother$
Since the beginning of the bell, The Bodega takes it to the Real Money Brother$, well… mainly Suge with frequent tags between Limelight and Papo Esco, cutting the ring ring between Suge and Clutch. Finally after taking too much time, RMB gets enough time for the momentum to change with Danny Limelight getting the two on one this time around. After getting the King Fat Boi in the ring with a tag, Real Money Brother$ lose the head of steam they had and The Bodega hit a very… awkward looking Bodega Bomb to score the victory. (And when I say awkward, I mean Limelight hit a short springboard splash and landed on Suge's knees awkward)
Serena Deeb vs Thunder Rosa
Serena takes it early to Rosa at first but Rosa goes to counter and the two begin to take it to the ground and exchange holds, nobody getting the early advantage for a while until the champion gets a little bit of steam. Deeb goes to the corner, takes one body splash in the corner before moving out of the way, dealing a neckbreaker to Rosa in the ropes and getting the momentum shift. Serena keeps this momentum too, making sure Rosa's neck is compromised with a straight jacket hold and more neckbreakers. Rosa gets a little bit of separation after breaking Deeb's Serenity Lock (Neck Crank) and gets the ball—er… Thunder rolling I suppose. Northern Lights Driver but taking too much time after Serena kicks out, doing more neck damage to Rosa with a rapid Swinging Neckbreaker and keeping hold for a traditional swinging neckbreker. Serena getting full advantage against with a unique pinning hold to pin Rosa and going to the Figure Four (because y'know… NWA) and after the pressure goes down, Deeb hits her Hammerlock Clash and only gets a two since Rosa's leg gets on the ropes. Rosa gets pissed and takes it to Deeb on the outside but after a while, Rosa's knee gives out right before she uses the Thunder Driver and Serena played Possum to get the pinfall and we have a new Women's Champion for the National Wrestling Alliance.
Peter Avalon vs Chris Dickinson
They are making this go on for a while? Oh wait… Avalon tried to tell the Dirty Daddy to shush. You don't do that because he doesn't care. Dickinson hits a kick to Avalon's back and after a quick pin attempt, countering a corner move and Avalon hits a leg lariat and takes Dickinson down. We all know that it won't work for long, Dickinson takes full advantage again and overpowering Avalon until the ref gets hit from the Death Valley Driver attempt. Avalon escapes Dickinson and traps Dickinson's leg, swinging a chair while the referee is down, getting an equalizer. Avalon now having the advantage with knee bars, twisting the leg and when there is a rope break, Avalon chop blocks Dickinson to take him back down and puts on a Half Crab to take more damage to the leg. Avalon goes to the top for a moonsault but, his hubris go the better of him and Dickinson moves out of the way so they are equal again. Dickinson get pissed off and even with his leg damaged, he still puts away Peter Avalon with a Burning Lariat, advancing in the tournament.
Overall Score: 6.5/10
Well I wasn't too thrilled with the first two matches in all honesty; the Heritage Championship match felt like it went on too long and the tag match was… okay. I've seen Limelight before and he often gets a little too much with the flight like he did today by overshooting the finish of the match and instead of a short splash on the chest or stomach, he landed on knees and legs instead. At least the last two were good matches, I mean we know Thunder can put on a match and Serena isn't bad at all, after all, as JR said on Dynamite the first time they fought, "That was the best Women's Match on AEW."
I'm more surprised however that the Women's Championship wasn't the main event because speaking of AEW, nobody really cares about The Librarian. They made him look good by taking it to Dickinson's legs, making Avalon a somewhat cunning heel and not the 0-28-2 jobber on Dark. Good on them.