Jordan Fox's Blog: My Experience at Starrcast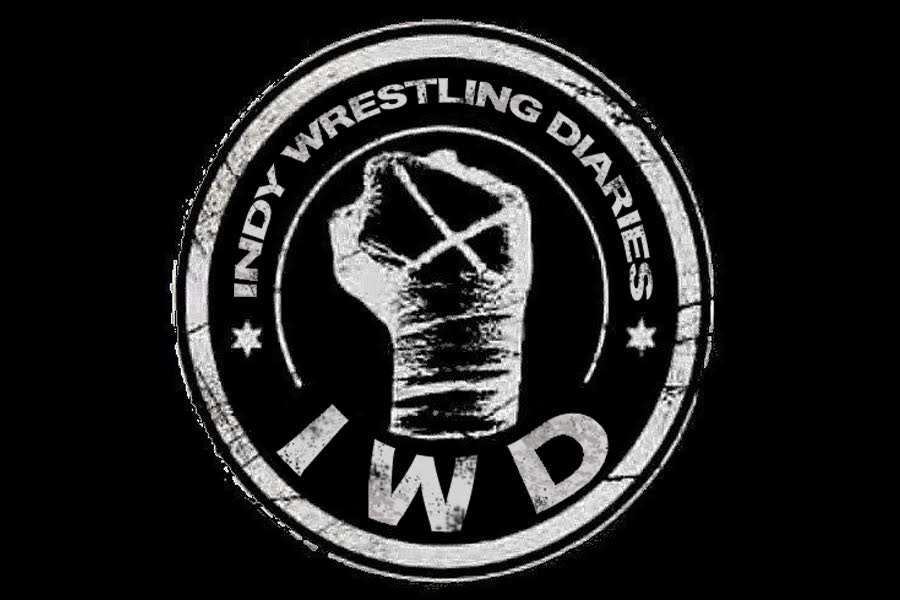 Disclaimer – Sometimes you might wonder what the point of the stories are… I'll be honest, sometimes there isn't going to be any meaning to what I'm blogging. I just simply want to share these really cool moments I get to experience. I get to experience these wonderful moments because I work in "The Business." I work in wrestling, that might not mean much to a non fan, but to wrestling fans, being a full time wrestling employee, like I am, is the Holy Grail.
The wrestling business is my full time job, my "shoot" job & this blog details the fun I experience in our wacky world of wrestling… ENJOY!
Wow. If I had to describe the Starrcast convention in one word, that's the word I would use.
Our journey began in Tulsa, Oklahoma. Myself, Floyd & Ryan (the hosts of Around The Ring,) & brothers Noal & Dan all got together in a rented van to roadtrip to Chicago. It was an 11 hour drive but it truly didn't feel like 11 hours. In my honest opinion it flew by.
We drove straight to Wrigley field. The convention didn't start till Thursday afternoon & we got there on Thursday morning. There were two of us that are Cubs fans so we wanted to see the stadium. I have been very blessed in my life that I've seen the stadium multiple times but it was Aaron's first time seeing the stadium.
Anyway, on to the convention. We meet up w/ Marvelous Mike & others to go check into the convention. This is when i see ODB's food trailer out front & inside is Lisa Marie Baron (Formerly Victoria of the WWE.) She was just working on food & stuff, she wasn't taking pics or signing autograghs. So, as the guys are going in I just go over to the side door of the trailer & she meets me at the door. I said "IDK if you remember me or not but" & before i could finish she said "Of course I do, it hasn't been THAT long ago, has it? We were in Kansas together."
I'm sure Lisa meets 5,000 guys like me every year, aspiring wrestlers, young wrestlers, commentators, you name it & she meets them at the indy show's. So, I figured she didn't remember my name but I felt good that she at least remembered who i was hahaha.
She was super chill. I only visited with her for a bit before we "bro hug" it out & i went on my merry way.
I got my platitum pass which allowed me to have first shot of every show held at the convention.
I'll be honest, at this point, all the shows & experiences i was fortunate enough to see & have kinda blur together as far as when they happened so I'm just going to jump around & talk about them as we go.
Matt Striker – As some of you guys know, Matt Striker & I rode to a show together awhile back & we talked about my desire to want to apply for the wrestling academy and he got super pumped & was like "if you want to, you GOT to! you only live once!" we spent a lot of time talking about me applying & he reminded me "If you don't try, you'll always wonder." So I applied & as we all know, the rest is history.
Marvelous Mike had seen Matt Striker in this 10-15 minute time frame when we were not together & as soon as we linked back up he told me that he just seen Striker & Jeff Jarrett talking to a few guys randomly so i walked over where they saw them & they were still there, I walked over & kinda stood back for a second until Striker looked in my direction & he actually kinda hollered my name when we made eye contact.
We met halfway and hugged it out & the first thing he asked was "How is the academy? what have you touched on so far?" the first thing i listed was hip tossing & where to post (I'm not quiet sure why that came out first, maybe because the posting part has given me trouble, idk.) but he immediately went into teacher mode & showed me step by step where he posts, how he posts etc..
We ended up going over stuff for about 10 minutes. He legit took the time to go over every single item that I listed off. It was an absolutely amazing moment. Matt truly is a great guy. Afterwards he said "You got my number, use it. Holler at me & we will go over somemore stuff soon."
"The Death of WCW Panel" – The panel revolved around "The Death of WCW" book that was written by RD Reynolds & Brian Alvarez (Brian works for Dave Meltzer.) I was at this panel w/ Marvelous Mike & our friend Justin Goode. About 10 minutes into the show Maffew from BochaMania shows up. as he walks by our seats Justin says "Hey man, love the show." Maffew replied w/ a thank you & then sat down next to us & ended up watching the entire show w/ us. It was really cool to chill w/ him for an hour+. We took some selfies together & when Reynolds handed out signs w/ Bischoff's face on them, we took selfies of the two of us holding them up haha.
The panel was awesome, Reynolds & Bischoff went at it the entire time. Reynolds' opinion is that WCW's death began & ultimately happened because of the shitty creative. Bischoff's opinion is that Turner hampered them so much that creative's hands were tied behind their back.
Both made points that I, as a fan, agreed w/. I side w/ Reynolds but I also wasn't there so my opinion is just from a fans viewpoint.
Colt Cabana – Cabana was signing autograghs & had 2-3 guys at his table looking at shirts so i stood back & when they left i walked up & as soon as I walked up he said "My Military Friend! How are ya?!" as he said that he sees my ponytail & grabs it. lol
I can't really describe in text how cool it was for Cabana to recognize me. I think i blogged about this already but I'll say it again, Cabana bragged on me for doing whatever i could & whatever I needed to to get into the business. Him saying all that to me was extremely motivating! (MAN, I've had a lot of world class wrestlers help me this past year!)
Cody – I didn't really get a big chance to BS w/ Cody BUT I did run into him in a doorway as he was coming in & I out. He seemed to be in a hurry so i just Too Sweeted him & said "Thanks for everything, Cody." & he replied with "My pleasure!"
lol Too Sweet'ing Cody was so freaking awesome… I'm such a mark.
Megan Flair – I believe this is Ric Flair's oldest daughter. She is NOT a wrestler. She actually worked in the medical field. We exchanged stories about the similarities of her brother Reid & myself. We both suffered from severe opiate addiction, he so much so that it took his life.
Later, I BS'd with her fiance (the promoter of Starrcast) Conrad Thompson for just a minute and he was just as nice as could be.
The Roast of Bruce Prichard – This was some good stuff. we have all seen the Comedy Central Roast's before (The best one was actually roasting Michael Scott on The Office) & this one was pretty similar to them. On the panel was Xpac, Madussa,Eric Bischoff, Gerald Brisco, Pat Patterson & Brutus The F'n Barber Beefcake & a ton of comedians.
The Weigh In was insane. the large room it was in was packed.
Jeff Jarrett – Double J was just walking around as if he was just there, it was really cool. I went up to him & explained we worked a show together in Arkansas. He at least pretended to know me once I said that. haha
Tenelee Dashwood – I worked with Tenelee before (same show i worked w/ Jarrett actually) but she isn't really the talking type (at least not around me, anyway) so I just stopped by when no one was there & we chatted for a second.
Missed out on Scott Hall – I was about 10 feet away from Scott Hall as we were both going into the world premiere of the Bruiser Brody documentry but i was actually visiting w/ the Vice Land Filmmaker that made the documentry. We have some mutual friends in the wrestling business so we ended up chilling together for about 45 minutes, it was really cool. We exchanged social media info & even talked about me being involved w/ some of his work in the near future. (I can't describe how happy him even mentioning us working together made me!)
Diamond Dallas Page – I shook DDP's hand twice & wanted to mention that we have a mutual friend but we got like less than 2 minutes both times so obviously i didn't get the chance.
Matt Cross/Son of Havoc – DUDE! I bought a Cross shirt ("Wrestling is forever") BUT I forgot to tell him my trainer at the wrestling academy & he are friends! totally slipped my mind.
Brian Pillman Jr. – One of the coolest guys I've ever met! we chatted for a bit while Aound The Ring cohost, Ryan Aaron, got his autogragh & picture.
MJF – NEVER BROKE CHARACTER! Not even to laugh!
King's of The Ring podcast – There was a guy at the convention that paid big money to be a "vendor" for the show, which means he can sell whatever his product is. BUT he had nothing to sell, he was simply there to talk about his new podcast that he could best explain by saying "It's Game of Thrones by way of 1980's wrestling" he went on to say that WWE was the Lannister kingdom & the indy scene (w/ the territorys) is like that Rob's Rebellion trying to overthrow the kingdom. I haven't listened yet so I'm just going to leave that description there for whomever to read.
The whole experience was a ton of fun. I'm still a huge wrestling fan, big time, even though I work in wrestling full time between the wrestling academy, color commentary, TheChairshot.com & podcasting, I'm still a huge fan.
"The Sly One" Jordan Fox
Podcast – Indy Wrestling Radio
Twitter, Facebook & Snapchat handle for podcast – @IWRdaily
my personal Twitter & Instagram handle – @FoxThePodcaster
Email – JordanFox@TheChairshot.com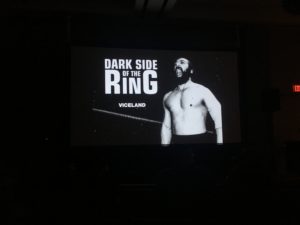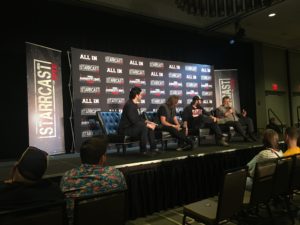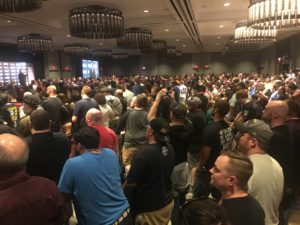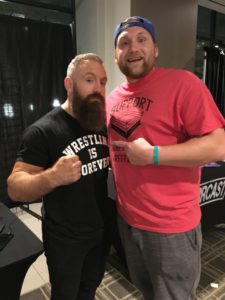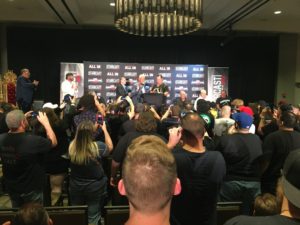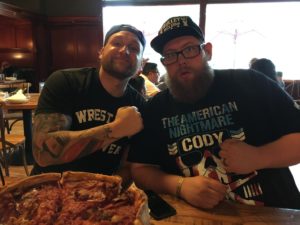 #RAWisDVR: Greg DeMarco's ACCELERATED Look At WWE Raw for 2/18
How much of Raw was Fast Forward worthy on Monday? (A lot.)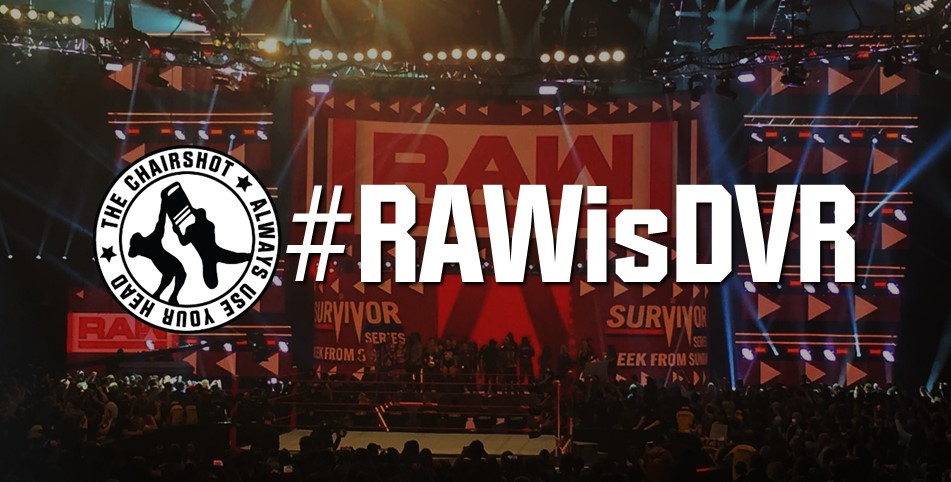 Greg DeMarco watches WWE RAW on DVR, and you get to see how much time he saved! In the process, he's highly entertaining, because it's Greg DeMarco!
The experiment continues! Monday's Raw follows up WWE Elimination Chamber, but it's also a holiday Raw. What will happen? Will Greg skip too much? Let's see!
Triple H is in entering the ring
Raw is weird again–not showing entrances
Promo in a nutshell: this is a holiday Raw, and nothing of consequence will happen–but we will try to make you think it is!
FAST FORWARD some talking
NXT?
Having Ricochet, Aleister Black, Johnny Gargano, and Tommaso Ciampa appear on Raw is great, but it immediately makes the 6 stars awaiting assignment look small time
No Velveteen Dream? I wonder if this is a set-up?
FAST FORWARD the entrances
Braun Noveltyman vs. Baron Corbin Sucks in a Tables Match
I FAST FORWARDed it, but they spent WAY too much time on Corbin walking.
He sucks at walking, too.
Corbin also sucks at sliding tables under rings.
Why would he do that, anyway? He needs a table to win!
The flaw in a Tables Match, at least for this experiment, is that you can FAST FORWARD when a table isn't involved.
FAST FORWARD commercials, we're already saving tons of time tonight!
I wonder if Abyss is the agent for Baron Corbin's matches? I mean, that's the Vortex Of Suck!
Strowman wins. You're shocked, I know.
Paul Heyman is on the stage, as WWE tries to keep you from changing the channel.
FAST FORWARD the commercials
Timestamp 15:39 (Show time: 35:43)
Paul Heyman is on the stage
Heyman didn't give us the proper intro, and it hurt the segment.
FAST FORWARD the video
Heyman is right, Brock Lesnar is a force of nature that we can't do anything about. That's why him as champion works so well.
This crowd doesn't really seem to care all that much about Seth Rollins
ANOTHER INTERRUPTION – #FinnBalorsDick is out and dressed to fight
Alternate Names For This:
#RAWisINTERRUPTION
#PleaseDontChangeTheChannel
#RAWisWEIRD
FAST FORWARD the commercials and video
Finn Balor & Ricochet vs. Bobby Lashley & Lio Rush
"One of these championships" isn't a great way to describe everyone's favorite title
Lio Rush is here, presumably to distract Balor so Lashley can attack him (because WWE)
And there he is!
BTW, you don't FAST FORWARD when Lio Rush is talking
Which NXT star saves Balor? Ricochet? Black?
Aaaaaaaaaaaaaaand it's Ricochet.
FAST FORWARD the commercials
Ricochet really needed an introduction for this audience
Evan Bourne mention by Renee Young?
Renee is basically telling us that no one watches NXT.
This crowd could give a shit about Ricochet.
Four amazing athletes and there's enough stalling for me to FAST FORWARD?
FAST FORWARD the commercials, again?
If you're worried about Ricochet on the main roster…your fear is warranted.
FAST FORWARD the talking, but I stopped to see what Drew McIntyre was
FAST FORWARD so much stuff!
Timestamp: 33:45 (Real time: 1:23:05)
The Major Brothers (Zack Ryder & Curt Hawkins) vs. Lucha House Party's Gran Metallik & Lince Dorado
This isn't where Hawkins wins, right? A throw away Raw match?
"Tans don't win championships, ask Eric Bischoff!"
BTW, if Corey Graves is going through personal strife, he's BURYING himself in his work, because he's on fire tonight!
And of course Hawkins loses.
FAST FORWARD time!
Charly Caruso interviews Heavy Machinery
TUCKER hits the highlights, OTIS drives it home
Lacey Evans literally just walks the fuck around! And does nothing else? Lars couldn't handle this?
We're not having matches now, just entrances? And Bushwhacker walking? Missed opportunity for me to FAST FORWARD.
FAST FORWARD the commercials
DIY talks to Bobby Roode & chad Gable
Johnny Gargano looks like he's waiting to say his lines, but Tommaso Ciampa is sitting there maintaining his gimmick
See Renee, The Revival watches NXT!
And the entrance we do get is The Revival?
Oh we get Ciampa and Gargano entrances, too
The Revival vs. DIY (non-title assumed)
The fans in Lafayette have got to feel like they did something wrong, or wonder if they're still watching dark matches
Literally 6 people are chanting "NXT!" Somehow I don't see how this was a good idea.
While we're here, anyone want to talk to me about how important it is to have defined Faces and Heels? No? Didn't think so.
Classic Gargano? Not Vintage? Maybe Cole really is looking to finish this up.
FAST FORWARD the commercials and I am 5 minutes short of an hour saved
A "Saints Got Robbed" sign? Let it go, brother.
The announcers selling what it would mean if DIY wins has to be foreshadowing, eh?
This match is proof that you can't just throw matches out and expect a reaction–you need to build characters first.
Great match–imagine if the crowd had a reason to be invested in more than the last two minutes!
Charly Caruso talks to Ricochet
Damn, Ricochet looks nervous
I hope that was done live, and not the best take in pretapes
FAST FORWARD the commercials
(These Kevin Owens videos are boring–this is supposed to get him over upon return?)
Timestamp: 59:27 (Real time: 2:01:15)
FAST FORWARD the promo, the commentary aside, DX package, commercials, and more entrances
Dean Ambrose vs. Drew McIntyre
Credit to McIntyre for trying to take the referee's directions off camera, but this was WAY off
I don't want to blame Ambrose, but shit this was oddly bad
FAST FORWARD
Timestamp: 1:04:24 (Real time: 2:22:23 )
Seth Rollins Talking to Charly Caruso
It's about what you'd expect.
Whatever they're doing with Ambrose here, it sucks.
FAST FORWARD the commercials and videos
Elias vs. Aleister Black
"Hello I am Eliath" Aleister Black here?
Elias is so good at cheap heat, and I 100% believe in cheap heat
And we let Aleister cut a promo? That's totally bad for his character.
Black trimmed the beard, and it was a smart move
FAST FORWARD the commercials
"His tattoos tall a story about his life–dark and mean" yet I see flowers on his arm?
FAST FORWARD the chinlock
BLACK MASS is still a great finisher, even if this one was a bit awkward.
I really wonder if the time these guys have to work on their matches at the PC really is the key to NXT's success
FAST FORWARD the commercials and entrances
Ronda Rousey vs. Ruby Riott
Holiday Raw means no Becky Lynch or Charlotte Flair?
Did Ronda borrow shorts from Lacey Evans?
Someday Ruby Riott is going to be booked like a plucky underdog babyface, and she's going to flourish
Even the commentary is off tonight!
And there's the "WE WANT BECKY!" chants
Camera work, anyone? We just saw two different conversations take place in the ring.
Damn, Ronda took that Riott kick square to the head!
And Ronda has now kicked out of Ruby's finisher TWICE. Once off the top!
Ronda was terrible tonight.
Raw ends with Ronda standing tall and nothing else.
Final Timestamp: 1:24:44
Real Time: 3:00:00
Time Saved: 1:35:16
Overall, this was just a weird Raw. Nearly everything seemed off, and as we march towards WrestleMania, nothing that happened tonight will be remembered.
Greg DeMarco's 205 Live, NXT UK, and WWE NXT Star Ratings (2/12-2/13/19)
The WWE Network brands delivered in a big way this week!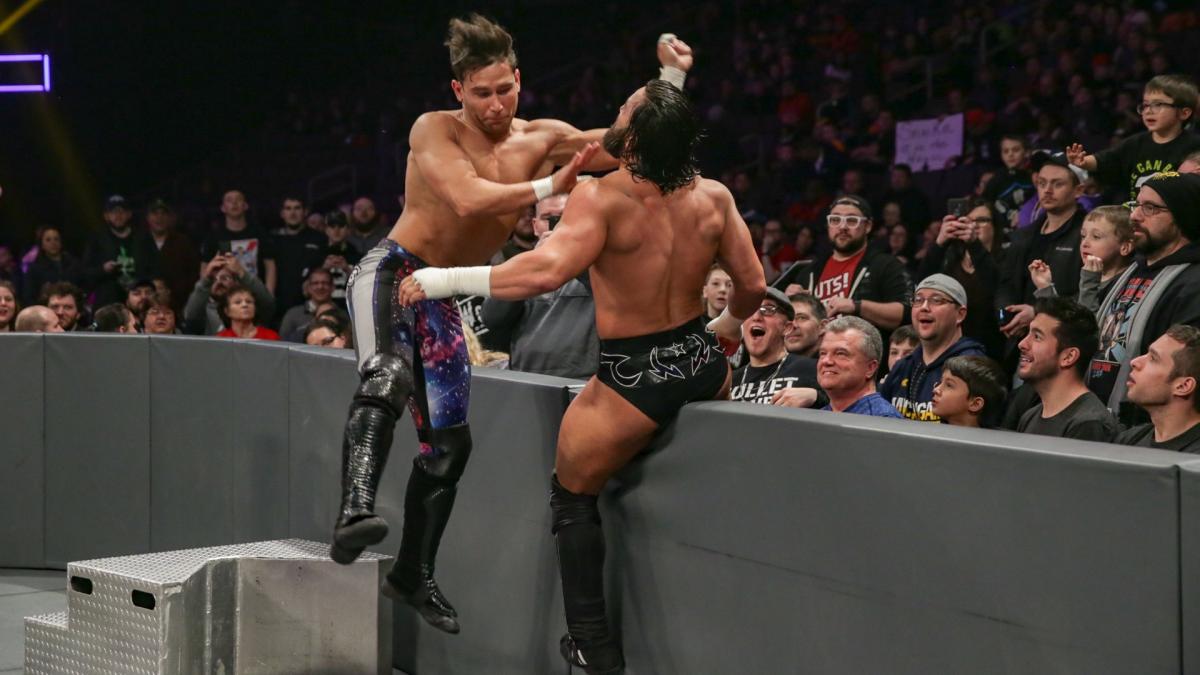 Greg DeMarco rates this week's WWE Network shows, and they deliver in a very consistent way!
Three shows. One week. I was a busy man this week with the new job and the birthday, but I finally got the rest of NXT hammered out! I hope you enjoy the ratings as much as I enjoyed the shows because they delivered in all three this week.
WWE 205 Live
Lince Dorado vs. Jack Gallagher – ***1/4
Underrated match here. Great mix if styles and both men had a chance to shine. Loved the finish. Don't sleep on this one. I like that the match was left open-ended. I feel like we'll see Gulak/Gallagher/Humberto Carrillo vs. Lucha House Party, and I'm not upset by that.
No Disqualification – Noam Dar vs. Tony Nese – ****
I've been wondering out lout about who steps up to challenge Buddy Murphy at WrestleMania. Now, the answer is really simple. That challenger should be Noam Dar. Hell of a match here, both men kicked each other's ass, but told a story while doing it. I've never been the biggest Tony Nese fan (in WWE, I loved him on the independents), but he delivered every bit as much as Noam Dar. This could have sold a crowd on a main roster show.
WWE NXT UK
Noam Dar vs. Jordan Devlin – ***3/4
One hell of a match between Dar and Devlin. From a televised perspective, Noam Dar low key had a hell of a week. I won't get off of my Dar vs. Murphy idea anytime soon, and Jordan Devlin would be a fantastic addition to 205 Live. The Travis Banks involvement didn't hurt it for me, as that story is a big part of 205 Live. Plus it keeps Devlin strong in the loss.
Jinny vs. Mia Yim – ***1/4
I enjoyed this way more than expected, since Jinny is in it. The match built from the start, kicking it up another notch in the middle and finding a third gear in the end. Can Jinny win me over? The jury is still out on that, but I highly recommend this match.
WWE UK Championship Match: Pete Dunne vs. Wolfgang – ***1/2
Gallus is a vastly underrated heel stable. Dunne should be in NXT Takeover main events with Tommaso Ciampa. I would love to see that match at Takeover: New York. This match delivered, yet another in a great week.
WWE NXT
Dominik Dijakovic vs. Shane Thorne – ***
Good match that, for me, did way more for Shane Thorne. Don't sleep on Thorne, he deserves a chance. As for Dijakovic, it's gotten to the point of repetition. Give this man something more to do.
Side Note: Interesting that they basically declared that Bobby Fish and Kyle O'Reilly were a tag team again, and Strong and Cole were going after singles gold. Could Undisputed Era hold all the (men's) gold at some point this year? I'd be shocked if that happened.
Side-Side Note: Kassius Ohno, who I love, still looks like a fat dude wrestling in his pajamas.
The Street Profits vs. Humberto Carrillo & Stacey Ervin Jr – ***1/4
This match, for me, might end up being viewed as the night The Street Profits "got it." They turned up the intensity in all aspects, from character to ring work, and it really enhanced the match. Carrillo is also a star in waiting, and Ervin shows some promise as well. This was really good.
Taynara Conti vs. Aaliyah – **3/4
Aaliyah being paired with Vanessa Bourne is…odd. But for me, this is the best Aaliyah has ever looked in the ring. Props to WWE for being patient. Conti is a missed opportunity. When she helped Undisputed Era (that one time lol) she should have become a member. That would have done wonders for her, and given them yet another wrinkle. Outside of the post-match attack, this felt like an NXT Florida house show loop match (which it probably has been in the past).
Ricochet vs. Adam Cole – ***3/4
If you know me, you know my Adam Cole man-crush runs deep, BAY BAY. So I am obligated to tell you that the wrong guy won here. But if I set that love aside, it makes total sense for Ricochet to win while Undisputed Era stands tall at the end. It was all set up during the earlier promo.
That said, both men delivered another Takeover quality performance in this match.
---
The WWE Network shows (205 Live, NXT UK, and WWE NXT) had a total of 9 matches this week. One of them had 4 stars, one was below 3, meaning we still had seven other matches in the 3 star range. This was an entertaining three hours of content, and one of the most consistent weeks I have ever seen. Good on the fine folks on all three WWE Network brands, both on and backstage.