Jordan Fox's Blog: My Experience at Starrcast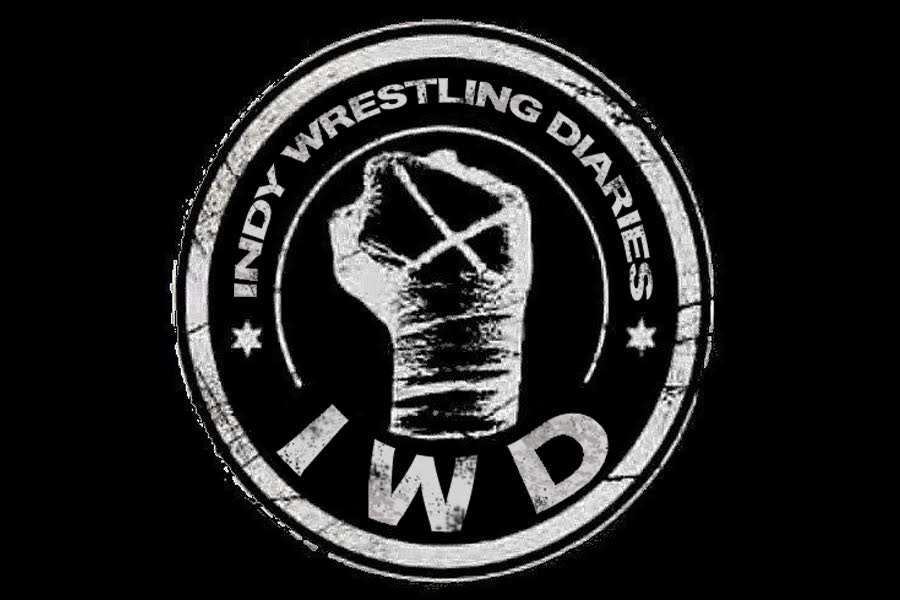 Disclaimer – Sometimes you might wonder what the point of the stories are… I'll be honest, sometimes there isn't going to be any meaning to what I'm blogging. I just simply want to share these really cool moments I get to experience. I get to experience these wonderful moments because I work in "The Business." I work in wrestling, that might not mean much to a non fan, but to wrestling fans, being a full time wrestling employee, like I am, is the Holy Grail.
The wrestling business is my full time job, my "shoot" job & this blog details the fun I experience in our wacky world of wrestling… ENJOY!
Wow. If I had to describe the Starrcast convention in one word, that's the word I would use.
Our journey began in Tulsa, Oklahoma. Myself, Floyd & Ryan (the hosts of Around The Ring,) & brothers Noal & Dan all got together in a rented van to roadtrip to Chicago. It was an 11 hour drive but it truly didn't feel like 11 hours. In my honest opinion it flew by.
We drove straight to Wrigley field. The convention didn't start till Thursday afternoon & we got there on Thursday morning. There were two of us that are Cubs fans so we wanted to see the stadium. I have been very blessed in my life that I've seen the stadium multiple times but it was Aaron's first time seeing the stadium.
Anyway, on to the convention. We meet up w/ Marvelous Mike & others to go check into the convention. This is when i see ODB's food trailer out front & inside is Lisa Marie Baron (Formerly Victoria of the WWE.) She was just working on food & stuff, she wasn't taking pics or signing autograghs. So, as the guys are going in I just go over to the side door of the trailer & she meets me at the door. I said "IDK if you remember me or not but" & before i could finish she said "Of course I do, it hasn't been THAT long ago, has it? We were in Kansas together."
I'm sure Lisa meets 5,000 guys like me every year, aspiring wrestlers, young wrestlers, commentators, you name it & she meets them at the indy show's. So, I figured she didn't remember my name but I felt good that she at least remembered who i was hahaha.
She was super chill. I only visited with her for a bit before we "bro hug" it out & i went on my merry way.
I got my platitum pass which allowed me to have first shot of every show held at the convention.
I'll be honest, at this point, all the shows & experiences i was fortunate enough to see & have kinda blur together as far as when they happened so I'm just going to jump around & talk about them as we go.
Matt Striker – As some of you guys know, Matt Striker & I rode to a show together awhile back & we talked about my desire to want to apply for the wrestling academy and he got super pumped & was like "if you want to, you GOT to! you only live once!" we spent a lot of time talking about me applying & he reminded me "If you don't try, you'll always wonder." So I applied & as we all know, the rest is history.
Marvelous Mike had seen Matt Striker in this 10-15 minute time frame when we were not together & as soon as we linked back up he told me that he just seen Striker & Jeff Jarrett talking to a few guys randomly so i walked over where they saw them & they were still there, I walked over & kinda stood back for a second until Striker looked in my direction & he actually kinda hollered my name when we made eye contact.
We met halfway and hugged it out & the first thing he asked was "How is the academy? what have you touched on so far?" the first thing i listed was hip tossing & where to post (I'm not quiet sure why that came out first, maybe because the posting part has given me trouble, idk.) but he immediately went into teacher mode & showed me step by step where he posts, how he posts etc..
We ended up going over stuff for about 10 minutes. He legit took the time to go over every single item that I listed off. It was an absolutely amazing moment. Matt truly is a great guy. Afterwards he said "You got my number, use it. Holler at me & we will go over somemore stuff soon."
"The Death of WCW Panel" – The panel revolved around "The Death of WCW" book that was written by RD Reynolds & Brian Alvarez (Brian works for Dave Meltzer.) I was at this panel w/ Marvelous Mike & our friend Justin Goode. About 10 minutes into the show Maffew from BochaMania shows up. as he walks by our seats Justin says "Hey man, love the show." Maffew replied w/ a thank you & then sat down next to us & ended up watching the entire show w/ us. It was really cool to chill w/ him for an hour+. We took some selfies together & when Reynolds handed out signs w/ Bischoff's face on them, we took selfies of the two of us holding them up haha.
The panel was awesome, Reynolds & Bischoff went at it the entire time. Reynolds' opinion is that WCW's death began & ultimately happened because of the shitty creative. Bischoff's opinion is that Turner hampered them so much that creative's hands were tied behind their back.
Both made points that I, as a fan, agreed w/. I side w/ Reynolds but I also wasn't there so my opinion is just from a fans viewpoint.
Colt Cabana – Cabana was signing autograghs & had 2-3 guys at his table looking at shirts so i stood back & when they left i walked up & as soon as I walked up he said "My Military Friend! How are ya?!" as he said that he sees my ponytail & grabs it. lol
I can't really describe in text how cool it was for Cabana to recognize me. I think i blogged about this already but I'll say it again, Cabana bragged on me for doing whatever i could & whatever I needed to to get into the business. Him saying all that to me was extremely motivating! (MAN, I've had a lot of world class wrestlers help me this past year!)
Cody – I didn't really get a big chance to BS w/ Cody BUT I did run into him in a doorway as he was coming in & I out. He seemed to be in a hurry so i just Too Sweeted him & said "Thanks for everything, Cody." & he replied with "My pleasure!"
lol Too Sweet'ing Cody was so freaking awesome… I'm such a mark.
Megan Flair – I believe this is Ric Flair's oldest daughter. She is NOT a wrestler. She actually worked in the medical field. We exchanged stories about the similarities of her brother Reid & myself. We both suffered from severe opiate addiction, he so much so that it took his life.
Later, I BS'd with her fiance (the promoter of Starrcast) Conrad Thompson for just a minute and he was just as nice as could be.
The Roast of Bruce Prichard – This was some good stuff. we have all seen the Comedy Central Roast's before (The best one was actually roasting Michael Scott on The Office) & this one was pretty similar to them. On the panel was Xpac, Madussa,Eric Bischoff, Gerald Brisco, Pat Patterson & Brutus The F'n Barber Beefcake & a ton of comedians.
The Weigh In was insane. the large room it was in was packed.
Jeff Jarrett – Double J was just walking around as if he was just there, it was really cool. I went up to him & explained we worked a show together in Arkansas. He at least pretended to know me once I said that. haha
Tenelee Dashwood – I worked with Tenelee before (same show i worked w/ Jarrett actually) but she isn't really the talking type (at least not around me, anyway) so I just stopped by when no one was there & we chatted for a second.
Missed out on Scott Hall – I was about 10 feet away from Scott Hall as we were both going into the world premiere of the Bruiser Brody documentry but i was actually visiting w/ the Vice Land Filmmaker that made the documentry. We have some mutual friends in the wrestling business so we ended up chilling together for about 45 minutes, it was really cool. We exchanged social media info & even talked about me being involved w/ some of his work in the near future. (I can't describe how happy him even mentioning us working together made me!)
Diamond Dallas Page – I shook DDP's hand twice & wanted to mention that we have a mutual friend but we got like less than 2 minutes both times so obviously i didn't get the chance.
Matt Cross/Son of Havoc – DUDE! I bought a Cross shirt ("Wrestling is forever") BUT I forgot to tell him my trainer at the wrestling academy & he are friends! totally slipped my mind.
Brian Pillman Jr. – One of the coolest guys I've ever met! we chatted for a bit while Aound The Ring cohost, Ryan Aaron, got his autogragh & picture.
MJF – NEVER BROKE CHARACTER! Not even to laugh!
King's of The Ring podcast – There was a guy at the convention that paid big money to be a "vendor" for the show, which means he can sell whatever his product is. BUT he had nothing to sell, he was simply there to talk about his new podcast that he could best explain by saying "It's Game of Thrones by way of 1980's wrestling" he went on to say that WWE was the Lannister kingdom & the indy scene (w/ the territorys) is like that Rob's Rebellion trying to overthrow the kingdom. I haven't listened yet so I'm just going to leave that description there for whomever to read.
The whole experience was a ton of fun. I'm still a huge wrestling fan, big time, even though I work in wrestling full time between the wrestling academy, color commentary, TheChairshot.com & podcasting, I'm still a huge fan.
"The Sly One" Jordan Fox
Podcast – Indy Wrestling Radio
Twitter, Facebook & Snapchat handle for podcast – @IWRdaily
my personal Twitter & Instagram handle – @FoxThePodcaster
Email – JordanFox@TheChairshot.com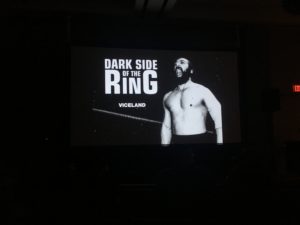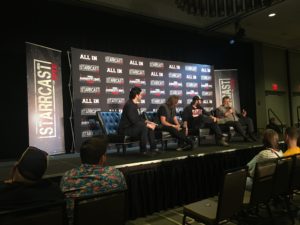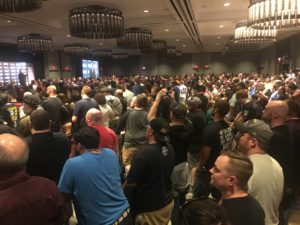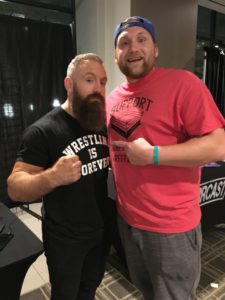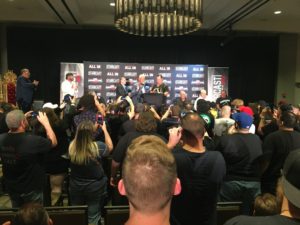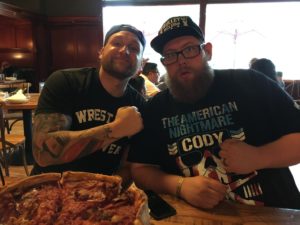 Predicting The Card: WWE WrestleMania 35 (Round 2)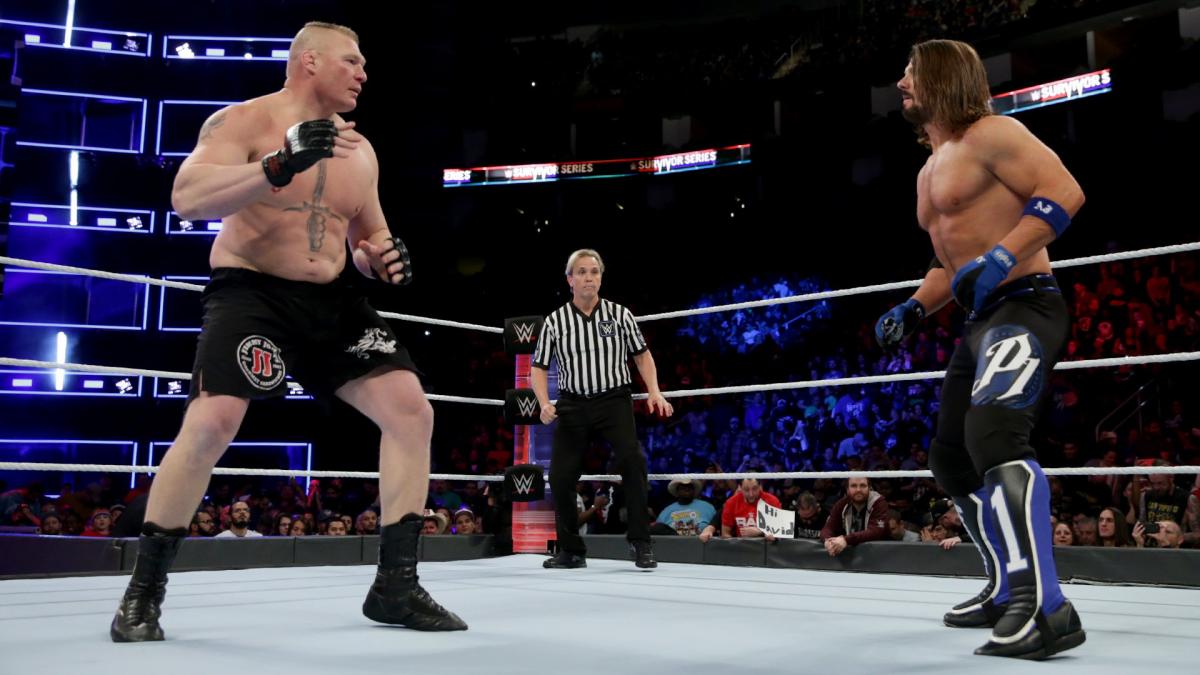 The date is November 23, 2018, less than a week removed from WWE Survivor Series 2018. Greg DeMarco checks in with his top match predictions for the big event in New York City!
Survivor Series is behind us, meaning it's time to update our WrestleMania speculations! October 7 was the date of my last WrestleMania speculations, and a lot has changed. Namely, Roman Reigns is off beating leukemia, with no timetable set for his return. We also have a new injury to Triple H, and there's also talk of an injury to Samoa Joe. And who can forget Becky Lynch!?!?
---
Recommended Reading:
Injured WWE Superstars & Their Expected Return Dates
---
So between the growing injury report, title changes, and Survivor Series fallout, we are ready to update our WrestleMania predictions!
Universal Championship
Brock Lesnar (champion) vs. AJ Styles
Last time I called for a Shield Triple Threat here, with Roman Reigns walking in as Universal Champion. Reigns obviously vacated that championship, and Brock is the new champion. Reigns' announcement left WWE with big void to fill–the WrestleMania closer.
As I referenced on a recent Greg DeMarco Show, WWE (and any company worth its salt) books backwards from a set ending. This is why the WrestleMania focus is typically set by the week after the prior year's event itself, to give the booker, writing teams and agents a focal point to guide their decision making. When Reigns steps away, the first order of business was "What do we do at WrestleMania?"
I believe the answer to that question was AJ Styles.
Survivor Series went from AJ Styles vs. Roman Reigns to AJ Styles vs. Brock Lesnar to Daniel Bryan vs. Brock Lesnar–and the latter delivered an amazing and unique match that isn't getting the love it deserves.
AJ Styles is the perfect story for WrestleMania. Signed to be a mid-carder, AJ has exceeded expectations within WWE, and has shown the ability to deliver in all scenarios. A Royal Rumble win and subsequent match with Brock Lesnar would have MetLife Stadium rocking, delivering the ultimate feel-good moment for WWE and likely the top highlight in a career full of highlights for AJ Styles.
Before you ask, yes I have read the rumors of Lesnar vs. Seth Rollins at 'Mania. Doesn't mean I believe them!
Raw Women's Championship
Ronda Rousey (champion) vs. Charlotte Flair
Becky Lynch has set the world on fire, and I am among her top fans. But I also live in a place called reality, and I don't see this match changing at all. I called this match last time, and for months everyone has been calling for this match to close the show (I don't think it does).
The finish of their Survivor Series match served only to continue us on our path to Rousey-Flair at WrestleMania 35. Rousey said herself (in a red-carpet interview before Evolution) that she wants to take time off and have a family. She's also struggling with life on the road.
WWE is building Charlotte Flair's legacy. She ended Asuka'a "streak" at WrestleMania 34, and she is going to serve Ronda Rousey with her first loss at WrestleMania 35. Becky will be just fine, as another round of Becky-Charlotte after WrestleMania will do big business, and likely see both women main eventing house shows and possibly a pay-per-view along the way.
Becky Lynch vs. Nia Jax
Talk about things changing! In my first round of WrestleMania predictions, I said we'd get Asuka challenging Becky Lynch. I assume Becky will end up dropping (or forfeiting) the Smackdown Women's Championship soon enough, and I think Asuka is still in a championship match at WrestleMania.
But Becky Lynch vs. Nia Jax is MONEY. I know it's not Lynch-Rousey, which we may have been robbed of thanks to that errant punch thrown by Nia Jax. But assuming Rousey-Flair is in stone (as I am), the next best thing is for Becky Lynch to get her hands on Nia Jax in front of 90,000 rabid fans in the New York/New Jersey area. Nia is finally settling in as a heat magnet, and "The Man" is the true people's champion.
Becky doesn't need Ronda at WrestleMania, Becky sells this WrestleMania match on her own–and that's the biggest compliment you can give a WWE superstar.
WWE Championship
Daniel Bryan (champion) vs. The Miz
I was originally going to slot Shane McMahon in as The Miz's opponent, but I think that storyline gets tied up sometime during the TLC-Royal Rumble-Elimination Chamber run.
I had Miz pegged as your challenger for the WWE Championship (then held by AJ Styles) along with a Royal Rumble win. Now that AJ is in a different position, it only makes sense that Miz–who is creeping closer and closer to being a babyface on a daily basis–to emerge as Bryan's challenger. Bryan will have his supporters over WrestleMania Weekend, but Miz has emerged as a favorite of the internet fanbase himself. This match can steal the show, and is worthy of a top spot at WrestleMania.
Street Fight
Seth Rollins vs. Dean Ambrose
I originally went with a Shield Triple Threat for WrestleMania 35, but that might have to wait a year. Instead we continue the issue between Ambrose and Rollins.
This is a much better match for Rollins, in my opinion. Yes, Lesnar is the money match, but Ambrose and Rollins will deliver big time, and the street fight stipulation only helps things.
I considered Hell In A Cell (which happened at WrestleManias 29 and 32), but the street fight makes sense here. If Roman is able to, an appearance either helping Rollins or celebrating at the end makes total sense as well.
The Undertaker vs. John Cena
No change from last time–to me this seems as "set in stone" as Rousey-Flair. (Mainly so I can be doubly wrong? Maybe…)
Drew McIntyre & Dolph Ziggler vs. Kevin Owens & Sami Zayn
One thing that really stood out to me in Eric's injury report today was that both Kevin Owens and Sami Zayn are expected back by WrestleMania. I was racking my brain to figure out what the company would do with Drew McIntyre, and this provided the answer.
Owens and Zayn will get a heroes welcome upon return, as that is the standard return pop for WWE superstars these days.  Ziggler and McIntyre are amazing as heels, and I would bet money on Drew getting a mega-push after WrestleMania. McIntyre vs. Styles could be a major program for the company. It's fresh, it's exciting, and it would deliver.
I'd expect Kevin & Sami to go over (on Ziggler), with McIntyre turning on his partner and ending their year long alliance in the process.
---
There's a lot more ground to cover outside of those matches. You have Shane McMahon, Asuka & the Smackdown Women's Championship, United States Championship, Braun Strowman, Triple H (if he's back), and more. This will be another packed WrestleMania for sure, so get ready for 5+ hours of action next April!
What do you think? Let us know on social media @theCHAIRSHOTcom and always remember to use the hashtag #UseYourHead!
Top 5: Things I Learned From WWE Survivor Series 2018
WrestleMania… Faces and Heels… what was learned from WWE Survivor Series 2018?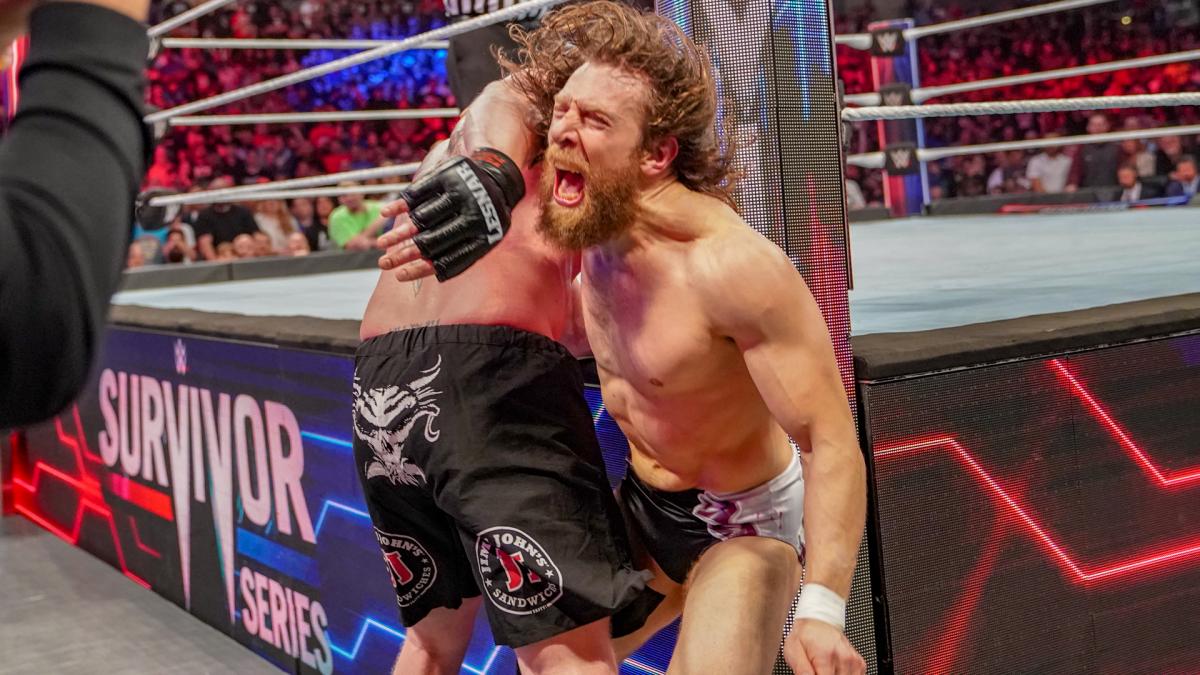 Greg DeMarco is back with the things he learned from WWE Survivor Series 2018–five of them!
After a really fun and insightful NXT Takeover War Games, the main roster took the stage to see if they can "keep up." I use quotes because I find that notion hilarious, but I know it's out there so I'll roll with it.
But I learned some things from Survivor Series as well, and they're equally important. Let's have a look, eh?
5. We've Hit The Reset Button On AJ Styles
It's kind of a soft reset, but it's still a reset… or headed towards one.
It's easy to see that the original plan for this event was AJ Styles vs. Roman Reigns, but Roman's well documented condition forced a change of sorts. That brought us here.
Daniel Bryan winning the WWE Championship was necessary so the WWE can make their plans with AJ Styles. The man appeared on 32 straight WWE PPV events until Survivor Series, not missing a beat since his debut. He loses his WWE Championship on Tuesday, isn't on the Survivor Series card, and has a 365 special on the network right after.
Here's what I see: AJ will lose to Daniel Bryan at WWE TLC, and go on to win the Royal Rumble. He then gets Brock Lesnar at WrestleMania, giving the internet smark happy crowd a moment they'll cherish forever. Him not being there tonight was merely a step in that direction.
4. WWE Sees Money In Becky Lynch vs. Nia Jax
I know everyone thinks we are getting Becky Lynch vs. Ronda Rousey at WrestleMania, but I never believed that to be the case. And after Survivor Series, I can't see how anyone thinks that's the case. It's merely wishful thinking. The company laid the foundation for Ronda Rousey vs. Charlotte Flair II at WM35, and that path is crystal clear now.
But what about the real People's Champion, Becky Lynch? My initial thought was her being challenged by Asuka at WrestleMania 35, but it seems like that isn't happening. What could happen?
Nia Jax.
Becky is a pro, and WWE was smart enough to see there was money in Nia vs. Becky. And much like AJ Styles, absence makes the heart grow fonder. Don't be shocked if Becky's next match is the Royal Rumble, where she takes out Nia Jax and charts a course towards Met Life Stadium.
I know everyone wants to see Ronda Rousey vs. Becky Lynch, but we are actually in a place now where we could see Ronda-Charlotte, Becky-Nia, plus Asuka in a Smackdown Women's Championship Match, all at WrestleMania. That's a huge win.
3. The Miz Is Brilliant
Yes, The Miz ultimately met his demise in the Men's Elimination Match, but it wasn't until AFTER he basically owned Shane McMahon in the process.
We all know Shane's crazy, right? He did his trademark elbow from the top rope through a table on Braun, and that's probably the 15th time he's done it. That doesn't include a career full of other crazy spots.
Miz, like the rest of us, knows this, and used it against Shane by getting him to do Coast 2 Coast twice after he was visibly hurt.
Why? Because Shane ain't saying no!
Miz knew he was opposite Braun Strowman, Drew McIntyre, and Bobby Lashley. He knew that even if Team Smackdown won, they still had two more matches against Ronda Rousey and Brock Lesnar to win just to TIE.
So what did Miz do? He manipulated the manipulator, and likely set the ball in motion for his WrestleMania match.
And that's why The Miz Is…Brilliant.
2. The Tag Team Division Is Still Really Good
The Kickoff Match was crazy entertaining, and The Bar vs. AOP was a fun battle of brutality before Big Show, Drake Maverick, and pee got involved.
That shows me that if we can carve out even a little more television time, the tag teams can be an asset. Makes me want to check out a house show, were tag team wrestling is the norm.
Maybe it's time for a #TagTeamEvolution?
1. Faces And Heels Are Dead
This isn't a new statement, but it needs to be the end of the discussion.
It's over. Done. There are no more faces and heels. WWE doesn't need them. More importantly, the WWE fans don't need them.
The fans, both in the arena and on social media, reacted to drama. They reacted to twists and turns that made the show interesting. They didn't care because Daniel Bryan was working heel, they cared that it was fresh. They didn't care because Charlotte Flair "turned heel," they cared because it was different. Becky Lynch is different. People are finding ways to be more edgy, and it's clicking.
As the company moves into their new television deals, we might see entry into a new "era." Little more attitude, little more aggression, little more edge.
It's also real life. Most people have face and heel tendencies. Many TV characters aren't 100% good or evil anymore. It makes total sense for WWE to follow suit. My only concern is that the one group that will have the most trouble with it is the internet fans.
What were your biggest takeaways from WWE Survivor Series 2018?
Let us know on social media @theCHAIRSHOTcom and always remember to use the hashtag #UseYourHead!