Mathew's Wrestling Quickies #1 Featuring Flamita vs Bandido
So, this is my little experiment I wanna try to work on and see where it goes because if it's successful, then I will keep it going from time to time. For those of you that know me, I cover Japanese promotions such as Dragon Gate, AJPW, Stardom, W-1, Sendai Girls, and other self-produced shows that I have the time for and whatever I get my hands on. For this, I will be covering about 5-8 matches from various promotions whether it's from NOAH, MLW, Rev Pro, Progress, or just anything I can get my hands on that got uploaded within a two week time span from when I do these things and I call them my little wrestling quickies and no, I am not changing the name. Also, these matches will be at completely random from either I feel like a certain promotion or wrestlers deserves some form of recognition or a match that looks interesting to see how it turns out. I hope you all enjoy this little experiment and they'll be like how I do my reviews with a little preview and how I do my rating systems, so let us begin.
King Of FREEDOM World Title No Canvas & Glass Board Death Match
Masashi Takeda (c) vs. Jun Kasai
Review: This first match is from the Japanese promotion called FREEDOMS which is based around death matches like how BJW is and this show took place on August 28th but the show got uploaded a couple weeks ago around the timeframe I do things, so figured I will give it a whirl. For those that know me, I'm not the biggest death match person but will appreciate a good one from time to time if it has a purpose or a good story behind it, except for CZW since they're just terrible at it. Masashi Takeda is set to defend his title against Jun Kasai who has been part of some self-produced shows that I've covered like in Kawada's Holy War. So which of these two will walk out the victor or at all?
If you're one of those that had a weak stomach and felt really squeamish with how Orton twisted Hardy's ear at Hell in a Cell, then this match isn't for you since this one was incredibly bloody. This is one of those rare times that I've actually enjoyed a deathmatch fully and just enjoyed the brutality that both of these guys delivered to each other. Masashi is not only a very charismatic guy with a lot of passion for doing these matches, but he's also a great wrestler once you get past his hardcore style of things and has shown he can go in the ring at the same time. Jun, we all know that the man is a psychopath and it's clearly shown here in this match with what he does with these weapons to his opponents. The scars on their bodies are more severe compared to how Shuji and Sabu would have them that sometimes you just think how are they even alive from the crazy nonsense they do, but they do somehow find a way to make it safe while still making it look as dangerous as possible. They took advantage with the ring having no canvas as they would move the plywood around to place a piece of glass on there to throw their opponent into and they do just that here, they made sure whatever weapon they had in their disposal, it would be used in the match such as the light tubes, a cross with nails on it and would throw each other into, and even a knife. Masashi was throwing a lot of stuff at Jun during the match when slamming him down onto the plywood, doing a Spider Suplex onto the light tubes, and a Senton Bomb right after but Jun kicked out and flipped the fans off right away. Masashi would hit Jun with his Kokutai Ikkaisen Slam or Olympic Slam for another word as he won the match and retained his title. Probably one of the better death matches that I've seen this year with some wrestling and story in their mixed with just straight up violence.
Rating: Bruce Prichard
MLW Fusion Tag Team Title Match
Pentagon & Rey Fenix (c) vs Rey Horus & Drago
Review: I've heard about Major League Wrestling but didn't get a chance to fully watch them until recently where I saw a match between the Lucha Bros defending their titles against Rich Swann and ACH which was a very entertaining match and it made me curious to see them again. This happened last week with Pentagon and Fenix defending their titles against Drago and Rey Horus who are also from Lucha Underground, so this should be a really exciting match. Will Lucha Bros retain the titles or will we have new champions?
At first I wasn't fully feeling the match when we had some sequences that felt like it didn't make much sense like Drago hitting random Superkicks in the beginning with almost all of them not fully connecting while his opponent didn't sell it much either or a sloppy spot with Horus going for a Diving Crossbody off the top rope to both of them and as they caught him, Fenix fell down only to drag Horus down with him and it just looked really off. Despite those little nitpicks and the rather rough start, they picked up as the match went on as we see all four of them performing well like we know they could. Penta and Fenix are probably one of my favorite tag teams going on right now currently with them being in sync together every time they're in the ring and just how they execute their moves together. Horus and Drago are no slouches either and were able to match whatever they could throw back at the Lucha Bros to give us an entertaining lucha style match. Penta would hit the Zero Factor onto Horus with Fenix Double Stomping onto him for that added effect but was able to kick out of it, so what do they do? They would do the same move again and Penta would get the pin this time to retain the titles.
Rating: Eric Bischoff and a half.
Singles Match
Flamita vs. Bandido
Review: This match happened at Rev Pro in an event called Brawl At The Guildhall which took place on September 7th and it's sure to be a fun one as we have two Luchadors and current PROGRESS Tag Team Champions fighting against each other, Flamita and Bandido. I first started watching them in Dragon Gates months ago if you remember my early coverages around that time and I was very impressed with both of these guys, and it looks like I'm not the only one that thinks that since they've been creating quite a buzz together all around the world this year and rightfully so for that matter. So because of this and seeing that it was uploaded a couple days ago, I had to add them into my first article since they do deserve your time in the ring, great talent here. Which one of them will win here?
I was pleasantly surprised to see how well the Lucha Libre style goes over in the United Kingdom scene since the crowd was really getting into the match and even starting a Lucha Libre chant here and there into the match, so I am totally okay with this happening here. Flamita and Bandido did what they did best with their wrestling style and even give us a little bit of humor with them doing their little dance to taunt each other whenever they ran into the rope until they had enough and went back into wrestling each other. Like any type of Lucha style match, we get armdrags, springboards, fast pins, back and forth with the kicking and the two men do it without skipping a beat without overkilling any of their stuff and the fans going crazy. They did have one little mess up in the match when they were rolling each other up for the pins and it looked like Bandido slipped a little bit to not be pinned fully but he was able to quickly cover it up to not hurt the match as much. It's crazy that both of these men are only 23 years old and are performing at this level, then again Flamita has been wrestling since he was eleven years old while Bandido only has about five years of experience in his name. Bandido was pulling a lot of stops such as going for a headscissors and turning it into a Canadian Destroyer, doing a Tilt-a-Whirl DDT and it was somehow still not enough to put Flamita away here. The two would hit Superkicks onto each other and Flamita hits a Spanish Fly for a two count. Flamita would be able to get Bandido onto the turnbuckle as he hits the 619 and tops it off with a 450 Splash off the top rope to get the victory.
Rating: Bruce Prichard
Singles Match
Hideo Itami vs. Naomichi Marufuji
Review: This match was from Marufuji's 20th Anniversary show where he was in the main event to take on his old rival, Hideo Itami who was known as KENTA when he did wrestle in NOAH before leaving for the WWE. If you have followed their careers in Japan, you would know that they have what some considered as one of the greatest feuds in NOAH's history with the battles they shared in the ring to produce some of the best in Japan. KENTA left NOAH in 2014 to leave for the WWE and he did appear to have a bright future there when he was transitioning rather well, but his various injuries over the years would ruin his momentum and probably some of the passion he had in him. However, when Marufuji booked this show, he did contact Triple H to see if he can have Hideo come back to Japan for the special event in which it was agreed upon and we have our main event right here for this special show. Does Hideo get the big win or will Marufuji stand tall in his special show?
Soon as the match begins, the crowd would just chant for KENTA, ignoring his WWE name and it's nice to see how much Japan missed him. This match was more of a callback to their previous battles in NOAH and it sure was something special for the people that have followed them and for those that haven't followed them, I'm sure you were able to get something exciting out of it. I like to think that this match and being back home in Japan for one night was able to give him that little spark again since I'm sure he misses home and can give WWE a general idea on what he can actually do and give them a reminder why he signed them in the first place, so I hope they see that while he's in 205 since he's slowly gaining momentum back again there. One thing I was worried about was how Hideo would fair into the match with not wrestling the Japanese style for so long and wrestling a long match and he was able to wrestle like he never missed a step and even lasted over a half hour here. Marufuji despite being beaten and battered from all the years he wrestled still showed he's performing at such a top level that you can see why he's still considered one of the best in Japan still.
Despite the match being great, they did mess up a little bit with Marufuji slipping a little with his Piledriver onto the apron and made it look like it was nothing, even Hideo missed the GTS on one of his attempts but was able to quickly pick him up to hit another one so he could correct his mistake and the fans didn't seem to care and were rather pleased to see him hitting it again, even with the two GTS' in the match, Marufuji was still able to kick out of them. By some miracle, Marufuji would hit a Spanish Fly and it's a rare sight due to his age and incredibly bad knees and also hits the Shiranui for Hideo to kick out of it as well and both of these men are going all out still while trying to figure out what do they have to do to end it. Marufuji would have to end it the only way he could and that was by hitting the Emerald Flowsion in the center of the ring as Marufuji stood tall. In an interview, Marufuji talked about how grateful he was to Triple H for letting Hideo come back to Japan for one night to make his show even more special, and also said he would be honored to wrestle a match for the WWE to return the favor. Hunter, get a Takeover going in Japan so we can make this a reality. You did it for Jushin Liger, now do it for Marufuji.
Rating: Bruce Prichard and a half.
NEVER Openweight Title Match
Hirooki Goto (c) vs. Taichi
Review: You heard it right, the last match for this version is from NJPW as a little surprise to keep your interests up to show that you can expect them to show up sometime when you least expect it, but only for huge matches…well, except for this because I wanted to. I was gonna close it out with Tetsuya Naito taking on Minoru Suzuki from the same show, but it was rather underwhelming and it's because of the fact that while both talents are amazing, their chemistry isn't all there and it made the match not that memorable. So, with that said, I decided to do the Openweight Championship match with Hirooki Goto defending the belt against Lord Taichi. This one happened in the NJPW Destruction In Beppu show that took place a couple days ago and Taichi was able to get this opportunity during the G1 Finals show when he won the tag match where Goto was involved in. Taichi was not picked to be involved in the G1 Climax this year which I thought was a pretty bad decision since I honestly thought he would've done great and has had an impressive year ever since he moved up to the heavyweight division and had great matches against Naito and Tanahashi. Can Goto retain the title again or will Taichi claim his first singles title in his wrestling career?
The beginning of the match started off a bit slow with Taichi playing mind games with Goto by not fighting him right away as Goto sat in the ring Shibata style as he waited for him to return. Taichi also had some heel tactics in the match with Kanemaru attacking Goto when the referee wasn't looking and would also use chairs in the match to try and get Goto counted out, which fails by the way. It looks like Taichi is gonna be doing what Minoru Suzuki did when he was involved with the Openweight Championship by having a bunch of outside interference but the difference is that it makes sense for someone like Taichi since a guy like Minoru doesn't need it since he's scary without help except for Taichi who is more known for this kind of shenanigans.
Despite this probably the weaker of Goto's title defenses, it was still a very solid match with what they had to work with together since Taichi isn't the most technically sounded guy in the roster, but the story is there and that was what they delivered in. Kanemaru and El Desperado would help try to interfere in the match when the referee was down until CHAOS members came out to even the odds and sent them to the back so it would be an even fight between Goto and Taichi as Goto hits the Ushigorishi and Shouten Kai but Taichi still kicks out of it. Takashi Iizuka would make his way into the ring with his little iron claw thing to try and take out Goto but he fails to do so and Taichi rolls Goto up for a two count. Taichi couldn't win with sneaking up on him as he decides to hit the Last Ride and Goto kicks out again, but Taichi quickly picks him up and hits the Black Mephisto for the pin and we have a new champion! Miho ran into the ring hugging Lord Taichi with tears rolling down her eyes to celebrate his very first singles title win in his fifteen-year career.
Rating: Eric Bischoff and three quarters.
Overall: So I decided to wrap up the first edition of my miniseries with the minimum of five matches to get a better flow and setup instead of just filling up the max of eight matches in my first addition. I like to think it was a success and I think I'm gonna keep doing it for a little while longer for your reading pleasure.
Favorite Match: Hideo Itami vs. Naomichi Marufuji
Least Favorite Match: Pentagon & Rey Fenix vs Rey Horus & Drago
Score: 8.5/10
Steve Cook: 10 Commandments For Wrestling Fans
Be a good fan.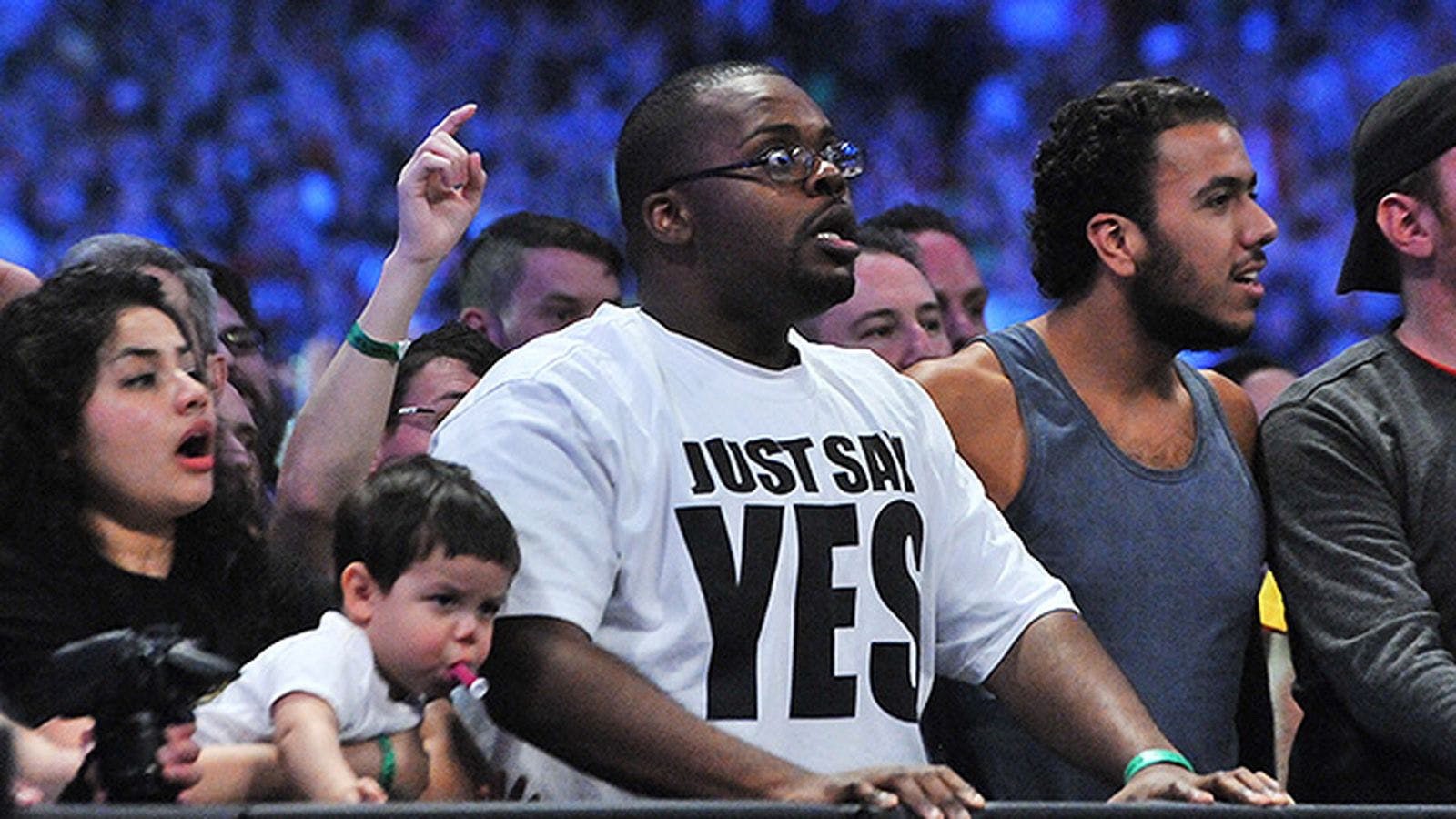 It's an amazing time to be a fan, but that great power brings great responsibility. Steve Cook steps in with an all-too-important list of commandments for wrestling fans!
We live in a crazy time. I feel like it's getting crazier the further we move along. I'm not sure what I can do otherwise than try to set behavioral standards for wrestling fans attending events right now. I would prefer not to do such a thing, but wrestling fans are not giving me a choice with their antics recently. If they acted like rational people I could remain silent, but instead they choose to act like assholes and force my hand. I wish they wouldn't, but I have no choice but to strike them down.
I have 10 Wrestling Commandments for Wrestling Fans, and they need to accept them.
10. Thou shalt apply deodorant
This is the biggest common courtesy you can do for your fellow wrestling fans. Let's be honest, a lot of us are going to be sweating buckets during a show. The experience is never going to be lemony fresh. Deodorant does make a difference. It's one layer to suppress the stink, and maybe it ends up losing the battle, but it puts up a good fight.
9. Thou shalt not consume more than you can handle
Knowing your limit & staying under that limit suppresses a lot of situations. I'm one of those guys that can consume way too much and not do anything too crazy most of the time, but not everybody has my constitution. Which is great for them, as they don't have to worry about dying of liver failure before they hit 50.
8. Thou shalt not hold up signs blocking fans' view
I can only name one time I could approve of such a thing. I attended the 2012 Royal Rumble in St. Louis. A fan right in front of me had a sign. I was outraged at first, but then I realized the sign said "I Paid To See Daniel Bryan". Then I shook the man's hand and gave him my approval as a fellow Daniel Bryan fan. As it turned out, Bryan worked the opening match, so I didn't have to deal with it most of the night.
7. Thou shalt not compare African-American Wrestlers to other African-Americans
The worst fan experience I can remember being a part of was an ROH show in Dayton, Ohio with Jay Lethal in the main event. I don't know why that was the time they felt the need to compare Lethal to Gary Coleman or Webster or other famous African-Americans they could think of, but it was a humiliating experience as a wrestling fan without racist tendencies, and I understood why ROH would be hesitant to bring Japanese talent to the Montgomery County Fairgrounds. Just so so bad.
6. Thou shalt spend freely at the merchandise table
The merch table is where the wrestlers make most of their money on most of the shows you will attend. If you really want to show your appreciation for a wrestler, this is where you will spend your money.
5. Thou shalt not use profanity
This is one I've been guilty of far too frequently. I grew up watching Tony Soprano & Al Swearengen, so profanity is undeniably part of my vocabulary. Especially at sporting events with quality opposition & questionable officiating. It's not an admirable trait though, especially when pro wrestling is most enjoyed as a child. Try to keep it clean if a child is within eyesight. They'll learn these words eventually, but you don't want it to be from you.
---
Time to pick up a new Chairshot shirt!

Get yours at:
https://www.prowrestlingtees.com/related/thechairshot.html
---
4. Thou shalt not use "insider terms"
The problem I have is with people who use insider terms wrongly. Also, with people that use them to heckle the wrestlers. I hate people that try to act like they know things when they really don't. I've been writing these columns for years and have read more than most people on the Internet, but I still wouldn't use insider terms to heckle wrestlers. If I wouldn't go there, you shouldn't.
3. Thou shalt cheer for whomever you please
This is a debatable one. One popular school of thought, especially among wrestlers, is that fans should cheer the faces & boo the heels no matter what. It's said to reflect poorly on a heel if he gets cheered, therefore if a fan truly appreciates the bad guy wrestler they should boo anyway.
I reject all of this nonsense. If you like a wrestler, cheer them. I don't want to train fans to lie, so I won't. I mean…can somebody really boo Chris Jericho in 2019? He's an evil man, but I would cheer if he walked out in an arena I happened to be in. I couldn't help myself. The man is a wrestling legend. If Jericho, or Flair, or somebody on their wavelength came out, I would cheer regardless of whatever a wrestling promoter told me to do.
2. Thou shalt not touch the wrestler, unless thou art high-fiving a fan favorite
This seems like common logic, but it's been ignored far too often lately. Scarlett Bordeaux had the temerity, the unmitigated gall to work a show in Cancun over the weekend, and some overeager ringsider wanted to get all touch-feely.
Scarlett Bordeaux was groped by a fan at yesterday's AAA Worldwide event in Cancun. Security watched and did nothing. pic.twitter.com/coz0ZwGkvD

— HeelByNature.com (@HeelByNatureYT) June 16, 2019
What the hell? In what universe is that kind of behavior acceptable? I don't give a damn about Scarlett's persona or her ring attire or whatever. What makes fans think they have the right to cop a feel on anybody? Money? I know we elect people to public office based off of money, and we don't care if our presidents grope females, but we hold wrestling ringsiders to higher standards than our Presidents apparently.
We should hold our Presidents to higher standards, but this isn't a 10 Commandments for Presidents column. If somebody higher on the foodchain wants me to write that column, I will with pleasure.
1. Thou shalt remain on your side of the barrier
This seems like the easiest commandment to live by. As fans, we should all know our place is in the audience. We're not getting paid to be part of the show. Yet, some dumbass marks think they are part of the show and need to participate. Very recently, there was the asshole that got owned by an angry Samoan.
Someone learned the hard way why fans shouldn't cross the barricade at PCW Ultra tonight, courtesy of @SAMOANWEREWOLF pic.twitter.com/RihAqcshax

— SoCal UNCENSORED (@socaluncensored) June 15, 2019
I wish I had an angry Samoan at hand to deal with people that annoyed me. I don't, but most wrestling shows do. My feeling is that once you cross the barrier, you are subject to whatever punishment the people employed by the company feel is acceptable. If it's getting your ass kicked by an angry Samoan, it is what it is. You are entering into their workplace. Their workplace often involves violence. It isn't their fault if you don't know how to work.
Tiffany's Takes: WWE Raw (6/17/19)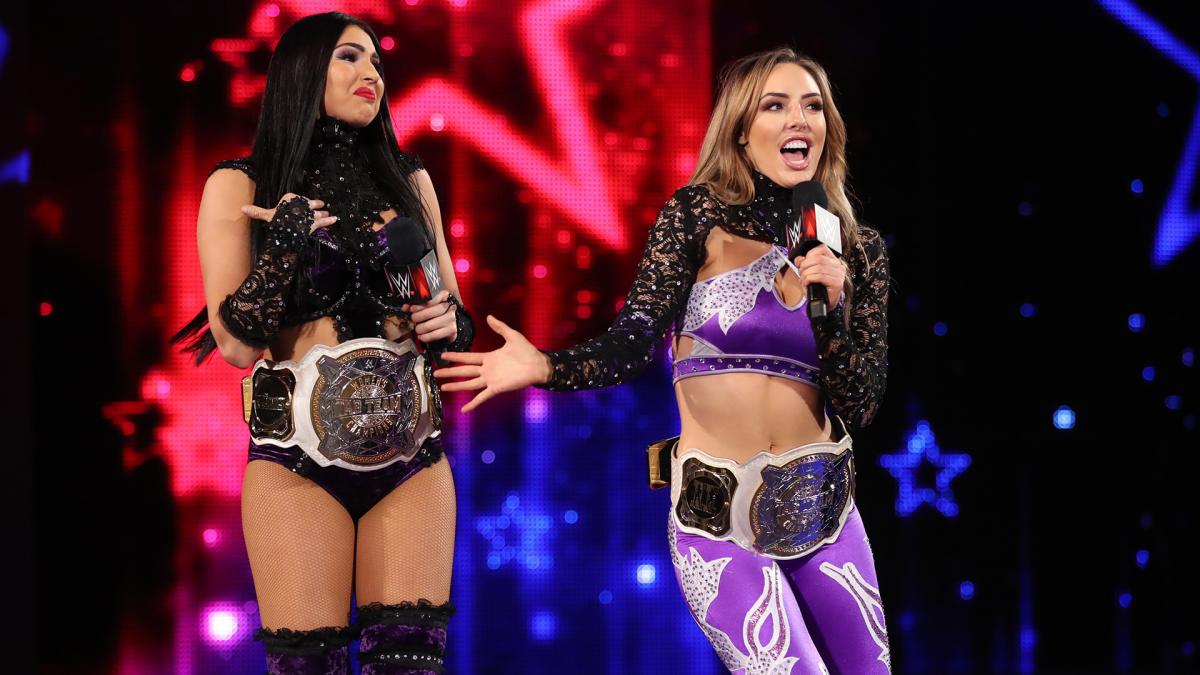 Tiffany's Takes kicks off the week with look at WWE Raw that featured Seth Rollins vs. Daniel Bryan and The New Day in a 2-Out-Of-3-Falls Match!
It's the go-home show for Stomping Grounds! How will WWE Raw make a case for fans to tune in?
Universal Championship: Seth Rollins might a babyface, but that doesn't mean he's afraid to get nasty. I LOVED this nasty side of the BeastSlayer and the warning about what will happen to anyone who sides with Corbin over him. THIS is a Universal Champion I can definitely get behind.
I love it when a face makes good on a threat. I lost count on how many prospective refs Seth destroyed, but he definitely got his point across to Corbin and his cronies: Do NOT piss off Seth Rollins.
I enjoyed the six man tag, though an actual, conscious ref was not as fun as EC3 playing Bernie from Weekend at Bernie's (look it up on Wikipedia if you have no idea what I'm talking about). I had a rant all done about how dumb it was to have Rowan interfere and ruin Rollins vs Bryan, but it wasn't needed. That was a great match, can we have more of those, please?
United States Championship:  If Elias wasn't such a slimeball and mediocre singer, I'd almost feel bad for him after he got beat up by every person involved in the Fatal Five Way #1 Contender's Match for the United States Championship, including two guys he used to be allied with.
The match was actually better than I'd expected, though I did somewhat appreciate the story building of Lashley helping to get Strowman eliminated as payback for Strowman eliminating him. My one big gripe is that this match didn't go for very long, but I am THRILLED that Ricochet won and will get a shot on Sunday!
RAW Women's Division: Have I ever mentioned that I'm over this Becky Lynch/Lacey Evans feud? I have? Good, because I wasn't sure I've mentioned how boring I'm finding Becky's ongoing problems with Emmie Slattery (Evans). I did appreciate them bringing up that Evans is a former Marine because I hate that they've taken someone who is a legit badass and can be such a great example for girls and turned her into a pinup who espouses sexist nonsense that has no place in modern America. HOPEFULLY, Scarlett (Lynch) will finally triumph over Emmie and move on to someone else.
Thank you, God, they made the IIconics look like competent champs! Their title run has been build on them looking stupid and it's hurt them so badly. Even with a tainted win, it was a win over serious opponents, which they needed. Again, I loved edgy Bayley, but I hate that she's playing into Alexa's plan to steal the title. Hopefully, someone gets to Nikki and makes her see sense before something really goes wrong.
Raw Tag Team Division: After an absence of several weeks, Viking Raiders finally returned to RAW for some pillaging, and had to deal with the Greenjerks watching their match, for some reason, and that was about the most interesting thing about that match, since I don't think we got the names of the poor guys they squashed.
I liked the Revival proving that there is no honor among thieves when they stole money from Drew McIntyre. I appreciated WWE trying to enhance McIntyre's heel creds by having him attack Heath Slater, but it just felt forced.
I know Good Brothers are leaving in the fall, but I LOVED the reunion between them and Styles. Oh, what could've been if Vince had pulled his head out of his ass. That said, it looks like Styles' words got to them so this last run might be pretty good. I did enjoy the tag match between them and the Usos, but it wasn't long enough for me, plus Good Brothers looked ridiculous.
24/7 Championship: I'll give Truth and Carmella their dues for trying to be clever with those disguises. They would've gotten away with it if not for the camera crew.
Roman Reigns vs Shane McMahon: If Shane and Drew haven't gotten the message about pissing off Roman Reigns, I'm pretty sure they learned it tonight after Roman beat the hell out of Shane, to everyone's delight, including mine.
Firefly Fun House: NOPE. Just…NOPE! He still gets points for the literature nod, but that's it. I draw the line at maggots, but at least the rabbit was okay. Also: The world is ROUND, you inbred!
Overall Comments: So, how was RAW tonight? That was actually the best go-home show they've had in awhile. Every story got built and we got some great matches. Whoever was booking tonight should get a raise.
There's been some discussion about Seth's conduct, but it makes sense when you realize that he's on his own. Ambrose is gone and Roman is dealing with his own issues. Seth's got no one to watch his back and Lesnar is lurking around, so he's getting paranoid and sick of everyone's BS.
I'm ready for Alexa to get her ass kicked on Sunday and I hope Nikki Cross comes to her senses soon. I'm thrilled that the IIconics are finally being treated like legit performers and not just jokes.
Rollins vs Bryan didn't disappoint, but the fact that we still don't have a guest ref is cause for concern.
That's it for Tiffany's Takes! Tune in tomorrow for SmackDown and 205!
---
Time to pick up a new Chairshot shirt!

Get yours at:
https://www.prowrestlingtees.com/related/thechairshot.html