(NOAH) FAREWELL EUROPE ~ THE HISTORY OF NAOMICHI MARUFUJI AND DOUG WILLIAMS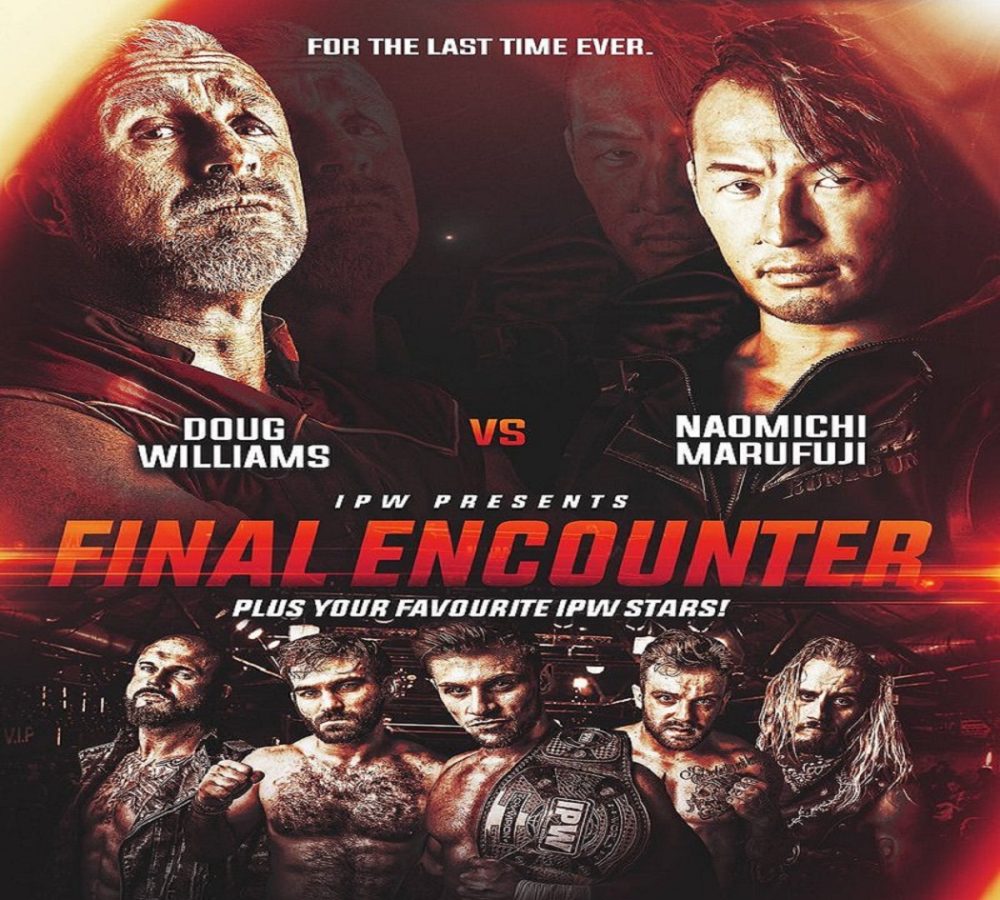 Doug Williams was part of NOAH'S "Golden Era". He was with the promotion for about six years, from roughly 2003 to 2009, when he left to work for TNA. In 2008, towards the end of his tenure, when NOAH ran shows in the UK, Williams helped the promotion arrange travel, buses, visas and hotel rooms.
Although he is remembered for teaming mainly with fellow Brit, Nigel McGuiness, his title reign was actually with 2 Cold Scorpio when they took the GHC Heavyweight Tag belts from Mitsuharu Misawa and Yoshinari Ogawa in January 2005 in Tokyo. Memory, (and indeed tag team history), tells us that it should have been Nigel McGuiness and Doug Williams losing them to KENTA and Marufuji, but it never happened that way (they never actually faced them as a tag team), they lost the belts five months later to Naomichi Marufuji and Minoru Suzuki in Morecombe, UK for FWA'S "Noah Limits Show".
This was the only title Williams would ever hold in NOAH, and the only time he and Marufuji would ever meet for a title.  Ironically, most of their battles for belts, cups and the majority of their singles matches (and their final match together), would and will take place outside of Japan, and even more ironically, they will meet in the UK again, and Marufuji will go into the match as GHC Heavyweight Tag Team Champion, the very belt they fought over thirteen years ago.
But before all of that we need to look at their history together.
Doug Williams first match with Naomichi Marufuji was in 2003 when he teamed with Yoshihiro Takayama to take on Marufuji and Takeshi Morishima. Over the course of six years, from May 2003 until February 2009, they would have twenty-five matches together in various forms.
They were mainly in NOAH and mainly in tags.
Outside of NOAH is where their competitive history was truly made, and hence the reason why in 2018, Doug Williams and Naomichi Marufuji will clash for one last time in Europe. Time is rolling on for both of them, Marufuji has stated that he will probably retire in 2020 when he turns forty, and Williams, is six years older (although I cannot state with any certainty whether or not he has announced any plans to retire). For Marufuji in many ways, 2018 has been a year of reconciliations and some farewells.
In June 2005 they clashed at "Rings of Europe" in Bad Vöslau, Austria, where Williams defeated Marufuji and Murat Bosporus for "Thermencup 2005" in a three way dance.
In June 2005 (as mentioned above) they clashed for GHC Heavyweight Tag titles in Morecombe.
Their first singles match took place outside of NOAH, for Real Quality Wrestling in Colchester, UK (an event I attended as I was living in the town at the time) in June 2007, with Marufuji getting the win.
Their one and only singles match in NOAH took place four months later in October 2007, and went to a time limit draw.
Their next singles match after that took place in Germany for wXw for the 16 Carat Gold Tournament 2008 event, Marufuji was again victorious, beating Williams in the first round.
Out of the three singles matches that they have had, Williams has never actually beaten Marufuji, and it remains to be seen what will happen at IPW in September 2018 when for one last time, Naomichi Marufuji and Doug Williams will meet in Europe, the place where their history was made.