(NOAH) WEEKLY NEWSLETTER VOL.1 – 14TH SEPTEMBER 2018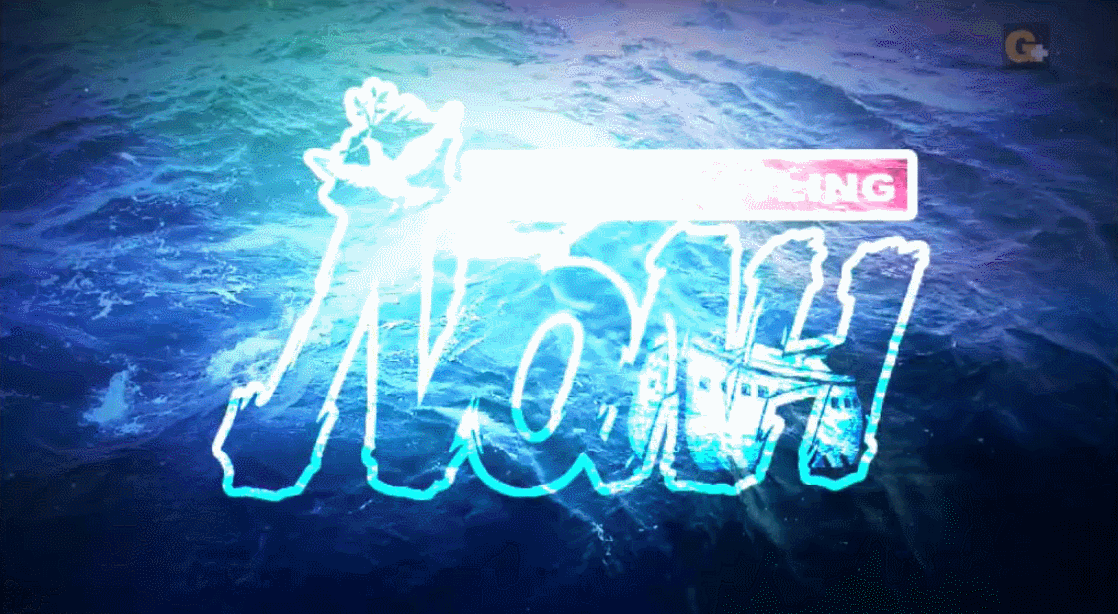 Introduction from Hisame 
Hello and welcome to the first edition of (what I hope) will be a weekly newsletter to round up the weekly news from (and regarding) Pro-Wrestling NOAH. I am hoping to do this each Friday, however it may sometimes be as late as Saturday or Sunday.
As time goes along I do hope to adapt and change the newsletter, so if you have any ideas or suggestions, I can be contacted at @Hi5ame.
My DMs are open.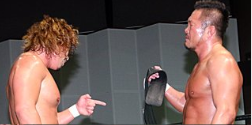 CURRENT TOUR RECAP
Global Junior League has returned to NOAH after a hiatus of three years. Kotaro Suzuki decided to enter after "Flight" to show the current NOAH juniors how weak they are compared to his day. Naturally, these comments haven't gone down well, and Daisuke Harada rallied everyone round to show him just how strong they are. Both Daisuke Harada and Hajime Ohara, have called for Global Junior League to be held as regularly as Global Heavyweight League is.
At the time of writing, YO-HEY is doing very well in Global Junior League, with young Junta Miyawaki at the bottom with no points currently. Miyawaki, however, is determined to show everyone that he will get his first win in the league. NOAH have been teasing this with very very close falls.
Kenoh and Kaito Kiyomiya failed in their GHC Heavyweight Tag Championship challenge, with Akitoshi Saito getting the win over Kenoh with the Death Blade.  Predictably Kenoh was furious, and growled on his Twitter account that there would be "reprisals" for this, and that he could not believe he "lost to that old man".
Kaito Kiyomiya (a little more polite), has shrugged the loss off and said he will concentrate now on the GHC Heavyweight single belt. Kenoh, however, remains obsessed with Marufuji, belt or no belt.
After the championship match, Mitsuya Nagai appeared in the ring with Cody Hall and Maybach Taniguchi to make a heavyweight tag challenge on their behalf. Naomichi Marufuji told him to get lost. Marufuji said that Nagai could make a challenge when he grew hair down to his shoulders, and if he couldn't grow hair down to his shoulders, then he had better get himself a wig.
The matter of the GHC Heavyweight Tag challengers is undecided at the moment.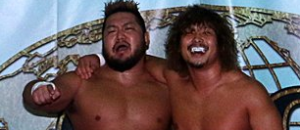 Katsuhiko Nakajima has challenged Takashi Sugiura for the GHC Heavyweight title. Nakajima, in usual sarcastic smirking style, said that he only meant to challenge for the sake of the seniors, basically, their old men, they should take it easy at their time in life, and he would "free them from their heavy responsibility."
Like the last time he challenged, Masa Kitamiya was a filler for the challenge of Katsuhiko Nakajima, and didn't really get much of a build up; Nakajima however will have all of September to crank up the pressure, before he challenges in early October. He says he is planning further evil, and so far this has included disrupting the match by going to the back and getting counted out, and with the usual evil grin on his face, choking Takashi Sugiura with chairs.
He says it is fun.
The Chinese athlete, MA Zhuji, has once again had his NOAH debut postponed. This is the second time it has now happened, neither NOAH or Eastern Heroes have given a reason for this. MA is expected to be the breakout star of the Chinese promotion.
It is unusual that a new debut starts his career doing mainly heavyweight matches, but in the case of Yoshiki Inamura, it seems to be apt given his body type and weight.
Naomichi Marufuji has said that the other boy, Kimiya Okada (whose debut was delayed due to injury), will debut soon, but no further news has been announced as yet.
GLOBAL HEAVYWEIGHT LEAGUE 2018
NOAH have announced that Global Heavyweight League (traditionally the event held to run up to the end of the year) will be held on the following dates:
Tuesday, October 30th 2018, Korakuen Hall (opening night, time TBC)
Thursday, November 8th 2018, Korakuen Hall (18.30)
Sunday, November 11th 2018, Matsuyama City Community Centre (17.00)
Monday, November 12th 2018, Hiroshima Industry Centre, West Exhibition Hall (18.30)
Wednesday, November 14th 2018, Takamatsu Symbol Tower Exhibition Hall (18.30)
Saturday, November 17th 2018, Edion Arena Osaka 2nd Stadium (18.30)
Wednesday, November 21st 2018, Aizu Wakamatsu City (18.30)
Thursday, November 22nd 2018, Sendai PIT (18.30)
Friday, November 23rd 2018 (TBC)
Sunday, November 25th 2018, Korakuen Hall (18.00)
No participants have been announced as of yet, but there is a lot of buzz among fans about the hope that Jun Akiyama will be competing (and Kenoh says he wants to face Yohei Nakajima).
GHC BELT NEWS
Current champions
GHC Heavyweight Champion: Takashi Sugiura
GHC Junior Champion: Daisuke Harada
GHC Heavyweight Tag Champions: Naomichi Marufuji & Akitoshi Saito
GHC Junior Tag Champions: Minoru Tanaka & Hi69
At the moment the only belt that has a definite challenge is the GHC Heavyweight Championship.
The GHC Heavyweight Junior, currently held by Daisuke Harada, will be challenged for by the winner of Global Junior League (Harada has also said he is interested in the heavyweight tag belts too).
The GHC Junior Heavyweight Tag Belts have been challenged for by Kazuhiro Tamura (from WRESTLE-1), but he needs to find a partner.
The GHC Heavyweight Tag Belts have also been challenged for, but this is uncertain at the moment. Quiet Storm has said that he and Mohammed Yone (50 Funky Powers) would like to challenge.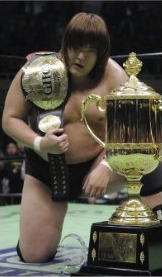 "GENESIS" – THE RETURN OF TAKESHI MORISHIMA HAS BEEN CANCELLED
It was announced on 13th September, that Takeshi Morishima's return event "GENESIS" has been cancelled. On the 10th September, Morishima had been running, when he developed a severe pain in one of his feet, and was rushed to hospital. At the hospital, septic arthritis was diagnosed (this is basically means that Morishima probably had a cut on his foot somewhere which the germs entered in through and caused an inflammation around the joint), onset is rapid, which explains why it was so sudden that he developed symptoms. It also does indicate to me that he does indeed suffer from diabetes, as the condition is one of the leading causes for foot problems of this type, and is why diabetics are counselled to take care of their feet, and wear socks or slippers around the house.
The rehabilitation period is four weeks or longer, and as a result the event has had to be cancelled. There is no word yet as to whether it will be rescheduled, but Morishima himself is determined to return to the ring. For now, tickets will be refunded, and the matter will be left until later.
As NOAH only had one person appearing on the show, Takashi Sugiura, it hasn't created too big a problem for them, all it means is that the card on the 15th October will need to be reshuffled.
Contrary to current misconception, NOAH are not booking the event for Morishima, and aside from Sugiura's participation, are not involved in any other way.
NOAH have wished him well, with Takashi Sugiura saying that all he wants from Morishima at the moment, is to get better.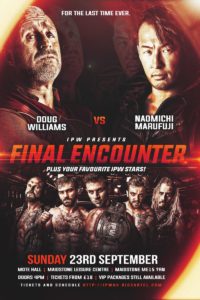 IPW
Sadly IPW have now changed the card for "Global Clash 2018", and as a result RATELS and Kaito Kiyomiya will not be appearing in the UK on 23rd September.
Naomichi Marufuji, however, will still be facing Doug Williams, for what is probably the last time in their careers.
HOLY WAR. VOL 3.
Junta Miyawaki and Kaito Kiyomiya will be appearing at Holy War Vol.3 in October, with NOAH freelancers Masao Inoue and Minoru Tanaka also on the card. Akira Taue, will be having the traditional "Talk Battle" with Toshiaki Kawada.
Kawada says he wants to hear about Taue's time as NOAH's president, and hear all about the struggles during that time (Taue as president had to deal with things that Misawa never had to, namely death, scandal, walk out, loss of revenue)
Minoru Tanaka will be facing Junta Miyawaki.
Miyawaki is thrilled about this as he lost in Global Junior League to Tanaka in five minutes on the 14th, and has vowed to rectify this.
Kaito Kiyomiya will be teaming with Daichi Hashimoto and Tōru Sugiura vs Shiro Koshinaka, Takao Omori and Yoshiaki Fujiwara.
"COME FOR ME YOU BASTARDS" – KENOH'S COLUMN
Kenoh wrote his column for "Puroresu Weekly" and talked about Takeshi Morishima at "Flight".
Despite the fact that he referred to Morishima's presence as "The Boss" (he has also called him "The Don"), reading between the lines, Kenoh seemed to be aware of Morishima's somewhat erratic state of mind, and wondered what he was going to do. He said that he thought that Morishima was going to hug him after the match, but instead he asked him for a microphone. Kenoh did, and then tried to leave discreetly, but Morishima caught him, called him back and addressed him by his surname "Nakae".
Instead of talking about Marufuji vs KENTA, Morishima made the challenge for Sugiura, gave Kenoh his t-shirt to give to Sugiura and then left the building hurriedly. Kenoh said that he had hoped that Morishima would have stayed to see his old friends, but said that he didn't think he could face it.
"HEIR TO THE ARK" – NAOMICHI MARUFUJI'S BIOGRAPHY
Naomichi Marufuji gave an interview to Puroresu Today following the press conference\fan talk he gave about his autobiography. Amongst other things he discussed, he says that he wants to continue the tradition of his own seniors (who took a fatherly interest in their juniors), and connect with his in the same way.
The book is currently only available in Japan, but no doubt will be available at some point on Amazon UK and Amazon USA. I have very very kindly been sent a copy by Metal-Noah, and so will start translating it into English as soon as possible.
TOUR TIDBITS
YO-HEY overslept and had to run to the hair salon to get his hair dyed purple
Akitoshi Saito appeared on BattleMen, he has also had a t-shirt bought out (he's a cat lover, and continuing the current trend of merchandising wrestlers pets, his is themed around his cat)
There was a rainbow over the Shimizu Marina on the 8th September
50 Funky Powers now have a disco ball for their entry. It's not a disco ball effect, its an ACTUAL disco ball.
Atsushi Kotoge offered his cloak to Go Shiozaki and then to ring announcer Ally. Neither of them wanted it.
Having trained in Osaka and spent his early career there, Quiet Storm calls Osaka his "second home".
HAYATA refused to shake hands with YO-HEY after their match, so YO-HEY ambushed him and clung on.
The seniors still hold all of the heavyweight belts.
Despite the damage caused by the typhoon, NOAH had a sell out crowd in Osaka on the 9th at 920 people, which is a record for them being their highest since 2015.
YO-HEY paraphrased Kotaro Suzuki as saying "the NOAH juniors are noodles without Peperoncino". Interesting idea, which I am not going to ponder on.
Tadasuke says he is "The Dark Horse" of Global Junior League.
According to Naomichi Marufuji, the "bookworms" in NOAH are Tadasuke and Masao Inoue, who are also good fiends.
Hi69 says he burnt his ass at the tanning salon, so a long journey was painful. I don't want to know ANY more or HOW he did it.
Joe's AAA Review & Results (12/9/2018)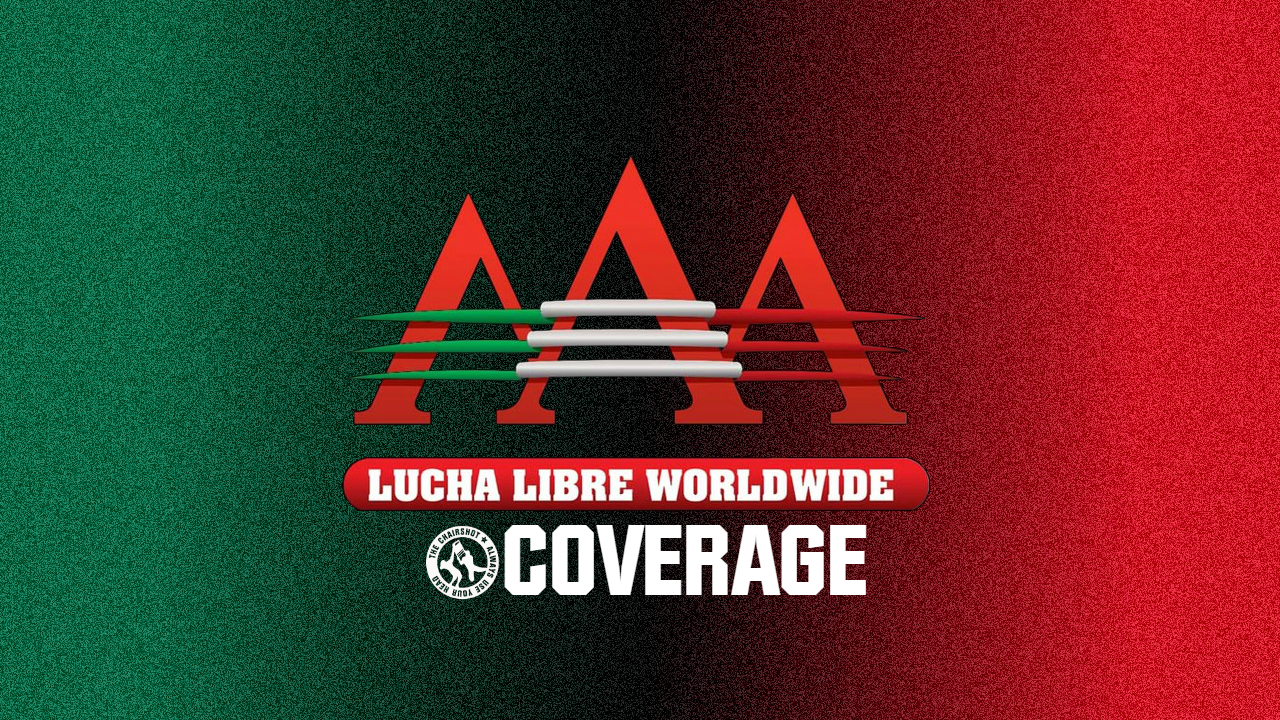 Joe Dinan checks in with your AAA review and results for the week ending 12/9/2018!
AAA on Twitch 12/8
La Parkita, Nino Hamburguesa, and Dinastia vs La Parkita Negra, Arkangel Divino, and Ultimo Maldito
The match starts with chaos. Everybody is doing moves to each other. Mini Parka and Parka Negra get in there and trade moves. Maldito and Hamburger Boy are in next and Hamburger boy hits a shoulder block. Negra hits a reverseranna on Parkita. They team up on Hamburger Boy. Boy counters with a headlock, head scissors take over on Negra and Maldito. Dinastia and Divino are in and Dinastia hits a power slam on him. Negra beats on Dinastia and Parkita works on him. Maldito then works over Parkita. Maldito hits a tiger pile driver on him. Dinastia hits a asai moonsault, then celebrates even though he hit his teammate. Divino does a moonsault off the top. They get everyone seated in the corner and Hamburger Boy does a running senton. Then he goes to the top and splashes them for the win. Hamburger Boy pins Parkita Negra with a top rope splash.
Winners: La Parkita, Nino Hamburguesa, and Dinastia
Starfire and Lady Maravilla vs Mamba and Lady Shani
Shani and Starefire start the match out with some grappling. Maravilla comes in quick to double Shani. Afterwards they double Mamba. Starfire hits a drop kick off the top. Mamba hits a big move on Maravilla and now they're getting the heat back doubling Starfire. We get back to normalcy in the ring. Shani hits a drop kick on Starfire. She gets to the top and hits a hurricanrana on Shani. Maravilla drop kicks Mamba to the outside and hits a cross body to the outside. Starfire hits a michinoku driver on Shani for a two count. Shani hits the Okada neck breaker and the ref counts slow. Shani argues with the ref and Starfire comes from behind and hits a german suplex for a fast count. Starfire pins Lady Shani with a german suplex and fast count.
Starfire wants a title fight after the match. Not immediately, in the future. They brawl after the match and promo.
Winners: Lady Maravilla and Starfire
Laredo Kid, Hijo Del Vikingo, and Myzteziz Jr vs Taurus, Australian Suicide, and Jack Evans
Match starts with Jack Evans and Laredo Kid. Evans gets crotched on the post and Kid drop kicks him. Vikingo and Myzteziz dive to the outside on the others. They triple drop kick Evans in the corner. Kid code breakers Suicide then holds him. Vikingo jumps off Myzteziz and stomps the back of Suicide. Taurus gets Myzteziz on his shoulders then catches Kid for a double fall away slam. Suicide does a press slam into a code breaker on Vikingo. He holds him and Evans hits a 450, then Taurus hits a splash. Taurus holds up Myzteziz, Evans on the top bounces off him and helps Suicide complete his pile driver on Vikingo. Vikingo makes all of them miss corner attacks. He does a moonsault off of Myzteziz and Kid's hands on the top, then they hit their own moonsault dives after that. Incredible spot, Luchablog has the gif of it on twitter, find it.
Myzteziz hits a Canadian destroyer on Evans but Suicide breaks up the pin. Suicide then does a springboard destroyer to him, but Vikingo breaks up the pin. He does knees to the corner but Taurus breaks up the pin. Taurus shoulder blocks Vikingo and sends him flying. Laredo Kid and Vikingo go for springboard attacks but get pulled out of the ring. Evans then hits an asai moonsault on everyone. They fight on the stage and throw Taurus and Evans off and do dives. Vikingo then does a Spanish Fly on Suicide off the stage on to the rest of them. Evans and Kid are back in the ring. Evans slams him and goes to the top but gets kicked. Laredo Kid hits the Laredo Fly for the win. Laredo Kid pins Jack Evans with the Laredo Fly. 
Winners: Laredo Kid, Hijo Del Vikingo, and Myzteziz Jr
(NOAH) WEEKLY NEWSLETTER VOL.13 ~ 7TH DECEMBER 2018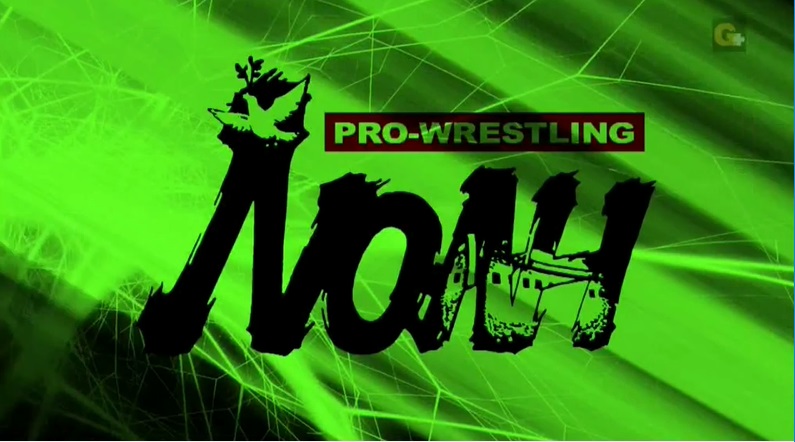 With a vacant Heavyweight Tag Title to figure out, and some finishing touches leading up to Great Voyage in Yokohama Vol.2, let's see what Hisame brings us this week!





NEWS
EASTERN HEROES
Most of the roster (except for Naomichi Marufuji, who, much to his disappointment, couldn't go due to injury, and says he has never been) went to China to participate in "Eastern Hero Wrestling".
Despite the fact that they had broken up a few days beforehand at "Global League 2018", Katsuhiko Nakajima and Masa Kitamiya teamed up. Nakajima's only comment was that this was how the card had been arranged, and he walked off at the end of the match leaving Kitamiya behind.
It was a sold out over capacity crowd in Tianjin, and the crowd said in Japanese "please come back".
Hi69, in particular, said he learned a lot of things from the trip. There were also some new athletes o the card which hadn't been introduced to NOAH yet, Tiger God and Dragon God.
Article with results can be read here
IPW
Daisuke Harada has been announced for IPW'S Junior Heavyweight Championship Tournament on Tuesday 16th January 2019 at Milton Keynes.
For those unfamiliar with him, a small guide can be found here.
Tickets can be purchased here
Further names hopefully to be announced (I know YO-HEY & HAYATA are being hoped for)
CURRENT TOUR RECAP
Noah kicked off "Winter Navigation 2018" at Korakuen Hall, not a great attendance for the first night, but it needs to be factored in that it was a 6.30pm start on a Friday night, round about the time when people get out of work, plus there was a big event going on at the nearby Tokyo Dome.
There were two match signings, with Takashi Sugiura saying that he was not going to lose the belt or the era to "this young man" (Kaito Kiyomiya) and Kotaro Suzuki actually turned up for his with Daisuke Harada.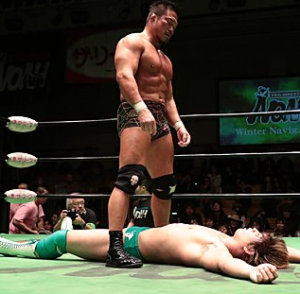 Kimiya Okada made his long overdue debut, and was beaten by fellow rookie, Yoshiki Inamura. Hajime Ohara (who had helped train Okada for the debut) looked on. Although Inamura picked up his first win, it should be noted that this is only a small one, and against a very green rookie. They will have a rematch on the 9th (check)
Both Atsushi Kotoge and Hitoshi Yamato were on top comedy form.
Hitoshi Kumano and Seiya Morohashi squared up as their grudge deepened.
The Hooligans announced the 5'10 and 243 lb Yuji Hino as their new member, and he picked up the 5'10 Akitoshi Saito and slammed him as if he weighed nothing.
YO-HEY defeated Shoki Kitamura with the Super Face G, and then said to SUGI that he wanted to continue this, but SUGI said that Yokohama was impossible as there was an ZERO-ONE show on the 16th. So, it looks like the New Year will be the resumption of it.
Go Shiozaki and Katsuhiko Nakajima defeated Kenoh and Masa Kitamiya for the vacant GHC Heavyweight tag team titles, and were later challenged by Yuji Hino and Maybach Taniguchi.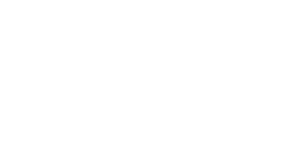 Then Hino cut the promo of the evening:
"Shiozaki, you are a good looking guy, but your chops mean nothing. Nakajima-kun! Growing up! You are becoming an adult. You look like you've graduated from being a virgin".
This is the kind of trash talking which is sadly missing from NOAH.
Kaito Kiyomiya and Daisuke Harada teamed up to take on Takashi Sugiura and Kotaro Suzuki. The ref stopped the match when Sugiura got Kiyomiya in a Olympic slam into a chokehold, afterwards Sugiura stood over the fallen Kiyomiya and told him that "on the 16th, I will show you the difference between NOAH's future and the man who has supported NOAH for eighteen years".
Detailed event recap can be read here
GHC BELT NEWS
GHC Heavyweight Champion: Takashi Sugiura
GHC Junior Champion: Kotaro Suzuki
GHC Heavyweight Tag Champions: Go Shiozaki & Katsuhiko Nakajima
GHC Junior Tag Champions: Minoru Tanaka & Hi69
All titles will be challenged for on the 16th December at "Great Voyage in Yokohama Vol.2"
Kaito Kiyomiya will challenge for the GHC Heavyweight
Daisuke Harada will challenge for the GHC Junior
Yuji Hino & Maybach Taniguchi will challenge for the GHC Heavyweight Tag
The Backbreakers (Hajime Ohara & Hitoshi Kumano) will challenge for the GHC Junior Tag
TOUR TIDBITS
~ Maybach Taniguchi came out with his "Sasumata" pole (literally "speared fork") that he had used when he was part of "The Super Violent Army".
~ Takashi Sugiura said he learned the bidets in Japan, Taiwan and China were all of equal quality.
~ Masao Inoue is holding another bowling tournament
~ Senior referee, Shu Nishinaga, said that someone had "dumped" a load of Masao Inoue's CDs in the waiting room.
~ Go Shiozaki gave a talk for "Wrestle Talk Mania", one of the subjects he covered was mental training in wrestling; something which Shiozaki has extensive experience in, especially in dealing with what happened to Mitsuharu Misawa right in front of his eyes, and of course getting Kaito Kiyomiya over his own nerves.
~ Naomichi Marufuji is not cleared to return to the ring yet, although he can now walk more easily, except he has a slight limp.
KING SHAMELESS CORNER
None. He's been good this week (aside from being a bidet inspector)
BROADCASTS
The final night of Global League, 25th November, will be broadcast at 6pm on Saturday 8th December
The event on the 7th December, will be broadcast on the 15th December
The event on the 16th December, will be broadcast on the 22nd December
LINKS
Today's child of puroresu: Kaito Kiyomiya's Story
150 people at debut?! Praise from Kobashi! Winning Global League! Kaito Kiyomiya special feature!
MINI INTERVIEW WITH KATSUHIKO NAKAJIMA: 7th December tag championship decision at Korakuen Hall, "I want you to hear the sound of Noah changing"
The scene of pro-wrestling Vol.23 ~ The wish for the soul that inherits the light of the emerald green.
Nakajima and Shiozaki to combine to take the championship
"Everybody's Energy" ~ interview with Kaito Kiyomiya (Weekly Pro, December 2018)
"I want to advance the era" ~ mini interview with 2018 Global League winner, Kaito Kiyomiya
Takashi Sugiura's determination for defense, "I will not hand over the belt or the era".
BOOK TRANSLATION
"Heir To The Ark" ~ Naomichi Marufuji's biography (Chapters 1 & 2 completed, chapter 3 ongoing)






How do you feel about Yuji Hino's Hooligans debut? Let us know on social media @theCHAIRSHOTcom and always remember to use the hashtag #UseYourHead!