Sonoran Championship Wrestling BATTLE|LINES Results (9/21/18)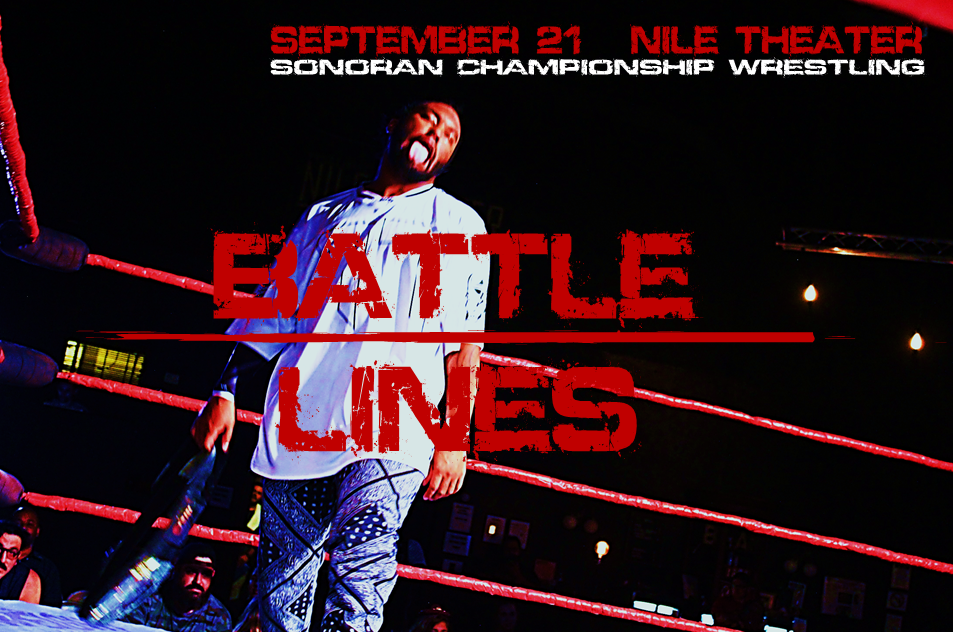 SCW (Sonoran Championship Wrestling) returned to The World Famous Nile Theater on Friday night, September 21, for BATTLE|LINES! Tensions were high all night, and the rowdy crowd in attendance were treated so some amazing action.
By the end of the night we had a new (but reluctant) tag team, fans begging for more EJ-Calder, one pissed off challenger, and the revelation of perhaps the strongest force ever to hit SCW…
Full results:
Navajo Warrior pinned Alex Salyers
Salyers reminded everyone of the reasons he asked for "the biggest, baddest, and most respected man in Arizona," and then promptly punched him in the face. The legendary competitor proved too much in the end.
SBR & Cole Wright (with Travis Lee) beat Awesome Andy & Aguila
Two brand new teams in SCW brought the action early and never stopped, bringing the fans to their feet on multiple occasions. In the end, Travis sprayed Andy with Body Spray, leading his team to victory. After the match it was obvious that SBR & Cole had no clue what Travis was up to.
The Heat Seat with Pete The Heat and special guest Sergio Vega
Pete The Heat welcomed Sergio Vega, who explained that he was attacked at the border on his way to August's Big Trouble In Little Mesa. He didn't see the attacker, but did notice that Jay Garland was wearing a Sergio Vega shirt when he left the building with Thugnificent that night. The Hawaiian Lion entered the ring to remind Sergio to focus on their match later in the evening, and that the Arizona legend fully intended on ending the year-plus reign of the champion.
SOS (with June Jackson) pinned Morgan (with Adrenalyn) in a No Disqualification Match
June Jackson announced that she would not be participating in the match, but "supervising" as her best friend, SOS, battled Morgan instead. Morgan didn't come alone, bringing back-up on the form of Adrenalyn! All four women battled throughout The Nile, but in the end a (legal) chairshot from SOS allowed her to score the pin after June blasted Adrenalyn with a tire iron.
EJ Sparks and Calder McColl battled to a time limit draw
In another first time ever encounter, EJ and Calder brought the fight in a big way, neither letting up for the duration of the match. Calder connected with an Air Raid Crash, but EJ kicked out of the pinfall attempt right before time expired. Calder was frustrated, but the two men embraced to end a match that fans are already asking to see again.
Toom E Guci addressed the crowd
SCW co-owner and general manager Toom E Guci announced that on October 19, we will celebrate two years of Sonoran Championship Wrestling  at Run The Gauntlet. Competitors will compete in the biggest Gauntlet ever, spanning the entire evening, and the winner will have the ability to make any match they choose. Toom revealed that the first match of Run The Gauntlet.
SCW Tag Team Champions Jay Garland & The MITH and Impulse Champion Thugnificent fought The Brothers Of Wrestling (Evan Daniels & R-Three) and LJ Ramos to a no-contest
Toom E Guci got the answers he was seeking when these six men jumped into action. LJ Ramos was (seemingly) injured during the match, and was rendered unable to continue and helped to the back. The 3-on-2 advantage proved to be too much for the BOW, and when all hope was lost LJ returned to the ring! Once LJ was tagged in, he stood face-to-face with The Man In The Hood, but turned around and attacked Evan Daniels! Garland, Thugnificent, MITH, and Ramos maintained a 4-on-2 advantage until EJ Sparks ran to confront the four men. Before EJ could do anything, June Jackson snuck in and hit EJ with a low blow, leading to a 5-on-1 attack on the fan favorite. Jay Garland took the mic and revealed that Genesys was reformed, much to the dismay of Toom E Guci.
SCW Heavyweight Champion Sergio Vega pinned The Hawaiian Lion to retain his championship
After defeating Ricky Mandel to earn this championship opportunity, The Hawaiian Lion took the fight to the champion, but there was no backing down for Sergio Vega. Lion connected with an Axe Bomber late in the match, but was slow to cover. Sergio kicked out, but Lion immediately latched onto a Coquina Clutch. Sergio got to the ropes multiple times, and referee Scott Johnson had to pull Lion off of Sergio. Lion protested, but that gave Sergio the opening he needed to score the victor. Lion snapped after the match, taking out his frustrations on the champion and refusing to release the Clutch. The Navajo Warrior hit the ring to finally break Lion from the hold, restraining him before he could do more damage to the champion, the official, and potentially his own career.
Sonoran Championship Wrestling returns to The Nile Theater on Friday, October 19, 2018 for Run The Gauntlet! Don't miss this night of non-stop action as the SCW roster attempts to Run The Gauntlet from start to finish.
Credit: https://scwwrestlingaz.com/
Chairshot Wrestling News Shuffle (2/15/2019)
Start your Friday off with comments on news regarding Jimmy Uso, The Undertaker, Bray Wyatt, and more!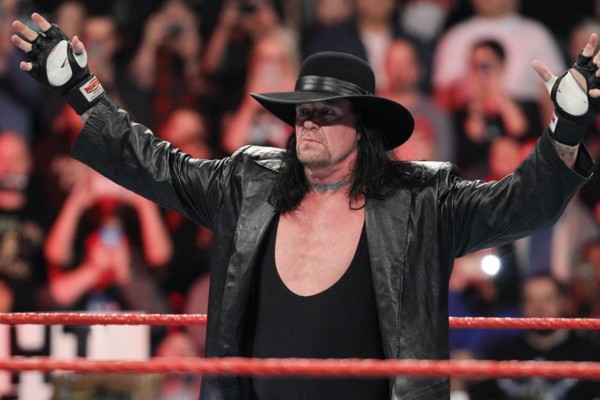 Jason shuffles in to the homestretch of the week with the Chairshot Wrestling News Shuffle! Today we take a look at news on Jimmy Uso, The Undertaker, Bray Wyatt, and more!

Welcome To The Uso Penitentiary
According to TMZ sports, Jimmy Uso was arrested after a drunken dispute with Detroit police today. Naomi and Uso were pulled over earlier today when Namoi was headed the wrong way on a one way street. Police say that the vehicle smelled strongly of alcohol. Upon getting pulled over, Uso reportedly acted like he wanted to fight with police.  He was booked and later posted bond.
Undertaker At Starrcast II
Sports Illustrated broke the news earlier today that the Undertaker will be appearing at Starrcast II Memorial Day weekend. According to SI: "I know people might assume this is an AEW event, but that is not true," said Starrcast founder Conrad Thompson, whose convention is a weekend-long event featuring more than two dozen live wrestling-themed shows. "We have wrestlers appearing from every promotion from all over the world, and Starrcast isn't just for All Elite Wrestling fans, it's for all wrestling fans.
Cruiserweight Title Match Moved To Elimination Chamber Kickoff
The Cruiserweight championship match between Akira Tozawa and Buddy Murphy that was scheduled to be a part of the Elimination Chamber pay per view this coming Sunday has been moved to the Elimination Chamber kickoff show according a tweet from the WWE.
#WWEChamber Kickoff this Sunday will see @WWE_Murphy defend the @WWE #CruiserweightTitle against @TozawaAkira! https://t.co/FM6FVL6207 #205Live pic.twitter.com/3o0ipuwuKI

— WWE (@WWE) February 14, 2019
Bray Wyatt To Return Soon?
According to PWInsider, Bray Wyatt is "very close" to an in ring return. The last time Wyatt was seen in a WWE ring was at a WWE Live event in Columbus Ohio last December. The thought at the time was Bray Wyatt would return to Royal Rumble, but outside of some odd tweets, he hasn't been seen or heard from since.
Jason's Thoughts on Today's News
Undertake is on his way to All Elite Wrestling!!!! I better not say that or some of the AEW marks will get upset. All things considered though, it will be interesting to see what the Undertaker experience will be at Starrcast II. For pretty much the entirety of his career as the Undertaker, he has really never broken character outside of the ring. I would love to see a Q&A with him, a podcast, or a potential shoot interview. If there was one person who would have hours of stories to tell, it would be the Undertaker. I am a bit curious though of his contractual situation with the WWE and if they had any input to the appearance. Many fans will associate Starrcast II with AEW, so it is interesting. Does this mean we wont be seeing Undertaker at WrestleMania?
I am not going to comment on Jimmy Uso or Namoi. Everyone has a personal life outside of the ring. I really don't have anything of value to add.
I thought Wyatt would be back at Royal Rumble as well, and there were the rumors that the Wyatt family could reunite. Throwing a hypothetical scenario out there, but could the return of Erik Rowan and his siding with Daniel Bryan lead to a potential return scenario for Wyatt? There is history there, and the storyline would pretty much write itself.
Chairshot Wrestling News Shuffle (2/14/19)
Start your Thursday off with comments on news regarding Ronda Rousey, Total Divas, NXT Takeover WrestleMania, and more!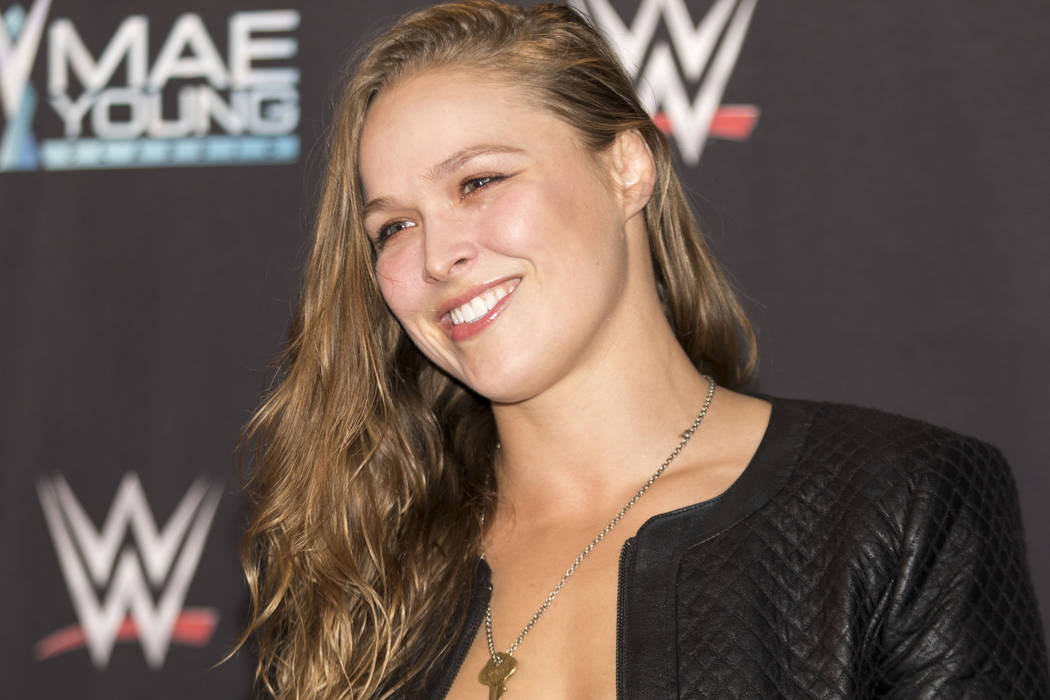 Jason shuffles in to your Thursday with the Chairshot Wrestling News Shuffle! Today we take a look at news on Ronda Rousey, Total Divas, NXT Takeover WrestleMania, and more!

Chris Jericho On AEW Talent
Chris Jericho recently did an interview with Forbes discussing various elements of All Elite Wrestling. (Read the interview HERE). One of the excerpts of the interview was in regards to homegrown talent in AEW. Jericho said:
"I think we've assembled a great roster already of fresh talent," Jericho said. "We have the seasoned veterans and really untapped rookies, with great people on every level. We have six-to-eight blue-chippers. That's all you need to do a wrestling company. I think we have enough talent for the first year already."
"I think what AEW has done is shaken up the big companies, and when I say that I mean WWE and New Japan, to where they're signing everybody, and signing them to longer deals and more money. And I say to all of them, you're welcome."
"We have to work and build the roster that we already have, knowing that we'll get more, but for right now, we have to assume this is our roster for next year. Let's build some guys and create some of our own stars, which is mandatory for any wrestling company to survive."
Ronda Rousey Joining Total Divas ?
Over the past few days, we have found out that Lana will be removed from the upcoming season of Total Divas while Sonya Deville will be added to the show. Now word is coming out that Ronda Rousey may be added to season nine. Crew members have reportedly been filming Rousey the past few weeks on her Browsey Acres farm.
Plans For The Women's Tag Division Revealed?
WrestleVotes, one of the wrestling Twitter accounts that has a track record in breaking wrestling news, has sources that have revealed some potential information regarding the women's tag division in a tweet earlier today:
Source: the Women's division roster is slowly going to be crossing over more between both shows.

The plan is to have the Women's Tag Team Champions appear on both brands initially, however, not on a weekly basis.

— WrestleVotes (@WrestleVotes) February 13, 2019
NXT Takeover: Blacklist?
According the ticket website for the WWE, the NXT Takeover event that will be taking place during WrestleMania weekend will be titled NXT Takeover:Blacklist.  (You can view the ticket page HERE)
Jason's Thoughts On Today's News
With one set of tag team titles and lack of depth, it was a given that the women's tag team division would cross over between brands. If handled right, I think the women's tag team division will do well and could be a draw for WWE. While we are a ways off from an all women's weekly show in WWE, the tag team division is the next logical step in that direction. It would be nice to see the NXT women's division involved in the tag team division as well. Isn't it interesting though? WWE, a company who has really done nothing with tag team wrestling the last 5 to 10 years trying to revolutionize women's tag team wrestling in America. #savetagteamwrestling   (Speaking of which, pick up a Save Tag Team Wrestling t-shirt from the Chairshot Pro Wrestling Tees store HERE  Yeah, I know, cheap plug)
Can AEW run for a year on 6 to 8 names like Jeircho says it can? Is WWE and New Japan really trying to sign all the talent available? Or is Jericho just good at stirring the pot ? Let's say it's a combination of all of the above.