AAA Heroes Immortales Results & Review (10/28/2018)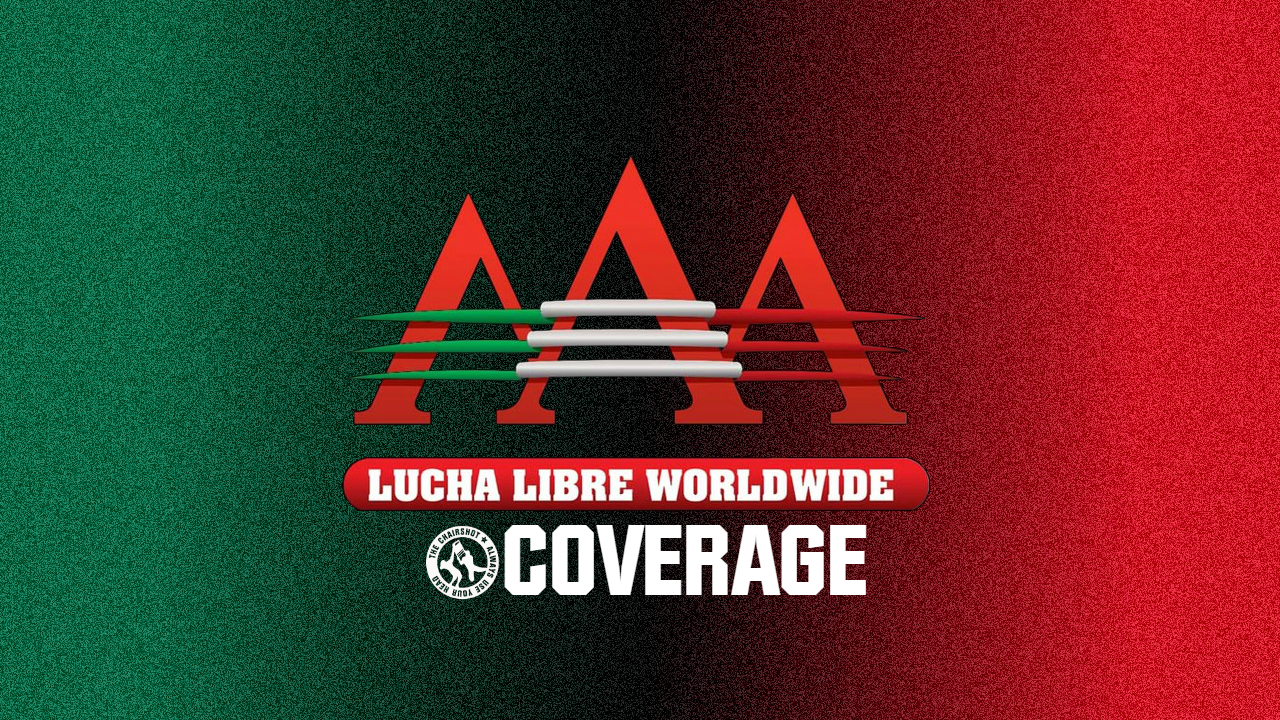 AAA Heroes Immortales XII
Reina de Reinas Championship
Luchadora Sorpresa (Scarlett Bordeaux) vs Starfire vs Keyra vs Faby Apache
Scarlett Bordeaux is the surprise like I guessed. They all gang up on Faby to start. She makes a come back and hits a drop kick on Scarlett and Starfire. Keyra hits a drop kick on her as Starfire pulled Faby's feet. Scarlett smashes her ass in Keyra's face. Faby and Starfire are left in the ring and Faby gets her in a surfboard. They get back in the ring and trade spots. Scarlett hits a spinning suplex but Keyra breaks it up. Keyra gets her in the corner and drop kicks Scarlett. Keyra gets Faby in a pinning combination but stops for a boston grab. Starfire stops it with a code breaker and hits a lung blower.
Starfire hits a suplex combination on Faby for a 2 count. Faby hits a tiger driver for a close two. She can't believe it. Starfire fights back for a tiger suplex for a close two count. Faby finally gets Starfire in a dragon suplex for the win. Faby Apache retains her title by pinning Starfire with a dragon suplex.
Shani comes out after the match. She challenged Faby for the title. She accepted but didn't shake her hand.
Winner: Faby Apache
Jeff Jarrett comes out for a promo. Fantasma is with him to translate. Jarrett says he's there to shave Wagner. Jeff says he has a special ref. Karen Jarrett calls someone a piece of shit. I don't know who, stream froze for a second. Wagner comes out to speak but Scarlett comes out and tries to seduce him. They jump Wagner from behind. Blue Demon Jr comes out to save Wagner. Wagner asks the crowd who's gonna win. Obviously they say him. Blue Demon just turned heel a few shows ago. So I'm not sure how safe Wagner's hair is with him in his corner.
Mamba, Pimpinela Escarlata, and Maximo vs Porde de Norte  (Mocho Cota Jr, Carta Brava Jr, and Tito Santana), vs Laredo Kid (Angelikal), Drago, and Aerostar
Well, holy cow this match got changed to high heaven. Porde del Norte replaced Australian Suicide, Juventud, and Puma king. Angelikal replaced Laredo Kid. Mocho, Aerostar, and Escarlata start. An arm drag is hit on Escarlata and Norte triple teams Aerostar. Drago and Angelikal make the save. They go for dives but Mamba and Maximo grab their legs and instead they go for middle rope dives on Santana and Carta. Aerostar and Escarlata are in the ring, and Star hits a dive on her. Norte introduces a chair into the match. They start to beat on Maximo.
They beat on Mamba as he/she tries to make the save. They hit double drop kicks in the corner and Escarlata breaks up the pin. Which means it's time to team on him. He makes a come back hitting two arm drags then Maximo hits a hurricanrana off the top on Santana. Drago launches Aerostar into Maximo and Mamba for a drop kick then Angelikal hits a big dive on them. Aerostar hits a rolling cutter on Brava and Drago hits a sunset flip power bomb on Santana for a count that's broken up by Coto Jr. Maximo, Escarlata, and Mamba get the advantage and pose in the ring.
Aerostar and Drago get them to the outside and Tito and Carta hit dives to the outside. Drago then hits one, followed by Angelikal with a big corkscrew dive. Escarlata kisses Cota, she walks the ropes but gets pushed off. Angelikal and Cota go at it. Angelikal goes to the top but Cota pushes him. He goes up and hits him with the Spanish Fly for the win. Mocho Cota Jr pins Angelikal with a Spanish Fly.
Monster Clown attacks Aerostar afterwards.
Winners: Mocho Cota Jr, Carta Brava Jr, and Tito Santana
AAA Tag Team Titles
Flamita and Bandido vs Texano Jr and Rey Escorpion vs Andrew Everett (Laredo Kid) and DJZ
Okay in their defense, Andrew Everett is injured so Laredo Kid is replacing him. Using card subject to change right for once. Well Bandido and Flamita are in this match so it'll be chaotic. They call themselves Mexablood. Texano and Escorpion start off beating up everyone. They pose and are knocked off the turnbuckles. DJZ busts out a canadian destroyer already on Flamita. They attempt dives but The Mercenaries stop them. They work over DJZ. Bandido and Flamnita get back in but eventually Escorpion takes them both out.
DJZ and Kid get him from behind and take out Bandido and Flamita. They do middle rope dives twice. Then Bandido and Flamita do it to Escorpion and Texano. Then DJZ and Kid do another dive. Christ. Laredo Kid when they get back in the ring does a flipping DDT to Mexablood. It's a two count. DJZ gets Escorpion on the top for a move but it's reversed into a hurricanrana for a close 2 count. He hits a lionsault which Bandido breaks up. Bandido hits a spinning DDT on him but Texano breaks it up.
Texano goes to suplex him off the top. Kid tries to help Bandido but he ends up suplexing both. Flamita hits a lung blower on DJZ and Kid breaks up the pin. Andrew Everett pushes Flamita off the top. DJZ drop kicks Texano and Escorpion as they try to attack Everett. Doesn't work out well for him as he gets packaged pile drivered by Escorpion and hit with a flaming whip by Texano for the win. Texano puns DJZ after hitting him with a flaming whip.
Winners: Texano and Rey Escorpion