Booking Proposals for Super Show-Down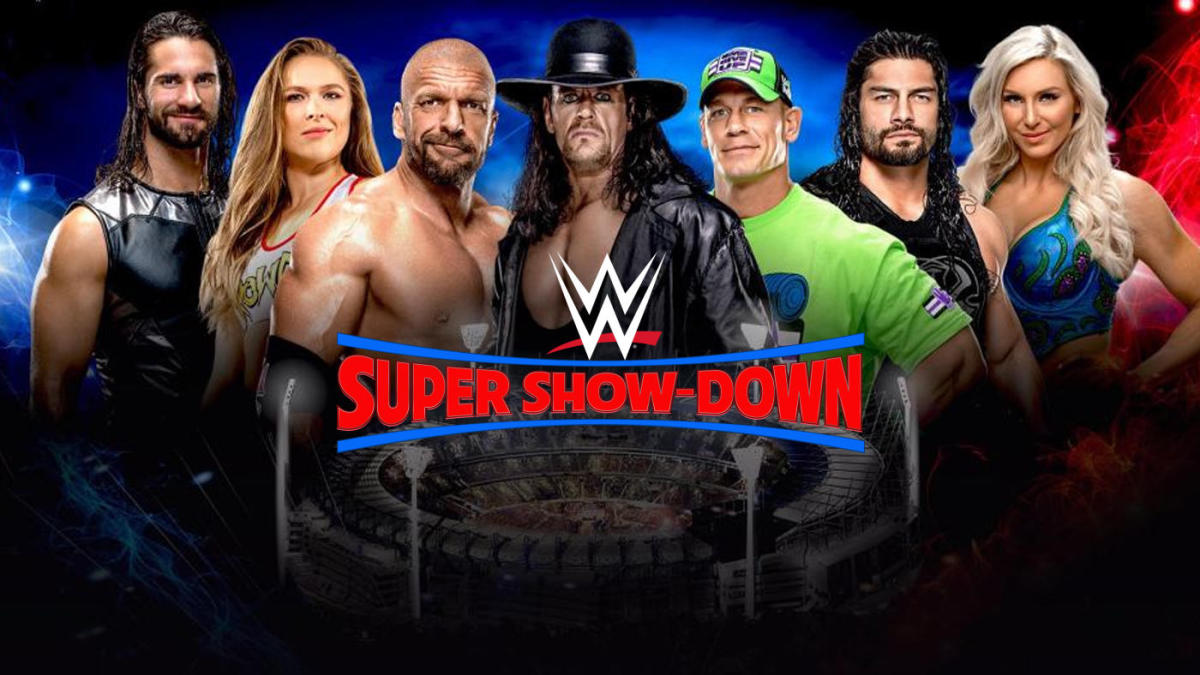 WWE Super Show-Down is scheduled for this weekend all the way from Australia. Although this isn't a major pay-per-view, it is still a momentous occasion and will likely be used to plant seeds for Evolution and Crown Jewel.
Aussies Win
Australian superstars Buddy Murphy is set to challenge Cedric Alexander for the Cruiserweight Championship and The IIconics will square off against Naomi and Asuka. Not only are they wrestling in Australia, but both parties would be greatly serviced with a win. The hype around 205 Live has recently faded so a new champion could be a good pairing for the show's new time slot. I expect Peyton Royce and Billie Kay to be involved with the Evolution PPV in some fashion so some momentum will be good for them. Although Murphy, Royce, and Kay are heels, I expect the crowd to be firmly behind them. This is the one place to give them all a big win.
Toni Storm
NXT Takeovers are often used as a chance to feature a new talent signing sitting at ringside. Toni Storm isn't signed to NXT but it would be great to have her at ringside for the IIconics match. Storm was born in New Zealand but represents Australia due to growing up there. She just won her second round match of the Mae Young Classic on Wednesday so it would be an opportune way to promote the tournament. Billie and Peyton were present in the audience for Toni's first round match so Storm in the audience would provide some camaraderie as well as continuity.
Samoa Joe Brings a Surprise
Last week we saw Smackdown Live conclude with Samoa Joe ringing the doorbell of AJ Styles' home. We don't know what happened after that. Toward the conclusion of the AJ Styles and Samoa Joe match, I would have Joe reveal a stuffed animal that he hid under the ring. AJ would become immediately shocked at the sight of the stuffed animal and start frantically asking Joe where he found it. The implication would be that Joe got it from AJ's daughter when he visited the house. That could easily be clarified on Tuesday if the fans don't get it. The fixation of the stuffed animal would ultimately lead to AJ getting choked from behind and losing his championship.
Samoa Joe went into his feuds with Brock Lesnar and Roman Reigns with a lot of momentum and ending up losing both. He needs that big win to get more believability going forward. It makes sense too. His previous mind games didn't work so the only option left to resort to was to bring AJ's family into it. Also, when AJ is laying unconscious in the middle of the ring, it would be an appropriate added touch if Joe put a pillow under AJ's head. Night-night, AJ.
Miz Wins Again, Sets Up Fatal Four Way
I think the best result would be for Samoa Joe to win the WWE Championship and for The Miz to win his #1 Contender's Match with Daniel Bryan. However, it wouldn't make sense for the top feud on Smackdown to feature the two biggest heels. So I decided the best course of action would be for Miz to win by nefarious means yet again. While on commentary on Tuesday, he even admit he would stoop to any levels to win. The unjust win would give Daniel Bryan a stake in a rematch. And if AJ Styles loses, he would want to invoke his rematch clause. The one solution would be to create a Fatal Four Way match for the WWE Championship at Crown Jewel in Saudi Arabia.
Brock Continues to Strike
The Shield winning is too predicable and I don't expect Vince to let Dolph, Drew, and Braun to go over his biggest stars. I was thinking that this would be a better place for a match to end in a no contest. Unlike Hell in a Cell, this match wont be closing the show so the fans wont go home unhappy this time if Brock Lesnar cleans house again. He hasn't appeared on Raw since his last appearance and some sort of story needs to be told. You can't build to a triple threat match if only two of the men in the match are on television.
Somebody Turns
WWE Evolution is the next show on the calendar so something needs to happen in order to set up a story. As I was looking at the match card, the two candidates for a heel turn are The Bella Twins and Asuka. The Bellas have been a little too friendly with Ronda Rousey recently and I wouldn't be surprised if Nikki Bella is Ronda's next challenger. Asuka and Becky Lynch is a feud fans have been wanting for awhile now so maybe this is where Asuka turns on her new friend.