Chairshot Classics: IMPACT Wrestling Slammiversary 2018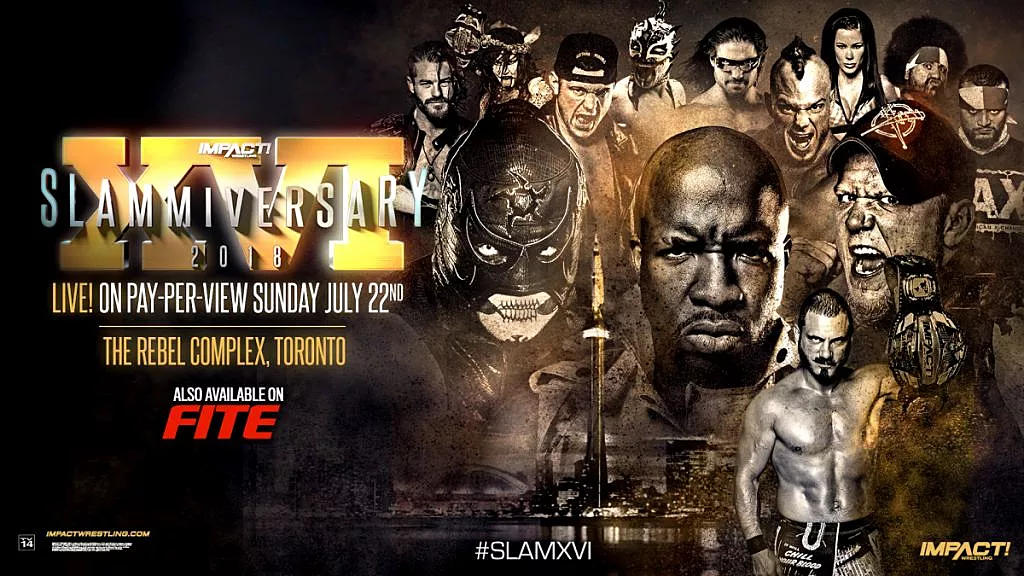 What I Watched – A Chairshot Classics Presentation
Impact Wrestling – Slammiversary 2018
By Harry Broadhurst
Man, been a while since I've done one of these. Greetings and salutations all. My name is Harry Broadhurst and I guess you could say I'm the new review guy here for the Chairshot. For those who don't know me, I already work for the site as I am usually the host of the 'Raw Reaction' here on Chairshot Radio Network along with Tony Acero and Andrew Balaz. I've been a part of the podcast network since it launched as the Raw Reaction just celebrated it's fifth anniversary back in April.
Back in the days when this website was still WrestlingSmash, I used to be the guy who did what Steven Mitchell does. I would review Raw, SmackDown, Impact and Main Event under the title of "What I Watched". I also did some DVD reviews for another website a while ago as well but those eventually slowed down when schedules changed. I've been wanting to get back into reviews and I figure that now that I have a bit more free time, I want to spotlight more independent companies that don't usually get highlighted.
This brings me to why I'm working on what you are reading now. The date currently as I type this is October 15th, 2018. It's a Monday, for those reading this in the future. Just yesterday, Impact Wrestling presented the 'Bound for Glory' pay-per-view. In the interest of getting more eyes on the show and the company, we at the Chairshot have decided to take a look back at the most recent PPV offering from Impact Wrestling. As such, we head back to July of this year and head north of the border (for me at least, as I live in the US). The site is 'The Rebel Complex' in Toronto, Ontario, Canada as the way back machine takes us to July 22nd, 2018 as "What I Watched" presents Impact Wrestling Slammiversary 2018.
WRITER'S NOTE #1: My reviews will not be a play by play recap. I've done that style in the past and honestly, I don't especially care for it. Instead, it'll be more of a stream of consciousness review as I talk about the wrestlers, the matches, the storylines and whatever else happens to pop into my head while I watch.
WRITER'S NOTE #2: As much as I'd like to let everyone make their own decisions on the matches, giving away match results in the review will be a necessary evil. The reason being that I will discuss what I think everything means going forward and maybe even doing a little fantasy booking of where I would go from where they presently are. I will still post the results as one big listing at the end of the articles as well as my ratings for the contests. The final show review will be after that as well as the 'Final Reaction' for the show. Going forward, I hope to have a full archive to all of my previous reviews here on the Chairshot.
MY RATING SCALE: Excellent, Very Good, Good, Above Average, Average, Below Average, Bad, Very Bad, Terrible and SKIP. Some matches will occasionally get a 'N/A' rating as well. That will be reserved for matches that I feel don't warrant a rating.
Impact Wrestling Slammiversary 2018
From: Rebel Complex in Toronto, Ontario, Canada
Date: July 22nd, 2018
Run Time: 2:55:09 (on the GWN App)
*General Notes- arena looks good, but definitely small. Bigger then the building for the promotion I'm going to be covering soon for Chairshot (more on that at the bottom), but nowhere near what a typical WWE TV taping draws, let alone a WWE pay-per-view…Josh Matthews and Don Callis as the commentary team. I've always been a huge fan of Callis. As for Matthews, well, I've always been a huge fan of Callis. In all seriousness, when he's not weighed down with the bullshit heel gimmick they tried to give him against Jeremy Borash, Josh actually isn't a terrible play-by-play guy. He's no Mike Tenay in terms of knowledge, but he's more modern which I guess makes up for it.
*Opening video package is quite spiffy looking. They have come a long way with these over the sixteen year run of the company (launched in June (I think) of 2002 under the name Total Nonstop Action). The old video packages for the weekly PPVs used to just be a generic voiceover to the highlights (sometimes what could generously be called 'highlights') of the week before. Now, it's a professional voiceover, hyping all the main matches for the card. Seven or eight of them to get to, if memory serves. It was almost four months ago…