Chairshot Classics: WCW Slamboree 1993 – A Legends' Reunion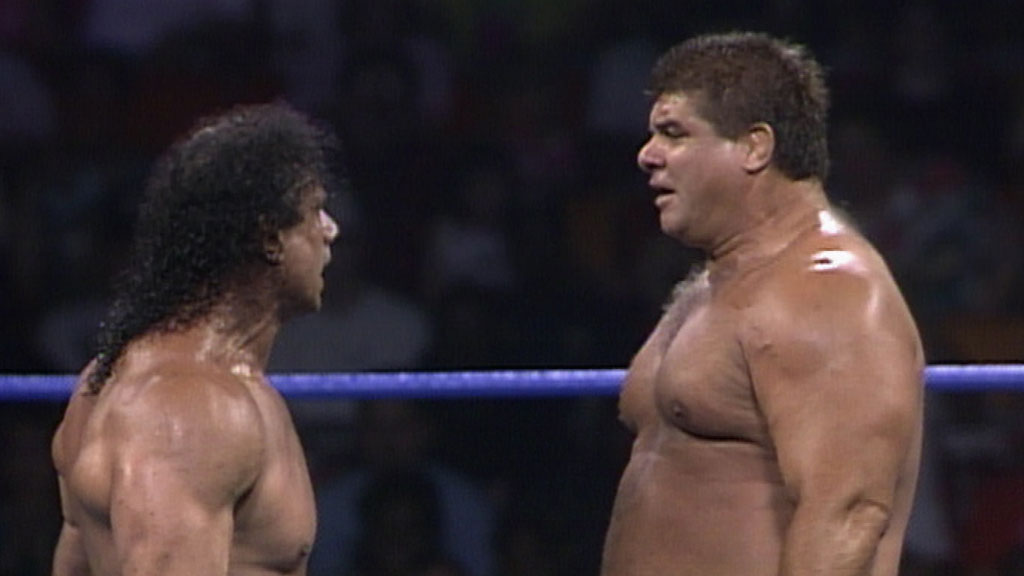 Open: The ring is full of wrestling legends, many of whom will be competing on the card tonight. Maxx Payne once again treats the crowd to his guitar playing as The Fabulous Moolah is carried like royalty to the ring.
In The Arena: Eric Bischoff & Missy Hyatt are standing by. They found out yesterday that Scott "Flash" Norton got the attention of The Prisoner, and tonight he will take on Sting. They introduce the rest of the top matches, Hyatt offers to valet The Hollywood Blonds.
Match #1: 2 Cold Scorpio & Marcus Alexander Bagwell vs. 'Beautiful' Bobby Eaton & Chris Benoit
Benoit and Scorpio start the match. Collar and elbow, Scorpio with the side headlock. They hit the ropes, shoulder block by Scorpio. Benoit ducks a spinning kick and baseball slides under his opponent. Double leg pick up by Benoit, quickly reversed and Scorpio lands a drop kick and a quick arm drag. Benoit tries to slow it down in the corner. Benoit draws Bagwell into the ring and Eaton blindsides Scorpio while the ref corrals him. Scorpio is whipped into the corner but avoids contact from both Benoit and Eaton before flying back and landing a cross body.
Eaton goes to break up the pin, Scorpio moves and he lands an elbow on his own partner. Bagwell rushes back in to even the score and they clear the ring with drop kicks. Benoit crawls back in and tags in Beautiful Bobby. Collar and elbow, Scorpio grabs a hammer lock and tags in Bagwell. He hits an ax handle and grabs a wrist lock. Eaton slings him but Bagwell gets the shoulder tackle. He hits the ropes and Benoit grabs him from behind. Eaton charges but he's lifted with a back body drop over the top rope. Bagwell slingshots Benoit into the ring, Scorpio comes in for assistance, they whip Benoit to the ropes and he knocks Eaton off the apron.
Bagwell cleans Benoit out with a drop kick who regroups with his partner on the floor. Bobby gets advice from Benoit before going back at it. Collar and elbow, Bagwell with the wrist lock, adjusted into a hammerlock. Eaton chains his way out, they hit the ropes and another cheap shot from Benoit. Eaton tosses Bagwell over the top rope as the ref checks in with Benoit. Nick Patrick lectures Eaton who then scoop slams Bagwell and heads for the top. He lands a flying knee and tags in his partner. Benoit with a big right and then sends Bagwell for a clothesline. They exchange strikes but Benoit scores with a scoop slam and a 2nd rope leg drop.
He pins him but wasted too much time. Eaton is tagged back in and stays in control with some knees. Lateral press gets two. Eaton uses the 2nd rope, the ref draws him back, Scorpio protests and the ref gets distracted as Benoit chokes Marcus. Tag is made to Benoit and he lands a kick. Belly to back suplex sends Bagwell to the mat and he's forced to kick out. Snapmare and a headscissor submission by Benoit who uses Eaton for leverage. Neck breaker by Benoit and Bagwell kicks out at two. Scoop slam and Benoit heads for the top. He tries a swan dive but Bagwell gets the knees up. Hot tag is made to Scorpio who goes right to work on both opponents.
He throws Eaton across the top turnbuckle and punts him. Bagwell rushes to take care of him. He sends Benoit for the ride and elevates him with a back body drop. Scorpio goes for the top rope and lands a 180 splash but Eaton is able to break the pin. Benoit is up quick and kicks Scorpio down to the mat. He clubs Bagwell from behind and holds Bagwell in position for his partner. Eaton moves in for a big right but Bagwell ducks and Benoit is nailed. Bagwell tackles Eaton out of the ring as Scorpio climbs up top. He lands a corkscrew somersault legdrop to pick up the win.
Winners: 2 Cold Scorpio & Marcus Alexander Bagwell (Scorpio/Corkscrew Somersault Leg Drop)
EA's Take: Nice way to open the show. I still like Scorpio and Benoit's singles bout at the last show, but this was a way to grab the crowd's attention early. Bagwell is still one of WCW's up-and-comers, but is about to embark on a streak of forming different tag teams over the next few years. His pairing with Scorpio is likely the least remembered of those, but I'd argue it was the best. Meanwhile, Benoit is obviously still on the come-up, but his tag partner is hitting the final stages of prominence with all his greatest successes behind him.
Match #2: Sid Vicious w/Col. Robert Parker vs. Van Hammer
Parker comes down to the ring, reminding Hammer about the altercation they had. It would be the biggest mistake he could make. He introduces Hammer's opponent who is here to do him justice, and Sid Vicious comes out to a big pop. Hammer blocks a right and delivers a few of his own. Sid puts his boot to the gut and delivers a clothesline. He lifts Hammer up for a Powerbomb and that's all she wrote.
Winner: Sid Vicious (Powerbomb)
EA's Take: Well, welcome back Sid. There isn't too much to say about a 35 second match, but the crowd was definitely hot for his return as he squashes Hammer. Basically, this is just a reintroduction type of match for Sid, however this run in WCW will be ending quite infamously later in the year.
Match #3: 'Chief' Wahoo McDaniel, Blackjack Mulligan & 'Jumpin' Jim Brunzell vs. 'Dirty' Dick Murdoch, 'Magnificent' Don Muraco & 'Superfly' Jimmy Snuka
Brunzell and Snuka get us started. Collar and elbow tie up, Brunzell with a hammerlock, reversed by Snuka. Drop toe hold by Brunzell and he takes control with an armbar. Tag is made to Mulligan and he holds the wrist. Murdoch reaches into the ring to grab some hair and he throws some elbows on Blackjack. An official tag is made and Dirty Dick throws some rights. Murdoch with a shoulder tackle but it's Mulligan with a hip toss. He takes Murdoch down with an arm drag, who then gets up and rushes for a tag in the wrong corner.
Mulligan gets the crowd behind him and they tie up. Murdoch is in control early and takes him down with a snapmare before hitting an elbow. Mulligan kicks out at two and Murdoch bails out. McDaniel chases him back to the ring and tags are made to Muraco and McDaniel. The Chief scores first with a big elbow, following it with two scoop slams. Muraco retreats to his corner. Collar and elbow tie up, McDaniel is trapped in his opponents' corner and he's abused while the ref's back is turned. Tag is made to Murdoch who stomps at the midsection. McDaniel tries to fight back but the ref is busy keeping Mulligan in his corner and he's triple teamed.
McDaniel is finally able to chop Murdoch to the mat but Dirty Dick shoves him back into the enemy corner. McDaniel fights back with some punches to the gut and works his way over to tag in Brunzell. Jumpin Jim scores with a drop kick. They hit the ropes, Brunzell first with a shoulder block but Murdoch hits a hip toss on the comeback. Murdoch hits an unlikely headscissor takedown. Brunzell is up quickly with an arm drag and holds on with a modified arm bar. Murdoch is sent for the ride, he's caught in a sleeper but he quickly backs into his corner to break it up. His teammates take liberties while the ref tries to restore order. Muraco is tagged in and he hits a running powerslam and a leg drop.
Muraco with a front face lock as Brunzell forces his way over for a tag to McDaniel. The ref didn't see the tag and he stops Chief from coming in while Brunzell is forced backward and is held by Snuka. Muraco comes in for a clothesline, Brunzell ducks and Snuka is knocked off the apron. Tag is made to Murdoch who hits a swinging neckbreaker and gets a two count. Irish whip by Murdoch who gets behind him on the top rope and he drives Brunzell's face into the mat. Head of steam and he plants an elbow, the pin is saved by Mulligan. Muraco is back in. Brunzell ducks a clothesline and scores with a cross body.
The ref is late with the pin and it's only worth two. Snuka is tagged back in, scoop slam by Superfly but Brunzell avoids the knee drop. Brunzell surprises his opponent with a small package and Snuka kicks out. Front face lock by Snuka, Muraco holds Brunzell in place but its his turn to get knocked down after the opponent ducks. Muraco jumps in the ring and gets in a shoving match with Snuka. All 6 men enter the ring and a melee breaks out. Randy Anderson has seen enough and calls for the bell ruling this one a no contest.
Winners: No Contest
EA's Take: The Sid squash match was a good bridge because there was no way this old school, nostalgia match could have followed the high energy of Benoit/Eaton vs. Scorpio/Bagwell. The crowd and the guys in the ring looked and sounded like they were having fun and that's all that really matters here. It may not have been agile and crisp, but Murdoch's headscissor takedown popped me and I had to rewind and watch it again.