Chris' IMPACT! Wrestling / Border City Wrestling Motown Showdown Results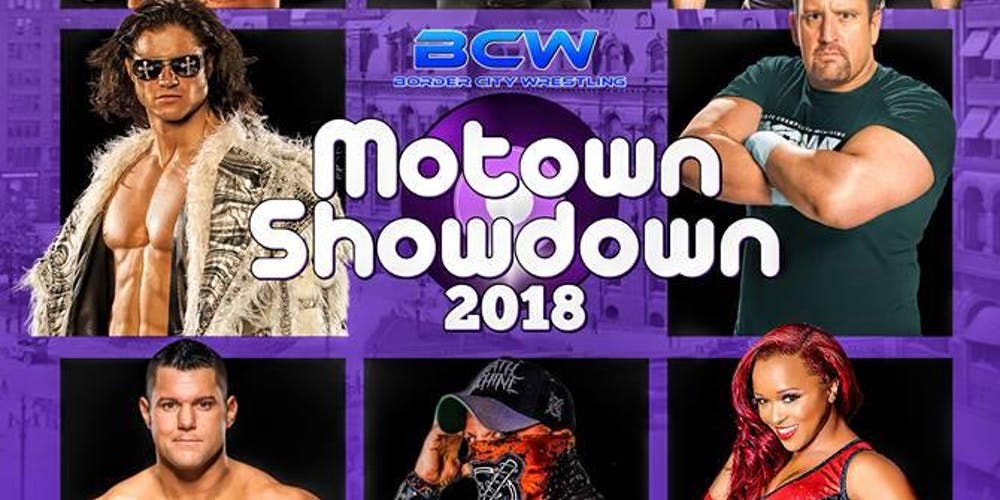 IMPACT Wrestling teams up with Border City Wrestling to present Motown Showdown, live on Twitch.tv
QUICK RESULTS
Halal Beefcake d. RJ City & Jake Something – Idris Abraham pinned RJ City after an assisted splash
Mad Man Fulton d. Movado – pin fall, swinging face buster
Scarlett Bordeaux d. Gisele Shaw – pin fall, backpack piledriver
Eli Drake d. Zach Gowen – pin fall, Gravy Train
Petey Williams d. Ace Austin, Matt Sydal and N8 Mattson – pin fall on Ace Austin, Canadian Destroyer
Sami Callihan d. Ace Romero – pin fall, roll up while in submission hold.
Eddie Edwards & Tommy Dreamer d. John Bolen & Johnny Swinger – pin fall, Eddie pins Bolen, DDT
Kongo Kong d. D-Lo Brown – pin fall, chokeslam
Johnny Impact d. Moose – pin fall, Starship Pain
---
IMPACT! / BCW Motown Showdown
Josh Matthews and Scott D'Amore are in the ring to welcome us to Bellville, Michigan for Motown Showdown!
A bigger arena and a larger crowd than they had the last time they did a Twitch special, thats for sure.
RJ City & Jake Something vs. Halal Beefcake [Joe Coleman & Idris Abraham]
RJ grabs a mic and says he wishes they weren't on Twitch because it needs to be heavily edited because he didn't get the applause he wanted. RJ asks Jake a question, but won't let him answer. RJ says they should cut to the point that he hits his finisher and comes back to sing a song for everyone.
Idris Abraham used to be on IMPACT! television and still rocks his very large afro. Coleman comes to the ring with a huge jar of protein powder.
Abraham and RJ City start off in the ring. RJ lets Idris know where he can put his handshake and tags in Jake. Something punches and kicks away before choking Idris with his foot. Jawbreaker by Idris breaks him loose and he tags in Joe. Coleman with a reverse atomic drop, and a couple dropkicks. Something whips Coleman across and City buries a knee in his back. Coleman knocks him off the apron and fights back.
RJ pulls Coleman down in the corner and splits the difference with the ring post, and tags back in. Stomps away and tags back in Joe. Jake holds a chin lock as Joe fights to his feet. RJ tags back in as they assault Joe in the corner. Flatliner by RJ as Joe tries to cross the ring. Coleman comes out of the next corner with a spear.
RJ tags John, Joe tags Idris. Idris off the ropes and hits a flying forearm. Drop toe hold on both men, he calls in Coleman who does push ups off their backs. All four men in the ring fighting now, as Idris picks up Joe for the Celtic Cross! RJ stops a double team move and Jake hits a Blakc Hole Slam on Idris before RJ tags himself back in. Jake decides he has had enough of taking orders and clocks RJ City with a right hand!! Coleman slams Abraham onto RJ City for the 1-2-3!!!
Your winners: Halal Beefcake (pin fall)
Bound For Glory video package
Mad Man Fulton vs. "The Mysterious" Movado
D'Amore says Fulton is a Sami Callihan protege. He looks like him, but is over 300 pounds!!
The actually misspelled Movado's name on the graphic to "Mavado"
Fulton over powers Movado in a collar and elbow tie up a few times before MOvado starts using his speed advantage. Moved does some rapid left hand right hand chops, and then does a worm across the ring to set up a charge in, which is interrupted by a savant kick from Fulton. Lots of chops, one off the ropes gets Fulton a two count. Moved then starts chipping away but is interrupted by a knee and a clothesline. Rolling sexton by Fulton also gets two.
Fulton goes up to the second rope, but Movado gets his knees up. Clotheslines from Movado can't take the big man down. Shots to the midsection, and then a drop kick to his knee. Back to the left right chops in the corner, another worm, and a dropkick to Fulton in the corner. Movado then does a handstand splash for two. Off the ropes, Fulton hits a Samoan Drop. Then off the ropes he hits a swinging face buster for the 1-2-3
Your winner: Mad Man Fulton
Chris Jericho's Rock 'n Wrestling Rager at Sea video package
Bound For Glory Knockout's Title Match video package
Gisele Shaw vs. Scarlett Bordeaux
This was supposed to be a three way match with Keira Hogan, but since she was put in the coffin on Thursday, she is a late scratch, so its a one-on-one match now.
This is Scarlett's first official televised match with IMPACT!
Gisele talks smack to start, and then poses for the crowd. Scarlett them poses and the crowd cheers loudly. Gisele goes to a mild reaction. Scarlett goes again and the crowd erupts. Gisele again, but goes for a cheap shot and Scarlett takes advantage. Lou These press, and then dumps Gisele over the top rope and kicks her to the floor. Scarlett goes up top, and hits a HUGE cross body block to the floor!!
Scarlett tosses Gisele back in , covers for two. forearms exchanged, and then chops by Gisele in the corner. Scarlett reverses things, and whips Gisele off the ropes, reversed, and then hits a head scissor take down. Scarlett hits a scoop power slam followed by an elbow for two.
Scarlett hits a Stinger Splash in the corner, goes for a butt attack, by Gisele rolls to the outside. Scarlett goes for s suicide dive by Gisele hits a forearm and pulls Scarlett outside and hits a suplex on the floor. Gisele puts Scarlett back in, covers for one. Gisele kicks Scarlett's ribs, then hits a gut buster for two. Gisele hits a standing duplex, hold son to roll into a second, then hangs Scarlett on the second rope for a twisting DDT for two. Gisele then goes up and misses a moonsault from the second rope, as Scarlett rolled out of the way.
A series of clotheslines from Scarlett, then rams Gisele into her backside and the second buckle. Running butt attack and Scarlett, she covers for two. Scarlett gets rolled up, one count, rolls back, now count, and Gisele hits a big boot for two. Gisele talks smack and slaps Scarlett, who spits in her pace! Scarlett gets a single leg take down and hits a sexton splash. Scarlett then hits a cradle DDT for a two count!!
Gisele then hits a sweeping back breaker, but can't make the cover. Gisele charges in with a spear and covers for two. Now Gisele is visibly frustrated. Scarlett hits some forearms then positions Gisele on her back for a backpack piledriver for the 1-2-3!!!
Your winner: Scarlett Bordeaux (pin fall)
Bound For Glory Concrete Jungle Death Match promo video
Up next is the Eli Drake Dummy Challenge…
Eli comes out first and almost falls off the ropes posing for the crowd. Eli gets a microphone and says its not Detroit Rock City, no, when he's there its E-Li-Drake City. Says tonight he has a first class ticket on the gravy train for whoever wants to come out. Out comes ZACH GOWEN to answer the challenge!!!!
Eli Drake vs. "The One Legged Wonder" Zach Gowen
Eli gets his microphone back, makes fun of the crowd, before saying this is what's wrong with the wrestling business. Says no on in the crowd can do what he can, but day after day he sees Dummies, Yeah, with no athletic prowess, and now he's looking at someone who doesn't even have enough limbs to do this. He admires that he thinks he can do this, but we need to be honest, he's got one leg and he's facing E-Li -Drake, it just ain't gonna fly. Thats not an insult, thats just a fact of life. Tells him he would be smart to just go.
Bowen gets the mic and says welcome to Detroit, bitch! Says he's going to fin donut what happens when a one legged man challenges you to a butt kicking contest.
Bowen starts rolling and chasing down Eli, who ducks onto the apron. Back in they go face to face and he shoves Gowen down. Bowen with a school boy, into a front face lock, Eli rolls him up for one. Eli trips him, Gowen eggs off and Eli stops, telling Gowen to get up. Eli kicks him as soon as he's up, and continues to beat him down. Pounds away with forearms into a chin lock, Gowen back up and hits a jawbreaker. Eli kicks him again and goes for a slam, Gowen floats in for a two count. Eli with a slam and covers for two. Eli now stomps away at Zach, picks him up and shoulder blocks in the corner. Headlock and punches from Eli, but Gowen catches him with a boot on the way back in. Off the second rope, Gowen hits a dropkick, both men down.
Eli charges across and misses a shoulder charge, then Gowen ducks and sends him over the top rope. Eli misses another charge to the ropes, goes for a DDT, but Eli sidesteps and hits a forearm shiver. Eli goes for the Gravy Train but Gower rolls him up for two. Gowen hits a jawbreaker again, then goes up top for a moonsault, but Eli moves out of the way. Eli then kicks the one leg out from under Zach, picks him up and hits the Gravy Train for the 1-2-3
Your winner: Eli Drake (pin fall)
Bound For Glory video package
Global Wrestling Network video package
Matt Sydal vs. N8 Mattson vs. Ace Austin vs. Petey Williams
Fatal Four Way X-Division Match, I will try to keep up…
Matt talks smack to start, getting everyone to open their third eye. He then sits in the corner, telling everyone else they can go at it. Sedan then drags Petey out of the ring and they brawl on the floor. Ace and N8 face off in the ring. Single leg take down by Ace for one, then another cover for one again. N8 and Ace both hit a shoulder block and go down. N8 goes off the ropes with a senton, Ace roles out, Petey in.
Petey whipped to the corner, floats over N8 and goes off the ropes in to a head scissor take down. Drop toe hold onto the middle rope and Petey hits a dropkick to N8's back. Petey sets N8 into the tree of whoa, by Matt attacks from behind. Petey hits a mule kick, and then a drop toe hold, dropping Matt onto N8's crotch. Petey with a sharp kick to N8's face takes him off the buckles as well. N8 rolls out, now its Petey and Matt in the ring.
Matt with an arm drag and a kick to the back, Ace in, but gets the same combination. Ace with a drop toe hold, and a dorp kick and a kip up. Ace goes off the ropes and hits a plancha onto all three other men on the floor. Ace throws N8 back in, and logs on a leg choke, Petey then adds a Sharpshooter to N8, and Matt comes in with forearms to Petey, then locks a crossfire on Ace Austin. All men then release their holds.
Petey grabs N8, and whips his to a corner. N8 gets his feet up, charges out and eats a boot from Petey. Blocks the supplies attempts by Petey, but then forearm finds its mark. Ace Austin comes off the top with a dropkick to both men, and then a slingshot, handstand and a kick to Matt's face on the floor, all without leaving the apron!!
Matt then crawls under the ring, Ace looking for him, and gets attacked from behind by Matt. Matt throws Ace back in, N8 covers for one. All three men square off, with N8 and Matt attacking Ace. N8 and Matt try to outdo each other's chops on Ace, then Matt with a thigh kick. N8 whips Matt to Ace, who lofts him over the top, Ace fights off N8 and then Matt drops Ace.
Ace starts fighting back against Matt and N8, hits dropkicks, until Matt blocks and hits one of his own. Ace fights back again until N8 hits a knee to the gut. Ace reverses the corner charge and hits big boot, cover by Ace for two. Ace then goes up to the top, Matt Sydal cuts him off and hits him to the floor. Petey then hits a slingshot codebreaker on Matt, then a tilt a whirl side Russian leg sweep on N8 for two. Petey with a cradle face buster on Matt and calls for the Canadian Destroyer. Sets up on Matt, by N8 hits a face buster on Petey, then goes up top, and hits a leg drop from the top on Petey for two.
Ace with a kick to N8, then a face buster on his knees, covers for two. Ace whips N8 across, Petey interrupts, hits apoop up power bomb. Goes for the Destroyer, Matt interrupts with a knee strike. Ace Austin comes in Sydal blocks his kick and gets one of his own. Sedan hits his finisher, but N8 interrupts and hits a blue thunder bomb and gets a two before Petey Williams breaks up the pin fall. Petey and N8 reverse each other, Ace hits a blockbuster on N8, Petey hits the Canadian Destroyer on Ace Austin for the 1-2-3
Your winner: Petey Williams (pin fall)
Chris Jericho's Rock 'n Wrestling Rager at Sea video package
oVe Rules Match Bound For Glory video package
Ace Romero vs. Sami Callihan
Ace Romero weighs in at almost 500 POUNDS tonight!!! He's the man from the viral video who hit The Pounce that launched his opponent into the crowd!
Callihan starts throwing chairs and some 8X10s into the ring, and the referee cleans them out as Sami enters. Sami charges in with a kick, but a second charge and Ace hits a DROPKICK that knocks Sami out of the ring. Sami moves but Ace is in hot pursuit on the floor. Sami gets on the apron and hits a kick, then Ace pulls him down by the leg. Ace then hits a kick to the fact of Sami. Ace then begins climbing the turnbuckles but misses a leg drop to the apron off the second rope.
Back out to the floor, Sami hits some chops and sets Ace up against the post. Sami then spits on his hand and goes for a chop, but Ace ducks. Ace goes for the same and Sami ducks. Both men exchange punches on the floor. Sami then hits a kick and Ace hits a European uppercut that decks Sami. Ace breaks up the count out, goes back to Sami who jams the eyes. Sami parts the crowd and hits a punch on Ace, sitting him onto chair. Sami then spits on his hand, charges in with a huge chop. Headlock control on Ace and another straight right to the face. Sami charges again but this time with a big boot. Sami motions thats he's going around the world, betakes his lap around the ring, but Ace gets a boot up on Sami when he returns. Ace then hits a sexton splash on the floor on Sami!!
Ace finally throws Sami back in the ring picks him up, but Sami starts kicking away at Ace's thighs and chopping his chest. Sami goes for a power slam, but Ace doest move. Sami hits a big boot, but again goes for a slam and gets nothing. Ace then scoops up Sami, hits a slam and a senton for two. At this point, some of the arena lights go off, as Scott and Josh joke about it. Sami flips off Ace, so Ace tells Sami to screw him, and hits another senton splash for two.
Ace picks up Sami, but he rakes the yes, tries for a German, Ace with the switch, and Sami tries for a sunset flip. Ace goes to sit on Sami, Sami moves, Sami hits an elbow on Ace for a one count. Sami funds away with rights and lefts and removes his wrist tape. Sami locks on a reverse chin lock but Ace stands up and walks Sami back first to the corner, then back s up again, then misses a splash. Sami is the finally able to get Ace in the air for a bodyslam, but both men are down.
Sami off the ropes with a clothesline, and another, and another, but Ace won't got down. Ace responds with chops until Sami hits a big boot, and Ace chases him down and hits a huge clothesline to take down Sami. Ace then hits a sit out power bomb for two.
Ace sets Sami on the top rope and follows him to the top. Sami slips out and hits asuperkick to Romero's ankles. Sami gets back under and hits a top rope Death Valley Driver and Ace kicks out at one!!! Ace is the first back to his feet, but slaps from Sami, he goes off the ropes and Ace hits  big boot and locks on a rear naked choke. Sami then floats over and pins Ace down for the 1-2-3
Your winner: Sami Callihan (pin fall)
Sami grabs a mic and begins an O-V-E chant.
IMPACT! returns to Windsor, Ontario in March 2019 ad
Video package for Eddie Edwards vs Moose at Bound For Glory
Johnny Swinger & Jon Bolen vs. Eddie Edwards (w/Kenny the Kendo Stick) & Tommy Dreamer
Eddie will start with Bolen, as they circle and lock up. Off the ropes, Bolen levels Edwards with a shoulder block. Headlock take over and another shoulder block for Bolen. Eddie hits an atomic drop, then rings the arm of Bolen and Bolen gets out and tags Swinger. Eddie tags in Dreamer.
Swinger wants a test of strength, Dreamer doest want to, but eats a kick and a shoulder block from Swinger. Dreamer gets an arm drag and a shoulder block of his own. Dreamer then hits the American Dream punches and the atomic elbow. Arm ringer by Dreamer as he hammers away at Swinger. Swinger breaks out and tags in Bolen. Arm drag by Dreamer and Eddie comes in then tags Dreamer back in. Double team off the ropes with elbows and a double elbow drop, kick out by Bolen at one.
Dreamer and Eddie take turns tagging in and working over Bolen, Bolen then charges Eddie who low bridges the ropes, Bolen lands on his feet on the floor and Eddie dives out onto him. Eddie then calls for Dreamer to dive as we'll. Crowd chants E-C-W as he runs across, steps out of the ropes, and punches Bolen.
All four men start brawling on the floor, and Dreamer and Swinger head up the steps of the ramp. Dreamer spits beer in to Swinger's face and tells the crowd to clear the way. Swinger funds away at Dreamer and Tommy falls off the balcony onto the chairs below. On the other side, Bolen has Eddie. Swinger gets Dreamer back in the ring, Swinger drops the elbow and works over Dreamer on the mat. Bowen tags back in and works over Dreamer in their corner. A big elbow drops Dreamer off the ropes.
Bolen locks in a reverse chin lock and Dreamer gets to his feet, but Bolen pulls him down and covers for two. Dreamer gets whipped into the corner and Bolen tags in Swinger. Swinger starts stomping away and hits an elbow dos on Tommy for one. Tommy charges out of the corner with a cross body, both men are down. Tommy tags in Eddie, Swinger tags in Bolen.
Eddie levels his twice and chops away. Puts Bolen in the corner, but eats a boot and then Eddie hits a front face duplex and a huge double handed chop, into a cover, broken up by Swinger at two. All four men in the ring again, Eddie and Tommy mount their men for corner punches and then both get bit for their troubles.
Dreamer looking for a DVD, Swinger reverses and gets Kenny. Swinger misses Tommy who hits a cutter and gets Kenny. Bowen hits a side slam on GDreamer from behind and Eddie gets Kenny. Eddie hits a Bolen with Kenny and a DDT for the 1-2-3
Your winners: Eddie Edwards & Tommy Dreamer (pin fall)
Eddie grabs a mic after and attempts to start a "You Still Got It" chant with no luck.
Tommy then grabs the mic and and says that everyone thinks Eddie is crazy, but he's proof that if anyone grew up watching ECW you are hardcore and crazy, and he loves him for that!
Bound For Glory video package
GWN video package
Kongo Kong vs. D-Lo Brown
D-Lo talking smack to start, then starts with the forearms. Goes to slam Kong, but can't lift him. D-Lo then kicks and forearms away, but still can't slam Kong. D-Lo calls for a test of strength, Kongo raises his hand, but its much too tall for D-Lo. D-Lo then begins making Kongo dance, then kicks away, and attempts another unsuccessful slam. Kong whips D-Lo across and hits a huge back body drop.
Kong stomps away in the corner, then pounds the back of D-Lo against the ropes. punches exchanged, D-Lo still can't slam Kong. Kong hits a running splash on D-Lo, then a belly to belly that gets a two count. Kong then hooks the face of D-Lo against the ropes. Kong whips D-Lo corner to corner, but D-Lo moves and begins punching. D-Lo goes for another slam, but Kongo shifts his weight and falls on Brown. Kong gets up, then goes for a pin and gets two. Kong then hits a sexton, and a splash on D-Lo on the ground, smothering him into the mat.
D-Lo goes under the ropes, Kong follows with an axe handle to the back. D-Lo gains control on the floor, puts Kong against the ring post, but Kong moves and Brown headsets the post. Kong then splashes D-Lo against the post on the outside. D'Amore asks "remember when wrestlers used to get counted out of the ring??"
Kong puts D-Lo back in, and D-Lo starts fighting back. D-Lo goes for Sky High and can't get Kong up. Kong drops D-Lo in a corner and then goes and hits a running bowling ball splash in the corner. Crowd chants "one more time" for Kong, Kong goes to splash D-Lo, but he moves out of the way and hits several clotheslines in the corner. D-Lo finally hits the scoop slam in the middle of the ring.
Kong back to his feet, sidestepped D-Lo's charge and Brown hits the post. Kong then follows with a headbutt and a chokeslam, and Kong covers for the 1-2-3
Your winner: Kong Kong (pin fall)
Bound For Glory video packages
you can hear the producer yelling "music!" and someone saying back "I don't have it" before the main event starts. Finally the music starts playing
Moose vs. Johnny Impact
Moose gets referee Johnny Bravo to open the ropes for him so he can enter the ring.
Impact duck behind, Moose switches, and into a headlock. Off the ropes, Moose hits a shoulder block, misses a sexton, Impact misses a moonsault, both men kip up and face off. Trash talking starts from both me in the center of the ring. Impact shoes Moose, who returns the favor and the men come to blows. Impact hits an arm drag or two off the ropes and then a dropkick hits its mark.
Moose rolls out, Impact goes over the top but lands on the apron as Moose moves. Impact switches sides and hits a topei on Moose to the floor. Moose then thumbs both eyes of Impact before collecting himself. Moose grabs a chair, but the referee takes it away. Impact hits Moose and slams him face first in to the apron. A fan then holds Moose as Impact scores a right hand. Moose and Impact then brawl into the crowd and up the entrance ramp in  front of the bar.
At this point, the crowd is in the way and you can see nothing.
You then see Moose go for a summersault through a table, but you can't tell if Moose hit Impact, Impact put Moose through the table, or Impact moved out of Moose's way.
Impact then brings Moose back down the entrance stairs, obviously he came out the better of the table exchange. Impact throws Moose back in the ring, gets a drink of a fans beer, but then Moose welcomes him back to the ring with a low blow.
Moose then goes ground and pound on Impact, and then both men struggle to get back to their feet. Moose begins the chops and whips Impact hard into the buckles. A couple more chops from Moose but misses the third and Impact throws uppercuts and jabs. Moose chases Impact out and hits an European uppercut, Impact follows with a low knee, misses the Shining Wizard, Moose with a school boy in to a power bomb and gets a two count.
Moose stomps away at Johnny, picks him up, and chops him back down. Moose picks Johnny back up, and chops him down again. Moose then goes to the second rope and goes for the Moose-sault, but Impact moves out of the way.
Both men back to their feet and start exchanging blows. Impact hits two flying elbows and a leg lariat to take Moose down. Standing shooting star press gets a two count. Impact positions Moose and heads up to the top rope. Johnny goes for the Launch to Impact, Moose moves, he rolls through and hits a kick to Moose's midsection, followed by a swinging neck breaker for two. Johnny picks up Moose, but he's met with a chop, and delivers a receipt. Both men exchanging blows again, Moose pulls off the glove, but Impact hits a super kick. Off the ropes, Moose hits a pump kick, Impact hits a step up enziguri, Moose hits a headbutt and then Impact  hits an Impact Kick, leaving both men down again!
Moose charges Impact in the corner, eats a boot, but hits a Go To Hell on Impact for two! Moose now goes up to the top rope,  Impact meets him with a right hand and heads up as well. Impact goes for a superplex, Moose blocks. Moose then bites Impact to get him off, but Impact comes back and hits a Spanish Fly off the second rope, but Moose kicks out at two!!
Impact then drags Moose to a corner, calls for Starship Pain. Goes for it, Moose rolls away, Impact lands on his feet, but Moose hits a pop-up powebomb, but cannot capitalize. Moose rolls out of the ring to collect himself. Moose grabs another chair, and brings it in. Referee Bravo takes this chair away as well, but Moose grabs the original chair and hits Impact in the head!! Bravo comes back and Moose covers, but only gets two!!
Moose gets Impact up, misses The GameChanger, but eats a drop kick from Impact and Moose runs into the referee. Impact gets a school boy but theres no referee to count. Moose then kicks a field goal like low blow on Impact in the middle of the ring. Moose grabs the chair, kicks the referee in the face, hits the mat, and tosses the chair to Impact a la Eddie Guerrero. Impact realizes what Moose is doing, wraps the chair around his own neck and lays down as well. Referee Bravo is confused. Moose swears he didn't do anything, the referee tosses a chair, and Impact hits a super kick on Moose. Impact then hits Starship Pain for the 1-2-3!!!
Your winner: Johnny Impact (pin fall)
Impact has a microphone, saying Moose kicked his ass tonight, but Moose is the one who woke up in SlamTown, and now he is more focused on BFG than ever! Says he's not going to New York for a Twitter war, he's going to take the IMPACT! World Championship out of his hands! He says theres nowhere to hide, Johnny Impact will be waiting for him, and he will see him in SlamTown!!
THATS ALL SHE WROTE! See you for IMPACT! on Thursday and next Sunday, Bound For Glory!!!!
Follow along on Twitter @OldSkewlPantz and don't forget the Bearded IMPACT! Podcast every Friday morning!!!
Mitchell's WWE Elimination Chamber Results & Report! (2/17/19)
Who will make history in the Women's Tag Team Championship Chamber match?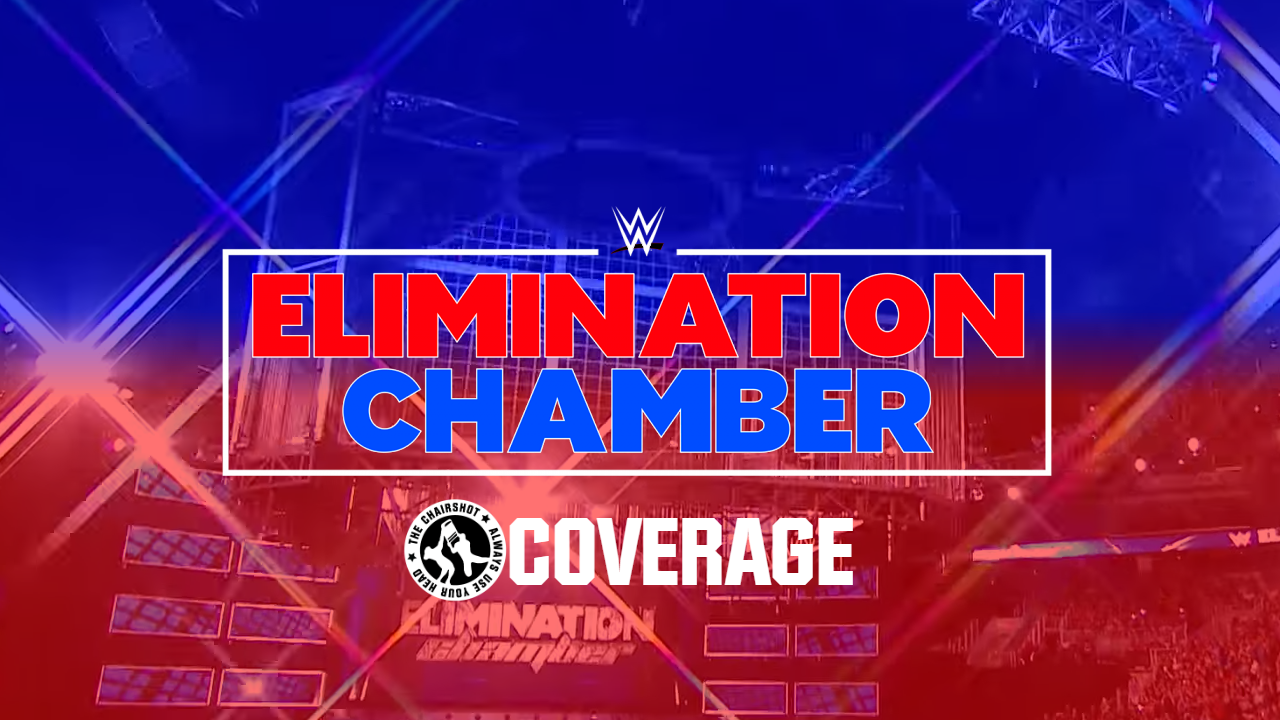 WWE Elimination Chamber will make history by crowning inaugural Women's Tag Team Champions! Who will outlast five other teams to leave with the titles?
OFFICIAL RESULTS
Kickoff Show – WWE Cruiserweight Championship: Buddy Murphy VS Akira Tozawa; Murphy wins and retains the WWE Cruiserweight Championship.
WWE Women's Tag Team Championships Elimination Chamber match: Bayley & Sasha Banks win and become the inaugural WWE Women's Tag Team Champions.
SmackDown Tag Team Championships: The Miz & Shane McMahon VS The Usos; The Usos win and become the new SmackDown Tag Team Champions.
WWE Intercontinental Championship Handicap Match: Bobby Lashley & Lio Rush VS Finn Balor; Finn wins and becomes the new WWE Intercontinental Champion.
Raw Women's Championship: Ronda Rousey VS Ruby Riott; Rousey wins and retains the Raw Women's Championship.
No Disqualifications: Braun Strowman VS Baron Corbin; Corbin wins.
WWE Championship Elimination Chamber match: Daniel Bryan wins and retains the WWE Championship.
PLAY BY PLAY
It's the Elimination Chamber Kickoff Show!
Join Jonathan Coachman, Beth Phoenix, Booker T and Sam Roberts in taking a look at everything set for tonight's Pay-Per-View event!
Mustafa Ali speaks.
The most painful thing about missing Elimination Chamber isn't the injuries, but having to watch others take his opportunities. He's on Kofi Kingston's side, but he will return to come for his second chance. Ali has more black eyes and broken bones coming his way, but nothing's easy in life for those who dream.
Braun Strowman speaks.
"Let me tell you a story about a coward who thought he could challenge a Monster." Worse than a coward, he was a sniveling snake that did anything he could to stop the Monster. But all he did was make the Monster angry. The coward knew he could never win on his own, so he recruited others to help him brutalize the Monster. They were all cowards, and thought they had the monster down. But this was no normal monster. This monster came back and vows to make them all pay! When the cowardly Corbin goes against the Monster Among Men in No Disqualifications, there's only one way this story ends: Braun Strowman continues on his rampage, and Corbin will #GetTheseHands.
The Bar joins the Kickoff Panel!
Sheamus & Cesaro are confident The Usos will win against The Miz and Shane McMahon. Miz and Shane are like watching TV and listening to the radio at the same time: it just doesn't work! But then how did they beat The Bar? A fluke. What about Strowman and Nick? That was a trick to throw them off. But then Tucker Knight & Otis Dozovic come over. They're on Team #McMiz. Miz and Shane are wild cards, just like Heavy Machinery. How bold of them to interrupt The Bar. Plus they're just sucking up to Shane for a spot on SmackDown. Heavy Machinery knows the WWE Universe wants to see them as much as possible. The tag teams trash talk, but whose predictions will come true?
Becky attacked Charlotte Flair at a house show!
The Man was so furious over Vince McMahon replacing her in the Raw Women's Championship, she went right at The Queen! But Charlotte would turn the tide and go right after Becky's bad leg again and again! Becky is only digging a deeper hole for herself, will she ever get back to a title?
The Riott Squad speaks.
"Houston, we have a problem." They're going to wreak havoc together as they all go for gold! Their careers come full circle when they take the Road to Wrestlemania on a detour! Ruby wants to take that Raw Women's Championship off Rousey while Liv and Sarah want those Women's Tag Titles. But then Charlotte walks in. She remembers their debuts. They went right after her for their #SquadGoals. But Charlotte would love if Ruby went right after Ronda with all that aggression. Ruby can follow in Charlotte's footsteps and win her first title in Houston. Then they can face off at Wrestlemania. Can Ruby really change the Wrestlemania plans further?
Mojo Rawley speaks to himself again.
The WWE Universe doesn't care about him. They don't even know him. But who they Hell are they? They don't matter! They don't like Mojo's face? Well Mojo doesn't either! It's time Mojo shows them the real him.
Alexa Bliss speaks.
"Tonight, we make history." She feels so honored to play a large role in this. Ever since The Goddess debuted, the Women's Division has hit all these great firsts! They've been on fire! Speaking of fire, maybe if Becky took Alexa's advice, she's still be selling out Wrestlemania and not suspended. But oh well, tonight's not about Becky. It's about the WWE Women's Tag Team Championships! And as the first Women's Chamber winner, she knows who is winning. Alexa's prediction: The Samoan Dynasty, Tamina & Nia Jax. Has the Goddess given us the future?
Kickoff Show – WWE Cruiserweight Championship: Buddy Murphy VS Akira Tozawa!
The Juggernaut has been as unstoppable as anyone since claiming the title, it looks almost impossible to ever defeat him! But the Stamina Monster did the "impossible" when he won his first title, can he do it again?
Introductions are made, the belt is raised, and we begin! Tozawa and Murphy circle and tie up. Murphy gets the wrist and wrenches, then brings Tozawa to a knee. Tozawa gets up and flips through to reverse the wrench. Murphy rolls and handsprings to reverse back, and he yanks the arm over and over. Tozawa spins through and CHOPS! But Murphy just shrugs it off. Tozawa CHOPS, but Murphy puts him in a corner. Tozawa dodges and CHOPS but Murphy tosses him out. Murphy follows but gets another CHOP! Murphy swings but Tozawa dodges, Murphy hits the post with his hand! Tozawa CHOPS and puts Murphy back in. Tozawa runs but into a flapjack!
Murphy clutches the bad hand but runs into a huricanrana! Murphy bails out and Tozawa baseball slides him back. Tozawa builds speed, and DIVES! But is caught into a suplex! Murphy shows off his strength as he brings Tozawa crashing down. The ring count begins and Murphy leaves Tozawa behind. Tozawa crawls up at 6 but flounders. He springs back up to get in at 9! Murphy grits his teeth as he drives a knee into Tozawa's back. Murphy stands Tozawa up but Tozawa gives chops! They still do nothing, but Murphy's one CHOP takes Tozawa off his feet!
Meanwhile, Kayla interviews the New Day in hopes of talking to Kofi Kingston before tonight's WWE Championship Elimination Chamber match. Murphy rocks Tozawa with a right while Xavier Woods and Big E explain Kofi can't talk right now. Kofi is getting a maple syrup massage from Mr. Bootysworth. Murphy chokes Tozawa on the ropes but backs of at 4. Tozawa gets in the corner, but Murphy goes right at him. Tozawa elbows Murphy away but then he's yanked off the top! But Tozawa tilt-o-whirls to an Octopus Stretch! Murphy powers out for a tilt-o-whirl backbreaker! Cover, TWO! Murphy tries again, ONE! Murphy keeps on Tozawa with a chinlock.
Fans rally as Murphy drives his knees in. Tozawa feeds off the energy and gets up, but Murphy shifts to a standing abdominal stretch! Tozawa endures again, and manages to pop out! They go around but Murphy gets the stretch back on Tozawa. Murphy blocks the hip toss but so does Tozawa. Tozawa hip tosses Murphy out of the ring! Tozawa catches his breath, and SUPERKICKS Murphy as he runs back in! Murphy and Tozawa crawl to opposite corners as fans rally up. Tozawa runs in but Murphy puts him on the apron. Tozawa kicks Murphy back then climbs up quick. Big missile dropkick! Tozawa runs in for a helluva kick in the corner! Murphy staggers and Tozawa takes aim.
Tozawa kicks, spins, slides, but is caught! Murphy lifts but Tozawa slips out, Tozawa gets the saido suplex! Tozawa hits a Shining Wizard! Cover, TWO! Murphy lives but Tozawa knew he was tough. Tozawa drags Murphy to a drop zone and climbs up top again. Fans fire up, Tozawa aims, but he has to leap over Murphy. Murphy boots Tozawa away, but then Tozawa boots back! Tozawa climbs up to join Murphy on the top rope, but Murphy fights back. Murphy headbutts Tozawa away but Tozawa comes right back! Murphy lifts, but Tozawa still SUPER STEINERS!! Cover, TWO!! Houston and Tozawa are shocked that Murphy survives! But the fans do know "This is Awesome!" as Murphy and Tozawa stir.
Tozawa stands and stalks Murphy. Murphy tosses Tozawa to the apron but Tozawa climbs up again. Tozawa leaps, crossbody, but Murphy rolls through! Murphy pops Tozawa up but Tozawa slips out. Tozawa leaps but into a jaw jacker, knee trigger, and suplex! Cover, TWO!! The Stamina Monster lives and fans are fired up all over again! Murphy eggs Tozawa on but Tozawa only gets angry. Murphy throws haymakers, but Tozawa laughs!? Tozawa chops and Murphy finally feels it. Murphy sees through the feint, starts a strike fest, but Tozawa still gets the JAB! Tozawa waistlocks but Murphy elbows out, only to get clobbered by a clothesline! Deadlift German! Bridging cover, TWO!! Fans rally with "AH! AH!" alongside Tozawa.
Tozawa puts Murphy in the drop zone again and climbs. Murphy anchors the foot but Tozawa stomps away with the other. Tozawa finishes climbing but Murphy tucks him in! But the superkick is denied! Tozawa hops back for the Reverse-Rana! Murphy flounders out and Tozawa builds speed to DIVE! The Tozawa Torpedo hits! But he keeps going, for a SECOND DIVE! Tozawa drags Murphy in and to the drop zone. He climbs up and aims, but Murphy gets to the apron. Tozawa kicks Murphy, GUILLOTINE SENTON!! Cover, TWO!? Murphy survives?! Tozawa fires up with more "AH! AH!" and Houston echoes it. Tozawa drags Murphy up for slapping palm strikes and a mule kick. He runs, but into Murphy's knee trigger! MURPHY'S- Wheelbarrow! TWO, tilt-o-whirl to the Octopus! Tozawa has the Iron Octopus! Murphy endures, powers up, and pops Tozawa out to Murphy's Law! Cover, Murphy wins!
Winner: Buddy Murphy, by pinfall; still WWE Cruiserweight Champion
The unstoppable remains unstoppable and remains the champion! Is it inevitable that the Juggernaut becomes THE greatest Cruiserweight of all time?
Kevin Owens speaks.
"Hello, WWE Universe." They know who he is. He finished his rehab, and got himself some Hawaiian style pizza for the family while watching Elimination Chamber. It hurts that he won't be in such a match. He hasn't had his first Chamber match yet, but his rehab is going well. He's got another month left, but just know that the Kevin Owens Show is coming back very soon. Kevin looks forward to his "buddy", Finn Balor, win the Intercontinental Championship and the Riott Squad being golden. Though his kids are huge Becky Lynch fans, it'll be hard to explain why she's not around. Also it's hard to explain why his kids like pineapple on pizza, because he hates it. He tries, but no, no good. KO hopes we all enjoy Elimination Chamber better than he does the pizza.
Mark Henry is here!
The World's Strongest Man and Houston's own is back! And he's happy to be back! Give it up for that Cruiserweight Championship match! Henry has had an Elimination Chamber match before, what about it makes it so unique? The Chamber is a different animal, it changes everyone who enters inside. And who does Henry think will be the inaugural Women's Tag Team Champions? His personal choice is The IIconics. And what of the WWE Championship Chamber match? Henry hears the crowd give their choices, but after last week's Gauntlet Match, it'd be hard not to pick Kofi. Kofi did incredible even in falling short, but we're all believers again. Now if Henry was in that match, there would be a lot of other men inducted into the Hall of Pain. Fans respect Henry's opinion, but will his personal preferences see the night through?
The Road to Wrestlemania is filled with hope.
But every road leads to this. Men and women alike will "risk it all" the sinister structure that challenges courage, tests resilience and awards those who survive. Rowdy meets Riott, brothers in arms meet brothers in blood, and you will have to be bold to get the gold! That is Elimination Chamber!
WWE Women's Tag Team Championships Elimination Chamber!
The Boss & Hug Connection will start against Fire & Desire while the other four teams wait in their pods. History is being made to kick off the night, who will be the first to put their names on those lovely new belts?
Teams finish entering the Chamber and pods, with Nia Jax giving the IIconics a swat to stop their playful fingers. Mandy and Sonya meet Bayley and Banks in the ring, and the doors are locked. The bell rings and the #LegitHuggable friends tie up with Mandy and Sonya. Mandy kicks Sasha to a corner then double whips Bayley with Sonya. Sonya kicks Bayley low then they double whip her again. Bayley dodges and clotheslines Mandy to then speed up with Sonya. Sasha dropkicks Sonya, then double hip tosses and sliding attacks! Cover on Sonya, ONE! Cover on Mandy, ONE! Bayley and Sasha give Sona and Mandy double hotshots! They then coordinate, acrobatic assist for a double crossbody! Sasha gives Sonya to Bayley to cover, TWO!
Bayley and Sasha keep their cool while Sasha stomps Mandy. Bayley puts Sonya in a corner and Sasha comes over. They mug Sonya in the corner but Sonya fights back with body shots! Sonya whips Sasha but Sasha goes up and over, only to get a spinebuster! Cover, but Bayley breaks it in time! Mandy goes after Bayley and deflects boots for a backbreaker! Cover, TWO! Mandy keeps her cool as she tosses Bayley out hard. Sonya goes around the side and picks up Bayley. Mandy whips and knees Sasha, then Sonya does the same to Bayley. They drag Sasha and Bayley up to throw them into the chains! Fire & Desire soak up the heat, then they drag Bayley and Sasha up again. Bayley fights back while Mandy covers Sasha, TWO!
Mandy drags Sasha up to toss her back out while Sonya slams Bayley into chains. Sonya and Mandy trade, but Sasha dodges and the kick goes into steel! Mandy's boot gets caught in the chains, too, and Bayley hits a neckbreaker! Sasha knees Sonya down next to her! The countdown begins and the next team to join is… The Riott Squad! Liv Morgan and Sarah Logan brawl right away with Bayley and Sasha! Sarah and Liv stomp them out, and Sarah throws Sasha into chains. Sarah drives a knee in! Liv drags Bayley up and Sarah drags Sasha up. They make Bayley watch as Sasha is slammed into a pod! Then Sarah gives Bayley a pop-up headbutt! The Riott Squad meet Fire & Desire, and throw down!
These two duos have paralleled each other on Raw and SmackDown since debuting, and now they parallel each other in brawling on the mat! Fire & Desire kick and punch but so does the Squad! Liv rocks Mandy but Sonya rocks Sarah! Liv goes after Sonya now, and SLAPS her! Sonya throws hands, Liv SLAPS even harder! Liv goes Matrix but still gets caught! She manages to roll Sonya back, TWO! Liv slaps and boots but walks into a roundhouse! Sonya can't cover, she's still dazed from those slaps! Bayley returns and covers Liv! TWO, so Bayley rocks Mandy with a knee! Bayley hits Sonya with a knee, then clotheslines Liv. She hits a saido suplex on Sarah! Fans fire up for the Huggable wrecking ball! Bayley climbs up but Mandy rocks her up top.
Mandy and Sonya work together but then the Squad adds on, TOWER OF DOOM! Everyone is down but Houston is loving this! The countdown returns, and the next team is… The IIconics! Peyton Royce & Billie Kay hurry to cover whoever! ONE! ONE! TWO! ONE! TWO! They couldn't eliminate anyone and they're furious! Mandy comes back but gets knees. The IIconics throw Liv into a post, then drag Sarah up into another post! They kick Sonya down then double kick Mandy down. Sonya runs into more kicks, and then a double gourd buster! The IIconics yank Liv out of the corner to hit the mat, then do the same to Sarah. Peyton & Billie taunt Bayley as they drag her back into the center. Fans rally up for Sasha while Billie puts Bayley in a camel clutch. Peyton adds a knee strike! Double cover, but Sasha saves Bayley!
The IIconics regroup but Sasha fires off haymakers and forearms! But the IIconics double knee Sasha down, then hit the IIconic bulldog! And heel kick! Cover, TWO!! Sasha survives and the IIconics are shrilly furious. Billie and Peyton toy with Sasha while fans say "This is Awesome!" The IIconics grind the Boss & Hug Connection into the steel chains! Peyton throws Sasha down while Billie toys with Bayley. Hotshot to forearm! The IIconics drag Boss & Hug over, Peyton slingshot sentons onto them both! Cover on both, TWO!! Both Bayley and Sasha survive and the IIconics are growing further frustrated. The IIconics go back to Fire & Desire to throw them into steel! Then they go after the Riott Squad and do the same! But the countdown returns and the next team is… The FABULOUS Glow!
Naomi and Carmella roundhouse the IIconics away! Springboard crossbody takes them both out! The IIconics are stacked in a corner while Naomi dropkicks the Squad down! Fire & Desire are stacked in one corner and Boss & Hug take the last. Double bronco busters for Squad and #LegitHuggable, and double moonwalks! Now double bronco busters on The IIconics and Fire & Desire. Billie starts climbing? Naoim enziguris Peyton while Billie and Carmella fight on the chains. Naomi kicks Liv away but Billie has Carmella, but Carmella huricanranas Billie to steel! Sarah waistlocks but Carmella fights out to FABULOUS Kick! Naomi sits Sarah up for another FABULOUS Kick, then the split-leg moonsault! Cover, but Liv breaks it! Liv throws Naomi out but Carmella leaps and crossbodies!
Bayley back suplexes Carmella but Billie boots Bayley! Sasha knees Billie but Peyton hits the Gory Bomb! Liv hits Peyton with a code breaker! Mandy tosses Liv with an exploder! Sarah hits a Fisherman Buster on Mandy! Sonya SPEARS Sarah! FABULOUS Kick for Sonya! All the women are down but Houston is thunderous! Houston again says "This is Awesome!" but the Samoan Dynasty are growing impatient. Sonya stands, blocks the Fabulous Kick to SPEAR! Jackknife cover, TWO into Code of Silence! Mandy saves Sonya, but Naomi has her now! Naomi fires off furious forearms on the home wrecker! Mandy hits back and whips, but Naomi comes back with a springboard Rear View! But the IIconics roll Naomi up! The IIconics ELIMINATE the Fabulous Glow!!
Peyton & Billie celebrate with their IIconic pose like they've already won the titles. However, they're surrounded on all sides now… The IIconics point out the countdown is back, and everyone realizes they need to be ready for Nia and Tamina! Nia and Tamina wreck everyone in their way! Nia tosses Mandy into the ring! The IIconics hide in a pod but Tamina still spots them. Peyton and Billie give thumbs up, but now they're trapped! Tamina and Nia swat at the Plexiglas. They force the doors open, and grab each IIconic by the hair! Double biels back and forth into the chains! And then into the ring! Nia and Tamina loom over the IIconics, then drag them up, for double Samoan Drops! Cover, the Samoan Dynasty ELIMINATES the IIconics!
But the Riott Squad are right on Nia and Tamina! Nia pushes Liv and Sarah away but gets double dropkicks. Sarah helps Liv take flight, to huricanrana Nia into buckles. Sarah shotgun knees Nia in deeper. Tamina runs in but into a forearm, and an assisted Diamond Dust! Cover but Nia pushes Sarah onto it. Fire & Desire return, and Sonya kicks away on Nia. Mandy hits the golden knee, Sonya hits a sliding knee! Double cover, TWO! Sasha and Bayley return for double Thesz presses! Bayley hits Tamna with a big knee, Sasha adds Meteora! Liv runs into double hip toss body slam! Sarah runs into one, too! Cover, TWO!
Fire & Desire throw forearms on Bayley & Sasha. Mandy stomps a mudhole on Bayley while Sonya drags Sasha up. They double whip but Sasha reverses, Bayley flapjacks Mandy on buckles. Bayley catapults Sonya into more buckles! Bayley stacks Fire & Desire in the corner, and Sasha hits a double Stock Drop! Cover on Sonya, TWO! Bayley drags mandy but Nia and Tamina run Bayley and Sasha over! Nia drags Bayley up but the Squad are climbing? Nia chases Liv and Sarah but Mandy comes up behind her. Tamina fights Sonya while Nia slams Mandy into steel. Liv and Sarah LEAP onto both sides! Sarah covers Sonya, TWO! The Squad is furious, but Nia goes right at them. Nia runs into Liv's boots and Liv hops up.
Nia grabs Liv's feet but Liv kicks at her. Liv can't get away, SUPER SAMOAN DROP! Tamina has Sarah for the SUPERFLY! Cover, the Samoan Dynasty ELIMINATES the Riott Squad! But Sasha and Bayley go right at Nia with dropkicks. They bait Tamina in, drop toehold to knee! Cover but Nia breaks it and scoops Sasha. Nia tosses Sasha onto Sonya! Nia drags Bayley up and tosses her out the other side. Fans duel as Nia aims at Bayley. Bayley slowly drags herself up, but Sasha saves Bayley as Nia runs in! Nia DESTROYS a pod!! The Irresistible Force all but eliminated herself and Tamina is in shock! Tamina also realizes she's all alone. Fire & Desire go after Tamina with kicks and knees, then Sasha adds Meteora! Bayley adds the Macho Elbow! Cover, everyone else ELIMINATES the Samoan Dynasty! The two teams to start are the two teams left!
Fire & Desire and Boss & Hug get up on opposite ends, and start brawling! Sonya knees Sasha while Mandy knees Bayley. Bayley throws Mandy out but Mandy yanks her in for another knee. Sonya makes Sasha watch as Mandy drags Bayley up. Double underhook but Bayley resits. Bayley feeds Mandy to Sasha's stiff knee! Sonya rolls Sasha! TWO and into Bayley's knee! Backstabber to Bayley2Belly! Cover, Mandy breaks it just in time! Bayley and Sasha regroup and chase Mandy. Mandy climbs chains and fights Sasha off, but Bayley cuts her off at the top of a pod. Sasha pursues and Mandy is isolated! Sasha clubs Mandy down and then she helps Bayley up. The best friends drag Mandy up, slam her into the Plexiglas, then take aim at the ring.
Sonya hurries up to help Mandy! They fight and Bayley sends Sonya back down. But Mandy sends Bayley down! Sonya spears Bayley into a pod corner! Sasha hurries down to check on Bayley, but then goes right after Sonya. Sasha throws Sonya into chains but Mandy throws Sasha into a pod! Mandy drags Sasha up, double underhook, butterfly facebuster! Cover, TWO!!! Sasha survives and Mandy is shocked! Mandy covers again, TWO! Mandy drags Sasha up and throws her into a post, then regroups with Sonya. Wheelbarrow and Sonya runs in, but Sasha dodges! Sonya SPEARS Mandy! Sonya staggers up into the Bank Statement crossface! Sasha's bad arm keeps it from completing, so she uses her own legs for a modified clutch! Sonya taps, Sasha & Bayley win!!
Winners: The Boss & Hug Connection, Sasha Banks by submission; inaugural WWE Women's Tag Team Champions
The dream comes true! Not just for Sasha & Bayley as best friends, but for all of the women in the WWE! The Boss & Hug Connection is stronger than ever, will they take this inaugural reign all the way to Wrestlemania?
In-ring interview with the new tag team champions.
This victory made history, and fans feel "You Deserve It!" Bayley is at a loss for words, and Sasha starts tearing up. Sasha manages to say "Nobody knows how hard we fought to get these." If only the WWE Universe knew. This isn't just for them, this is for the entire Women's Division. This is just the beginning, there is more change to come. The Boss & Hug Connection will lead the way as your new Women's Tag Team Champions.
SmackDown Tag Team Championships: The Miz & Shane McMahon VS The Usos!
Jimmy and Jey don't see the A-Lister and Shane O'Mac as a "real" tag team, but the Best Tag Team in the World are the champions. Will the underdog champions manage to defeat one of WWE's best? Or will they end up in the Uso Penitentiary like so many before?
The Miz comes out a mic to first congratulate the Boss & Hug Connection on making history. And then he dedicates this match to his family, from his dad to his daughter, to his wife Maryse! Maryse is here! "We always said when we had a huge announcement, we would announce it right here in the WWE in front of all of you." And tonight, the Must-See Family has a huge announcement: "We're having another baby!" Miz still has it. And with such happy news, Shane comes out to congratulate Miz & Maryse before he and Miz head to the ring. The Usos finally make their entrance, then the belts are raised and we begin.
The teams sort out and it's Miz starting against Jimmy. Jimmy and Miz circle and tie up. Jimmy gets a headlock but Miz powers out, only for Jimmy to run him over. Things speed up and Miz goes to hip toss, but Jimmy counters to a fireman's carry. Miz slips out, A-Lister combination denied at the backbreaker. Jimmy whips but gets caught into the Figure Four. He pushes Miz away and tags in Jey. Miz narrowly avoids the double superkicks! Shane and Miz talk but Miz is okay. MIz circles with Jey and they tie up. Miz gets a waistlock but Jey elbows out. Jey whips but Miz reverses and hits the kitchen sink knee. Miz mocks the Uso chant before hitting the A-List lariat.
Tag to Shane and Shane goes to the other corner! Jimmy knows what that means but Shane fights him off! Shane sweeps the legs, then rocks Jey! Slingshot sunset flip, TWO! Shane throws fast hands then whips. Miz tags in as Shane elbows Jey down. Miz adds the low boot, then Shane drops an elbow. Shane and Miz double clothesline Jey out, but Jimmy runs in. Miz hip tosses Jimmy, and then the champs double clothesline Jimmy out! Houston fires up as Shane and Miz mock the Uso chant together. Jimmy and Jey regroup and talk strategy. Jey rushes Miz but Miz dodges to throw haymakers. Miz puts Jey in a corner for It Kick! Jey gets a headlock and Jimmy tags in. Miz powers out but walks into a flapjack hotshot! Jimmy stalks Miz and rocks him with an uppercut!
Jimmy chokes Miz on the ropes but lets up at 4. Jey gets a cheap shot, and then Jimmy rocks Miz again. Tag to Jey and the Usos isolate Miz for a corner forearm. Jimmy tags back in and the Usos mug Miz to split the wishbone. Jimmy wraps a chinlock on but fans rally up. Miz fights out but Jimmy shoves him back to clobber him with a clothesline! Jimmy drags Miz over and tags in Jey. The Usos stomp Miz down, then Jey wraps on a chinlock. Fans rally up again and Miz fights his way up. Miz reaches for Shane while fighting back, but Jey throws him down. Tag to Jimmy, and he rips Miz's shirt off. Jimmy throws it at Shane but Shane catches it. Jimmy rocks Miz with an uppercut then whips him to the open corner. He copies the A-List lariat!
Jimmy grins as he goes corner to corner, but into Miz's STO! Both men are down while fans rally up. Miz and Jimmy crawl, hot tags to Jey and Shane! Shane rallies on both Usos, and pump kicks Jey down! Shane whips and back drops Jey! Fans fire up as Shane circles Jey. Big right rocks Jey! Float-over DDT for Jimmy! Then one for Jey! Cover, TWO! Shane keeps his cool as he drags Jey to a corner. Jimmy's in another corner, and Shane climbs up top. Shane leaps and hits Jimmy with Coast 2 Coast! But he doesn't stop there, he climbs up again to aim at Jey! Shane leaps, for a SUPERKICK! Jey climbs, Uso Splash! Cover, but Miz saves Shane! All four men are down but stirring.
Fans build to a rally as Miz returns to his corner. Shane crawls and Miz reaches, hot tag brings in Miz! Miz springboards for an ax handle! And even he's surprised that worked! Miz fires up and gives Jey more kicks! Miz runs but into a Samoan Drop! Jey fires up now as he goes corner to corner, but misses the hip attack. Miz kicks the legs out, basement DDT! Cover, TWO! Miz keeps his cool while Jey rolls out. Miz wrecks Jey with a dropkick! Fans anticipate what's coming, and Miz clears off the announce desk! Miz and Jey brawl, Jimmy DIVES but gets his brother! Miz boots Jimmy down!
The Usos are down, the table is cleared, and fans are fired up. Miz puts Jey on the desk while Shane drags himself to the top rope. Shane leaps, for the elbow through the table!! Miz checks on Shane while Houston loses their minds! Miz puts Jimmy in, blocks the Superkick but Jimmy denies the Finale. Roll up, TWO, roll up, full nelson! Jimmy throws Miz off, SUPERKICK! Jimmy climbs up top, Uso Splash! But MIz gets knees up! Cradle cover, TWO, Skull-Crushing Finale!! COver, TWO into a crucifix!! The Usos win!!
Winners: The Usos, Jimmy Uso pinning; NEW SmackDown Tag Team Champions
The Best Tag Team in the World and the SmackDown Tag Team Champions are no longer Miz & Shane! Jimmy drags his brother from the wreckage, and the twins celebrate the start of their sixth reign! Miz helps Shane up from the wreckage now, and the two walk to the back together. Fans cheer them on for the great effort, but with no rematch clauses, how will they get a chance to take those titles back?
Backstage interview with Bobby Lashley and Lio Rush.
This is easy money, it'll be two versus one. But with the trend of new champions, will there be another? Is Lio going to be a weak link? Granted, they can work together, but perhaps Finn Balor can get Lashley out of the way to pin Lio to win the title. Lio tells Dasha that they all know that. But Finn can't capitalize and win. Lashley & Lio have the advantage, they're the top of the food change. No one is stronger and more dominant than Lashley, and Lio. Relax, big man, Lashley's the steak, Lio's the sizzle. So Lio isn't worried even after Finn beat him two weeks ago? No. Enough talk, the match is next!
WWE Intercontinental Championship Handicap Match: Bobby Lashley & Lio Rush VS Finn Balor!
The Man of the Hour has a point: the odds are in their favor. But the Extraordinary Man knows how to defy odds and win when no one thinks he can. Can Finn do all that again tonight and take the title from the Rocky Mountain Machine? Or will he simply be dominated?
Introductions are made, the belt is raised, and Lio convinces Lashley he'll start. The bell rings, and Lio tags right out to Lashley! Lashley and Finn tie up, and Lashley knees low and clubs Finn down. Fans boo as Lashley flexes, but Finn kicks back! Finn runs and throws forearms, then more kicks. Lashley knees low again, then stands on Finn's chest. Fans rally as Lashley stomps Finn. Lashley whips but Finn dodges to hit flying forearms! Finn chases Lio off but Lashley gets away. Lio and Lashley regroup on the outside and talk strategy. Finn waits as Lashley returns. Lashley gets a waistlock and throws Finn down. Lashley bumps Finn off buckles and then throws a throat chop. He clubs Finn then throws forearms into the back. The ref counts as Lashley chokes Finn again, and Lashley backs off at 4.
Lashley whips Finn corner to corner, but Finn dodges! Finn swing kicks Lashley down then hurries up top! Lio distracts and Finn chases him off. Finn slingshots but Lashley denies the sunset flip with a stomp. Lashley stomps Finn more then drags him up for a powerbomb. Finn slips out and back drops Lashley out! Lio panics as Finn builds speed, and Lio manages to swipe his feet! Finn chases Lio, but runs into Lashley's tackle! Fans boo as Lashley stands over Finn and Lio hypes him up. Lashley lifts Finn to ram him into the apron! Lashley puts Finn in, drops an elbow, and covers. TWO and Lio tags in. Lio mocks the Too Sweet and he kicks Finn while he's down. He eggs Finn on as he throws haymakers and stomps away in a corner.
Finn throws Lio into the corner! Lio runs away and tags Lashley! Lashley clobbers Finn! Cover, TWO! Lashley stays on Finn with a cobra clutch. Fans rally up as Finn endures. Finn powers up and fights out with body shots. Lashley gets Finn with a complete shot! Cover, TWO! Finn lives and Lio is livid! Lashley tags Lio back in and Lio puts Finn in an abdominal stretch. Finn endures as Lio flexes. Fans rally again and Finn powers his way out to a hip toss! Lio crawls to the far corner, and Finn runs in, only to get boots. Lio hops up but Finn ducks under, tag to Lashley! Finn runs into another tackle! Lashley rams his shoulder in again and again, then runs in for another tackle.
Lashley flexes but fans boo and jeer. He puts Finn in the corner again, runs in for another tackle, then lifts Finn HIGH for a spinebuster! Fans continue to boo as Lashley takes aim. But Lio tags in? Lio says he can finish this for them. Lio leaps for the Final Hour, but Finn dodges! The splash flops and Lashley panics. Finn and Lio slowly stand, and Finn stays between Lio and Lashley. Lio kicks but Finn catches it! Lio reaches but Finn reels Lio in for forearms. Finn hits Lashley, then double stomps Lio! Lashley runs in but gets a slingblade! Finn clotheslines Lashley out, then tosses Lio out onto him! Finn FLIES onto them both! He puts Lio in quick, shotgun dropkick blasts Lio down! Finn climbs up high, COUP DE GRACE! Cover, Finn wins!!
Winner: Finn Balor, by pinfall; NEW WWE Intercontinental Champion
Finn gets away from the angry Almighty, and is celebrating with Balor Club! Will the Extraordinary Man take this title all the way to Wrestlemania?
Lashley is angry with Lio. Lio is the only reason things went sour for them! And he grabs Lio around the head! Lio begs Lashley forgive him, he is sorry. Lashley lets Lio go, only to lift and slam him! The Rocky Mountain Machine is done with all the hype. Will Lashley be able to find his way back to the title? Is it back to 205 Live full-time for Lio?
In-ring interview with Charlotte Flair.
When did she find out Vince McMahon was going to use her to replace Becky Lynch at Wrestlemania? "Life is good when you're Charlotte Flair!" The Queen is going to Wrestlemania, and she got to humiliate Becky at the same time. Becky should've learned by now that this is her own fault. She can't let anything go. Becky panders to the WWE Universe! She needs the fans to love her! But Charlotte doesn't need anyone else's affirmation. Charlotte knows that she is THE very best in the WWE today! Fans still chant for Becky, though. But Charlotte will be ringside to watch Rowdy Rousey VS Riott, to see who main events against her.
Raw Women's Championship: Ronda Rousey VS Ruby Riott!
Liv Morgan & Sarah Logan fell short of getting the tag titles, but the Squad Leader still looks to shake up Wrestlemania by shocking the world tonight. Is it possible that Ruby can dethrone the Baddest Woman on the Planet? Or will Ronda be the one constant in the Wrestlemania Raw Women's Championship picture?
Introductions are made, the belt is raised, and Charlotte takes a seat as the match begins. Ruby kicks low and throws fast hands on Ronda! Ronda gets Ruby off her to then throw her around! Ruby scrambles out to catch her breath but Ronda eggs her on. Ruby takes her time returning while Ronda paces. Ronda rushes Ruby but Ruby bails out again. Ruby slowly returns, but uses the ropes as defense. She then throws forearms and kicks! Ronda still throws Ruby down! Ronda scoops Ruby, for Piper's Pit! And then while pointing at the Wrestlemania sign, ARMBAR! Ruby taps, Ronda wins!
Winner: Ronda Rousey, by submission; still Raw Women's Champion
Ronda stares Charlotte down. The Queen isn't who she wanted, but Ronda is more than happy to take her frustrations out on her. Charlotte is still confident as she walks up to the ring. Charlotte and Ronda stand face to face, but wait, is that Becky!? Becky is on crutches but she's still making her way from the crowd to the ring! Becky puts the crutches in and rolls into the ring. Fans cheer her on but Charlotte mocks Becky at how hard it is for her to join them. Becky ignores Charlotte to look at Ronda. Ronda stares back, and then Becky fires off on Charlotte!! Becky seems fine enough to smack away on the woman replacing her!
Ronda takes up the other crutch?! Ronda aims at Charlotte with it, but then Becky SMACKS Ronda! The Man takes her anger out on both women going to Mania over her! Security rushes the ring but Becky keeps going! Becky finally stops but Houston is thunderous for the Straight Fire! Becky leaves peacefully with security escorting her out. Ronda is furious and Charlotte is in a daze. Will Becky's actions only make things worse for her?
No Disqualifications: Braun Strowman VS Baron Corbin!
As the Monster Among Men told us earlier today, he plans on making this a happy ending for himself, and a nightmare for the Lone Wolf. Will Corbin regret ever angering Strowman to this point? Or will he have another scheme up his sleeves to screw Strowman over?
The fans chant "Get These Hands!" as the bell rings. Corbin throws his vest at Strowman! But Strowman rocks him with an uppercut! Corbin bails out and Strowman gives chase. Corbin SMACKS Strowman with a kendo stick! And another SMACK, and antoher SMACK! Corbin has Strowman staggering about the ring with every SMACK! Corbin dedicates the next SMACK to the fans. Strowman gets to a corner so Corbin wedges the stick into the opposite corner. Corbin whips but Strowman reverses! Corbin slides out to avoid the stick, then slides back in only to get an uppercut! Strowman squashes Corbin in a corner! Corbin goes back for the stick but Strowman takes the stick from him! They fight over the stick but Strowman's one hand beats Corbin's two!
"I don't need a kendo stick to whoop your ass!" Strowman breaks the stick then clubs Corbin down! Fans fire up with Strowman while Corbin bails out. Strowman comes around the corner and blasts Corbin into barriers! Strowman takes another lap, but Corbin throws an arm chair! And Strowman catches it! Corbin runs and Strowman chases, but Corbin sends Strowman into steel steps! Corbin takes the steps apart and rams the top half into Strowman! Strowman staggers about but Corbin gives chase. Corbin jams Strowman with the steps again, then mocks the lap. Corbin gets speed and runs Strowman over! And then he mocks the monster's roar. Fans boo and jeer while Corbin drags Strowman up and into the ring. Corbin drags Strowman up to rock with a right hand!
Fans boo as Corbin gloats. Corbin eggs Strowman on but Strowman drags himself up. Corbin runs to rock Strowman with another right! Fans boo as Corbin gloats more. Corbin prepares a third, but Strowman clobbers Corbin instead! And then a corner splash to a big boot! Strowman roars and fans chant for a table. Strowman obliges, and finds a table from under the ring! He puts the table in the ring, then sets it up in a corner. Strowman goes after Corbin to scoop, but Corbin slips out and rakes the eyes! Corbin boots Strowman, then hops up to leap, but into the scoop! Monster Slam through the table!! But here comes Drew McIntyre! It is only natural that one of Corbin's allies would come out just as Corbin looked to be losing. McIntyre has a steel chair, but then Bobby Lashley attacks from behind!
The pack is together and they SMACK Strowman with chair shot after chair shot! Lashley and McIntyre help Corbin up from the wreckage, but Strowman stands! Strowman rocks Lashley with an uppercut! McIntyre hits the Glasgow Kiss, Lashley SPEARS Strowman down! Corbin coordinates the trio and has them bring in the steel steps. McIntyre and Lashley take the big base steps and put them in the ring. Corbin helps set them side by side, and fans boo as the three circle Strowman. McIntyre drags Strowman up to talk trash, but Strowman grabs him by the throat! Strowman grabs Lashley, but Corbin SMACKS Strowman on the back! Strowman goes down again and Corbin goes searching under the ring.
Corbin, McIntyre and Lashley get tables into the ring and start setting them up. CLAYMORE keeps Strowman down! McIntyre helps Corbin double stack the tables, then they both drag Strowman around to Lashley on top of the steps. They all lift Strowman, for a SHIELD BOMB through BOTH tables! Corbin covers, Corbin wins!!
Winner: Baron Corbin, by pinfall
This new pack of wild dogs asserts dominance over the Monster Among Men! What is to come of these three being united in their dominance and destruction?
WWE supports the Special Olympics World Games.
Support and cheer on all the athletes as they head to Abu Dhabi!
The Miz and Shane are getting checked out backstage.
Miz apologizes to Shane. He can't calm down over the loss. They're better than this! Miz dedicated this match to his entire family!! Shane tells Miz to calm down and head home. They can talk again on Tuesday. Just go home, okay? Miz does leave, but he's not happy. Will Miz cool off come SmackDown this week?
Lacey Evans heads to the ring.
The Model Soldier surprises everyone by walking out, but then she heads back? Was this her way of classing up the night?
WWE Championship Elimination Chamber!
SmackDown's incredible Gauntlet Match established who will go in last, and that is The Viper! Randy Orton takes a pod, as does Kofi Kingston, Jeff Hardy, and AJ Styles. That leaves the New Daniel Bryan to start against Samoa Joe by default!
But as Bryan makes his entrance, he shouts for them to cut his music. "Do you know what happens when a genius like myself tries to enlighten the masses?" They get punished! The WWE management has given the WWE Universe power! And what happens now? Bryan comes out and he's one of the first in the match! "Fickle!" First in the Gauntlet! "Fickle!" And now Rowan can't accompany Bryan to the ring! Bryan shouts "No!" but fans chant "Yes! Yes!" Bryan doesn't want the fans to make him a martyr, but he is suffering for the greater good. The small-minded people just repeat the same stupid phrase, and it only reminds Bryan that there is hope. The people and the planet needs the New Daniel Bryan as the WWE Champion! Bryan finally enters the Chamber, the belt is raised, and the match finally begins.
Joe corners Bryan but Bryan slips out and around the outside. Joe dares Bryan to come back but Bryan refuses. Bryan simply trolls Joe while waiting out the clock. Joe waits and Bryan enters the ring, but he still keeps his distance. Bryan throws kicks but Joe just grins. Joe catches the next kick to give a kick! Joe kicks, Bryan catches, but Joe uses that to get at kneebar! Bryan endures, and grabs the ropes. Joe lets go and Bryan gets him into a corner. Bryan CHOPS Joe but Joe just gets mad. Bryan runs but Joe gives chase! Joe corners Bryan and CHOPS him against the steel chains! Joe drags Bryan back into the ring for a back suplex. Bryan slips out and hops up, but into a powerbomb! High stack cover, TWO, into the Boston Crab!
Bryan endures but Joe shifts to an STF! Then a crossface! Then Rings of Saturn! Bryan shifts to a cover, TWO, he dropkicks Joe's legs out! Bryan throws Joe out of the ring, then into a pod! Joe rolls back into the ring and Bryan covers, ONE! Bryan stands Joe up for a chop, but Joe CHOPS Bryan! Joe headbutts Bryan then kicks him in the chest and back. Bryan gets up to chop, but Joe CHOPS him again! Joe whips Bryan to a corner, but Bryan drop toeholds Joe into buckles! Bryan kicks away on Joe but the countdown finally appears! Bryan backs off to watch the pods. The next man in is… Kofi Kingston!
The Iron Man rallies on both of them! Springboard ax handle for Bryan! Kofi spin through the urenage but Joe denies the DDT. Kofi swing kicks Joe away then climbs up for a splash to the back! Cover, TWO! Bryan goes after Kofi in a corner, then hangs him out to dry on the ropes. Fans rally while Bryan climbs. Bryan leaps at Kofi for a guillotine knee drop! Cover, TWO! Bryan goes after Joe with chops, but Joe still isn't bothered by them. Joe backs Bryan down with another CHOP! Bryan runs away from Joe again, then climbs up on top a pod. Joe wants Bryan to come back but he just sits. Kofi rams into Joe with shoulders but then Joe CHOPS Kofi. Joe whips Kofi corner to corner but Kofi goes up after Bryan! Bryan wants Kofi to take it easy, but Kofi throws furious haymakers!
Bryan gets away but Kofi pursues! Joe approaches from below as the two exchange kicks. Joe drags Bryan down off the wall, but Kofi kicks Joe away. Kofi aims, climbs a little higher, and Trust Falls onto them both! All three men are down as that fall hurts Kofi almost as much as Bryan or Joe. Kofi drags Bryan back into the ring, covers, TWO! He covers Joe, TWO! Bryan throws European Uppercuts on Kofi then headlocks. Kofi powers out but Bryan runs him over. Things speed up, Kofi back elbows Bryan! Cover, TWO! Kofi keeps his cool but Joe is on him with a headbutt. Joe back sentons Bryan! Joe drags Kofi up and snap suplexes. Cover, TWO! Joe goes back to Bryan on the outside, throwing forearms and CHOPS against the steel chains! The countdown returns and the next man in is… AJ Styles!
The Phenomenal One rallies on everyone with haymakers! Phenomenal Blitz on Joe! Bryan goes after Styles and SLAPS him. Styles SLAPS Bryan, and the two brawl! Styles whips but Bryan reverses. Bryan runs in but into an elbow. Styles hops up, Moonsault but Kofi comes in. Styles catches Kofi, double DDT's! Cover on Bryan, TWO! Cover on Kofi, TWO! Styles bumps Kofi off buckles and kicks out the leg. Styles goes to Joe on the outside, slingshot for a forearm! Bryan climbs again while Styles keeps Joe down. Styles spots Bryan, and springboards up to meet him! Phenomenal Forearm takes Bryan out! Styles shoulders and slingshots on Kofi for a sunset flip, but into the Styles Clash! Kofi fights out of it, then runs, but into the Ushigoroshi! Cover, TWO! Styles keeps his cool as he goes back to Joe. J
oe covers up but Styles kicks low and then chops him. Styles throws forearms, but Joe prevents him from throwing him into steel. Joe throws Styles into the chains then back drops Styles into the ring! Joe goes after Kofi but Kofi hits back! Kofi fires off haymakers and kicks, but runs into the sleeper! Kofi copies his idea from the Gauntlet and makes it a cover! TWO and Joe still has the sleeper! Jawbreaker frees Kofi, Phenomenal Forearm hits Joe! Styles ELIMINATES Joe! The Destroyer is gone, but the countdown returns. Since we know who is last, the next man in has to be Jeff hardy! The Charismatic Enigma brawls with Styles! Hardy whips but Styles reverses, only for Hardy to run him over. Hardy atomic drops and splits the legs! Dropkick on top, cover, TWO!
Hardy jawbreakers Styles then back kicks Bryan. Hardy kicks Kofi and hits a sit-out gourd buster! Then he uses Kofi to hit Bryan with Poetry in Motion! Fans chant "DELETE! DELETE!" as Hardy stalks Styles. Styles denies the Twist of Fate with a Pele! Hardy crawls to a corner while Bryan throws Kofi into chains. Bryan grinds Kofi into steel while Styles shoves Hardy into a pod! Styles climbs up behind Hardy but Hardy fights back. Hardy trips Styles up and Styles hits post on the way down! Hardy drags Styles into the ring while Bryan laces Kofi's arm through chain! Styles is stuck on the top rope, Hardy SWANTONS on Styles! KNEE PLUS outta nowhere! Bryan ELIMINATES Hardy! Hardy put it all on the line to go after Styles, he got caught off guard.
Bryan goes after Styles now with a Tree of Woe. Bryan fires off No Kicks, then runs corner to corner to basement dropkick! Styles can't get out of the tree and Bryan puts Kofi on top. Bryan stomps Styles down then climbs up over him. Bryan drags Kofi up but Styles sits up! Styles adds on for a Tower of Doom, German Suplex and SUPERPLEX! Styles works to get out of the Tree while the others are down. The countdown returns, and finally, Randy Orton joins the match! He has his pick and first lariats Bryan down. Orton stomps Styles in the Tree, then clotheslines Kofi. He stomps Styles more, but Kofi gets his attention. Orton throws Kofi into Styles! Styles finally falls out of the Tree, but Bryan goes at Orton. Orton almost gets the RKO but Bryan backslides! TWO, and Orton hangs Bryan out to dry!
Kofi dropkicks Orton! Kofi drags Styles up, but Styles gets him with the STO backbreaker, just like the Gauntlet match! Styles drags Kofi up as fans rally. Styles whips Kofi to a corner, then runs in, only for Kofi to put him outside. Kofi turns around into Styles' forearm, then Styles springboards, into an RKO!! Cover, Orton ELIMINATES Styles! Orton grins as he watches Styles be helped out of the Chamber. But Kofi rolls Orton! TWO, Trouble in Paradise misses. Kofi kicks Orton back, then climbs up, only for Orton to trip him up. Orton drags Kofi out from the top rope, for a SUPER draping DDT! Fans duel as Orton hears the voices in his head. Orton stalks Kofi but catches Bryan in a powerslam! Orton goes back to Kofi but Kofi denies the RKO! TROUBLE IN PARADISE! Cover, Kofi ELIMINATES Orton!
Kofi is one of the final two with Daniel Bryan! Houston is thunderous for how close Kofi is to achieving a dream! Kofi and Bryan are in opposite corners, and Kofi fires himself up. Bryan and Kofi stand up stare down. They approach, and start throwing hands! Bryan kicks so Kofi kicks, and repeat! They go back and forth, but Kofi eggs Bryan's kicks on! Bryan kicks and Kofi kicks! Trouble In Paradise misses, Bryan dropkicks the legs out! Bryan dares Kofi to sit up, and starts giving him No Kick! He kicks again and again, but Kofi ducks the buzzsaw! SOS!! Cover, TWO!! Kofi was so close yet so far from finally being world champion! Houston is at a fever pitch as Kofi and Bryan reset.
Kofi runs in but misses in the corner! Fans rally up as Bryan takes his time looming over Kofi. Bryan throws angry haymakers, saying Kofi doesn't deserve to be here. Bryan gives Kofi more kicks, then runs corner to corner, for a big dropkick! And then another! And a third! A fourth! Kofi jumps out and double stomps out Bryan! Cover, TWO!! Houston is right there with Kofi on how close he was again. Kofi wills himself to his feet and to a corner. He aims at Bryan as he stands. Kofi runs but Bryan bails out. Kofi goes after Bryan and throws him into chains! He does it again and again and again! Kofi only picks up speed as he rams Bryan into steel! He drags Bryan up, bulldog but Bryan sends Kofi into the pod!
Bryan drags Kofi into the ring, and waits for Kofi to stand. Fans are not giving up on Kofi, but Bryan is taking am. Bryan runs at Kofi, KNEE PLUS! Cover, TWO!? Kofi survives and shocks Bryan! But Houston is eating this up! Bryan grows angry, and grabs Kofi's arms. Bryan stomps away on Kofi's face! And again and again and again! Cover, TWO! Bryan wants another shot, Kofi stands, TROUBLE IN PARADISE! Cover, TWO to a cradle! TWO, and Kofi kicks Bryan. Bryan catches Kofi's arm into a form of the Labell Lock! But he also rakes the eyes and nose! This isn't illegal in the Chamber! Kofi reaches and gets the ropebreak! Bryan lets go out of exhaustion. Bryan sits up and drags Kofi around. Houston declares "This is Awesome!"
Bryan climbs up top but Kofi kicks him down! Kofi climbs up and throws hands. Bryan climbs to the pod but Kofi pursues. Kofi clubs Bryan down then headbutts him against the Plexiglas. Kofi throws Bryan into it as fans chant "Yes! Yes!" He drags Bryan up, but Bryan resists. Kofi throws body shots but Bryan continues to block the risky suplex. Bryan fights and now he bounces Kofi against the Plexiglas! Bryan decides to use Kofi's idea, but now Kofi resists! Kofi fights back and clubs Bryan down. Bryan slips down to the post but Kofi again pursues. Kofi boots Bryan again and again and sends him all the way down! Kofi stands, leaps, but FLOPS! Bryan aims from the corner, KNEE PLUS!! Cover, Bryan wins!
Winner: Daniel Bryan, by pinfall; still WWE Champion
The New Daniel Bryan survives the Chamber by the skin of his teeth. Will the Planet's Champion ever be defeated?
As for Kofi, the New Day come out to join him. They and the fans still have Kofi's back. Houston chants "Thank You, Kofi!" because he has nothing to be ashamed of. Will they go back to the drawing board and find another way for Kofi to get that Grand Slam?
---
My Thoughts:
A really great Elimination Chamber! WWE more or less took advantage of the assumption that they wouldn't use this PPV for anything crucial and actually did that. At least, for some of this. Buddy Murphy retains because while Tozawa was doing great, I'm thinking it's someone brand new to 205 Live that'll finally take it from Murphy. AKA Kushida. The Women's Tag Team Championship Chamber match was of course new and historic, and it was pretty good for having a few superstars who aren't exactly the best. All 12 women got to look strong, but it was good for the IIconics to be later in the match so that they could pick on the others. Naturally Bayley and Sasha win, it is their story, and they were even matching the belts with their gear. I'm still waiting to see how they'll make these belts work on both brands.
I did not think The Usos were going to win those titles. There was the new of Jimmy's DUI, but it seems the Usos and Naomi had a counter of wanting to leave. The WWE gave the Usos their win to keep them and will likely worry about punishing Jimmy for the public incident some other way. But the match was great, and this does help give Miz & Shane a new dimension to the story. Though I have a feeling that this might be what brings us to Miz VS Shane. That's a bit of a shame, but I suppose this would be a good way of doing it. But I did see Finn Balor getting that Intercontinental Championship off of Lio Rush. That seemed to be the only reason for the Handicap stipulation, because Vince still doesn't see Finn being able to beat a beefy guy directly.
Of course, it also helps give Lashley energy left over to beat up Strowman with his real friends. No Disqualifications was obviously for this to happen. Corbin, Lashley and McIntyre taking the Shield triple powerbomb to the extreme was an interesting choice. If Roman Reigns was healthy, I would think this would lead to Corbin, Lashley and McIntyre taking on a once-again-reunited Shield at Wrestlemania. Even with Dean Ambrose supposedly leaving after Mania, one last ride with his brothers would be a great match for him to have at Wrestlemania, and it could be a feel-good send-off moment when the Shield stands tall for one last fist bump.
We all knew Ruby Riott was going to lose, but Ronda sure beat her quickly. Ruby should stick with Liv and Sarah and try to Freebird the Women's Tag Titles. As for the rest of the Raw Women's Championship segment, it was amazing! Becky surprises us, and then her beating both Charlotte and Ronda up with the crutch was a lot of fun. This wasn't the route I pictured for the Triple Threat but it's working out. Now if only Asuka would have something lined up. Lacey Evans randomly showing up was just weird, but maybe she is their choice to build for Asuka in the home stretch. Then after a huge block of WWE's own ads, we finally get to the world title chamber. It was really good with how they played on all the story, and it was perfect to have Bryan start and Kofi hang with him.
In the back of my mind, I knew Kofi wasn't going to win, but they did such a great job making it seem like Kofi could've pulled it off. It is a shame Ali wasn't getting this same shine because of injury, but Ali will be back and can continue where he left off. Fastlane is coming, and that will surely be used to determine the next challenger. A lot of it depends on Ali's physical health, so anything could happen. It'd be great if Kofi got another chance, but the New Day have said Kofi will get the title in 2019, so it doesn't have to be at Mania, even if Mania is the place for such great moments.
My Score: 8.3/10
Mitchell's Women of Wrestling Results & Report! (2/15/19)
How will WOW address last week's unclear ending?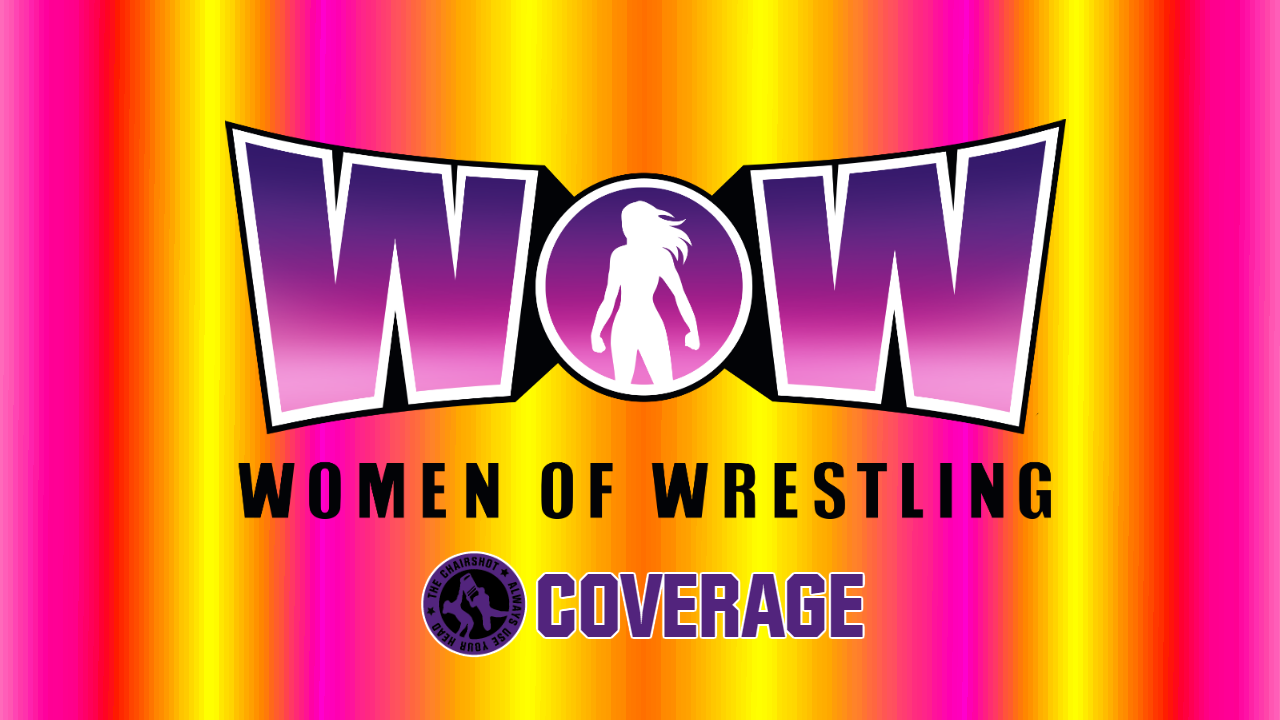 WOW ended with controversy last week as both Santana Garrett AND Jungle Grrrl got the pin on Tessa Blanchard! Who is truly the world champion?!
OFFICIAL RESULTS
Havoc VS Fire; Havoc wins.
Kristen Davidson w/ Samantha Smart VS Chantilly Chella; wins.
Razor w/ Fury VS Faith the Lioness; Faith wins.
Vacated WOW World Championship: Jungle Grrrl VS Tessa Blanchard; Blanchard wins and becomes the new WOW World Champion.
PLAY BY PLAY
David McLane again welcomes us to WOW!
The matchmaker knows last week's star-studded Triple Threat for the Women of Wrestling World Championship was wild but also ended in a double pin. Jungle Grrrl hit her splash but Santana Garrett also covered Tessa Blanchard's legs for an impossible scenario. Senior official Scrappy McGowan came out to ensure the integrity of the title, and chose to postpone awarding it until after the officials could properly review the footage.
And tonight, that long awaited decision is made. McLane holds up the currently vacated title as he first introduces Jungle Grrrl. He would introduce Santana, but the despicable acts Tessa Blanchard did to her father, Keny G, Santana is with her father at the hospital. That is tragic, but the show must go on. So the other competitor for this vacated title will be the Born Legend, Tessa Blanchard! Tessa hits the ring and takes the mic while fans boo and jeer. Tessa says Santana isn't here not because of her dad. Santana's not here because she's afraid! Santana isn't here because she needs oxygen just like her daddy. But Tessa is fine with that, she'll take on Jungle Grrrl or any woman in WOW. Even if it's the biggest and baddest- Speaking of, here comes the biggest and baddest, THE BEAST!
Beast introduces herself to Tessa. And if Tessa wants the biggest and baddest, here she is! McLane and the fans agree. Tessa says the bigger they are, the harder they fall. These two may be big and bad, but Beast and JG aren't on Tessa's level! Tessa starts shoving but JG scoops her up! Tessa slips out and shoves JG into Beast! Beast fights with JG while Tessa runs away! Fans are thunderous but officials hurry to pull the Queen of the Amazon and the Alpha Female apart! Will Tessa regret standing between these two Women of Wrestling?
Introducing: Havoc.
The Monster of Madness started her career 15 years ago, during a time when Women's Wrestling wasn't taken as seriously. "From the very beginning, people were telling me, 'You're not gonna make it very far here'." They said she was too big, too different, and she struggled for those first few years. Havoc was trying to figure out who she should be, when one day she realized, she only had to be what she wanted to be. Havoc transformed herself and embraced the darkness.
The "Women's Revolution" only just started a few years ago, with all these "glamorous girls" showing off what they worked so hard for, when it was women like Havoc who put in the work and carried the load. "There is a reason when these women get in the ring with me, they stare at me from across the ring, terrified." The mask comes off, and she unleashes the monster! Who will be the first Woman of Wrestling to lose to the madness?
Havoc VS Fire!
The Monster of Madness makes her WOW TV debut and it's against the fan favorite who finally got on a hot streak. Will Havoc put out the flames? Or will she be burned in her debut?
The bell rings and Havoc rushes Fire! Fire dodges and keeps her distance. Havoc laughs as she gives chase, but Fire keeps away. Fire ducks down but Havoc catches her by her hair! Havoc throws a heavy forearm then gets in the ref's face. Havoc drags Fire up and clams on, to lift Fire high over head! She throws Fire to a corner, then shrieks while fans boo and jeer. Havoc runs in but Fire dodges! Fire comes back with a dropkick! And a corner splash! Fans fire up with Fire as she fires off kicks! Havoc stays up as Fire runs. Fire dodges to dropkick again, but Havoc stays standing. Fire tries a second but Havoc only steps back. Fans fire up as Fire runs, but Havoc boots her right down! Havoc shrieks again as she drags Fire up. Havoc thrashes Fire around and tosses her to the ropes!
Fans continue to cheer Fire on but Havoc is right on her at the ropes. Havoc chokes Fire but then stops at 4. She shouts at the ref to back off, then grins as she stalks Fire to a corner. Havoc puts Fire in a full nelson, then lifts for a stretch! Fire endures while fans rally up. Havoc shifts to a waistlock, wheelbarrow facebuster! Cover, TWO! Fire survives and Havoc is shocked. Havoc stretches Fire back in a modified camel clutch. Fire endures as Havoc gets the full clutch on. Havoc also pulls hair but the ref counts. Havoc clubs Fire down at 4! Fans rain down boos while Havoc looms over Fire. Havoc lifts Fire and snap suplexes hard! Havoc drags Fire to the center and says this is the end. Leg drop misses!
Fire fires back kicks! And a mule kick! Havoc's down, Fire covers, TWO! Fire climbs up fast, big crossbody! But Havoc catches her easily! Havoc pops Fire up, Air Raid Crash! Cover, Havoc wins!
Winner: Havoc, by pinfall
The Monster of Madness wins her debut and soaks up the heat. Will she only continue to wreak havoc on the WOW roster?
WOW reports on a recent incident with one of their wrestlers.
Keta Rush was jumped in the arena alley after a WOW live event. McLane and Keta went to the production truck to examine the footage to shed light on the assailants. The security cameras caught it all as Keta was jumped 2v1. To think it was someone Keta thought of as a friend. Keta wants after her in the ring, but will she get the payback she wants?
Kristen Davidson w/ Samantha Smart VS Chantilly Chella!
The Disciplinarian and her supervisor want all the other Women of Wrestling to fall in line, and now they look to straighten out WOW's number one party girl. Will Davidson and Smart have fun ruining Chella's fun?
The bell rings and Chella gets the fans hyped up. Davidson just sneers as she lunges at Chella. Chella ducks and rolls and has a good time, but it only annoys Davidson and Smart. Chella and Davidson tie up and go around. Davidson pulls Chella's hair and puts her in a corner. Davidson gets right in Chella's face about her behavior, but Chella doesn't get what's so bad about partying. Chella simply wishes Davidson peace, but Davidson swings on her! Chella dodges and headlocks back. She gets the headlock takeover, but Davidson stands up. Davidson lifts Chella but Chella counters with another takedown! Davidson prevents a cover and manages to get a headscissors! Chella gets out and gets the headlock back!
Davidson gets up again and pries out to a hammerlock. Davidson gets the headlock now then shifts to a snapmare. Chella handsprings through to get the headlock back again! Davidson powers out but Chella hops up for body scissors, only to get a spinebuster! Cover, TWO! Davidson trash talks Chella and clubs her, then hits a running neckbreaker! Cover, TWO! Smart grows annoyed but Davidson stays on Chella at the ropes. Davidson chokes Chella but the ref backs her off. So Smart chokes Chella while he's not looking! Smart gets away with it and Davidson drags Chella back up. Davidson gourd busters Chella, then drops the double stomps! Cover, TWO! Davidson keeps her cool as she whips Chella. Chella body scissors again, but into a wheelbarrow facebuster! Cover, TWO! Chella still lives and Smart is annoyed.
Davidson clubs Chella to the ropes, and Smart SMACKS her with the ruler! The referee warns Smart while Davidson puts Chella in a corner. Davidson whips corner to corner but Chella goes up and over to sunset flip! TWO, and Davidson hip attacks Chella fast! Then she goes side to side for the wash! Davidson drags Chella to a cover, TWO! Fans fire up for Chella but Davidson stays on her with a clutch. Chella endures and fans rally up. Chella powers up but Davidson clubs her down! Davidson drags Chella up into the fireman's carry, but Chella fights out! Chella shoves and kicks away! Davidson swings but Chella bobs 'n' weaves! Chella says "Peace!" then sweeps the legs! Chella fires up and hits Meteora! Cover, TWO!
Chella keeps going, hitting a shining wizard in the corner! She rolls Davidson out then heads up top. Davidson staggers, big crossbody from Chella! Cover, TWO!! Chella can't believe she didn't get that. She swings a kick but Davidson ducks! Davidson fireman's carry, TKO Neckbreaker! Cover, Davidson wins!
Winner: Kristen Davidson by pinfall
The Disciplinarian scratches off one wild child, but with a lot of help from Ms. Smart. Who else will learn not to mess with Davidson and Smart?
Razor speaks.
"Who's next on the Psycho Sisters' devastation list?" Oh, it's the Lioness! "Faithy Jay, you think you're from the streets?" Razor IS the street! The streets raised Razor. She left everything in the street. You think facing Razor is just facing another wrestler? Razor gets what she wants and never backs down. When you step to her, you'll feel the Razor's Edge. That WOW first-time show down is next!
Reintroducing: Faith the Lioness.
Growing up, her parents encouraged Faith to be herself and never change to fit someone else's ideals. People have said she's too tall for this or too thick for that, but she defies them to become who she is today. From ballet to rap to kickboxing, Faith has always had pride in who she was. She wants to blend dancing, music and wrestling into one, but her debut was a bit rough against The Beast. But even so, like a lion, she faces everything without fear. Faith was able to accept her defeat because of how great her debut felt. She can't really put the feeling into words, but she knows she wants more. Losing only makes you stronger, because it's about getting back up. Will Faith stand strong and get that first win?
Razor w/ Fury VS Faith the Lioness!
The Daughter of Darkness had her WOW TV debut and was successful. Now it's time to see if the Vanguard of Violence can do the same. Will Razor cut down Faith's pride? Or will the lioness finally sink her teeth into a victory?
The bell rings and the two approach fast and furious! Faith pushes Razor but she turns it around to put her in the corner. Razor SLAPS Faith, so Faith shoves Razor! Faith gets a headlock takeover fast, and grinds Razor to the mat. Razor stands up and powers out, only for Faith to run her over. Things speed up and Faith shows her agility! She gets another headlock takeover! Razor headscissor counters but Faith pops right out. They speed up again, Faith goes Matrix! She mule kicks and whips but Razor reverses. Fury swipes at Faith's feet, and then Razor clobbers her! Cover, TWO! Razor grits her teeth as she drags Faith up and clubs her down. Razor stomps Faith to the ropes, then fakes an eyelash in her eye. The ref doesn't see Fury choke Faith on the ropes!
Fans boo as Fury gets away with it, and Razor goes after Faith in a corner. Razor clubs away then whips corner to corner. Razor runs in for a big splash! She snapmares Faith down hard, then heads to a corner. She runs out, but Faith dodges the senton! Faith Penalty Kicks Razor, then scoop slams her down! Cover, TWO! Faith keeps her focus as she heads to a corner. She hops up but Razor clubs her down! Razor drags Faith up for another hard snapmare, and into a chinlock. Razor grinds Faith to the mat but fans rally up. Fury trolls the fans while Faith feeds off their energy. Jawbreaker frees Faith! Razor staggers while Faith runs, but Razor runs her over! Cover, TWO!
Razor grows frustrated and she takes it out on Faith with more clubbing forearms. But Faith CHOPS back! Faith runs into a kick, and Razor hits The Stroke, half-nelson facebuster! Razor doesn't end it there, she drags Faith up into a camel clutch! Faith endures as Razor grinds her forearms and digs her nails in! Faith gets an arm free, and then the other! She slips out the back but Razor clobbers her! Razor stomps Faith then bumps her off the mat. Faith crawls to a corner but Razor stomps her again. Razor grabs the arms for a surfboard stomp! Razor drags Faith to a cover, TWO! Faith lives and Razor is furious! Razor bumps Faith off buckles hard, then throws CHOPS! Razor whips corner to corner and runs in, but Faith boots her back! Faith roundhouses Razor down!
Fans fire up as Faith climbs up high. But Fury goes after a leg! Faith kicks Fury away then leaps at Razor for a BIG missile dropkick! Cover, Faith wins!!
Winner: Faith the Lioness by pinfall
The fans give a standing ovation for Faith's first WOW TV victory! But Fury ruins the moment by attacking from behind! The Psycho Sisters beat down Faith, then toss her out of the ring! Fans boo but the damage is done. Will Fury and Razor continue to do what they want to every Woman of Wrestling they encounter?
Coming soon: Nikki Krampus.
As her last name suggests, the Norwegian Nightmare embodies the fearsome might of the punisher of misdeeds. She makes her debut next week, who will be the first to face their retribution?
Vacated WOW World Championship: Jungle Grrrl VS Tessa Blanchard!
The Born Legend loves to talk trash about the Wonder Woman of Wrestling, Santana Garrett, but she should actually be thankful to her. If not for that double pin, Tessa would have lost last week's Triple Threat and the Queen of the Amazon would again reign. Now there's a second chance for the third-generation wrestler, will she make the best of this golden opportunity?
Introductions are made, the belt is raised, and the streamers fly! Fans are already fired up with the bell, and Tessa circles with JG. They tie up, Tessa gets a wristlock. JG rolls and rolls to get free but Tessa backs off. Tessa and JG tie up again and Tessa gets a waistlock. JG standing switches but Tessa snapmares through to a chinlock. Tessa grinds JG down but JG gets up and works her way out. JG gets a keylock but Tessa reverses to a hammerlock to roll JG! ONE, and JG sweeps to cover! ONE, and Tessa returns the sweep, ONE! Tessa gets up but JG scares her off with a step! Tessa bails out and gets a breather. JG lets Tessa take her time, and Tessa returns to tie up again.
JG gets the headlock now and grinds Tessa down. Tessa tries but can't power out of JG's grip. Tessa fights with body shots and powers out, but JG runs her over! JG runs but Tessa speeds things up, only to run into a dropkick! Tessa scrambles to a corner and JG whips. Tessa reverses and rocks JG with a forearm against the ropes! She whips JG into ropes, then runs, but JG dodges the rope attack just in time! Tessa hits the ropes herself and is stinging! Fans rally up as JG drags Tessa up in a waistlock. Tessa standing switches and pushes JG to forearm her on the rebound. Tessa runs again, and dropkicks JG into the ropes! Cover, ONE!! JG is tougher than Tessa thought, but Tessa keeps her cool.
Tessa stalks JG to a corner to rock her with another right forearm! She whips JG corner to corner, then runs in, but into a boot! JG hops up but Tessa sweeps the legs! Draping code breaker! Cover, ONE!? Tessa is shocked JG is this tough! Fans rally up and it only eggs Tessa on. Tessa drags JG up to whip, but JG reverses to another dropkick! Both women are down and crawling for opposite corners. They run at each other and JG hits lariat after lariat! JG hits a corner shining wizard, then a BIG German Suplex! Bridging cover, TWO! JG gets up and drags Tessa up. JG fireman's carry while fans duel. Tessa fights out, to a hammerlock, but JG powers out! JG hits a leaping knee! Then a scoop but Tessa slips out! Tessa wrenches, sweeps the legs, armbar!
JG endures as Tessa makes the armbar part Triangle! But the legs are on the throat, that's a choke, the referee will not count this submission! JG powers up as Tessa keeps squeezing. JG deadlifts Tessa but bombs her into the referee! The referee is down and out of the ring! JG scoops Tessa, Jungle Driver!! JG keeps going, climbing up top. Fans fire up as JG leaps, Jungle Splash!! Cover, but there's NO ref to count! JG's had Tessa down for more than long enough but where's a ref?! Here's the BEAST instead! The Beast SPEARS Jungle Grrrl! Fans are thunderous as Beast drags JG up again, for the BEAST BOMB! The Alpha Female decimates JG and then drags the ref into the ring! Tessa crawls to a cover, the ref counts it, Tessa wins!!
Winner: Tessa Blanchard, by pinfall; NEW WOW World Champion
The Beast has made her mark! The Born Legend is the new champion, and Jungle Grrrl was pinned for the first time in her WOW career! But of course, The Beast still wants the belt for her own, and Tessa shouts that she's not afraid. Will Tessa be able to retain when The Beast is the one who helped her win? What will former WOW World Champion, Santana Garrett, have to say about this?
---
My Thoughts:
What a wild episode of WOW! Havoc, who is of course Jessicka Havok, had a decent delivery of her promo. She gets points for taking up the banner of the independent wrestling women who got the ball rolling for the Women's (R)Evolution as coined by WWE. But she loses points for me for being yet another of the "inner darkness" kind of Heels I'm seeing in not just WOW but a few other promotions. Be proud of being big and tough, but be different. Especially when the Psycho Sisters are already filling that role of the dark, edgy Heels. Unless she becomes the third sister…
Razor VS Faith was a good match, and Faith is clearly talented. Faith feels like she could get a top Face push down the road the way she was booked against The Beast and then here against Razor. I'm still thinking the WOW World Tag Team Championships are going to be revived and a team like the Psycho Sisters would be a top Heel choice for those. Davidson VS Chella was an okay match, but there are a lot of Heels with Managers right now. I'm wondering if Davidson & Smart will get a dedicated opponent for the story their gimmick tells.
Of all the possibilities for their world title, I didn't think they'd reset with Santana bowing out. That's a great Face move putting family over career but it really gave Tessa Blanchard a big second chance. I did call The Beast getting involved, and it worked out perfectly to get some heat on both her and Tessa. Jungle Grrrl VS The Beast is still coming, no doubt about that. That match might be hotter than Santana coming back to get at Tessa. Not only that, but I'm hoping WOW decides to give us an episode where it's just those two matches so that each one gets 20 to 25 minutes. As fun as it's been to always have three to four matches a night, having two amazing matches would really help WOW gain some momentum.
My Score: 8.3/10