Dragon Gate The Gate of Victory Results & Review (10/2/2018)

Welcome back to Dragon Gate and this is the second to last show before Shingo's departure in a couple days, so I decided to cover whatever the network decides to air until his departure meaning this one and the next one.
We have a special appearance in this show that I'm sure most of you know at this point and I will get to it when the actual match happens.
Let's see how this show turns out and…dive right in.
Six Man Tag Team Match
Hiroshi Yamato, Kota Minoura & Mondai Ryu vs. Natural Vibes (Kzy, Susumu Yokosuka & YASSHI)
Review: We got half of Natural Vibes opening up the show today after losing to R.E.D at the elimination tag match as Kzy, Susumu, and YASSHI will be taking on Hiroshi Yamato, Kota Minoura, and Mondai Ryu to give the fans an entertaining match to start the show. Will Natural Vibes win?
We had Hiroshi Yamato singing during his entrance, wasn't bad. The match was mostly entertaining with Natural Vibes doing their dancing around along with their tag moves together in the match and a little comedic encounter between Yamato and Kzy when she held hands and did that dance until Yamato accidentally hits Kzy in the head. The other team didn't do too bad either since it was just some random people paired off together which happens during the undercard of the show. Other than that, nothing really big happens here since it's just a regular tag match. Kota Minoura would start to get some momentum over Kzy until Kzy tried to do his Running Elbow Smash, which got reversed into a flash pin but Kzy kicked out of it. Kzy would be able to pick him up for a Piledriver as Kota kicked out of it and picked him up again for the Running Elbow Smash and Natural Vibes gets the win.
Rating: Tony Schiavone and a half
Tag Team Match
Gamma & Genki Horiguchi vs. Don Fujii & Ryo Saito
Review: We got another tag match with Roy Saito and Don Fujii teaming up again as they take on Gamma and Natural Vibes member, Genki Horiguchi. Fujii and Saito are still trying to keep the ball rolling with this tag team and I still hope it leads to something for both of these guys. Will they win to get momentum or will the odd duo pull a victory out of nowhere?
It now looks like that Ryo is wearing Fujii's gear so that they could match, think it makes sense if they're gonna be a team. This match is just a straight-up comedy match and kinda felt like that was how it needed to go for this one with the people involved in this match. Gamma and Ryo would have a sumo type of match and even did the posing for it which Ryo would win and even Hip Toss Genki when he tried to run in. Genki would tie yellow tape to Ryo's ear as Gamma would grab the other end of it to run around the hall, almost making it to the stairs as Fujii attacked Genki to make Gamma let go as well. Both Fujii and Ryo would do a neck twist to Genki and it looked like one of his braids fell off of his head and had to tag Gamma in as he tried to put Ryo in a submission till Fujii threw a water bottle at him. Both Fujii and Ryo would hit a Chokeslam on their opponents and Gamma took it horribly, like wow. Gamma would try to roll Ryo up but he pulled the back of her shorts down to have his bare ass out in the open and then the two would try to roll each other up with him still bare-assed as Ryo would get the final surprise pin for the victory.
Rating: Tony Schiavone and three quarters
Singles Match
KAI vs. Punch Tominaga
Review: It looks like KAI is set to have another match with Dragon Gate and I'm not sure if this is part of the tour or just doing another match or two, but I'll take whatever I can get with him to see him wrestle. His next match is against Natural Vibes member, Punch Tominaga and feels like it could be a rather comedic but fun match. Which one of these two will win?
Punch would attack KAI on the outside to get the first advantage over him and he does appear to have him on the ropes for the beginning part of it. It was surprisingly pretty back and forth when they were fighting each other in the match since I expected it to be completely one-sided once Punch had his little fun in the beginning, but glad it wasn't the case. KAI so far in this tour has had mediocre matches and not that they're bad, but they're just matches with nothing really standing out with them to make them memorable. The match was very short too, around six minutes as Punch would go for his Moonsault off the rope and misses and KAI would hit Punch with a Lariat for a two count. KAI would then bit a Brainbuster for another two count and picked him up for the Michinoku Driver and get the win.
Rating: Eric Bischoff
Eight Man Tag Team Match
Hyo Watanabe, Masaaki Mochizuki, Shun Skywalker & Yuki Yoshioka vs. Tribe Vanguard (Kagetora, U-T, YAMATO & Yosuke Santa Maria)
Review: We got our first and only eight-man tag match for the show as Tribe Vanguard takes on Masaaki Mochizuki's team and he kinda does have a unit with people like Yuki, Shun, and Hyo but they're not an official unit and don't have a name. Will Mochizuki and Shun get revenge on YAMATO or Tribe Vanguard wins this?
All eight of these men delivered in this match with them giving us fast-paced action throughout the entire match with both teams going back and forth, hitting their moves out of nowhere whenever someone else breaks out of a pin or hits a move of their own. Tribe Vanguard were more consistent with their maneuvers due to them being a well-established stable in this match and I gotta give it up for U-T and Kagetora for being the highlights of the match since both of these guys just did great and stood out more in the match, but doesn't take away from guys like YAMATO and Yosuke.
Mochizuki's team would also match up with them as Shun would once again deliver in the match and so did the other guys in the match to show that they very well could be a future unit in Dragon Gate if they're serious about being one or they'll just keep teaming and doing solo stuff without forming a unit, that's all up to them. When I talk about the non-stop action of the match, U-T would have someone in a Kneebar and once it was broken up, Kagetora would hit a Diving Elbow Drop out of nowhere. Mochizuki would be in a hold and Shun would try to Moonsault off the top ropes, but was being held onto by Tribe Vanguard and Yuki out of nowhere would hit the Standing Moonsault while they were too focused on Shun. U-T and Hyo would be in the ring now and U-T would lock in Skayde hold onto Hyo to make him tap out as he gets the win for Tribe Vanguard!
Rating: Bruce Prichard and a quarter
Six Man Tag Team Match
MaxiMuM (Dragon Kid, Jason Lee & Kaito Ishida) vs. R.E.D. (KAZMA SAKAMOTO, Takashi Yoshida & Yasushi Kanda)
Review: We got a six-man tag match with MaxiMum going to war with R.E.D this time after having them assault MaxiMuM at the last show once the main event was over. We got Dragon Kid leading the charge this time with Jason Lee and Kaito Ishida as they take on Takashi Yoshida, Yasushi Kanda, and KAZMA SAKAMOTO. I do we get to see more for KAZMA here in this match but we will see what happens here. Which of these units will win?
I think it was kill Kaito Ishida on R.E.D's agenda because he certainly took the majority of the beatings in this tag match. We got to see a little bit more of KAZMA in the match and he did a slightly better performance in this one compared to his return at the last show and could be a better powerhouse guy than Takashi if given the opportunity to. MaxiMuM were quick in this match due to relying on their agility since they took on the powerhouses of the R.E.D unit and Dragon Kid would mostly be the one to outmaneuver the opponents while Jason Lee would try to keep up, but they kept on getting overpowered.
Dragon Kid and Kaito would do a combo with Kid hitting the 619 while Kaito would hit a Dropkick at the same time and it would've been a really cool spot if they timed it up a little bit better in the match. Kaito would have Kanda sitting on his shoulders while they were both on the turnbuckle and Dragon Kid would jump the ropes to hit a Super Hurricanrana. KAZMA got back in the ring with Kaito and slammed him down as he signaled Takashi and Kanda to hit the Diving Elbow Drops onto him and Kid would break the hold. KAZMA would hit the Pop-up Powerbomb on Kaito and picked him up on his shoulders so Takashi would hit the Doomsday Device and top it off, Takashi picked him up for the Cyber Bomb and R.E.D wins it.
Rating: Eric Bischoff and a half
Tag Team Match
Big Ben (Ben-K & Big R Shimizu) vs. DoiYoshi (Masato Yoshino & Naruki Doi)
Review: So we officially have a date for the Open the Dream Gate Championship match between Masato Yoshino and Ben-K as it's set to take place on November 4th at the show, The Gate of Destiny. For now, we got a tag match with Yoshino teaming up with Naruki Doi as they take on Ben-K and Big R Shimizu. I'm excited to see how this feud will turn out and this will be the first step to see where this direction will go. Will the champion win or will Ben get the early advantage?
Instead of R.E.D going in for the attack, DoiYoshi would attack them first before they got into the ring. I gotta make this comment before I continue further and I'm kinda disappointed with how they changed Ben's look. I'm saying this because he originally looked like this shogun badass with his attire and now he just looks like a generic powerhouse with his change in appearance. I think he still could've kept the gear and just made it red, but with what they gave him now, I don't like it personally but I still like him despite that. Moving on, seeing DoiYoshi teaming up together with just them was fun to see and they did pull off some sweet tag moves together which I will get to in a little bit. We've seen Big Ben wrestle as a team on here before and we know they're good together despite Big R not being that good, to begin with, but them as a tag team works and we got a solid match between the two teams.
We had Naruki on the top rope Yoshino held Ben-K up for him to kick and as Naruki hits the Dropkick, he landed on Big R for the Senton at the same time and would get a two count out of it. Big R would go for the Shot-put Slam on Naruki and would turn it around to a Crucifix as Yoshino Dropkicked Big R to make Naruki land the pin for a two count. Big R would try to go for it again as Naruki would hit a Flash Pin for another two count and as Yoshino went for the Torbellino, Ben-K caught him for a Spear before he could land it all. Ben was also able to hit Naruki for a Spear and would kick out of it at two. Yoshino would hit the Torbellino this time and had Big R on his knees so Naruki would hit the Bakatare Sliding Kick and would pin Big R for the win. Yoshino would get the first win in this feud between him and Ben-K and it was a good way to start it off, but now we gotta see if they can keep the ball rolling here.
Rating: Eric Bischoff and three quarters
Tag Team Match
R.E.D. (Eita & X) vs. BxB Hulk & Shingo Takagi
Review: We got our main event here as Shingo Takagi and BxB Hulk are teaming up before their big match as they agreed and R.E.D weren't very keen on that decision and told Shingo that Eita and a mystery partner will be facing them for this tag match. It looks like R.E.D will be having a new recruit after this match is over and it looks like Shingo is officially out of the group while Eita is in charge. Who is the mystery partner and can Shingo & Hulk defeat them?
I was right to say that Eita would be kicking out Shingo since that is exactly what he did before the bell would ring and as he introduced his partner, the lights would go off for a moment and when the lights go on, we have the return of PAC fka Neville. That's right, PAC has returned to his home in Dragon Gate instead of going to the obvious places like NJPW/ROH and I'm glad he chose Dragon Gate since this is the best place for him right now. PAC still looks good like he never lost any of his muscle and now it's time to see if he has any ring rust or not. Also, the reaction on Hulk's face during this reveal was priceless.
There were two stories in this match and one of them was Shingo and R.E.D since he was out of the group and what R.E.D do to him during the entire match with these weapons was pretty much telling him karma was a bitch and this is what he's getting back. The second story is PAC and the progression of his character and personality from when he left six years ago to when he came back with his new attitude and personality, I'm glad he kept his WWE look from when he was a heel since that was one of the bigger highlights of his career until the very end and would now try this new persona on a different playing field. As for the ring rust, he really didn't have much almost as if he never lost a step, but it's hard to tell due to it being a tag match. The match itself was very solid and it was mostly the story of it that carried the match than the actual wrestling of it and that's kinda fair due to the atmosphere of the match. Shingo would hit the Pumping Bomber on both Eita and PAC for a two count and Kanda hits Shingo with the black box to distract him enough for Eita to pick it up. Eita went to hit him with it but Shingo caught the box and threw it outside but accidentally hits the referee when he bumped into him, which lead to R.E.D to come in for all of them to hit their moves on Shingo and Big R tops it off with the Shot-put Slam on him. PAC would get Shingo to the corner and hits the Red Arrow to give R.E.D the win.
After the match, YAMATO would get in the ring and told PAC that he wanted to fight him. MaxiMuM got into the ring next and they all talked about how they wanted to fight PAC now, and now Natural Vibes does the same thing and it looks like everyone wants a piece of PAC now since he's back in Dragon Gate, but it looks like the four units will be having a war coming soon. Speaking of PAC, I wonder what title he'll be going for? I wanna say Open the Dream Gate, but it all depends on if Ben-K can get it or not. If that's the case, he could go for the Open the Brave Gate against Dragon Kid or he could team up with Eita to fight for the Open the Twin Gate titles. He has a lot of different options and curious to see which route he takes.
Rating: Bruce Prichard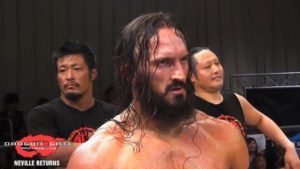 Overall: The undercard of the match was really weak, but the last four matches made the show more tolerable and we have the return of PAC to close off the show as Shingo now has one match left before he departs from Dragon Gate. Will these changes be for the better or for worse? We're gonna have to find out soon enough.
Favorite Match: Hyo Watanabe, Masaaki Mochizuki, Shun Skywalker & Yuki Yoshioka vs. Tribe Vanguard
Least Favorite Match: Hiroshi Yamato, Kota Minoura & Mondai Ryu vs. Natural Vibes
Score: 7.5/10
Mitchell's NJPW AXS Results: G1 Supercard Part 2!
AXS gives us MORE G1 Supercard!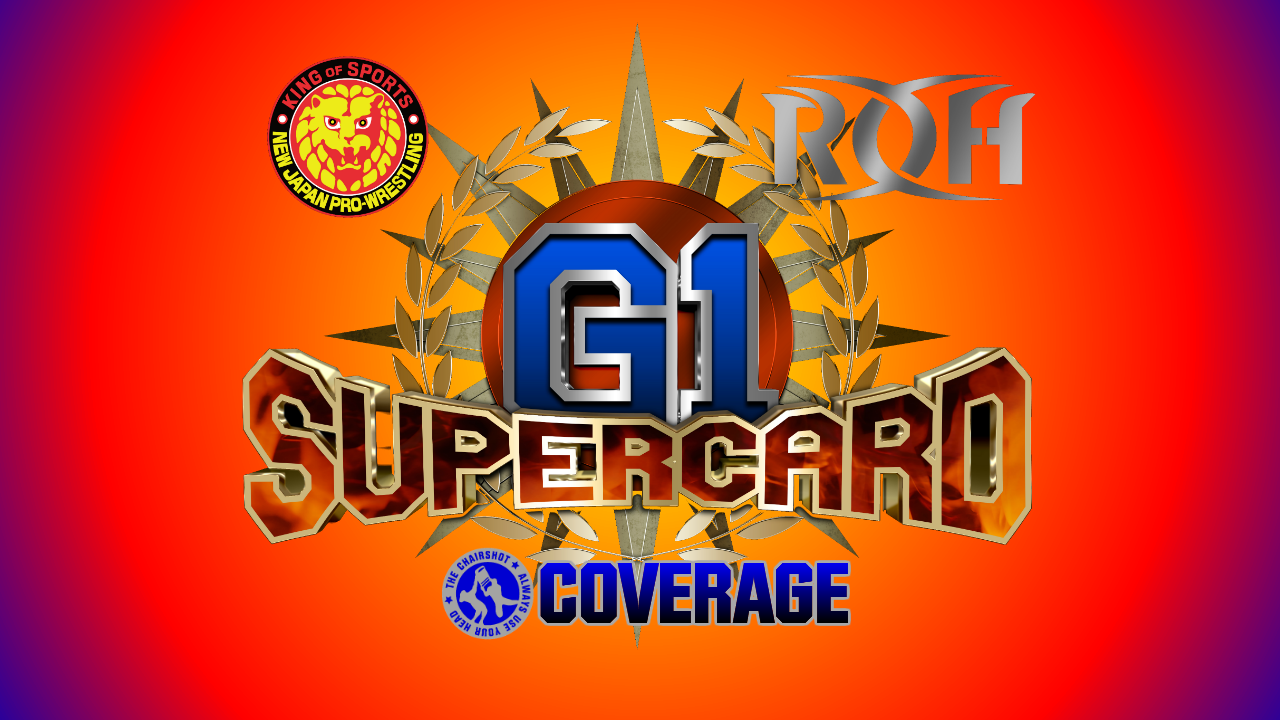 NJPW and ROH shine even brighter as AXS's coverage of G1 Supercard concludes! Who will come away with BOTH the ROH and IWGP Tag Team Championships?!
Coverage of G1 Supercard will be as broadcast by AXS TV.
You can find gifs from this event on http://frentique.tumblr.com/
OFFICIAL RESULTS
NEVER Openweight VS ROH World Television Championship Winner Takes All: Will Ospreay VS Jeff Cobb; Cobb wins and becomes the dual NEVER Openweight & ROH World Television Champion.
IWGP Junior Heavyweight Championship Triple Threat: Taiji Ishimori VS Dragon Lee VS Bandido; Lee wins and becomes the new IWGP Junior Heavyweight Champion.
ROH & IWGP Tag Team Championships Fatal 4 Way Winners Take All: The Guerrillas of Destiny VS Villain Enterprises VS The Briscoes VS Evil & Sanada; The Guerrillas of Destiny win and are the dual ROH World & IWGP Heavyweight Tag Team Champions.
ROH World Championship Triple Threat Ladder Match: Jay Lethal VS Matt Taven VS Marty Scurll; Taven wins and becomes the new ROH World Champion.
PLAY BY PLAY
NJPW and AXS set the scene for this historic crossover event!
The history between ROH's Franchise Player and self-proclaimed "REAL World Champion" is long and tense as the contenders for that title kept piling up. Marty Scurll won ROH's Survival of the Fittest to become a contender while Jay Lethal VS Matt Taven went to a 60 minute time limit draw! Instead of worrying about who got the next shot at Lethal, he decided that Taven and Scurll would both get their chance in the only match fair enough: a Ladder Match! Will Lethal climb to new heights to keep that belt? Or will one of his hungry challengers finally get their first taste of the real deal?
Meanwhile, Tama Tonga & Tonga Loa again climbed to the top of NJPW's Heavyweight Tag Team Division by dethroning Los Ingobernables de Japon. At the same time, Jay & Mark Briscoe were again triumphant as the then 9-time ROH World Tag Team Champions. One pair of brothers called out the other, and said that they'd put their belts on the line if the other brothers did, too! "We'll do title vs title at Madison Square Garden!" However, there were complications at the ROH 17th Anniversary Show in Las Vegas when The Briscoes lost their titles to Villain Enterprises' PCO & Brody King! Things only get more complicated as Evil & Sanada want their rematch. Now all four teams will compete for all four belts! Who will find themselves atop two top promotions' tag team divisions with one match?!
But before even all of this, the Bone Soldier Reborn continues to test himself after becoming IWGP Junior Heavyweight Champion! Taiji Ishimori dethroned Kushida then successfully defended against Ryusuke Taguchi and Jushin Thunder Liger! He wants even more competition, but he might have bitten off more than he can chew! Dragon Lee of CMLL and Bandido of ROH both go for gold, who comes out of this high speed, star studded Triple Threat as THE Junior Heavyweight Champion?
NEVER Openweight VS ROH World Television Championship Winner Takes All: Will Ospreay VS Jeff Cobb!
Title for title isn't just for tag teams! The Aerial Assassin and the Hawaiian Juggernaut both want to prove they're big enough for two belts, but who wins when speed takes on strength?
The introductions are made, the belts are raised, and this battle between these two great champions begins!
Fans duel thunderously as Cobb and Ospreay jaw at each other. Given this is part ROH, the Code of Honor is asked for and upheld by both men. The bell rings and Cobb immediately leaps at Ospreay in a corner! Big back elbow then whip corner to corner. Ospreay reverses but gets POUNCED out of the ring! Cobb follows but misses, Ospreay CHOPS. Ospreay whips but Cobb reverses again. Ospreay hops up and over then springboards for a forearm! Cobb is down but Ospreay keeps moving, SASUKE SPECIAL! Direct hit but Cobb catches Ospreay! Only for Ospreay to counter with a DDT! Fans keep up the fire as Ospreay drags Cobb up and in.
Fans duel as Ospreay throws forearms on Cobb. Ospreay runs but Cobb puts him on the apron. Ospreay forearms again then springboards, but into Cobb's arms! He fights out of Cobb's grip but Cobb comes running in, only to get a boot. Ospreay hops up but gets a CHOP! Cobb climbs up to join Ospreay and hits a stalling SUPERPLEX! Cover, TWO! Cobb keeps on Ospreay with more CHOPS and uppercuts. He throws Opsreay across the way! Then drags him up for clubbing forearms. Cobb drives elbows in as fans continue to duel. He whips and elbows Ospreay down. Cover, TWO! Cobb keeps his cool as he drags Ospreay up again. Ospreay breaks free to fire forearms again, but Cobb kicks low. Cobb whips but Ospreay dodges to huricanrana, only for Cobb to block and counter to a bearhug! Cobb squeezes tight but Ospreay endures and fights back.
Ospreay breaks free but Cobb CHOPS again. Cobb whips but Ospreay handsprings to enziguri! Both men are down but slowly sitting up. Ospreay is in a corner and Cobb runs in but blocks the boot. Ospreay enziguris then elevated tiger feint kicks! Cobb staggers and Ospreay springboards for another forearm! Cover, TWO! Ospreay keeps his cool then fires himself up. Fans rally up as he goes to underhook. Cobb powers out but Ospreay drops down to kick away! Cobb catches the leg, so Ospreay starts slapping. Bad idea, Cobb throws him with a FALL AWAY SLAM! Cobb runs corner to corner for another uppercut, to Samoan Drop! And knip up to standing moonsault! Cover, TWO! Ospreay survives but Cobb keeps on him with punches.
Fans duel again as Cobb keeps throwing those hands. Ospreay gets up and gets in Cobb's face. Ospreay throws forearms but Cobb JABS him off his feet! Cobb whips Ospreay but Ospreay holds ropes. Ospreay elbows Cobb then throws a clothesline, but it does nothing! He blocks Cobb's counter then hook kicks. Cobb SUPERKICKS! Cobb runs but into a SPANISH FLY!! But Ospreay can't cover for the power it took to make that happen! Fans know "This is Awesome!" as both men stir. Ospreay gets to a corner and the top rope. He aims at Cobb and flies, missile dropkick to the bad shoulder! And now Ospreay takes off the elbow pad. Ospreay aims, but Cobb ducks! TOUR OF- Crucifix! To DESTROYER! Cover, TWO!! Cobb survives but Ospreay fires himself up again.
Ospreay drags Cobb up as fans duel again. Roundhouse rocks Cobb, then Ospreay runs, but Cobb reels him in. Ospreay fights out to back flip kick, only to get a LARIAT! Cobb sees Ospreay in a drop zone, and climbs up top!? Cobb leaps for a Frog Splash FLOP! Ospreay escapes being crushed, and then hits his Robinson Special spin kick! Ospreay calls for it, springboards, but Cobb blocks the cutter! He shoves Ospreay to a corner, but Ospreay comes back with the OSCUTTER! Cover, TWO?! Cobb survives and no one can believe it! But the fans are loving it as Ospreay takes aim again. Ospreay hits a hook kick! Then he underhooks, and gets Cobb up!? But Cobb gets out to a corner, and elbows Ospreay. Ospreay tucks Cobb in, CHEEKY NANDOS! Then from the outside, Ospreay climbs up and underhooks!? Cobb denies it with a headbutt!
Cobb scoops Ospreay now, SUPER TOUR OF THE ISLANDS!! But he's not done there! Cobb takes off the straps, pop-up TOUR OF THE ISLANDS! Cover, Cobb wins!!
Winner: Jeff Cobb, by pinfall; still ROH World Television Champion, NEW NEVER Openweight Champion
Strength wins out, and now Cobb is the first American to hold that particular NJPW title.
Backstage interview
Jeff Cobb speaks, saying, "Will Ospreay, I respect you for the fact that you are a fighting champion." Cobb respects both ROH and NJPW in trusting him with this opportunity. Cobb will continue where Ospreay left off and be a fighting champion in both companies! He also thanks the fans for their support, and plans to see both ROH and NJPW fans very soon.
IWGP Junior Heavyweight Championship Triple Threat: Taiji Ishimori VS Dragon Lee VS Bandido!
Three of the best Junior Heavyweights between the NJPW-CMLL-ROH alliance all battle for this title to establish themselves as the world's best Junior Heavyweight! Will Bone Soldier keep his young legacy growing? Will Dragon Lee take a step towards redemption from his match with Hiromu Takahashi? Or will ROH's LifeBlood gain its first bit of gold thanks to the gunslinger luchador?
Introductions are made, the belt is raised, and we begin this incredible and international match-up!
Dragon Lee kicks Ishimori out of the ring with the bell, then whips Bandido! Bandido huricanranas but Lee lands on his feet. Bandido comes back for another and it hits! Lee goes out and Bandido FLIES right on him! Bandido meets Ishimori in the ring and things speed up. Ishimori somersaults and headscissors, to a neck crank! Ishimori runs in at Bandido but misses. Bandido runs in but is put on the apron. Bandido hits back but Ishimori hits harder. Ishimori kicks Lee and whips but Lee dodges to huricanrana Bandido off the apron! Ishimori triangle moonsaults onto Lee! Fans fire up with the champ as he gets right back up. Ishimori drags Bandido up and in for chops. He puts Bandido in a corner to grind in his knee. The ref counts but Bandido lets up.
Ishimori whips corner to corner but Bandido reverses. Bandido runs in but Ishimori slips out to slide under and go around to shoulder in. Ishimori springboards for a leg lariat! Cover, but Lee breaks it up! Lee brings Ishimori up but Ishimori rakes his eyes. Ishimori whips but Lee reverses, and borrows the Combinacion Cabron from LIJ! He keeps on Ishimori with fast forearms then runs corner to corner for a hesitation dropkick! He drags Ishimori up for double underhooks, butterfly backbreaker! But he's not done, basement dropkick and cover, but Bandido breaks it up. Bandido drags Lee up but Lee fires back. They brawl with forearms, but Lee knee triggers Bandido. Lee runs but into a tilt-o-whirl scoop and torture rack! Spinning to the knee, then a lariat! Cover, but Ishimori breaks it.
Ishimori drags Bandido up and whips but Bandido reverses. Ishimor handsprings and enziguris Bandido down! He goes after Lee with a kick, then runs, only to roll into Lee's sit-out powerbomb! Cover, TWO! Lee fires up with the fans and brings Ishimori around. He puts Ishimori on the top rope, then CHOPS him into the Tree of Woe! Lee climbs but Bandido springboards to SUPER STEINER! Ishimori tilt-o-whirl facebusters Bandido, only to get up for Lee's running Destroyer! All three men are down but MSG is fired up! "This is Awesome!" but not over yet. Bandido sits up first, followed by Lee. Bandido runs but into a wheelbarrow. Lee can't hold on but he does slip out of a suplex, only for Ishimori to knee him down. Ishimori runs into a pop-up cutter! Cover, TWO!! Ishimori survives but Bandido keeps going.
Bandido has Ishimori in a drop zone, and fans fire up as he climbs. Lee returns to trip Bandido into the Tree of Woe! Woe Stomps from Lee to Bandido! Lee scoops Ishimori into a suplex, but huricanrana pin counter! TWO but Ishimori gut wrenches to the Blood Cross! Cover, TWO!! Lee survives but barely! Ishimori says BANG as he drags Lee up again. Bandido stops the other Bloody Cross to then put Ishimori up top. Bandido climbs but Ishimori fights him off. They brawl but Lee adds on. Lee throws Bandido off and goes after Ishimori. They brawl but Bandido returns to join on. Lee headbutts Ishimori, Bandido kicks Lee! Bandido climbs and has both opponents for a DOUBLE SUPER BACKFLIP POWERSLAM!! MSG is thunderous and losing their minds over that!
Bandido crawls to Lee for a cover, TWO!! Ishimori crawls away so Bandido doesn't cover him. He does aim at Ishimori and scoops him, package piledriver! Cover, but Lee drags Bandido off to a suplex! Bandido slips out but gets an elbow, knee and reverse-rana! Lee knee triggers Ishimori! Lee goes back to Bandido, suplex to bomb! Cover, Lee wins!!
Winner: Dragon Lee, by pinfall; NEW IWGP Junior Heavyweight Champion
CMLL's Dragon Lee has NJPW's championship! Lee shows respect to Bandido as he helps him up, but Ishimori clears out with frustration. Bandido shows respect back by helping Lee put on the belt. With Best of the Super Juniors on the horizon, will Bone Soldier Reborn redeem himself through that tournament? Will Lee reign with that title through the Spring and to the Summer?
Backstage Interviews
Ishimori wants to know "What the hell!?" How is it the result came through those two guys? Ishimori lost the belt but not the match. "So why don't we do it again?" But Ishimori and Lee 1v1, no triple threat. What does Lee say to that?
Lee does speak, saying that was so much work. The title is what all his effort was for. Day after day, training hard and not being given anything for free. Everything Lee has is from hard work and education. Lee is content with this win. He thanks God for this blessing, as well as for his family and his father for supporting him. He dedicates this win to his father. Thanks to him, Lee is in a good place. He became the new champion in Madison Square Garden. But he does wait anxiously for the return of Hiromu, and hopes Hiromu can be his first challenger. The real goal was always Hiromu. Lee is now champion, but he dedicates this win to Hiromu and Daryl. He hopes to see them again, strnoger than ever.
ROH & IWGP Tag Team Championships Fatal 4 Way Winners Take All: The Guerrillas of Destiny VS Villain Enterprises VS The Briscoes VS Evil & Sanada!
A massive match for a massive moment in wrestling history! Tama Tonga & Tonga Loa, PCO & Brody King, Jay & Mark Briscoe and Los Ingobernables de Japon's King of Darkness & Cold Skull all want to be THE best tag team between both companies. What will it take for one team to take both pairs of belts home with them?
The introductions are made, PCO gets a jolt of electricity from Destro, and then he and Brody hit the ring with both the ROH World and ROH Six Man Tag titles! Will they be leaving with three belts each after the break?
NJPW on AXS returns and The Briscoes attack first! The bell rings and it's just a huge brawl! Everyone clears out quick except Mark Briscoe and PCO. Mark has PCO in a corner then runs in, only to be tossed right out! PCO then takes aim and DIVES onto Mark! The brawling goes crazy on the outside as Jay Briscoe and Brody trade hands. The GoD regroup, as do LIJ. It seems the ROH teams are continuing where they left off in Vegas as PCO throws hands on Mark in front of the fans. LIJ and GoD brawl, too, then the champion teams hit the ring. Brody and PCO stand up to Tama and Loa, and another brawl begins! Villain Enterprises gets the edge, then both run, only for The Briscoes to drag them out.
But GoD isn't alone, LIJ rushes them! They brawl in the ring while #DemBoyz keep on PCO and Brody on the outside. Sanada whips but Tama reverses. Jado is there with his kendo stick and Sanada stops himself, only for Tama to clobber him from behind. Tama kicks at Evil but Evil blocks and hands off to Loa. Loa doesn't wanna but Evil still SUPERKICKS Tama down. Tama bails out and Loa goes at Evil. Evil feeds Loa to Sanada, who ties Loa up in Paradise! Fans love it, and the Briscoes are willing to leave Loa in it until Sanada dropkicks Loa out of Paradise! The Briscoes then rush LIJ, but Mark gets a back drop. Mark lands on his feet and fights both LIJ while Jay keeps GoD down. Mark Peles Evil out but Sanada kicks him. Sanada whips but Mark reverses and lets Jay CLOBBER Sanada!
The Briscoes double whip and double shoulder Sanada down! But here comes Brody King with big hands. The Briscoes get teh better of him, but not for long as he hits a double crossbody! Loa returns and throws hands on Brody! Loa bops Brody but Brody BOOTS Loa! Brody even headscissors Loa down! Cannonball on the ropes! Brody keeps Jay Briscoe and Tama Tonga out, but then takes aim at them all. Brody FLIES and wipes them all out! Fans fire up but Mark wrecks Brody with a dropkick. Mark then climbs up and leaps, corkscrew senton! The South Sussex Chicken puts Tama back in, but Tama elbows Mark to a corner. Tama throws hands and a dropkick on Mark, then whips Mark corner to corner. Mark reverses, Jay forearms then feeds Tama to Mark's shotgun dropkick! Cover, TWO!
Mark hits Loa with an apron blockbuster! Jay drags Tama up for a neckbreaker but Tama powers out. SUPERKICK from Jay, back elbow from Tama. Tama slides and dropkicks Jay down and out! Sanada returns to bait Tama in and out! Evil gets away with putting a chair on Tama's head, then SMACKING it off with another! Evil hit a homer with that one! He feeds Tama to Sanada and LIJ double whip. Tama gets their kick and clothesline combo, but they're not done with him yet. Evil drags Tama up and suplexes, but The Briscoes disrupt Magic Killer! Jay underhooks for the Jay Driller! Mark climbs, FROGGY-BOW! Cover, but Brody breaks it! Brody clotheslines Jay and himself out of the ring! Mark slingshots but Brody catches him to apron choke slam him!!
Brody shouts to PCO and PCO climbs! PCO apron SWANTONS Mark! And he's right back up! He's NOT human! Brody drags Mark back in, powerbomb lifts, GONZO BOMB! PCO climbs again, MOONSAULT! Cover, but Tama breaks it up! Loa SPEARS Brody but PCO CHOPS Tama. PCO fires off on Tama in a corner, faster and faster! Loa runs in to forearm PCO and he throws headbutts. GoD take PCO for double electric chair, to POWERBOMB HIM TO THE FLOOR! GoD says "SUCK IT" but PCO still lives!! PCO falls back over but MSG is cheering him on. Tama tries to stun Brody but gets a German Suplex! Brody clobbers Loa but Tama distracts the ref. Jado kendo SMACKS Brody, then GUN STUN! GoD coordinate, suplex to the top rope, SUPER POWERBOMB! Cover, GoD wins!
Winners: The Guerrillas of Destiny, Tonga Loa pinning; still IWGP Heavyweight Tag Team Champions and NEW ROH World Tag Team Champions
History is made as history is made! NJPW's GoD hold belts in both companies!
But wait, who is that attacking The Briscoes? It's Enzo and Big Cass- Er, uh, nZo and Caz XL! Former WWE wrestlers are attacking at G1 Supercard?! The Briscoes get them out of here, as does Bully Ray, while GoD celebrates their accomplishment. But wait, is that Toru Yano who just snatched the IWGP Heavyweight belts?! The Clown Prince of Chaos is all smiles as he runs away with the gold! Just what is going on with tag team wrestling?!
Backstage Interviews
Tonga Loa says, "There's a title missing, but he just got one." Yano taking their IWGP belts? "That's bullsh*t." But that was just on top of other BS. There was an agreement in this match, "but just like anything else, it's f*cking wrestling." You can't believe what you're told. So the deal is: GoD doesn't care about ROH, or whoever those guys were at the end of the match trying to take the spotlight. GoD won the titles. But another BS: they worked for free tonight. Tama takes the ROH belts and throws them away like garbage! Tama knows nobody cares about ROH.
But GoD handled their business, it was easy. And it's surprising that those losers still had energy to fight some other losers not even in the match! The fact the Briscoes brawled with those guys, it just tells Tama that "you muthaf*ckas ain't on NJPW's level." Tama can tell The Briscoes weren't giving their best, because they were saving energy for that BS that happened. But let it be known, the double champs are done with y'all. Will GoD even care to keep those ROH tag titles after what went down?
ROH World Championship Triple Threat Ladder Match: Jay Lethal VS Matt Taven VS Marty Scurll!
The Franchise Player has had this title time and again but he wants to hold it for the rest of his career if he can. The Kingdom's ring leader wants recognition as the "REAL World Champion" after being held down by a supposed conspiracy. And The Villain, now finally a leader of his own team, wants the belt he feels he deserves. Three men live a childhood dream of wrestling in the most famous arena in the world. But who will live an even greater dream by winning in that same arena, for the top prize in ROH?
The introductions are made, the belt is hoisted high overhead, and this epic triple threat begins after the break!
NJPW on AXS returns and all three men look up as the belt finally reaches its apex. The bell rings, and Lethal goes right at Taven! Scurll decides this is the perfect time to bail out and get a ladder. Taven and Lethal brawl to a corner and Lethal chops. Lethal sees Scurll bringing in a ladder and baseball slide dropkicks the ladder into Scurll! Lethal brings Scurll up and now they brawl. Scurll throws uppercuts then goes back to the ladder. Lethal grabs the other end, and it's a tug-o-war, until Tavne FLIES out! Taven hits ladder but still brings Scurll and Lethal down with it! All three men are down and fans lose their minds over Taven's self-sacrifice. Taven fights through the pain to put the ladder in the ring.
Lethal forearms but Taven forearms back, only to run into a hip toss! Lethal carthweels and dropkicks Taven down! Scurll goes after Lethal but gets a boot for it! Lethal brings another ladder over and plops it down. He snap suplexes Taven for good measure before going under the ring. Lethal finds a few chairs and puts them near the ladder. He uses one chair to jab Scurll back down, then starts setting something up. Lethal makes a bridge between the chairs with the ladder. Scurll hits Lethal then bounces him off the ladder. Scurll gives Taven a tornado DDT! Fans fire up with The Villain as he brings over yet another ladder. Scurll puts that one in the ring and then puts the first one in a corner. He sets up the other ladder in the other corner.
Taven returns but Scurll throws him into one ladder, then the other! And back again! Taven tumbles out of the ring but Lethal returns to back drop Scurll onto a ladder! Scurll bails out and Lethal has the ring to himself. Lethal takes one ladder but Scurll returns. Lethal snap suplexes Scurll and then drops a ladder on him! Taven returns but Lethal rams him with the other ladder. And then drops that ladder on Taven! Taven and Scurll writhe with back pain while Lethal eyes the prize. Lethal sets up a ladder but in a corner, sideways on the bottom rope. He kicks and chops Scurll but Scurll CHOPS back. They trade CHOPS and then Lethal whips. Scurll reverses but Lethal slides to a stop, to drop toehold! But Scurll stops himself to throw Lethal into that ladder.
Scurll places Lethal in a Tree of Woe with the ladder, and then goes out to fetch a chair! Scurll keeps Lethal in the Tree and brings the chair over, to SMACK steel into Lethal! And again! And again! Scurll gives another chair shot to Lethal and fans fire up! Scurll introduces another ladder while Lethal is stuck in the Tree. Taven returns but Scurll kicks him out. Scurll sets up the ladder but has to kick Taven away again. Scurll climbs but notices the ladder isn't tall enough. So he fetches his umbrella! Scurll climbs but Taven yanks him down to SUPERKICK him down! Taven climbs now but Lethal is free of the Tree. Lethal drags Taven down to bounce him off that ladder. Scurll gets up to mule kick and uppercut Lethal. Fans cheer Scurll on as he CHOPS Lethal again.
Scurll keeps those CHOPS going, then runs, but Lethal dodges. He falls for 52 Fake Out! Scurll brings that corner ladder over and makes it a neck brace on Lethal. Scurll aims but Taven drags him out of the ring. Taven throws Scurll into barriers, then gives Lethal Just the Tip through the ladder! Why? Because "IIIIII'M Matt Taven!" Lethal writhes as Taven sits a ladder up. Taven climbs but Scurll returns to yank him off. Scurll and Taven brawl and Scurll CHOPS Taven. Scurll runs to clothesline Taven out, then hops to the apron, SUPERKICK! Fans fire up with Scurll as he skins the cat. Scurll climbs but Lethal returns to club him down. Lethal laces Scurll's legs through the ladder, for a hanging figure four! But Taven returns to climb!
Lethal lets Scurll go to go after Taven. Lethal throws Taven out and then takes the ladder to slam it on Scurll. He drags Scurll back up and puts the Figure Four back on, but Scurll pushes him out of the ring. Scrull goes back to the apron, but that bad leg slows him down. Cutter on the apron! Lethal leaves Scurll down but Taven follows Lethal into the ring. Lethal CHOPS Taven then runs, but Taven tosses Lethal out. Taven kicks Lethal then runs, to slide and powerbomb Lethal onto the ladder bridge! MSG loses their minds as Lethal suffers at the hands of his own construction! But it's Scurll who gets back in the ring! Scurll sets a ladder up but he can only hop up rather than climb. Taven returns but Scurll gets him with CHOPS!
Scurll sets the ladder in a corner and brings Taven over, but Taven denies. Taven suplexes but Scurll slips out to drop toehold Taven to ropes. Scurll runs, Villainous 619! Scurll calls for it, then stalks Taven as fans fire up. MSG shouts along, "CHICKEN WING!" But Taven kicks low and DDT's! Taven grins then mocks the "Melvins". Fans tell Taven what they think of him but he takes it as a compliment. Taven tries to set up a ladder but Scrull stomps it closed on his hands! Scurll grabs that hand, but Taven kicks low again, Moonlight Drive onto the ladder! Taven grimaces as he takes the corner ladder and stands it up. He climbs up as fans jeer hard as ever, but Scurll hurries up the other side! Scurll punches away then brings Taven up, SUPERPLEX!
Both Taven and Scurll are down from that hard landing, and Lethal finally returns to the ring! Lethal forces himself to stand but Scurll SMACKS him down with an umbrella shot! Scurll aims again, but Lethal dodges to Lethal- CHICKEN WING! But Lethal rams Scurll into a ladder to break free! Scurll and Taven are on the outside and Lethal goes for the standing ladder. Lethal positions it under the belt and climbs again. But Taven returns and follows after. Lethal and Taven fight as Taven climbs up behind. Lethal even spits on Taven before punching him down! The belt is within fingertips, but Scurll creeps up from behind! Chicken Wing atop the ladder! But Lethal fights his way out, but then Scurll shoves him down.
Taven returns as Scurll stands. They both fight for the top, but Scurll grabs the fingers! SNAP! But Taven has his other hand! Scurll grabs those fingers, SNAP! But Lethal uses Scurll's umbrella to SMACK Scurll down! But that leaves Taven up top! Taven reaches but his hands hurt, and he falls off! Taven is frustrated as he works on his fingers. Fans let him know "You Deserve It!" Lethal and Taven stand and brawl with forearms. Scurll slips in as Lethal gives Taven a Lethal Combination including the ladder! The ladder tips over but Scurll focuses on another. Lethal shoves Scurll away and stands the other ladder back up. Lethal folds it and aims it at Scurll, but Scurll gets clear! The ladders are now intertwined!
Scurll knocks Lethal down then throws him out. Scurll drags the X-Ladder to the middle of the ring, but Taven attacks. Taven suplexes but Scurll Gourd Busters Taven onto X-Ladder! Lethal returns, LETHAL INJECTION! But there's no ladder standing! Lethal hobbles up with his bad back and dumps X-Ladder out. It almost hits the front row fans! Thankfully they were paying attention. Fans still say "That's a Lawsuit!" Lethal goes to a fresh ladder and brings it in. Scurll blocks his way so Lethal goes around the outside. Lethal searches under the ring and brings out a table! Scurll kicks Lethal away from it, to then brain buster Lethal onto the floor! Scurll takes control of the table and sets it up. He drags Lethal up to the apron and then stands him up.
Scurll wants a piledriver but Lethal is dead weight. Lethal uppercuts and boots Scurll! Scurll enziguris Lethal down and away, but Taven SPEARS Scurll through the table!! All three men are down again and fans lose their minds all over again. Taven and Scurll crawl from the wreckage while Lethal slowly stands up. Lethal brings out a new table, but Taven has a ladder. Lethal clubs Taven then puts him on the table with an uppercut and chops. He then stands a very tall ladder up nearby. Lethal climbs it and fans beg, "Please Don't Die!" But Lethal stands up, and Hail to the King through the table!! Lethal and Taven are in the wreckage and fans are thunderous! But with these two down, Scurll crawls into the ring! Scurll gets a ladder, brings it over, and stands it up!
Scurll climbs but Lethal pursues. They both climb on opposite sides, and then start fighting. But wait! Taven has a purple ladder!? Taven brings that in and it's taller than the one Scurll and Lethal fight on! He stands his ladder up and climbs pass them, only for Lethal to hit him off. Lethal keeps on Taven while Scurll ditches his ladder to make it a weapon! He throws it at Lethal's head then rams it into Taven's body. Scurll uses Taven's ladder, but that bad leg slows him down. Scurll goes back to the silver ladder to make a bridge to Taven's. Lethal brings in a ladder while Taven has a chair. Lethal copies Scurll's idea for the ladder shortcut. Taven SMACKS Lethal! Then he trips up Scurll! Taven uses Scurll's shortcut and climbs up his purple ladder, but Lethal struggles to follow.
Both men go rung for rung then throw hands near the top! Lethal grabs for the title but Taven swats it away. Taven use the title as a weapon to SMACK Lethal! Lethal lands on the ladder bridge!! Taven takes the belt down and WINS!
Winner: Matt Taven; NEW ROH World Champion
Madison Square Garden, witness history being made! Matt Taven is now Grand Slam Champion!
Backstage Interviews
"Right now is about celebrating." For Matt Taven, this moment is about a 6-year-old boy wanting this more than anything. For the last 9 months, Taven has called himself the real world champion, and no one believed him. Everyone doubted that he was ROH's best. It came down to Madison Square Garden, where all the "Melvins" are now proven wrong. There is no one who can claim to be ROH World Champion other than Taven. "And man, isn't that a beautiful thing to say?" The Kingdom celebrates now that their leader finally sits upon the throne. Who will come for Taven's crown now that it's solid gold?
---
My Thoughts:
A great two hours of action between both NJPW and ROH, and quite literally with all these crossover matches. It was really great to see all these title matches and the major changes to the status quo. Ospreay VS Cobb, an amazing opener, and it's big for Cobb to be the dual champion. He's very active in both promotions so seeing him carry the weight of both belts will be quite the responsibility. No matter who contends for which title, I'm sure Cobb will give us great matches. The IWGP Junior Heavyweight Championship was as fast and frantic as it should be, and I was really surprised to see Ishimori lose. Dragon Lee will make a great cross-promotion wrestler, too, and I really like his hopes for facing Hiromu again. Whether we get Lee VS Ishimori or Lee VS Hiromu, both rematches will be great.
The Fatal 4 Way Tag was insane, and it's great to see GoD win to have both belts. Their interview promos were great on their shoot merits. That Realest Guys "invasion" was definitely surprising. Seems like ROH didn't tell their NJPW partners, which explains why Tama Tonga & Tonga Loa came off genuinely upset. Tama's main point seems to be truly accurate, that ROH just isn't at NJPW's level pulling a stunt like that. And lastly, the ROH World Championship Ladder Match was pretty extreme. Perhaps too extreme, as they didn't handle "X-Ladder" right. Never dump something like that near fans, go to the ramp side. It was quite the surprise to see Taven win, but perhaps ROH likes him better than their booking appears. No offense to Lethal, but I hope Scurll is first to challenge Taven, to bring their story of Kingdom VS Villain Enterprises into it.
My Score: 8.5/10
Mitchell's ROH Results & Report! (4/13/19)
Who qualifies for the Crockett Cup?!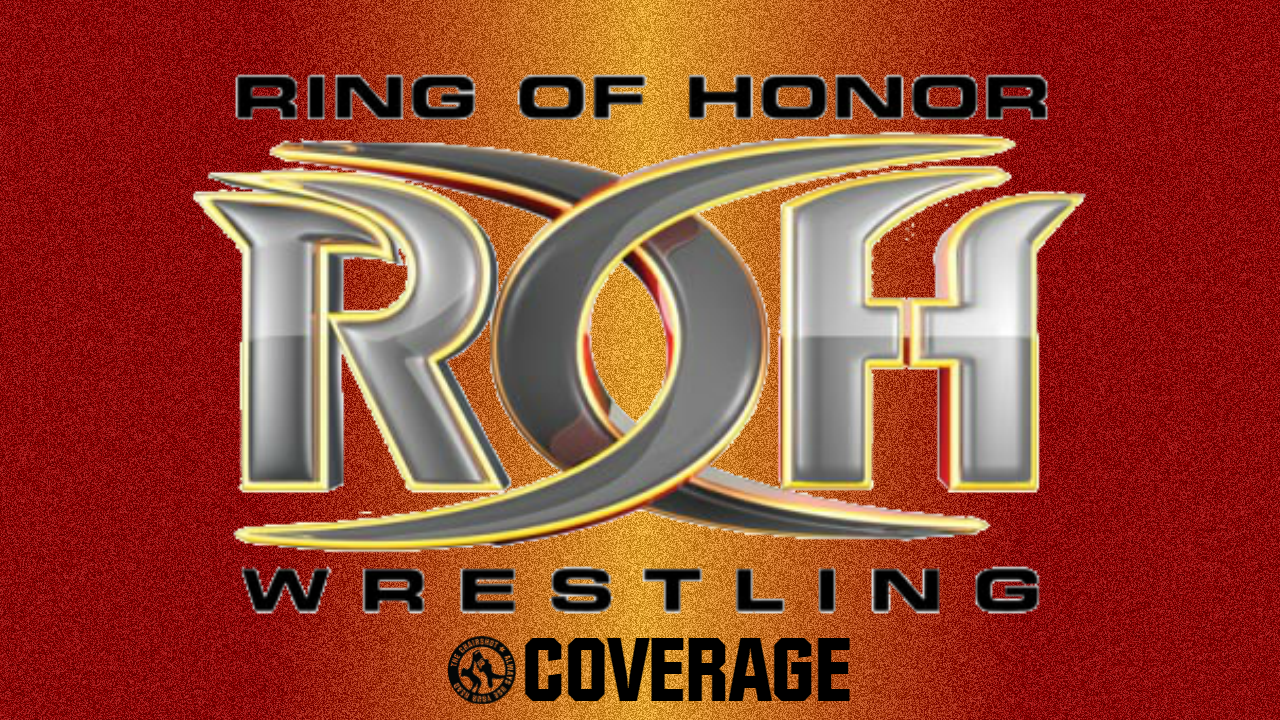 Ring of Honor Wrestling Television, Episode 395
ROH plays host to a Crockett Cup Qualifying Match! Will The Briscoes make it through Willie Mack and Jeff Cobb? Or will #DemBoyz be left out in the cold?
OFFICIAL RESULTS
Shane Taylor VS Luchasaurus; Taylor wins.
Katie Forbes & Mazzerati VS Sumie Sakai & Mayu Iwatani; Sakai & Iwatani win.
Crockett Cup Qualifying Match: The Briscoes VS Jeff Cobb & Willie Mack; The Briscoes win and move on to The Crockett Cup tag team tournament.
PLAY BY PLAY
The Briscoes speak.
"So when we heard that they're bringing back the Crockett Cup for 2019…" "Classic." "We was hyped." "Hyped!" The Crockett Cup, let's go! But then they were making Jay & Mark qualify? What the hell? Jay felt disrespected hearing that. They're 10-time tag team champions and they have to qualify!? But that's fine, "watch this!" Because at the end, when they've won the whole thing atop a pile of bodies, "y'all did this." Cobb, Mack, the Road to the Cup starts tonight. The Briscoes have warned their opponents, but will they be the ones left out?
Shane Taylor VS Luchasaurus!
The Notorious Hitman wants a championship and the paycheck that comes with it, and will go after anyone he has to to get there. But can he get past the towering beast put before him?
Taylor refuses the Code of Honor to tell Luchasaurus that it doesn't matter where he came from, he's in Taylor's town. Taylor pie faces Luchasaurus but Luchasaurus gives it back. The bell rings and they tie up. They break and then go again, to break again. Fans cheer on Luchasaurus as he dares Taylor to bring it. Taylor runs in but gets a boot. Luchasaurus has his dukes up and Taylor likes the look of that. They circle and Luchasaurus kicks Taylor sharp in the leg. Luchasaurus stalks Taylor but Taylor comes back to circle with him. Taylor gets a swift JAB in, then talks trash, but Luchasaurus swings a kick. Taylor ducks it to give Luchasaurus a CHOP! Luchasaurus stays standing and gives Taylor kicks! Taylor staggers and Luchasaurus runs in, but Taylor puts him on the apron.
Luchasaurus headbutts Taylor but Taylor dodges the boot. Taylor gives another strong JAB, then slingshots Luchasaurus in for a stunner! Fans cheer that show of strength as Taylor covers. TWO, but Taylor keeps on Luchasaurus with clubbing forearms. The wrestling T-Rex is in trouble as we go to break.
ROH returns as Taylor puts Luchasaurus in a corner for CHOPS! Taylor whips Luchasaurus corner to corner then runs in, but into a boot. Luchasaurus boots again but Taylor grabs it. Luchasaurus pries free to give Taylor a knee! Taylor catches Luchasaurus for a CHOKE SLAM! Cover, TWO! Taylor taunts Luchasaurus as he drags Luchasaurus up. Fans rally and Luchasaurus grabs Taylor for a choke! Taylor breaks free and grabs for Luchasaurus, but he blocks it! Luchasaurus gives a strike fest, and a cartwheel for Snake Bite headscissors! Rolling buzzsaw! Cover, TWO! Taylor survives but Luchasaurus keeps his cool. Luchasaurus drags Taylor up but Taylor hits back. They brawl with big shots back and forth, but Luchasaurus gets the edge.
Luchasaurus swings but Taylor bobs 'n' weaves to headbutt! Taylor runs but into a knee! Then a back heel kick! Luchasaurus runs, dodges, but still gets clobbered with a clothesline! Cover, TWO! Taylor keeps his cool while he trash talks Luchasaurus. But Luchasaurus sits up and grabs Taylor by the throat! They both stand, but Taylor tries to break free. Luchasaurus lets him go to swing a heel kick. Taylor ducks it, to get the return kick! And another big heel kick! Luchasaurus hits his CHOKE SLAM! And a standing moonsault, but to knees! Taylor survives and then blocks the boot to give a massive urenage! He rolls Luchasaurus for a knee! Greetings from the 216! Cover, Taylor wins!!
Winner: Shane Taylor, by pinfall
The Hitman takes down the Monster from the Mesozoic! Will this be what Taylor needs to go for gold?
Last time on ROH…
The Octopus, Jonathon Gresham, went for revenge on The Last Real Man for adding insult to injury on his bad leg. But after getting bloodied, Silas Young got his hands dirty by sneaking in a low blow! Silas won, and in an interview afterward, Silas told Gresham via the camera that Gresham's revenge didn't go the way he thought. Sure he busted Silas open, but Silas-
Wait, Gresham finds Silas. Silas is talking crap, and he looks like crap, too. Gresham's sure talking big. He may have busted Silas open, but he couldn't get the job done, huh? Gresham says all their match proved was that Silas couldn't win fair and square. Silas claims he won with a wrestling move a la that small package cradle. Gresham says Silas is lucky Gresham won't punch him again. ROH security keeps this from getting any more heated, but there is much left to settle between Octopus and Last Real Man. Will Silas prove he's a man by giving Gresham a fair rematch?
Tenille Dashwood joins commentary.
She has great news: she's cleared to compete! When and where will she bring the spotlight back on her and head for that Women of Honor World Championship?
Katie Forbes & Mazzerati VS Sumie Sakai & Mayu Iwatani!
The All Natural and her friend, The Fox, make their ROH TV debuts as a team, but will they stand a chance against two former WOH World Champions?! Just how bright will the Ray of Sunshine and Queen of Stardom shine as a dynamic duo?
The Code of Honor is denied with a flick of the hair and an L for loser on the foreheads. Mazz starts for her team against Mayu! Fans fire up for "Stardom! Stardom!" as Mayu tries the Code again. Mazz SLAPS Mayu and calls her a loser! Mayu kicks and whips Mazz and things speed up. Mayu springboards and arm-drags Mazz then hip tosses her down. She snapmares with hair and covers, TWO! Mazz gets away while Mayu knips up, and fans fire up for the decorated Joshi star. Mazz tags to Forbes but Mayu tags to Sumie. Sumie has the fans on her side but Forbes ignores it. They tie up and Forbes shoves Sumie down. Sumie gets back up and ties up with Forbes again.
Forbes uses the height advantage for leverage, but Sumie kicks at her legs. Sumie goes to whip but Forbes blocks. Forbes whips Sumie but misses in the corner. Sumie fires off Mongolian chops! And chops and chops and chops! Fans fire up but Forbes throws Sumie by her hair! Forbes sits Sumie up for her "enhanced" hip attack! Sumie scrambles to a corner and Forbes handsprings corner to corner for a back elbow. Forbes adds insult to injury with her "All Natural" Stink Face! The ref counts and Forbes backs off at 4. Forbes drags Sumie to a cover, TWO! The duo of champions is in trouble as Forbes drags Sumie to her corner and we go to break.
ROH returns as Mazz whips Sumie corner to corner. Mazz then runs in, but into a boot! Mazz staggers but comes back in to block the next boot. She puts Sumie's leg on the ropes to kick it. Mazz suplexes and covers, TWO! Mazz keeps her cool and runs to drop the leg, but Sumie gets clear! Sumie crawls but Forbes goes around to the corner and drags Mayu off the apron! Forbes teases Sumie as she holds Mayu up. Sumie gets attacked from behind and Forbes gives Mayu a snake eyes on the apron. Mazz drags Sumie up and whips but Sumie reverses. Mazz grabs ropes and spins to heel kick Sumie away. She gives Sumie a DDT, then covers, but Mayu breaks it! Mazz is furious but fans rally up for Sumie. Mazz spins but Sumie dodges to kick and TJ Neckbreaker!
Fans rally up and Sumie crawls for her corner. Hot tag to Mayu! Mayu aims and dropkicks Mazz down! She drags her back up but Forbes runs in to attack. The duo double whips Mayu but she reverses and wristlocks for a springboard DOUBLE arm-drag! Fans fire up as Mayu gives them both the basement dropkick! Mayu fires up now as she stays on Mazz. She drags Mazz up for a Northern Lights! Bridging cover, TWO! Mazz lives but Mayu stomps her down before tagging Sumie. Mayu climbs one corner as Mazz staggers up, missile dropkick sends her back down! Sumie is perched, crossbody! Cover, TWO!! Mazz survives and Forbes attacks Sumie just because.
Sumie slaps Forbes then puts her in a corner. The Joshi duo double whips but Mazz dodges and spins things around. Mazz sends Sumie into Mayu, then Forbes grabs them both for a DOUBLE Fireman's Carry! The All Natural does squats with that weight, then hits a DOUBLE Samoan Drop! Mazz flounders to cover Sumie but Sumie gets up. Mazz throws hands then drags Mayu back in. Sumie hits Mazz while Forbes goes to throw Mayu. Mayu blocks and then SUPERKICKS Forbes! Mazz hits Sumie back then goes after Mayu. Mayu SUPERKICKS Mazz, then Smash Mouse from Sumie! Cover, Sumie & Mayu win!!
Winners: Sumie Sakai & Mayu Iwatani, Sakai pinning
The duo of former champions toughs it out and gets the win! Will this new team make big waves in the WOH Division's growing tag scene?
PJ Black speaks.
"Let me start from the beginning." The Darewolf came in with a chip on his shoulder, thought he knew better and was just plain better. But his loss to Bandido really hurt. PJ's been doing this for 22 years now, but given how long he's been doing this, the frustration is building. He's been trying to take shortcuts to get ahead, but it doesn't work. ROH is built on honor and respect, of course, but PJ's been doing the opposite. Now he's doing some soul searching and rethinking his mindset. He knows he has to do it differently now. LifeBlood sets a great example for him, and he'll learn to follow the honor in Ring of Honor. PJ knows now he didn't know better, but will he be able to make it right in a rematch next week in episode 396?
Crockett Cup Qualifying Match: The Briscoes VS Jeff Cobb & Willie Mack!
The most decorated tag team in ROH were practically offended that they'd have to qualify for the return of the iconic tag team tournament! But as the "baddest tag team on the whole damn planet", they'll gladly beat up anyone and everyone they have to in order to win it all. Will #DemBoyz be able to overcome the ROH World Television and NWA National Heavyweight Champions? Or will Cobb and Mack be the duo to #ManUp and make it into the Crockett Cup?
ROH returns as both teams uphold the Code of Honor. That's surprising for the way The Briscoes have been acting lately. Fans duel for the two teams as they sort out. Mack and Mark start and stare down with the bell. Fans rally up and Mack circles with Mark. They tie up and Mack powers Mark to a corner. Mark turns it around and grinds his forearm in. He backs off at 4 but Mack dodges the chop to give a chop! Mack CHOPS again, but Mark CHOPS back. They trade CHOP after CHOP! Neither man backs down as they keep firing them off! Mack eggs Mark on but Mark knees low. Mark headlocks but Mack powers out to his own. Mark powers out but Mack runs him over!
Mack speeds things up and hurdles over Mark, to then hit a BIG Thesz Press! He fires off hands then runs for a Stone Cold elbow drop. Fans fire up as Mack brings Mark up and powers him to the corner. Cobb tags in and rams his shoulders in. Cobb throws European Uppercuts then whips Mark to a corner. He scoops Mark on the rebound to then suplex! Cobb holds Mark up for a count of 15! Mark flops up and out of the ring! Jay hurries to regroup with his brother and get him back in this. Mark goes back in to tag Jay and Jay circles with Cobb.
They tie up and Jay waistlocks Cobb. Cobb pries his way out to a wristlock but Jay rolls and spins and drop toeholds. Jay gets a facelock but Cobb powers him to a corner! Cobb lets Jay go clean and now the hair comes down from both men. Fans fire up as Cobb shakes the locks out. Jay calls for a test of strength, but with the Hawaiian Hulk? They tie up, but Jay kicks low. The Briscoes tag and mug Cobb while we go to break.
ROH returns as Jay uppercuts Cobb to a corner. Jay throws more uppercuts then whips corner to corner. Cobb reverses but runs into a back elbow. Jay tags in Mark and the Briscoes double whip, to run Cobb over with double shoulders! Fans cheer that as Mark covers, ONE! Mark keeps his eyes on Mack while stomping Cobb. Cobb grits his teeth and throws body shots back. Cobb rocks Mark but Mark hits Mack! Mark still gets forearms from Cobb then Cobb whips to elbow Mark down. Cobb brings Mark up for more forearms, then whips again. Mark holds ropes and Jay tags in. The Briscoes swarm and Mark feeds Cobb to Jay's boot!
Mark hits Mack again for good measure while Jay drags Cobb up again. The Briscoes throw Cobb out then Mark climbs to corkscrew moonsault onto them both! The South Sussex Chicken flies and takes them both out! Mark puts Cobb in for Jay and Jay covers. TWO, but Jay keeps on Cobb with a headbutt. Jay kicks and bumps Cobb in a corner then stomps in a mudhole. He grinds his boot in but backs off at 4. Jay drags Cobb up to tag Mark, and The Briscoes mug Cobb again. Mark stays between Cobb and Mack as he CHOPS and forearms Cobb. He puts Cobb back in the corner and tags in Jay. They mug Cobb more and Jay rams his shoulders in. Jay brings Cobb around and manages to snap suplex him! Fans cheer that as Jay tags Mark.
Mark clubs Cobb but Cobb throws hands. Mark knees low and clubs Cobb again, but Cobb dodges to DROPKICK! Cobb rolls, hot tag to Mack! The Return of the Mack rallies on The Briscoes! Running leg lariat puts Mark in a corner! Mack goes side to side for a sharp forearm, then side to side again for a bicycle boot! Mark sits down and Mack goes corner to corner for the inverted cannonball! Cover, TWO! Mark survives but Mack keeps his cool. Mack whips Mark corner to corner but Mark reverses. Jay runs in to forearm, and feed Mack to Mark's shotgun dropkick! Mark drags Mack to a cover, TWO! Tag to Jay and the Briscoes stomp out Mack while we go to one last break.
ROH returns again as Mark holds Mack in the Briscoe corner. Jay distracts the ref while Mark rakes Mack's eyes, but then the ref has to keep Cobb back. Jay stomps a mudhole into Mack in that time, then both Briscoes grind their boot in. The ref reprimands them both but Jay keeps going to EuroUpper Mack. Tag to Mark and The Briscoes continue to mug Mack. Mark rocks Mack with an uppercut, then stalks him to an open corner for more stomps. Mack throws hands but Mark haymakers and headbutts him down. Mark snapmares Mack to a neck wrench! Fans rally up as Mack endures. Mack works his way up and fights his way out. Mark clubs Mack back then runs, but into Mack's pop-up complete shot! Both men are down but fans fire up as they stir.
Mack and Mark crawl, hot tag to Cobb but Jay still runs in! Cobb catches Jay for a BIG overhead belly2belly suplex! Mark staggers up and gets one of his own! Cobb sees the Briscoes in opposite corners, so Cobb runs for a big leaping elbow on Jay, then corner to corner for one on Mark! Cobb scoops Mark but Jay saves him. The Briscoes double whip but Cobb reverses to pull them into each other! Cobb gets a leg each, and gives both Briscoes a single leg suplex! Fans fire up as Cobb hits a STANDING MOONSAULT! Cover, TWO!! Mark lives and gets to a corner but Cobb goes at him for CHOPS. Cobb whips but Mark goes up and forearms Cobb back. Mark ducks Cobb to PELE! Tag to Jay, and Jay runs to clobber Cobb! Cover, TWO!
Jay grows frustrated but he drags Cobb up for a neckbreaker, only for Cobb to power out and SUPERKICK! Hot tag to Mack! Mack rallies on Jay with clotheslines and elbows! Mack scoops to a Samoan Drop! And knip up to his own standing moonsault! Cover, TWO! Jay still lives and gets away. Mack builds speed but Jay gets away again. Mack pursues but Mark wrecks Mack with a dropkick! Cobb comes around, but gets an apron blockbuster! The Briscoes suckered both opponents in! Jay gets Mack in and fans cheer "Man Up!" Jay underhooks Mack but Mack powers out and ducks to hit a big exploder! Cover, TWO! Mack keeps cool as he whips Jay corner to corner. Jay reverses but runs into a boot. Mack climbs up but Jay intercepts! Mark springboards in, Doomsday! Cover, but Cobb barrels in to break it up!
Fans know "This is Awesome!" and far from over! The Briscoes throw Cobb out then go back to Mack. Mark tags in and Jay helps Mark get Mack up. Canadian rack, but Cobb blasts Jay down! Mack escapes, STUNNER! TO GERMAN!! Mack climbs up, FROG SPLASH!! Cover, TWO!! Mark survives and Mack cannot believe it! Cobb drags Mark up to whip but Jay saves Mark at the ropes. Mark baits Cobb in to send him out, and Jay BOOTS Cobb down! Mark drags Mack up and throws a CHOP! Mack CHOPS back, Mark CHOPS back, repeat! They go for forearms next, then Mack back hands. Mack runs but into a forearm. Mark runs but into a BOOT! Mack runs but Jay headscissors! Jay underhooks, JAY DRILLER! Mark up, FROGGY-BOW!! Cover, The Briscoes win!!
Winners: The Briscoes, Mark Briscoe pinning; advance to the Crockett Cup Tournament
Against a team as tough as they are strong, the Baddest Team on the Whole Damn Planet makes it into the more prestigious tag tournament in the world! Will #DemBoyz beat the best teams in NJPW, NWA and CMLL to take the whole cup, too?
---
My Thoughts:
What a great episode of ROH! Taylor VS Luchasaurus was a solid opener, both guys are big but agile so it made for a good match-up. Taylor wins because he's a strong enough Heel to go after Face champion Jeff Cobb for that ROH World TV title. Of course, by this time in real-time, Cobb is dual champion with both the ROH WTV and NEVER Openweight Championship after G1 Supercard. I'd imagine Cobb being that strong now, I doubt Taylor wins. And there's obviously a lot more to Silas VS Gresham, their next rematch will be just as good if not better than their previous. The PJ Black VS Bandido rematch next week will be a great match for TV, but I wonder if PJ really will keep it clean like he's been saying.
The WOH tag match was pretty good, but I'm both surprised and disappointed it wasn't just an exhibition of how great Sumie Sakai and Mayu Iwatani are. Even after watching her as Khloe Hurtz on Women of Wrestling, and full-well knowing she was trained by Rob Van Dam, I still don't see how she and a tag partner could've lasted this long against two former champions. Especially when, at the time of this taping, Mayu was still WOH Champion and a champion in Stardom. Sumie and Mayu still win, thankfully, and this just seems to further push that ROH is considering their own Women's Tag Championships. A sadder irony of tape delay is that while Tenille Dashwood is cleared to compete, her contract expired and it doesn't seem like she's renewing with ROH. There goes my idea that she'd say Kelly Klein was the one who attacked and injured her.
The tag match main event was incredible! It really is a shame this wasn't part of the Crockett Cup itself, but if this was just a qualifier, all the matches of the tournament are going to be insane! And I would really hope with how hard The Briscoes fought to get in, they at the very least go to the finals. The Briscoes should also beat Villain Enterprises as payback for losing the ROH World Tag Team Championships to them. Then hopefully once they've won the Crockett Cup, The Briscoes go back after the Guerrillas of Destiny to at least take back the ROH tag titles and we get the 2v2 match we were supposed to get in the first place.
My Score: 8.3/10