Joe's Lucha Libre Weekly: News & Opinions (10/18/18)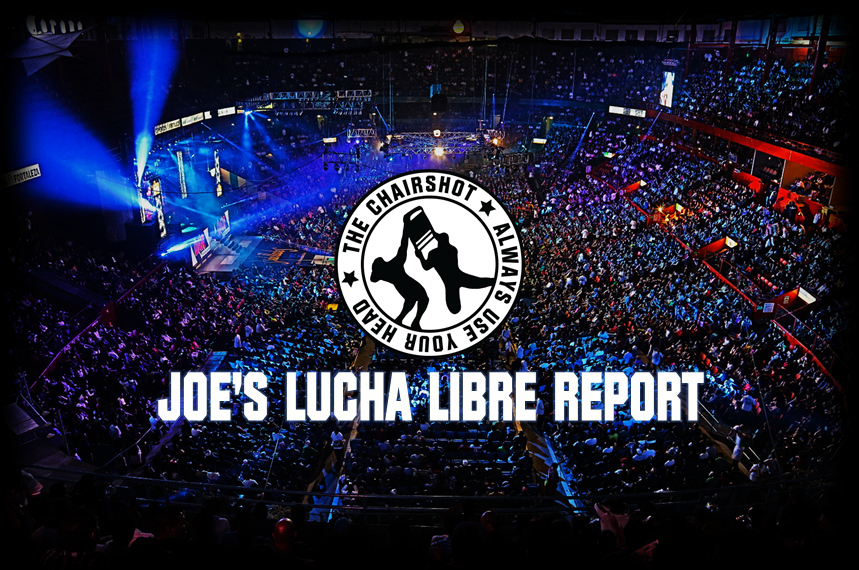 Fear Not! We have a AAA show finally this Friday but first…
CMLL
Last weeks shows to sum up really quick was basically a small tournament to decide the two competitors in the heavyweight championship match. The important note on the Puebla show was Volador defeating Cavernario defending his Welterweight championship. But that was discussed more in depth last week. Important notes to look at are Volador Jr and Soberano Jr competing in the New Japan Super Juniors Tag League. I will be watching those shows not just for the luchadors because, well, I watch most of New Japan's shows. But our CMLL athletes defeated ACH and Taguchi in the first match of tag league for them. They will be facing Jushin Thunder Liger and Tiger mask tonight.
Side note: I've watched Soberano and Volador vs Tiger Mask and Jushin Thunder Liger. It was a very exciting match. The crowd was super into Volador and kept chanting his name. Which makes sense because he has a very smooth style. The match saw Volador and Soberano having the advantage a lot but in the end Soberano was pinned by Tiger Mask and they lost falling to 1-1 in Junior tag league with 2 points.
Arena Mexico, Friday
The important notes of this show are Ultimo Guerrero defeated Michael Elgin in the main event in what was a pretty good match. Of course Guerrero had to avenge himself after losing the Grand Prix to Elgin. But I think it's okay considering what Ultimo Guerrero obtains later in this summary of the shows (see below for Tuesday Arena Mexico Show). Elgin expresses how much he loves Mexico and would like to be back, as did Flip Gordon on the Tuesday show three days before this. I have to think Elgin will be back. He was very over with the crowd and they appreciated his ability to do some lucha libre. Ultimo Guerrero raised his hand at the end, and since he won the Grand Prix, I have to think they have plans for him. It's not like Elgin is taking American booking. It's just Japan and Mexico now.
In the Co-Main Event we saw LA Park, Mistico, and Volador defeated Hechicero, Cavernario, and The Chris. Interesting note in this match is that Ciber was supposed to be in it but a few days before the show a change was made. I wonder if that has to do with last week's show where Ciber was totally not taking bumps for Park. Park tried to go for his spear, his new finisher but Ciber didn't take it and it ended up being a clothesline which Park was very upset at. This, however, was just a standard match. Nothing else important.
The match before saw Finlay and LA Park's son team with Atlantis in what was a nice fun match against Bestia Del Ring, Okumura, and Rey Bucanero. It was a fun match, Hechicero was originally to be in this match but was moved to the match Ciber was supposed to be in. Finlay has been used a lot in CMLL recently so i wonder if they're looking to use Finlay, Flip Gordon, and Elgin more specifically. It feels like Finlay is stuck in New Japan since there isn't a spot for him right now. He also wasn't booked in the Junior tag league so he has time on his hand. Atlantis pinned Bestia to win this match.
Puebla
The main event of this show saw Caristico team with Mistico and Finlay. It's weird to see Mistico and Caristico in the ring, since the fans know Caristico is the original Mistico so it kind of hurts Mistico and they want to see Caristico. Finlay, again getting some more work in CMLL working Puebla. The Puebla shows are always fun for outsiders to work. It's a nice relaxed atmosphere and the crowd feels like it's right on top of you. They wrestled Los Guerrero's. As you would figure though, going into a heavyweight title match, Ultimo Guerrero's team wasn't going to lose. The Co-Main saw Diamante Azul team with Angel de Oro, and Niebla Roja facing Mephisto, Luciferno, and Ephesto. Of course Azul's team won as well going into his heavyweight title match. I felt Mephisto's team looked silly at times in this match.
Arena Mexico Tuesday
Obviously the big thing for this show was the crowning of a new heavyweight champ. It was a nice back and forth match with Azul and Guerrero trading big moves, but Guerrero won with a reverse suplex off the top rope for the win. It was around a 15 minute match and it was a good match but the problem is the crowd didn't sound totally into it mainly because it sounded like there was barely anybody in the crowd. As I make note in my weekly review of the CMLL shows which will be out later this week, you could hear the echo from the announcers talking on their headsets because the arena simply wasn't filled much at all. I'll be interested to know if there will be attendance numbers for this show like there usually is for the Friday shows.
The Co-Main saw Mistico team with Niebla Roja and Stuka to take on Nitro, Euforia, and Rey Bucanero. What was interesting here is that Shocker was listed as being in this match on their billboard and even on the upload of the event after it aired live on Youtube they still listed Shocker as being in the match even though he wasn't. He was supposed to be in a match last Friday which he wasn't in either, so I wonder if there's a problem with him or if he's injury. I haven't checked if he's working any other shows in the mean time. There wasn't anything significant about this match or the matches underneath. They were all just fun matches.
Preview of Arena Mexico Friday Blue Panther 40th Anniversary Show
This will be the 40th Anniversary show for Blue Panther and they are having a tournament, yet again. It is the Suriano Falcon Cup and the competitors in the match will be, Angel de Oro, Blue Pnather Jr, Niebla Roja, Black Panther, Stuka Jr, Dragon Rojo, Luciferno, Misterioso Jr, Espanto Jr, and Templario. I'll make my prediction on the winner….. Templario. I feel like having Blue Panther Jr win would be obvious but hey you never know. The main event of the show is Caristico, Pentagon Jr, and David Finlay yet again vs Rush, El Terrible, and Cavernario. That should be a really fun match. The legends match on this show for the Blue Panther Anniversary show is Blue Panther, Black Warrior, Panterita del Ring, and Euforia vs Mascara Ano 2000, Sanson, Cuatrero, and Forastero. Another name match on the show features Mistico, Diamante Azul, and El Valiente vs Negro Casas, Dark Magic, and El Felino.