The Good, Bad & Ugly: Pre-Evolution 2018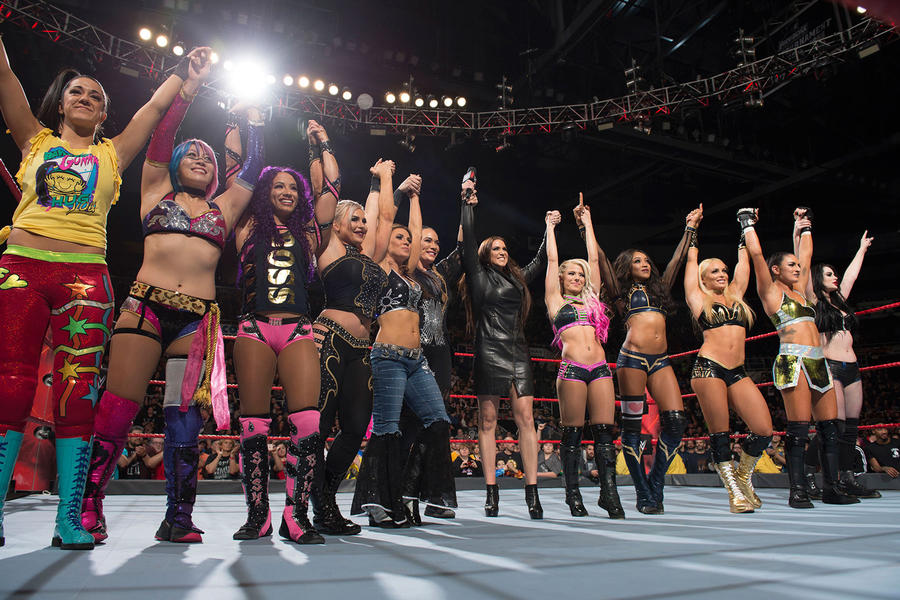 WWE Evolution, the company's first all-female PPV.  Truth be told I enjoy Women's Matches typically more than the guys.  Why?  Because they are hungry and have something to prove, especially now.  This event has Legends, Hall of Famers, Future Hall of Famers, and everything past, present and future.
Before we get started, let me say, best of luck to Roman Reigns.  I don't care what you think of him at all, what he is about to do is tough, and I greatly wish him and his loved ones the very best.
THE GOOD
NXT Women's Championship – Kairi Sane (c) vs. Shayna Baszler: This is going to be the best match of Evolution, in my opinion, on a primarily sad show.  Kairi Sane is fun, immensely talented and addictive.  You crave more and more.  Shayna Baszler always brings it on, and will not disappoint.  I expect the crowd to be hot for this match, and they will deliver on all levels.  I see Kairi Sane retaining after a violent match.
2018 Mae Young Classic Final – Io Shirai vs. Toni Storm:  Here we have it yet again.  Not poisoned by the cheesy main roster yet.  We have pure hunger, talent, and abilities that go far beyond the norm.  Not only will this match deliver, but it will turn into something bigger down the road.  No matter the outcome (I predict Toni Storm takes it), we will be seeing these two fiery upstarts' lots more.
NXT UK Women's Championship – Rhea Ripley (c) vs. Isla Dawn: This match is going to be one of the most physical on all of Evolution.  We have two amazing competitors with unique skill sets that will beat the hell out of each other.  This match will change what it means to "fight like a girl."  I 100% expect the crowd to not see this match coming, and a few pops will light up their world.  New UK Women's Champion Isla Dawn, and like the rest of THE GOOD group here, I hope we see a lot more of these two.
THE BAD
Raw Women's Championship – Ronda Rousey (c) vs. Nikki Bella: Here I go again, why would I bet against Ronda Rousey, over and over?  Well although she is doing well for the amount of time she has been active in Pro Wrestling, she still isn't ready to be in there.  Especially against Nikki Bella.  Now Nikki Bella is lightyears ahead of her sister, however we really could have used a better talent to help carry this match.  I expect a lot of confusion and screw-ups here, but ultimately a successful title defense by Rowdy Ronda Rousey at Evolution.
Sasha Banks, Bayley & Natalya vs. The Riott Squad:  This match bothers me in almost every way.  We have talent beyond normal levels.  Everyone in this match is just insanely good.  Now for the match, it makes no sense, has no story, and legitimately will be messed up WWE style in some way, probably solidifying another off feud with Bailey and The Boss Sasha Banks.  It is just another example of WWE wasting some of their best talent for whatever reason.  Victory goes to The Riott Squad.
THE UGLY
Trish Stratus & Lita vs. Alicia Fox & Mickie James: This is a guaranteed squash match.  One sided, and a nightmare.  We had huge potential with the original 1 on 1 Stratusfaction vs Little Miss Bliss.  It now has become a sub par footnote, even with Lita.  I wish Lita was booked in a separate singles match. Alexa Bliss is always gold, but now completely out due to injury, I see a bad taste being left in our mouths this match. Trish and Lita win.
Battle Royal: Not to over exaggerate or confuse you.  This will be a train wreck.  I expect seeing some horrible half ass striking and absolutely dulling, painful boredom to ensue.  If we all stay awake during this, someone will win, but will anyone care?  The only silver lining is we will see a ton of big names and icons, but still is that enough?  I highly doubt it.  I am happy WWE is giving everyone a chance to perform out there, but at what cost?  This could be one ugly scene.   Asuka for the Win.
SmackDown Women's Championship – Becky Lynch (c) vs. Charlotte Flair (Last Woman Standing Match):  I really wish these two fantastic competitors were facing other people.  I love the Lass Kicker, however Becky Lynch is horrendous at striking, and when she "acts" bad, it's to cute to be taken seriously.  Charlotte when she decides to get "hardcore" becomes careless and has a history of injuring her opponent's unnecessarily.  This type of match with these two is against the grain and will be tough to watch.  Charlotte for the win and New Smackdown Women's Champion.  I just hope we see Becky Lynch can continue to function after this nightmare.
So my initial thoughts are we will have some amazing talent from the future stars, and major disappointment on our hands from the Main Roster on all levels.  I hope I am wrong, and we have a winner on our hands for Evolution.  I love Women's Wrestling, and the talent is there, if only WWE will just get out of the way.  Please read, like and share, and most of all enjoy the show.  See you afterward for my Post-show article.