Sleepy sleepy sleepy, between Pod is War being recorded late on Sunday, and the New Japan Fighting Spirit Unleashed show ending around midnight, it's a long night.
We did have a vote last week, it was close, but it looks like, NXT: Ricochet vs Pete Dunne Champion vs Champion, won the vote last week.  This week will be the last one for September, and we end with a bang. A lot of fun outcomes in the New Japan show, so it gives us stuff to look forward to in the future.
Let's see what made the cut this week.
5. ROH Death Before Dishonor ROH World Championship Match: Will Ospreay vs Jay Lethal (c)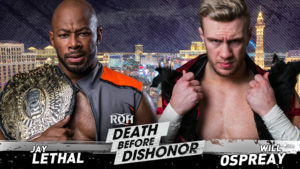 Well I didn't watch the whole show, but to be fair, it didn't seem like the most riveting card anyway. This was the only match that intrigued me and let's see if it pulled through.
Ospreay and Lethal lock up early, and we get to see a slightly adjusted style from Will. He's put on a few extra pounds, and seemed to take a little more pride in chain wrestling. We saw both men attempt their Cutter finishers early, but it was a big cat and mouse game for the most part.
It was a little odd that during a spot to the outside, Lethal was looking under the ring, when he mostly plays by the rules. We then see Ospreay go under on the different side to find a ladder and keep it around for later. After that spot comes an interesting moment where Jay accidentally Superkicks Bobby Cruise, the ROH title flies in the air and Ospreay catches it. So we see this thread play through with Ospreay considering using the belt to win, but he fights the urge.
A good bit of back and forth, then we see Ospreay pick the belt back up. He feigns that he's going to use it, just to catch Lethal off guard a bit and light him up with a few strikes. Will goes for Stormbreaker on a few different occasions, but Lethal fights out of it. Ospreay tries for a Spanish Fly, but Lethal counters it into an Avalanche Sitout Powerbomb, followed up with Lethal Injection, to retain his title.
Winner: Lethal via Lethal Injection
Rating: ****
4. Stardom 5 Star Grand Prix Grand Finals: Utami Hayashishita vs Mayu Iwatani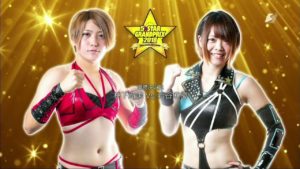 As a result of everyone else who had a shot losing in Red Stars, Utami moves on to the finals. As for how Mayu overcame an 0-2 start, you'll have to read Mathew's articles. But the match is, Super Rookie versus one of the most decorated remaining veteran. Can the Super Rookie overcome everything with only about 2 months on the Stardom Roster under her belt?
Well this match definitely lived up to being a finals match. Mayu showed the veteran savvy early until Utami caught her on the apron and literally Gorilla Press tossed her into the ground. The match was an interesting combination of Mayu's strikes focusing on Utami's recently injured right arm, but Utami would fight back with a bunch of submissions.
Camel Clutch, turned into kind of a Bow and Arrow variation, before Mayu crawled to the ropes. Utami started to work over Mayu's bandaged left arm, but many of the submissions were Sleeper variations. Aside from Utami tossing Mayu literally into the ground, the next best spot was probably when Utami whipped Mayu into the corner, but she ran up the ropes, hopped to the top, turned around and landed a crisp Missile Dropkick without missing  a beat.
Utami looked to be fighting uphill most of this match. A nice moment where she dragged Mayu back in to the ring from the apron with a Sleeper Hold Takeover, which she then turned into a Coquina Clutch was probably the last real gasp she had a winning. She tried to fight out of everything, Mayu hit a Frog Splash, but Utami kicked out. Even tried to fight out of the Dragon Suplex, but Mayu ducked the forearm and locked it in, for the pinfall.
So the last of the big 3 of Stardom (Io, Kairi, Mayu) showed that the rookie still has some growing to do.
Winner: Mayu via Dragon Suplex Hold
Rating: **** 1/4
3. 6th Royal Road Tournament: Kengo Mashimo vs Zeus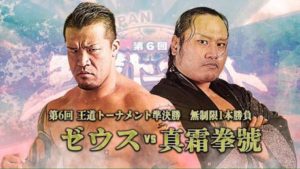 Now that we have Kento Miyahara going on to the final round, later on, we have Kengo Mashimo taking on our Triple Crown Champion, Zeus. Kengo was able to get back to back surprise victories in this tournament and he could keep up with that trend if he can defeat Zeus here in this match and go on to fight Kento in the final round. Will Kengo be three for three or will our champion make it all the way to the finals?
It would start off with a basic wrestling match without and tricks from both of them or testing any strengths as this one was mostly based on skills this time around and Zeus had the opening when he hits a Diving Clothesline to Kengo to put him down for a bit. Kengo would eventually find an opening by targeting Zeus' arm in the match and you can see him starting to sell it for a little, so now we know where his opening is going to be here. Most of the time you'll see Zeus fighting through the pain since he's more focused on winning the match and if he distracts himself by showing more vulnerability with his arm, then he knows Kengo would win the match.
Once Zeus started chopping Kengo, you can see him selling the injury more and that was what Kengo needed to try and make the champion tap out as he went for a Fujiwara Armbar and would turn it around into a Triangle Choke as he looks to have it here, but Zeus would fight through the pain here and pick him up to slam Kengo down to break the hold. Zeus moves his arm around to get circulation in there as he hits a Lariat and a Chokeslam for a two count and once Zeus went for the Jackhammer, Kengo fought out of it and he would apply the Mudo hold on him to make Zeus tap out and move onto the final.
Winner: Kengo via Mudo (Scissored Armbar)
Rating: **** 1/2
Honorable Mentions:
NJPW Fighting Spirit Unleashed IWGP US Title Match: Cody vs Juice Robinson (c)
Winner: Cody via Inside Cradle
Rating: ****
6th Royal Road Tournament: Kento Miyahara vs Yuji Hino
Winner: Kento via Japanese Leg Clutch
Rating: ****
Stardom 5 Star Grand Prix: Utami Hayashishita vs Konami
Winner: Utami via Torture Rack
Rating: *** 3/4
NJPW Fighting Spirit Unleashed: Will Ospreay vs Marty Scurll
Winner: Scurll via Graduation
Rating: *** 3/4
Stardom 5 Star Grand Prix: Tam Nakano vs Kagetsu
Winner: Tam via O'Connor Roll w/ Bridge
Rating: *** 1/2
NJPW Fighting Spirit Unleashed: Roppongi 3k vs Jushin Thunder Liger, ACH & Ryusuke Taguchi
Winner: Taguchi via Dodon
Rating: *** 1/4
Raw: Authors of Pain & Baron Corbin vs The Shield
Winner: Shield
Rating: ***
NJPW Fighting Spirit Unleashed: Kazarian & Christopher Daniels vs Hangman Page & Chase Owens
Winner: Daniels via Best Meltzer Ever
Rating: ***
2. NJPW Fighting Spirit Unleashed: The Golden Lovers vs Kazuchika Okada & Tomohiro Ishii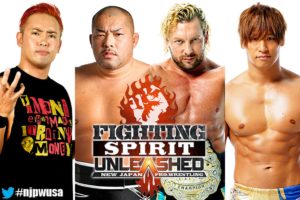 Well since it's the special main event, it's not just gonna be ANY tag team match. Also I wonder if it can be assumed that Jay White and Gedo broke away from Chaos since Okada and Ishii are working together, and ROH Death Before Dishonor had a Chaos match also. So I guess those are the surface questions that might get answered eventually.
The match starts off like most Japanese tag matches, they start, tag in the other and it's fairly respectful early on. Ibushi and Okada have some nice back and forth, Ishii and Omega reignite their feud from the last few weeks.
To be fair, there was more going on in this match than I can adequately describe at such a late hour. I will say that Okada had some nicely personality flairs throughout, the story telling was fantastic, and the Golden Lovers pulled off a beautiful Cross Slash. Aside from that…just watch the match, it was really well done. Okada getting kicked into the guardrail and Ishii absorbing the Golden Trigger is a fitting way to end this match.
Okada stays protected and Ishii's loss looks more complete.
Winner: Lovers via Golden Trigger
Rating: **** 3/4
1. 6th Royal Road Tournament Finals: Kento Miyahara vs Kengo Mashimo

We're now down to our final match as it comes down to Kento Miyahara and Kengo Mashimo. Both of these men have had impressive victories during their tournament matches but now only one of them can win the whole thing and earn the right to challenge Zeus for the Triple Crown Championship. Will Kento win to get his rematch to reclaim his prize or will Kengo pick up four big wins in a row and fight Zeus once again?
This is where we see Kengo's technical side of his wrestling starting to flourish here when he started to target Kento's arm when they were outside when Kengo would slam his arm against the guardrail and Dropkick it for good measure, and now he has the strategy he needs to destroy Kento's arm just like he did to Zeus earlier. I liked that this was more of a wrestling match since these two are extremely talented wrestlers as they fed off of each other and telling the right story of the match since the crowd was super into it and were fully supportive of Kento and you can hear it in the audience.
The more we got into the match, the more interesting it was starting to become when they were going at each other with Kento using his knees and Kengo working on his arm to try and make him tap out. Kengo would land a Crucifix and applies the  Mudo hold like he did to Zeus to make him tap out and the crowd starts cheering for Kento not to tap out and somehow makes it to the ropes. Kento starts to fire back with a few Blackouts to knock him down a peg and the match is getting rather explosive that it can go either way here. Kento would hit another Blackout for a two count and he quickly picks him up for the Shutdown German Suplex Hold and Kento wins the Oudou Tournament!
There's one little problem I have with Kento winning the tournament and it's that I feel like he'll most likely win back the title from Zeus and as much as I love Kento and he's my favorite wrestler right now, I don't want to see him win the title back. The reason why I'm saying this is because Zeus has worked very to get his first title run and it would be a shame if they ended it in a three-month reign with only one successful title defense. Another thing they could do is to have Zeus retain the title against Kento and don't let him get the belt back until at least after next years Champions Carnival if he does win it and challenge Zeus around May, that way Zeus would get a nice long run and a few solid defenses in his reign instead of kinda doing hot potato. Let's just see how it goes and I have no doubt it'll be a good match.
Winner: Kento via Shutdown German Suplex Hold
Rating: **** 3/4
Thoughts:
Alright, tired thoughts, tired writing, tired tired-ness…yup that's a thing now. I'm gonna vote for, AJPW Kento Miyahara vs Kengo Mashimo. Damn good match to end a tournament and I'm fairly sure most people won't vote for it. So make your opinion heard for the birds and for the things that aren't birds.
Just…Use Chairshots Away From Your Head…Always Go To Bread….whatever we say.