Why New Japan Multi-Tag Matches Are Worth Watching!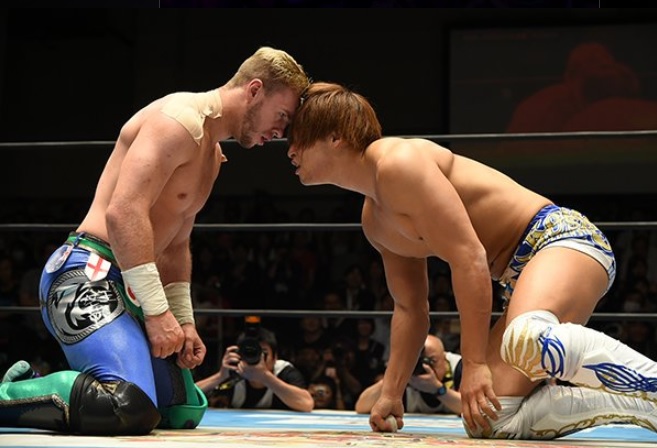 Despite popularity growing outside of Japan of New Japan, I do often see a lot of discontent on social media about the frequent booking of multi-tag matches in the under and mid-card of New Japan shows. I'm going to give you four reasons as to why I think these matches are worth watching.  
Character Development
One of the key reasons I believe that watching the multi-tag matches are worth it is the character development that you see throughout the matches and tours. This is linked with the story progression that I'm going to mention next, but the key separation here is that there doesn't have to be a feud going on between two wrestlers for a wrestler's character to develop in these matches. The multi-tag matches are great for allowing the Young Lions and the lower card talent (such as David Finlay & Toa Henare) to slowly earn the respect of the fans by executing convincing offence against wrestlers who are higher up the food chain. It isn't just about being able to get the better of an offensive exchange or demonstrating that fighting spirit though. It's also about developing their persona and their move set. With the Young Lions, you'll notice as they wrestle more multi-tag matches, they will begin to broaden their move set and display further individuality. This isn't exclusive to them either, when you look into the final 6 months of Okada's reign, his behaviour during these matches involved him laughing, having a good time and just an all-round aura of arrogance. This didn't happen overnight. This steady character progression happened and was demonstrated during these multi-tag matches. I personally find it really interesting to see the New Japan wrestler's personalities develop during the tours within these matches.
Storyline Progression
Due to New Japan traditionally not having promos in front of the fans in attendance (unless you win the main event), the majority of the feuds are created and progressed in the multi-tag matches, which then lead to a singles match.  For example, much of Jay White's meddling and the storyline with Chaos has been told within these matches. Jay has been planting the seeds of dissent within Chaos for some time now, whether it be through trying to manipulate Roppongi 3K during the G1 tour, endorsing the behaviour of Ishii during their tag match at the G1 Finals or antagonising Yoshi-Hashi and Okada when they've teamed together. If you tune into these multi-tag matches, you may be quite surprised about how the actions and results of the matches play into the overall story and booking moving forward.
Great Wrestling
This is the bread and butter as to why we watch wrestling right? We're impressed by what goes on in the ring. These matches can have great wrestling within them. Whether it be some great chain wrestling, some athletic spots, comedic moments or those classic puroresu fighting spirit duels. These matches can still provide high quality entertainment even if they're not the top billing of the card.  You also get to see encounters between Heavyweights and Jr Heavyweights, something that isn't done as much as it should be in my opinion.
An Eye on Future Cards
Whilst this does link with the character development and storyline progression in New Japan, I also feel it's another reason why you shouldn't dismiss these matches. These matches often play a part in how the future matches/cards are booked. So, if a wrestler pins a champion in the tag match, it often means that the wrestler who scored the pinfall will get a title shot. These matches are also used to tease future matches. If you pay attention to the Chaos vs BC Elite tag matches recently, you'll see Ospreay frequently asking to face Ibushi in the match. By doing this, they're giving you a glimpse into what a singles match between them could be and in theory that means they're looking into having it in the future. Perhaps Wrestle Kingdom 13? Who knows, but they've planted that seed and now I have to see it!
These are my thoughts on why you shouldn't sleep on these matches. What are your thoughts? Do you usually watch these matches? Do you enjoy them? Let us know in the comments or via our social media!