The Good, Bad and Ugly: WWE Survivor Series 2018 Post Show
Where did the matches land?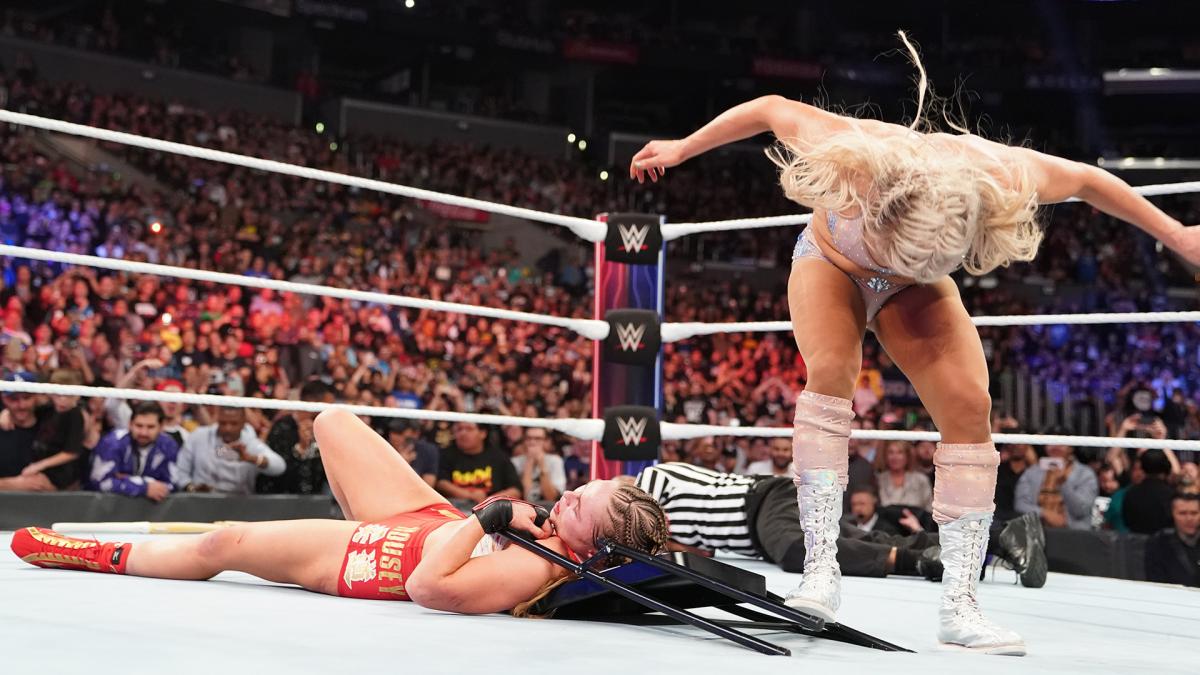 Bobby Fernandes weighs in with his Good, Bad, and Ugly review of WWE Survivor Series 2018. Where did the matches land?
Here We Go!  Another Survivor Series and the whole world is watching.  NXT had another classic that no matter how good WWE can do, will not deliver at that level.  They just can't.  But that doesn't mean it can't be Good, right?
The Good
Team Raw Mickie James, Nia Jax, Tamina, Sasha Banks, and Bailey vs. Team SmackDown:  Carmella, Naomi, Sonya Deville, Asuka, and Mandy Rose
Mandy Rose is an incredible talent, and can add something special just by being there.  I just wish WWE didn't go with the most predictable move possible.  Also, Tamina Snuka could have been anyone else and it would have been better.  I do love Bailey so any Bailey is good Bailey.  Now getting past that, onto the action.  I was unbelievably disappointed how fast Naomi was taken out but equally as happy to see how fast Tamina was axed by Carmella.  The constant heat on Nia Jax was appreciated.  Mandy Rose looked sharp out there, and has a ton of potential.  She really impressed.  Bailey was fun to watch and had some Good moments. The double count out with Bailey and Sonya Deville was cheap, I hate that!  Sasha Banks delivered some Good stuff tonight!  I really don't get why Nia Jax turning on her own team makes any sense at all but whatever, but her being the sole survivor certainly bring a ton more heat in every way.  This makes plenty of sense for her heel persona.  Team Raw Wins!
Champion vs. Champion: Seth Rollins vs. Shinsuke Nakamura
The talent is there, the reputations are there, the titles are there.  This is set up to be Great!  Two former NXT Champions facing off for the first time ever.  I actually enjoyed the early buildup, feeling each other out.  It reminded me of some Perfect vs Bret Hart, loosely of course, as they are just a great matchup and have compatible skill sets.  There were some slow points but that was because the pace called for it.  It was sharp, they are Masters of their craft.  You can tell that they have tremendous respect for one another.  I will never get sick of seeing the Superplex into a Falcon Arrow, ever.  Nakamura had it locked after the Reverse Exploder then Rollins went right through his face with his knee but still no winner.  A missed frog splash, Nakamura hits his finisher but only for a two count.  The last exchange was money, Rollins hits a curb kick for the victory!  Great Match!  Raw Wins their 2nd.
Cruiserweight Championship Match: Buddy Murphy (c) vs. Mustafa Ali
Originally I gave this match a Bad spin.  I thought maybe a preshow afterthought was upon us.  The placement of this match was good.  The talent is also good.  Right off the bat, we had some great action.  Feeling each other out, followed by some high risk that 205 always brings.  These two are impressive on multiple levels.  I cannot believe the bump Ali took into the barrier.  I didn't find anything bad about this match.  It was fun, entertaining and had many high points.  I thought Ali had the belt with the Poisoned Frankensteiner.  But we had a lot of match and a lot more to give.   We saw some of the best bumps of the night, and the spot in the corner by Murphy was amazing.  Buddy Murphy hits the Pump-handle Death Valley Driver and retains the Cruiserweight Championship.
Team Raw:  Dolph Ziggler, Drew McIntyre, Braun Strowman, Finn Balor, and Bobby Lashley w/ Baron Corbin and Lio Rush at Ringside vs. Team SmackDown: The Miz, Shane McMahon, Rey Mysterio, Samoa Joe, and Jeff Hardy
I automatically am annoyed by Baron Corbin but will not let that determine my attitude toward the match.  The opening was sick!  We have dissention between McIntyre and Strowman and Samoa Joe came in hot getting things started, then boom!  McIntyre knocks him out, eliminated.  I enjoyed the energy, the crowd was hot and everyone was tuned up.  Although I think of it as a negative this group is seen every week on Raw and Smackdown in the main storylines and are all established.   We saw some Good stuff during this battle of the titans.  We saw a lot of variety, and all of the big moves were hit!  Overall it wasn't bad.  Finn Balor was phenomenal and his work with Rey Mysterio was stellar.    The story was told and was told well.  Shane McMahon could barely walk but took out Ziggler with a sick coast to coast.  Lashley was beast mode the whole time he was involved and really showed some worth tonight.  Shane went for it again but was swatted down like a fly by Strowman.  Strowman then went on to brutally eliminate Hardy and Rey Mysterio.  Then he literally killed Shane O Mac outside and quickly eliminated The Miz soon after.  He then devastated Shane again with a sick dropkick and finished him off.  Team Raw Wins Again.  Corbin then attacked the Monster Among Men and quickly retreated.




WWE Raw Women's Champion Ronda Rousey vs. Charlotte Flair
This has WrestleMania written all over it. Fantasy match, larger than life characters in combat.   Rousey's gear has majorly improved.  She has to be better in this one.  It is a huge moment for both of them.  It wasn't perfect but I enjoyed the wrestling back and forth.  Charlotte was sharp.  Rousey really got beaten around early taking an extremely hard hit into the bottom turnbuckle.  We had some hard moments and not everything was smooth sailing.  We saw some miscues and flailing.  Again though nothing that bad.  Until Ronda Rousey started going way to quick hitting gross strikes and horrible throws.  Charlotte on the other hand came back strong bringing the fans back in.  Out of nowhere Charlotte hits Ronda Rousey with a kendo stick.  I mean I love the heel brutality and she laid it on thick.  She beat the hell out of Rousey.  After batting 1000 she continued her assault and gave a repeat performance.  I loved seeing her channel her father.  She is such a great heel.  This wasn't a Bad match, it was Okay.  I am giving it over to the Good list because Charlotte lost it, and I love it.  Ronda Rousey Wins!  Raw wins again!  But really We won, Thank you Charlotte!
The Bad
Team Raw:  Bobby Roode and Chad Gable, The Revival, The B-Team, Lucha House Party and The Ascension vs. Team SmackDown:  The Usos, New Day, Sanity, Luke Gallows and Karl Anderson, and The Colóns
This match on the Pre-Show?  Second, do we really need New Day to Ring Announce the whole team?  My God there are a lot of people involved.  The match started off shaky at best.  Flat, dead crowd, and confusion.  B Team looked sharp, as well as Gallows and Anderson but like usual their time was short lived which is an ugly shame.  Gable and Big E could have been Good but was ruined immediately.  That neck breaker Moonsault with Gable and Roode was great!  I will say the quick ending of Sanity was surprising for Bad reasons.  Ascension tried.  They did.  Overall it just wasn't smooth.  It reminded me of the pace of practice/training back in the day. Then something amazing occurred.  New Day was all Smackdown had left, and they delivered.  We saw some save sake action from The Revival, the Uso's  and Roode and Gable.  So many dives, as Corey Graves said it was nuts!   I thought we had something Good here but it was kind of Bad with a side of who cares. Uso's are the sole Survivors, Team Smackdown Wins!
Champion vs. Champion: Brock Lesnar vs. Daniel Bryan
This one took a long time to start.  Then Lesnar just started destroying Daniel Bryan.  Suplex City then went to town.  One after another just throwing Daniel Bryan across the ring.  It was brutal.  The crowd was near silent and seemed like they were not enjoying it.  A squash match against Daniel Bryan is an act against nature.  Waiting for something that never is going to happen, we all wanted to see a fight but we got a big flat disappointment.  Ugly is ugly.  Then boom Daniel Bryan comes back, a kick to the nuts a running knee, we all woke up!  Straight kicks to the face and unrelenting kicks all over Lesnar.  You can't help but love it.  There were a few times I thought it was over, I was completely sucked in.  Lesnar nearly taps out to the Yes lock but overpowers the smaller foe into an F5.  Lesnar Wins!  Like the crowd it had some really high moments but overall this was no Good.
The Ugly
Tag Team Champions vs. Tag Team Champions: The Bar vs. AOP
I absolutely am a Bar Fan, however not so hot on AOP.  I said this one was going to be ugly but I've been wrong before.  This is not one of those times.  This was very physical as that is the business they are all in.  It was also extremely uneventful.  They layered the cheese spread on thick with Drake Maverick pissing himself.  It was awful.  AOP's finisher is sick but looks horrible when they do it.  Just not Good, not bad but AOP Wins an Ugly Match.  Raw gets the 3rd win.
Well there we have it!  We had in my humble opinion a pretty Good show.  No it was not NXT, no it was not the best ever.  It was however Good.  Sometimes it pays off to sit back and enjoy the sport we all love.  That's what I did here.  Thank you for reading and please comment, like and share.
Where would you put each match from WWE Survivor Series 2018?
Let us know on social media @theCHAIRSHOTcom and always remember to use the hashtag #UseYourHead!