What Is The Long Term Plan For WWE Universal Champion Brock Lesnar?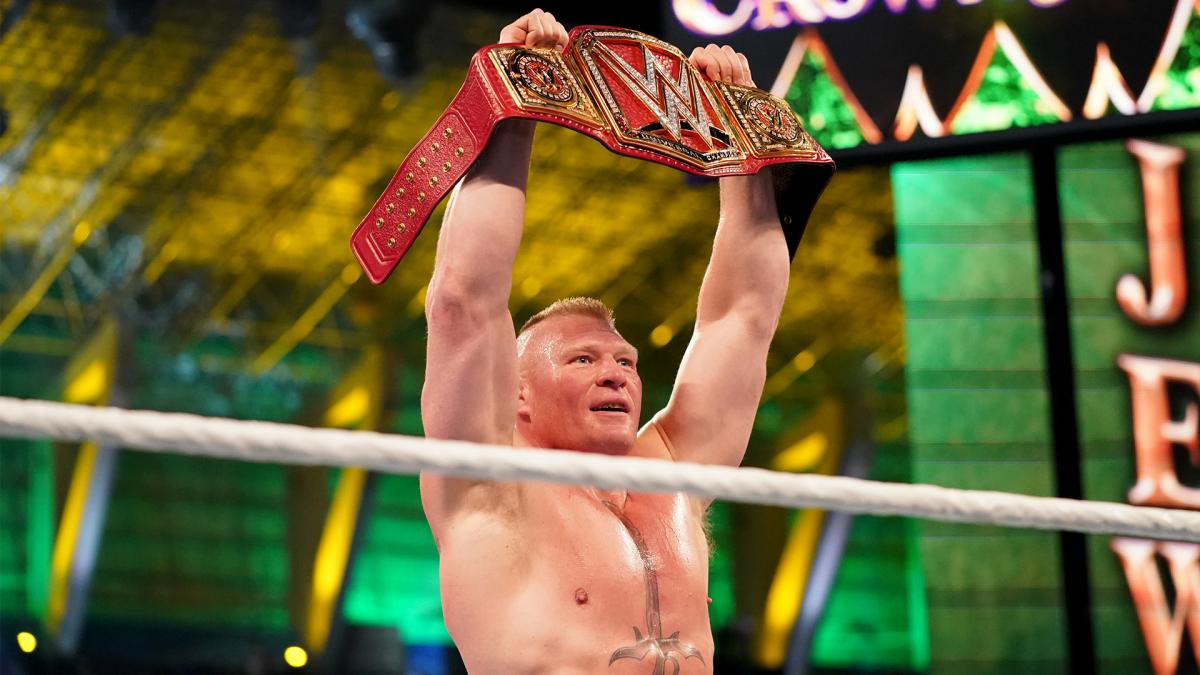 Brock Lesnar winning for the WWE Universal Championship at Crown Jewel came as a surprise to many fans. That's largely due to Brock's first Universal title run, which lasted 504 days, most of which he wasn't around for.
Lesnar's booking during that time was not exactly a shock for anyone; WWE had done it before. But considering that it took two years for the company to finally put Roman Reigns over on Brock Lesnar, it seemed that The Beast had little chance of wearing the title again. Lesnar had his run. It was Roman's time. So when Roman went out, many felt it was now Braun Strowman's time. So why didn't it happen?
---
Recommended Read: Steven Mitchell's coverage of WWE Crown Jewel!
---
Why is WWE once again moving forward with Brock Lesnar as the Universal champion? Could it be that his title win happened because there is something bigger on the horizon? What if the company's WrestleMania 35 plan is already laid out and step one of that plan was Brock's win at Crown Jewel?
If so, then does that mean Lesnar will once again retain his title on The Grandest Stage of Them All? Of course if he does go to WrestleMania as the Universal champion, then is it possible that he will also be carrying the UFC Championship as well?
Brock wants the UFC Championship back just as badly as current titleholder Daniel Cormier wants to defend it against him. WWE has teased the idea of Lesnar becoming a two-sport champion before. So it's not out of the realm of possibility for The Beast Incarnate to reign over both the UFC and WWE at the same time.
But if Brock's win at Crown Jewel puts him on the road to WrestleMania, then that means WWE is already moving forward to 2019. So for the next five months, Brock Lesnar continues on as Universal champion and no one else gets a legitimate shot at the title? If so, then who?
If this wasn't Strowman's time, then when? Will Braun's time ever come? It's as though WWE wants him in that main event spot just to take up space or be a contender when there's just no one else to book. If that is the case, then is The Monster Among Men really making any forward progress or is he just standing still?
A Braun Strowman title win would have opened so many doors. Drew McIntyre would likely have been the first challenger to the championship. He could have been followed by Dolph Ziggler, Dean Ambrose or maybe even Finn Balor. Then there's the Survivor Series match pitting the WWE champion against the Universal champion. Wouldn't Strowman versus AJ Styles have been a much more intriguing match than Styles versus Lesnar II?
Many fans have already speculated as to who the next top WWE star will be in Roman Reigns' absence. But what if WWE doesn't have plans to elevate anyone to that level right now? Speculation has been running rampant for months that current IWGP champion Kenny Omega will make the jump to WWE by the beginning of 2019. But even if that happens, would he seriously just slide into a top spot in Vince McMahon's company?
The fact is that Roman will almost certainly be back. When he does come back, WWE will work him back into the storyline and then the company will pick up where it left off. No one outside of Reigns and WWE knows what that timetable looks like. It's possible that neither side knows right now.
So Monday Night Raw is currently in a holding pattern. Unless WWE makes some roster changes in the next few months, that holding pattern is likely going to continue. This means that Brock Lesnar will keep the Universal title throughout the rest of 2018 and then he will probably win the UFC Championship in early 2019. 
WWE will have its two-sport champion. Brock Lesnar will have more leverage than any other pro wrestler or MMA fighter that either sport has ever known. He will be the biggest attraction in combat sports and at age 41, he will be the top draw over every WWE Superstar on the roster. Is this what fans really want?
The problem with this scenario is that no one is moving forward. Strowman can't win the big one. Ambrose and Seth Rollins are going to war but the Intercontinental title is in the mix, not the Universal title. McIntyre has great potential to become a main event powerhouse but what are the chances that will happen on Lesnar's watch?
---
Recommended Read: Update on Brock Lesnar's Immediate WWE Future
---
For that matter, what are the chances that anyone can become anything more than what they are right now? As long as The Conqueror is sitting on his throne, there is very little opportunity for anyone else.
The irony is that, just like before, none of this is Brock Lesnar's doing. He's along for the ride and he's not in charge of his own booking. WWE is making the decision to move forward with an absentee Universal champion while AJ Styles moves on as the full-time WWE Champion. 
Braun Strowman is capable. He's proved his worth and he seems to be the best Superstar for the job right now on Raw. Yet every time he steps up, he falls back. Perhaps there is something else at play that fans are unaware of. With any luck, the wait for WWE to reveal that something will not be long.
Andrew's G1 Climax 29 Ratings & Analysis: Night 5 A Block
KENTA, Lance Archer and Kazuchika Okada are setting the early A Block pace! Something's gotta give. Who comes out undefeated?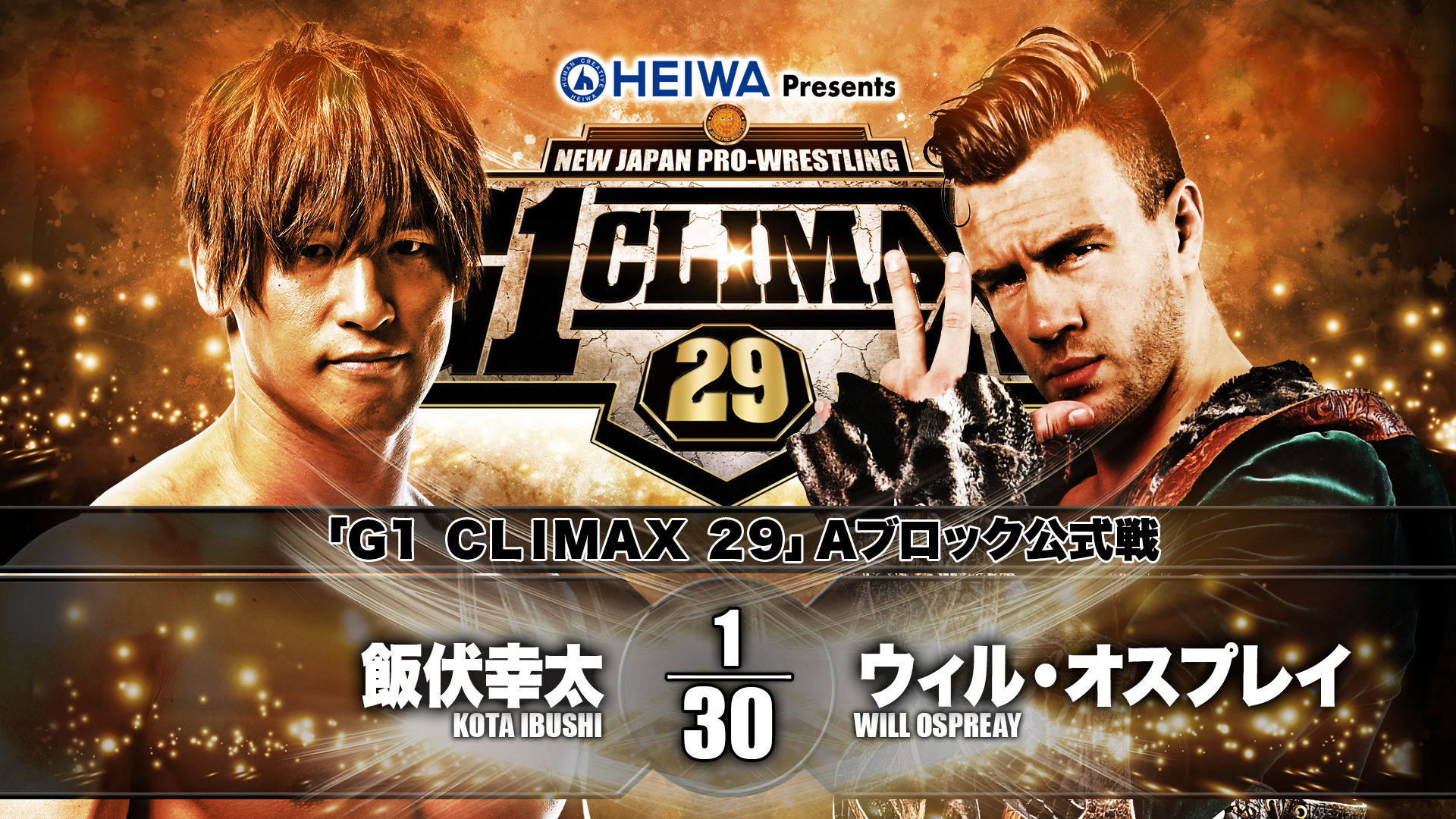 KENTA, Lance Archer and Kazuchika Okada are setting the early A Block pace! Something's gotta give. Who comes out undefeated?
Shmoxley in the opening tag team match means we should start off fun. Tanahashi and Sabre are in the battle of, well, someone needs to get at least a point out of that.
Then we've got Ospreay and Ibushi who are banged up but most likely still going to be psychopaths in the ring. Let's get ready for the carnage, I mean, no…I meant carnage.
Ratings:
Shota Umino & Jon Moxley vs Tomohiro Ishii & Yuya Uemura: Shooter wins via Fisherman Suplex Hold @5:45 – ***
Hirooki Goto, Jeff Cobb & YOSHI-HASHI vs Toa Henare, Yota Tsuji & Juice Robinson: YOSHI wins via Butterfly Lock @9:30 – ** 1/4
Tomoaki Honma, Ren Narita & Toru Yano vs Jay White, Chase Owens & Yujiro Takahashi: Owens wins via Package Piledriver @8:50 – ** 1/2
BUSHI, Tetsuya Naito & Shingo Takagi vs Taichi, Minoru Suzuki & Yoshinobu Kanemaru: Suzuki wins via Gotch Style Piledriver @8:35 – ** 1/2
A Block: KENTA vs Lance Archer: Kenta wins via Game Over @12:00 – *** 
A Block: SANADA vs EVIL: EVIL wins via Everything is Evil @18:10 – **** 1/4
A Block: Bad Luck Fale vs Kazuchika Okada: Okada wins via Double Legged Cradle @10:15 – ** 1/2
A Block: Zack Sabre Jr vs Hiroshi Tanahashi: Tanahashi wins via Triangle Counter Pin @13:55 – *** 3/4
A Block: Kota Ibushi vs Will Ospreay: Ibushi wins via Kamigoye Knee @27:15 – **** 3/4
Analysis:
Moxley and Ishii start off trying to kill one another. This is a great opener and the respective Young Lions have to pull their veteran off as to not incur a disqualification. The Young Lions then take the bulk of the match and Shota has definitely picked up a few mannerisms from Moxley that we slowly see him unlocking. This may be our evolution of Shooter, but for an opening match this was very fun and the fact Moxley and Ishii just want to fight added for a neat dynamic.
Juice and Cobb are both respectful Gaijin faces, so not a lot of heat for this match. Plus YOSHI-HASHI was in it, so I could've downed a few Valium and been more invested in staring at a wall. Pork Chop Sandwiches later, and YOSHI-HASHI wins with that awful Butterfly Lock. Great…I can now taste colors.
So Yano wanted to get him a piece of the Jay White on the down turn, but Jay tried to still play the calculating heel. Honma put in a bit of decent work but Narita was obviously the one sent out to eat the pin. Narita held his own against Yujiro and Chase, but Chase eventually stopped playing with his feud and hit the Package Piledriver to tie things up in a nice little bow.
Shingo took a hell of a beating in this match. Kanemaru played random interference and Taichi took Shingo to the woodshed. Naito also continued his distaste of Taichi and Suzuki while being a little protective of Shingo at points. Now being the unabashed fanboy of Shingo, yet also a subscriber to Holy Emperor weekly, I'm very torn about this whole thing. The match played up the G1 tensions and the LIJ vs Suzuki-Gun tensions very well, but my heart knows not which to root for.
Lance is a good foot taller than KENTA and that was the story of the first 75% of this match. Lance was shrugging off the strikes of our returning striker. KENTA was getting effectively crushed, until Lance pushed the anime comeback button and said "You're fucking Hideo! That's who you are! HIDEO!" – which prompted the anime comeback in KENTA. KENTA managed to even lift Lance for a few things, but relied heavily on the dropkicks and strikes. He couldn't quite pull off the Go 2 Sleep, so he went to his Crossface submission, Game Over. And boy howdy, it was game over! (I will see myself out after that)
EVIL and SANADA have this brotherly rivalry in LIJ. Being former 2 time IWGP Heavyweight Tag Champions, familiarity is obvious. SANADA starts off the match quickly and this is definitely a match of quick bursts when the one gets an advantage. I guess they are transitioning SANADA away from the Paradise Lock since this is the second match where he had it mostly on, but "something happened" and the opponent gets out of the move. We get a bunch of great back and forth, but something that continues to plague SANADA is his limited moveset when it gets down to crunch time. EVIL pulled out a plethora of tricks, including using the referee as an anchor for the Magic Killer. Whereas, SANADA sticks to Dragon Sleeper variants, into Skull End attempt or a Moonsault. With how over SANADA is, I really expect him to start getting more crunch time maneuvers. EVIL wins and quickly wants to bury the hatchet by extending the LIJ fist bump. SANADA bumps fists, and all is fine in our ungovernable world.
Fale tends to have Okada's number in tournaments, and he starts off by attacking him in the back and dragging him out. So we get a typical Bullet Club brawl with heel tactics and ref bumps, but Okada perseveres. Okada is able to lift Fale a few times, but can't hit the Rainmaker, and wins via the wrestling move he tends to fall back on, the Double Legged Cradle.
Well both Tanahashi and Sabre come into this match 0-2, so there's a level of desperation that both bring to the table. Sabre wrestled circles around Tanahashi, and Tanahashi just tried to keep up for most of the match. After countering the High Fly Flow, Sabre locks in a Triangle Arm Bar, but Tanahashi floats over for the bridging pin counter. The Ace finally has 2 points!
There have been well known injuries for both of these men, and they played into the story of the match well. Focusing on each other's injuries, calling back to their Wrestle Kingdom match and just a generally high energy and high impact match. Watching this match, you have to assume one of them will die with their style, but it is damn entertaining. Everyone expected this to be a great match and it delivered.
Overall Score: 8/10
Well we had a lot of good storylines and matches that mostly paid off. Lance Archer has been doing great work, Fale and Okada was at least somewhat entertaining and the cripple fight in the main event was fantastic. The inner faction turmoil was now squashed, so we can have a nice tournament while The Ace gets a few points over the petulant British child.
So great show, great entertainment, and generally a good time. I can only hope the B Block carries equal weight.
Block A Standings:
Kazuchika Okada: 3-0 (6 Points)
KENTA: 3-0 (6 Points)
Lance Archer: 2-1 (4 Points)
EVIL: 2-1 (4 Points)
SANADA: 1-2 (2 Points)
Hiroshi Tanahashi: 1-2 (2 Points)
Will Ospreay: 1-2 (2 Points)
Bad Luck Fale: 1-2 (2 Points)
Kota Ibushi: 1-2 (2 Points)
Zack Sabre Jr: 0-3 (0 Points)
Tiffany: New Japan Pro Wrestling: An Introduction From a Newbie
Tiffany decides to check out New Japan! Let's see how it comes across to a puroresu rookie!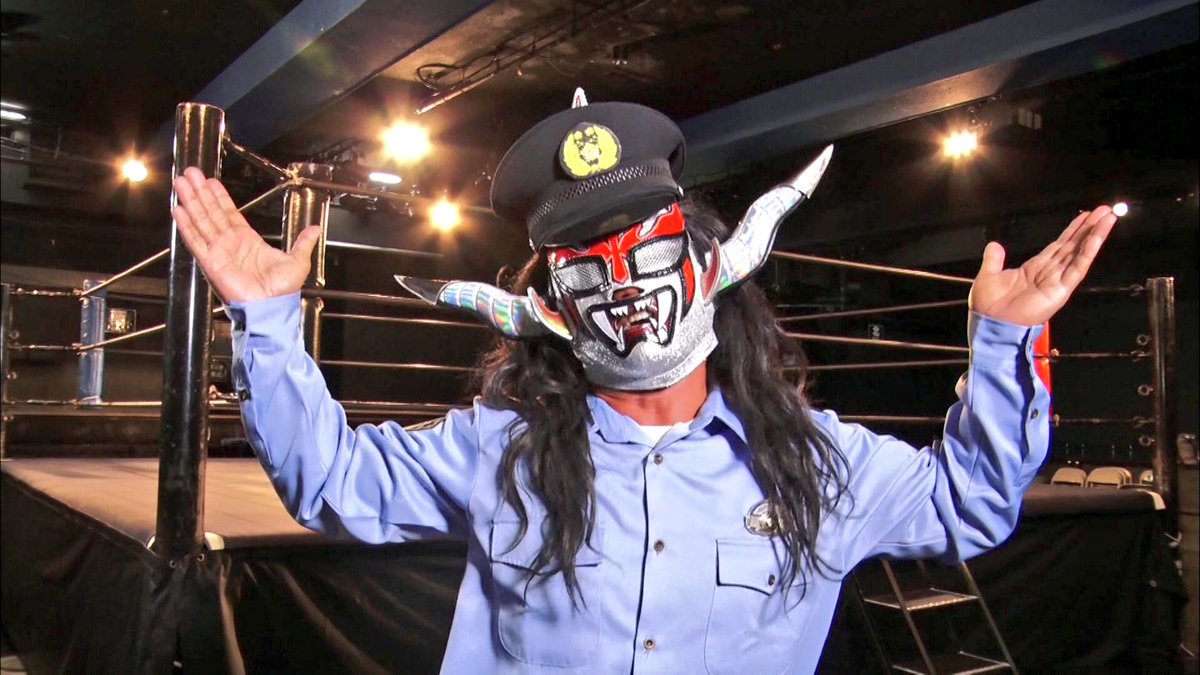 Tiffany decides to check out New Japan! Let's see how it comes across to a puroresu rookie!
I'm going to be upfront, I've been a fan of WWE my whole life, I NEVER thought I'd get fully into another wrestling promotion, let alone a Japanese one, and my initial interest in New Japan Pro-Wrestling was simply because Jon Moxley, aka Dean Ambrose, had signed with NJPW and I wanted to watch him, however I've found myself very intrigued with NJPW as a company the more I watch it and thought that if there was anyone who was wanting to check it out, it would be nice to get some tips from someone also new to the promotion.
TV: The first thing to know about NJPW is that they don't have a weekly television show like RAW or SmackDown. They do have a weekly show for their Mexican…affiliate, called CMLL, but that show features more Latino wrestlers. They do have 'Road to-' which is a build to their next big show, but it's more of a series of house show matches to build the actual show than a TV show. CMLL is offered on NJPW and on Fite TV, but neither of them have English Commentary, which makes it a little hard to follow if you don't understand Japanese or Spanish that well.
The Schedule: NJPW's schedule is really odd if you're only used to USA wrestling and seems more like UFC or boxing than the 52 week schedule US fans are used to. NJPW's schedule seems to consist of building and putting on a show, then taking a break and then starting all over again and their shows seem to consist of a lot of tournaments with a few one day shows, rather than one show running into another. The logic seems to be to give the wrestlers time to rest and recover before starting a new circuit, which seems to work considering that several of their top guys are in their late 30s and move around like guys in their 20s.
The Matches: If you've never seen a NJPW match before, it'll definitely be a shock. NJPW's matches are a lot more physical than WWE matches and the competitors have more leeway than WWE superstars do. There's a standing 20 count on the floor and using weapons outside the ring doesn't create a disqualification and the refs give even more leeway in big match situations.
The Promos: There aren't a lot of promo spots in a NJPW show, there are some, but they don't take up tons of time with them. Most promos are done at the post match press conferences, which are literally done right after the matches. Jon Moxley even commented during his first one that they 'weren't even going to let him catch his breath'. The fun part about it is that you get their real-time reactions. Yes, it's still in kayfabe, but it's definitely not scripted and they can say what they want. Also, there is a LOT of swearing, which is fun and makes things seem more…real. Also, even though most of the promos are in Japanese, save for non-Japanese wrestlers, there is a translator who translates the promos into English and if you watch the promos on YouTube, the Closed Captioning button will translate the Japanese into English you can read.
Women: NJPW does NOT have a Women's Division and it's becoming quite the controversy. There are women's wrestling promotions in Japan like Stardom, but they don't have a relationship with NJPW and it doesn't seem like NJPW is interested in changing that. So far, I've seen ONE woman in NJPW and it's Miho Abe, who is the valet of Taichi, a heel with a weird J-Pop gimmick.
The Young Lions: The Young Lions, which is a term you hear a LOT in NJPW, are one of the coolest parts of the promotion. In essences, the Young Lions are the rookies of NJPW, coming up through their dojo system, but they are so much more. The Young Lions train and learn in the NJPW dojos either in Japan, LA, Mexico, or Europe, but they are also the ring crew, part of the security team during matches, the first aid guys after the match, the gophers for the older wrestlers, and the job guys. Young Lions are also fillers in tag matches and don't really have gimmicks outside of being a Young Lion until they are sent on 'Learning Excursions' to another dojo. They aren't hard to miss and it's a very cool part of watching NJPW.
Tag Matches: If you are someone who complains about WWE putting on a lot of tag matches, NJPW is NOT for you because that's a large part of their shows. Seriously, almost anyone who doesn't have a singles match on a show is usually in a tag match. My understanding is that it's partly to help build future feuds, but also to keep the wrestlers from getting too much wear and tear on their bodies. The downside is that there's usually at least three tag matches back to back during a show, which can get tiring.
Titles: Of all the differences between NJPW and US Wrestling, the way the titles are treated is the biggest surprise. NJPW's titles don't carry the promotion's name, they are almost all IWGP __, which is the Japanese equivalent to the old NWA,  and title defenses are few. In fact, the commentators can tell you how many times a particular champion has defended their title and it's usually in the single digits and champions hold their titles for a LONG time. Current IWGP Heavyweight Champion, Okada, held the title for two years and defended the championship 12 times back in 2014-16, which would never fly in the US. That said, the champions usually get spots in any tournament they qualify for, which gives opportunities to build future feuds, but it's very strange to see a full card and NO title defenses. Also, NJPW does not give their champions an advantage over their opponents. Titles DO change hands if the champion gets DQ'd or counted out, which is actually really fun because it means the champ has to beat the challenger, not the other way around and the champion's long reign seems more justified because they seem to earn it.
Video OnDemand: Like WWE, NJPW has its own video subscription service called NJPW World, which offers their shows with Japanese or English commentary, an archive of shows, which is admittedly very incomplete, but one thing they offer that WWE could learn from is how they offer PPVs once the show is over. About a week or so after a show is done, NJPW will let the view pick a series and they have the option of watching the whole show, start to finish, or they will be offered the option of picking from, and watching, individual matches. Example: If I want to watch the Jon Moxley's debut match at the Super Jr. Final, I have the option of watching the whole show, prelim tag matches and all, OR I can scroll down the list, click on Jon Moxley vs Juice Robinson, and not have to sit through a bunch of matches I'm not interested in. WWE sort of offers this with the search option and the dots that show when a match starts and stops, but NJPW's way of doing it is more efficient, IMO, and more user friendly. Also, one very funny thing that almost always pops up at the start of the PPV is a PSA about how to behave properly in the arena. The video is always full of really ham acting, but the fact that it's shown even to people watching at home makes me laugh.
So, I hope that this list gives anyone who is thinking about checking out NJPW some information that will help them enjoy the shows. There also a lot of people in the US who enjoy NJPW and are always happy to explain things, or try to. It is quite easy to get the hang of and a lot of fun to watch because you learn a lot about the difference in wrestling culture between Japan and the US. In Japan, professional wrestling is still treated and respected as a sport, while in the US, professional wrestling is often dismissed as 'fake' or 'kids' stuff'. So, check it out and broaden your wrestling horizons from the comfort of your couch, you won't regret it.