Top 5: Wrestling Related Christmas Wish List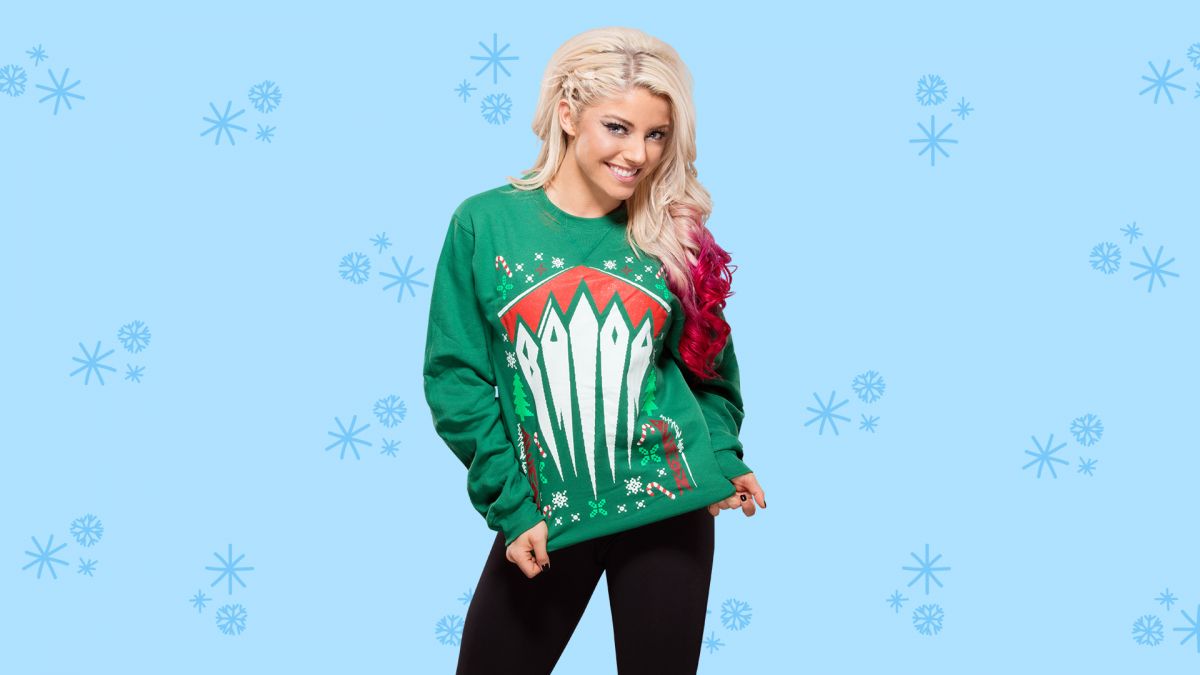 Steve Cook creates his Christmas List, fill of wrestling items you can actually buy for him! (Or for anyone else.)
Earlier this week, I talked about what I was thankful for. Today, I talk about what I want for Christmas. As grateful as we are for what we have, we always want more. Retailers know this, that's why the biggest sales of the year are right after Thanksgiving. We need more to be thankful for!
I know anybody reading this has tons of wrestling-related items. You might even have some of these items. Well, I don't! I want them and I want them now!
These are the Top 5 Wrestling-Related Christmas Requests.
5. AJ Styles Quadruple Disk DVD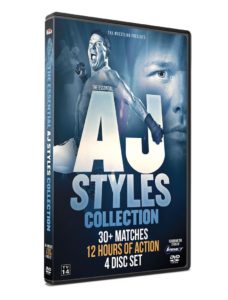 Hey, don't yell at me about the spelling. That's what it's listed as. Either way, it's twelve hours of AJ Styles matches in TNA. If you don't happen to be familiar with his early work, or haven't seen it in years, this is a perfect opportunity to catchup. AJ's been one of the best for as long as I can remember. It just took awhile for others to realize it.
4. Stone Cold Steve Austin Light Up Ugly Holiday Sweatshirt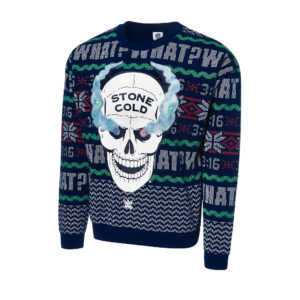 What holiday season is complete without a ridiculous sweater or sweatshirt to wear during Christmas? I have a pretty awesome Bengals one, but one could always use more. Nothing says Christmas like Stone Cold Steve Austin.
3. WWE Championship Toaster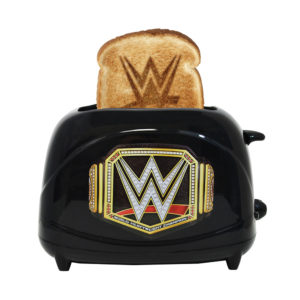 Do you currently have a toaster that puts the WWE logo on your toast? No? Then what are you waiting for, man? Now, I've seen toasters for sports teams before, and the feedback reports generally aren't good. I'm sure that Vince McMahon & company wouldn't produce such an inferior product, and the WWE Championship Toaster works as well as the WWE Champion himself, Daniel Bryan.
2. Ric Flair "WWE Classic Superstars" Dress Up Robe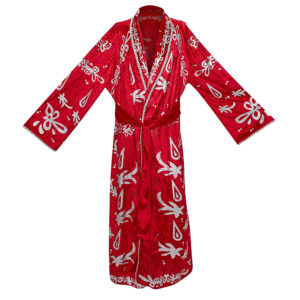 Some people like wearing robes around the house. Some people don't. I think any wrestling fan would love to wear this one around the house. Or around work or wherever. Just make sure you wear something underneath if you're leaving the house.
Honorable Mention: Chairshot Merch!

I would be remiss if I didn't mention our own merchandise. I'm partial to the circle logo myself. Either would look good at a wrestling show, the gym or at a family gathering.
1. Rock, Funk'N' Roll T-Shirt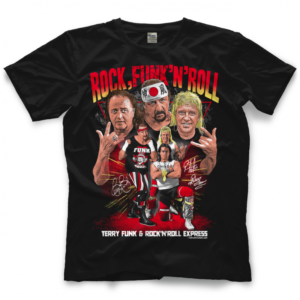 I had no idea why these men were on the same t-shirt until I typed them into Google. I don't know how I missed this, but last year Terry Funk & the Rock N' Roll Express teamed up at a Big Time Wrestling event in Raleigh, North Carolina. Their opponents? Jerry Lawler, Brian Christopher & Doug Gilbert.
Talk about two teams you thought you'd never see. Gilbert got booted out of Power Pro Wrestling ages ago for alleging that Lawler had forced intercourse with an underaged girl. As for the Express & the Funker, they rarely crossed paths and were typically on other sides of the face/heel divide when they did. It's a completely random & wonderful collection of talent. Besides, what old school wrestling fan wouldn't want a shirt with these three guys on it?
What do you think? Let us know on social media @theCHAIRSHOTcom and always remember to use the hashtag #UseYourHead!
King's WrestleMania Rewind: Stone Cold VS. Scott Hall (WrestleMania X8)
Chris King is back with another WrestleMania Rewind, looking at the NWO's Scott Hall battling Stone Cold Steve Austin at WWE WrestleMania X8 from Toronto!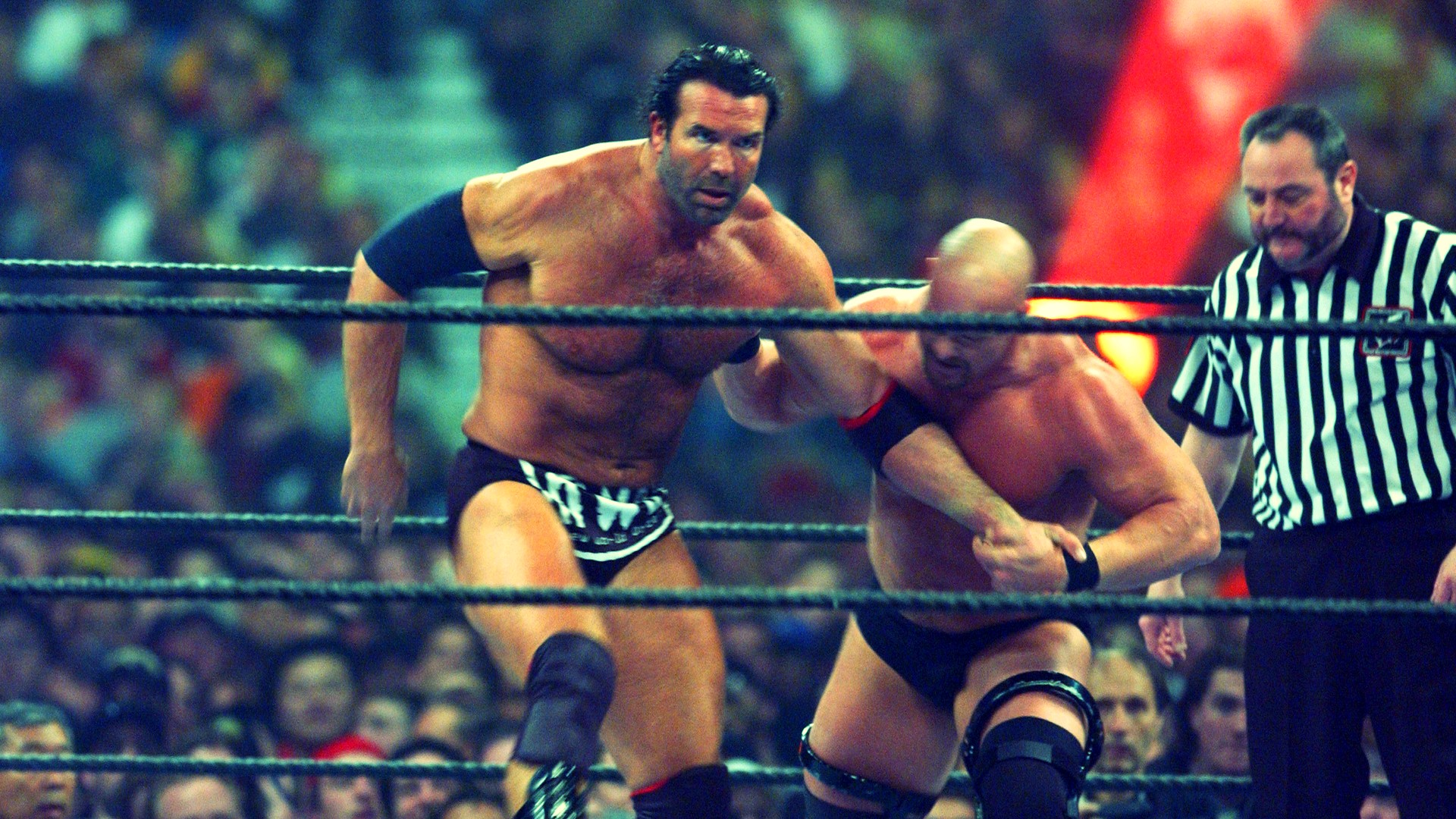 Chris King is back with another WrestleMania Rewind, looking at the NWO's Scott Hall battling Stone Cold Steve Austin at WWE WrestleMania X8 from Toronto!
Chris King is back this week with another edition of WrestleMania Rewind, where he is rewatching all the past Mania matches and feuds. This week you're in for a treat as we look back at 'Stone Cold' Steve Austin vs. Scott Hall at WrestleMania X8.
In late 2001, Vince McMahon bought out his competition WCW and acquired the rights to a plethora of talent including Booker T, Eddie Guerrero, Chris Benoit, and the iconic trio known as NWO. Hulk Hogan; Kevin Nash, and Scott Hall were hell raisers, and what better way to make a name for yourself than take out the two top superstars in the WWE The Rock, and Stone Cold?
The NWO cost Austin his chance at becoming the Undisputed Champion at No Way Out during his match with Chris Jericho. Adding insult to injury, the NWO spray-painted 'The Texas Rattlesnake' with their brand logo just like they did in WCW. As you can imagine, Austin was pissed and out for revenge against the group and primarily Scott Hall.
Hall would challenge Stone Cold to a match at WrestleMania 18. Both superstars beat the living hell out of each other leading up to this highly-anticipated match for who runs the WWE.
The glass broke and Stone Cold made his iconic entrance, and black and white NWO covered Halls' entrance alongside Kevin Nash. With the odds stacked against 'The Toughest S.O.B' could Austin or NWO prove their dominance? Sadly the NWO  broke up that very night when Hulk Hogan came to the aid of his adversary The Rock after their 'iconic' dream match. Stone Cold would ensure the victory with the Stunner. Hall would perform an Oscar-worthy sell over the finisher.
What a time to be a wrestling fan in the 2000s when nothing was impossible for WWE. Who would've thought WCW would go out of business and Hogan would make his long-awaited return to WWE?
King's WrestleMania Rewind: Seth Rollins vs. Kevin Owens (WWE WrestleMania 36)
Chris King takes a look at the most underrated WWE WrestleMania matches, and starts off with Seth Rollins battling Kevin Owens at WrestleMania 36!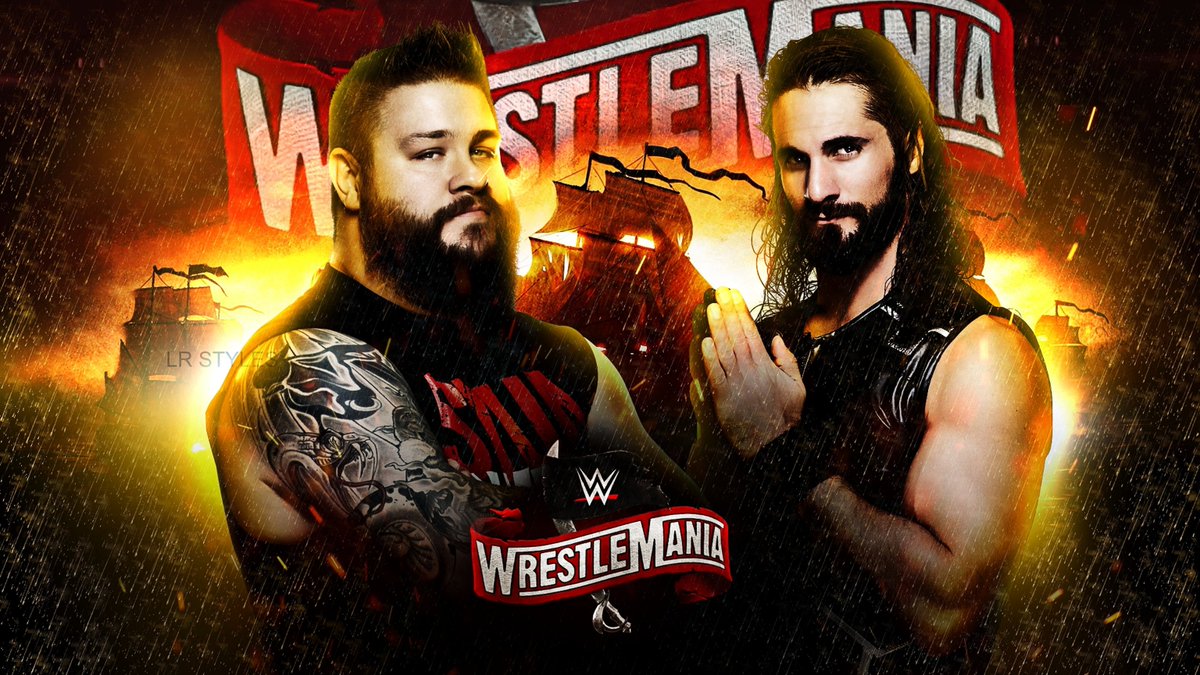 Chris King takes a look at the most underrated WWE WrestleMania matches, and starts off with Seth Rollins battling Kevin Owens in the WWE Performance Center at WrestleMania 36!
Chris King is starting a new series heading into WrestleMania season dubbed WrestleMania Rewind. Each week he'll be going back and sharing his insight over underrated matches at the Show of Shows. First up, is Kevin Owens vs. "The Monday Night Messiah" Seth Rollins at WrestleMania 36.
At the 2019 edition of Survivor Series, Rollins sacrificed himself during the men's traditional match allowing SmackDown to ultimately gain the victory. The following night the self-proclaimed Messiah, berated the whole roster but KO was not having any part of it. Owens quickly became a huge barrier in Rollins' cause for the greater good. The Authors of Pain attacked Owens with Rollins' character in question.
Owens finally had enough of his rival's mind games and torment and challenged Rollins to a match on the Grandest Stage Of Them All. Rollins mockingly accepted his challenge and the match was made official for night one of WrestleMania. Owens came out of the gate beating the holy hell out of the Monday Night Messiah trying to achieve his long-awaited moment at Mania but, Rollins tried to steal a disqualification victory by using the ring bell.
Owens hellbent on revenge provoked Rollins into turning their encounter into a no-disqualification contest where the fight could be taken all over the empty arena. The highlight of the match, was when KO used the WrestleMania sign to deliver a thunderous senton bomb through the announce table. Owens would secure the victory with a Stunner in an incredible match. Despite having no crowd during the pandemic era, both KO and Rollins put on an intense performance under the brightest lights.
In my personal opinion, this was a great feud that helped both superstars in their transformation as compelling characters for years to come.