EA's Weekly SmackDown Live YouTube Report (12/4/18)
A look at the YouTube performance for this week's WWE SmackDown Live!
As we all know, social media and other outlets have become a huge means of drawing in interaction and viewers for WWE. Most people will point to television ratings like they did during the Monday Night Wars in the late 1990's, however that can be skewed with so many various means of watching today that do not include cable television.
As you've become accustomed to, here is this week's SmackDown Live YouTube Report (2:30 PM EST, 12/6/18):
AJ Styles crashes MizTV with Daniel Bryan – 919k views
Asuka, Becky Lynch & Charlotte Flair sign their TLC contract – 591k views
AJ Styles vs. The Miz – 525k views
Randy Orton vs. Jeff Hardy – 490k views
Charlotte Flair & Asuka vs. Mandy Rose & Sonya Deville – 420k views
Xavier Woods vs. Jey Uso vs. Cesaro – 327k views
The Miz seeks answers from Shane McMahon – 242k views
After what can't be called anything other than a rough week in the ratings for RAW and SmackDown Live, the red brand still pulled off some strong YouTube numbers (see those here). Unfortunately for the blue brand, there's a dip at the top with no clips reaching a million views after three accomplished it last week. At the top of the leaderboard comes our WWE Championship feud, which I personally felt was the most interesting thing advertised for the broadcast. Bryan is certainly not as hot as Becky Lynch is right now, but my feeling is that what's new is always good and this is still fresh. We're seeing Daniel make strides with his heel character quickly and while you would think that the TLC contract signing might have garnered more, I think this shows that segment was too predictable. Again, this is still fresh, also why the follow-up comes in at number three.
Sliding into second this week is the aforementioned Becky, along with Asuka and Charlotte Flair to sign the contract for their upcoming Tables, Ladders and Chairs Match. Keeping in mind again that views are down for everything on SmackDown Live this week, I still think these types of segments are too predictable. It went down exactly as I said it would (outside of the brawl, instead it led to a match which comes in at number five). Perhaps a lot of other people shared my sentiment:
I already know what will happen at the contract signing. Becky will use a couple dumb insults, call herself 'The Man' and they'll brawl. I'm more interested to see where this "New Daniel Bryan" is going. #UseYourHead #SDLive https://t.co/GOpHPi1Uz0

— Eric Ames (@E_Ames323) December 5, 2018
The number four spot this week goes to a rivalry revisited, as Randy Orton met Jeff Hardy. Again, you've got two names here and the match was good as you'd expect from these guys, but predictable. In contrast to pegging what would go down during the contract signing correctly, I knew this one would end do to some kind of a distraction. I just thought it would be Rey Mysterio and not who did pop up on the video screen, bartender Samoa Joe. I love when the company uses elements of real-life in storylines, but certainly in this day and age a lot of other people will find it to be crossing the line.
Rounding out our list in a case where nearly everything could fall under the "best of the rest" tree, I'll reserve that specifically for numbers six and seven. Not exactly a fair assessment based on the overall picture and lack of competition for the last positions. More of a given that a Triple Threat Match or match of any kind would beat out two backstage segments for sixth. Then for seventh, I'll take The Miz and Shane McMahon in a segment over a Rusev backstage interview and general video package any day.
What do this week's YouTube results for SmackDown Live tell you? Let us know on social media @theCHAIRSHOTcom and always remember to use the hashtag #UseYourHead!
DeMarco's WWE Raw Rating Analysis (5/20/19): Raw #4-6 Behind NBA
Some obvious (and not so obvious) changes to Raw last night–did it work?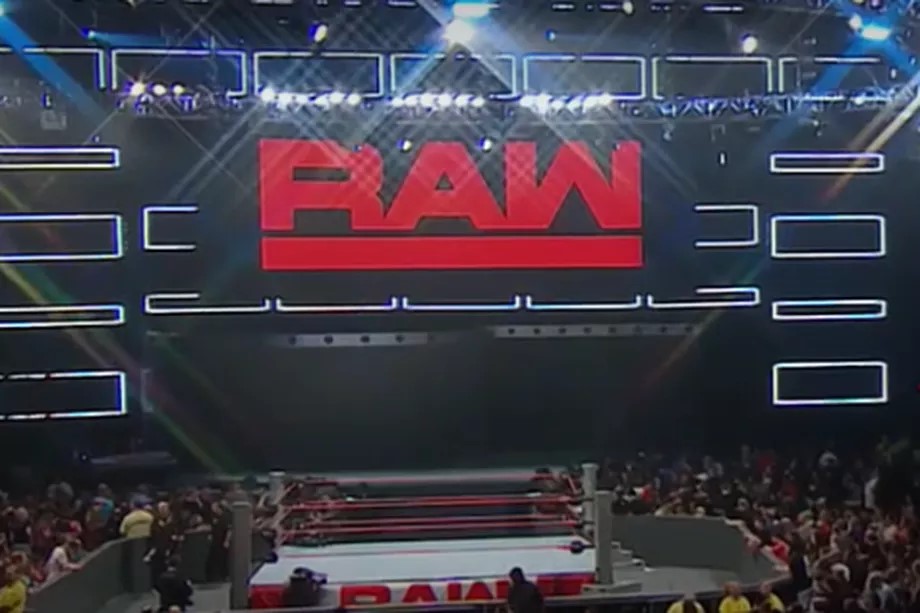 Greg DeMarco chimes in with your WWE Raw Rating Analysis for the May 20 episode, as Raw faced stiff NBA competition.
The WWE Raw Rating is in for the May 20 edition, and it's another tale of WWE dominating everyone not named NBA:
Hour 1: 2.681 million viewers, .93 rating in the important 18-49 demographic (#4 ranked hour)
Hour 2: 2.583 million, .90 in the 18-49 demo (#5 ranked hour)
Hour 3: 2.29 million, .80 in the 18-49 demo (#6 ranked hour)

14.6% drop in viewership from Hour 1 (8 PM) to Hour 3 (10 PM)
For comparison, here is last week:
Hour 1: 2.576 million viewers, .90 rating in the important 18-49 demographic (#1 ranked hour)
Hour 2: 2.391 million, .81 in the 18-49 demo (#2 ranked hour)
Hour 3: 2.080 million, .70 in the 18-49 demo (#3 ranked hour)

19.3% drop in viewership from Hour 1 (8 PM) to Hour 3 (10 PM)
(Available via ShowbuzzDaily)
But what does the WWE Raw Rating really mean, Greg?
Let's take a look at that Top 5: Raw came in at #4, #5, and #6, behind the NBA Western Conference Finals. The game on ESPN came in at #1, followed by their NBA Courtside coverage, followed by the SportsCenter that followed (may have included some of the overtime from the game). The rest of the Top 10 was rounded out by Love & Hip Hop Atlanta 8 (you guys watch this?), Vanderpump Rules, and two more instances of NBA Playoff coverage.
The biggest argument I got into yesterday with some idiots on Twitter was about the NBA vs WWE. NBA Playoff Basketball, much like Game Of Thrones on Sunday, doesn't present programming 52 weeks per year. That's a threat, which from a business analysis perspective means it's a external factor negatively impacting your success that you cannot control.
But since everyone loves to focus on viewership, Raw's went up. So did their share (the .93 for hour 1 is an example of this), which is more important than viewership as it represents a percentage of the households utilizing television. Hour 2 from this week beat Hour 1 from last week in the ratings, and Hour 3 from this week was within 100k viewers from Hour 2 from last week. And remember, Raw occupied the Top 3 last week.
WWE definitely employed a strategy with Hour 3 this week, as all three major elements of that hour (Mick Foley introducing the WWE 24/7 Championship, The Miz vs. Drew McIntyre with Roman Reigns involvement, and Seth Rollins & Kofi Kingston vs. Baron Corbin & Bobby Lashley), were built and promoted throughout the show. This strategy was also used with much success during the Attitude and Ruthless Aggression Eras. It showed some immediate benefits, as Hour 3 saw 14.6% drop in viewership this week against a 19.3% drop last week. WWE also changed the presentation for Hour 3, with Mick Foley's promise of a dirtier product being accompanied by a different arena lighting package and a darker theme to the standard Raw graphics package. The show as a whole followed Money In The Bank's theme of a more physical product rooted in more reality. Everyone online is leaning towards the obvious changes (lighting and graphics), but if you look closer you'll see that the show actually built to all three major elements of Hour 3–and THAT is the real change.
But if color changes are your game, here's an example:
We'll have 24-hour YouTube numbers on Wednesday, and we'll see how it compares.
---
Elisa looks great in her Chairshot gear.
You can, too!
Be like Elisa and get yours at:
https://www.prowrestlingtees.com/related/thechairshot.html
Andrew's WWE Raw Star Ratings (5/20/19)
Do you agree with Andrew's ratings for Raw?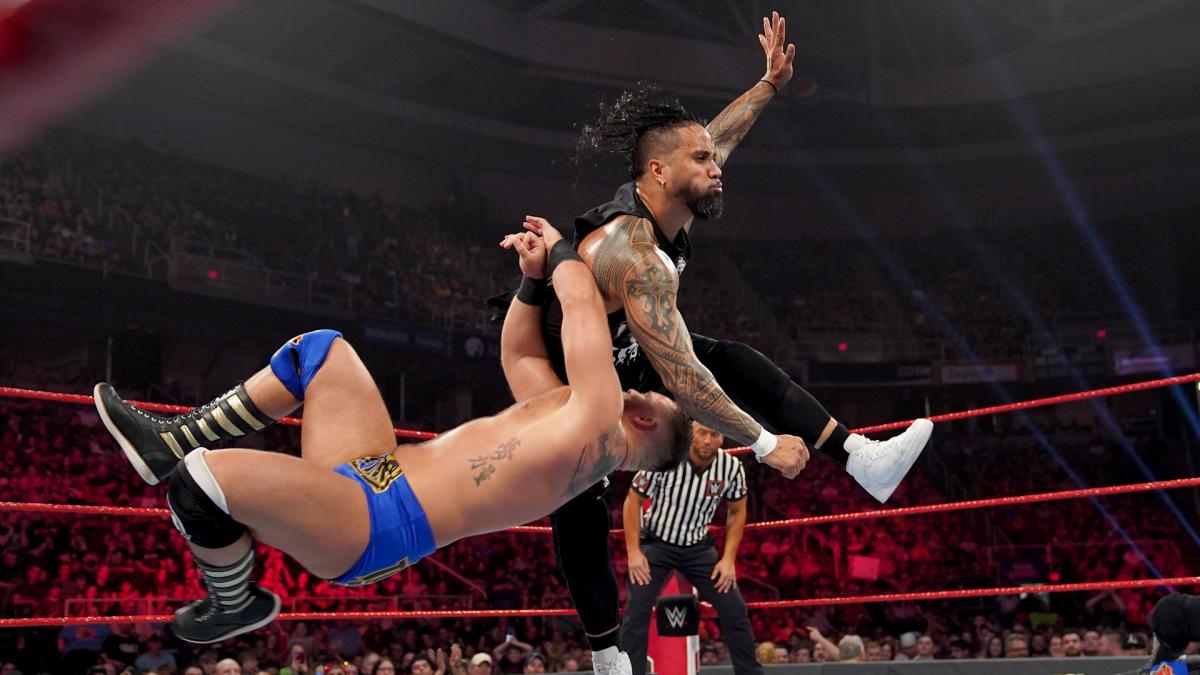 Get an early look at Andrew's star ratings for the May 20 edition of WWE Raw!
Raw had their follow-up to Money In The Bank on Monday, and Andrew has his immediate star ratings. His full report for Raw and Smackdown will be available on Thursday.
Sami Zayn vs Braun Strowman: Strowman wins via Running Powerslam – N/A
Cesaro vs Ricochet: Cesaro wins via Gotch Neutralizer – ** ½
The Usos vs The Revival: Revival wins via Dirty Roll-Up – *** ¼
Becky Lynch, Alexa Bliss & Nikki Cross vs The IIconics & Lacey Evans: Becky wins via Guillotine Leg Drop – **
WWE 24/7 Championship Scramble: Titus O'Neil wins – * ½
WWE 24/7 Championship: Robert Roode vs Titus O'Neil (c): Roode wins via Roll-Up – N/A
Drew McIntyre vs The Miz: McIntyre wins via Claymore – ** ½
WWE 24/7 Championship: Robert Roode (c) vs R-Truth: Truth wins via Roll-Up – N/A
NoDQ Tag Match: Seth Rollins & Kofi Kingston vs Bobby Lashley & Baron Corbin: Kingston wins via Trouble in Paradise – ** ¼
Do you agree with Andrew's ratings for Raw?
---
Elisa looks great in her Chairshot gear.
You can, too!
Be like Elisa and get yours at:
https://www.prowrestlingtees.com/related/thechairshot.html