The Good, Bad and Ugly: WWE Raw (12/10/18)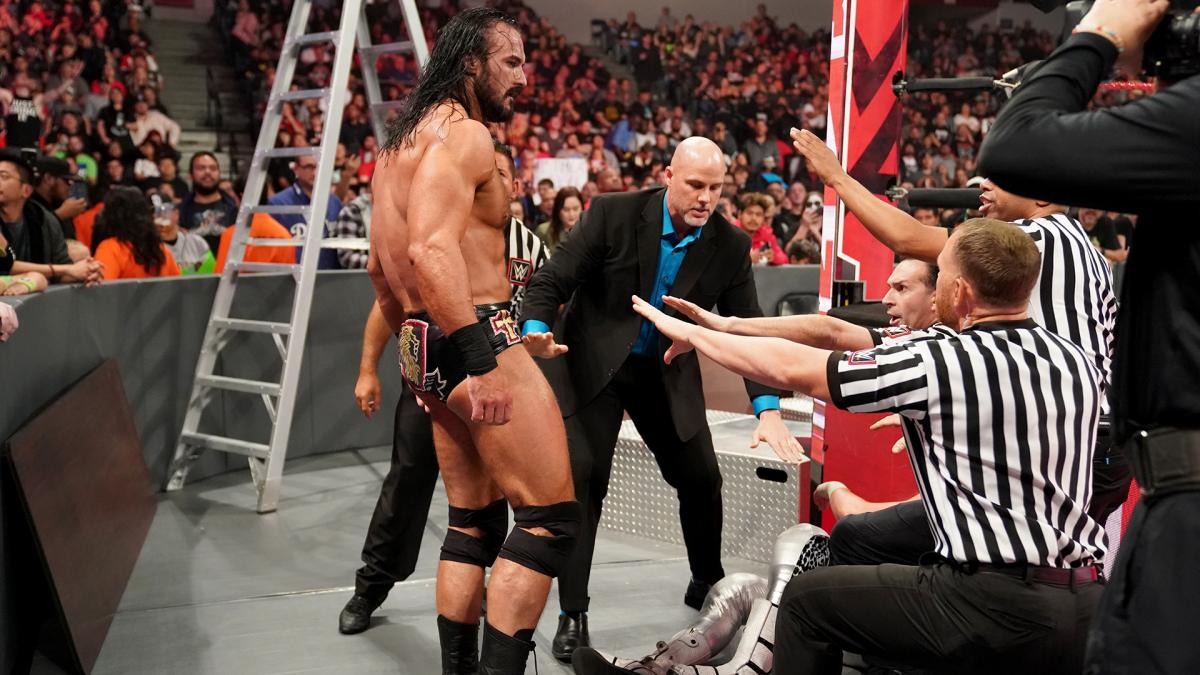 After a somewhat better show than usual last week, we have TLC coming up making this a sendoff show for the Pay Per View.  We will solidify story-lines, and possibly add some unexpected drama.  With TLC looking like a decent card on paper, can Raw do its job tonight? 
THE GOOD
WWE Raw Tag Team Championship Match (3 vs. 2) AOP w/ Drake Maverick (c) vs. Bobby Roode and Chad Gable
Bobby Roode is an incredible talent who could easily be carrying WWE on either brand. He is Champion caliber. Starting off strong, AOP looked good in there. Gable did his thing, and showed some decent work. AOP after isolating the smaller Gable broke him down, and kept him away from Roode. Once free, Roode came in hot and tore the house down, beating down AOP until they were legit destroyed. However it was short lived as AOP crushed both Roode and Gable down to nothing. Just when it seemed lost, Drake Maverick got the tag and before he could finish off Roode got pinned for the 1-2-3. New Champions! Roode and Gable! It was "Glorious." Great move WWE!
Drew McIntyre vs. Dolph Ziggler
This is a great feud, with impeccable talent and potential all around. This is the type of match that can possibly turn things around for Raw. Drew McIntyre is of a bigger, better, class than most of the pack. He is refined and is growing into his role better every week. Although the promo in the beginning was unnecessary, McIntyre did well on the mic and got the crowd hot. McIntyre beat down on Ziggler,replaying their roles from last week, as big guy vs little guy. Drew McIntyre showed tremendous power, and looked sharp. Ziggler sells so well, and always looks good at what he does, putting over others. That high spot was brutal, and Ziggler landed horribly wrong but continued. After a close count out, both men were down. Ziggler looking for a super-kick but went down before connecting. McIntyre literally abused Ziggler but got hit with a "Zig-Zag" for a close 2 count. Ziggler went for a decisive "super-kick" again but got destroyed by a "Claymore Kick." Drew McIntyre Wins! This was a Good Match again, showcasing some of the best on the Raw Brand. After the match McIntyre continued to destroy Ziggler, showing he has no remorse and previewing what may come to Finn Balor at TLC.
Elias vs. Lio Rush (w/ Bobby Lashley)
Babyface Elias is a Good Elias. Same exact character just now on the side of the fans. He has gotten better every week, gaining momentum just by doing his thing. That is a beautiful thing in wrestling. Elias is a star. Lio Rush from his time on 205 Live can definitely go. He is a tremendous talent. This match really had a lot of potential going into it. Heath Slater made his Referee Debut. Elias showcased his power throwing the much smaller Rush all around the ring. Lio Rush took one of the best corner bumps I have ever seen. It was completely unique. Of course Lashley and Elias got into it giving Rush an edge. Elias hit a"Last Ride Sitdown Powerbomb" until Lashley interfered for an obvious DQ. Heath Slater did not ring the bell allowing the interference. Lashley crushed a guitar over Elias. Slater still didn't ring the bell. Lio Rush Wins! Decent match overall and Heath Slater allowing the craziness was unexpected. A Good unexpected twist.
TLC Intercontinental Championship Match: Seth Rollins (c) vs.  GM-Elect Baron Corbin w/ Referee Heath Slater
This match is out of the ordinary especially with the Heath Slater story-line playing out. It really shows some guts before a PPV to have a match like this. So many X-Factor's; Ambrose, Slater, and others that could come out and assist Corbin to win the title. A TLC Match for the IC Title as the Main Event is huge. Rollins came out on the offensive. The action looked Good. Rollins really can go, and puts it all out there. Corbin is tough to watch sometimes, but has his moments. Corbin bossing around Slater got old very quickly, and sometimes cheapened an otherwise decent match. Corbin really stiffed Rollins especially with the chair shots. Rollins really took an ass-kicking. Corbin pushed the limit the whole match. Even with his horrible gear and overrated appeal, he showed up tonight and put out some good work. Corbin hit a perfect "Deep Six" after a commercial break that looked solid. Even after Rollins got some offense he was greeted with a choke-slam through a table by Corbin after a failed 3rd Suicide Dive. Rollins came back swinging hitting Slater with a chair. Rollins hit a sick frog splash through a table to the outside. Rollins had the victory until Slater knocked down Rollins on the ladder. Corbin climbed the ladder with Slater's help but Rollins got revenge power-bombing Corbin through a table, super-kicking Slater, hitting a "Curb Stomp" on Corbin and climbing the ladder for the victory. Rollins "Burned it Down" and if the TLC Match is anything like this will be on fire.
THE BAD
Opening Segment w/ Seth Rollins
Seth Rollins looking to "Burn It Down" at TLC this Sunday opened the show with some cheap pop. Unexpectedly,Rollins poked at Baron Corbin who no doubt obliged. Rollins planned on burying Raw's mistakes and telling Corbin where he is lacking at his job. Rollins made it about protecting his brand "Monday Night Rollins" with the crowd expressing their gratitude with "Corbin Sucks," and he does. So did this segment. The crowd loved it but I believe this was horrible. The blatant "shooting" was so obvious. It was almost like Rollins was just reading "mean tweets" to the crowd. It was a bold move, but cheap. No you are not CM Punk, and no this isn't working. Please just wrestle, that is what you do best. Until then, this is just Bad. This set up a TLC Match with Rollins vs. Corbin later in the show surprisingly for the Intercontinental Championship saving it from the Ugly treatment.
Bayley (w/ Sasha Banks) vs. Alicia Fox (w/ the Singh Brothers and Jinder Mahal)
More Bayley almost always should be a Good thing, however overall this wasn't a Good match. Alicia Fox is extremely awkward, and oversells like crazy. Of course there was some very predictable outside interference from Mahal and company leading to Apollo Crews running down for the save. Sasha Banks and Crews took care of the heels leading to a "Bayley to Belly" on Fox. Bayley Wins a Bad Match! Once Bayley and the Boss get into this Tag Team Gimmick more, we will have some Good things to watch. Recycling Fox every week is not the right move and hurts an otherwise decent match.
Dean Ambrose Backstage Promo
The new Dean Ambrose is Good, but that promo was out of place and completely weird. It would have had a lot more impact if he would have just done a run in during the TLC IC Title Match later in the night. Instead we had a typical promo that accomplished nothing. It's Bad because of the wasted potential and shear overkill. Dean Ambrose is amazing,but this was Bad.
Alexa Bliss' Promo w/ Nia Jax and Raw Women's Champion Ronda Rousey
Tamina Snuka can ruin anything, luckily this had failure written all over it well in advance. Tamina has the charisma of a flagpole, and Nia Jax is unforgivably bad on the mic. Rousey came marching down with her angry face of course. Outnumbered, Ember Moon runs down before anything went down. This was such crap, however it was effective setting up a match that hasno potential to be Good. Ember Moon vs the Heat Killer, Tamina.
Ember Moon vs. Tamina Snuka
Ember Moon is a fantastic talent and a treat to watch. Unfortunately Tamina just shouldn't be in there. She is the worst talent in WWE, and drags down the people around her. It'stoo Bad that Ember Moon isn't working someone that can showcase her great skill and hunger. This match was Bad in all possible ways, which literally pushed this show over the edge from bearable, too,hard to watch. After Rousey took care of Nia Jax outside, Ember hits the "Eclipse"for the victory. Ember Moon's performance was stellar as always, however this just wasn't a Good match. It left the room with a "who cares" feeling. What Ember provided though was Bad but not Ugly. Although this may have been the best Tamina has ever done, the match just wasn't Good.
THE UGLY
Natalya Promo
This was a horrendous promo. Natalya is cringe worthy on the mic. She really lays on the "Hart Cheap Pop" every chance she gets. Her Dad was incredible,her Uncles incredible, her not so much. This was a crap promo, and a total waste of time. A match dedication? That is where we are at? I cannot bury this enough, but looks like Natalya did all the burying it needed. On the bright side, more Ruby Riott and The Riott Squad is an awesome thing. We have some great talent there. The match on Sunday at TLC should be a Good one, but until then, it is really Ugly to watch, or should I say,listen too.
FINAL TALLY
Good:  4
Bad:  6
Ugly:  1
Overall: Bad
The tally doesn't lie, and neither do I.  We had a Bad show even with the strong ending. Unlike last week, where the promos carried the weight, it was the action that carried the bulk of the Good this time around.  However, we had a lot of not so Good moments.  The Women's Division unfortunately didn't deliver their usual save this week.  Tamina and Natayla were the main culprits of this Bad night.  We had a few decent spots in the ring tonight though.  Far from a total loss.  Hopefully we will have a Good SmackDown to take the Bad taste out of our mouths before a stacked TLC on Sunday.   
Let us know what you think on social media @theCHAIRSHOTcom and always remember to use the hashtag #UseYourHead!