The Good, Bad and Ugly Preview: WWE TLC 2018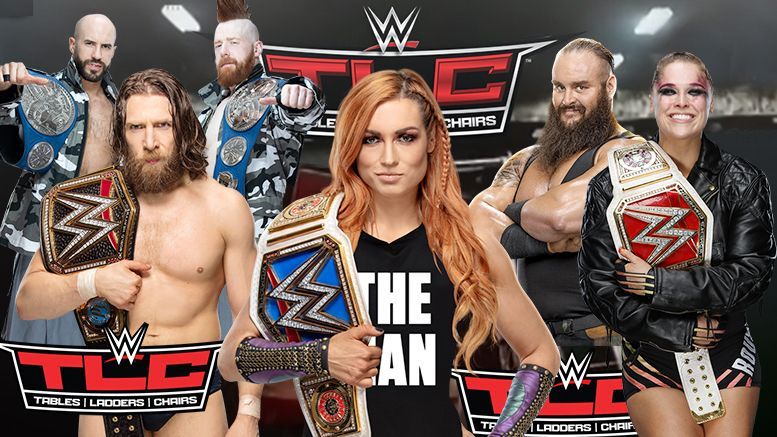 Tables, Ladders and Chairs made famous by The Hardy's, Dudley's and Edge and Christian, remind us of a time where it was laid all out on the line.  The fans were sucked in completely eating up as much as WWE could give us.  The weekly WWE television hasn't been too great as of late but it was all to set us up for this Sunday at TLC.  We have potential here, with a large card, but will it deliver?
THE GOOD
WWE Championship – Daniel Bryan (c) vs. AJ Styles
It should come as no surprise that not only should this be Good, it should be Great.  Any fan knows what these two guys can do.  They are pure talent, and will bring it on Sunday.  No matter the outcome we should all be in for a real treat.  This match is expected to be physical and will give the fans the show they have been waiting for.  Prediction:  Daniel Bryan Wins Cheaply!
SmackDown Women's Championship – Becky Lynch (c) vs. Charlotte Flair vs. Asuka (TLC Match)
The promos leading up to this match, the addition of Asuka, the never ending love of "The Man."  This match and feud has been a pleasure so far.  The audience cannot get enough of Becky Lynch.  No one is upset that Asuka was included as she is a great talent and definitely adds a lot to an already stacked match.  These competitors have a lot of pressure to lay it all out there. The match itself is revolutionary and the talent far exceeds the norm.  This really could and should be the match of the night.  Prediction:  Asuka Wins!
Intercontinental Championship – Seth Rollins (c) vs. Dean Ambrose
Although the story line and promos haven't been easy to watch leading to this, we have a potentially fantastic match.  Ambrose and Rollins are two top talents that WWE has, and this match has high hopes in the back as well as with the fan base. Rollins has been given a torch as of late and he is taking his leadership duties seriously.  With the heated history, chemistry and talent, there is no reason for this match to be anything but Good.  Just keep the mic away.  Prediction:  Rollins Wins! 
Braun Strowman vs. Baron Corbin (TLC Match)
With Strowman not cleared for action, it is hard to tell what will happen here.  Obviously Strowman vs. Lesnar seems to be the direction, however it also seems like if he isn't cleared, WWE may have their hands tied.  However anything can happen in the WWE right?  I see some tomfoolery in our future and WWE will somehow make this happen, where Strowman isn't even touched.  Maybe and uprising from all oft he crap that Corbin has been causing will allow for an easy Strowman victory without affecting his condition.  This is a tough one but interesting in many ways. Hopefully they can do a Good job.  Prediction:  Strowman Wins!
Finn Balor vs. Drew McIntyre
We have two unbelievable talents here, and another two top guys with WWE.  Also we have two potential front runners for Universal Title Feuds.  Drew McIntyre has been on fire lately, and Finn Balor hasn't lost a step.  This will be a great match and will not fail.  It will also play a huge role in what is to come.  Prediction:  Drew McIntyre Wins!
Elias vs. Bobby Lashley w/ Lio Rush (Ladder Match w/ Guitar)
An underrated, unsung hero on Raw as of late is the great banter back and forth with Lashley (well Lio Rush) and Elias. Elias is extremely over and has transitioned well into a fan favorite Babyface.  Lashley has been doing well in his in ring performances, and Lio Rush has taken a lot of pressure off of Lashley not having to cut promos.  This is an interesting feud and possibly could lead to a run against whoever the winner is in the Intercontinental Match.  Prediction:  Elias Wins!
WWE Cruiserweight Championship – Buddy Murphy (c) vs. Cedric Alexander
With this match, timing is everything.  The talent is there, the hunger is there.  However if this is a Pre-Show match it will be forgotten. If placed right in the show however we have a sleeper.  Murphy and Alexander can go, they have proven it over and over, however 205 Live is often forgotten about overall, and it is a shame.  Prediction:  Buddy Murphy Wins!
THE BAD
SmackDown Tag Team Championship – The Bar (c) vs. The Usos vs. New Day
The SmackDown Tag Team division is solid, however this is getting old. Again we have tremendous talent, but we don't ever see anything new.  Everything with these guys are so predictable and have been seen over and over.  This is shaping up to get a Bad reaction for a group of teams that are nothing but Good.  Prediction:  New Day Wins!
Randy Orton vs. Rey Mysterio (Chairs Match)
WWE is putting two seasoned veterans in a violent, potentially insane match together.  With the streak that Randy Orton has been on, we will certainly see some overkill.  Rey Mysterio is great, so is Orton, however this match is way over the top, and has no purpose that will benefit the show.  It will be Bad because it has no reason to happen.  Prediction: Randy Orton Wins!
THE UGLY
Raw Women's Championship – Ronda Rousey (c) vs. Nia Jax
Ronda Rousey finally is losing some of her steam that was in abundance up until the uproar of the "Lass Kicker."  It shows that her losing and being vulnerable is popular with the fans. Nia Jax is possibly the most hated person in all of wrestling currently, and her anchorhaving to carry Tamina Snuka around like dead wood is starting to ware on her.  She isn't good enough or strong enough in her element to carry someone as horrendous as Tamina.  The promo leading up to this have been terrible literally ruining the shows completely.  This will be a botch fest and possibly one of the worst showings we will and have ever seen in history.  Prediction: Ronda Rousey Wins as usual!
Natalya vs. Ruby Riott (Tables Match)
More Ruby Riott is simply a Good thing, however Natalya has been terrible to watch lately.  She has been off, and her Mic skills are a major problem.  Being that this is a physical Tables Match, and Ruby Riott's superior abilities one can only hope this will deliver.  However we have potential for an Ugly Match that means nothing overall to anyone watching.  Prediction:  Natalya Wins!
WWE Mixed Match Challenge Finals- R-Truth & Carmella vs. Jinder Mahal & Alicia Fox
Winners get the #30 Spot in their  respective Royal Rumbles.  Aside from that and even with that feature, this is a huge who cares?  This could be a really tough match to watch and borderline ugly.  No matter the case, I smell Pre-Show all over this match and rightfully so.  Hopefully it is quick and we can all move on to better things.  Prediction:  R-Truth and Camella Wins!
Overall,this TLC has a lot of potential to be GOOD. We could be in for a solid PPV all around with potential title changes, huge developments in story lines, and of course, what will Lars Sullivan do if anything?
Let us know what YOU think on social media @theCHAIRSHOTcom and always remember to use the hashtag #UseYourHead!