Top 5: Wrestling WWE Memes Involving Real Life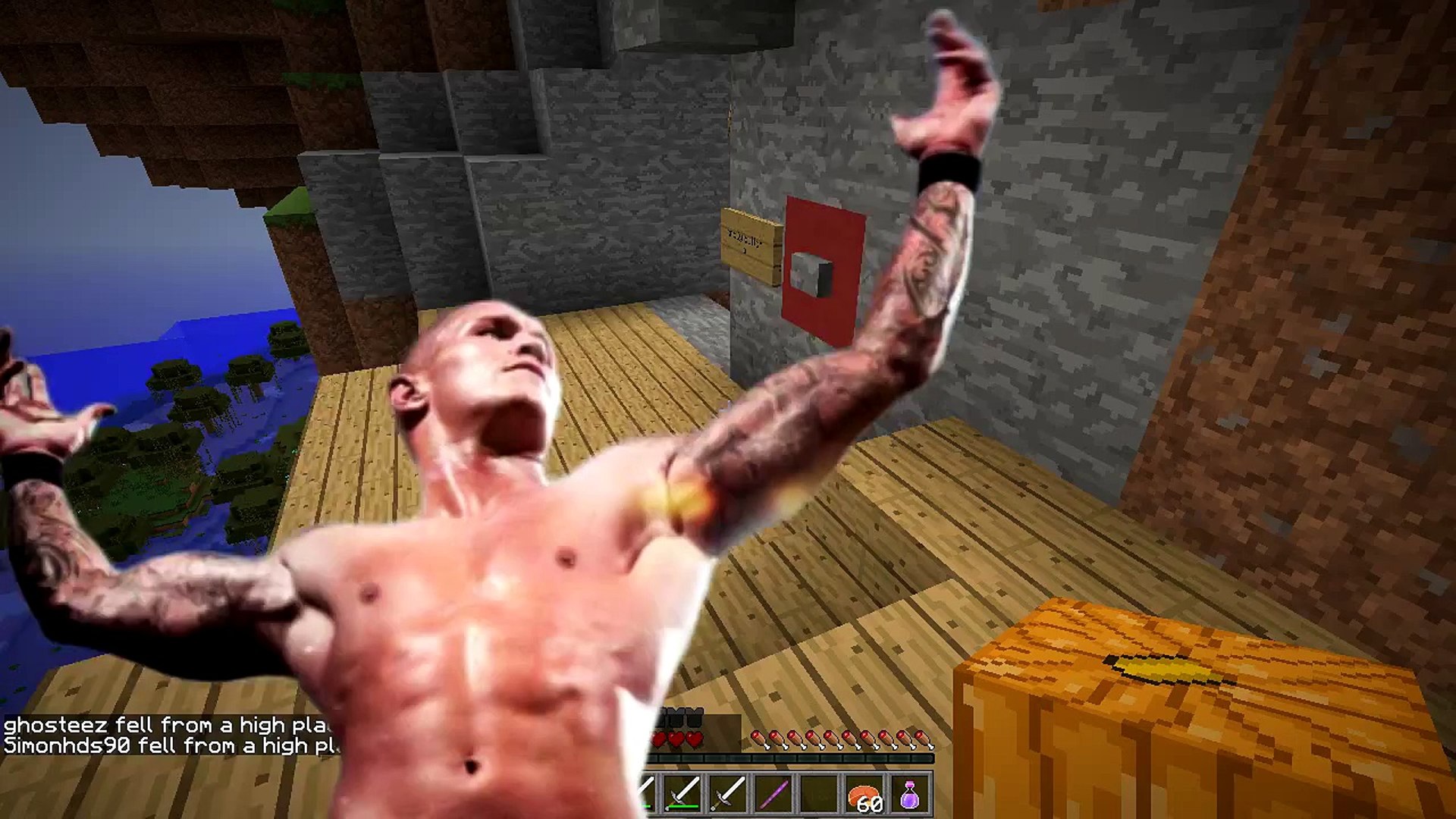 Memes have largely taken over the internet, and wrestling is no different. But Steve Cook looks at the wrestling influence on some of the internet's top memes!
I was chillin' on Twitter early Sunday afternoon and the College Football Playoff Selection Show was the main topic of discussion. The teams selected didn't come as much of a surprise, and the teams not mentioned didn't come as much of a surprise. There is a football program in Central Florida that has won a large number of consecutive games, but get left out of things like the College Football Playoff due to playing their games in the American Athletic Conference and not having any non-conference wins worth talking about.
(I was more willing to listen to and potentially utter these complaints when Louisville was in the Big East. Now that we're ACC I can be a Power 5 snob & look down on these other conferences. Also, now that we're terrible I don't have to worry about things like rankings.)
UCF caught everybody's attention by going to an old classic as a response…the wrestling meme!
tHeRe Is A pAtH fOr UcF pic.twitter.com/ijSWxvHm3N

— UCF Football (@UCF_Football) December 2, 2018
Hey, you gotta respect the fact that whoever does UCF's Twitter is a big NXT fan. They could have gone with one of the old classics, but they went right to the here & now.
Wrestling memes are very here and now. The genre of sports entertainment is a vast array of moments in time that make perfect GIFs, that can be used in videos, and just make things funnier.
Here are the Top 5 Wrestling Memes Applied To Real Life.
5. Randy Orton RKO Outta Nowhere
Longtime Internet writer & commenter Wyatt Beougher's Facebook response to my mention of Randy Orton in last week's column on Rhea Ripley got me thinking. What will Orton's legacy be? How will the Viper be remembered whenever he hangs up the boots? He's a complicated character with countless ups & downs during his career.
I figured it out while I was researching this column.
He'll be remembered for the RKO OUTTA NOWHERE Vines, where we would find out that epic failures were caused by an RKO. Much like Randy Savage is mostly remembered for his Slim Jim commercials, Randy Orton will be remembered for reasons other than his wrestling ability. I think that's ok.
4. Jim Ross Calls the World Cup
Wanna make a sporting event even more epic? Dub some Jim Ross over it! Countless sports + JR clips have popped up over the years, but the Brazil-Germany World Cup '14 match still rates as the best I've seen.
The beating Brazil took certainly deserved the treatment.
3. Kevin Durant Joins The Authority
The NBA has become even more of a soap opera than pro wrestling. The players are over-dramatic about everything and the fans are more than willing to buy in. When Kevin Durant chose to join the Golden State Warriors during free agency, some fans took that the same way wrestling fans used to when their favorite wrestler turned heel.
It reminded some people of when Seth Rollins turned against the Shield.
The detail in the facial expressions on Durant, Russell Westbrook, Steven Adams, Steve Kerr & Steph Curry is beautiful. Simply amazing.
2. Donald Trump vs. CNN
It's not the most artistic wrestling gif of all time, but it's probably the most viewed. The President of the United States tweeting out a wrestling-related gif would have been unthinkable prior to 2017. To be fair, most Presidents weren't able to tweet & didn't have to deal with the Internet & gif images. I still like to think most of them would have been above such things.
#FraudNewsCNN #FNN pic.twitter.com/WYUnHjjUjg

— Donald J. Trump (@realDonaldTrump) July 2, 2017
Then again, I can imagine Andrew Jackson tweeting out gifs of him beating up Native Americans while taking their land. FDR was always on top of using the latest technology. Nixon would have been all about using memes against his enemies. Maybe other Presidents would have been social media trolls as well. They just didn't have the chance.
1. LeBron James Joins The NWO
This is the one that set the mold. When you think wrestling combined with real life events, you think of the video where LeBron James joined the NWO. They even went to the trouble of over-dubbing the commentary to make it fit.
The Decision paved the way for everything to follow in NBA player movement, and in wrestling memes.
What do you think?
Let us know on social media @theCHAIRSHOTcom and always remember to use the hashtag #UseYourHead!
(NOAH) WEEKLY NEWSLETTER VOL.19 ~ 19TH JANUARY 2019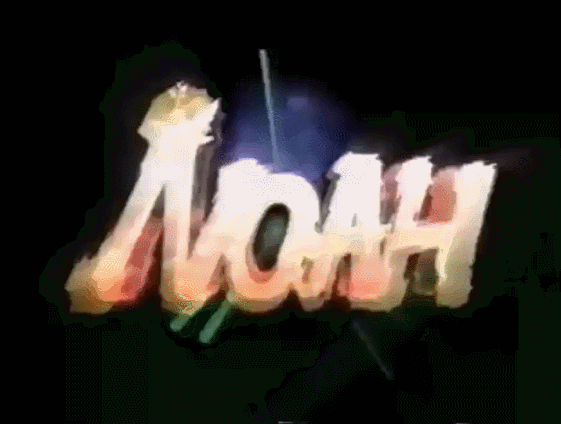 Hisame dropping the NOAH knowledge bombs every week! If you're behind, just curious, or a frequent admirer of the Emerald ways, these Newsletters keep getting better and better.
CURRENT TOUR RECAP
On the 13th January, Yoshinari Ogawa and HAYATA shook hands, and then briefly patted each other on the back for a quick hug. So far nothing more has come of this, HAYATA hasn't turned against RATELS, and Yoshinari Ogawa is absent with flu, but HAYATA does have a singles match with YO-HEY on the 20th, and so we shall see how matters progress from there.
Interestingly, YO-HEY has also spoke of "three people" being traitors.
Hajime Ohara picked up a slight, but scary injury following a kick to the face from Keisuke Ishii, he found that his sight was blurred for a few days, but rest corrected it.
Masa Kitamiya and Atsushi Kotoge (who thinks that "Masa needs a revolution") will face off for the number one contendership for the GHC Heavyweight on the 20th January. Kaito Kiyomiya says he does not care who wins, he will face and defend against the winner.
Naomichi Marufuji will return to the ring on the 2nd February.
NEWS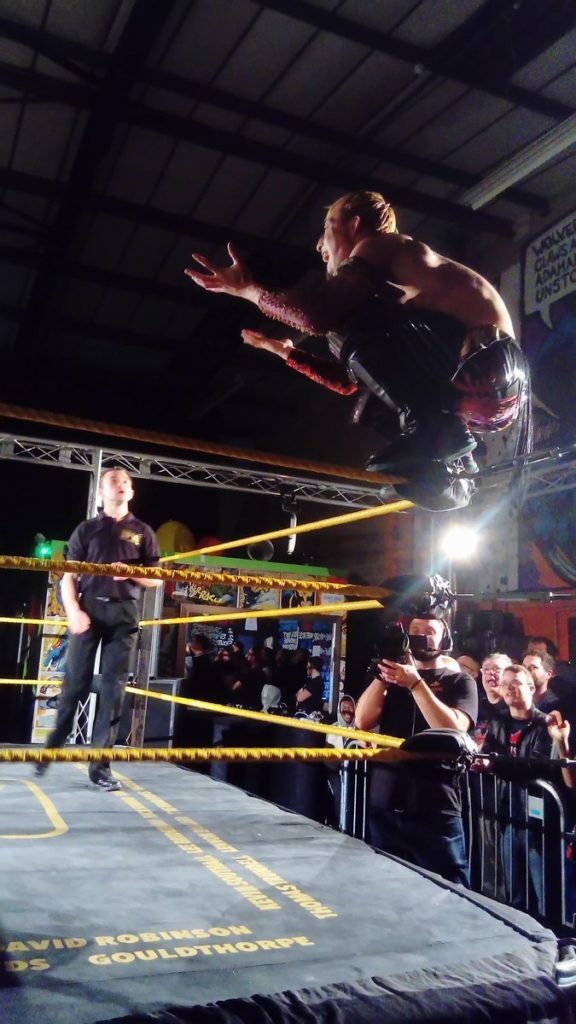 IPW
RATELS came to the UK to compete in IPW'S inaugural junior heavyweight tournament. Keeping to the current situation NOAH, they pretty much stayed apart (with Tadasuke the only one visibly siding with Harada, YO-HEY appearing to go off on his own and HAYATA not appearing with anyone). However, YO-HEY was seen to be standing watching HAYATA'S match with Kid Lykos, and loving it.
The tournament was held between eight wrestlers: Daisuke Harada, Tadasuke, YO-HEY, HAYATA, Chris Ridgeway, James Castle, Ben Basden and Kid Lykos.
In the first round, Daisuke Harada and Chris Ridgeway beat the hell out of each other, YO-HEY was an instant hit with the crowd (who were disappointed that he wouldn't be coming back), James Castle faced Tadasuke and HAYATA had a match against Kid Lykos which involved heel tactics and an attack from Chris Brookes. As far as the Noah matches went in the second round, NOAH naturally did not want to ruin the eventual Harada vs YO-HEY or the YO-HEY vs HAYATA, so we were treated to HAYATA vs Daisuke Harada.
The finals came down to James Castle vs Daisuke Harada, in which Harada was victorious and became the first IPW Junior Heavyweight Champion, he was handed the belt by Doug Williams, and bought it to the ring today in NOAH.
Chris Ridgeway has vowed revenge on Harada, he says that not only will he come to Japan to make him tap out, he would also take the belt too.
A more detailed recap of the event can be found via my podcast episode at either Soundcloud or iTunes (please see links at the end of the newsletter). 
NOAH VS ALL JAPAN\TOKYO SPORTS AWARDS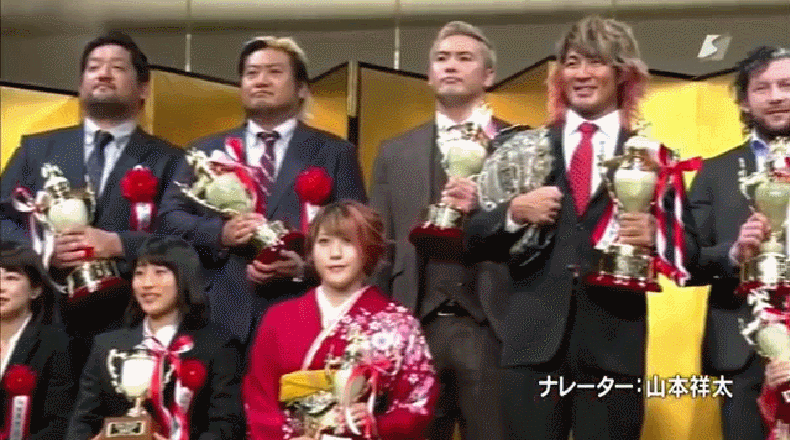 Tokyo Sports are suggesting that as 2019 will mark Jun Akiyama's five years of All Japan presidency, and of course NOAH will celebrate their 20 years in August, there may well be a collaboration between the two for the anniversary, NOAH of course coming from All Japan.
At the annual awards, Naomichi Marufuji picked up the award for "Outstanding Achievement", and Kaito Kiyomiya the award for "Fighting Spirit".
Kaito Kiyomiya (who was described by Suwama as being "dignified, well dressed, with good posture" and "very polite to the seniors"), gave a nervous looking speech:
"I have received the "Fighting Spirit Award". Thank you very much. When I heard I was getting this award, I was very surprised. I am proud to have taken the belt last year, and this year, as champion, as NOAH's face, I would like to run with everyone who supports me. Thank you very much".
Naomichi Marufuji (older and more experienced, and with the benefit of having Misawa ease him into public situations such as these), was more relaxed in his:
"Thank you very much for the "Outstanding Performance Award" of 2018. 2018 was my 20th year, but this year is my 21st. I'd like to make an effort to make a further leap. As New Japan continue to monopolize the MVP Grand Prize, I want to show the best match, so not to lose receiving the assessment"
"COME AT ME YOU BASTARDS"
Kenoh's column Kenoh spoke in his first column of 2019 about his loss to Kaito Kiyomiya for the GHC Heavyweight Championship. He is confident that he can beat Kiyomiya for the title, but he feels there is an element of nepotism and that in his opinion, Kiyomiya is "protected by the company."
Kenoh's worse fears are that Marufuji will challenge for the title when he returns on the 2nd February, and that Kiyomiya will defeat him (Kenoh wants to be the one to do it), and he has sworn he will crush them both if so. Kenoh finished by saying that his goal for this year is to get his revenge on Kiyomiya, that is his "screenplay".
CURRENT CHAMPIONS
TOUR TIDBITS
~ YO-HEY has a new t-shirt
~ Yoshinari Ogawa has been pulled from the NOAH tour from the 19th to the 26th January as he is suffering from influenza.
~ Fifty Funky Powers disco ball was out, proud and rotating at NOAH's show on January 13th. For their entry the lights dimmed and it threw green spots around the hall.
~ NOAH are selling in limited quantities, portrait pictures of Junta Miyawaki, Yoshiki Inamura and Kinya Okada
~ There appears to be a conflict brewing between Kenoh and Katsuhiko Nakajima
~ Tadasuke was noted to be giving Kinya Okada advice during their three way match
~ Kenoh did not take kindly to being asked to join the revolution with Atsushi Kotoge, and kicked him hard after he had asked him. Kotoge also tried to ask HAYATA and Yoshinari Ogawa, HAYATA walked off (refusing to shake hands with him) and Ogawa said "seriously?"
KING SHAMELESS CORNER
None. He's been too preoccupied with his new dog, and the weather has been too cold for him to be rude.
BROADCASTS
The final night of "Navigation For The Future 2019" will be broadcast on Saturday 9th February 2019 at 10pm JST on Samurai.
BOOK CORNER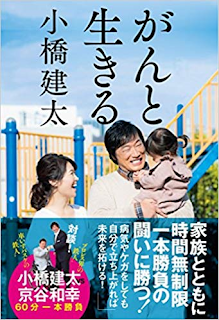 "I will keep doing well until my daughter is adult, and my life will be full of youth, no matter how old she will be"
"Living with Cancer" is a book written in March 2018 by Kenta Kobashi. It has five chapters and details his life from his diagnosis until now. For cancer sufferers and their families, he gives advice and support, while he also details his own battle against it. The last chapter is dedicated to his family, his infant daughter and the fans.
As one reviewer has put it, Misawa taught Kobashi the importance of leaving the ring alive.
The English translation of Naomichi Marufuji's biography "Heir To The Ark" (a work in progress), can be found here
LINKS
Recommendation for 2019: Junta Miyawaki 
Tokyo Sports 2018 Grand Prix Award Ceremony 
Naomichi Marufuji's Outstanding Performance Award for the first time in twelve years "An effort to make a further leap" 
Kaito Kiyomiya's first Fighting Spirit Award as "The new face of Noah" 
UK Expedition Result: Daisuke Harada becomes the first IPW Junior Heavyweight Champion 
POST MATCH PROMOS ~ "Navigation For The Future 2019" Night Four ~ Esupuma Isauma (Kawagoe-shi) (Sunday, January 13th 2019) 
Naomichi Marufuji, Pro Wrestling Grand Prize, Special Prize winner, "I want to see the view that Misawa could not" 
POST MATCH PROMOS ~ "Navigation For The Future 2019" Night Three ~ Act City Hamamatsu (12th January 2019) 
NOAH FROM THE VAULT
APRIL 29 IS KOTOGE'S REVOLUTIONARY ANNIVERSARY  (translated by Dino)
NOAH'S ARCHIVE PODCAST
iTunes 
Soundcloud 
Photos & gifs – credit to Tokyo Sports (group picture), Hisame (YO-HEY), Amazon.co.jp ("Living with Cancer")
Top 5 Matches: Week Ending 1/20/2019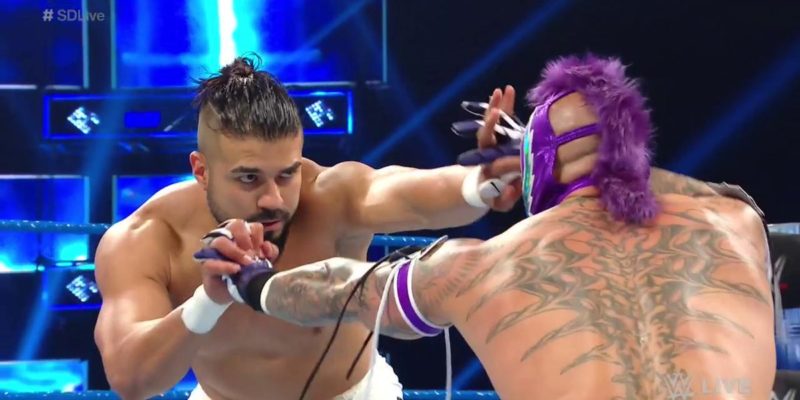 A football dominated weekend, but a damn good week of WWE. How did the matches rank this week? Andrew let's us know!
So with Impact on Fridays and trying to prep chores before a busy football Sunday, this didn't really leave a ton of space for my to traipse through the expansive meadow of Japanese wrestling. Lucky for most readers, that means you'll probably be aware of who's involved in matches and how to pronounce all of the names!
Small note: Patriots, I'm sick and tired of you, but until someone can beat you…the cream really does rise to the top. Go Rams!
Now since we need to address last week's winner, let's do that now. In a non-surprising runaway, NXT Blackpool: Moustache Mountain vs Grizzled Young Vets, won the vote for the week. This sets a hard month to begin with, and with a rather basic and unassuming week before the big WWE shows, I'm not sure how these will match up in the grand scheme of things.
Either way, let's get to the matches!
5. Fatal Four Way for Universal Championship Match at Royal Rumble: Finn Balor vs Drew McIntyre vs Baron Corbin vs John Cena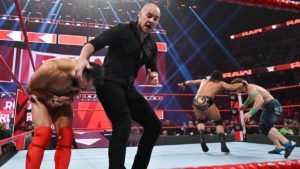 The Lone Wolf, the Scottish Terminator, the Extraordinary Man and the Franchise Player all want their shot at the reigning, defending, undisputed Universal Champion, but must prove themselves strong enough to make it through this match! Finn was roughed up by Jinder Mahal both before and during their "qualifying" match earlier tonight, but he still manages a smile as he enters. Will he be a factor in this match? Or will he fall to "all this beef"?
The bell rings and Corbin goes right at Finn! McIntyre goes at Cena and throws him out while Corbin puts Finn in a corner. Finn dodges and slips to the apron to kick Corbin back. Corbin's down, Finn climbs, but Corbin grabs him first. Corbin brings Finn down for the choke slam backbreaker! Cover, TWO! Cena and McIntyre return, and Cena finds himself between a Terminator and a Lone Wolf while we go to break.
Raw returns and Cena throws hands with Corbin. Corbin knees low then runs in, but gets nothing but post! Corbin falls out of the ring but McIntyre returns to stalk Cena. McIntyre drags Cena up to throw at Finn, but Finn dodges. Cena hits the floor while Finn slingshots and sunset flips McIntyre. TWO, and McIntyre runs, but Finn throws him out. Finn wrecks McIntyre with a dropkick, but Corbin blasts Finn off the apron! Corbin runs but into Cena's feet. Cena leaps for a tornado DDT! Cover, McIntyre breaks it! McIntyre grounds 'n' pounds Cena with heavy rights. McIntyre says "You Can't Bloody See Me!" and laughs. He runs but Cena dodges to hit the shoulder tackles! Cena hits the spin-out bomb, then tells McIntyre "You Can't See Me!" Five Knuckle Shuffle hits! Cena lifts McIntyre, Attitude Adjustment! Cover, but Corbin breaks it!
Everyone is down, but Corbin and Cena are in the ring. Corbin clubs away on Cena with shots to the lower back. But Cena goes to lift! Corbin slips out and suplexes back, but Finn comes in to help Cena double suplex Corbin! Cena decides to work with Finn to mug Corbin in a corner. They haul Corbin up top, then climb up together. They want to superplex but McIntyre comes in to add on, DOUBLE Super Powerbomb! Corbin drags McIntyre up but McIntyre hits back. McIntyre climbs now, but Corbin trips him up! Corbin throws hands and McIntyre is in the Tree of Woe! But McIntyre sits up to throw Corbin off! McIntyre takes aim, but we go to break!!
Raw returns one more time, and Finn is in the ring. He builds speed but runs into End of Days! Cover, but McIntyre breaks it! Corbin and McIntyre stare down, and the brawl is on! McIntyre shoves Corbin, Corbin slides out then in, but into the Glasgow Kiss! Cena climbs up top and leaps! But into a POWERBOMB! Cover, TWO! McIntyre can't believe it! All four men are down from exhaustion but "This is Awesome!" Cena and McIntyre stir, then Corbin and Finn follow. McIntyre and Corbin crawl with Cena and Finn. Corbin stomps away on Finn while McIntyre stomps Cena down. Fans boo and jeer as McIntyre stomps Cena's hands. Corbin drags Finn up for haymakers, then McIntyre does the same. But Cena and Finn fight back! They go back and forth and pick up speed. McIntyre runs but is dumped out, Finn slingblades Corbin!
Cena lifts Finn, but Finn slips out. Finn boots Cena down then climbs up! But Cena stops Finn with fists! Cena climbs up to join Finn, and fireman's carry. Finn fights back, but Cena keeps going. Cena hits a SUPER AA!! But Corbin throws Cena out to cover Finn! TWO!! Fans rally for Finn while Corbin is frustrated. Corbin gets up and goes outside to fetch a chair. This is No Disqualifications, after all. Corbin jabs and SMACKS Cena! He SMACKS McIntyre, then jabs him while he's down. Corbin goes back to Finn in the ring, and grins as he looms over Finn. Corbin waits for Finn to sit up, before he SMACKS Finn back down! And SMACKS him again! Cover, but Cena breaks it!
Cena goes after Corbin but Corbin punches back. Corbin picks up the chair again, aiming for Cena. Cena dodges, lifts, AA!! CLAYMORE fro M McIntyre! Finn runs, tilt-o-whirl DDT! Cena's down, Finn climbs! COUP DE GRACE!! Cover, FINN WINS!!
Winner: Finn Balor via Coup de Grace
Rating: *** 1/4
4. NJPW Fantastica Mania: Soberano Jr vs Barbaro Cavernario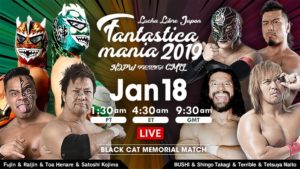 Since I don't follow CMLL closely, I'm not sure what kind of rivalry these two may already have. All I can say is it was the type of match you'd expect from two luchadors that are being prominently showcased over seas. Cavernario has a penchant for Codebreakers and Backstabbers, where Soberano has a beautiful Tornillo. Soberano even hit a Fosbury Flop onto Cavernario on the outside.
I was heavily impressed by Cavernario when he laid out Soberano on the outside and then hit a Diving Body Splash on the prone Soberano. The distance it was made it impressive, if it was in the ring it would've been at least 3/4 of the way across. Right when Soberano looked to have the match won, Cavernario got away and applied his La Cavernaria. Which is funny since he runs at the turned around opponent like a Backstabber, but instead of putting his knees up, he drives his feet into the back of the knees and rides them down for a submission. It looked unique to me, maybe it's old hat in Mexico, but I liked it.
Damn solid match by both.
Winner: Cavernario via La Cavernaria
Rating: *** 1/4
3. WWE Raw: Intercontinental Championship Triple Threat: Dean Ambrose (c) vs Bobby Lashley vs Seth Rollins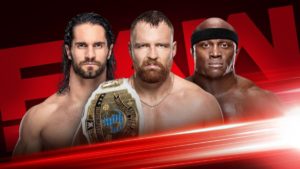 The Lunatic Fringe doesn't like anything about this Triple Threat match, but he doesn't have much of a choice. Will he be able to settle things with The Architect while also denying the Rocky Mountain Machine? Or will one of them end his reign to bring that title down the Road to Wrestlemania?
Raw returns as Lashley makes his entrance with Lio. Rollins has a quick backstage interview. Is this his last chance to win back the title? Maybe it is, but that's life. You need to make the best out of opportunities, and Rollins vows to do that when he kicks Ambrose's teeth down his throat. Rollins is still hurting from Ambrose's horrifying betrayal on the night of Roman Reigns' life altering announcement. Ambrose betrayed six years of friendship, and Rollins cannot forgive him. As for Lashley, he's impressive and intimidating, but all that only gets you so far. What matters is what you do, and no one on this planet does what Rollins does. If this is his last chance, then Rollins will lay it all on the line to take that title back. Rollins makes his entrance, and Memphis is ready to #BurnItDown!
The introductions are made, the belt is raised, and we begin! The fans are on Rollins' side as the three men circle. Ambrose tells Rollins that they can still work together against Lashley. Rollins seems to accept, but then he throws Ambrose at Lashley! Rollins didn't fall for anything, and got Ambrose first! Lashley throws Ambrose out but Rollins throws hands and chops. Rollins whips but Lashley reverses, and things speed up. Rollins dropkicks Lashley out of the ring, then slingshots out! He takes Lashley out but Ambrose comes around. Rollins senses him coming and hits Ambrose first. Rollins puts Ambrose in, shoulder shim away, then leaps for a crossbody! Cover, TWO! Lashley runs in but Rollins throws hands. Ambrose hits Rollins then grounds 'n' pounds. Lashley throws Ambrose off to rain down on Rollins.
Ambrose talks with Lashley, and now he talks an alliance between them. Lashley goes with it and puts Rollins in the corner hard. Ambrose throws haymakers then lets Lashley pick Rollins up. Lashley suplexes and floats over, ONE! Ambrose tells Lashley to take it slower, and they work together to mug Rollins. Lashley drags Rollins up for a neck wrench, then helps Ambrose mug Rollins again. Rollins gets to the apron but Ambrose drags him back in. Ambrose chokes Rollins on the ropes with Lashley's help. Lashley holds Rollins for Ambrose to hit a forearm smash in the corner. Fans rally for Rollins while booing Lashley and Ambrose. Lashley puts Rollins in the corner to run and ram a shoulder in! Ambrose keeps on Rollins, then whips Lashley in. Rollins dodges and then rallies on both enemies! Rollins runs, but into a BIG spinebuster!
Ambrose shoves Lashley out and covers Rollins, but Rollins small packages! TWO, and Rollins clotheslines Ambrose out! Then he DIVES on both opponents! Rollins keeps going, but Lio Rush gets in! Rollins stops the kick to flip Lio. Lio dodges and the chase is on! Rollins runs into another spinebuster! Lashley catches Ambrose and throws him overhead! The former Shield brothers are down while we go to break.
Raw returns and Lashley has Rollins in a chinlock. Fans rally as Rollins endures. Ambrose returns but Lashley throws Rollins down to go after him. Ambrose gets away, and Lashley runs into Rollins' boot. Lashley staggers into Ambrose's clothesline! The former brothers use a familiar string of moves as Ambrose hits the sliding lariat and Rollins drops a knee! Ambrose drops the elbow, and even as enemies, they're still in sync. They stomp away on Lashley a la The Shield! Rollins and Ambrose clothesline Lashley out of the ring, but they keep on him. They go to the steel steps and pull off the top. They aim at Lashley, and ram him with the steel! Lashley is down and Rollins returns to the ring. Ambrose and Rollins stare down, and the fight is own!
Rollins chops, Ambrose chops, repeat! Rollins gets an edge but Ambrose knees low. Ambrose runs but into Lashley's roaring elbow! Rollins lifts Ambrose but Ambrose back drops out. Rollins sunset flips, TWO! Ambrose has the suplex, but Rollins reverses to a Falcon Arrow! Cover, but Lio breaks it on Lashley's behalf! It's legal because of No Disqualifications, but now Lio regrets getting everyone's attention. The chase is on, again! Lio gets Rollins on the return, but Rollins grabs Lio. Ambrose runs in but only gets Lio! Rollins rolls Ambrose, TWO, SUPERKICK! Lashley clotheslines Rollins out! Cover on Ambrose, TWO!! Lashley is furious, but he refocuses from a corner. He aims at Ambrose, runs out, but into a kick! And an eye poke! Ambrose underhooks but Rollins springboards in!
Rollins goes after Lashley with the enziguri! Then he climbs up top. Frog Splash! But Ambrose throws Rollins out! Cover on Lashley, TWO!! Ambrose can't believe it, but he's not finished yet. Memphis admits "This is Awesome!" as Ambrose climbs up top. Ambrose aims but Rollins leaps up to join him! Lashley stands up and grabs Rollins! Electric chair leads to an unlikely Doomsday Device! But Rollins lands on his hands and knees to spring up and SUPERKICK Lashley! Mule kick for Ambrose, but Lio dumps Rollins out! SPEAR from Lashley to Ambrose! Cover, Lashley wins!!
Winner: Lashley via Spear
Rating: *** 1/2
Honorable Mentions:
SmackDown Live: The Miz w/ Shane McMahon vs Sheamus w/Cesaro
Rating: *** 1/4
Impact Wrestling: Brian Cage vs Moose
Rating: ***
WWE Raw: Jinder Mahal vs Finn Balor
Rating: ***
Impact Wrestling: Trey vs Rich Swann
Rating: ***
2. Impact Wrestling: LAX vs oVe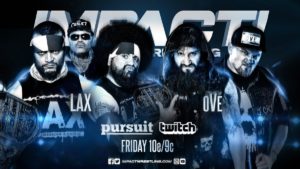 The commercial break comes back a little late, but we get a good portion of the match. Spotty but a fun match. Saw a lot of quick tandem work between both teams, and it's also the first time we've really seen Dave Crist in an actual match in a while. oVe hits a Superplex/Jumping Powerbomb combo, but only for a 2. Then LAX dispatches of Dave, hits a bunch of smooth moves, Rolling Cutter, Code Breaker, Superkick, Tandem Inverted Suplex, and the pinfall. Fast paced and fun, perfectly fine TV main event. After the match the Lucha Bros congratulate them, but Ortiz gets a little prematurely mouthy as Konnan voices his dismay when the show cuts off.
Winner: LAX via Tandem Inverted Suplex
Rating: *** 1/2
1. SmackDown Live: Andrade Almas vs Rey Mysterio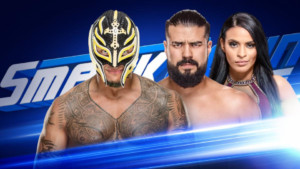 The King of Lucha beat El Idolo in their original singles encounter, but Almas got Mysterio back in last week's tag match. Will Almas be able to stay tranquilo in this highly touted rematch? Or will Mysterio remind everyone why he's still king?
SmackDown returns as Almas and Vega make their entrance. The bell rings and Almas circles with Mysterio. Almas and Mysterio tie up, and Almas shoves Mysterio to ropes. Almas smirks smugly but Mysterio shrugs it off. They circle and tie up again, and they spin around. Almas throws Mysterio then trips him up, but Mysterio keeps him off. Mysterio wheelbarrows and arm-drags Almas to a corner! Fans fire up for Mysterio but Vega keeps Almas calm. Almas and Mysterio circle again as fans tell Mysterio "You Still Got It!" Mysterio and Almas tie up again, and Almas gets a waistlock slam. Mysterio spins and rolls Almas to a cover but Almas kicks out to return the favor. But Mysterio kicks out quick, and the two stand off! Almas shoves Mysterio, but Mysterio brushes it off. They circle and tie up again.
Mysterio gets a headlock, and holds on as Almas tries to power out. Almas stands back up and fights out with elbows. Almas shoves Mysterio but Mysterio goes up and over to get the headlock back. Vega coaches Almas up as he endures. Mysterio brings Almas to the mat but Almas rolls it up. ONE and Mysterio holds on. Almas fights his way back up, then pulls on the mask! He powers out of the hold but Mysterio just hops back on it! Vega grows frustrated for Almas as he again fights his way up. Almas lifts but Mysterio slips out, only for Almas to kick him down. Vega applauds but fans boo as Almas puts Mysterio in an armlock. Mysterio gets up and endures the hammerlock. Mysterio elbows and rebounds to snapmare, but Almas holds onto the hold!
Almas leans on Mysterio to wrench the lock. Fans rally and Mysterio gets up again. Mysterio gives more elbows but Almas throws him to buckles. Almas goes after a keylock now but fans rally for Mysterio. Mysterio rolls to his feet, then kicks the legs. Almas wrenches the arm but Mysterio throws hands. Mysterio springboards and headscissors Almas down! And then a running headscissor! Almas bails out but Mysterio speeds up. Almas returns but is put on the ropes! Everyone knows what this means! 619 misses, and Almas hammerlocks! Mysterio drops down to roll Almas, TWO! Almas ghost pins, TWO! The two stand off again and Almas says he was that close. Fans applaud the closely matched match as the two approach.
Almas kicks and whips Mysterio, but Mysteiro holds ropes. The dropkick misses and Mysterio buzzsaws Almas back. Mysterio springboards back and headscissors Almas out with him! But Almas holds on to the Electric Chair! He spins Mysterio back for a spin-out powerbomb to the floor! Vega likes what she sees, and we go to break.
SmackDown returns as Almas back flips through a sunset flip powerbomb! Almas runs back in but Mysterio dodges Cien Knees! Mysterio springboards and hits Almas with the seated senton! Mysterio keeps moving, and headscissors Almas again! Fans fire up as Mysterio springboards and moonsaults, but into Almas' arms. Mysterio spins through to DDT Almas down! Cover, TWO! Vega is relieved that Almas survives. She shouts for Almas to get up but Mysterio has the fans on his side. Almas elbows and runs to sunset flip, but Mysterio rolls through, but Almas ducks the kick. Mysterio runs but into a hip toss into buckles! Almas runs corner to corner, CIEN KNEES! Cover, TWO!! Vega is frustrated and Almas is exhausted by Mysterio's resilience.
Vega coaches Almas back up, and Almas drags Mysterio up. Mysterio elbows back, but Almas grabs the hammerlock. Mysterio headscissors Almas into buckles! Almas flops down and Mysterio climbs up top. Fans fire up but Almas stops Mysterio by sweeping the legs. Mysterio is stuck in the Tree of Woe on the outside, and Almas climbs up top. Fans rally for Mysterio but Almas takes aim. Mysterio slips through to throw Almas down to the apron! Mysterio climbs now and SUPER huricanranas Almas to the floor!! Fans lose their minds and Vega is stunned silent by that one! Birmingham knows "This is Awesome!" as Almas and Mysterio crawl back to the ring. Mysterio climbs again, and LEAPS for a seated senton! Both men wipe out again, and we go picture in picture.
Almas sputters while Mysterio catches his breath. Vega panics as she shouts for Almas to get up. Mysterio heads for the ring but Almas pursues. The count passes 7, both men get in at 8! Fans applaud the heart of both men as Mysterio drags himself back up. Mysterio fires himself up as he climbs back up. Mysterio leaps, but into a dropkick! Vega feels better now, but Almas still has to get back up. Almas and Mysterio slowly stir and sit up. Almas and Mysterio brawl on their knees with haymakers and chops. Mysterio hits Almas but Almas shoves, and we return to single picture to see Mysterio kick Almas. Mysterio hops on for a Destroyer!! Cover, TWO!! Almas survives and Mysterio's too tired to be frustrated.
Mysterio whips Almas but Almas reverses, only for Mysterio to headscissor him again. But Almas makes it a cover! TWO!! Vega is furious, especially as Mysterio enziguris Almas. But Almas answers with the boot feint to elbow! Cover, TWO! Almas goes to put his full weight on but Mysterio monkey flips and sunsets, but into an Alabama Slam! Fitting for Birmingham. Almas keeps going and climbs up top. Vega wants him to end this, and he moonsaults! Mysterio rolls but Almas lands on his feet to moonsault again! Cover, TWO!! Mysterio still lives and Vega is beside herself. Fans again say "This is Awesome!" and it's far from over. Almas runs into Mysterio's boots, and Mysterio runs to roll and DESTROYER!! Cover, TWO!? Almas survives a second Destroyer and even Vega can't believe it!
Mysterio calls for his number and fans chant along. Mysterio waits for Almas to get on the ropes, and runs in, but the  619 is blocked! Almas has Mysterio in the torture rack, but Mysterio makes it a crucifix bomb!! TWO?!? Mysterio cannot believe Almas still survives. Mysterio dropkicks Almas back to ropes and runs again, 619 finally hits! Vega freaks out as Mysterio climbs up top. Vega distracts on the apron, and Almas trips Mysterio up! Almas climbs up as fans boo, draping hammerlock DDT! Cover, Almas wins!!
Winner: Andrade via Draping Hammerlock DDT
Rating: ****
Thoughts:
Well even though they weren't a lot of high ranking overall matches, we had a damn fun week of TV programming. I really enjoyed this week of WWE for the first time, in a while, and Impact is doing some interesting things on Twitch. But hey, we're not really debating much this week. Andrade Almas vs Rey Mysterio, was the best match. Plus with the announcement of a 2 out of 3 falls match for this coming week…ooh wee! I could watch them every week.
So as we always say, make your opinion heard, especially if you disagree with something or feel strongly. Just remember to Always Use Your Head.