When Should The Undisputed Era Be Called Up?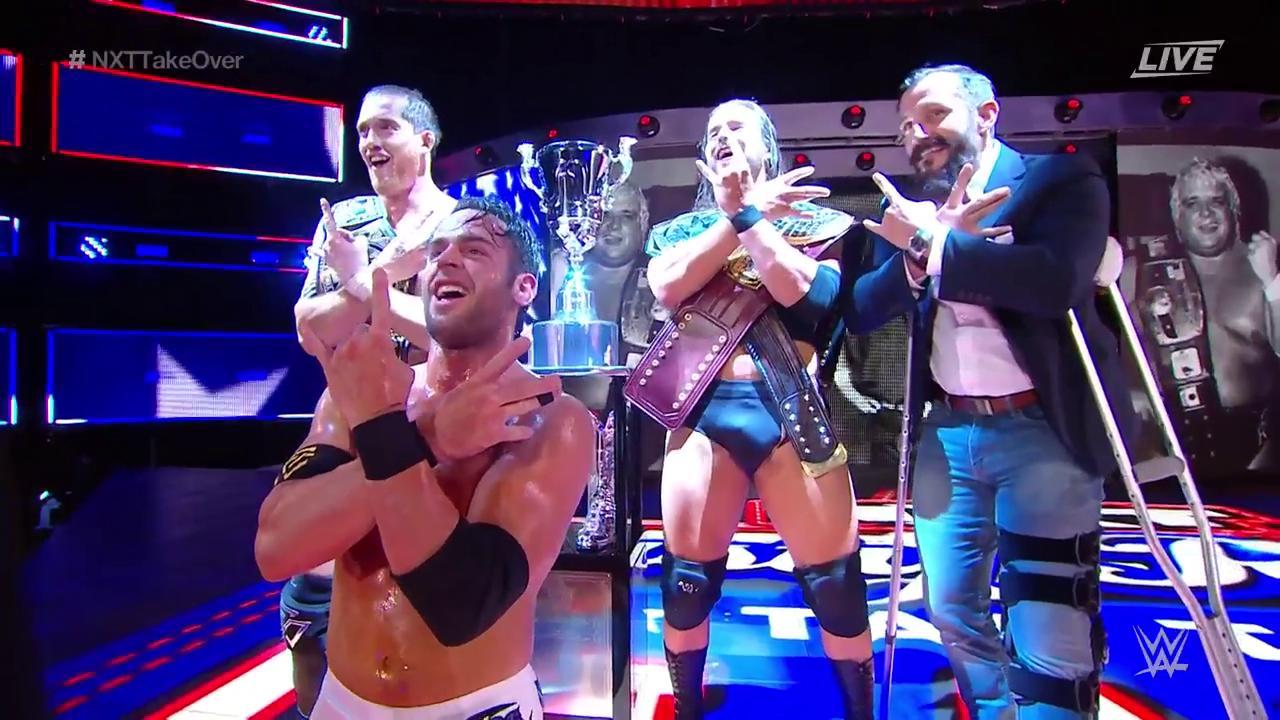 With a lack of call ups lately, is it time to see Undisputed Era on the Main Roster? Let's see what Scott McLeod thinks.
It's almost become a tradition in WWE to see some NXT stars be called up to the main roster. Oddly enough, there weren't any post SummerSlam, and only a few Lars Sullivan vignettes post Survivor Series.
It's good that they're not just calling people up just for the sake of it but eventually everyone has to go up. Undisputed Era have been a big part of NXT for a while now but I think they will come up soon.
Undisputed Era have been made to feel like a big deal since they arrived. They had the big beat down angle at the end of Takeover Brooklyn 3. They were the catalyst for the first WarGames. They've been involved in the tag title scene for much of their run. They were the main talking point of Takeover New Orleans with Cole being crowned the first North American champion and the inclusion of Roderick Strong.
They have been the major threat that all the faces have had to band together to stop.
They got a big bit of comeuppance at WarGames 2 so I don't think they will be around in NXT for much longer. Cole is unlikely to regain the North American title so once Strong and O'Reilly lose the tag titles Era will be on the main roster. It's wired to think of NXT without them at this point but what more can they do there.
You know Triple H will be pushing heavily for these guys when they get there. Cole especially will be challenging for the WWE or Universal title within a year. I can see them showing up on RAW taking over the Shield's role as the dominant faction coming out at random and using the numbers to their advantage.
I think the best possible estimate for when they will arrive is post WrestleMania 35. I think Era will lose the tag titles around this time which will free them to be called up. Who they will lose them to is hard to say.
War Raiders since Brooklyn have been the obvious candidates to take the titles. With Hanson getting injured during WarGames those plans seem to have went out the window. Judging by this week's NXT it feels like they're setting up Heavy Machinery as the next challengers. Could we see an upset win for them at Takeover Phoenix?
Other than Heavy Machinery the only faces tag teams are Lorcan and Burch and the Street Profits. Burch and Lorcan can be ruled out as they've had their shot. Having either Street Profits or Heavy Machinery would be a good moment as these guys who have been around for a long time finally have their moment. Feels like this is said to far to often and is proven wrong but I think Undisputed Era are the guys to break the curse of NXT call ups. This is a team that can only be booked one of two ways: going all in or not at all. This is not a team to just float around the mid card.
With any luck within a few years Undisputed Era will be talked about as one of the greatest factions of all time.





Would you like to see Undisputed Era called up? Let us know on social media @theCHAIRSHOTcom and always remember to use the hashtag #UseYourHead!