Taking Stock of John Cena's Legacy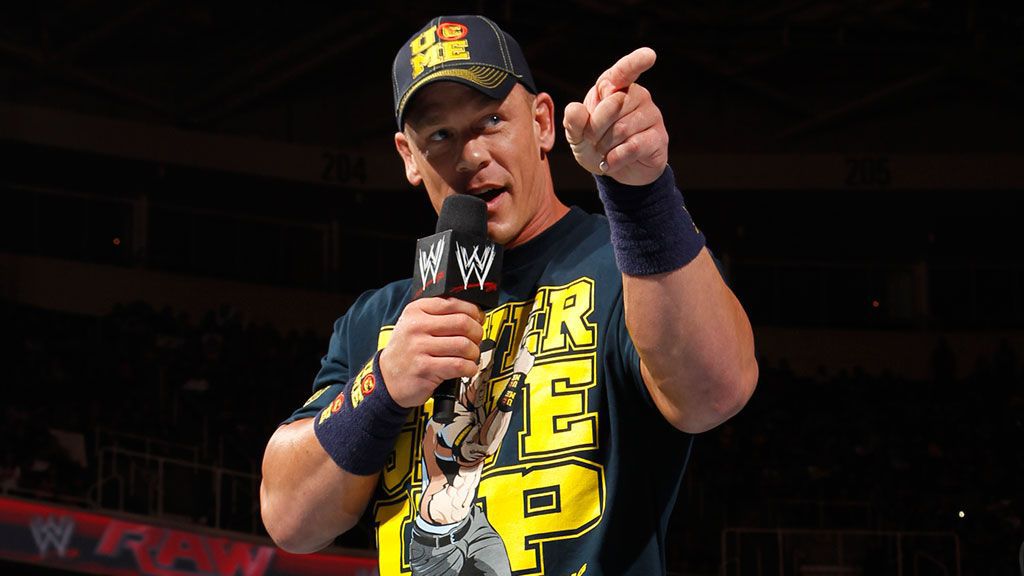 John Cena is a legendary WWE performer, leaving a legacy that many will argue over for years. A sure Hall of Famer garnering more Hollywood attention than ever before, how will he be remembered when he finally hangs up his sneakers?
Let us know what YOU think on social media @theCHAIRSHOTcom and always remember to use the hashtag #UseYourHead!
The Leader of Cenation has been grabbing headlines lately, and he's doing so even without making weekly appearances in either RAW or SmackDown. Cena has been busy promoting his upcoming movie, Bumblebee, and he was recently honored by Sports Illustrated with the Muhammad Ali Legacy Award. He has even extended the proverbial olive branch to Dwayne "The Rock" Johnson, whom he once called out for taking that leap from the squared circle to the big screen. He also gave a wide-ranging interview with ESPN, which you can rewatch here. Cena briefly touched on retirement in said interview, where he made it known, too, that a Johnsonian switch to acting may be in the works as well.
Given that Cena is now 41, may be the writing really is on the wall for his wrestling career. Now is thus as good a time to take stock of the legacy that the West Newbury, Massachusetts native will leave behind once he decides to retire.
The accomplishments speak for themselves
John Cena, on merit alone, has already secured a spot in the WWE Hall of Fame. His accomplishments speak for themselves. He held the World Heavyweight Championship 3 times, the WWE Championship 13 times, and the United States Championship 5 times. He won the Royal Rumble twice and the Money in the Bank once. He also held the Tag Team Championship twice, once with Batista and once with Shawn Michaels. He has 10 Slammy Awards as well, along with a number of honors from Wrestling Observer Newsletter. Among his contemporaries, only Triple H and Randy Orton have a list of accomplishments comparable to Cena's and that means a lot.
Worst among the best?
Cena just might be the worse among the best. It is true that Mr. You Can't See Me is one of the most decorated athletes in WWE history. Yet it is also true that he is not as good a wrestler as his accomplishments suggest. He does not have the technical proficiency of a Ric Flair, a Bret Hart, or even a Triple H. Neither does he have the stylistic versatility of a Shawn Michaels or an AJ Styles. He is maddeningly simplistic — think Roman Reigns — save for his Attitude Adjustment, perhaps. Even his other signature move, the Five Knuckle Shuffle, is head-scratchingly simple: a variation of the elbow drop, only this time, with a closed fist.
In fact, a case can be made that John Cena, situated among his contemporaries, trails a good six other wrestlers in terms of in-ring skill and talent: Triple H, Shawn Michaels, The Rock, Randy Orton, Daniel Bryan, and AJ Styles. Even Cena's peer, Kurt Angle, admitted as much, telling Fox Sports: "He's one of the best. I wouldn't put him at the very top of the list, but he is one of the best."
A merchandise machine

Credit: Pinterest
Angle, in that same Fox Sports interview, brings up an important point about Cena: He is a merchandise machine. He monetized his shtick (more on that later), with the WWE selling loads of Cena-related stuff, from T-shirts to sweatbands to action figures and even chains. He has been a walking advert, not only for the promotion but for the Cena brand as well. In other words, Cena merchandise have always been bestsellers, and it is proof of the man's popularity among WWE fans. Only DX could ever touch Cena in terms of merchandise sales, and they needed the combined star power of both Triple H and Shawn Michaels. Cena, in contrast, is a lone star, and a bright, shining one at that.
A stale shtick
Cena long ago found a formula that works, and has stuck with it ever since. It's not wrong per se, and it seems unfair to criticize him for that. But somewhere, somehow, Cena's shtick has gone stale, much to the chagrin of many a number of WWE fans. Characters in the WWE Universe need to grow. They need to develop. They need to adapt. Cena's hasn't. His character now is the same as his character in the early 2000s — no depth, no characterization, no nothing. Sure, he is a master of the mic, but even his rhymes no longer resonate. Wonder no more why "Cena sucks!" chants still erupt every now and then.
A wonderful human being
Say what you may about Cena, the wrestler. Bash him if you want. But one thing is for certain: John Cena is a wonderful human being. He is literally a one-man Make-a-Wish Foundation, already granting 580 wishes as of press time. He is also using his fame to combat bullying, raise cancer awareness, and inspire American troops. If you can't see that, then something's wrong with you.
John Cena, of course, is not done yet. He is, as reported here, will return full steam ahead after Christmas, with the WWE adding more dates to Cena's comeback. And don't be surprised if this comeback culminates at WrestleMania 35 in New Jersey. He has headlined the WWE's flagship event five times already, and you can bet that he will be involved in some way. A match with Brock Lesnar could be big, even as other options abound, too. WrestleMania 35 is a long way off, though, and until then, Cena will spend more time away from the WWE. But he certainly isn't retiring just yet.
Let us know what YOU think on social media @theCHAIRSHOTcom and always remember to use the hashtag #UseYourHead!
Greg DeMarco: Box Office Brock Lesnar And The New WWE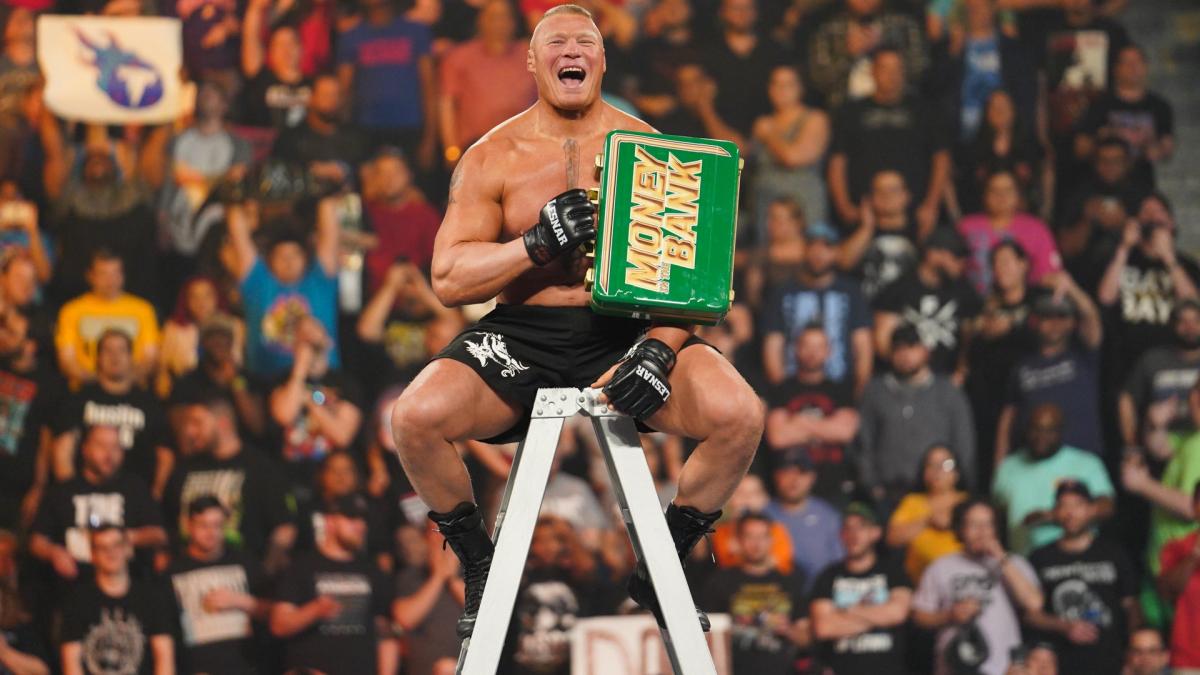 After a hard-hitting WWE Money In The Bank, Greg DeMarco offers perspective on Brock Lesnar winning the Money In The Bank briefcase and the obvious shift in the WWE product & presentation.
I know you read that headline and wondered what in the hell I was smoking. Brock Lesnar leaves Hartford with the Money In The Bank briefcase, and I'm calling it a new WWE? I have to be insane, right? Well, that perspective is 100% wrong. (I mean…I may be insane–but not for that reason!) WWE Money In The Bank was shock and awe from start to finish, and you have every reason to be excited. The reactions I am seeing prove that the online community doesn't want to enjoy WWE. Hopefully, for me, some mainstream fans will read this article too!
Box Office Brock Lesnar
I know what you're thinking…same ol' sh*t, right? I can't say I agree. On the technicality side, Brock Lesnar has never held the Money In The Bank briefcase, so it's wrong there. But I get it, you're tired of seeing Brock on top. The truth of it is, he's Box Office. And WWE needs box office.
What is "Box Office," exactly? It's the ability to get fans to spend money, which is how WWE makes money. Brock Lesnar sells the WWE product–to fans, to viewers, to advertisers, and to networks. Wrestling Twitter is a vocal minority, and appeasing them got WWE nowhere with WrestleMania 35, or as I was calling it for the months leading up to it, "HappyMania." Brock is back, and I think it's fantastic.
Disagree with me? Great, but the sold out crowd in Hartford blew the roof off the joint when his music hit, so they obviously agree. Brock will likely cash-in in advance, proclaiming his championship opportunity for WWE Super ShowDown in Saudi Arabia on June 7. Then we get to give the briefcases a rest, as we continue to shuffle the rosters up and use fun words like Wild Card (bitches…yeehaw!).
One prevailing thought I have seen is that the other seven guys in the match busted their asses for no payoff. I can't agree with that either–their payoff is a paycheck. They're businessmen. Those who complain about how they are booked don't get the business. And as All Elite Wrestling is proving, they don't take too kindly to people complaining about booking, either.
A New WWE?
I know a lot of people don't see it, because they're too worried about booking. But the WWE product shifted tonight. And as dangerous as it is, I hope it sticks.
The product got way more physical at WWE Money In The Bank–way more physical. It started with the Women's Money In The Bank Ladder Match, which in reality doesn't need a gender specific distinction. Money In The Bank describes both ladder matches tonight, as both delivered in both brutality and story. Everyone put their bodies through hell during those matches, and they deserve to be praised.
But it didn't end there:
Rey Mysterio vs. Samoa Joe…brutality.
Shane McMahon vs. The Miz…brutality.
Tony Nese vs. Ariya Daivari…brutality.
The entire segment with the Women's Championships…brutality.
Roman Reigns vs. Elias…brutality.
Seth Rollins vs. AJ Styles…brutality.
Lars Sullivan and The Lucha House Party…brutality.
Kofi Kingston vs. Kevin Owens…say it with me…brutality.
Sense a theme, here? WWE provided a more physical product, and did things that make sense. Yes, there were botches that everyone wants to blame on the refs. In each instance, it appeared to me that the talent messed up, and the commentators covered by blaming the officiating. And that makes sense to me. You didn't think they were going to blame the wrestlers, did you?
It's really funny that this comes after AEW reveals that they'll present a more realistic, athletic oriented product after the onset of their TV deal. It's probably the single bad move they've made (okay, maybe second to the whole PAC/Page ordeal), announcing their plans to the world and giving WWE a heads up on what's coming so they can beat AEW to it.
Seriously, it's like they went "Here's our formula!" without even realizing WWE had a high profile PPV to air 6-days before Double Or Nothing. C'mon guys… #UseYourHead.
At the end, it looks WWE is going back to what works for them: giving the fans what they need, and not what they want. Imagine going to the doctor and misdiagnosing yourself. Would you rather the doctor provides you with what you want and now what you need? You'd sue that doctor for malpractice! It's getting to be that same way with WWE. Prescribe to us what we need, Vince. Even if we don't like the taste when it goes down, it's for the best in the end.
Andrew's Top 5 Matches: Week Ending 5/19/2019
Best of Super Juniors 26 and Money in the Bank are the big things this week. Let's see what matches made the cut, and if there were any surprises!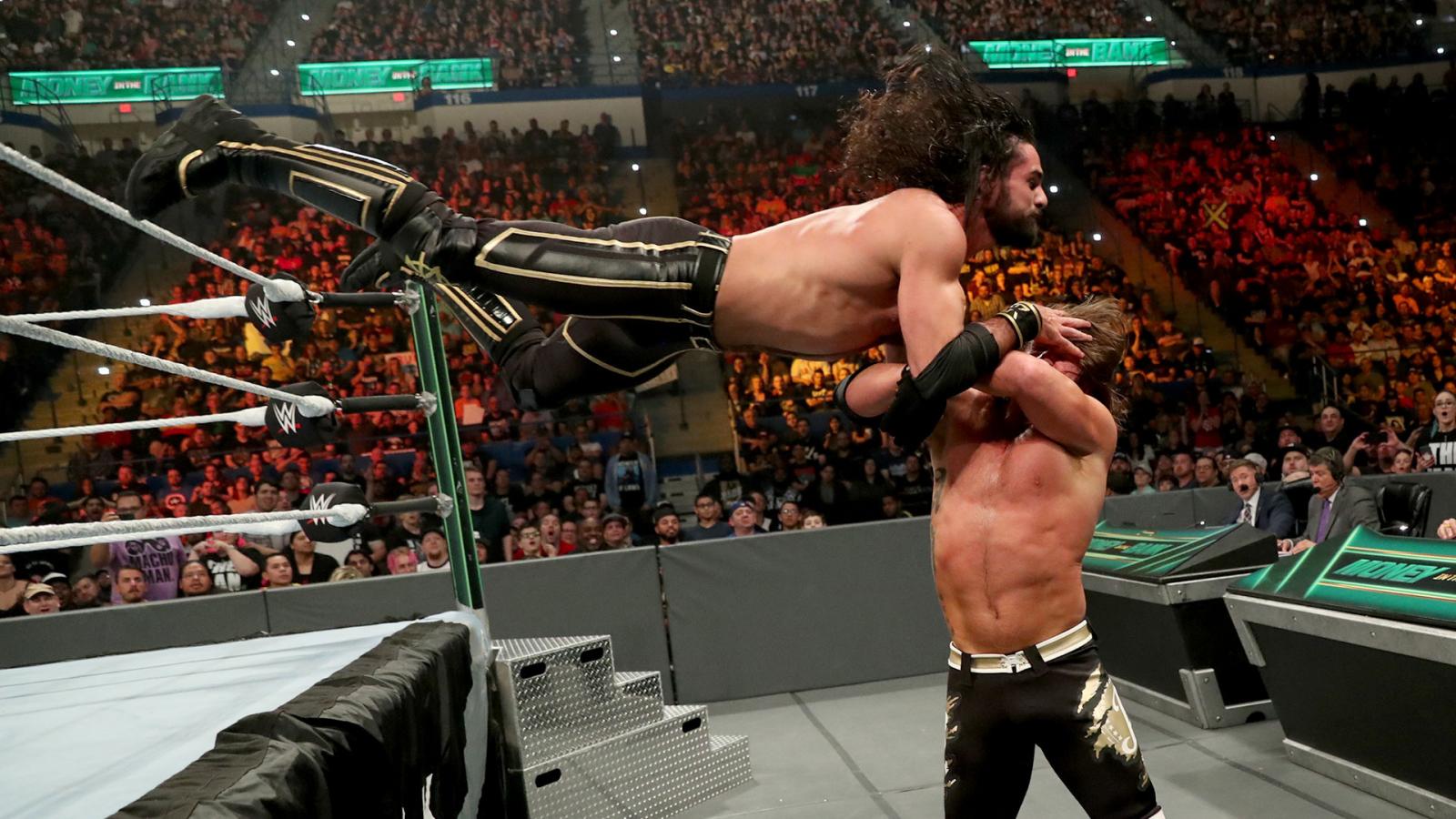 Best of Super Juniors 26 and Money in the Bank are the big things this week. Let's see what matches made the cut, and if there were any surprises!
Last week was an interesting week since it wasn't a normal Top 5 and we had two Sami Callihan matches. When it came down to it though, IMPACT: oVe Rules 8 Man: oVe vs Tommy Dreamer vs Fallah Bahh vs Rich Swann vs Willie Mack, won the vote for the week. I'm always a happy when less popular matches or companies get a fair shake in the rundown.
Either way, let's see exactly how much New Japan shows up and if anything from Money in the Bank was worth a watch!
5. NJPW BOSJ 26 Night 2: Ryusuke Taguchi vs YOH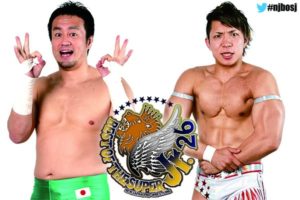 Taguchi has been having a crisis of character so to speak. He's become more of a comedy wrestler who's history doesn't really inject respect or fear into his opponents. YOH is up and coming, and was trained by Taguchi in the New Japan Dojo. So YOH is trying to establish himself beyond the tag realm and Taguchi is trying to refind himself.
We saw an interesting match. Taguchi showed a little of both worlds from comedy to more of his extensive moveset. YOH was a walking reference to older wrestlers; he even mastered the Paradise Lock apparently. Taguchi picks up the win with the variation of the Dodon that he used to remove Prince Devitt from New Japan. Very good match.
Winner: Taguchi via Dodon's Throne
Rating: ****
4. NJPW BOSJ 26 Night 4: Will Ospreay vs Rocky Romero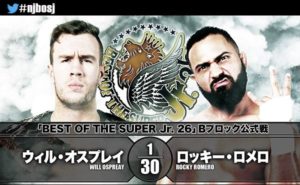 This was a little similar to the earlier Taguchi match. Rocky had something to prove. CHAOS members, and Rocky is perceived as being past his prime, but he wanted to prove he can still hang. It's been 3 years since his last BOSJ, how does the most decorated Junior Tag wrestler fair against the Aerial Assassin?
We got a great match. Rocky had numerous hope spots, hit the Forever Lariats, his half of Strong Zero and reversed the Stormbreaker first attempt into a legit Huricanrana. Ospreay turned out too be just a little too big, a little too athletic and a Shooting Star Press followed by a Stormbreaker ends this great match. Very good.
Winner: Ospreay via Stormbringer
Rating: **** 1/4
3. IMPACT: Michael Elgin vs Rich Swann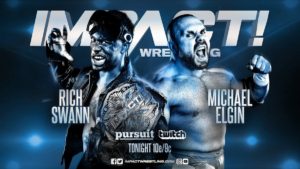 From My Analysis:
So damn this main event went 2 commercial breaks, but it was really solid. Swann wouldn't stay down and even had great hope spots. A Super Frankensteiner countering the Avalanche Powerbomb, Lethal Injection, 450, but Elgin kicked out. Swann tried a top rope Phoenix Splash, and missed. Elgin hits Splash Mountain, and Rich kicks out. Elgin rolls to the outside, catches Rich and repeatedly Powerbombs him into the post. Kid Ref tries to get the match back in the ring, Elgin pushes Kid Ref and Powerbombs Swann again for posterity. Kid Ref calls for the DQ and then runs for his life. This was a great match, the "non-finish" is rather annoying coming out of a roughly 25 minute match. But love him or hate him, Elgin can wrestle.
Winner: Swann via DQ
Rating: **** 1/4
Honorable Mentions:
NJPW BOSJ 26 Night 3: Dragon Lee vs SHO
Winner: Dragon Lee via Desnucadora
Rating: ****
WWE MiTB: Men's Money in the Bank Ladder Match: Drew McIntyre vs Baron Corbin vs Finn Balor vs Ricochet vs Andrade vs Randy Orton vs Ali vs Brock Lesnar
Winner: Brock Lesnar
Rating: *** 3/4
NJPW BOSJ 26 Night 1: Dragon Lee vs Taiji Ishimori
Winner: Ishimori via Bloody Cross
Rating: *** 3/4
WWE MitB: WWE Championship: Kofi Kingston (c) vs Kevin Owens
Winner: Kofi via Trouble in Paradise
Rating: *** 1/2
NXT UK: Ligero vs Jordan Devlin
Winner: Devlin via Snap Saito Suplex
Rating: *** 1/4
NJPW BOSJ 26 Night 2: Robbie Eagles vs Rocky Romero
Winner: Eagles via Ron Miller Special
Rating: ***
SmackDown Live: Randy Orton vs Finn Balor vs Andrade vs Ali
Winner: Andrade via Hammerlock DDT
Rating: ***
NJPW BOSJ 26 Night 2: El Phantasmo vs Bandido
Winner: Phantsmo via Greetings from Chasewood Park
Rating: ***
205 Live: Tony Nese vs Ligero
Winner: Nese via Running Kneese
Rating: ***
WWE Raw: Fall Count Anywhere: Braun Strowman vs Sami Zayn
Winner: Zayn via Claymore
Rating: ***
NJPW BOSJ 26 Night 4: Ren Narita vs Robbie Eagles
Winner: Eagles via Turbo Backpack
Rating: ***
WWE MitB: The Usos vs Rowan & Daniel Bryan
Winner: Usos via Double Uce
Rating: ***
2. WWE MitB: Universal Championship: AJ Styles vs Seth Rollins (c)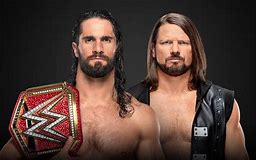 Snippet from Mitchell's Coverage:
Now it's Rollins who has to come up with something else to put Styles away. Fans rally up as Rollins stands. Rollins still has the tried and true, "Burn It Down!" He mule kicks then runs, but Styles dodges to roll Rollins to a Calf Crusher! Rollins endures but Styles cranks back hard! Rollins rolls it back and kicks Styles away! His leg is free but it is hurting! Styles crawls away but Rollins pursues. Styles hops up, moonsault DDT! Cover, TWO!! Rollins escapes with one good leg! Styles gets back up and waits for Rollins. Rollins stands and SUPERKICKS Styles down! Both men are down again, but fans rally and duel again. Styles and Rollins crawl for each other to start throwing hands! Rollins hits, Styles hits, repeat. Rollins CHOPS but Styles punches again.
Fans duel, Styles goes for the Phenomenal Blitz, but Rollins dodges to enziguri! And dodges the Pele! Mule kick! Curb Stomp countered! STYLES CLASH!! Cover, TWO!?! Rollins survives THE Styles Clash?! No one can believe it, but the fans are loving it! Styles grits his teeth as Rollins starts sitting up. Styles goes to the apron, takes aim and springboards. Phenomenal misses! Revolution Knee hits! And then, SUPERKICK! Styles is on his face, but Rollins gets back up! CURB STOMP!! Rollins put so much into that, he has to crawl to a cover! Rollins wins!!
Winner: Rollins via The Stomp
Rating: **** 1/4
1. NJPW BOSJ 26 Night 1: SHO vs Shingo Takagi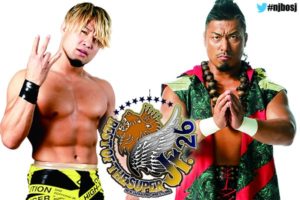 This match has had a great build all year. SHO is the power of Roppongi 3k, and throughout the LIJ and Roppongi feud for the Junior Tag Titles, we always saw SHO try to go at Shingo. Shingo called him out a little and this is a great rivalry. SHO has something to prove, but Shingo doesn't want to be upstaged by someone who was a Young Boy only a few years ago.
We saw the story unfold beautifully. Shingo dominated early, until SHO fired up and showed he wasn't just going to roll over. As the match progressed SHO started to anticipate Shingo's moves and stay a step ahead. Both men hit all of their signature moves, and neither wanted to really budge. This was just so well done, and more of a heavyweight style because they are both bigger Juniors. Shingo edged out SHO by hitting Last of the Dragons after numerous Pumping Bombers. But damn this was great.
Winner: Shingo via Last of the Dragons
Rating: **** 1/2
Thoughts:
Shingo and SHO, there is no other answer. This has been a feud that started at the end of last year and persisted through the entire year so far. Long term booking is always fun, and when both men put on a great story telling match, it's even better. Plus there's no guarantee it's over since SHO still has to surpass Shingo to feel completed.
Don't sleep on Ospreay and Romero though, that was a great match, just didn't quite match up to SHO and Shingo.