Taking Stock of John Cena's Legacy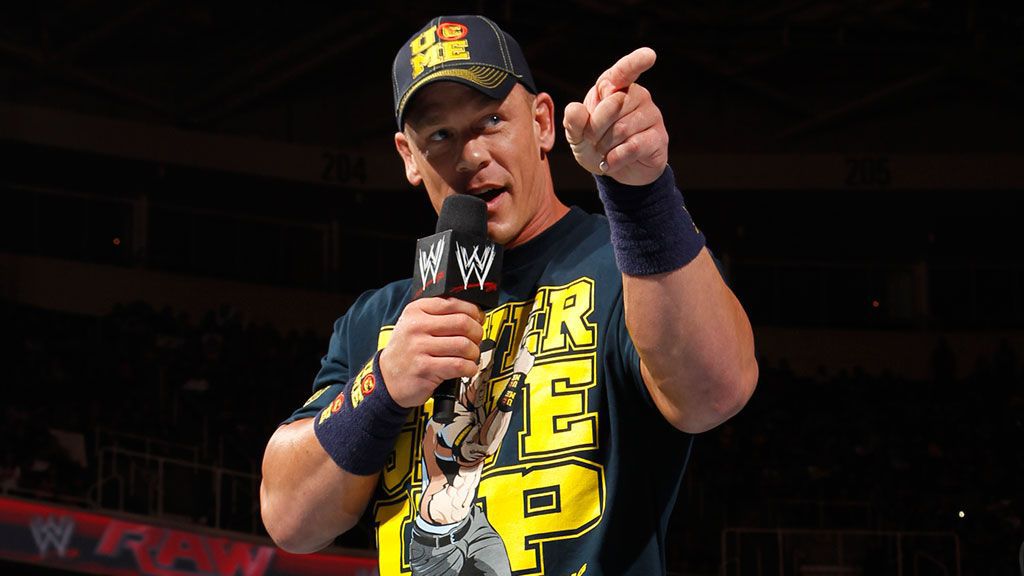 John Cena is a legendary WWE performer, leaving a legacy that many will argue over for years. A sure Hall of Famer garnering more Hollywood attention than ever before, how will he be remembered when he finally hangs up his sneakers?
Let us know what YOU think on social media @theCHAIRSHOTcom and always remember to use the hashtag #UseYourHead!
The Leader of Cenation has been grabbing headlines lately, and he's doing so even without making weekly appearances in either RAW or SmackDown. Cena has been busy promoting his upcoming movie, Bumblebee, and he was recently honored by Sports Illustrated with the Muhammad Ali Legacy Award. He has even extended the proverbial olive branch to Dwayne "The Rock" Johnson, whom he once called out for taking that leap from the squared circle to the big screen. He also gave a wide-ranging interview with ESPN, which you can rewatch here. Cena briefly touched on retirement in said interview, where he made it known, too, that a Johnsonian switch to acting may be in the works as well.
Given that Cena is now 41, may be the writing really is on the wall for his wrestling career. Now is thus as good a time to take stock of the legacy that the West Newbury, Massachusetts native will leave behind once he decides to retire.
The accomplishments speak for themselves
John Cena, on merit alone, has already secured a spot in the WWE Hall of Fame. His accomplishments speak for themselves. He held the World Heavyweight Championship 3 times, the WWE Championship 13 times, and the United States Championship 5 times. He won the Royal Rumble twice and the Money in the Bank once. He also held the Tag Team Championship twice, once with Batista and once with Shawn Michaels. He has 10 Slammy Awards as well, along with a number of honors from Wrestling Observer Newsletter. Among his contemporaries, only Triple H and Randy Orton have a list of accomplishments comparable to Cena's and that means a lot.
Worst among the best?
Cena just might be the worse among the best. It is true that Mr. You Can't See Me is one of the most decorated athletes in WWE history. Yet it is also true that he is not as good a wrestler as his accomplishments suggest. He does not have the technical proficiency of a Ric Flair, a Bret Hart, or even a Triple H. Neither does he have the stylistic versatility of a Shawn Michaels or an AJ Styles. He is maddeningly simplistic — think Roman Reigns — save for his Attitude Adjustment, perhaps. Even his other signature move, the Five Knuckle Shuffle, is head-scratchingly simple: a variation of the elbow drop, only this time, with a closed fist.
In fact, a case can be made that John Cena, situated among his contemporaries, trails a good six other wrestlers in terms of in-ring skill and talent: Triple H, Shawn Michaels, The Rock, Randy Orton, Daniel Bryan, and AJ Styles. Even Cena's peer, Kurt Angle, admitted as much, telling Fox Sports: "He's one of the best. I wouldn't put him at the very top of the list, but he is one of the best."
A merchandise machine

Credit: Pinterest
Angle, in that same Fox Sports interview, brings up an important point about Cena: He is a merchandise machine. He monetized his shtick (more on that later), with the WWE selling loads of Cena-related stuff, from T-shirts to sweatbands to action figures and even chains. He has been a walking advert, not only for the promotion but for the Cena brand as well. In other words, Cena merchandise have always been bestsellers, and it is proof of the man's popularity among WWE fans. Only DX could ever touch Cena in terms of merchandise sales, and they needed the combined star power of both Triple H and Shawn Michaels. Cena, in contrast, is a lone star, and a bright, shining one at that.
A stale shtick
Cena long ago found a formula that works, and has stuck with it ever since. It's not wrong per se, and it seems unfair to criticize him for that. But somewhere, somehow, Cena's shtick has gone stale, much to the chagrin of many a number of WWE fans. Characters in the WWE Universe need to grow. They need to develop. They need to adapt. Cena's hasn't. His character now is the same as his character in the early 2000s — no depth, no characterization, no nothing. Sure, he is a master of the mic, but even his rhymes no longer resonate. Wonder no more why "Cena sucks!" chants still erupt every now and then.
A wonderful human being
Say what you may about Cena, the wrestler. Bash him if you want. But one thing is for certain: John Cena is a wonderful human being. He is literally a one-man Make-a-Wish Foundation, already granting 580 wishes as of press time. He is also using his fame to combat bullying, raise cancer awareness, and inspire American troops. If you can't see that, then something's wrong with you.
John Cena, of course, is not done yet. He is, as reported here, will return full steam ahead after Christmas, with the WWE adding more dates to Cena's comeback. And don't be surprised if this comeback culminates at WrestleMania 35 in New Jersey. He has headlined the WWE's flagship event five times already, and you can bet that he will be involved in some way. A match with Brock Lesnar could be big, even as other options abound, too. WrestleMania 35 is a long way off, though, and until then, Cena will spend more time away from the WWE. But he certainly isn't retiring just yet.
Let us know what YOU think on social media @theCHAIRSHOTcom and always remember to use the hashtag #UseYourHead!