Andrew's Impact Wrestling Ratings & Review 1/18/2019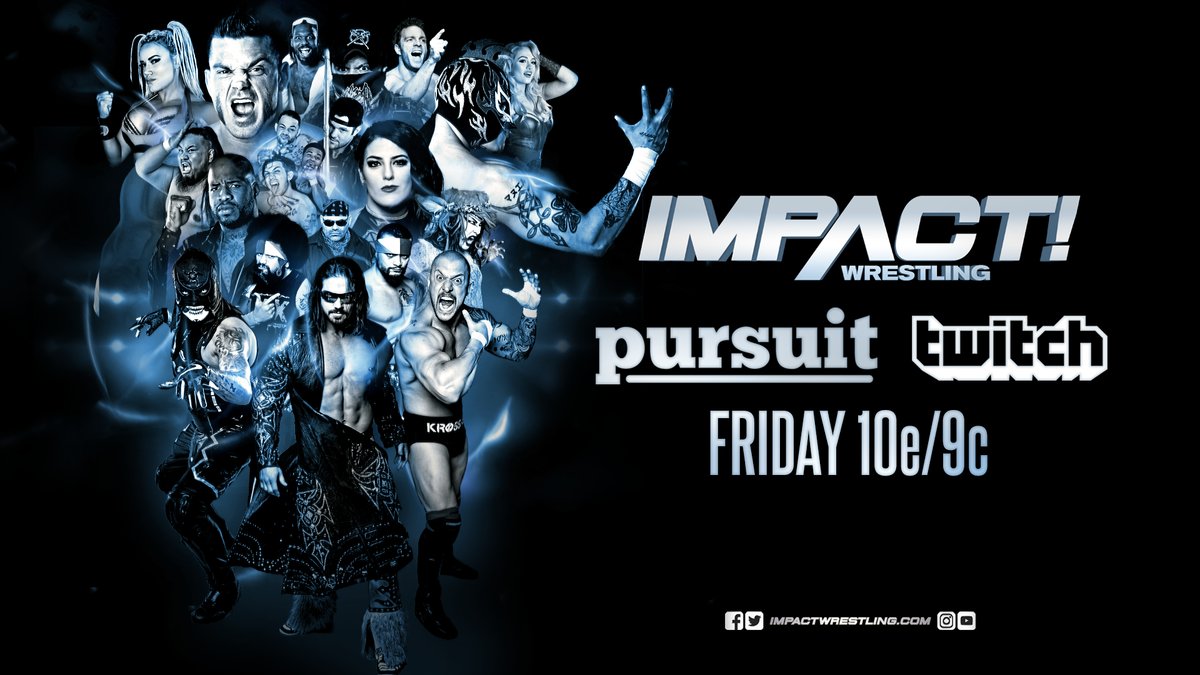 Coming off their sexy debut on Pursuit and Twitch, how does Impact Wrestling follow that? Andrew let's us know how it all went down.
With nothing as edgy as a Scarlett Bordeaux strip show advertised for this week, I guess we should find out exactly how much sex sold last week and who stuck around for Impact.
We should see developments with Johnny/Cage/Kross/Moose, Tessa/Gail and Allie/Rosemary. So with a bunch of budding stories, this should be a fun episode.
.@AllieImpact is here… #IMPACT

▶️ – https://t.co/jyZYT6QL46 pic.twitter.com/WHnYmlkeoK

— IMPACT (@IMPACTWRESTLING) January 19, 2019
Interesting note: Sami Callihan, Don Callis and Jordynne Grace are active in the Twitch chat tonight, along with a few other wrestlers. The interactive aspect is kind of cool.
Ratings:
KM w/Fallah Bah vs Caleb Conley – NO CONTEST Brian Cage lays everyone out
'All Ego' Ethan Page vs Eddie Edwards – Page wins via DQ – ** 1/2
Dark Allie w/Su Yung vs Jodynne Grace w/ Kiera Hogan –  Jordynne wins via Wristclutch Fisherman Driver – *
Brian Cage vs Moose – Cage wins via Drill Claw – ***
Trey vs Rich Swann -Swann wins via 450 Splash – ***
LAX vs oVe – LAX wins via Tandem Inverted Suplex – *** 1/2
Review Notes:
The show starts off with what we expect to be a match, but then it cuts to the back with Brian Cage going crazy. He storms out, interrupts the match, lays out the world and calls out Johnny Impact. Impact comes out, Moose and Kross beat down Johnny. Cage eventually struts up the ramp, drags Johnny back to the ring to lay in some damage himself, but Moose spears Cage and Kross hits Johnny with the Doomsday Saito Suplex.  Wonder if we get a thrown together tag or if the free for all feel continues.
Twitch unique commercial break has Josh Mathew's Skype in and chat with the viewers. It's an interesting take on doing the show through Twitch.
Quick backstage moment with Cage making a match for tonight with Moose, since Moose hit him with the spear.
Eli Drake comes out to join commentary
Decent match by Page and Edwards here. Drake sets up the promo he cuts on Edwards after the match throughout his commentary. Some nice bickering between commentary and solid enough match before Eddie decides to use the Kendo Stick. Edwards calls the Kendo Stick Kenny, and when Page landed a big Pump Kick, Drake couldn't miss the South Park reference. But after the DQ it sounds like Drake wants Eddie to return to his old version, not this twisted hardcore person. Maybe we'll see Davey Richards come back. LAX against the American Wolves would be a great match.
Flashback moment is a steel cage match with Raven's Gathering versus Abyss' Red Shirts. Always nice to see the overbooked nostalgia of old school TNA with AJ Styles, Sting and CM Punk at the time.
Rascalz with the That 70s Show stoner vignette, even drop a Step Brothers reference. Pretty funny if you like that.
Allie puts up a little bit of a fight, but Jordynne dominates for the most part. After the match Rosemary shuts the lights off and switches places with Su Yung in the ring to try and get Allie back. But Allie bails and runs off in fear.
Scarlett announces her winner, and it's herself. She says that she's already the most over Knockout and she hasn't wrestled yet, so now she'll get in a ring and prove herself there.
Cage vs Moose is a hard hitting big boy style match. Moose got to showcase a bit of the cocky persona when he thought he outsmarted Brian Cage, but then Cage ducks the chop and Moose hits the post like a geek. The match was slow, but some nice outside of the ring work, as well as, fun spots. Moose did a Kip Up, Brian Cage fired up, flurry of strikes, Moose lands a Go to Hell, but Cage kicks out. Moose tries to introduce a chair, it backfires and Cage kills Moose. Cage has a much clearer path to a rematch against Johnny.
Taya interview says she'll be back in time for the Mexico shows, and we'll get some La Wera Loca action.
Interesting note, Allie joined the Twitch chat, with Rosemary in it as well…and they continue to talk in character and further to story a bit. It's really cool. Feels like an old AOL RP chat room…shut up, I'm old, don't talk.
Tessa gets an interview in the back, nearly attacks McKenzie, attacks a PA, Gail shows up to pull her off and they scuffle. So again, I'm figuring Gail comes out of retirement to face Tessa. Fun Eli Drake sighting in the background during the brawl though. Scott D'amore did just suspend Tessa, but we all know those never stick.
Swann and Trey was quick and fun. A few hiccups in the match, but not bad. Locomotion Double Leg Cradles make Baby Ref dizzy and Trey nearly gets the best of it. Swann kicks out, knocks Trey back on his ass and then puts things away with a second rope 450 Splash. oVe comes out to try and recruit Swann again, but before a decision is made, LAX come out for the match. So again we're left without knowing how Swann feels.
The commercial break comes back a little late, but we get a good portion of the match. Spotty but a fun match. Saw a lot of quick tandem work between both teams, and it's also the first time we've really seen Dave Crist in an actual match in a while. oVe hits a Superplex/Jumping Powerbomb combo, but only for a 2. Then LAX dispatches of Dave, hits a bunch of smooth moves, Rolling Cutter, Code Breaker, Superkick, Tandem Inverted Suplex, and the pinfall. Fast paced and fun, perfectly fine TV main event. After the match the Lucha Bros congratulate them, but Ortiz gets a little prematurely mouthy as Konnan voices his dismay when the show cuts off.
"If you ever want another ass whipping just let us know baby!" @Ortiz5150 is happy to pick another fight with @PENTAELZEROM and @ReyFenixMx! #IMPACT pic.twitter.com/sapQDse4tt

— IMPACT (@IMPACTWRESTLING) January 19, 2019
Overall Score: 6.5/10
Fun and solid show. Even though the actual wrestling was back-loaded this week, we saw plenty of story line progression and all of the little segments and promos are building to something. Plus Impact showed their new concept with wrestlers in the chat to kind of talk with and Josh's Skype presence. It would be cool if they mixed up the Skype person though. McKenzie Mitchell, Eli Drake, Bruan Cage (with Melissa maybe) or Alicia Atout popping in at 3 minute intervals during commercials would probably be better. But it was still a very cool concept.
Still, between the interactivity on Twitch and the actual content of the show, this was an easy watch and pretty enjoyable. It should be mentioned though that Twitch viewers did drop by a bit. The show capped off right around 8,000 viewers and by the time the main event hit, it was down to 6,500. So this shows about a 20% drop in viewership, but a strip show also wasn't marketed…so who knows if that played into the bigger number last week. All I know is, it's early in the year, but Impact has put on a more solid TV product than even SmackDown Live. I'm hopeful this trend continues, so I'll keep watching.