Chairshot Classics: WCW Uncensored '95 – Unsanctioned, Unauthorized, Unbelievable!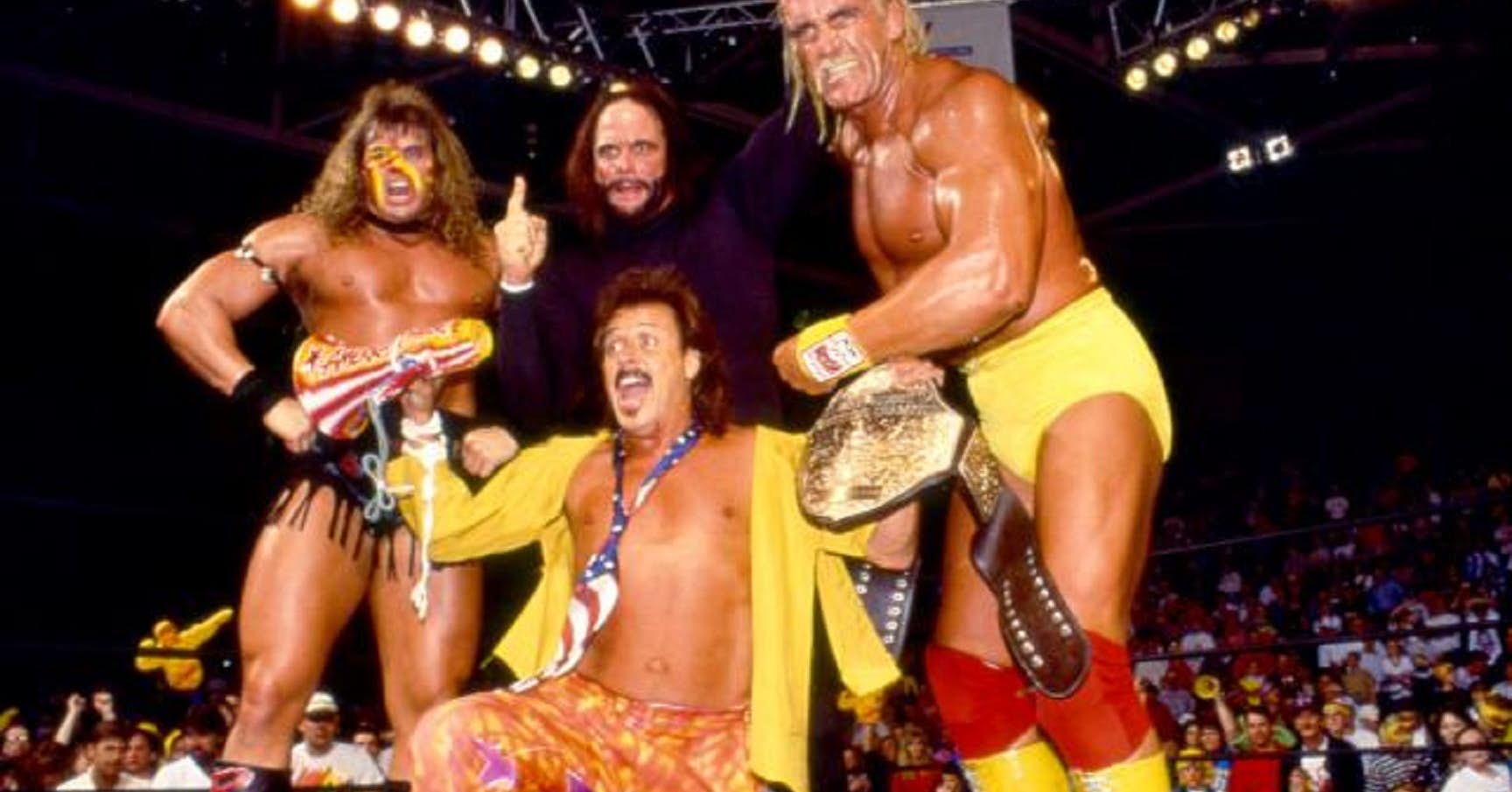 Our weekly Chairshot Classics WCW PPV series continues with Uncensored '95!
Open: As the commentators review the card, they're told that there is live footage from the first contest, so we cut to that.
Match #1 is a King Of The Road Match: The Blacktop Bully vs. 'The Natural' Dustin Rhodes
The winner of this match will be the first to blow the horn on the back of the 18 wheeler. Both men are caged in the back of the flatbed, which is filled with bails of hay and bars. Bully hits a low blow to stop Rhodes' first attempt and he sends The Natural into the steel. Rhodes is dumped to the middle of the bed and he staggers around as we get helicopter footage of the truck. Lots of wide shots as the two brawl. Bully is close but here comes Rhodes with a fence post and he drives it into the mid section. Rhodes with some rights and stomps.
Rhodes delivers a piledriver and uses the car for a double leg kick. Rhodes dumps a bail of hay on the back of Bully's head. Blacktop finds a rope and he uses it to choke Rhodes. Dustin comes back with a bucket of an unidentified liquid. He tries to make a climb, but the momentum of the truck takes him down. Belly to back suplex by Bully, the truck's momentum sends both men into the side. Rhodes has a foreign object and he pounds on Bully. Rhodes can't pull off a scoop slam due to the truck's momentum. Bully makes a climb and he's cut off. Many wide shots make it difficult to call the action. Rhodes has an animal trough and he nails Bully with it.
The truck comes to a complete stop, halted by a church bus. Microwave interference cuts the feed temporarily. We come back to Bully hanging on to the top, but Dustin works over his ankle. They fight up on top of the cage, exchanging rights and doing whatever they can. Dustin is knocked down to the flatbed, but Bully slips down as well. Bully pulls Dustin down but misses with a clothesline and tumbles over one of the steel bars. The Bully leaps with a double ax handle, he makes the climb for the horn, Dustin gives chase, both men reaching for it. Dustin rakes Bully's eyes but the slowing of the truck pulls Rhodes back. Blacktop Bully yanks Dustin back to the flatbed, blows the truck horn, and mercifully, this one is done.
Winner: The Blacktop Bully
EA's Take: The definition of ridiculous and it was only made more ridiculous as the feed occasionally got interrupted and the truck got stopped. Lots of wide shots so you couldn't see a lot of the action, which was limited at best anyway, especially because it's challenging to keep your balance on the back of a moving vehicle. As I've said before, both men were fired for blading during this match and it goes down as one of the most infamously 'WCW' moments in wrestling history. If I was Dustin, Goldust would have sounded like a step up to me too.
Backstage: Mike Tenay is joined at this time by WCW World Television Champion Arn Anderson, Col. Robert Parker & Meng. Double A says the King of the Road result was just the first in a clean sweep for the Studd Stable tonight. The hour glass has turned and time is running out for Johnny B. Badd to recapture his manhood. A DDT will put his lights out in just a little bit. The $75,000 it cost Col. Robert Parker to get Blacktop Bully out of jail, because it's paying dividends. In terms of the upcoming martial arts match, Meng has Duggan shaking like a leaf, and he's going to pay the price for putting his hands on the manager. Hacksaw's crossed eyes are going to be crossed for good soon.
Match #2 is a Martial Arts Match – Special Referee Sonny Onoo: 'Hacksaw' Jim Duggan vs. Meng w/Col. Robert Parker
Duggan is dressed for the occasion and he gets the USA chants going. Onoo gives the competitors instructions, but Hacksaw bows to no one. He finally concedes so we can get started. Duggan chases Parker off the apron. Duggan bows to his opponent and takes a kick in the face. Meng makes a cover for two. Duggan and Meng exchange strikes, Meng with several throat thrusts. Duggan takes his boot and pounds his opponent back, but a big elbow sends him back. Meng grabs a nerve hold but its broken by the boot. Duggan swings and misses with the boot and Meng comes back with chops. A straight choke by Meng and Duggan falls to his butt.
He hulks back up, is unphased by several strikes and delivers a series of punches. Meng knees the gut and follows with a kick and a clubbing forearm. Meng grabs another nerve hold as Duggan looks for the crowd's help. Duggan breaks the hold with elbows, goes for a shoulder block but can't take Meng down. He tries again, but Meng brushes him away. A big kick right to the neck by Meng and he chokes Hacksaw on the bottom rope. Sonny Onoo backs him off, and Duggan takes advantage with a right cross. Meng fights back and knocks Duggan down with a back handed chop. Meng rakes the eyes and chokes Hacksaw on the mat.
Back up to vertical, Duggan absorbs a savate kick, but Meng is too much to handle. Meng tries the nerve hold for a third time. Onoo drop checks the arm, but Duggan holds at two. Up to vertical, Duggan with elbows to the mid section, he tries a headbutt but it takes more out of Hacksaw himself. Meng uses his foot to choke Duggan on the apron until Onoo backs him off. Col. Parker takes advantage of the distraction and uses his handkerchief. Big uppercut chop by Meng, but Duggan moves away from several elbow attempts. Hacksaw mounts a comeback, Meng reverses a whip to the ropes but Duggan stops short and punts him.
Duggan stands on the 2nd turnbuckle for count-off rights. Onoo tells him to break it up, Duggan feigns like he's going to dump Sonny over the top rope, Meng stalks in but Duggan ducks a clothesline. Irish whip by Duggan, he gets into his three point stance and nails him with the lariat, but Meng is right back up. Parker tries to get Hacksaws attention and he's pounded on the apron the apron. Onoo grabs his fist to stop him, opening up the opportunity for a savate kick by Meng, which helps him pick up the W.
Winner: Meng (Savate Kick)
EA's Take: Okay, so we have a 'Martial Arts Match' where one competitor uses no martial arts and the other uses just a couple martial arts strikes and holds that are just part of his normal repertoire? Does that mean every Meng bout was ultimately a gimmick match? Well, at least we had a special guest referee who played a confusing role at times? No, that last question mark isn't a typo.
Backstage: Mike Tenay is joined at this time by Johnny B. Badd and his boxing trainer Roc Finnegan. The Badd Man may be at a disadvantage since someone will be trying to wrestle him while he's sporting gloves, but this isn't about boxer vs. wrestler, this is about Badd vs. Anderson. Finnegan says his student is going to knock that stiff out, and Badd tells The Enforcer he's going to dreamland.
Video: A piece highlighting the career of the TV Champ, and he explains why and how he'll do whatever it takes to protect his belt.
Match #3 – Boxer vs. Wrestler: Johnny B. Badd w/Roc Finnegan vs. WCW World Television Champion 'The Enforcer' Arn Anderson w/Col. Robert Parker
There will be up to 10 three minute rounds with a 1 minute intermission. You can win by pin, submission or a 10 count KO. Round #1 is underway, they circle, Arn trying to lock up but Badd keeps him back with a left. Badd ducks a collar and elbow and throws in a jab. Badd backs Anderson into a corner, he throws in a big series and Anderson has to bail out. Parker encourages his client and The Enforcer climbs back in. They measure each other, Badd with body shots and Anderson drops to his knee. Arn covers up and finally gets a knee and a left in but Badd is overwhelming. Anderson covers in the corner and the ref backs Badd off.
Anderson leaps for a single leg but Badd backs off, Anderson eats shots in the corner as the bell rings for round 1. They check in with the respective men in their corners. Parker tells Anderson to take his legs out from under him. They're back up and we kick off round #2. Anderson is able to bear hug Johnny into the corner and drive Badd into the corner. Badd fights back with a flurry of punches and the 10 count starts. Anderson is up at 7. Badd continues to pummel him in the corner and Anderson covers up. The Enforcer gets a single leg pick up but misses an elbow and Badd knocks him down again. More jabs from Badd and Anderson is just absorbing.
Anderson gets some hard shots to the kidneys and he goes down. Parker cheers his man on and the ref checks in. Anderson gets him in the gut, but Badd is still dominating. Anderson drops down again and Badd poses. 10 seconds left in the round and Anderson just covers up. During the rest period, Anderson sneaks in with a cheap DDT before collapsing himself. Finnegan checks in with Badd in the corner, and Anderson rushes in with more cheap shots, he looks at the ref and says: No DQ? And chucks him over the top rope. Parker takes a liberty and rolls Badd back in. Anderson goes to work and chokes Badd on the bottom rope before stomping on the jaw.
Badd fights back with body shots, but Anderson lifts his knee. Knee shots to the kidneys by The Enforcer. Badd is vertical and Anderson drives his shoulders into the mid section. Another knee lift by Anderson, and Parker holds up a stool in the corner for an Irish whip. Badd collapses after being struck by it, but here comes Finnegan to jump on Anderson's back. Anderson sheds him, but it buys Badd a little time. Anderson stays in control in the corner and he poses for the crowd. Arn chokes away and hits a jaw buster. Badd wakes up and throws body shots, but Anderson simply dumps him on the floor where Parker stomps him as the 3rd round ends.
It should be the rest period but Anderson tosses Badd into his coach. Finnegan encourages Badd but Anderson ambushes him with a scoop slam. He mocks in the cameras direction but turns around into a shot from Badd. Finnegan puts a bucket on Anderson's head and the 10 count is on. Johnny B. Badd wins it by knockout.
Winner: Johnny B. Badd (TKO/Round 4)
EA's Take: Thank sweet baby Jesus this didn't ACTUALLY go 10 rounds! This match ticked me off, not just because it was boring, but it made wrestling look inferior, particularly in the first two rounds. Anderson sold it as best he could, but it was hard to save this nonsense. I don't think there's ever been a case where boxing and wrestling have been fused together and it came out good. Piper/Mr. T, Inoki/Ali, the Brawl For All…I'd hope by our current year (2019) we've seen the last of it. I like boxing, more so than MMA, but these just never work.
Backstage: Mike Tenay is joined by 'Macho Man' Randy Savage. Tenay asks if Avalanche's attack on Saturday Night was a wake up call. It is what it is, but just like bucket-head Arn Anderson, Avalanche is going down at the hands of Savage. He'll take anyone out on the way, so Tenay should wipe the smile off of his face. Ooooh Yea!
Match #4: 'Macho Man' Randy Savage vs. Avalanche
Avalanche hits the ring and Savage wastes no time. He works him in the corner, Avalanche reverses an Irish whip but Savage moves away from the splash. Quick jabs by Savage, but he can't move the big man with shoulder blocks. Avalanche lectures and Macho slaps him in the face. Shoulder block by Avalanche, he rushes in but Savage moves out of the way and Avalanche tumbles to the floor. Savage climbs to the top and hits a flying cross body down to the floor. He introduces Avalanche to the ring post and the steel steps. Macho pulls the big man back into the ring. He tries a scoop slam, but it's too much. Avalanche pancakes him and gets two count.
A stomp and a head of steam for an elbow. Avalanche runs again with a leg drop but can only get two. Avalanche poses and the crowd boos. Savage tries fighting from his knees but he's brushed off. Belly to belly suplex by Avalanche. Savage is slow to his feet and Avalanche hits a drop kick but Savage is too close to the ropes for a pin. Scoop slam by Avalanche, he moves in for an elbow but Savage moves. Avalanche dumps Savage down to the floor, and follows him out for some forearms to the chest. Savage is run jaw first into the ring post. Macho is slow to the apron where gets more forearms and dumped back to the floor.
Savage crawls back up, but Avalanche drives his shoulder into the gut and boots him back to the floor again. Savage tries again, but a big knee returns him to the floor. Back to the apron, Avalanche hooks him for a suplex, Macho blocks and slingshots the big man down. Macho heads for the top rope and hits a crossbody, but there's a big kickout. Randy tries some clotheslines with little effect. He hits the ropes, ducks two clotheslines and tries a sunset flip, but Avalanche sits down hard on top of him. Avalanche steps across the sternum of Savage and lands a big splash. Power slam by Avalanche, he stomps around, he went for the Avalanche Drop but Savage rolls away. In the corner, body shots by the big man. irish whip but Savage comes back hot and tries a schoolboy for two.
Savage goes to the eyes and heads to the top, he takes flight but is caught in mid air. Avalanche drives Savage into the corner and lifts Macho for another power slam. Avalanche goes to the 2nd turnbuckle, he dives but Savage moves. Macho climbs to the top but Avalanche rolls to the floor. Savage accommodates and hits an ax handle down to the floor. From the crowd a "woman" climbs the barricade and assaults Savage. He rolls him back into the ring where he's double teamed. Scoop slam by Avalanche followed by an Avalanche Drop. The wig is removed, and it's revealed that the "lady" was Ric Flair. From the back, Hulk Hogan rushes to his friend's aid and the others bail out. The ref calls for a stoppage and Savage wins by DQ.
Winner: 'Macho Man' Randy Savage (Disqualification)
EA's Take: It's Uncensored! There are no disqualifications! Except when there are, apparently. This was a good match between these two and Ric Flair as a woman was pretty funny, just sort of a bizarre ending considering the premise of the show though. But…you know…WCW!