The Good, Bad and Ugly: WWE Monday Night Raw (1/7/19)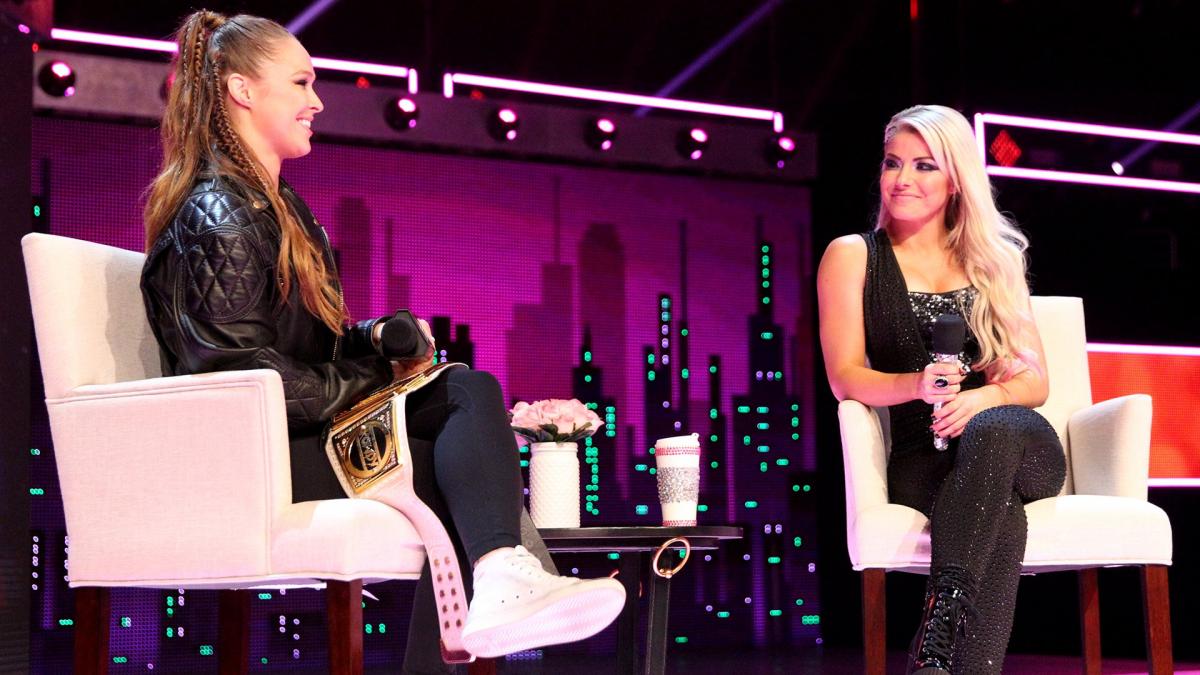 Bobby Fernandes checks in with the first live WWE Raw of 2019. Was the show Good, Bad, or downright Ugly?
With almost all coverage lately around AEW, WWE proceeds business as usual, sort of.  On the January 7 edition of Monday Night Raw, the biggest of the big will grace us with his presence, "The Immortal" Hulk Hogan.  Hogan's purpose is to commemorate a guy who is beloved by all who knew him, "Mean" Gene Okerlund.  With such a huge name among other possible, rumored personalities tonight, can Raw pull out an over the top show? 
THE GOOD
John Cena Returns to Raw
Although we "can't see him" anyway, Cena was sorely missed.  He isn't great as an actual wrestler but neither were a lot of the greats before him.  He is pure charisma and plays off of hope and fighting back.  He stands for "Never Giving Up" a true hero for all to adore.  Some people just hate him.  It is what it is, however Cena can only add a touch of Good, every time he is out there.  Put him up with anyone, and give him a mic, and you have gold.  Well, Mr. Cena officially announced his participation in the Royal Rumble Match.  Drew McIntyre interrupts.  He did spectacular on the microphone, however the crowd was dumbfounded.  McIntyre made his claim to fame and called out Cena's attributes, while also boasting his own.  This led to Cena owning him as always and surprisingly had the audience's full support.  Drew McIntyre headed to get a piece of Cena but was interrupted by Lio Rush babbling about Seth Rollins losing it, only to be attacked by Rollins.  Then Ambrose attacked Rollins, being joined in with Lashley.  Cena attempted to aid Rollins but was hit by McIntyre.  Out comes Finn Balor, the crowd went bananas.  Finn cleaned house.  This is brilliant energy starting Raw off with bang leading to a 6 man tag match
John Cena, Finn Balor and Seth Rollins vs. Drew McIntyre, Bobby Lashley w/ Lio Rush and Dean Ambrose
Everyone was on point for this one. Individually, Cena was on fire as well as Lashley.  The story though is Finn Balor, he can work and rarely disappoints.  Dean Ambrose who hasn't been so sharp lately looked great in there.  Love him or hate him, "Vintage" John Cena sucked in the audience, until McIntyre hit a "Glasgow Kiss" knocking him out for a two count.  Cena took a beating but hit an "Attitude Adjustment" on Lashley but couldn't get the tag getting taken down by Ambrose.  Cena took a beating in this match completely isolated.  Finn Balor guns in firing on all cylinders wrecking Ambrose hitting the "Coup De Grace" however got hit with a "Claymore Kick."  Rollins comes in from another planet, hitting moves from a moonsault out of nowhere to the outside, to then hitting a "Falcon Arrow" for a close two count.  Rollins could not be stopped until he missed a huge "frog splash."  Ambrose comes in to pick Rollins clean but gets "Stomped" for the victory.  Rollins, Cena and Balor victorious.    HHH didn't watch "The Architech" Burn it Down, which Rollins certainly did, but was welcomed back by The Game.  Rollins wants Ambrose, HHH obliged for a "Falls Count Anywhere" against Ambrose for the I.C. Title" later on Raw. 
"Mean" Gene Memorial w/ Hulk Hogan
Any Hulk Hogan is Good Hulk Hogan.  This particularly has a lot of potential.  Remembering a guy like "Mean" Gene who literally shared a career with Hogan couldn't be more appropriate.  The more Hulk Hogan for any reason is already good, but this could be Great.   No one does a highlight reel like WWE.  This one was just fantastic.  What a great man, and what unbelievable, priceless memories of a true legend.  Hogan was fantastic, and this whole tribute to everyone's favorite personality, was all heart. 
Raw Tag Team Championship Match (Lumberjack Match) – Bobby Roode and Chad Gable (c) vs. The Revival
Lumberjack Matches are usually at the least entertaining, as there are so many involved.  This feud is great all around.  Both teams are old school and play off each other successfully.  Very textbook, both teams looked sharp.  The baby-faces pushed around The Revival, as Lucha House Party kept Revival in the ring.  Bobby Roode is so good!  He has full potential to do whatever WWE will let him.  It really is up to them how they want to use Roode, but he is capable of a lot more then he already has.  The "German Suplex," "splash" spot with Revival and Gable was amazing.  Then all hell broke loose.  Tons of confusion for a very weird finish.  Gable gets the pin w/ Dawson's foot under the rope.  Absolutely confusing finish to a Good match.  Roode and Gable Retain!
Elias vs. Baron Corbin
Elias straight killed it on the guitar in his opening.  He obviously took the fans opinion that his guitar skills are sub-par to heart because he seemed to really try.  The fans have spoken and they love to "walk with Elias" they also despise Baron Corbin.  Corbin could save a puppy from a house fire and most likely still get negative heat.  Rightfully so, he can stink up the place.  He really is the after-school special bully and pours cheese out of his mouth constantly.  As always though, these two can go.  This was action packed and high energy.  Elias flew around the ring hitting Corbin with a nasty set of offense.  It looked Good.  Corbin seems to mesh well with Elias.  Elias can handle Corbin's physicality without looking sloppy and overwhelmed.  Corbin after taking a ton of punishment from Elias, slammed him with a right hand, and tied him off into an "End of Days" for the clean victory.  Not sure where this is going, or to what end, but this was a decent match. 
Jinder Mahal and Alicia Fox w/ The Singh Brothers vs. Apollo Crews and Ember Moon
Alicia Fox really needs to never speak on the mic and maybe just not compete anymore.  Jinder Mahal has a lot of potential but he isn't resonating currently with the audience.  I think if Mahal channeled his inner "Alberto Del Rio" we could see some magic.  Truthfully, this wasn't a Bad Match.  It was quick, Fox took the squash and Crews killed it.  Quick, fun match. 
Winner gets Raw Women's Title Match a Royal Rumble – "The Boss" Sasha Banks w/ Bayley vs. Nia Jax w/ Tamina Snuka
Sasha Banks is very talented.  So talented in fact that she made Jax look Good.  Sasha Banks carried this match, selling and putting Jax over to her maximum ability.  The "Gorilla Press" spot on the equipment case was impressive.  Nia Jax dominated with little spurts of Sasha fighting back.  Sasha took a nasty bump getting hung up on the top rope.  Sasha went for a gutsy move on the apron but it seemingly got botched and Banks landed hard but recovered.  Jax gets caught up in the "Banks Statement" and Sasha Banks Wins a trip to the Royal Rumble to face Ronda Rousey for the Raw Women's Championship.
Intercontinental Championship Match (Falls Count Anywhere) – Dean Ambrose (c) vs. Seth Rollins
Rollins attacking Ambrose on the ramp was a great touch.  This match had a lot of feeling and intensity that had been missing from this feud.  It was everything but flat this time.  Rollins was a mad man and Ambrose reacted accordingly.  They definitely didn't hold back.  You could feel the shots being taken.  This is the appropriate level of competition guys like this are supposed to have at all times.   This was a PPV level Main Event Match.  For it to be on Raw speaks volumes.  They were going blow for blow countering each other's move-set.  Rollins beat the hell out of Ambrose and Ambrose followed up with a beating with a steel chair.  This looked like an "ECW" type of match in the best way possible.  Rollins looked like he might lose, then hit move after move, "Superplex into a Buckle Bomb", a huge "Super-kick" followed up by "The Stomp" he had it won until Bobby Lashley interfered.  Lashley destroyed Rollins manhandling him and blasting him all around the ring.  This was such a sick match, it hit all of the right notes.  The finish was so cheap, and made no sense as no one came to intervene even after the earlier match.  The ending really disappointed but the match was damn Good.  Ambrose retains!
THE BAD
A Moment of Alexa Bliss
No matter how unbelievable Alexa Bliss is, and she is, this is a nightmare waiting to happen.  No one is looking forward to this at all to begin with.  This could be a big segment as Rousey and Bliss have heat.  Rousey isn't at her best on the microphone and this type of promo has a "boring" chant on deck at all times.  Rousey then gave props to the "Unsung Hero, The Boss" Sasha Banks.  Nia Jax then popped out and stunk out the place, before being interrupted by Sasha Banks.  It is refreshing to see Banks back in the storyline, especially with a possible match with Rousey for the Gold.  Sasha Banks carried this failure and set up a decent proposal even Nia Jax trying to ruin it. 
THE UGLY
"The Monster" Braun Strowman Face to Face with WWE Universal Champion "The Beast" Brock Lesnar
It's Good to see Braun Stowman back.  He has a presence that demands attention.  This faceoff was a fantastic idea, and even a bit surprising.  Unfortunately, Lesnar didn't come down to the ring "card subject to change."  Heyman always shows up on the mic, but then it all came apart.  Strowman didn't deliver and Heyman ate him alive.  This was a boring disappointment, until Lesnar decided to take Strowman up on his offer to "get these hands."  But, that didn't happen, Lesnar circled the ring and left all of us wanting to see this finally go down and being very disappointed. 
FINAL TALLY
GOOD – 8
BAD – 1
UGLY – 1
OVERALL
The Spirit of Raw around the beloved "Mean" Gene Okerlund had a GOOD feeling this week.  It had some big moments and a lot of success.  It wasn't perfect but it was fun and enjoyable.  It was more than a GOOD show, it was special. 
We can get used to this.  Raw delivering, SmackDown delivering, hell maybe NXT will go back to normal this week as well and kick ass.  Whatever happens, what a time to be a fan.  No matter if this was WWE's plan all along or they feel the heat from all of the attention the "new guys" are getting, this has been getting better and better.
Andrew's Impact Wrestling YouTube Ratings & Analysis (3/22/2019)
Andrew tales a look at the YouTube performance for this week's IMPACT! How did it match up after disappointing Twitch views?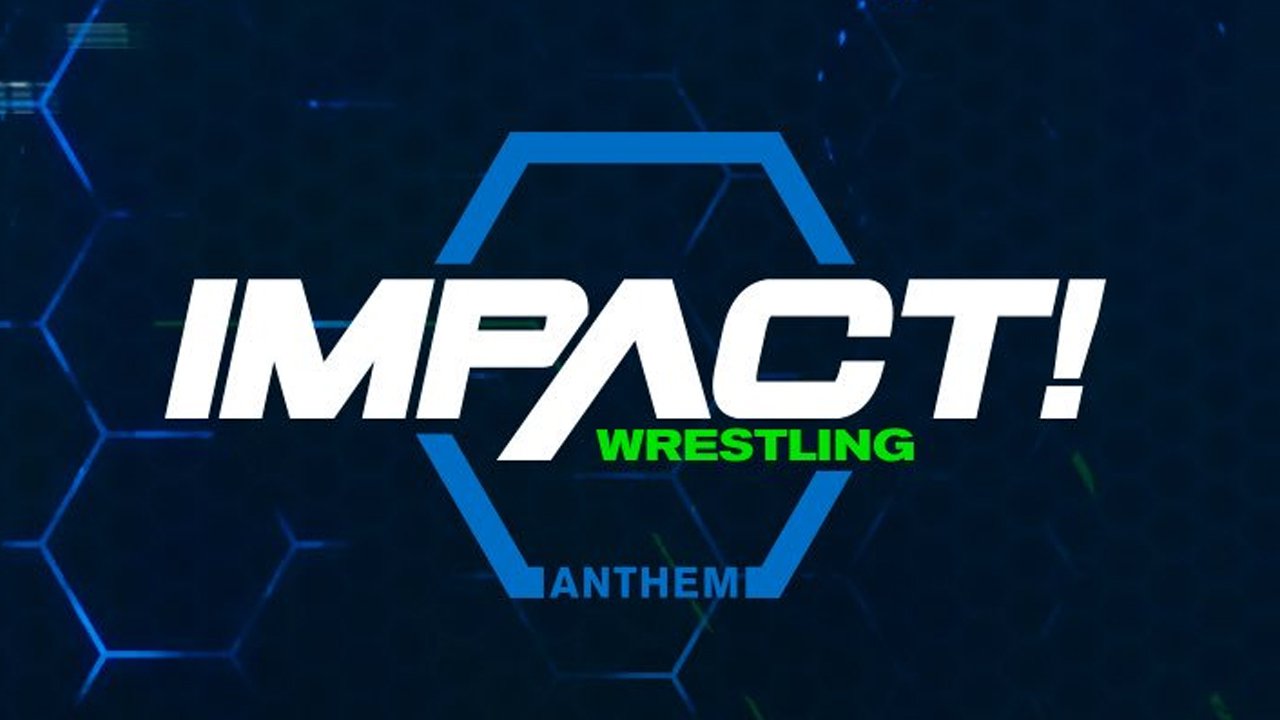 A look at the YouTube performance for this week's IMPACT!
As we all know, social media and other outlets have become a huge means of drawing in interaction and viewers for wrestling. Most people will point to television ratings like they did during the Monday Night Wars in the late 1990's, however that can be skewed with so many various means of watching today that do not include cable television.
As you've become accustomed to this with WWE product, let's continue the Impact YouTube! Here is this week's IMPACT YouTube Report, compiled approximately 48 hours after IMPACT went off the air:
The VIOLENT Debut of a New Member of oVe! | IMPACT! Highlights Mar 22, 2019 – 353k
Top 5 Must-See Moments from IMPACT Wrestling for Mar 22, 2019 | IMPACT! Highlights Mar 22, 2019 – 99k 
Johnny & Taya Explain Their Despicable Betrayal of Brian Cage | IMPACT! Highlights Mar 22, 2019 – 93k
Scarlett Bordeaux vs Glenn Gilbertti NEXT WEEK on IMPACT Wrestling: Against All Odds! – 50k
Gail Kim Interrupted by a VICIOUS Brawl Between LAX & Lucha Bros! | IMPACT! Highlights Mar 22, 2019 – 47k
Ratings Analysis:
Well…last week and this week have surprised me. Not only for what ranked first, but by how much. I didn't realize Sawyer Fulton had that much of a following, or again, the tag line is enticing with Debut and Violent. But either way, Sami and oVe have been a solid proven commodity for generating buzz and attention, so I suppose after the initial shock of how many people clicked it, it makes some sense. But damn, 3 times as many views as second place. Wow.
The Top 5 truncated highlight reel comes in second. These always seem to do fairly well, and good for them? Not much to extrapolate from people enjoying abridged versions of things. Ask Team Four Star or Little Kuriboh, abridged things are great.
For as monotone as he is, and how much the IWC reaction is basically what he was complaining about in his promo, he still keeps pulling good numbers. Johnny does cut a better promo as a heel, but he's still hard to sit through. But hey, it's bringing eyeballs, so that's something.
Scarlett and Glenn promo video gets a little love. Scarlett is one of the hottest things in wrestling currently and Glenn does have a degree of celebrity, as well as being great in his role. Even though the only thing that makes sense is Scarlett winning next week, Glenn has been a great addition to the show this past month.
Gail Gail Gail, well now. Gail is one of the best female wrestlers  ever, and LAX/Lucha Bros decided to brawl all in the same video. There's so much to peak a little interest that it makes complete sense why it made the Top 5. Lucha Bros are on fire currently, LAX is always a draw and Gail is Gail, so I'm a little surprised this wasn't higher.
Overall Views:
2.1.2019 – 311,000
2.8.2019 –  293,000
2.15.2019 – 396,000
2.22.2019 – 368,000
3.1.2019 – 354,000
3.8.2019 – 439,000
3.15.2019 –  616,000
3.22.2019 – 642,000
Again we see a jump in numbers. Since the show did it's lowest Twitch views of the year, I guess it makes sense that more people would be going to YouTube to try and catch up since there is no legal VOD service unless you DVR/On Demand the show from Pursuit…but you'd need Pursuit in the first place.
So with all that, the number could've been higher since the NCAA tournament was in full swing, thus distracting some potential viewers. All in all, this is nice to see interest in Impact, though it waned, didn't go away completely…and seems to be bouncing back a little. With such a limited TV reach and hit or miss Twitch numbers, any amount of increased interest is a positive step.
As is tradition, the number 1 video:

Andrew's New Japan Cup 2019 Final Day Ratings & Analysis
New Japan Cup comes to an end! SANADA versus OKADA! Who goes to MSG? How was the rest of the show?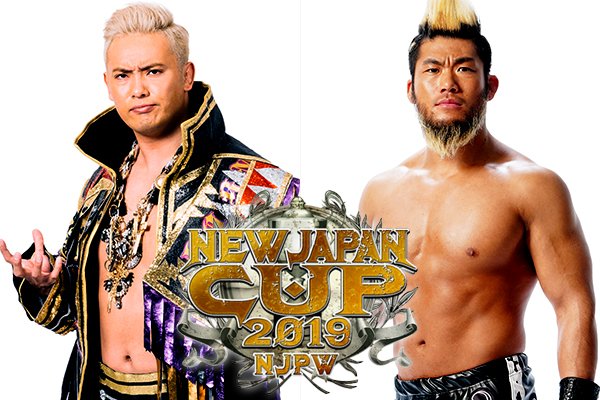 New Japan Cup comes to an end! SANADA versus OKADA! Who goes to MSG? How was the rest of the show?
Okada was the favorite going into this Cup since he's…well…Okada. Many close calls and rough matches brought up the question of who would meet him in the Finals. SANADA overcame Minoru Suzuki, Hirooki Goto, Colt Cabana and Hiroshi Tanahashi to get here. Even though Okada is the favorite, SANADA has done a lot to establish himself in this tournament.
That's enough typing, let's see how the show went.
Ratings:
Yuji Nagata & Manabu Nakanishi vs Yota Tsuji & Yuya Uemura: Nagata wins via Nagata Lock 2 @6:30 – **
Michael Elgin, Toa Henare & Colt Cabana vs Hiroyoshi Tenzan, Satoshi Kojima & Shota Umino: Elgin wins via Elgin Bomb @8:20 – ** 1/4
Minoru Suzuki & Killer Elite Squad vs Tomoaki Honma, Togi Makabe & Toru Yano: Suzuki-Gun wins via Killer Bomb @7:30 – ** 1/2
Tomohiro Ishii, Ren Narita, Ryusuke Taguchi & Kota Ibushi vs Tetsuya Naito, BUSHI, EVIL & Shingo Takagi: Shingo wins via Pumping Bomber @11:40 – *** 1/4
Taichi & Zack Sabre Jr vs Hiroshi Tanahashi & Will Ospreay: Taichi wins via Gedo Clutch @10:20 – ***
Mikey Nicholls, YOSHI-HASHI & Hirooki Goto vs Hikuleo, Bad Luck Fale & Jay White: White wins via Blade Runner @9:45 – *** 
IWGP US Title Match: Juice Robinson (c) vs Chase Owens: Juice retains via Pulp Friction @22:10 – ***
NJ Cup Finals: Kazuchika Okada vs SANADA: Okada wins via Rainmaker @33:05 – *****
Analysis:
We get the usual veterans versus Young Lion match. You could tell the length of the New Japan tour wore on the veterans a little since early on the moves were slow and a little sloppy. But once the Young Lions turned up the aggression, the Veterans put them in their place well enough.
Solid 6 man action. TenCozy worked with Colt and Henare mainly, then when Elgin and Umino got tagged in, there was an almost obvious sense of "oh okay, the finish will be soon". Shota keeps showing great fire and resilience, he must be slated to go on an excursion soon. He's the most elevated Young Lion at the moment, and the fans really do seem to appreciate him.
Suzuki-Gun pick up the win in a rather one sided affair. Makabe had a small flurry, but the usual outside of the ring shenanigans and overpowering the opponents put the match away pretty easily for Suzuki-Gun. With a win over two-thirds of the NEVER Openweight 6 Man Tag champions, the MSG could schedule Taguchi Japan vs Suzuki-Gun. However, it seems Lance Archer wants to murder Rocky Romero in a cage…so I'm not sure if that's foreshadowing.
Well now, we get a few nice wrinkles here. Ibushi and Naito are headed for an Intercontinental Championship match, and there's a lot of good tension there. Ishii didn't really want to participate with Taguchi's bullshit, but once EVIL hit him on the apron there was a fire started in Ishii, aimed directly at EVIL's head. Ren Narita even got some good offense in for a Young Lion against Shingo. However, after a big pile up in the ring, Shingo ducks under a lariat from Ren Narita and lands Pumping Bomber with authority. Good match, and a lot of tension to build towards matches.
Zack and Tanahashi have heat from the fact Tanahashi beat him in the New Japan Cup. Taichi apparently wants a shot at Ospreay for the NEVER, but Ospreay told him Jeff Cobb comes first, then we'll see. So after a solid match and Taichi spinning the ref around, he connects with a low blow on Ospreay and then applies the Gedo Clutch for the pinfall victory. So Taichi should be in line for a future shot.
This was a fine match. Not a lot of weight beyond Goto being perceived as a possible threat for White. YOSHI-HASHI continued to show some of the aggression he found in the New Japan Cup, Mikey Nicholls looked…like he's still getting used to Chaos/New Japan. Early tandem moves looked awkward like he was a step behind or in the wrong spot. It'll get better with time of course, but he was noticeably out of place. Goto had a nice false hope moment went YOSHI bailed him out with an Axe Bomber on Jay, Goto hit the Ushigoroshi and went for GTR, but Jay countered it into a Blade Runner for the 1-2-3. So in typical Goto fashion, close, but no cigar.
We got to see a rare side of Juice Robinson with this match. He slid in and immediately starting throwing bombs with Chase. Juice doesn't often lose his cool, but the matches are usually interesting when he's not as goofy and aloof. Chase had some great moments where he swept Juice's legs on the top rope and hung him over the turnbuckles for a nice Running Kneelift. But this turned into one of those heavy interference matches.  Jado was annoying very early on, Red Shoes was distracted or bumped constantly and even Bad Luck Fale came in and hit a Spear on Juice. Malfunction at the junction though when Chase tried to hit Juice with title and missed, hitting Fale (which was just a bad looking spot anyway). So Juice overcame the odds, but the excessive interference made me go from invested, to not caring pretty quickly. Also Mikey Nicholls making the save for Juice is…odd…since Mikey is Chaos and Juice is not. This whole match went from being pretty solid, to benefiting from a good beginning but the end was marred in garbage.
WOW! This was a fantastic match that felt like it told the story of their perception. SANADA was on the receiving end of Okada's offense for the first about third of the match. SANADA hit a few desperation moves, Dropkicks, Misawa Feint into Cannonball off the apron, even a big Rolling Forearm to stop the Rolling Rainmaker at one point. Hell SANADA even pulled out the Tiger Suplex, so there was a lot of Misawa nods from SANADA's offense, and I'm not sure if there's a deeper story. SANADA and Okada took turns trying one another's moves, but never successfully pulling off either. The crowd was solidly behind SANADA for most of the match, and it seemed to play well for Okada to pull out a few more arrogant moves, like a Draping DDT from the barrier. This was great, and SANADA wasn't as desperate to throw Moonsaults at Okada, but he still wasn't able to land one. SANADA did attempt a Shiranui (most likely to get in position for Skull End), but Okada stopped it, hit a Jumping Tombstone, and Okada lands the Rolling Rainmaker and classic Rainmaker to win the Cup! What I meant by a story of their perception, is that Okada was easily on top early in the match, and then SANADA proved himself over and over to be more of an equal than many probably assumed.
Overall Score: 7.25/10
The New Japan Cup Final match was tremendous, and there were a few wrinkles in other matches that seem to be leading to something, but overall the show was as to be expected. Decent undercard, great main event, but the US Title match was painfully underwhelming. Now in the last few years, the runner up does tend to get title shots if the winner is unsuccessful (which they are more often than not, I believe Cup winners are only 4-13 in title matches). So this tournament could've easily solidified SANADA as an up and coming main eventer.
Also, since a little bit of prediction never hurt anyone, I'm think Jay White retains at MSG. Coming off of a 2 year reign Jay White is the only new challenge to appear, and Okada has a tendency to have long programs overcoming Bullet Club leaders when they get the best of him early (look at the AJ Styles feud). Jay could hold it for a while, if G.o.D. win the Title vs Title match, that could play well into them helping Jay White win. That way Okada and Tanahashi could challenge G.o.D. for both belts, which keeps them both heavily involved in the Bullet Club angle, but removes them from the IWGP Heavyweight championship.
So even though the Finals were fantastic, and Okada is still the best wrestler in the business currently, Jay White should win at MSG.