The Good, Bad and Ugly: WWE Monday Night Raw (1/7/19)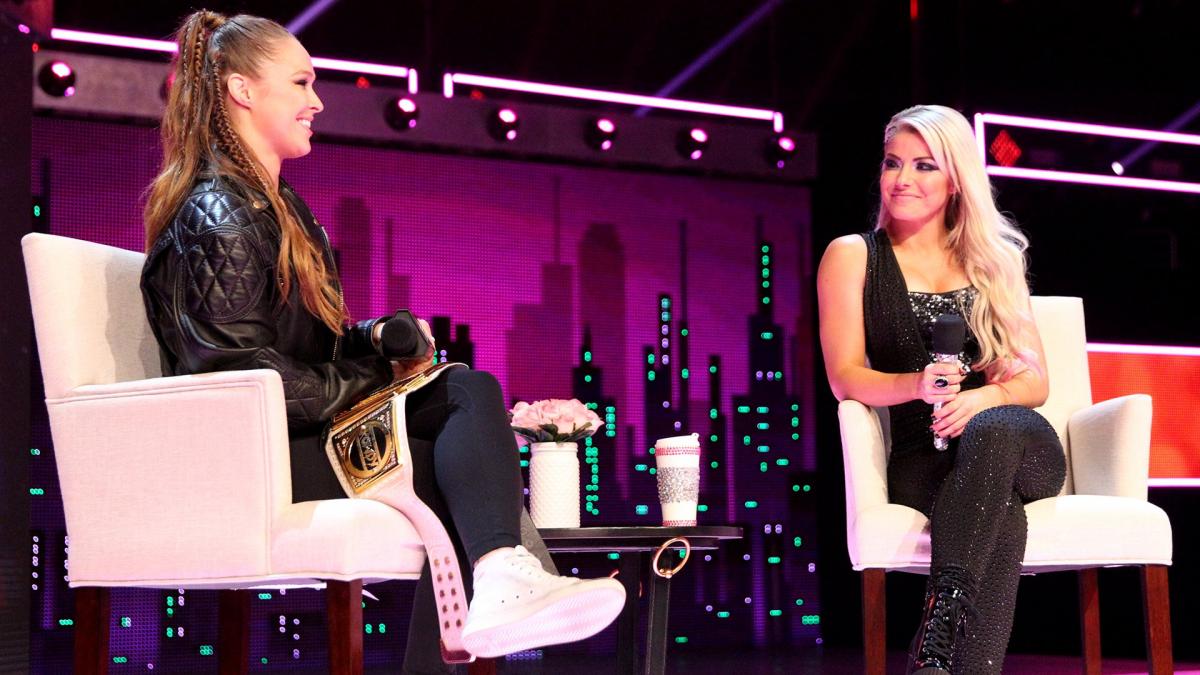 Bobby Fernandes checks in with the first live WWE Raw of 2019. Was the show Good, Bad, or downright Ugly?
With almost all coverage lately around AEW, WWE proceeds business as usual, sort of.  On the January 7 edition of Monday Night Raw, the biggest of the big will grace us with his presence, "The Immortal" Hulk Hogan.  Hogan's purpose is to commemorate a guy who is beloved by all who knew him, "Mean" Gene Okerlund.  With such a huge name among other possible, rumored personalities tonight, can Raw pull out an over the top show? 
THE GOOD
John Cena Returns to Raw
Although we "can't see him" anyway, Cena was sorely missed.  He isn't great as an actual wrestler but neither were a lot of the greats before him.  He is pure charisma and plays off of hope and fighting back.  He stands for "Never Giving Up" a true hero for all to adore.  Some people just hate him.  It is what it is, however Cena can only add a touch of Good, every time he is out there.  Put him up with anyone, and give him a mic, and you have gold.  Well, Mr. Cena officially announced his participation in the Royal Rumble Match.  Drew McIntyre interrupts.  He did spectacular on the microphone, however the crowd was dumbfounded.  McIntyre made his claim to fame and called out Cena's attributes, while also boasting his own.  This led to Cena owning him as always and surprisingly had the audience's full support.  Drew McIntyre headed to get a piece of Cena but was interrupted by Lio Rush babbling about Seth Rollins losing it, only to be attacked by Rollins.  Then Ambrose attacked Rollins, being joined in with Lashley.  Cena attempted to aid Rollins but was hit by McIntyre.  Out comes Finn Balor, the crowd went bananas.  Finn cleaned house.  This is brilliant energy starting Raw off with bang leading to a 6 man tag match
John Cena, Finn Balor and Seth Rollins vs. Drew McIntyre, Bobby Lashley w/ Lio Rush and Dean Ambrose
Everyone was on point for this one. Individually, Cena was on fire as well as Lashley.  The story though is Finn Balor, he can work and rarely disappoints.  Dean Ambrose who hasn't been so sharp lately looked great in there.  Love him or hate him, "Vintage" John Cena sucked in the audience, until McIntyre hit a "Glasgow Kiss" knocking him out for a two count.  Cena took a beating but hit an "Attitude Adjustment" on Lashley but couldn't get the tag getting taken down by Ambrose.  Cena took a beating in this match completely isolated.  Finn Balor guns in firing on all cylinders wrecking Ambrose hitting the "Coup De Grace" however got hit with a "Claymore Kick."  Rollins comes in from another planet, hitting moves from a moonsault out of nowhere to the outside, to then hitting a "Falcon Arrow" for a close two count.  Rollins could not be stopped until he missed a huge "frog splash."  Ambrose comes in to pick Rollins clean but gets "Stomped" for the victory.  Rollins, Cena and Balor victorious.    HHH didn't watch "The Architech" Burn it Down, which Rollins certainly did, but was welcomed back by The Game.  Rollins wants Ambrose, HHH obliged for a "Falls Count Anywhere" against Ambrose for the I.C. Title" later on Raw. 
"Mean" Gene Memorial w/ Hulk Hogan
Any Hulk Hogan is Good Hulk Hogan.  This particularly has a lot of potential.  Remembering a guy like "Mean" Gene who literally shared a career with Hogan couldn't be more appropriate.  The more Hulk Hogan for any reason is already good, but this could be Great.   No one does a highlight reel like WWE.  This one was just fantastic.  What a great man, and what unbelievable, priceless memories of a true legend.  Hogan was fantastic, and this whole tribute to everyone's favorite personality, was all heart. 
Raw Tag Team Championship Match (Lumberjack Match) – Bobby Roode and Chad Gable (c) vs. The Revival
Lumberjack Matches are usually at the least entertaining, as there are so many involved.  This feud is great all around.  Both teams are old school and play off each other successfully.  Very textbook, both teams looked sharp.  The baby-faces pushed around The Revival, as Lucha House Party kept Revival in the ring.  Bobby Roode is so good!  He has full potential to do whatever WWE will let him.  It really is up to them how they want to use Roode, but he is capable of a lot more then he already has.  The "German Suplex," "splash" spot with Revival and Gable was amazing.  Then all hell broke loose.  Tons of confusion for a very weird finish.  Gable gets the pin w/ Dawson's foot under the rope.  Absolutely confusing finish to a Good match.  Roode and Gable Retain!
Elias vs. Baron Corbin
Elias straight killed it on the guitar in his opening.  He obviously took the fans opinion that his guitar skills are sub-par to heart because he seemed to really try.  The fans have spoken and they love to "walk with Elias" they also despise Baron Corbin.  Corbin could save a puppy from a house fire and most likely still get negative heat.  Rightfully so, he can stink up the place.  He really is the after-school special bully and pours cheese out of his mouth constantly.  As always though, these two can go.  This was action packed and high energy.  Elias flew around the ring hitting Corbin with a nasty set of offense.  It looked Good.  Corbin seems to mesh well with Elias.  Elias can handle Corbin's physicality without looking sloppy and overwhelmed.  Corbin after taking a ton of punishment from Elias, slammed him with a right hand, and tied him off into an "End of Days" for the clean victory.  Not sure where this is going, or to what end, but this was a decent match. 
Jinder Mahal and Alicia Fox w/ The Singh Brothers vs. Apollo Crews and Ember Moon
Alicia Fox really needs to never speak on the mic and maybe just not compete anymore.  Jinder Mahal has a lot of potential but he isn't resonating currently with the audience.  I think if Mahal channeled his inner "Alberto Del Rio" we could see some magic.  Truthfully, this wasn't a Bad Match.  It was quick, Fox took the squash and Crews killed it.  Quick, fun match. 
Winner gets Raw Women's Title Match a Royal Rumble – "The Boss" Sasha Banks w/ Bayley vs. Nia Jax w/ Tamina Snuka
Sasha Banks is very talented.  So talented in fact that she made Jax look Good.  Sasha Banks carried this match, selling and putting Jax over to her maximum ability.  The "Gorilla Press" spot on the equipment case was impressive.  Nia Jax dominated with little spurts of Sasha fighting back.  Sasha took a nasty bump getting hung up on the top rope.  Sasha went for a gutsy move on the apron but it seemingly got botched and Banks landed hard but recovered.  Jax gets caught up in the "Banks Statement" and Sasha Banks Wins a trip to the Royal Rumble to face Ronda Rousey for the Raw Women's Championship.
Intercontinental Championship Match (Falls Count Anywhere) – Dean Ambrose (c) vs. Seth Rollins
Rollins attacking Ambrose on the ramp was a great touch.  This match had a lot of feeling and intensity that had been missing from this feud.  It was everything but flat this time.  Rollins was a mad man and Ambrose reacted accordingly.  They definitely didn't hold back.  You could feel the shots being taken.  This is the appropriate level of competition guys like this are supposed to have at all times.   This was a PPV level Main Event Match.  For it to be on Raw speaks volumes.  They were going blow for blow countering each other's move-set.  Rollins beat the hell out of Ambrose and Ambrose followed up with a beating with a steel chair.  This looked like an "ECW" type of match in the best way possible.  Rollins looked like he might lose, then hit move after move, "Superplex into a Buckle Bomb", a huge "Super-kick" followed up by "The Stomp" he had it won until Bobby Lashley interfered.  Lashley destroyed Rollins manhandling him and blasting him all around the ring.  This was such a sick match, it hit all of the right notes.  The finish was so cheap, and made no sense as no one came to intervene even after the earlier match.  The ending really disappointed but the match was damn Good.  Ambrose retains!
THE BAD
A Moment of Alexa Bliss
No matter how unbelievable Alexa Bliss is, and she is, this is a nightmare waiting to happen.  No one is looking forward to this at all to begin with.  This could be a big segment as Rousey and Bliss have heat.  Rousey isn't at her best on the microphone and this type of promo has a "boring" chant on deck at all times.  Rousey then gave props to the "Unsung Hero, The Boss" Sasha Banks.  Nia Jax then popped out and stunk out the place, before being interrupted by Sasha Banks.  It is refreshing to see Banks back in the storyline, especially with a possible match with Rousey for the Gold.  Sasha Banks carried this failure and set up a decent proposal even Nia Jax trying to ruin it. 
THE UGLY
"The Monster" Braun Strowman Face to Face with WWE Universal Champion "The Beast" Brock Lesnar
It's Good to see Braun Stowman back.  He has a presence that demands attention.  This faceoff was a fantastic idea, and even a bit surprising.  Unfortunately, Lesnar didn't come down to the ring "card subject to change."  Heyman always shows up on the mic, but then it all came apart.  Strowman didn't deliver and Heyman ate him alive.  This was a boring disappointment, until Lesnar decided to take Strowman up on his offer to "get these hands."  But, that didn't happen, Lesnar circled the ring and left all of us wanting to see this finally go down and being very disappointed. 
FINAL TALLY
GOOD – 8
BAD – 1
UGLY – 1
OVERALL
The Spirit of Raw around the beloved "Mean" Gene Okerlund had a GOOD feeling this week.  It had some big moments and a lot of success.  It wasn't perfect but it was fun and enjoyable.  It was more than a GOOD show, it was special. 
We can get used to this.  Raw delivering, SmackDown delivering, hell maybe NXT will go back to normal this week as well and kick ass.  Whatever happens, what a time to be a fan.  No matter if this was WWE's plan all along or they feel the heat from all of the attention the "new guys" are getting, this has been getting better and better.