NXT Minus 6: NXT UK TakeOver Blackpool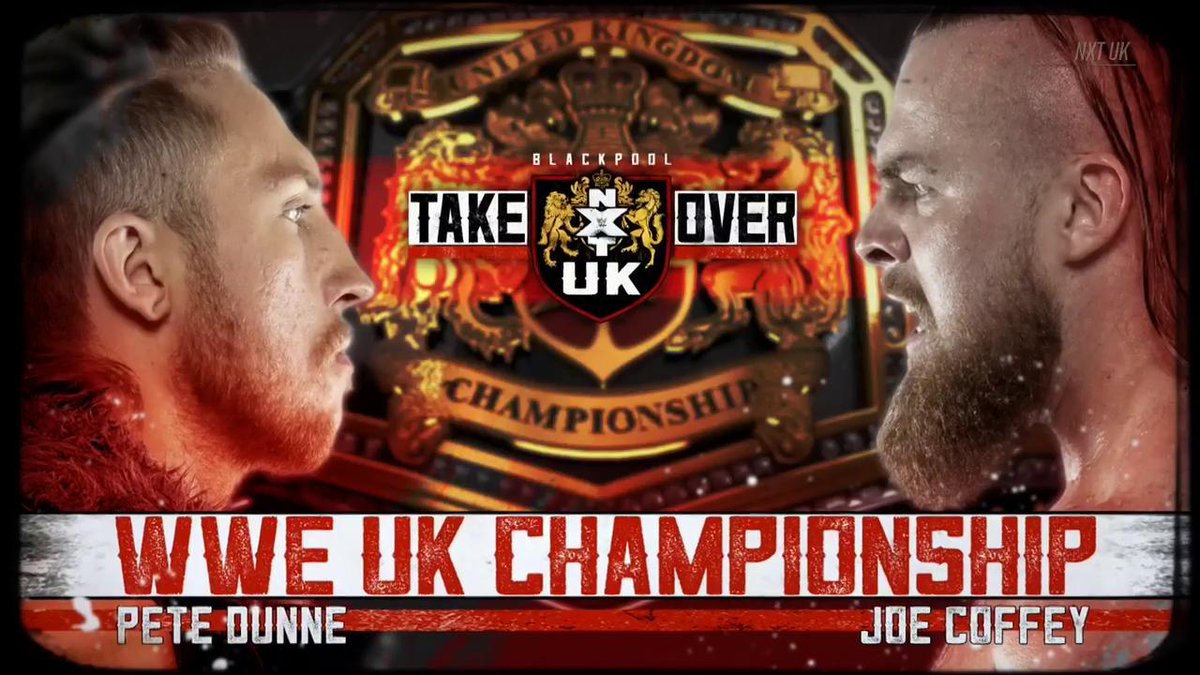 NXT UK carries on the proud tradition of delivering a blazing hot Takeover.
6. Another Takeover opens with a match that could have been the main event. In hindsight it should have been. Mustache Mountain delivers a MOTY contender & Tyler Bate steals the show. That little dude is all kinds of special. What's more impressive is how, in the course of the match, James Drake goes from "Why are you here?" to "Yes, you belong." If you only watch one match from Takeover: Blackpool, it should be this one.  
5. Finn Balor versus Jordan Devlin was good. Given time and a proper build, these two could deliver something great. Because of their relationship, I kept flashing back to Jericho/Michaels at Wrestlemania 19. Balor seems a natural for NXT UK. He delivers name recognition, credibility and can instantly challenge Dunne for the title.
4. If you're a fan of a good old fashioned slugfest, check out Eddie Dennis versus Bomber Dave Mastiff. Dennis is the most unassuming powerhouse I've ever seen. He's built like a flagpole, so I have no idea where he got the strength to do what he did. Bomber Dave is England's Bam Bam Bigelow, more agile than a man his size should be. Put them together and boom, ka-pow, smash, crush, good fun mayhem.
3. THIS is the performance I've been waiting to see from Toni Storm. Her previous matches didn't dazzle me. Her match with Io Shirai didn't impress me. Her Takeover debut was the first time I saw how good she can be. BTW, did she win the Mae Young Classic? The announcers never seem to mention it…500 times a match.
2. It makes me sad to type this, but Pete Dunne finally had a disappointing match. The action was clunky & chunky, like neither Pete nor Joe Coffey knew what to do next. Coffee's two spills (HA) from the top rope looked horrible. Any American crowd would still be chanting "you f#$%ed up." The match clocked in at around 33 minutes but felt twice that long. On the bright side, WALTER's jacket might be the coolest ring gear since Flair's robes.
Overall, this was a rock solid show and a fantastic way to showcase NXT UK. As good as the in-ring action was, what really put it over the top was the audience. Those blokes know how to have a good time. Their energy took things to another level and made the night feel special. Well done, Blackpool, and well deserved.   
That's right…I said it.
Tiffany: New Japan Pro Wrestling: An Introduction From a Newbie
Tiffany decides to check out New Japan! Let's see how it comes across to a puroresu rookie!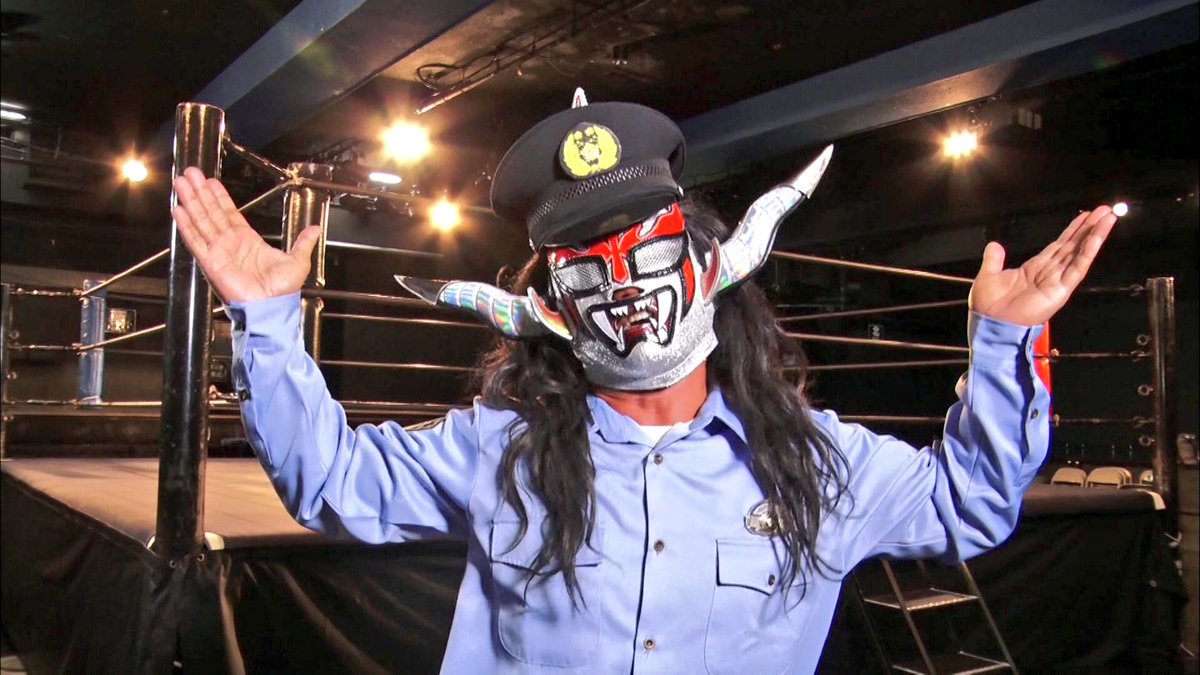 Tiffany decides to check out New Japan! Let's see how it comes across to a puroresu rookie!
I'm going to be upfront, I've been a fan of WWE my whole life, I NEVER thought I'd get fully into another wrestling promotion, let alone a Japanese one, and my initial interest in New Japan Pro-Wrestling was simply because Jon Moxley, aka Dean Ambrose, had signed with NJPW and I wanted to watch him, however I've found myself very intrigued with NJPW as a company the more I watch it and thought that if there was anyone who was wanting to check it out, it would be nice to get some tips from someone also new to the promotion.
TV: The first thing to know about NJPW is that they don't have a weekly television show like RAW or SmackDown. They do have a weekly show for their Mexican…affiliate, called CMLL, but that show features more Latino wrestlers. They do have 'Road to-' which is a build to their next big show, but it's more of a series of house show matches to build the actual show than a TV show. CMLL is offered on NJPW and on Fite TV, but neither of them have English Commentary, which makes it a little hard to follow if you don't understand Japanese or Spanish that well.
The Schedule: NJPW's schedule is really odd if you're only used to USA wrestling and seems more like UFC or boxing than the 52 week schedule US fans are used to. NJPW's schedule seems to consist of building and putting on a show, then taking a break and then starting all over again and their shows seem to consist of a lot of tournaments with a few one day shows, rather than one show running into another. The logic seems to be to give the wrestlers time to rest and recover before starting a new circuit, which seems to work considering that several of their top guys are in their late 30s and move around like guys in their 20s.
The Matches: If you've never seen a NJPW match before, it'll definitely be a shock. NJPW's matches are a lot more physical than WWE matches and the competitors have more leeway than WWE superstars do. There's a standing 20 count on the floor and using weapons outside the ring doesn't create a disqualification and the refs give even more leeway in big match situations.
The Promos: There aren't a lot of promo spots in a NJPW show, there are some, but they don't take up tons of time with them. Most promos are done at the post match press conferences, which are literally done right after the matches. Jon Moxley even commented during his first one that they 'weren't even going to let him catch his breath'. The fun part about it is that you get their real-time reactions. Yes, it's still in kayfabe, but it's definitely not scripted and they can say what they want. Also, there is a LOT of swearing, which is fun and makes things seem more…real. Also, even though most of the promos are in Japanese, save for non-Japanese wrestlers, there is a translator who translates the promos into English and if you watch the promos on YouTube, the Closed Captioning button will translate the Japanese into English you can read.
Women: NJPW does NOT have a Women's Division and it's becoming quite the controversy. There are women's wrestling promotions in Japan like Stardom, but they don't have a relationship with NJPW and it doesn't seem like NJPW is interested in changing that. So far, I've seen ONE woman in NJPW and it's Miho Abe, who is the valet of Taichi, a heel with a weird J-Pop gimmick.
The Young Lions: The Young Lions, which is a term you hear a LOT in NJPW, are one of the coolest parts of the promotion. In essences, the Young Lions are the rookies of NJPW, coming up through their dojo system, but they are so much more. The Young Lions train and learn in the NJPW dojos either in Japan, LA, Mexico, or Europe, but they are also the ring crew, part of the security team during matches, the first aid guys after the match, the gophers for the older wrestlers, and the job guys. Young Lions are also fillers in tag matches and don't really have gimmicks outside of being a Young Lion until they are sent on 'Learning Excursions' to another dojo. They aren't hard to miss and it's a very cool part of watching NJPW.
Tag Matches: If you are someone who complains about WWE putting on a lot of tag matches, NJPW is NOT for you because that's a large part of their shows. Seriously, almost anyone who doesn't have a singles match on a show is usually in a tag match. My understanding is that it's partly to help build future feuds, but also to keep the wrestlers from getting too much wear and tear on their bodies. The downside is that there's usually at least three tag matches back to back during a show, which can get tiring.
Titles: Of all the differences between NJPW and US Wrestling, the way the titles are treated is the biggest surprise. NJPW's titles don't carry the promotion's name, they are almost all IWGP __, which is the Japanese equivalent to the old NWA,  and title defenses are few. In fact, the commentators can tell you how many times a particular champion has defended their title and it's usually in the single digits and champions hold their titles for a LONG time. Current IWGP Heavyweight Champion, Okada, held the title for two years and defended the championship 12 times back in 2014-16, which would never fly in the US. That said, the champions usually get spots in any tournament they qualify for, which gives opportunities to build future feuds, but it's very strange to see a full card and NO title defenses. Also, NJPW does not give their champions an advantage over their opponents. Titles DO change hands if the champion gets DQ'd or counted out, which is actually really fun because it means the champ has to beat the challenger, not the other way around and the champion's long reign seems more justified because they seem to earn it.
Video OnDemand: Like WWE, NJPW has its own video subscription service called NJPW World, which offers their shows with Japanese or English commentary, an archive of shows, which is admittedly very incomplete, but one thing they offer that WWE could learn from is how they offer PPVs once the show is over. About a week or so after a show is done, NJPW will let the view pick a series and they have the option of watching the whole show, start to finish, or they will be offered the option of picking from, and watching, individual matches. Example: If I want to watch the Jon Moxley's debut match at the Super Jr. Final, I have the option of watching the whole show, prelim tag matches and all, OR I can scroll down the list, click on Jon Moxley vs Juice Robinson, and not have to sit through a bunch of matches I'm not interested in. WWE sort of offers this with the search option and the dots that show when a match starts and stops, but NJPW's way of doing it is more efficient, IMO, and more user friendly. Also, one very funny thing that almost always pops up at the start of the PPV is a PSA about how to behave properly in the arena. The video is always full of really ham acting, but the fact that it's shown even to people watching at home makes me laugh.
So, I hope that this list gives anyone who is thinking about checking out NJPW some information that will help them enjoy the shows. There also a lot of people in the US who enjoy NJPW and are always happy to explain things, or try to. It is quite easy to get the hang of and a lot of fun to watch because you learn a lot about the difference in wrestling culture between Japan and the US. In Japan, professional wrestling is still treated and respected as a sport, while in the US, professional wrestling is often dismissed as 'fake' or 'kids' stuff'. So, check it out and broaden your wrestling horizons from the comfort of your couch, you won't regret it.
Chris's WWE 205 Live Grades & Analysis 7/16/19
At Extreme Rules, The New Drew Gulak successfully retained his Cruiserweight Championship against The Premier Athlete Tony Nese. Who will be his next victim and challenger for his title?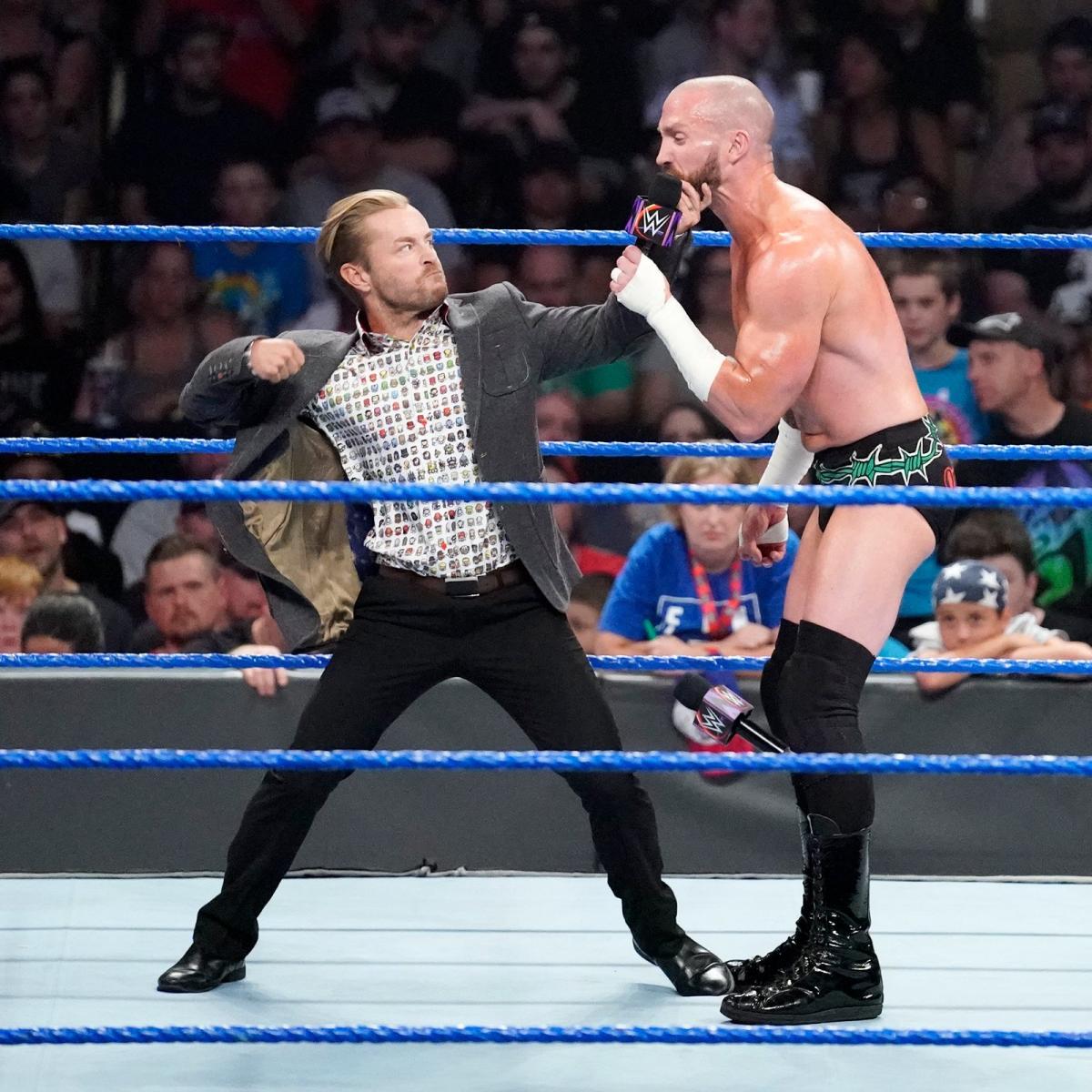 At Extreme Rules, The New Drew Gulak successfully retained his Cruiserweight Championship against The Premier Athlete Tony Nese. Who will be his next victim and challenger for his title? 
Chris's Grades For 205 Live:
Akira Tozawa vs. Samir Singh
Winner: Akira Tozawa–C
Mike Kanellis vs. Jackson James Winner: Mike Kanellis–B
Chad Gable vs. Jack Gallagher II Winner: Chad Gable–A+
Analysis: 
The show opens with a bone-chilling promo from the ruthless Drew Gulak in a dark room. He claims Tony Nese may be The Premier Athlete, but he lacked the killer instinct to take his championship. Nese could never lead 205 Live, it ends with a stern warning to all the roster. "Now that everyone knows what pain and punishment await them", who will step up next?
We go live as Vic Joseph, Nigel McGuinness and Aiden English welcome us to Westchester, MA. Akira Tozawa flanked by The Brian Kendrick make their entrances. Tozawa will be in one-on-one action against…Samir Singh.
The Bollywood Bozo's make their entrance dancing per usual. The bell rings and Samir goes right on the attack with kicks and punches. Tozawa now delivers a hard chop, followed by a fakeout straight right! Samir turns things around as he shoves Tozawa into the turnbuckle, followed by a hard Irish Whip into the corner… first count of the match. Headlock is applied now to keep him grounded…Tozawa hits another monstrous fireman's carry over the shoulders!
Samir rolls outside and Tozawa blast him with his Flying Senton in the barricade. Tozawa up top, Sunil looks to interfere and Kendrick prevents it. Samir runs head-first into the turnbuckle, Tozawa with the surprise roll-up 1-2-3. Kendrick climbs on the apron and gets dropped face-first by Sunil. Now a post-match attack from The Bollywood Boyz to Tozawa. Before Sunil get blast Tozawa with the Boscar award, Kendrick makes the save, and the babyfaces stand tall with Tozawa holding up the award!
Last week it was Tozawa coming to Kendrick's aid, this time the roles were reversed. This all leading to a tag team match I'm pretty sure next week! Decent match with Tozawa able to show-off his exhilarating high-octane offense and Samir with aggressive heel tactics.
Tonight we get another stellar video package of Humberto Carrillo, where he gives an in-depth look into achieving his childhood dreams by making it to the WWE. When he first arrived since goals were to carry on his Lucha libre wrestling style. The video referenced two of the all-time great Latino superstars, the late Eddie Guerrero and Rey Mysterio. He owes it all to where he comes from and his nature. Carillo has been here a year and now the only thing on his mind is the WWE Cruiserweight Championship.
WWE needs to utilize these on Raw and SmackDown Live. Instead of not giving talent tv time, they could use this time to reintroduce them to the WWE Universe so when they return they have a reason to care… commercial.
We're back live as poor Mike Kanellis is making his entrance void of his wife Maria Kanellis, who's watching on backstage. Jackson James is already in the ring. The bell rings and James gets blasted with a devasting big boot, hard knife edge chops in the corner. Mike is unloading all his frustrations on this young man. He hits a massive Spinebuster!
Maria gives a smirk…James's chest is red now as he gets a breather in the corner. Mike with a running clothesline…James collapses to the mat. Mike's not through, back-to-back Ferocious Lariats… Power of Love 1-2-3! Mike tosses James out of the ring like a sack of laundry.
An angry Mike grabs the mic and proclaims "Did you think that is what I was going to get fined over?!" That wasn't it at all! He summons the GM Drake Maverick to the ring. Maverick wastes no time telling him they could have settled this in his office. He needs to share this with the WWE Universe. He said "Two months his contract expired and he could've gone anywhere and you know it, Drake! But I chose to stay here in WWE for two reasons: to prove to his wife that he's as good as he says he is by becoming WWE Cruiserweight Champion and to KICK YOUR ASS!"
Maverick then apologizes for his foul mood and told him to look in the mirror, he's not where he wants to be because of himself. He asks Mike if he feels he's more deserving of the 205 Live roster who's been busting their ass since it's inception in 2016? Maverick brings up Mike's humiliating loss to Zack Ryder from Raw.
Mike throws a jab at Maverick's lackluster sex life with his wife. He continues to push his buttons until Maverick snaps! Mike should know not to call anyone's wife's names or he's going to get his ass kicked, and that's exactly what happened! Mike suckered him, hook, line and sinker, Maverick looks both pissed and disappointed in himself for fighting as the GM, Mike is smiling on the ramp… commercial.
We return and the commentary team is hyping Next Week's Monday Night Raw with a star-studded list of Hall of Famers and legends return in Tampa, FL. Now we get a recap of last week's brutal main event last week, where Ariya Daivari and Oney Lorcan obliterated each other in the first-ever Anything Goes Match!
Hell Yeah, it's main event time and ladies and gentlemen what a main event we have! Jack Gallagher is out first, we get a recap of  Jack Gallagher/Chad Gable last month that ended in a countout. Chad Gable makes his entrance with the good ole American Alpha music, man good memories. If you don't what I'm talking about, Gable and Jason Jordan were a terrific tag team down in NXT go check it out!
The bell rings and a handshake from both competitors, tie-up, Gable drop toe hold and cartwheels over Gallagher to bring him back up. Gallagher utilizes an armlock…counter, Gable with a snapmare into a headlock. Gallagher back up now… armlock again, then it's reversed, cartwheels out. Gallagher matrixes his way out of a headlock, fireman's carry to the mat. Gallagher headscissors to a stand-off. Gallagher now uses the same offense on his opponent, Gable counters into a slam position… arm-drag by Gallagher! A stalemate as the WWE Universe cheers!
Gable takedown into a headlock, Gallagher off the ropes… Shoulder tackle, he sends Gable crashing into the ropes and flips over to stack Gable up for the first two-count of the match. Gallagher back to the arm, both men back up…off the ropes, Gable with a stunning arm-drag, followed by a schoolboy pin for a two. Gable hits another arm-drag and back to isolating the arm. Gallagher flips him over his back and locks in a leg submission. Back-to-back pinfall attempts to break the hold… nope. Gable deadlifts Gallagher over his shoulders and drops him with one arm, what a way to break the hold!
Gable with stiff uppercuts and strikes that rocks Gallagher. Gable's focus has turned to the ankle so he can eventually lock in the Ankle Lock. Gable with a hard Irish Whip to Gallagher, a second time…nope, up and over…off the ropes, Gable with a massive Overhead Belly-to-belly, two! Gable is methodically injuring the knee now, hits a deep dragon screw.
Gable like a shark smelling blood is relentless on the attack of the ankle. Now with more torque and Gallagher is writhing in pain. Back up now…Gable with more uppercuts goes to the well too many times and Gallagher gets the backslide pin, two!. Gallagher hits a stellar dropkick and is finally showing signs of life. Gallagher is throwing bombs now, he delivers a magnificent hanging Suplex, two! Gallagher runs, Gable sidesteps…German lock into a roll-up, and a Suplex…nope Gallagher reverses into an armlock, and then the Kimura. Gable counters into a pin, two!
Gallagher up top and hits a missile dropkick, Gable runs toward the ropes and Gallagher pulls the rope down. Gallagher runs to hit a flying maneuver, Gable back on the apron gets knocked back down…One more attempt by Gallagher baseball slides under the ropes. Gable gets driven into the barricade. Here's the nasty side of Gallagher. Third time's a charm with the suicide dive attempt…nope Gable catches him and lands a Devastating Release German Suplex on the hard floor!
The official is on the eight-count and Gable doesn't want a repeat of their last encounter. So he brings him back, Gallagher with a surprise cradle roll-up for a long-two! Gallagher wants a half Nelson slam…nope Gallagher right back into the double-arm lock, Gable reverses into a tiger driver for a two! He transitions into the Ankle Lock as Gallagher gets close to the ropes…nope now Gable locks it in while on the mat!
Gallagher is writhing in pain but cleverly reverses with hard right hands. Gable throat chops him, off the ropes with a rolling flip kick… Gallagher off the momentum drills him with the Extraordinary Headbutt, and drapes his arm for a two! Both competitors slap back and forth to their feet, followed by stiff right hands. Gallagher is blasting Gable in the corner… Gallagher runs the corner and misses a dropkick, Gable catches him and delivers a Canadian Rack for a two and he is stunned! Gable up top moonsault…nope, knees. Gallagher a dropkick in the corner 1-2…feet on the rope!
Gallagher positions Gable on the turnbuckle for a massive back body drop…floats over crossbody, Gable running on fumes with the O'Conner roll into a Ferocious German Suplex Pin 1-2-3! Gable offers his hand in good sportsmanship and Gallagher looks like he wants more, but Gable pounds his chest to show respect!
Wow…Just Wow, what a freaking match! Gallagher always impresses me, he needs to be in the running for a title shot in the near future. Since arriving on the main roster, I never felt Gable never truly reached his full potential until now. Gable has had only two matches on 205 Live, but he's already proven that this is the platform for him. Two back-to-back physical encounters with one of the toughest competitors on the brand and Gable is headed for great things in the future!