Royal Rumble Results: SmackDown Tag Team Championship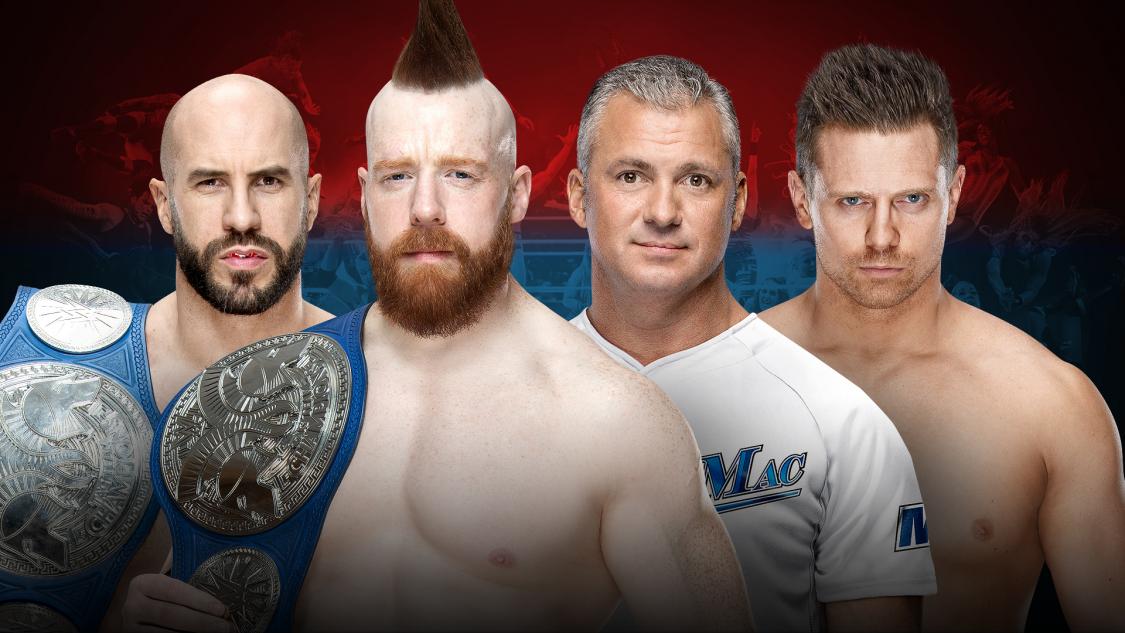 The SmackDown Tag Team Championship match saw The Bard defend their tag team titles against WWE's odd couple, Shane McMahon and the Miz. The ending saw Shane McMahon hit an amazing shooting star press on to Cesaro to pick up the victory and the SmackDown Tag Team Championships.
MR. MIZANIN is ONE PROUD FATHER, because @mikethemiz and @shanemcmahon are officially the BEST TAG TEAM IN THE WORLD! #RoyalRumble pic.twitter.com/qI10OOcg7P

— WWE (@WWE) January 28, 2019
Jason's Take
A bit shocked by this one. However, Miz and Shane = Ratings. That shooting star press by Shane was something of beauty.
Mitchell's Talking Smack Report! (2/27/21)
YES! YES! YES! Talking Smack!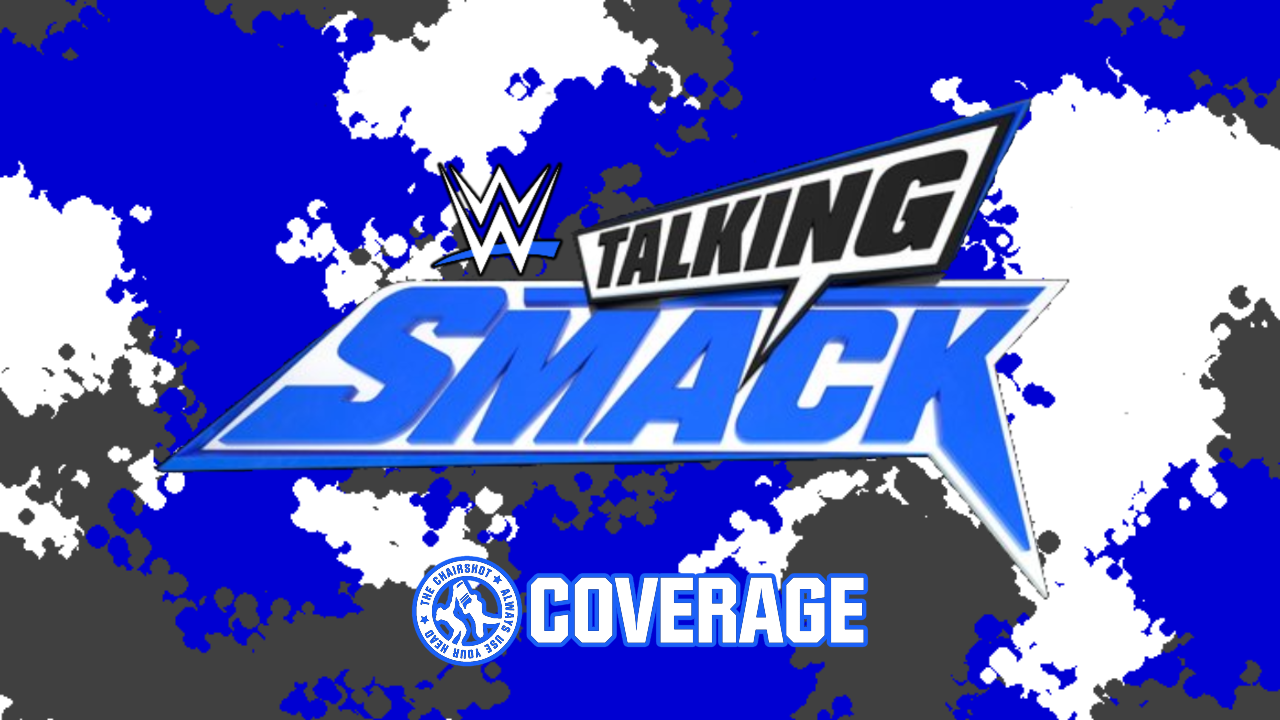 Will Talking Smack say YES and #EmbraceTheVision?
The newEST episode might be the biggEST yet, as Bianca Belair, Daniel Bryan and SETH ROLLINS are all on Talking Smack!
Kayla Braxton welcomes us back to the show!
We had an electrifying Elimination Chamber and we're on the way to Fastlane on the Road to WrestleMania! And Paul Heyman looks fresh, looks snazzy! Is that new? Has he not looked snazzy before? Was he old and tired then? Kayla likes to think her fashion sense has rubbed off on him. Heyman is "bad at bougie." Kayla finally got her eyes checked and finally saw how good he looks. And no, they will not be going on a date. He will be calling HR about the harassments. Well new topic before we get way off the rails, Kayla says the Elimination Chamber PPV was great, and Roman Reigns retained his title. Kayla lets the crew know to keep going because she will be.
But Friday Night SmackDown saw that once again, things didn't go Daniel Bryan's way. There's the WrestleMania sign, and the main event is supposed to be Roman VS Edge because Edge chose Roman, but Bryan still wants to be Universal Champion before then. Is there a bit of Heyman and Roman that is nervous? Heyman crumples up papers and throws it away. Heyman wants us to kiss his kosher tukus. Roman sweats no man as he is the "end all, be all," and is THE WrestleMania main event! That main event will be against Edge. Bryan can wish and hope and dream and fantasize about a match against Roman Reigns, "and it ain't gonna happen."
And why is that? Because Roman is locked in against Edge! All Bryan is trying to do is "upset the apple cart." That won't happen against the Reignsing, Defending, Undisputed, Uncontroverted main event and Universal Champion, Roman Reigns. Bryan will be joining us later on, but first, a guest Heyman is very happy to see, it is the Savior of SmackDown!
Seth Rollins joins Talking Smack!
Heyman says the pleasure is all his, and this is an honor, as well. Rollins is a little sore, maybe dizzy, from being in Cesaro's swing. How is he feeling? Rollins had to find his stomach. It got to the seventh row. Rollins also recompressed his spine, and he feels much better sitting here. An unfortunate series of events tonight, but sometimes you have to take it on the chin and move on. It's great, it really is, it's all great. But then they replay the footage of the insane amount of rotations, and Kayla notes that Cesaro basically rejected Rollins' offer. Rollins wants us to remember that he didn't invite Cesaro out there, that's fake news.
Cesaro interrupted Rollins tonight after turning on Rollins last week. Cesaro even patronized Rollins, then he's rude this week. Rollins wanted to offer his help to get Cesaro to the next level, everything Rollins touches turns to gold, and that's all Rollins was trying to do. But then, did Rollins perhaps spoke too soon about Cesaro not having killer instinct? That swing looked pretty killer to Kayla. Rollins is just here, sitting at this table, having a conversation with them. It's not how many times you get knocked down but how many times you get back up! Where's Cesaro's killer instinct? Nowhere! Without Rollins' help, Cesaro may find it, he may not. Slim chances, really, but that's just Rollins' opinion.
Heyman says Kayla is being too critical. And in this case, the phrase would be, "It's not how many times you get swung around, it's whether you get back up." Rollins is up, yes. Heyman admits that his Tribal Chief, Roman Reigns, has seen the media that Rollins has done recently. It is all quite impressive. Rollins was on The Bump! Roman and Heyman missed that one. Partially Kayla, partially #FakeNews. But Roman is quite flattering of Rollins, which makes the Special Counsel a little concerned. Not because Cesaro is more of a man or more of a competitor, "but because he is on such a tear right now."
To Heyman, Cesaro has finally found what he hasn't been able to before, and now he's in a zone he's never found before. That zone, combined with his superhuman strength, makes Cesaro one of the more dangerous superstars in the WWE today. Now Rollins is a visionary, that even Heyman is inspired by. Rollins took time off rightfully so, but Heyman is inspired by Rollins' vision for the future. The only concern is that Cesaro will disrupt that vision. Rollins says that is fair, because everything Heyman said about Cesaro is true. What Rollins was saying about Cesaro was true. But as a Special Counsel, Heyman surely understands that "sometimes things go the easy way." People just understand, get along, life is good.
Other times, that's not how people come to an understanding. Cesaro wants to take the hard road. Rollins isn't sure where that'll lead them, but he vows Cesaro will learn that the things Heyman said about Rollins are true, too. Rollins tried to talk to Cesaro, Cesaro made this difficult, but it will all be okay. "We" will be just fine. Heyman thanks Rollins for gracing them with his presence. Rollins appreciates them having him. So until then, no more fake news, Kayla.
As Rollins leaves, Heyman turns to Kayla and says that when he came onto set today, mostly that he's not a morning person, but his back has been killing him. All he did was shake Rollins' hand, and he felt better! He's not saying he was healed, but something is very special about Rollins. Kayla sighs, and says Heyman is just a bandwagoner. But moving on to one of their favorites, she is the woman that lasted the longEST in the Women's Royal Rumble and won it all, and is now the challenger to the SmackDown Women's Championship, it's the E S T!
Bianca Belair joins Talking Smack!
Kayla wants Bianca to bop Heyman with her ponytail. But then Bianca wants to show off the boots and she hops up on the table! She celebrates choosing Sasha banks, and she asks if she should hop back down. History is being made, the decision was made, and now it will be The Boss VS The EST! What made her choose Sasha over Asuka? Well, Bianca hops back down, and she says Asuka is great, The Empress of All Day, Everyday, but something felt right about choosing Sasha. WrestleMania is already big, but how to make it bigger? The first two African American women headlining, that's how! That's magical!
Kayla knows Bianca got emotional before over this moment, but doesn't she have to pinch herself? We're just a little over a month from WrestleMania, has that settled in yet? Bianca says winning the Women's Rumble was one thing, but to be facing Sasha Banks in WrestleMania, the decision made it real. She was shaking from excitement! Her mom was texting and talking Bianca up, and Bianca is so excited for what this means. No matter what happens, history is made, probably one of the biggEST moments in Bianca's young career, and it's against Sasha Banks.
Kayla says Bianca has made serious waves, but you can't take anything away from Sasha. So how does Bianca plan to show the world that she is equal to The Boss? Bianca took some weeks before making a decision because of how big it is. And Sasha, ever since Bianca walked into the Performance Center, was on Bianca's mind. Sasha is one of the NXT Four Horsewomen, there are records and barriers she's broken.
Now Bianca isn't jealous, because all of that is inspiring. Sasha says she's the best, but Bianca is the EST, so she has to prove that by facing the best! Bianca is happy but she isn't content. She wants to be THE SmackDown Women's Champion. Sasha is great, but the new kid on the block is going to prove herself on the GrandEST Stage of Them All! Kayla loves to see it! Heyman tells Bianca she's earned every bit of this. Bianca shoves off the boots one last time before heading out.
Heyman say she agrees with Kayla, and he has said everything he can say to Bianca as a challenger. That's why he didn't say much tonight, or this afternoon, morning, or tomorrow, or next week, or any time, other than Bianca faces one of, if not the greatest, SmackDown Women's Champions ever in Sasha Banks. Heyman has spoken to Bianca as a challenger, and looks forward to talking to her as a champion next time. Kayla agrees there 100%. But YES, we have one last guest, and Heyman wants to get out of here now, but Heyman's said things about this man, it is THE GOAT!
Daniel Bryan joins Talking Smack!
Back again! Bryan says Heyman didn't want him here because Bryan is going to bring up that 80's mullet braid that Heyman had and how he'd swing it like Bianca did. It was amazing, it has to be somewhere online. Heyman used to wear a thong and asked for singles, but… No one ever did. That's the saddest ever. That's why Heyman went into this industry. But Kayla notes that things haven't gone Bryan's way the last week, so how does he feel about that? Bryan wants to talk more Elimination Chamber than SmackDown, actually. Well congrats on that win in the Chamber! Third time ever! Can't win a Rumble, but he can win that. But at the end of Sunday, Bryan didn't feel like a winner.
Bryan has worked really hard in his career, and always puts his best foot forward. Over the last year, Bryan's done his best to take a step back, and push others forward. The WWE has amazing talent! When Bryan was last here, he was talking about Cesaro and how great Cesaro is, and people saw that! People know how great SmackDown's roster is! Bryan goes through the Elimination Chamber, he has his win, and then Roman capitalizes on him. Bryan's done this before, he can do it again. But then he gets beat "really, really quick." Bryan is okay with losing. He's lost a lot of matches, too.
But then Bryan gets out of the ring, Edge spears Roman, and Edge points to the Mania sign. Bryan loves Edge, but that was when Bryan felt like "an absolute failure." Two guys in the main event of WrestleMania, only wrestled a total of three matches this year. Bryan went in there, fought with all his heart against five other men who were fighting with their whole heart. Even guys Bryan doesn't really like, from Jey Uso to Kevin Owens and Baron Corbin. But Bryan felt like a failure because for the last 12 months, Bryan put himself on the back burner for these other guys, and then he failed. "Then came the deepest realization of them all. And it's that I failed myself."
The WWE did this personality profile years ago, testing the top stars about things, and after Bryan did his, the lady told him, "This is incredible. You are in the bottom one percentile for ambition. This is the lowest ambition score I've ever seen!" How is that possible when he's so successful? It's because Bryan loves what he does. In that moment at Chamber, Bryan realized that he's more ambitious than he knew. And the fact that it's Roman and Edge, and not Bryan in there, who in the last 8 days wrestled more than those men combined in 2021! Do you understand?! Bryan tries to wrestle on every Friday Night SmackDown, and if there were live shows, Bryan would wrestle on those, too! Bryan will fight anyone!
On Sunday, Bryan sat on the ground while two men who wrestled only THREE matches get to main event Mania!! Bryan failed Bryan. So how does it feel to win the Chamber? Not good at all. Kayla offers Heyman time to respond. Heyman smirks, and says, "I'm gonna make your day." Heyman has the opportunity of a lifetime for Bryan. The Special Counsel has been authorized by Roman Reigns to make Bryan this following offer: If Bryan wants a Universal Championship match against Roman Reigns BEFORE Edge and WrestleMania, aka at Fastlane, then next week on SmackDown, Bryan is offered a rematch with Jey Uso. And if Bryan wins that rematch, it'll be Roman VS Bryan for the Universal Championship at Fastlane.
But if Bryan loses, then Bryan must ACKNOWLEDGE Roman. Bryan will say Roman is THE Tribal Chief, THE Head of the Table, THE end all, be all and the best of the very best WRESTLERS on this planet! The Reignsing, Defending, Undisputed, Uncontroverted Universal Heavyweight Champion and THE main event of WrestleMania. Bryan accepts this offer. And if Bryan loses, then he swears, promises, that he will say all that and even shake Roman's hand. Bryan will call Roman the Tribal Chief and the best he's ever been in the ring with. But Bryan has a condition of his own: to make sure we get a proper result this time, make the match a STEEL CAGE MATCH. What does Heyman say?
Kayla loves that, that sounds awesome! What does Heyman? Bryan makes it a chant, "Steel Cage Match! Steel Cage Match!" Bryan will break the table if he has to! Oh no, Heyman is freezing up! Is Roman a coward?! Don't say that on Talking Smack! Heyman blabbers that he can't authorize the extra stipulations! But it's just an itty bitty steel cage! That's not itty bitty! It's HUGE! "STEEL CAGE MATCH!" Kayla calls Heyman a chicken, bawk bawk! Wait, did a text come in? Bryan thinks Roman is a chicken~! But that text was FROM Roman, and the Steel Cage Match stipulation is on! Bryan smiles and tells Heyman that's all he wanted to hear.
But Bryan has a message for Roman. Tell Roman, "I am no longer putting myself on the back burner. I am no longer putting other people first. I am going out to take what's mine, and that's the reign that I've had before CM Punk, and that's the best damn wrestler in the world!" You heard it here first, folks! Bryan VS Jey, STEEL CAGE MATCH! If Bryan wins, he gets that Fastlane match for the Universal Champion! Heyman seethes as Kayla says bye and see you next week!
---
My Thoughts:
What a great episode for Talking Smack! Rollins was great, though he sure seems to be driving the point that he's satirically portraying a certain side of the political spectrum. #FakeNews being used is a bit of a giveaway, but he and Cesaro are going to have a great match, and I like that Heyman of course ties in that Roman sees great things in his old frenemy. Maybe one day we get the Tribal Chief and Savior of SmackDown interacting directly. Bianca showing off the boots, jumping on the table, that was a lot of fun. She still said quite a bit of what she's said before, but Bianca VS Sasha is still going to be a really good match.
Bryan had the best segment this week, he had passion in pointing out how he is the workhorse, Roman has (for story reasons) shifted to part-time, and Edge (though he was hurt for most of 2020) is basically the same. Setting up the Steel Cage Match here was great stuff, too, and I figured we were getting a rematch of Bryan VS Jey anyway. Upping the ante is great, but I would think at this point, that means Bryan wins the cage match and we see what happens at Fastlane. At the same time, Roman could easily interfere with a cage match because turns out, the cage doesn't stop anyone from anything. We'll have to wait and see, but I would hope Bryan overcomes the odds at least one more time.
Mitchell's Raw Talk Report! (2/22/21)
Raw Talk will be PHENOMENAL, Bro!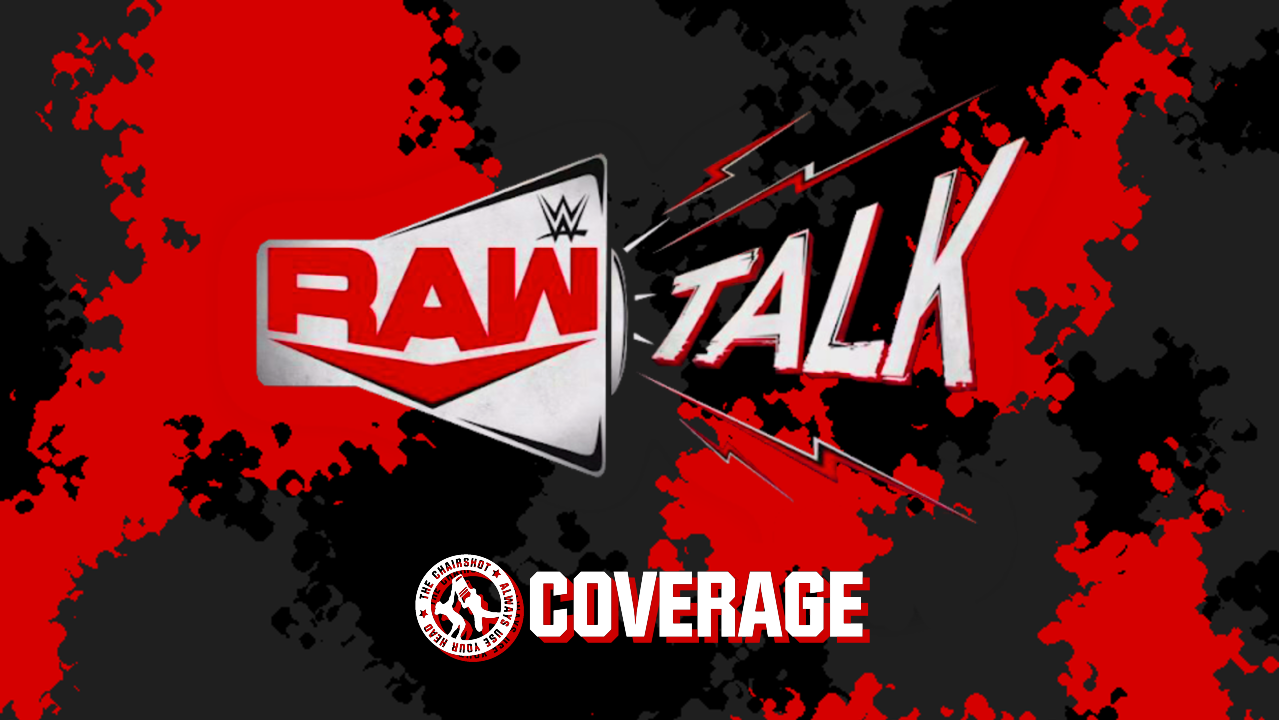 Raw Talk has the Phenomenal, Ravishing Glow, Bro!
After the wins they got on Monday Night Raw, AJ Styles, Naomi & Lana, and even the NEW WWE United States Champion, are here for Raw Talk!
#CharTruth welcomes us back to the show!
Charly Caruso and R-Truth are still missing the WWE 24/7 Championship, but that's what it is. There's this empty space here on the table and Truth feels all off. He feels he can't even focus on tonight's business. Charly was hoping Truth had a trick up his sleeve but he just spoke to Bad Bunny and Damian Priest. Well DP is always with Bunny so he can't do anything. It's complicated. Of course. Truth vows to get his baby back, but Charly says overthinking can mess you up. Truth has to swoop in, but not too fast. If you want to go fast, go alone. If you want to go far, go together. Okay but which is it he needs to do? Because he could go safe late or work earlier. What? Well, whatever.
But moving past the 24/7 title, let's transition to the WWE World Championship! The Miz cashed in at Elimination Chamber, he is the new champion, but now he has a big battle on his hands. Bobby Lashley took down Braun Strowman and is going right after Miz next week! Charly felt Miz would cash in during the PPV kickoff show, but she didn't think it'd go that way. And now, a little over 24 hours later, Miz feels the hurt. Truth says Lashley beat down Braun! Wait, everything has changed from then to now? Charly says this is mind blowing! So much can happen in the WWE even overnight. Truth says this just keeps reminding him of the missing 24/7 title.
Charly breaks it down: The Miz is world champion after cashing in the MITB contract. But he might just be champion for now, because Lashley is coming. Miz owed Lashley a debt, Lashley is going after the gold. Truth says Miz better be ready. Charly asks if Truth was looking forward to a Triple Threat. That would've been good. It'd be scary for Miz because it's Lashley AND Strowman. People would get hurt there. But it'll just be Miz VS Lashley for the title. Miz did say that he doesn't want to be a transitional champion. What's that mean? Well, sometimes you see a champion who holds a title a long time, while others simply pave the way for another champion. Oh, okay. Truth says he's a transparent champion. Not the same…
Charly says if Miz is predicting his future, if things go his way, he will be a champion for a long time, but Lashley will give him a run for his money. But from the world champion to the United States Champion, and Charly makes sure Truth is okay talking about titles without his, it's THE BRO!
Matt Riddle joins Raw Talk!
Truth is excited for Riddle and Charly congratulates the Original Bro for having the hat, the shirt and now the gold! Riddle tells CharTruth that last night was amazing, breath taking even! Keith Lee didn't get to be part of things but John Morrison won his way in. That was a wrinkle in things, a new obstacle to overcome, but thankfully there was another person to pin because Riddle has to admit, he wouldn't have been able to pin Bobby Lashley. "That guy is a beast!" Didn't you see Lashley tear up McIntyre after their Triple Threat? And then tonight, destroys the Monster Among Men! Riddle's been in the ring with Braun, that guy is no joke, so that says a lot for Lashley.
Charly asks what it feels like for Riddle to have overcome a behemoth? Riddle is all about beating behemoths, taking on big challenges. Riddle mentioned Air Bud, the dog that just wanted to play ball. Riddle is just the Bro that wanted to be US Champion! And now that he has "Travito," lil' Travis the eagle, it's all good. Charly likes that name. Truth says #LilT-Fly! Tweet tweet! Riddle has his mascot, his belt, he'll have that by his side every waking moment. Last night's Knieval gear, he'll get a dirt bike, take a jump after WWE's The Bump, all sorts of stuff. This is his golden ticket!
How does it feel winning his first singles title in WWE? Personally, he started thinking it wasn't going to happen. It was staggering, all those defeats. He beats Style in his debut but loses in the title match. The same for Lashley over and over. Riddle felt like Air Bud, being told, "No." Even Keith Lee, a best bro, was saying Riddle couldn't do it. But Riddle didn't stop, and now you see it in his eyes! He is a champion! Riddle says the man doesn't make the belt, the belt makes the man! Riddle took Lashley's belt, and he beat the guy to beat! Truth is fired up for Riddle, and Riddle says that yeah, Truth doesn't have his gold, but it's just a matter of time! 24/7, 365! Truth is THE 24/7 man! BOOM!
Charly says #CharTruth is good but can they get an official Bro nickname? Riddle is feeling on the spot. He takes a day or so. Well Truth will give Riddle some time, then. Riddle doesn't want to make something lackluster. Truth, we don't need any lacklusterisms. Charly says the feat was remarkable, and Riddle says he has great feet. Riddle has the hardware, but does he feel after everything, his early momentum that stagnated, is the door open for him? Yes, especially after winning again tonight against a great opponent in Morrison. Beating Morrison clean with the Bro Derek, this is the start of a beautiful thing. Things are gonna change for Riddle. He's winning gold, he might even get an investor for his Bro ideas! #Brogurt, #Bronuts, etc. MVP was a little meh on it, but the Hurt Business does know business. But Lashley is a savage, so…
Charly says Riddle is pretty savage. A savage stallion! He needs some pedicures and stuff, but he has been kicking butt. Charly says Riddle can go get that treatment, and wishes him and "Lil' T" luck. And she never realized there was an eagle there. But now, it's time to #FeeltheGlow!
Naomi and Lana join Raw Talk!
The #RavishingGlow are contenders for the WWE Women's Tag Team Championships and are building momentum while they wait for the match. There is great energy now! Lana isn't crying tears, she's smiling ear to ear! Naomi helped dry those tears by teaching her to believe in herself! But let's talk about their title shot. They're excited, dreams are coming true! To start this year, Lana set goals to become champions by the end of the year, and they are going to do that! They have a contender's spot! Vision boards FTW! Every time, when Lana is on Raw Talk, they talk about manifesting dreams. Lana had a shot before, got hurt, but she's back again for another shot!
Charly sees these two being an awesome championship team. They are unlike the other teams, not to take away from those other teams, but these two have a unique set of skills and a great look. Naomi says you miss 100% of the shots you don't take. Drinking? No, basketball! Naomi & Lana are a unique duo, a new duo, but not new to WWE. They need to believe in themselves or no one else will. They have confidence in themselves, and once Lana believes in the Ravishing Glow, tuning out the negativity, this deep friendship is going to propel them. So was this something under the table? Oh wait sorry to bring up tables, Lana.
Charly asks Lana if having a former champion in Naomi by her said help lift her up? Of course! Lana feels lucky to have a tag partner like Naomi. Lana has passion but she also has doubt. Nia, Shayna, they're great but they are bullies. Naomi's a two-time champion so she knows what to do. Charly knows Lana has been through a lot with Nia and Shayna, and Lana says she's afraid, but she'll run at her fears to face them head on. Naomi says there's nothing to fear because Nia and Shayna are still human. "They bleed just like us! They get hurt just like us!" That means they can be beaten. They'll slay the dragons! Exactly! Naomi says they aren't losing teeth here!
Charly says Lana & Naomi can bring the heat, but just look at what Shayna & Nia did against Asuka and Charlotte. Truth asks if Lana's gonna bring the glow, and she says she will. How does that work with the electric company? Leaving lights on wastes energy. No, it's LED's, Truth. Charly asks where they get inspiration for their gear? Naomi loves neon lights and futuristic things, and Lana is just ravishing. But Lana does say she gets fashion shows and comic books but what about Naomi? Naomi says it's like Coachella, DJ light shows, that stuff. They can all go to a festival and dress up together one of these days! Charly can't wait to see what their futures look like, and whenever the title match is, Lana and Naomi are going to train and be ready for anything!
And lastly, from positive energy to a phenomenal winner, it's the Phenomenal One!
AJ Styles and Omos join Raw Talk!
Truth and Styles have known each other a long time and Truth doesn't like Styles' attitude. Styles says Truth is hugging too much. No, those were daps. No, they were hugs. Truth still can't get "Omos" right. But how is Styles feeling? He won against Ricochet tonight but lost at Elimination Chamber. Ricochet is good, though. Styles says he did what he could at the PPV, chips fell where they may, he isn't champion. But he was still here tonight. Where's McIntyre? Jeff Hardy was here, Sheamus was here, even Randy Orton and Kofi Kingston were here. But where was McIntyre? Truth says he was busy. Yeah, because he got hurt! Got his feelings hurt, too! That's why he's not champion!
Truth says that's not cool. Is Styles lying, though> Well Truth wasn't looking for anyone but maybe he was here. Charly says McIntyre probably has a valid reason. Styles asks if Truth, after losing his title- Oh, we're going there, huh? Well, Truth is here on the show. Would Styles wanted to see McIntyre after he beat Styles? That's not the point, Styles is just saying McIntyre isn't here. Styles is here, got a win, because he's man enough. But who won't be here for a few weeks will be Ricochet! Styles and Omos got him! Truth says that was too much, too. Truth is baffled that Omos did it! Well Styles calls that the #JKCB, the Jackknife Choke Bomb! Styles enjoyed that!
Omos asks Truth if he has something more to say about that. Truth asks if Styles is putting money in Omos' pocket. Omos gets upset but Truth says this is what was on the paper! Styles has Omos cool down and Truth says he does NOT want none with Omos. The questions aren't needed. Bye, questions! Styles likes that better. Omos pats Truth on the shoulder and Charly asks Styles what he wants to say tonight. Styles made his presence known in a big way. Then asks what's next for them? Charly asks them that. "Sky is the limit!" Who knows what's next? There's nothing these two can't do! Truth believes they're right there. Charly does, too.
Is Truth in pain? Well he feels uncomfortable. It's all good, though, they'll ask the right questions. Charly says they can just wait and see what is in store. Styles asks where Truth got those pants. Are they custom or homemade cuz of the kids and stuff? Charly says no hard feelings, especially not from Omos. Truth says he's not giving the eye or anything. Charly thanks us for tuning in, and on behalf of Truth, signs off.
---
My Thoughts:
A pretty good Raw Talk, went by pretty quickly, and just kinda touched on everything we saw tonight without really setting anything forward for next time. Riddle giving Lashley his props was pretty good, it helps them transition away from Riddle and Lashley now that Lashley is going after the world title. Lana & Naomi were okay tonight but it was hard for them to have anything new from previous times when their match on Raw was mostly filler. It seems most likely that their match for the Women's Tag titles waits until Fastlane, after Nia & Shayna have also dealt with Dakota Kai & Raquel Gonzalez on NXT, 3/3/21.
Styles' segment was good for bringing up McIntyre not being on Raw. While more McIntyre VS Styles would be great stuff, I hope McIntyre's story stays to the title, going after Lashley or Miz after next week's Raw. Styles and Omos, meanwhile, could go after Riddle's US title, or just build momentum so that Styles can come back to the world title after Mania. Styles saying "Sky's the limit" is basically summing up that they have all kinds of options, all of them phenomenal.