The Good, Bad and Ugly: SmackDown (01/15/2019)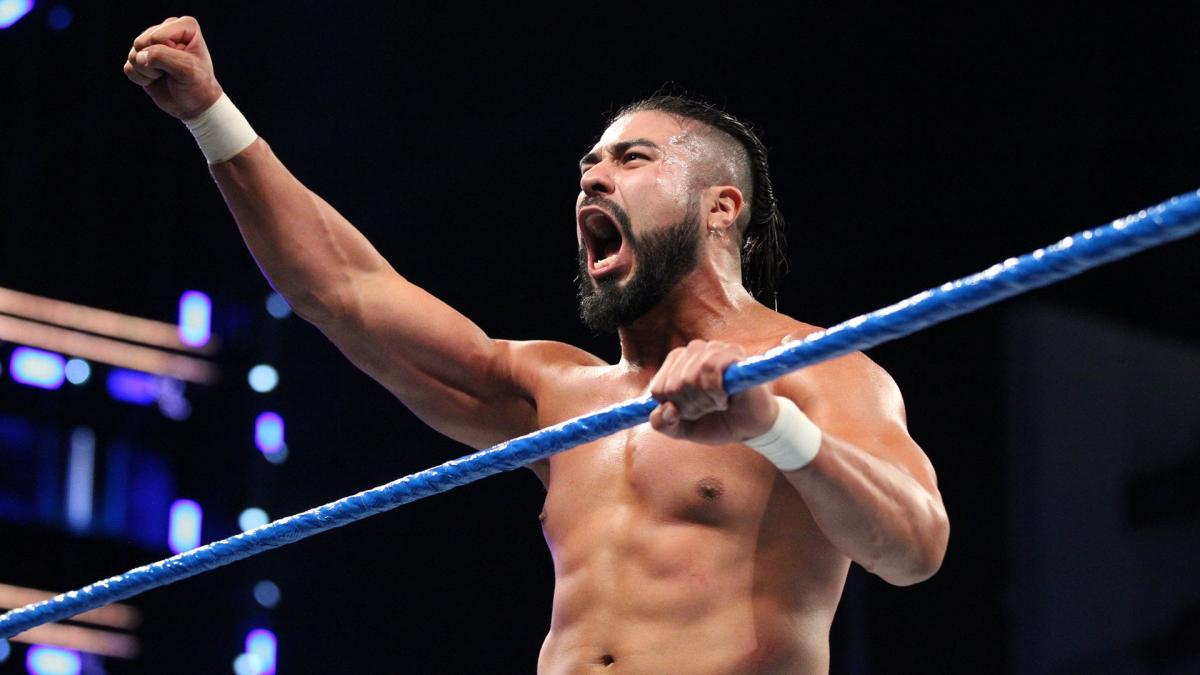 After a less than stellar Monday Night Raw, we are back to the boys in blue.  The better show, that seems to disappoint a lot less than the other guys.  Nothing is perfect, however SmackDown strives to be damn close. The question is when will SmackDown fall off?  Or Can they continue the Good old ways and keep on killing it?
THE GOOD
Opening Segment w/ Becky Lynch
Opening with "The Man" Herself, is a Great way to go!  She rolls in like a boss, has a powwow with Heavy Machinery and New Day before gracing the masses with her presence.  Becky of course wanted to discuss the current situation with her title, her division, her reputation.  She put it all out there, and she did it well.  The "Empress" wasn't going to just lay down for "The Man."  The Champ came out to defend her honor.  She is getting better on the mic, and held her own to a tough crowd.  Fortunately for everyone "The IIconics" gave us the pleasure of their company. 
Samoa Joe vs. Mustafa Ali
Ali has been injected into our lives full steam.  He is getting a lot of attention and using it well.  He is exciting.  Of course Samoa Joe is a nightmare and doesn't seem to put up with such nonsense.  He really beat the hell out of Ali before the bell.  He just brutalized him.  It was insane.  Joe is crazy and he isn't holding anything back.  If these guys actually get the chance to put in work, based on what we saw this week, we could have some Good times ahead. 
Andrade "Cien" Almas w/ Zelina Vega vs. Rey Mysterio
I don't know what the wrestling world did to deserve this match, but it is spectacular.  This could be the best lucha feud seen in a long time.  Two absolutely pure talents with endless gifts in a highflying, edge of your seat battle.  This really is set up to be fantastic, as Almas has proven his worth time and time again.  We don't even need to explain how Good Mysterio is.  This match simply over delivered in every way it possibly could.  We saw such unique exchanges, such energy, it was masterful.  These guys put it all on the line and gave the fans their money's worth for the year.  Mysterio looked so Good out there, just a wise veteran doing what he knows best.  Mysterio hit a freakishly awesome "headscissors" sending Almas flying and landing hard on the outside.  The dropkicks, the spots, the energy, everything just clicked here as it should.  It went back and forth, Mysterio hitting with everything he had, including a sick version of a crucifix.  With a little help from Zelina Vega, Andrade hit a sick "Hammerlock DDT" for the victory. 
"Bestie Birthday Bash" w/ Miz and Shane McMahon
This type of thing is almost always a failure.  These segments are long, boring, and corny.  Maybe something different here?  Well yes we did, the back and forth banter was Good, short and sweet.  The video montage as always was "money."  The crowd was involved and interested.  During a horrendous Happy Birthday Song, The Bar interrupted.  Talking trash as always, including even against the McMahon name, they brought a rare but Good promo here.  It was really Good considering that it was set up to be hideous.  Ultimately it set up a match between Shamus and The Miz.  Good job all around. 
Shamus vs. The Miz
This was quick as time was tight, but it looked Good.  Definitely a fun, quick buildup for a huge Tag Match at the Royal Rumble.  Miz really brought it here, looking sharp against the much larger Shamus.  This was physical and entertaining.  Cesaro went through the cake, imagine that, and Miz picked up the Win during all of the confusion.  McMahon capped it off with a "coast to coast" through the Birthday Cake, to close the show. 
THE BAD
Becky Lynch vs. Peyton Royce/Asuka vs. Billy Kay/AJ Styles (3 total)
Peyton Royce has some skills.  She is the better of the two IIconics and has shown she can go. Lynch is red hot and seemingly can mess up.  Well this match didn't do so well.  We had some poor wrestling, botches, and awkwardness galore.  As a whole, even with everything working, it was a mess.  If this wasn't Becky Lynch the crowd would have eaten this match alive.  This was just shockingly disappointing.  The booking was great, it just didn't deliver.  Of course, Lynch traps Royce in the "Disarmer" for the Win. 
Predictably, Asuka not to be outdone went on a Japanese tyrade apparently challenging Royce's homegirl, Billy Kay, and just destroyed her.  Although Kay almost reversed into a pin and escaped an Asuka "Disarmer,"  Asuka got her into a "Asuka Lock" for the quick, and painful Win. 
Just when we thought we were about to see Lynch and Asuka go at it, out pops AJ Styles who interrupted, circled the ring for no reason, and walked out into the crowd.  What the hell happened?  Your guess is as Good as mine.  This was followed up after the break with AJ Styles in the concessions area talking trash before a low key "fickle" Daniel Bryan viciously attacked Styles. 
THE UGLY
Mandy Rose/Jimmy Uso Vinette
This is total trash, and it's burning hot.  Mandy Rose is all fine and Good, but this whole story, and everything involved is really pointless.  Naomi attacking Mandy was predictable but the whole thing was just such crap.  This may be one of the worst segments on SmackDown in recent memory.  It was quick, but not quick enough. 
Carmella vs. Sonya Deville
Why this was skipped, is beyond anyone!  This is just an ugly shame that we didn't get this match.  Wasted time and unnecessary jokes filled the space where a decent match could have took place.  Really a huge disappointment.
FINAL
GOOD- 6
BAD- 3
UGLY- 2
OVERALL- This show was squeaked by in the Good column, but it was Good enough.  Subpar to the standards of a typical SmackDown.  Andrade Cien Almas and Rey Mysterio was a real treat and catapulted any tainted material prior to that match.  SmackDown really is a Good show, tonight it reigned supreme once again, but Perfect, it was not.  To skip the Deville/Carmella Match was a big mistake, and the Main Event was okay but disappointing!
So far WWE entertainment has been a bit off this week.  They had so much momentum but just couldn't keep it going.  Fortunately we have NXT on a normal weekly broadcast that can most likely round out the week on a Good note.  AEW is still building talking to CM Punk among others building what looks like a real threat to the Kings.  WWE needs to continue at a high level, and it will be great to see if and how they keep the crown.  Also, please let me take this moment to honor a man that was loved by many in the New England Wrestling scene, RIP Joe Pavao.