The Good, Bad and Ugly: WWE Raw (12/31/18)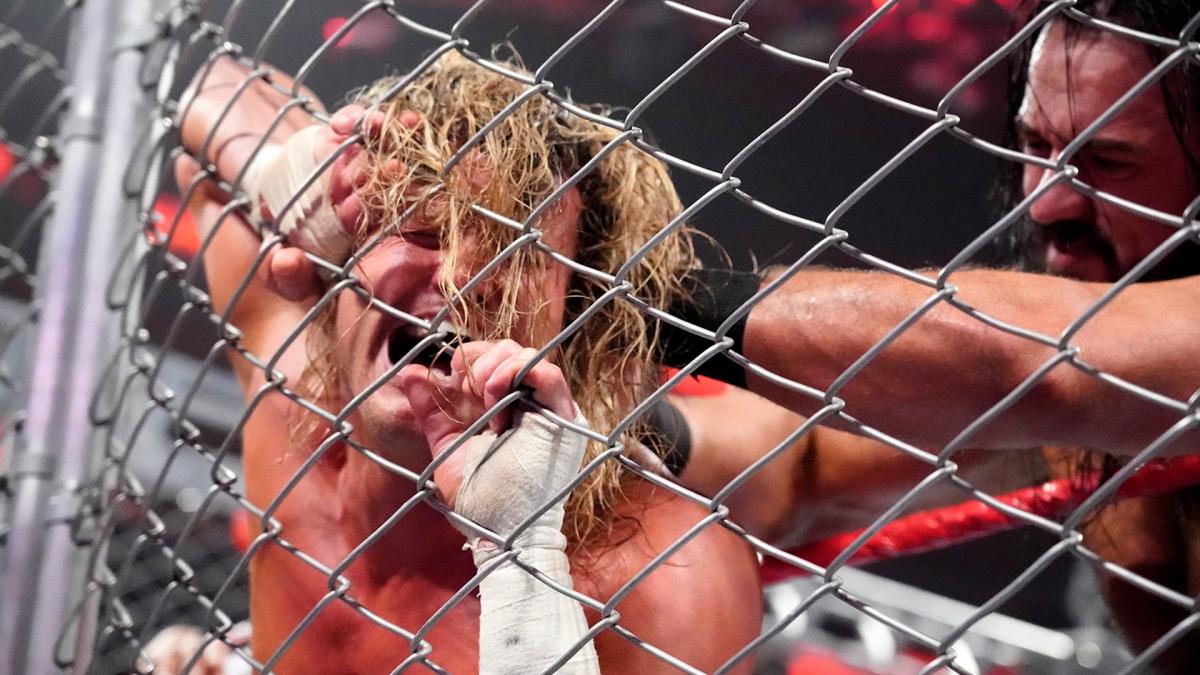 2019 is upon us, and Raw has begun its rebuilding stage.  The McMahon's are in control in a new and exciting way.  Well really, nothing has changed there but the thought that the fans are in control seems to be working.  Raw had a Good week last week, and tonight airing on New Year's Eve should be Good, right?
THE GOOD
Steel Cage Match – Dolph Ziggler vs. Drew McIntyre
Right off the bat, a match.  This is like finding an alien in your yard, rare nowadays.  Not a bad match either.  McIntyre and Ziggler can go, and with the added hardship of a steel cage this looked to be a Good idea.  After multiple near escapes from Ziggler, McIntyre punished The Showoff with brutality.  Mighty chops over and over beating Ziggler down.  Ziggler picked up some steam hitting McIntyre with some decent looking offense, until he was devastated with a Glasgow Kiss.  Both men fought for control, but ended up getting hung up on the top.  If there is anything Bad to say here McIntyre spent way too much time taunting.  Ziggler out of nowhere hit a Famouser but only for a near fall. 
Ziggler hit a huge Superkick for another near fall, and ended up almost getting out of the door.  Ziggler got stopped multiple times before slamming McIntyre's head with the door.  He followed it up with another Famouser but again McIntyre kicked out.  McIntyre after Ziggler almost escaping the cage, got Superplexed from the top of the cage.  Drew McIntyre annihilated Ziggler, slamming him repeatedly into the cage, continuously taunting him. Again out of nowhere, a Zig-Zag for a very near fall.  McIntyre countered an attempted Superkick with a disgusting Claymore Kick.  McIntyre hits a second Claymore Kick this time for the pin-fall and victory. 
McIntyre on his way out, got held up by Ziggler talking trash, and proceeded to beat the hell out of Ziggler, ending it with a Claymore Kick through a chair to Ziggler's head.  McIntyre stated he is now moving on to bigger things, and will be winning the Royal Rumble then will win the Universal Championship.  Ziggler again stopped McIntyre getting another Claymore Kick.  Hell of a match, and great opening to Monday Night Raw.
Seth Rollins Promo
Rollins gets a loud reaction, that's for sure.  He then called out Ambrose for his Intercontinental Championship rematch.  Out comes Triple H.  This was Good already due to their extensive history with each other.  No automatic rematch, no automatic anything anymore according to HHH.  Triple H then rubbed salt in the wound claiming Rollins didn't deserve a shot anyway.  HHH then set Rollins off setting up a match with Bobby Lashley.  Rollins continued his speech, next getting interrupted by Shane McMahon.  McMahon clears the ring stating that there is a "Fresh Start Battle Royal" in which the winner faces Dean Ambrose for the Intercontinental Title.  Decent promo and set up another match.
Fresh Start Battle Royal
Starting off with Balor after such an announcement was a very Good idea, it immediately got the audience invested.  Typical Battle Royal action, nothing special.  Standouts here were Apollo Crews early on.  Finn Balor of course looked Good out there as well.  Crews gave the crowd a sequel and cleaned house again, clearing everyone in his path.  Corbin pulled his plug then later eliminated the favorite, Finn Balor.  Corbin to everyone's disgust looked to have it locked until Crews kicked him in the face, and out of the ring for the victory, and a shot at the Intercontinental Championship against Dean Ambrose.  This was fun and Good all around.  It also served a purpose and set up a potentially decent Intercontinental Title Match later in the night. 
Baron Corbin Promo post Battle Royal
Corbin can be horrendous on the microphone.  He comes off phony and over the top.  The crowd was hot already, when Elias decided to play some Christmas music on his guitar.  This little feud has some potential for mega heat.  A top heel and a top baby-face completely on different poles with the audience.  Corbin ended Elias' encore a little early, and it was a Good thing as Elias was getting long winded even for him.  There was a decent brawl that had some hard hits, and big bumps especially for a set up promo spot.  This could be a Good feud if it continues like it is. 
Ember Moon, Sasha Banks and Bayley vs.  The Riott Squad
Having more of these girls is Good all around.  So much talent and potential.  I would like to see any of them pushed, it would make for some historic matches.  The match started off rough, and a bit awkward at times.  Ember Moon and Ruby Riott picked things up a bit, and it got better from there.  Liv Morgan particularly looked Good, and got the crowds attention with both her outburst and action.  A lot of Good tag team action by both teams.  This is obviously setting up the Tag Team feel for the Women's Division, and it's working.  The Riott Squad had some great tandem moves, but Banks hits the Backstabber followed by a beautiful Macho Man Elbow Drop by Bayley for the hard fought win. 
Seth Rollins vs. Bobby Lashley w/Lio Rush
Lio Rush is very talented especially on the microphone, however he can easily overdo it, and come off cheesy.  Lashley still is worse though.  Having said that, Lashley has looked fantastic in the ring.  The match was high energy, physical and looked Good.  Lio Rush hit a good looking hurricanranna outside slamming Rollins and assisting Lashley.  Bobby Lashley dominated, hurling "The King Slayer" all over the mat.  Rollins slowed down the momentum with multiple suicide dives.  Rollins had a Stomp on Lashley but Rush interfered and Rollins got driven through the ring with a sick spine-buster.  Rollins regained only to be interfered with again by Lio Rush.  Rollins had enough and finally got to Rush.  Lashley attacked but was greeted with a steel chair.  Lashley Wins by D.Q, but Rollins got it in with the chair-shots, ultimately hitting Lio Rush with The Stomp.
THE BAD
Natalya Promo
Natalya didn't get a lot of mic time, however what could have been a save sake was ruined when Nia Jax and Tamina jumped into the scene.  Another plus, is Nia Jax is so hated right now, she has a tremendous amount of heat that any heel would kill for.  Nia was stiff and her attack sounded like it hurt.  Even so, this was a waste of time and accomplished nothing.  It was better than it has been for all parties involved but it would have been better without the talking. 
Jinder Mahal and The Singh Brothers vs.  Heath Slater and Rhyno
Rhyno looked Good and it was nice to have him back.  Heath Slater is Good but not anywhere near his full potential, and Jinder Mahal knows his stuff.  Unfortunately overall, the pace was strange, the action had some extremely awkward timing, and looked uncomfortable.  I like that the matches have been random to set up the Main Event(s) and the crowd seemed to be into it, however the Bad outweighed the Good in this one.  Jinder Mahal and The Singh Brothers Win!
Intercontinental Championship – Dean Ambrose (c) vs. Apollo Crews
The idea of "Fresh" talent getting a shot is awesome!  You have to love Apollo Crews, a natural getting a run against someone as over as Dean Ambrose.  The I.C. Title has meaning again, and the WWE Gods should be proud.  Crews controlled the action most of the match and looked Good.  He hit a ton of big spots, and almost stole the belt.  Ambrose legit looked like a zombie out there.  Something is up with Ambrose, he is The Walking Dead now, and it isn't appealing for his style and pace.  Slowed down Dean Ambrose really needs to wake up, this is starting to hurt his work big time.  He is extremely talented but it isn't showing his stuff currently.  Crews misses a Frog Splash and gets beat by Dirty Deeds.  Ambrose retains.  Had some high spots, but not enough to pull through.  Bravo Apollo Crews though. 
THE UGLY
Nia Jax and Tamina Snuka vs.  Raw Women's Champion Ronda Rousey and Natalya
Rousey looked fantastic all around.  Her strikes were Good, her look was fierce, and she brought her very best.  Unfortunately, Nia Jax and Tamina Snuka are a nightmare.  Nia Jax wrestles in slow motion and Tamina Snuka has the coordination of a hippie on acid.  These two could drag The Rock down.  Nia Jax face looked like the Emoji Movie, full of pure cheese.  Tamina Snuka getting that much time in the ring is criminal and really stunk up the place.  Rousey gets Tamina in the Armbar for the Win!  The more Tamina, the worse it is!  WWE Please get Tamina out of the ring!
FINAL TALLY
THE GOOD:  6
THE BAD:  3
THE UGLY:  1
OVERALL:  Good?  Yes it was, more than half of the show at least.    The talent in the Main Event just wasn't as Good as it needs to be.  Rousey taking a break cannot happen fast enough.  Now fans were subjected to some under par action, however WWE did the job and entertained the masses on New Year's Eve. 
SmackDown has already been made famous on the internet as it was pre-taped.  I see a possible sweep in SmackDown's future.  Could be wrong but doesn't sound like it.  Happy New Year! Be safe and have fun kiddos. 
NXT Minus 6…The Triangle of Truculence!
Bradley's 6 step power point project runs down the latest episode of NXT!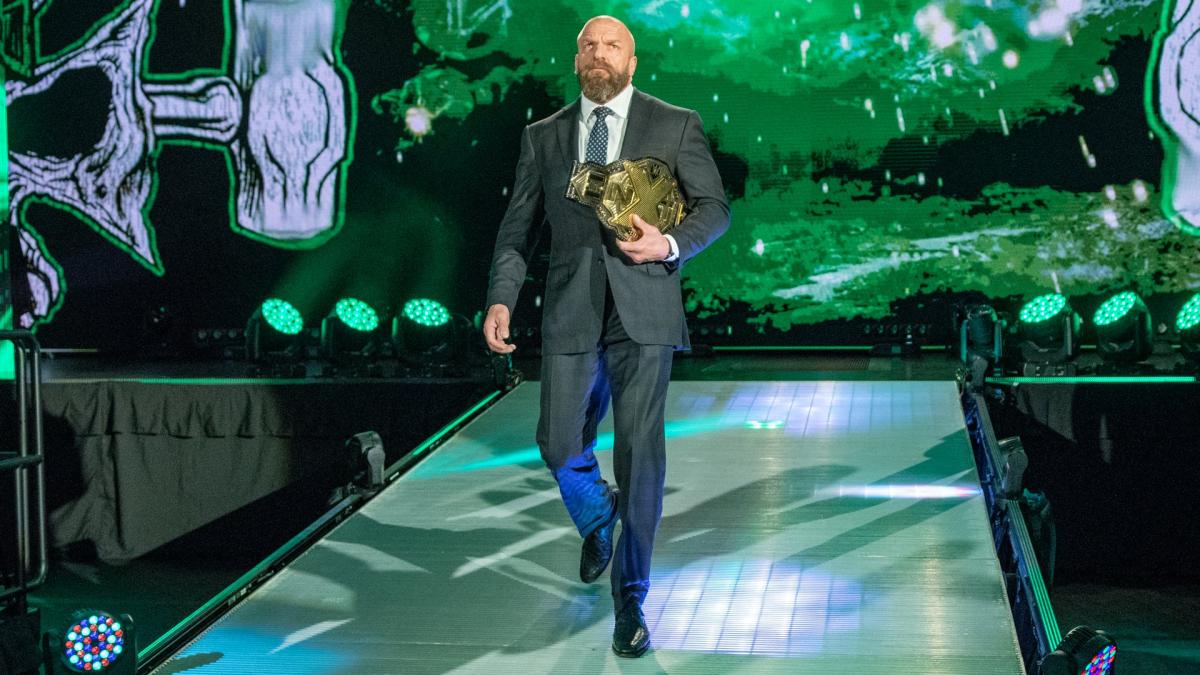 Bradley's 6 step power point project runs down the latest episode of NXT! 
This week, we've got horror movies, silent movie stars and another MOTY candidate.
6. HHH took Goldie from Tommaso Ciampa?!?!?! You do not put your hands on another man's wife! Call me crazy, but that should be the Takeover main event when Ciampa does return.
5. The Forgotten Sons are looking to cement their legacy? That should be the first, last and only time we hear "Forgotten Sons" and "legacy" in the same sentence…unless one of them is referencing the 1978 cult horror classic "The Legacy" starring the Who's Roger Daltrey. I'm sure you've all seen it.
4. Triangle of truculence. Yes, Mauro Ranallo actually used the phrase "triangle of truculence." One more reason NXT is black & gold standard: you can watch wrestling AND study for the ACT at the same time. Someone should create Mauro Ranallo's Word of the Day app.
3. Let's brainstorm. How can we get around the fact that the Sky Pirates really don't give good interviews in English? A manager? Subtitles? Give them a kooky gimmick where they are always shown in black & white and made to look like the stars in a silent movie? The upside is it will keep them in NXT longer. The downside is they might not get the opportunities they otherwise deserve.
2. I'm going to air 2 very tiny grievances. They could have sacrificed about 5 minutes of interviews & sketches to give the main event more ring time. Also, there were really only 2 possible winners of the match. That being said…
1. Another week, another MOTY contender. 4.8 stars to the fatal 5 way. Everyone involved looked absolutely fantastic. The action was great. The near falls were exciting. The winner won in a way that made sense. It gave us a Takeover main event that should be all kinds of special. I'm actually planning on watching Takeover: New York twice in the same amount of time it would take me to watch WrestleMania once.
That's right…I said it!
The Ronda Rousey Situation
Can Ronda handle the WWE Universe?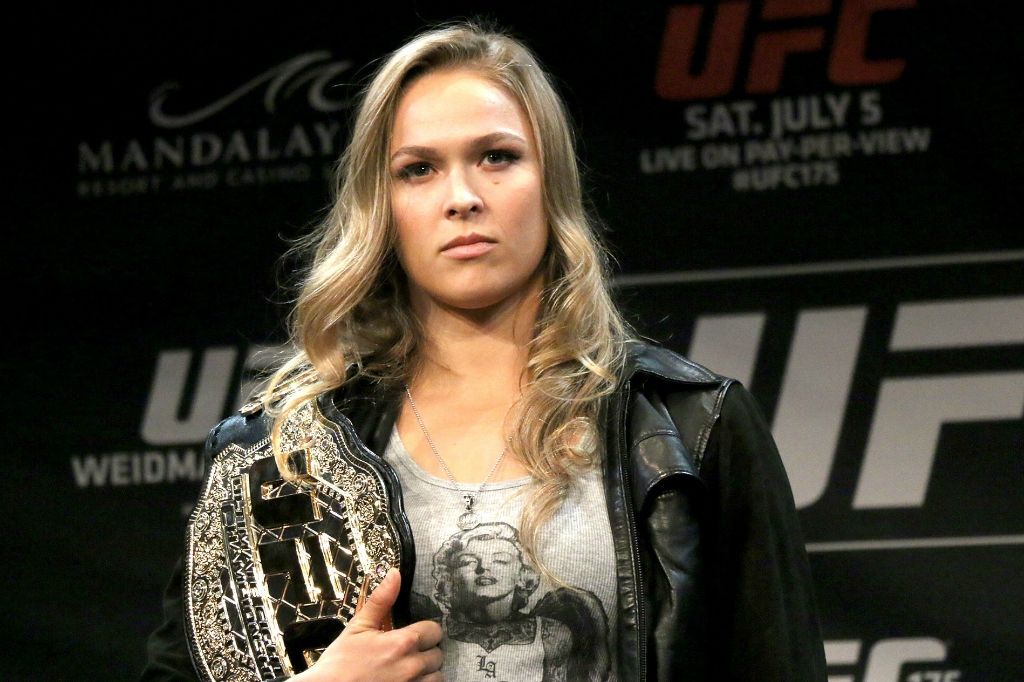 Elisa Maria kicks off her Chairshot career with a look at the state of Ronda Rousey in WWE!
I am probably not the first to say this but when WWE signed Ronda Rousey, I was skeptical if this was a good idea for wrestling. Several questions went through my head
Can she actually wrestle?
Will the WWE be a good environment for her?
Will her ego and personality get in the way of making her successful in this business?
Is wrestling even a good move for her?
UFC and wrestling are two extremely different businesses. The norm is anyone can be a wrestler however, you need to put in the time, dedication and training. This is something I knew Ronda will be able to do however, one thing I am still not convinced is whether she can wrestle. The past year every single match she has been in has been in my opinion somewhat dry and lacking in technique.
Let's be honest, the only reason she was getting by in this business is the fact when you speak the name Ronda Rousey, there still comes to mind the bad-ass, dominating persona that we all saw in UFC. To fans like myself, that still gives us an incentive to sit down and still watch her matches. She is still an imposing figure whether you like her or not. Another thing that I am not sure she could handle is the WWE Universe.
The WWE Universe
WWE Universe is not exactly like any other sport fans. They cheer who that like and they will boo who they do not like. If a wrestler has a slump or has a bad match, the crowd will eventually let them know "hey, you suck". That is just the way this particular universe works. This is why character development, story line writing, gear change, entrance music change, or turning heel or even baby face keeps a wrestler marketable and in touch with the WWE Universe.
However, Ronda is somewhat different. She left the UFC after coming to terms with two things: 1) She cannot handle losing and 2) Her technique and fighting skills in the UFC just did not help her cut it with opponents like Holly Holm and Amanda Nunes. We all saw this when Holly Holm exposed her by simply fighting fist to fist with her and avoiding submission card Ronda always plays.
We are now seeing this emotional side in which she cannot handle certain outcomes or reactions from the crowd in the WWE. Ronda Rousey coming into the Staples Center for Survivor Series against Charlotte Flair, who was handpicked by 'THE MAN" Becky Lynch to represent Smackdown, turned her into the automatic enemy to the WWE Universe. You can see the reaction on her face coming into the ring that being greeted her to boo's was not a reaction she expected. Even through the acting, she could not phantom why the fans were booing her and you can tell, it bothered her on a personal level.
I do not feel that Ronda has completely learned from the devastating losses she experienced in the UFC.
It took Ronda a year to come back to UFC after the first loss and even then so, the results of her comeback weren't any better as Amanda Nunes knocked her out in the first round.
So if the rumors are true that Ronda is leaving the WWE after WrestleMania 35, it only solidifies that Ronda cannot handle losing or the WWE universe for that matter. She is used to winning and having the crowd and when someone with her ego hasn't had enough experience with being critique on a negative basis or most importantly, with losing in their respected sport, they can react emotionally and irrationally. In turn, it shows they cannot handle the situation. Take The Miz for example, who embraces his heel and uses it to his advantage. I mean look at where he is now and it is possible he might be going to WrestleMania as a baby face. I actually prefer seeing THE MIZ a heel than a baby face, but either one, he embraces it and it shows through his promos.
Can Ronda Be The Top Star?
Ronda is great but not enough to carry the company in my opinion. There is a lesson that should be taught to every child while growing up and that is "the great ones treat failure as a necessary part of their journey. It's not win or lose. It's always win or learn". Quite frankly, I do not feel Ronda has fully learned from her failures. This is what separates her in this business from the Becky Lynch's or Charlotte Flair's or Sasha Bank's.
It will be interesting to see after the heel turn last night on Monday Night Raw, where Ronda takes this change. However, by the look of the crowd last night, It looked like they were not convinced. Her promos were a little too shaky and one could even argue that some things were spoken out of truth to what she is really feeling about WWE from a business perspective. But again, it will still be interesting to see where this goes leading up to WrestleMania 35.
As far as where I would like to see her, I honestly would like to build Ronda's character after WrestleMania. I would love for her to stay and have WWE put her in the "underdog" category and see where she can flourish. I have always said that for certain wrestlers, character building should start from the bottom and work their way up. Great example of this, Stone Cold Steve Austin. The way he began was terrible but him being able to stay true to self and basically not give a damn, developed a character that the WWE Universe could relate to. I would love for WWE to develop her into a great heel similar to what they did with Becky. I would love to see her develop more technique in her wrestling that could boost her confidence and see her in some solid one to one competition. One thing I can agree on is her leaving WWE after WrestleMania can only do damage to her character and perception of the WWE Universe.