The Good, Bad and Ugly: WWE Raw (12/31/18)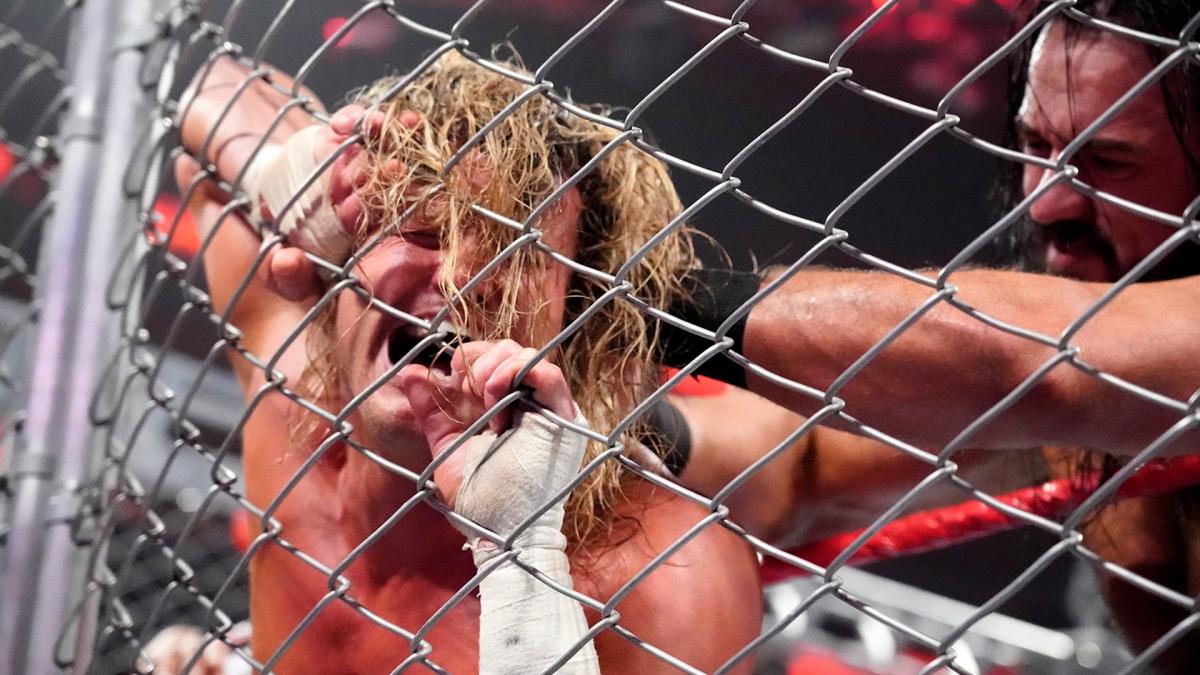 2019 is upon us, and Raw has begun its rebuilding stage.  The McMahon's are in control in a new and exciting way.  Well really, nothing has changed there but the thought that the fans are in control seems to be working.  Raw had a Good week last week, and tonight airing on New Year's Eve should be Good, right?
THE GOOD
Steel Cage Match – Dolph Ziggler vs. Drew McIntyre
Right off the bat, a match.  This is like finding an alien in your yard, rare nowadays.  Not a bad match either.  McIntyre and Ziggler can go, and with the added hardship of a steel cage this looked to be a Good idea.  After multiple near escapes from Ziggler, McIntyre punished The Showoff with brutality.  Mighty chops over and over beating Ziggler down.  Ziggler picked up some steam hitting McIntyre with some decent looking offense, until he was devastated with a Glasgow Kiss.  Both men fought for control, but ended up getting hung up on the top.  If there is anything Bad to say here McIntyre spent way too much time taunting.  Ziggler out of nowhere hit a Famouser but only for a near fall. 
Ziggler hit a huge Superkick for another near fall, and ended up almost getting out of the door.  Ziggler got stopped multiple times before slamming McIntyre's head with the door.  He followed it up with another Famouser but again McIntyre kicked out.  McIntyre after Ziggler almost escaping the cage, got Superplexed from the top of the cage.  Drew McIntyre annihilated Ziggler, slamming him repeatedly into the cage, continuously taunting him. Again out of nowhere, a Zig-Zag for a very near fall.  McIntyre countered an attempted Superkick with a disgusting Claymore Kick.  McIntyre hits a second Claymore Kick this time for the pin-fall and victory. 
McIntyre on his way out, got held up by Ziggler talking trash, and proceeded to beat the hell out of Ziggler, ending it with a Claymore Kick through a chair to Ziggler's head.  McIntyre stated he is now moving on to bigger things, and will be winning the Royal Rumble then will win the Universal Championship.  Ziggler again stopped McIntyre getting another Claymore Kick.  Hell of a match, and great opening to Monday Night Raw.
Seth Rollins Promo
Rollins gets a loud reaction, that's for sure.  He then called out Ambrose for his Intercontinental Championship rematch.  Out comes Triple H.  This was Good already due to their extensive history with each other.  No automatic rematch, no automatic anything anymore according to HHH.  Triple H then rubbed salt in the wound claiming Rollins didn't deserve a shot anyway.  HHH then set Rollins off setting up a match with Bobby Lashley.  Rollins continued his speech, next getting interrupted by Shane McMahon.  McMahon clears the ring stating that there is a "Fresh Start Battle Royal" in which the winner faces Dean Ambrose for the Intercontinental Title.  Decent promo and set up another match.
Fresh Start Battle Royal
Starting off with Balor after such an announcement was a very Good idea, it immediately got the audience invested.  Typical Battle Royal action, nothing special.  Standouts here were Apollo Crews early on.  Finn Balor of course looked Good out there as well.  Crews gave the crowd a sequel and cleaned house again, clearing everyone in his path.  Corbin pulled his plug then later eliminated the favorite, Finn Balor.  Corbin to everyone's disgust looked to have it locked until Crews kicked him in the face, and out of the ring for the victory, and a shot at the Intercontinental Championship against Dean Ambrose.  This was fun and Good all around.  It also served a purpose and set up a potentially decent Intercontinental Title Match later in the night. 
Baron Corbin Promo post Battle Royal
Corbin can be horrendous on the microphone.  He comes off phony and over the top.  The crowd was hot already, when Elias decided to play some Christmas music on his guitar.  This little feud has some potential for mega heat.  A top heel and a top baby-face completely on different poles with the audience.  Corbin ended Elias' encore a little early, and it was a Good thing as Elias was getting long winded even for him.  There was a decent brawl that had some hard hits, and big bumps especially for a set up promo spot.  This could be a Good feud if it continues like it is. 
Ember Moon, Sasha Banks and Bayley vs.  The Riott Squad
Having more of these girls is Good all around.  So much talent and potential.  I would like to see any of them pushed, it would make for some historic matches.  The match started off rough, and a bit awkward at times.  Ember Moon and Ruby Riott picked things up a bit, and it got better from there.  Liv Morgan particularly looked Good, and got the crowds attention with both her outburst and action.  A lot of Good tag team action by both teams.  This is obviously setting up the Tag Team feel for the Women's Division, and it's working.  The Riott Squad had some great tandem moves, but Banks hits the Backstabber followed by a beautiful Macho Man Elbow Drop by Bayley for the hard fought win. 
Seth Rollins vs. Bobby Lashley w/Lio Rush
Lio Rush is very talented especially on the microphone, however he can easily overdo it, and come off cheesy.  Lashley still is worse though.  Having said that, Lashley has looked fantastic in the ring.  The match was high energy, physical and looked Good.  Lio Rush hit a good looking hurricanranna outside slamming Rollins and assisting Lashley.  Bobby Lashley dominated, hurling "The King Slayer" all over the mat.  Rollins slowed down the momentum with multiple suicide dives.  Rollins had a Stomp on Lashley but Rush interfered and Rollins got driven through the ring with a sick spine-buster.  Rollins regained only to be interfered with again by Lio Rush.  Rollins had enough and finally got to Rush.  Lashley attacked but was greeted with a steel chair.  Lashley Wins by D.Q, but Rollins got it in with the chair-shots, ultimately hitting Lio Rush with The Stomp.
THE BAD
Natalya Promo
Natalya didn't get a lot of mic time, however what could have been a save sake was ruined when Nia Jax and Tamina jumped into the scene.  Another plus, is Nia Jax is so hated right now, she has a tremendous amount of heat that any heel would kill for.  Nia was stiff and her attack sounded like it hurt.  Even so, this was a waste of time and accomplished nothing.  It was better than it has been for all parties involved but it would have been better without the talking. 
Jinder Mahal and The Singh Brothers vs.  Heath Slater and Rhyno
Rhyno looked Good and it was nice to have him back.  Heath Slater is Good but not anywhere near his full potential, and Jinder Mahal knows his stuff.  Unfortunately overall, the pace was strange, the action had some extremely awkward timing, and looked uncomfortable.  I like that the matches have been random to set up the Main Event(s) and the crowd seemed to be into it, however the Bad outweighed the Good in this one.  Jinder Mahal and The Singh Brothers Win!
Intercontinental Championship – Dean Ambrose (c) vs. Apollo Crews
The idea of "Fresh" talent getting a shot is awesome!  You have to love Apollo Crews, a natural getting a run against someone as over as Dean Ambrose.  The I.C. Title has meaning again, and the WWE Gods should be proud.  Crews controlled the action most of the match and looked Good.  He hit a ton of big spots, and almost stole the belt.  Ambrose legit looked like a zombie out there.  Something is up with Ambrose, he is The Walking Dead now, and it isn't appealing for his style and pace.  Slowed down Dean Ambrose really needs to wake up, this is starting to hurt his work big time.  He is extremely talented but it isn't showing his stuff currently.  Crews misses a Frog Splash and gets beat by Dirty Deeds.  Ambrose retains.  Had some high spots, but not enough to pull through.  Bravo Apollo Crews though. 
THE UGLY
Nia Jax and Tamina Snuka vs.  Raw Women's Champion Ronda Rousey and Natalya
Rousey looked fantastic all around.  Her strikes were Good, her look was fierce, and she brought her very best.  Unfortunately, Nia Jax and Tamina Snuka are a nightmare.  Nia Jax wrestles in slow motion and Tamina Snuka has the coordination of a hippie on acid.  These two could drag The Rock down.  Nia Jax face looked like the Emoji Movie, full of pure cheese.  Tamina Snuka getting that much time in the ring is criminal and really stunk up the place.  Rousey gets Tamina in the Armbar for the Win!  The more Tamina, the worse it is!  WWE Please get Tamina out of the ring!
FINAL TALLY
THE GOOD:  6
THE BAD:  3
THE UGLY:  1
OVERALL:  Good?  Yes it was, more than half of the show at least.    The talent in the Main Event just wasn't as Good as it needs to be.  Rousey taking a break cannot happen fast enough.  Now fans were subjected to some under par action, however WWE did the job and entertained the masses on New Year's Eve. 
SmackDown has already been made famous on the internet as it was pre-taped.  I see a possible sweep in SmackDown's future.  Could be wrong but doesn't sound like it.  Happy New Year! Be safe and have fun kiddos. 
Cook: Remember Money in the Bank? It's Still a Thing.
Are we sleeping on this Money In The Bank PPV?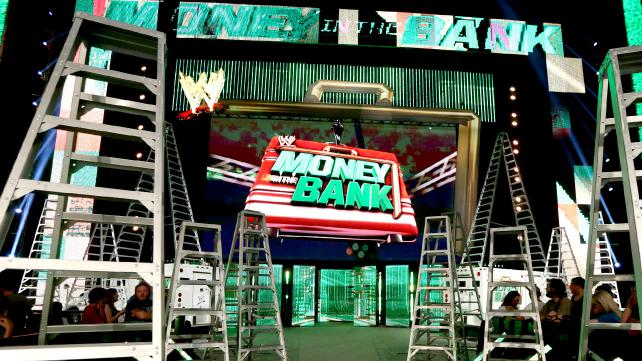 To say it's been a busy week in the world of pro wrestling would be an understatement. Did it cause us to overlook WWE Money In The Bank?
We started off with the untimely death of Silver King inside a London ring. Wednesday saw the official announcement of an a deal between All Elite Wrestling & WarnerMedia to include programming on TNT & B/R Live. Thursday saw the hospitalization of Ric Flair, along with the death of WWE Diva Search 2 winner Ashley Massaro. Such sad news, nothing but the best of wishes to Ashley's family & friends.
Then Friday brought the news of the death of a former Raw guest host. Grumpy Cat was much beloved by members of the Cook Family. As silly as it might seem, Grumpy memes brought my mom, sister & I a connection over the last few years that we might not have had otherwise. They're not wrestling fans, but they did like pictures of Grumpy with WWE Superstars. Grumpy Cat saw & did more in seven years than a lot of us ever will, and now she's moved on to being miserable in Heaven.
All Cats go to Heaven, right?
What's going on in WWE, you ask? Well, everybody's talking about one of a couple of things. There's the business with Lars Sullivan getting fined six figures for saying things several years ago that get people elected to public office in some regions of the country. Of course the ratings are at the center of conversation as well. I have always hated talking about ratings & views & clicks. I know it's never going away. Especially now that we'll have AEW ratings on TNT & maybe some B/R Live subscriber numbers to pore over.
Oh, and we're also talking about how Triple H is feeling frustrated & Vince McMahon is driving all the writers insane. But that last one isn't really new. Vince will continue to drive everybody insane and make himself a bunch of money while doing so until his last day on Earth.
It seems to me that everybody has been talking about everything except the huge event this weekend in Hartford, Connecticut.
Would you believe me if I told you that everything I have done from the first to the last has made me who I am today? How willing I am to risk it all? I'm either walking out of tonight with the #MITB briefcase, or I'm not walking out at all. pic.twitter.com/30xLCkbPrv

— Nikki Cross (@NikkiCrossWWE) May 19, 2019
Money In The Bank
Remember that? I mean, people were trying to tell me it was one of WWE's biggest shows of the year not that long ago! There was a period of time where you could make that argument. In years past, everybody was curious over who would win the briefcase and eventually become champion.
In 2019…I'm not seeing a lot of people all too worried about that. I don't know what it is exactly. I'm guessing there's a confluence of factors going on here leading to Money In The Bank being an afterthought, when it really shouldn't be. I mean, we're getting two multi-person ladder matches, and when aren't those fun? AJ Styles vs. Seth Rollins sounds like a dream match. Becky Lynch will be wrestling two championship matches. The Miz & Shane McMahon are going into a steel cage by gawd!
And Roman Reigns is wrestling…Elias? Well, ok then.
This show has completely faded into the background for most wrestling fans. We're thinking about everything else in the world. AEW has us abuzz with their potential. The most woke among us are more concerned with Lars Sullivan & Saudi Arabia. Which we should be, at least on the latter part because the Saudi regime are quite evil in the grand scheme of things. We should not excuse them because they give Vince McMahon millions of dollars of blood money. Some will. I will not.
Here's the thing.
We're all sleeping on a potential Event of the Year contender. I am too, I've been putting off picks for this event for awhile now because I just don't care. But we are talking about a show with two ladder matches. Styles vs. Rollins. Shane & Miz in a cage. Kofi vs. Owens. Two Becky matches. I guarantee you that once Sunday night rolls around, people will be raving about this show.
It's just impossible to get people hyped up for Money In The Bank right now. Too much is going on. Our brains are overloaded by wrestling, pop culture & the politicians that are trying to take our souls. It's a rough time in America right now, and it doesn't look like it'll be easier anytime soon.
Realistically, all WWE can hope for is to capture our attention on Sunday night. Make us tweet about Money In The Bank all night long & marvel in their splendor. If we get some show-stealing matches on Sunday, you'll see all kinds of columns here and elsewhere about the marvels of WWE, the greatest wrestling company to ever exist.
Until then, we're going to be distracted by other things. Wrestlers dying. Grumpy Cat. Evil politicians. There's a lot going on at our fingertips. I suspect this could be cited by people defending WWE's ratings numbers & Network subscriptions, and they can do that if they like. This is 2019. A lot is going on.
TAKE OUR ATTENTION, WWE!
The Chairshot Staff Picks – Money In The Bank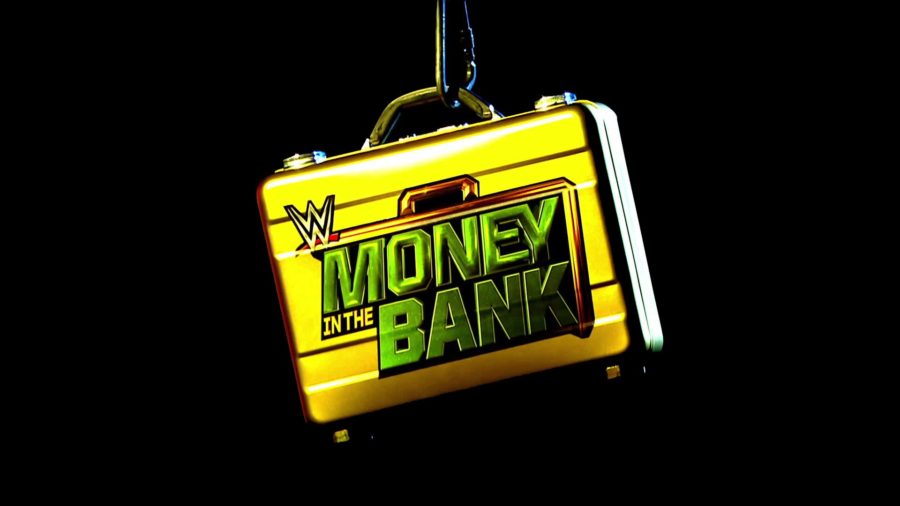 Ladies and gentlemen welcome back to The Chairshot Staff Picks. My name is PC Tunney and I am thrilled to be back at it for Money In The Bank! The time for my favorite gimmick match has returned as we shine up the briefcase and pull out the ladders. Let's jump right in and see how clearly we can see into the mind of Vince McMahon…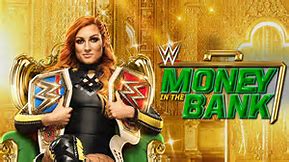 2019 Money In The Bank – Hartford, Connecticut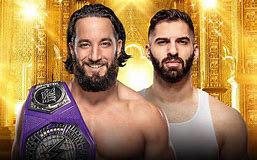 Tony Nese(c) v Ariya Daivari
Bradley Jay – Nese
Bobby Fernandes – Nese
Carol Cassada – Nese
David Levin – Daivari
Harry Broadhurst – Nese
Jason Schufletowski – Nese
Kevin Carrol – Nese
Korey Gunz – Nese
Mason Epeneter – Daivari
Mathew Sarpricone – Nese
Rey Ca$h – Daivari
Rob Bonnette – Nese
Scott Mcleod – Nese
Steve Cook – Nese
Steven Mitchell – Nese
Tiffany Carter – Nese
Dave Ungar – Nese
DPP – Nese
Chris Platt – Nese
Miranda Morales – Nese
Elisa Marie – Daivari
Patrick O'Dowd – Nese
Greg DeMarco – Nese
Tunney's Take: While Tony Nese is a solid performer with a great look, he comes across as very plain and ordinary to me. Time to switch that strap again. My Pick is Ariya Daivari
The Chairshot – Tony Nese 19-5 #UseYourHead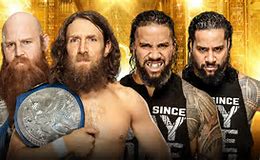 Daniel Bryan & Rowan(c) v The Usos
Bradley Jay – DB & Rowan
Bobby Fernandes – Usos
Carol Cassada – DB & Rowan
David Levin – DB & Rowan
Harry Broadhurst – DB & Rowan
Jason Schufletowski – DB & Rowan
Kevin Carrol – DB & Rowan
Korey Gunz – DB & Rowan
Mason Epeneter – Usos
Mathew Sarpricone – DB & Rowan
Rey Ca$h – DB & Rowan
Rob Bonnette – DB & Rowan
Scott Mcleod – DB & Rowan
Steve Cook – Usos
Steven Mitchell – DB & Rowan
Tiffany Carter – DB & Rowan
Dave Ungar – DB & Rowan
DPP – DB & Rowan
Chris Platt – DB & Rowan
Miranda Morales – DB & Rowan
Elisa Marie – DB & Rowan
Patrick O'Dowd – DB & Rowan
Greg DeMarco – DB & Rowan
Tunney's Take: With the Usos move to RAW I just don't see them winning the belts here. My pick is Daniel Bryan and Rowan
The Chairshot – Daniel Bryan & Rowan 21-3 #UseYourHead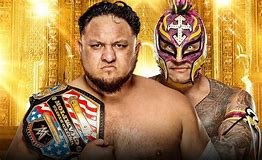 Samoa Joe(c) v Rey Mysterio
Bradley Jay – Joe
Bobby Fernandes – Rey
Carol Cassada – Rey
David Levin – Joe
Harry Broadhurst – Joe
Jason Schufletowski – Joe
Kevin Carrol – Joe
Korey Gunz – Rey
Mason Epeneter – Joe
Mathew Sarpricone – Joe
Rey Ca$h – Joe
Rob Bonnette -Joe
Scott Mcleod – Joe
Steve Cook – Joe
Steven Mitchell – Rey
Tiffany Carter – Rey
Dave Ungar – Joe
DPP – Joe
Chris Platt – Joe
Miranda Morales – Joe
Elisa Marie – Joe
Patrick O'Dowd – Joe
Greg DeMarco – Rey
Tunney's Take: It's time for the Rey and Dominic's feel good moment of 2019. My pick is Rey Mysterio
The Chairshot – Samoa Joe 17-7 #UseYourHead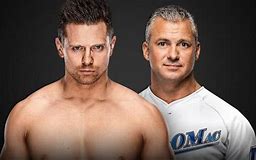 The MiZ v Shane McMahon (Steel Cage Match)
Bradley Jay – MiZ
Bobby Fernandes – MiZ
Carol Cassada – MiZ
David Levin – MiZ
Harry Broadhurst – MiZ
Jason Schufletowski – MiZ
Kevin Carrol – MiZ
Korey Gunz – Shane
Mason Epeneter – MiZ
Mathew Sarpricone – MiZ
Rey Ca$h – Shane
Rob Bonnette – MiZ
Scott Mcleod – MiZ
Steve Cook – MiZ
Steven Mitchell – MiZ
Tiffany Carter – Shane
Dave Ungar – Shane
DPP – MiZ
Chris Platt – MiZ
Miranda Morales – MiZ
Elisa Marie – MiZ
Patrick O'Dowd – MiZ
Greg DeMarco – MiZ
Tunney's Take: I thinks the use of a steel cage to end this rivalry is an excellent move. MiZ is HOT right now and needs to take some momentum into his next storyline. My pick is the MiZ
The Chairshot – The MiZ 20-4 #UseYourHead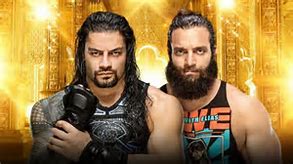 Roman Reigns v Elias
Bradley Jay – Roman
Bobby Fernandes – Roman
Carol Cassada – Roman
David Levin – Roman
Harry Broadhurst – Roman
Jason Schufletowski – Elias
Kevin Carrol – Roman
Korey Gunz – Roman
Mason Epeneter – Roman
Mathew Sarpricone – Elias
Rey Ca$h – Elias
Rob Bonnette – Roman
Scott Mcleod – Roman
Steve Cook – Roman
Steven Mitchell – Roman
Tiffany Carter – Roman
Dave Ungar – Roman
DPP – Elias
Chris Platt – Roman
Miranda Morales – Roman
Elisa Marie – Roamn
Patrick O'Dowd – Roman
Greg DeMarco – Roman
Tunney's Take: This match has Shane McMahon interference written all over it. Shane walks with Elias. My pick is Elias
The Chairshot – Roman Reigns 19-5 #UseYourHead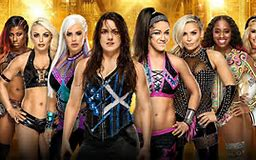 Women's MITB
Bradley Jay – Moon
Bobby Fernandes – Bayley
Carol Cassada – Bayley
David Levin – Bayley
Harry Broadhurst – Bayley
Jason Schufletowski – Cross
Kevin Carrol – Moon
Korey Gunz – Beyley
Mason Epeneter – Dana
Mathew Sarpricone – Bayley
Rey Ca$h – Moon
Rob Bonnette – Bayley
Scott Mcleod – Bayley
Steve Cook – Mandy
Steven Mitchell – Bayley
Tiffany Carter – Bayley
Dave Ungar – Moon
DPP – Dana
Chris Platt – Mandy
Miranda Morales – Cross
Elisa Marie – Cross
Patrick O'Dowd – Dana
Greg DeMarco – Dana
Tunney's Take: I would absolutely love to see Nikki Cross win here. I'll play with you Nikki! The timing feels right for the SHENOM, though. My pick is Ember Moon
The Chairshot – Bayley 10, Ember Moon 5, Dana Brooke 4, Nikki Cross 3, Mandy Rose 2 #UseYourHead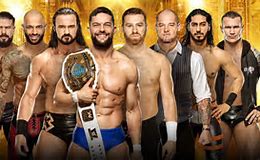 Men's MITB
Bradley Jay – Andrade
Bobby Fernandes – McIntyre
Carol Cassada – Corbin
David Levin – McIntyre
Harry Broadhurst – Andrade
Jason Schufletowski – McIntyre
Kevin Carrol – Andrade
Korey Gunz – McIntyre
Mason Epeneter – Sami
Mathew Sarpricone – McIntyre
Rey Ca$h – Andrade
Rob Bonnette – Andrade
Scott Mcleod – McIntyre
Steve Cook – Andrade
Steven Mitchell – McIntyre
Tiffany Carter – Ricochet
Dave Ungar – McIntyre
DPP – McIntyre
Chris Platt – McIntyre
Miranda Morales – Andrade
Elisa Marie – McIntyre
Patrick O'Dowd – McIntyre
Greg DeMarco – Andrade
Tunney's Take: There are a number of interesting choices you could make a case for here. Ricochet to me would benefit greatly having a MITB briefcase run. Sami Zayn's dynamic with KO would also be very interesting by adding the briefcase to it. Andrade seems to have that smell about him these days though, like he is ready to explode. My pick is Andrade
The Chairshot – Drew McIntyre 12, Andrade 9, Ricochet 1, Baron Corbin 1, Sami Zayn 1 #UseYourHead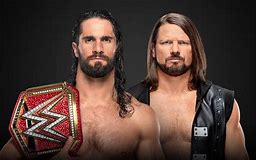 Seth Rollins(c) v AJ Styles
Bradley Jay – Seth
Bobby Fernandes – Seth
Carol Cassada – Seth
David Levin – Seth
Harry Broadhurst – Double Pin
Jason Schufletowski – Seth
Kevin Carrol – Seth
Korey Gunz – Seth
Mason Epeneter – Seth
Mathew Sarpricone – Seth
Rey Ca$h – Seth
Rob Bonnette – Seth
Scott Mcleod – Seth
Steve Cook – Seth
Steven Mitchell – Seth
Tiffany Carter – Seth
Dave Ungar – No Contest
DPP – Seth
Chris Platt – Seth
Miranda Morales – Seth
Elisa Marie – Seth
Patrick O'Dowd – Seth
Greg DeMarco – Seth
Tunney's Take: I do really like Dave Ungar's idea of a Brock Lesnar caused NC. However, I see Seth coming away with the title and a victory here. My pick is Seth Rollins
The Chairshot – Seth Rollins 22-0-2 #Use Your Head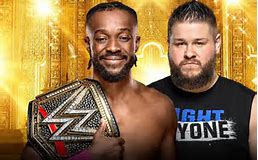 Kofi Kingston(c) v Kevin Owens
Bradley Jay – Kofi
Bobby Fernandes – Kofi
Carol Cassada – Kofi
David Levin – Kofi
Harry Broadhurst – KO
Jason Schufletowski – Kofi
Kevin Carrol – Kofi
Korey Gunz – Kofi
Mason Epeneter – Kofi
Mathew Sarpricone – Kofi
Rey Ca$h – Kofi
Rob Bonnette – Kofi
Scott Mcleod – Kofi
Steve Cook – Kofi
Steven Mitchell – Kofi
Tiffany Carter – Kofi
Dave Ungar – Kofi
DPP – Kofi
Chris Platt – Kofi
Miranda Morales – Kofi
Elisa Marie – Kofi
Patrick O'Dowd – Kofi
Greg DeMarco – Kofi
Tunney's Take: Kofi Kingston will be defending the WWE title at SummerSlam, BOOK IT!!! My pick is Kofi Kingston
The Chairshot – Kofi Kingston 23-1 #UseYourHead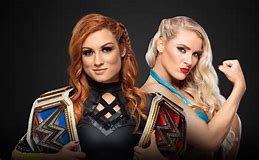 Becky Lynch(c) v Lacey Evans
Bradley Jay – Becky
Bobby Fernandes – Becky
Carol Cassada – Becky
David Levin – Becky
Harry Broadhurst – Becky
Jason Schufletowski – Lacey
Kevin Carrol – Becky
Korey Gunz – Becky
Mason Epeneter – Lacey
Mathew Sarpricone – Becky
Rey Ca$h – Becky
Rob Bonnette – Becky
Scott Mcleod – Becky
Steve Cook – Becky
Steven Mitchell – Becky
Tiffany Carter – Becky
Dave Ungar – Lacey
DPP – Becky
Chris Platt – Becky
Miranda Morales – Becky
Elisa Marie – Becky
Patrick O'Dowd – Lacey
Greg DeMarco – Lacey
Tunney's Take: Lacey Evans is ready to be the champ. Charlotte will help her get there. My pick is Lacey Evans
The Chairshot – Becky Lynch 18-6 #UseYourHead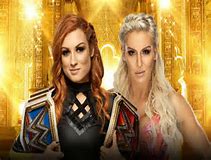 Becky Lynch(c) v Charlotte Flair
Bradley Jay – Charlotte
Bobby Fernandes – Charlotte
Carol Cassada – Becky
David Levin – Becky
Harry Broadhurst – Charlotte
Jason Schufletowski – Becky
Kevin Carrol – Charlotte
Korey Gunz – Becky
Mason Epeneter – Charlotte
Mathew Sarpricone – Becky
Rey Ca$h – Becky
Rob Bonnette – Charlotte
Scott Mcleod – Becky
Steve Cook – Becky
Steven Mitchell – Becky
Tiffany Carter – Becky
Dave Ungar – Becky
DPP – Charlotte
Chris Platt – Charlotte
Miranda Morales – Charlotte
Elisa Marie – Charlotte
Patrick O'Dowd – Becky
Greg DeMarco – Becky
Tunney's Take: I see Becky and Charlotte both on SmackDown as it moves to FOX. My pick is Becky Lynch
The Chairshot – Becky Lynch 14-10 #UseYourHead
A BIG thankyou once again to all of the staff that participated and all of the fans of TheChairshot for reading. Find me on the Twitter @PCTunney to see who made the best picks. And of course, ALWAYS #UseYourHead and visit thechairshot.com for all of your pro wrestling needs! ENJOY MITB!!!