The Good, Bad and Ugly: WWE Raw (12/31/18)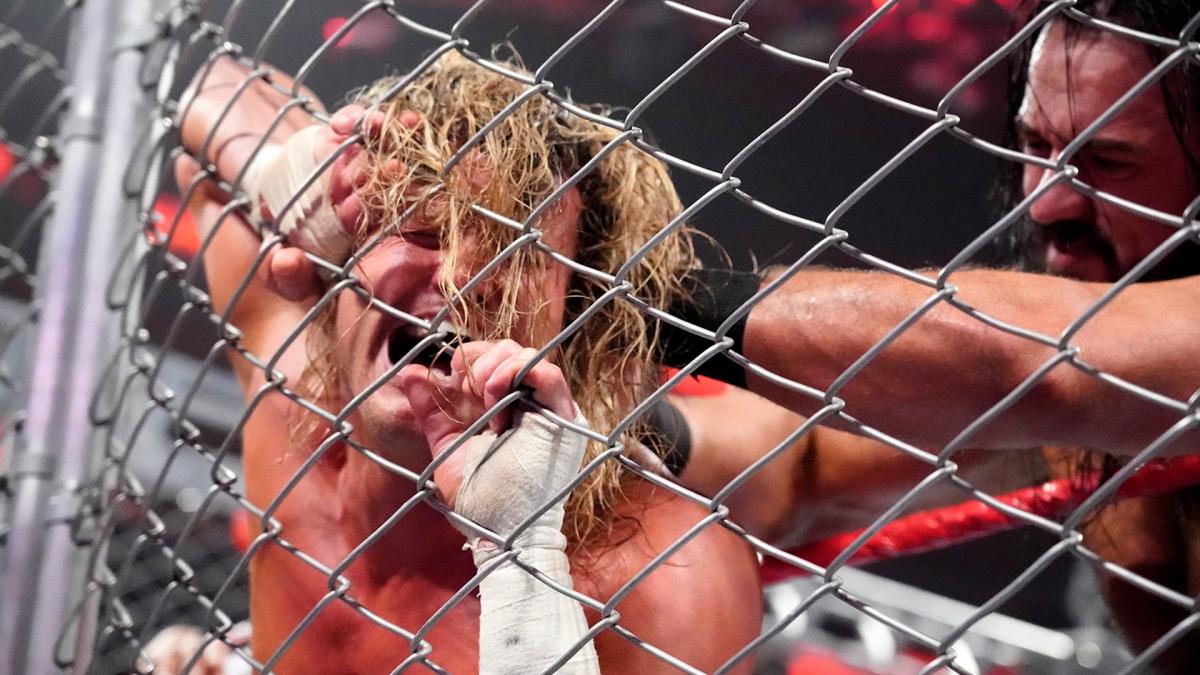 2019 is upon us, and Raw has begun its rebuilding stage.  The McMahon's are in control in a new and exciting way.  Well really, nothing has changed there but the thought that the fans are in control seems to be working.  Raw had a Good week last week, and tonight airing on New Year's Eve should be Good, right?
THE GOOD
Steel Cage Match – Dolph Ziggler vs. Drew McIntyre
Right off the bat, a match.  This is like finding an alien in your yard, rare nowadays.  Not a bad match either.  McIntyre and Ziggler can go, and with the added hardship of a steel cage this looked to be a Good idea.  After multiple near escapes from Ziggler, McIntyre punished The Showoff with brutality.  Mighty chops over and over beating Ziggler down.  Ziggler picked up some steam hitting McIntyre with some decent looking offense, until he was devastated with a Glasgow Kiss.  Both men fought for control, but ended up getting hung up on the top.  If there is anything Bad to say here McIntyre spent way too much time taunting.  Ziggler out of nowhere hit a Famouser but only for a near fall. 
Ziggler hit a huge Superkick for another near fall, and ended up almost getting out of the door.  Ziggler got stopped multiple times before slamming McIntyre's head with the door.  He followed it up with another Famouser but again McIntyre kicked out.  McIntyre after Ziggler almost escaping the cage, got Superplexed from the top of the cage.  Drew McIntyre annihilated Ziggler, slamming him repeatedly into the cage, continuously taunting him. Again out of nowhere, a Zig-Zag for a very near fall.  McIntyre countered an attempted Superkick with a disgusting Claymore Kick.  McIntyre hits a second Claymore Kick this time for the pin-fall and victory. 
McIntyre on his way out, got held up by Ziggler talking trash, and proceeded to beat the hell out of Ziggler, ending it with a Claymore Kick through a chair to Ziggler's head.  McIntyre stated he is now moving on to bigger things, and will be winning the Royal Rumble then will win the Universal Championship.  Ziggler again stopped McIntyre getting another Claymore Kick.  Hell of a match, and great opening to Monday Night Raw.
Seth Rollins Promo
Rollins gets a loud reaction, that's for sure.  He then called out Ambrose for his Intercontinental Championship rematch.  Out comes Triple H.  This was Good already due to their extensive history with each other.  No automatic rematch, no automatic anything anymore according to HHH.  Triple H then rubbed salt in the wound claiming Rollins didn't deserve a shot anyway.  HHH then set Rollins off setting up a match with Bobby Lashley.  Rollins continued his speech, next getting interrupted by Shane McMahon.  McMahon clears the ring stating that there is a "Fresh Start Battle Royal" in which the winner faces Dean Ambrose for the Intercontinental Title.  Decent promo and set up another match.
Fresh Start Battle Royal
Starting off with Balor after such an announcement was a very Good idea, it immediately got the audience invested.  Typical Battle Royal action, nothing special.  Standouts here were Apollo Crews early on.  Finn Balor of course looked Good out there as well.  Crews gave the crowd a sequel and cleaned house again, clearing everyone in his path.  Corbin pulled his plug then later eliminated the favorite, Finn Balor.  Corbin to everyone's disgust looked to have it locked until Crews kicked him in the face, and out of the ring for the victory, and a shot at the Intercontinental Championship against Dean Ambrose.  This was fun and Good all around.  It also served a purpose and set up a potentially decent Intercontinental Title Match later in the night. 
Baron Corbin Promo post Battle Royal
Corbin can be horrendous on the microphone.  He comes off phony and over the top.  The crowd was hot already, when Elias decided to play some Christmas music on his guitar.  This little feud has some potential for mega heat.  A top heel and a top baby-face completely on different poles with the audience.  Corbin ended Elias' encore a little early, and it was a Good thing as Elias was getting long winded even for him.  There was a decent brawl that had some hard hits, and big bumps especially for a set up promo spot.  This could be a Good feud if it continues like it is. 
Ember Moon, Sasha Banks and Bayley vs.  The Riott Squad
Having more of these girls is Good all around.  So much talent and potential.  I would like to see any of them pushed, it would make for some historic matches.  The match started off rough, and a bit awkward at times.  Ember Moon and Ruby Riott picked things up a bit, and it got better from there.  Liv Morgan particularly looked Good, and got the crowds attention with both her outburst and action.  A lot of Good tag team action by both teams.  This is obviously setting up the Tag Team feel for the Women's Division, and it's working.  The Riott Squad had some great tandem moves, but Banks hits the Backstabber followed by a beautiful Macho Man Elbow Drop by Bayley for the hard fought win. 
Seth Rollins vs. Bobby Lashley w/Lio Rush
Lio Rush is very talented especially on the microphone, however he can easily overdo it, and come off cheesy.  Lashley still is worse though.  Having said that, Lashley has looked fantastic in the ring.  The match was high energy, physical and looked Good.  Lio Rush hit a good looking hurricanranna outside slamming Rollins and assisting Lashley.  Bobby Lashley dominated, hurling "The King Slayer" all over the mat.  Rollins slowed down the momentum with multiple suicide dives.  Rollins had a Stomp on Lashley but Rush interfered and Rollins got driven through the ring with a sick spine-buster.  Rollins regained only to be interfered with again by Lio Rush.  Rollins had enough and finally got to Rush.  Lashley attacked but was greeted with a steel chair.  Lashley Wins by D.Q, but Rollins got it in with the chair-shots, ultimately hitting Lio Rush with The Stomp.
THE BAD
Natalya Promo
Natalya didn't get a lot of mic time, however what could have been a save sake was ruined when Nia Jax and Tamina jumped into the scene.  Another plus, is Nia Jax is so hated right now, she has a tremendous amount of heat that any heel would kill for.  Nia was stiff and her attack sounded like it hurt.  Even so, this was a waste of time and accomplished nothing.  It was better than it has been for all parties involved but it would have been better without the talking. 
Jinder Mahal and The Singh Brothers vs.  Heath Slater and Rhyno
Rhyno looked Good and it was nice to have him back.  Heath Slater is Good but not anywhere near his full potential, and Jinder Mahal knows his stuff.  Unfortunately overall, the pace was strange, the action had some extremely awkward timing, and looked uncomfortable.  I like that the matches have been random to set up the Main Event(s) and the crowd seemed to be into it, however the Bad outweighed the Good in this one.  Jinder Mahal and The Singh Brothers Win!
Intercontinental Championship – Dean Ambrose (c) vs. Apollo Crews
The idea of "Fresh" talent getting a shot is awesome!  You have to love Apollo Crews, a natural getting a run against someone as over as Dean Ambrose.  The I.C. Title has meaning again, and the WWE Gods should be proud.  Crews controlled the action most of the match and looked Good.  He hit a ton of big spots, and almost stole the belt.  Ambrose legit looked like a zombie out there.  Something is up with Ambrose, he is The Walking Dead now, and it isn't appealing for his style and pace.  Slowed down Dean Ambrose really needs to wake up, this is starting to hurt his work big time.  He is extremely talented but it isn't showing his stuff currently.  Crews misses a Frog Splash and gets beat by Dirty Deeds.  Ambrose retains.  Had some high spots, but not enough to pull through.  Bravo Apollo Crews though. 
THE UGLY
Nia Jax and Tamina Snuka vs.  Raw Women's Champion Ronda Rousey and Natalya
Rousey looked fantastic all around.  Her strikes were Good, her look was fierce, and she brought her very best.  Unfortunately, Nia Jax and Tamina Snuka are a nightmare.  Nia Jax wrestles in slow motion and Tamina Snuka has the coordination of a hippie on acid.  These two could drag The Rock down.  Nia Jax face looked like the Emoji Movie, full of pure cheese.  Tamina Snuka getting that much time in the ring is criminal and really stunk up the place.  Rousey gets Tamina in the Armbar for the Win!  The more Tamina, the worse it is!  WWE Please get Tamina out of the ring!
FINAL TALLY
THE GOOD:  6
THE BAD:  3
THE UGLY:  1
OVERALL:  Good?  Yes it was, more than half of the show at least.    The talent in the Main Event just wasn't as Good as it needs to be.  Rousey taking a break cannot happen fast enough.  Now fans were subjected to some under par action, however WWE did the job and entertained the masses on New Year's Eve. 
SmackDown has already been made famous on the internet as it was pre-taped.  I see a possible sweep in SmackDown's future.  Could be wrong but doesn't sound like it.  Happy New Year! Be safe and have fun kiddos.