Will Sasha Banks vs Ronda Rousey Deliver at the WWE Royal Rumble?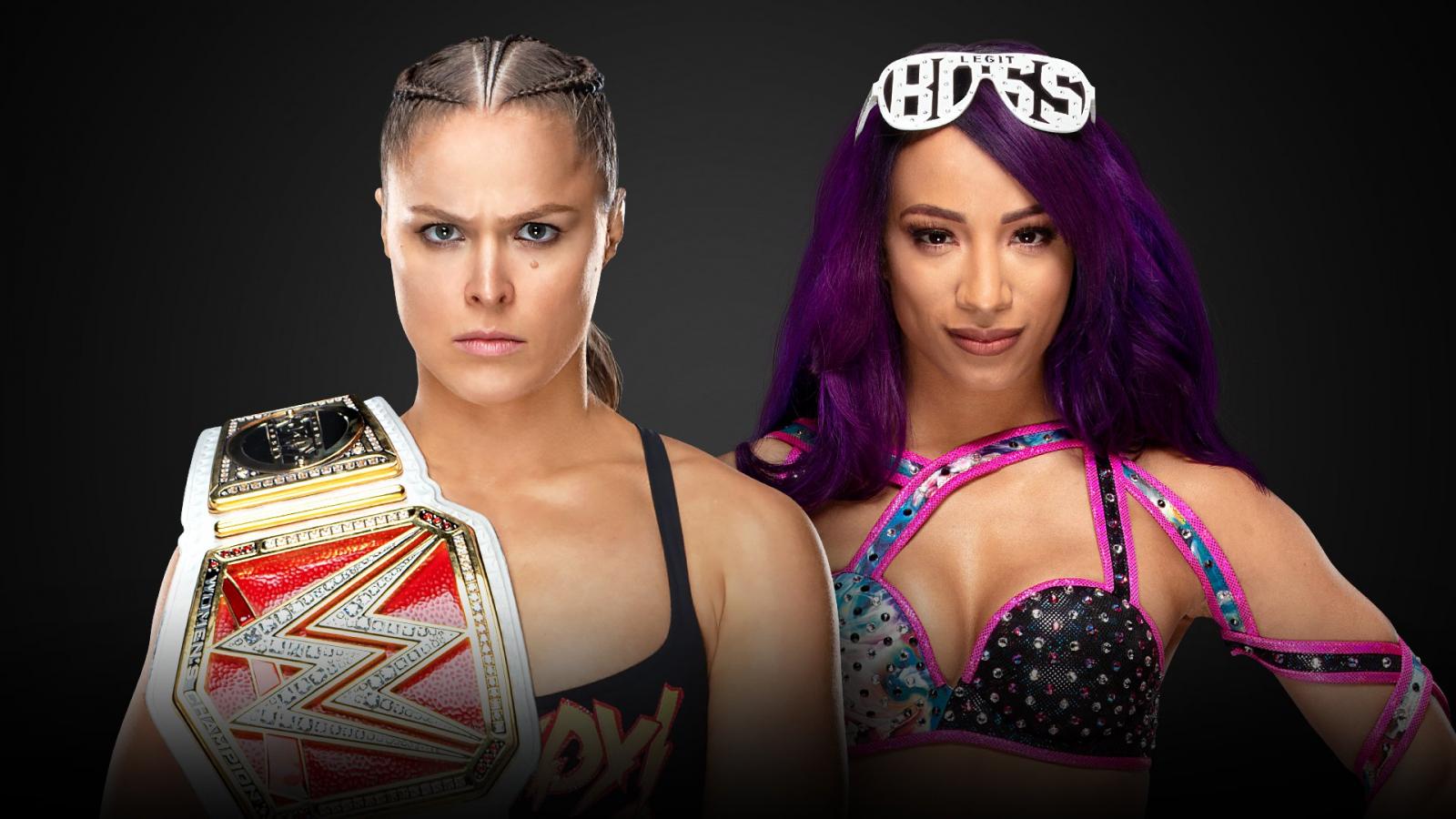 Ronda Rousey will defend the Raw Women's Championship against Sasha Banks at The Royal Rumble on Sunday, January 27. The Baddest Woman on the Planet recently challenged The Boss on Monday Night Raw for the Rumble match and Banks quickly accepted.
The storyline itself has thrown many fans off because of its suddenness. Sasha was not in title contention and has not been in that spot for quite some time. Now she's booked against WWE's hottest star and some have a serious problem with it. But they may be missing the big picture.
It's true that Sasha didn't seem to have a place in this spot. Rousey has had heat with both Becky Lynch and Charlotte Flair, as well as Nia Jax. Ronda is in constant fight mode with The Riott Squad and there is more than one reason to keep her away from Banks right now.
But maybe that's not the case after all. Banks has indeed not been on the championship radar, however that does not mean she can't slide in and immediately make an impact. Sasha has been a top star in WWE's women's division and that has been true from day one.
From the moment she arrived on Raw alongside Flair and Lynch, Banks was thrust into the main event spotlight. She was expected to step up and deliver, to prove her worth on the company's flagship program. She did just that and much more. 
Maybe she wasn't in the original plan for Rousey, or maybe she was always in the plan from the beginning. There is really no way for fans to know that for certain either way. But Sasha Banks delivering in the ring should never be in doubt. The truth is that she is indeed one of the best female stars that the company has to offer.
But the key for Banks is she needs the right opponent to compete against. Sasha is at her best when she's challenged in the ring and Charlotte Flair challenged her more than anyone else. They had one of the most intense rivalries that WWE fans have ever seen and possibly the greatest rivalry that the women's division has ever seen as well.
She's also shown flashes of brilliance with other Superstars along the way, including Bayley. Their relationship is a complicated one, mostly because they exist and compete, as sisters. They don't always get along and sometimes their problems will lead to a brawl. But in the end, they always come back together. It's an odd situation but it's working for them thus far.
But Banks was forced to earn her Raw Women's Championship match by facing Jax on Raw and that match was far from being an instant classic. In fact some fans watched that match with the belief that Sasha didn't deserve to face Ronda. She didn't look good and everyone could see it.
Of course the WWE faithful must also recognize that Banks was in the ring with a woman who has arguably never lived up to expectations. Some would even say that Nia Jax is really not a threat to anyone at this point. She often makes promises she cannot keep. She bullies her way around the program but she can never make good on her threats.
Jax's booking has indeed been atrocious. But it's her work between the ropes that continues to do the most damage to her WWE career. This has gone far beyond Jax's ability to work safely. This is a matter of whether or not Nia is good enough to even work in the ring on the WWE stage. This is the woman that faced Sasha Banks on Raw.
So fans must look past that match and consider what Banks brings to the table in her upcoming match against Ronda Rousey. Sasha can get the job done in the ring and she's proven that on more than one occasion. She definitely has the attitude and the character to make an impact against the strait-laced champ. Sasha Banks will bring all of the swagger and personality that has made her famous. But she may also bring something more.
What are the chances that Banks makes such an impact against Rousey that WWE will want to see more of the two in the ring? More importantly, what if the fans ultimately want to see more from them as well?
The idea of Rousey versus Banks was immediately dismissed by some from the beginning. But the match hasn't even happened yet, which means anything can happen on January 27. Rousey has muscled her way through more than one match, but what if she can't do that against The Boss?
If fans can't agree on anything when it comes to Sasha Banks, they must surely agree that she is one of the toughest women in the company. Her grit and resiliency defy her 5'5" frame. Banks is intense, she's determined and most of all, she's extremely capable. A highly motivated Sasha Banks is fun to watch and that will likely be the case once again at The Royal Rumble.
Banks may leave the Rumble as WWE's newest heel. Or she may even heel out Ronda. The women's division has proven to be one of the most unpredictable divisions in WWE. Every time the company plans to go right, things suddenly take a hard left. No one expected Becky Lynch to have the breakout year that she had in 2018. What if the same thing happens for Sasha Banks in 2019?
The fact is that despite what happens on January 27, Banks deserves the chance to deliver as only she can. Fans know what she can do and she will do it again against Ronda Rousey. This is Sasha's time to show up and show off. Fans may indeed get much more than they expected when Banks and Rousey lock up at The Royal Rumble.