WWE Week in Review: January 14-20, 2019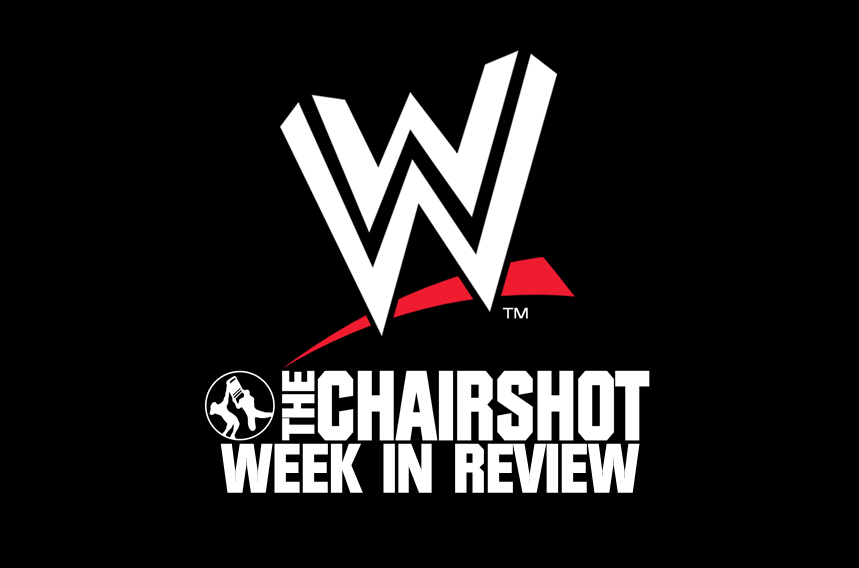 Tiffany brings us the rundown of the week that was in WWEland. Let's see how it all plays out before the Royal Rumble week!
We are a week away from the Royal Rumble and the fur is starting to fly!
On RAW, Braun Strowman's temper costs him big time. The Revival learn to fight fire with fire. Four men are granted the chance of a lifetime. Dean Ambrose defends his title against Seth Rollins and Bobby Lashley, and the Women's Division gets their first look at a game-changer while Sasha Banks and Ronda Rousey's war of words gets heated and starts pulling everyone in.
On SmackDown, AJ Styles strikes back at Daniel Bryan. Rey Mysterio and Andrade Almas meet in a dream match. Mandy Rose's mind games with Naomi take a shocking turn.
On NXT UK, the fallout from TakeOver begins. The White Witch looks to put the so-called Queen in her place. El Ligero faces Joseph Conners, and Mark Andrews and Flash Morgan Webster look to vanquish Fabian Aichner and Marcel Barthel.
On 205 Live, everyone is ramping up for the big Fatal Four Way. Buddy Murphy issues an open challenge and Lio Rush looks for revenge against the Lucha House Party.
On NXT, Aleister Black and Tommaso Ciampa discuss their upcoming rematch. Johnny Gargano faces Humbert Carrillo. Street Profits look to get back in the game, and Bianca Belair and Shayna Baszler face each other before their title match at TakeOver.
How did WWE do? Let's find out!
RAW
Universal Championship: Braun Strowman certainly had reasons to be in a good mood on Monday. In thirteen days, he was meeting Brock Lesnar at the Royal Rumble, then Baron Corbin happened. Strowman was in the ring giving a promo when Corbin came out and ran his mouth, saying that Strowman constantly lets the fans down. Furious, Strowman chased Corbin to the back, but the Lone Wolf got away. Thankfully, Strowman got an assist from Elias, who sang to him that said that Corbin was hiding in the limo parked in the unloading area of the arena. When Corbin refused to come out of the limo, Strowman snapped and ripped the door to the limo OFF THE HINGES, only to be confronted by a FURIOUS Vince McMahon, who just HAPPENED to 'own' the limo.
To his credit, Strowman tried to fix the limo, but to no avail. Vince fined him $100k for his actions, when Strowman scoffed at the amount, Vince did him one better, he STRIPPED Strowman of his Universal Championship match two weeks before Royal Rumble. Understandably even angrier than before, Strowman retaliated by FLIPPING the limo over. That'll show 'em.
Vince went to the ring to address the sudden lack of a #1 Contender for the Universal Championship. Before he can get started, he's interrupted by John Cena! Cena has the perfect solution to this little problem, put him in the championship match! Cena was then interrupted by Drew McIntyre, who thought Cena was the LAST person who should get a title shot, especially with his truly around. McIntyre was interrupted by Baron Corbin, who was then interrupted by Finn Balor, who doesn't think any of them should be getting a shot over the FIRST Universal Champion.
Vince admitted to admiring Balor's guts, but doesn't think he's big enough for the job. Balor challenged that notion and all hell breaks loose, which inspires Vince to make a Fatal Four Way match between the four men in the ring, winner goes to Royal Rumble.
However, Balor getting a chance to POSSIBLY face Lesnar at the Royal Rumble didn't sit well with everyone, namely Jinder Mahal, who saw no reason why he shouldn't have gotten the slot. Vince gives him a shot, if he can beat Balor in a one on one match, he'll get the spot in the Fatal Four Way.
Mahal and the Singhs did their best, but Balor had come too far to be stopped by Mahal and his goons. That said, it was a really good match but the outcome was never really in doubt. Balor put away Mahal with a Coup de Grace and moved on to the Fatal Four Way.
Balor had accused Vince of not taking him seriously, but McIntyre and Corbin certainly did, as both did their best to take Balor out of the equation early in the match. It was a hell of a fight for all four men, but Finn Balor would shock the WWE Universe and WIN the match, earning himself the chance to face Brock Lesnar at the Royal Rumble.
Intercontinental Championship: Last week, what was supposed to be the final match between Dean Ambrose and Seth Rollins over the Intercontinental Championship ended in controversy when Bobby Lashley attacked Seth Rollins, costing him the match. Now, the logical thing to do would be to have Rollins and Lashley meet in a match and have Ambrose face someone else, but someone decided to have Rollins and Lashley face Ambrose for the Intercontinental Championship instead.
Ambrose, the Moral Compass of WWE, fumed about this stating that in a world of right and wrong, him having to defend his title against Rollins again and against Lashley, who had done nothing to ear the opportunity, was wrong and Ambrose is never wrong.
The match was really good, and it gave us Shield fans a chance to see Ambrose and Rollins working together as a team again, even if it was just out of mutual dislike for Lashley. Unfortunately, Lio Rush proved to be the deciding factor and Lashley would become the NEW Intercontinental Champion.
Ambrose was furious, especially since he was the one pinned, and since there's no rematch clause, he doesn't get an automatic second chance, but we can be sure that the Moral Compass of WWE will do what he has to to right this injustice.
Women's Division: Ronda Rousey and Sasha Banks are scheduled to meet at the Royal Rumble for the Raw Women's Title, but they have some mutual adversaries to deal with, namely Nia Jax and Tamina Snuka.
This was kind of a dream team up for a lot of fans, and Rousey and Banks certainly gave the fans the teamwork you'd expect. Banks did most of the match and reminded everyone why she is the Boss of WWE, including her tag team partner. After the match was over, the two women were interviewed by Charli Caruso and Rousey made the mistake of saying that she would make Sasha tap at Royal Rumble. That did it.
Sasha fired back that she was going to teach Rousey to lose with class and that she WILL make Rousey tap out and take back her title.
That should've been the end of it, but the argument kept going backstage and drew in Bayley and Nattie, who then proceeded to argue about whose BFF was in the right, which greatly amused the Riott Squad, who challenged the bickering pair to a six woman tag. Issue? There wasn't really a sixth woman available, at least not from the current roster that Nattie and Bayley could call on. Or is there?
Well, RAW just got a little crazier. Nattie and Bayley did manage to find a +1 for their tag match against the Riott Squad and it was Nikki Cross! The Twisted Sister of NXT wasted no time in bringing her particular brand of chaos to the ring, much to the chagrin of the Riott Squad and Nikki's…playfulness proved to be the decider as she helped Bayley pick up the win for the babyfaces. Look out, RAW, Nikki wants to play!
Alexa Bliss' A Moment of Bliss was such a hit last week, I guess, that she got a second episode, but the self-proclaimed Goddess had a VERY awkward moment when her assistant was so eager to deliver her coffee to her that he walked in while she was topless.
Recovering her senses, Bliss went on to host A Moment of Bliss with a very cool guest, Paul Heyman, but first, Little Miss Bliss had a debut to MC, the new Women's Tag Team Titles have arrived and they are gorgeous, Bliss also revealed that the new champions would be crowned at Elimination Chamber. Bliss' interview with Heyman, even with all the chaos, consisted of Heyman hyping Brock Lesnar, nothing really interesting, until Otis 'Dozer' Dozovic of Heavy Machinery burst onto the scene, warning a stunned Heyman and Bliss that he and Tucker Knight are coming, before being ushered away by Tucker Knight.
Tag Team Division: For months, the Revival have struggled to become the RAW Tag Team Champions and have always come up short. After the disastrous Lumberjack Match that saw Roode and Gable retain despite Dawson's foot CLEARLY being on the rope, the Top Guys decided to fight back, and their first targets were the guys who were in clear position to set the ref straight and refused: Lucha House Party.
Revival and LHP have had a pretty intense rivalry and LHP always got the win due to competing under Lucha House rules, but this time, the Revival was ready for them. Lucha House Rules seem to have been done away with when the McMahons took back control of WWE, so it was a  straight 2-2 match, but that didn't stop Lince Dorado from trying to help Kalisto and Gran Metalik. However, the reversal of Lucha House Rules proved to be the advantage Dash and Dawson needed to FINALLY beat the Lucha House Party fair and square, Dash even got a little revenge on LHP by knocking Metalik's foot off the bottom rope during the final pin. Revival have vanquished one (three) foe(s), but will that get them a third chance at the RAW Tag Titles?
SmackDown
WWE Championship: For weeks, Daniel Bryan has been proving that there is nothing more annoying than a health nut with a mission, railing against the processed foods and consumerism that makes up American life, and just generally being a pest. This week, #1 Contender AJ Styles struck back for every American's right to eat processed junk food and buy cheap shirts made in China.
To prove his point, Styles went to the concession area and cut a promo in front of surprised and cheering fans, AJ touted the right of every fan to eat all the processed food they wanted because they've spent their hard earned money to come see their favorite wrestlers perform.
Bryan, ever the thick-headed crusader, didn't appreciate being told that nagging people isn't the best way to tout your point of view, attacked Styles, but Styles was ready for him and left the champ laying on a broken concession table of hot dogs, covered in mustard and ketchup. Styles got the last laugh, but who will be laughing at the Royal Rumble?
SmackDown Women's Division: Becky Lynch has been calling herself 'The Man' for a while now, but this week, she proved why that name wasn't just a cool gimmick. Otis Dozoric and Tucker Knight of Heavy Machinery were showing New Day their…recipe for never fail protein shakes, which consists of steak, pancakes, and god only knows what else, much to New Day's disgust. When Lynch walked up, took a swig of what looked like Polyjuice Potion, declared it weak, and went to the ring.
To further shore up her badass creds, Lynch went to the ring and cut a promo on Asuka, vowing to regain her SmackDown Women's Championship and proving that she wasn't just a flash in the pan. As far as Lynch was concerned, Asuka's win was a fluke, but the Empress of Tomorrow has no idea how to lead a women's division. Becky had made the WWE Women's Division the most talked about division in sports. Asuka had lost to Charlotte and Carmella.
Asuka isn't convinced. As far as she's concerned, Becky is all about the hype, but has no real power. In Asuka's mind, Becky will be exchanging Charlotte's shadow for Asuka's.
Before this argument could get nastier, they were interrupted by the IIconics, who were both tired of the whole thing. As far as they were concerned, neither Becky nor Asuka had any dignity or class. The IIconics are going to make their own history by being crowned the first WWE Women's Tag Team Championship at Elimination Chamber.
Becky dared both members of the IIconics to step up and decided to prove that she was more than hype by having the first match.
The match between Royce and Lynch was pretty good, but Lynch showed a definite mean streak by extending her hand in a handshake, then punching Royce right in the throat, which pretty much set the tone for the rest of the match. Peyton put up quite a fight but she fell victim to the Dis-Arm-Her.
Billie Kay had even less luck with Asuka who handily defeated her with the Asuka-Lock, even stealing the Dis-Arm-Her. So each side of the SmackDown Women's Championship Match have notched a victory and gained some momentum for their Royal Rumble match, but who will be the last woman standing after the Rumble.
Mandy Rose has been playing a vicious mind game with Naomi by trying to seduce Jimmy Uso. This week, despite Sonya Deville's concerns, Mandy stepped up the game, inviting Jimmy to come to her hotel room. After some hesitation Jimmy did, but Mandy was in for a surprise, Jimmy didn't come alone. In a scene straight out of 'Kill Bill', an enraged Naomi attacked Mandy in the hotel room. Mandy managed to get the upperhand, but she can be sure Naomi won't stop until she's destroyed her rival.
SmackDown Tag Team Division: Miz and Shane McMahon have been ironing out the kinks in their relationship, but it's been slow-going. Since it was Shane's birthday on Tuesday, Miz decided to throw a birthday party for Shane. It was a typical WWE birthday party, with awkward, cringe-worthy, someone come out and stop this, sort of talk and behavior.
Thankfully, the Bar was willing to step up to stop the perpetual face-palming. They even pretend to be embarrassed that they weren't invited, they didn't even invite Shane's family. The Bar's present to Shane was going to be showing him how a real tag-team looked and worked.
Shane and Miz were less than impressed and challenged the Bar to prove how tough they were by taking on one of them. Neither Shane or Miz was really dressed to wrestle, but that never stopped anyone, but Miz volunteered.
Miz vs Sheamus was really good, but like many matches where there's food in the vicinity, someone got thrown into it. This time, Cesaro got thrown into one of Shane's birthday cakes by Shane, which let Miz get a roll up victory on a distracted Sheamus.
We're not done yet, though. An enraged Sheamus attacked Miz, but Shane ran in and the two men over powered Sheamus with Miz hitting a Skull-Crushing Finale on the Irishman. Still not satisfied, Shane and Miz dragged Sheamus into a corner where Shane hit his patented Coast to Coast through yet another cake on Sheamus' face. They were standing tall this time, but will Shane and Miz leave the Royal Rumble as champions?
Samoa Joe vs Mustafa Ali: Last week, the dream team of Mysterio and Ali came up short against Samoa Joe and Andrade Almas, but the two heels weren't satisfied with just beating the Underdog and the Beacon last week, they wanted to try and do it again.
The match between Joe and Ali never got started because Joe jumped Ali before the bell rang and pummeled the Beacon of Light, while screaming something about understanding.
When asked about the attack, Joe was unrepentant, saying that what happened to Ali was just a warning to the other 29 Royal Rumble competitors. Will anyone heed the warning or will Joe regret targeting Ali.
Andrade Almas vs Rey Mysterio: In the other half of these retaliation matches, Rey Mysterio and Andrade Almas took each on in a dream match that can't truly be put into words. Rey had one victory over Almas before the tag match last week, but Almas pinned Rey to win that tag match.
This match was so good, it's hard to describe. Watching Almas and Mysterio was like watching Mysterio and Eddie Guerrero twenty years ago. It was easily a Match of the Year candidate and we're not even two weeks into the New Year. Despite a fabulous effort by Mysterio, Almas would pull out the victory, evening up their rivalry at 1-1.
NXT UK
Travis Banks: At TakeOver: Blackpool, Travis Banks was robbed of his chance to shut Jordan Devlin up by Jordan Devlin, when Devlin attacked Banks before the show and before the match. Johnny Saint and Sid Scala may have gotten the last laugh on the devious Ace by having a backup plan, but Banks isn't satisfied. Devlin robbed him of his chance to perform and show off his skills, but it's not going to happen again.
El Ligero vs Saxon Huxley: This was a fairly random match up, but that didn't stop it from being good. Ligero and Huxley put on a great match that Huxley largely dominated. However, Ligero would manage to get the pinfall victory with his Tornado DDT. The Leeds Luchador got the win, but will it put him in Pete Dunne's sights.
Jinny vs Isla Dawn: For weeks, Isla Dawn has been targeted by Jinny, who wanted to look down her nose at the feisty White Witch after Dawn narrowly lost to Rhea Ripley.
The match was pretty good, though the start was a little rough. Jinny dominated the match at first, but Dawn battled back each time. In the end, Jinny would pull out the victory with a nasty facebuster. The Queen won this round, but we can be sure that the Witch won't forget this defeat.
Mark Andrews and Flash Morgan Webster vs Marcel Barthel and Fabian Aichner:  The Flying Welshmen have been having a lot of problems with the emerging tag team of the Euro-Express ever since Mark Andrews first locked up with Fabian Aichner.
The match was REALLY good. Aichner isn't a finesse guy, but Barthel is and it made for a nice contrast, especially against the two high-flyers. Andrews and Webster gave up a lot of weight to Aichner, but were able to take it to the Italian Tank. This was one of those matches where the winner wasn't really an issue because the match was so-good, no one cared, but the Euro Express would get the pinfall win after an amazing European Uppercut/Powerbomb Combo on Webster. Aichner/Barthel won this round but will the Flying Welshmen accept that?
205 Live
WWE Cruiserweight Championship: Buddy Murphy will be defending his Cruiserweight Championship at the Royal Rumble, but he decided to issue an Open Challenge for the Cruiserweight Championship to prove he wasn't a closet champ. His opponent was Humberto Carrillo, who has been making a few appearances in NXT as cannon fodder for teams like Lorcan/Burch and the Forgotten Sons.
The match was really good, Carrillo had done a pretty good job in NXT, even as enhancement talent, and he got to show his skills to full effect on Murphy, he even came close to pulling out the shock victory, but Murphy was able to hold himself together and put away Carrillo with Murphy's Law for the win. Murphy held on, but next Sunday, he'll have three other opponents to worry about.
Lio Rush vs Lince Dorado (with Lucha House Party): Two weeks ago, Lio Rush lost out on an opportunity to be part of the Fatal Four Way at the Royal Rumble because he let himself get distracted by Lince Dorado and Gran Metalik, but Rush decided to blame Lucha House Party rather than himself for what happened.
The match was really good, LHP's goofiness aside, all three guys are SUPER talented and it was really on show in this match for Dorado. It even looked like Rush was going to lose, but he was able to send Dorado into the post and get the win, but he wasn't happy with that. He attacked Dorado as Dorado was leaving before being chased away by Kalisto and Gran Metalik. Rush got some revenge for his loss, but will the luchadores stop his pity party?
Drake Maverick's Office: Maverick was NOT happy about Rush's antics and was about to go check on Dorado when he was interrupted by TJP. TJP was offended by the fact that Maverick never check on him, Maverick's reason was he never had to, though TJP thought having a bad cold was equivalent to Dorado's injury, which Maverick didn't find amusing.
On to business, TJP assumes that he's going to be the one getting the Open Challenge, but Maverick informs him that the newest member of the 205 roster will be doing that, but he appreciates TJP's eagerness and will let him know next time there's an opportunity.
NXT
NXT Championship: Aleister Black will be getting his rematch against Tommaso Ciampa at TakeOver: Phoenix and took the to the mic to address the NXT Champ. Ciampa was foolish to think that helping Gargano would make him safe, but Black would help him by absolving him of his MANY sins and taking that lovely title back. However, it's such a long time until Phoenix, so why don't they start the fight now?
Tommaso Ciampa didn't agree. As far as he's concerned, the Champ only fights on the biggest stages, but Ciampa warns 'the ultimate puppet' that he needs to be careful what he wishes for in challenging the Puppet Master to a fight, but whether Ciampa actually ACCEPTED Black's challenge is still a bit of a mystery.
NXT North American Championship: Johnny Gargano will be facing Ricochet at Phoenix, but he decided to send the One and Only a message by taking on Humberto Carrillo, who had just made his debut on 205 Live.
The match was fantastic. Carrillo and Gargano really put on a show and Carrillo got show off his impressive skills. On several occasions, it looked like Carrillo was going to pull off a surprising upset on Mr. Wrestling, but Gargano's mean streak came into play and he finished off Carrillo with a slingshot DDT.
NXT Women's Division: Bianca Belair might be the #1 Contender for Shayna Baszler's NXT Women's Title, but don't be stupid enough to think she's intimidated by the Queen of Spades. Nope, the EST fears no woman and she's going to walk out of Phoenix still undefeated.
Baszler and the horsewomen weren't exactly impressed with Belair either. Clearly, Belair isn't the smartest woman on the roster if she's not worried about Shayna Baszler. That's okay, though, in Phoenix, Shayna will prove the Un-De-Fea-Ted is overrated. Baszler also advices Belair to not worry about Duke and Shafir, but Belair responds with a slap to Baszler's smirking face and then is fast enough to dodge Duke and Shafir, giving the seething Horsewomen a blown kiss as she leaves. We'll see who has the last laugh in Phoenix.
NXT Tag Team Division: The Street Profits have been noticeably absent from NXT over the past couple of months, but they made their return in epic style this week while taking on the Metro Brothers.
The match was pretty quick. Apparently, the Metros have been on NXT before because Ford seems to remember them, but that was about the most memorable thing about this match. Street Profits would put away with the Metros with a Frog Splash. However, the Forgotten Sons ruined the fun by attacking the Profits as they were celebrating, and the fight was on. It looked like the Profits might be able to hold off the Sons, but the Sons were angrier and left the Profits in a heap in the ring. The Profits might want to curse the Tag Division with greatness, but the Sons won't stand being forgotten or ignored.
The War Raiders are getting another chance at beating the Undisputed Era for the NXT Tag Team Titles, and they're getting ready. Every empire falls and the Undisputed Era will be no different once the War Raiders are done with them.
Kassius Ohno vs Keith Lee: Matt Riddle has had his fair share of problems with Kassius Ohno, but his buddy, Keith Lee is willing to help him deal with the Knockout Artist. Riddle was happy to step aside for this one, and just requests that Lee leave some of Ohno left for Riddle to destroy.
The match between Ohno and Lee was fantastic. Lee's got a lot of talent, even if I'm not a fan of his work. Lee dominated most of the match and Ohno played the cowardly heel to perfection. That said, Ohno's experience advantage played a big part in keeping him in this match and would be the deciding factor in the match when a timely shove into the ref gave Ohno the opening to low blow Lee and hit that nasty elbow, which gave Ohno the victory. An angry Riddle rushes the ring and Ohno beats a retreat, but he's shown that the Limitless One has a limit and that he'll do whatever it takes to win. What will happen with Ohno and Riddle meet again?
Dominik Dijakovic vs Adrian Jauode:  Dijakovic has been making quite a splash since his thunderous debut a couple of months ago. This week, he took on Adrian Jauode.
This match was really good and actually lasted a little longer than the usual squashes Dijakovic has had since his debut, but the end was the same. Dijakovic destroyed Jauode and picked up the win with Feast Your Eyes.
Tiff's Takes
So, how was the homestretch for the Royal Rumble? It was pretty good. The New Era for RAW and SmackDown is underway, but the McMahons are wise enough to not throw EVERYTHING out the window in their bid to freshen up their two main shows.
RAW had NO throwaway matches this week. Every match was important and fed a storyline and/or a title. There were no timefiller matches, it felt very much like the old days of RAW, which was nice.
I'm sure no one who knows me will be surprised to hear that I hated the outcome of the Intercontinental Championship match. I've watched Bobby Lashley in his first WWE run, his run in TNA, and his current WWE run, and I cannot figure out why people want him pushed to the moon. He has no personality or mic skills, and his current gimmick involves him bending over on command. Why should he get pushed? My theory is that people are too blinded by his size and his wrestling skill to notice the serious defects in the rest of the package.
I have mixed feelings about some of the Women's Division segments this week on the main roster. On the one hand, it's nice to see the women getting some non-title storylines going, but the Mandy/Naomi thing leaves a bad taste in my mouth and the Alexa thing was just dumb. I'm not going to say that it's a reversal of the Women's Revolution, but I do think that the use of old Attitude/Ruthless aggression storylines and spots is not the best WWE could do. Also, the new Tag Titles are gorgeous, but if there's only going to be one set of tag titles for the women, does that mean that WWE will be doing an all-women's TV show this year?
I'm glad the Revival finally got a win, god knows their booking has been terrible, but I'm not sure it's going to be enough to salvage RAW's tag division right now. For SmackDown, I'm over Shane/Miz and can't wait for it to implode.
The Network shows were great, but I'm glad NXT UK is back to one episode a week. It feels like 205 is struggling a little without Mustafa Ali, but that might be wishful thinking on my part. The Isla Dawn/Jinny match was not the best I've seen from either lady, but I hope the feud continues. Glad Travis Banks wasn't more seriously injured than it looked. NXT felt very random this week and hard to get into.
Again, overall WWE did a really great job this week and with the Royal Rumble coming up, the roll will continue. Next week we'll be covering my FAVORITE WWE PPV of the calendar: The Royal Rumble!!! Have a great week and be good to each other!
#RAWisDVR: Greg DeMarco's ACCELERATED Look At WWE Raw for 2/18
How much of Raw was Fast Forward worthy on Monday? (A lot.)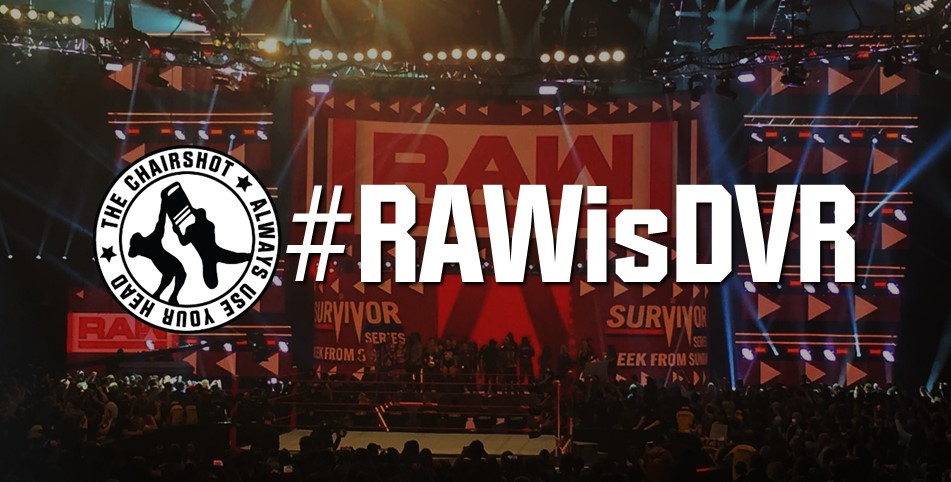 Greg DeMarco watches WWE RAW on DVR, and you get to see how much time he saved! In the process, he's highly entertaining, because it's Greg DeMarco!
The experiment continues! Monday's Raw follows up WWE Elimination Chamber, but it's also a holiday Raw. What will happen? Will Greg skip too much? Let's see!
Triple H is in entering the ring
Raw is weird again–not showing entrances
Promo in a nutshell: this is a holiday Raw, and nothing of consequence will happen–but we will try to make you think it is!
FAST FORWARD some talking
NXT?
Having Ricochet, Aleister Black, Johnny Gargano, and Tommaso Ciampa appear on Raw is great, but it immediately makes the 6 stars awaiting assignment look small time
No Velveteen Dream? I wonder if this is a set-up?
FAST FORWARD the entrances
Braun Noveltyman vs. Baron Corbin Sucks in a Tables Match
I FAST FORWARDed it, but they spent WAY too much time on Corbin walking.
He sucks at walking, too.
Corbin also sucks at sliding tables under rings.
Why would he do that, anyway? He needs a table to win!
The flaw in a Tables Match, at least for this experiment, is that you can FAST FORWARD when a table isn't involved.
FAST FORWARD commercials, we're already saving tons of time tonight!
I wonder if Abyss is the agent for Baron Corbin's matches? I mean, that's the Vortex Of Suck!
Strowman wins. You're shocked, I know.
Paul Heyman is on the stage, as WWE tries to keep you from changing the channel.
FAST FORWARD the commercials
Timestamp 15:39 (Show time: 35:43)
Paul Heyman is on the stage
Heyman didn't give us the proper intro, and it hurt the segment.
FAST FORWARD the video
Heyman is right, Brock Lesnar is a force of nature that we can't do anything about. That's why him as champion works so well.
This crowd doesn't really seem to care all that much about Seth Rollins
ANOTHER INTERRUPTION – #FinnBalorsDick is out and dressed to fight
Alternate Names For This:
#RAWisINTERRUPTION
#PleaseDontChangeTheChannel
#RAWisWEIRD
FAST FORWARD the commercials and video
Finn Balor & Ricochet vs. Bobby Lashley & Lio Rush
"One of these championships" isn't a great way to describe everyone's favorite title
Lio Rush is here, presumably to distract Balor so Lashley can attack him (because WWE)
And there he is!
BTW, you don't FAST FORWARD when Lio Rush is talking
Which NXT star saves Balor? Ricochet? Black?
Aaaaaaaaaaaaaaand it's Ricochet.
FAST FORWARD the commercials
Ricochet really needed an introduction for this audience
Evan Bourne mention by Renee Young?
Renee is basically telling us that no one watches NXT.
This crowd could give a shit about Ricochet.
Four amazing athletes and there's enough stalling for me to FAST FORWARD?
FAST FORWARD the commercials, again?
If you're worried about Ricochet on the main roster…your fear is warranted.
FAST FORWARD the talking, but I stopped to see what Drew McIntyre was
FAST FORWARD so much stuff!
Timestamp: 33:45 (Real time: 1:23:05)
The Major Brothers (Zack Ryder & Curt Hawkins) vs. Lucha House Party's Gran Metallik & Lince Dorado
This isn't where Hawkins wins, right? A throw away Raw match?
"Tans don't win championships, ask Eric Bischoff!"
BTW, if Corey Graves is going through personal strife, he's BURYING himself in his work, because he's on fire tonight!
And of course Hawkins loses.
FAST FORWARD time!
Charly Caruso interviews Heavy Machinery
TUCKER hits the highlights, OTIS drives it home
Lacey Evans literally just walks the fuck around! And does nothing else? Lars couldn't handle this?
We're not having matches now, just entrances? And Bushwhacker walking? Missed opportunity for me to FAST FORWARD.
FAST FORWARD the commercials
DIY talks to Bobby Roode & chad Gable
Johnny Gargano looks like he's waiting to say his lines, but Tommaso Ciampa is sitting there maintaining his gimmick
See Renee, The Revival watches NXT!
And the entrance we do get is The Revival?
Oh we get Ciampa and Gargano entrances, too
The Revival vs. DIY (non-title assumed)
The fans in Lafayette have got to feel like they did something wrong, or wonder if they're still watching dark matches
Literally 6 people are chanting "NXT!" Somehow I don't see how this was a good idea.
While we're here, anyone want to talk to me about how important it is to have defined Faces and Heels? No? Didn't think so.
Classic Gargano? Not Vintage? Maybe Cole really is looking to finish this up.
FAST FORWARD the commercials and I am 5 minutes short of an hour saved
A "Saints Got Robbed" sign? Let it go, brother.
The announcers selling what it would mean if DIY wins has to be foreshadowing, eh?
This match is proof that you can't just throw matches out and expect a reaction–you need to build characters first.
Great match–imagine if the crowd had a reason to be invested in more than the last two minutes!
Charly Caruso talks to Ricochet
Damn, Ricochet looks nervous
I hope that was done live, and not the best take in pretapes
FAST FORWARD the commercials
(These Kevin Owens videos are boring–this is supposed to get him over upon return?)
Timestamp: 59:27 (Real time: 2:01:15)
FAST FORWARD the promo, the commentary aside, DX package, commercials, and more entrances
Dean Ambrose vs. Drew McIntyre
Credit to McIntyre for trying to take the referee's directions off camera, but this was WAY off
I don't want to blame Ambrose, but shit this was oddly bad
FAST FORWARD
Timestamp: 1:04:24 (Real time: 2:22:23 )
Seth Rollins Talking to Charly Caruso
It's about what you'd expect.
Whatever they're doing with Ambrose here, it sucks.
FAST FORWARD the commercials and videos
Elias vs. Aleister Black
"Hello I am Eliath" Aleister Black here?
Elias is so good at cheap heat, and I 100% believe in cheap heat
And we let Aleister cut a promo? That's totally bad for his character.
Black trimmed the beard, and it was a smart move
FAST FORWARD the commercials
"His tattoos tall a story about his life–dark and mean" yet I see flowers on his arm?
FAST FORWARD the chinlock
BLACK MASS is still a great finisher, even if this one was a bit awkward.
I really wonder if the time these guys have to work on their matches at the PC really is the key to NXT's success
FAST FORWARD the commercials and entrances
Ronda Rousey vs. Ruby Riott
Holiday Raw means no Becky Lynch or Charlotte Flair?
Did Ronda borrow shorts from Lacey Evans?
Someday Ruby Riott is going to be booked like a plucky underdog babyface, and she's going to flourish
Even the commentary is off tonight!
And there's the "WE WANT BECKY!" chants
Camera work, anyone? We just saw two different conversations take place in the ring.
Damn, Ronda took that Riott kick square to the head!
And Ronda has now kicked out of Ruby's finisher TWICE. Once off the top!
Ronda was terrible tonight.
Raw ends with Ronda standing tall and nothing else.
Final Timestamp: 1:24:44
Real Time: 3:00:00
Time Saved: 1:35:16
Overall, this was just a weird Raw. Nearly everything seemed off, and as we march towards WrestleMania, nothing that happened tonight will be remembered.
The Streak Part 8: Going For the Gold (2007-2008)
The Streak continues against Batista and Edge!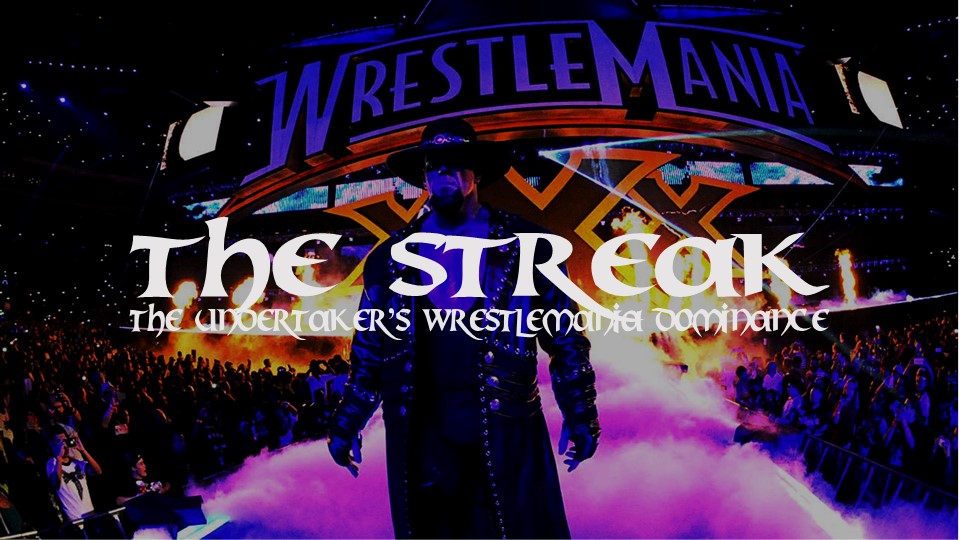 The years of 2007-8 were banner years for the Undertaker at WrestleMania, for the first time ever, he found himself battling for the World Heavyweight Championship in back-to-back WrestleManias when he took on Batista and Edge. 2007 would also mark the first and only time the Undertaker won a Royal Rumble match, eliminating Shawn Michaels after an amazing match, their first encounter since their casket match at the 1998 Royal Rumble.
In 2008, Taker would find himself facing another undefeated WrestleMania Streak when he took on Edge, his former Ministry minion, who had had a career resurgence, bursting back onto the scene as the opportunistic, manipulative, and cunning Rated-R Superstar, who was also undefeated at WrestleMania.
WrestleMania 23 – Taming the Animal
The Undertaker vs. Batista
The match against Batista was something of a dream match for a lot of fans. Batista had risen through the ranks of WWE like a rocket as part of the Evolution stable with Triple H, Ric Flair, and Randy Orton. For Taker, this would mark the first time since 1997, that he'd battled for a title at WrestleMania.
For some reason, SmackDown GM, Teddy Long, is playing the ring announcer for this match. Batista comes out first, even though he is the champion and he shows no real intimidation of the Undertaker. The Druids come out first, ready to light the way for the Deadman and there are a LOT of them, lightning strikes and the Deadman cometh.
Batista does the smart thing and goes for Taker before Taker is really ready for him, hoping to get the Deadman off his game and give himself a chance of ending the match quickly and keeping his title. This match quickly degenerated into a brawl, but there was a weird moment when Taker was almost shadow boxing, like he'd gotten his bell rung a little and didn't know where he was.
Batista really dominated the start of the match, ending the Streak seemed less important than keeping the title, which is how it should be. We're about halfway into the match before Taker really starts mounting any serious offense, but it was the full Taker treatment. Old School is always cool to see.
I will give Batista his due, he's never been a refined wrestler and definitely had flaws in his game, but he kept up with Taker step for step and actually seemed to have the Deadman on the ropes a few times. At one point, it looked like the Streak was going to end with a countout after Batista put Taker through the announce table, but Animal didn't want to win that way and went after the Deadman, tearing apart half of ringside in the process.
The one odd thing about this match is that, despite Taker winning the Royal Rumble, this match was NOT the main event of WrestleMania, that spot was given to the John Cena vs Shawn Michaels WWE Championship match. This dream match was in the mid-card, which has always irritated me. The Deadman would sustain all this punishment and, for the first time in his career, win the World Heavyweight Championship, not the WWE Championship, at WrestleMania. The Streak is 15-0.
Rating: 8/10 It was a great match, just really bad placement.
Highlight: Batista not wanting to win on a countout.
WrestleMania 24 – Streak vs Streak
The Undertaker vs. Edge
This was another really interesting feud. Edge had gone from tag team competition to the mid-card before bursting into the main event scene after revamping himself as a manipulative, opportunistic superstar who would stop at nothing to get and retain the World Championship, which lead him to pick a fight with both Batista and the Undertaker, and using his relationship with Vicki Guerrero and her Familia to hang onto the title, but after Taker won at Elimination Chamber, it was time for Edge to pay the piper…or the Reaper. This match would also be a battle of the Streaks as Taker's 15-0 Streak would be up against Edge's 5-0 Streak.
Taker comes out first, in one of the rare cases that it happened, faithful Druids on hand to light the way. The fact that WWE was able to make an outdoor arena pitch black for this entrance is really cool. Edge, the champion, is accompanied, at least part of the way, by Vicki and Chavo Guerrero, Vicki in her wheelchair. Edge was actually smirking and cocky…until he got in the ring and what he was about to do fully hit him, then the smirk fell.
This match started with shoving and punching and stayed that way. This was a PHYSICAL match up. Edge actually countered Old School, but paid for it anyway when Taker was able to reverse in mid-air. We had an unintended snafu when Taker hit a Stinger Splash on Edge a little too hard and launched himself out of the ring and landed badly on his hip.  Edge tried to take advantage, but Taker battled back, despite a noticeable limp.
Things broke down when the ref got taken out. Edge tried every underhanded trick in the book to win, but Taker sat back up. It looked all over, except for the ref, but Charles Robinson, in the moment that made him a meme, sprinted down to the ring with all his might to make the count.
We also got our first look at Ryder and Hawkins as the Edgeheads, but even they weren't enough to put away the Deadman. This was an amazing match up, Edge definitely proved that being in the main event was where he belonged and he could hang with anyone, including the Undertaker.
The end was surprise. Edge hit the dreaded Spear but Taker countered it into Hell's Gate, which was TECHNICALLY illegal, but Robinson okayed it and Edge tapped out, the first time a Streak match ended on a submission. Taker is 16-0 and NEW World Heavyweight Champion!
Rating: 8/10 A really great match and a surprise ending.
Highlight: Charles Robinson running. The Edgehead getting their clocks cleaned. Edge tapping out.
---