Andrew's Honor Rising 2019 Night 1 & 2 Ratings & Review
Andrew brings us more ratings and coverage, this time, the ROH/New Japan hybrid shows for Honor Rising!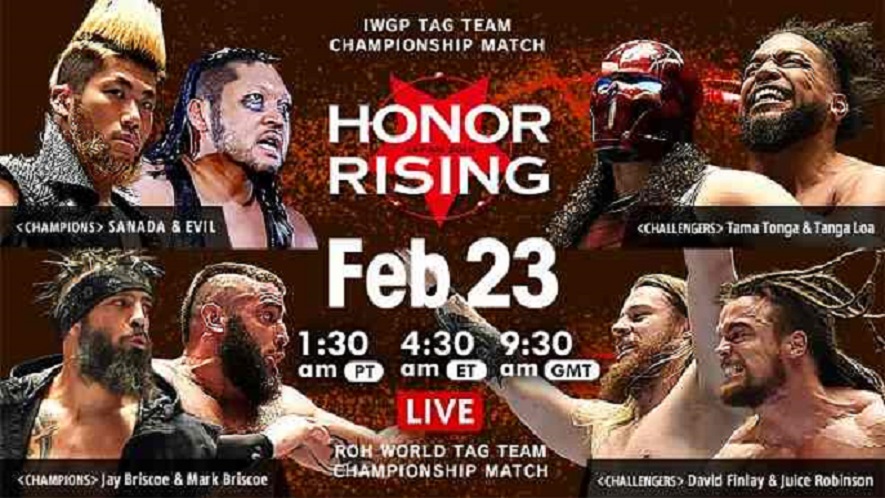 Andrew brings us more ratings and coverage, this time, the ROH/New Japan hybrid shows for Honor Rising!
So my overwhelming disinterest in ROH was trumped by a slow day at work. So I turned on the first Night to basically just use as background noise, and instead was pleasantly surprised almost immediately.
With all that said, there are 6 championship bouts across the two days and a nice mixture of ROH and NJPW talent. So instead of droning on, let's just get to the shows.
Honor Rising Night 1 Ratings:
Marty Scurll vs Ren Narita: Scurll wins via Crossface Chicken Wing @11:30 – **
Zack Sabre Jr vs Shota Umino: Sabre wins via Half Crab @13:55 – *** 1/2
Taiji Ishimori & Robbie Eagles vs Jushin Liger & Jonathan Gresham: Liger wins via Rolling Crucifix Pin @5:25 – **
David Finlay, Juice Robinson,Toa Henare & Tomoaki Honma vs Guerrillas of Destiny & The Briscoes: Juice wins via Roll-up @12:15 – ***

NEVER 6 Man Tag Title: Togi Makabe, Toru Yano, Ryusuke Taguchi (c) vs Cheeseburger, Colt Cabana & Delirious: Yano retains via Low Blow/Roll-up @10:15 – ** 1/4

NEVER Openweight Title: Will Ospreay (c) vs Dalton Castle: Ospreay retains via Stormbreaker @17:30 – *** 1/2

ROH TV Championship: Hirooki Goto vs Jeff Cobb (c): Cobb retains via Tour of the Islands @13:50 – *** 3/4

Jay Lethal, Hiroshi Tanahashi & Kazuchika Okada vs The Kingdom: Lethal via Lethal Injection @14:10 – *** 1/2
Night 1 Review:
Scurll got a little more than he expected here. Narita fought out of some submissions and put up a decent fight, but eventually fell to the senior wrestler.
Umino did great work here. TAKA gave him the "Young Boy, get over here", and Shota kicked TAKA out of the ring and took it to Sabre. A few surprising near falls, and Sabre went from taking the Young Lion lightly to trying to hurt him. Finally makes Shota tap out, but since Young Lion matches have a 20 minute time limit, you could tell the pressure was on Sabre. Damn good match.
Taiji and Robbie tagged together in the Junior Tag tournament, and Liger has a Jr Title match against Taiji on March 6th. So this had some nice set up, and Gresham and Eagles start off with solid technical wrestling. Then as soon as Liger and Taiji get in, Liger catches Taiji in a Rolling Crucifix for the flash pinfall. The finish was shocking, but adds some drama to the match since anyone who wrote off Liger just saw him pin the champion. Will Liger get his 12th IWGP Jr title reign?
In a typical set up match, we get two heel teams that don't really get along, forced to coexist. So yes, we know how this goes, Jado accidentally hits Mark Briscoe and Juice gets the roll up win. Fun fact that came from this is, Hikuleo is back from injury!
Well this match was just awkward. You've got 4 wrestlers known more for comedy, a bruiser (Makabe) and someone who weighs as much as a 14 year old girl (Cheeseburger). With that said, the match was still funny at points and watching Yano get annoyed with how much longer it takes to remove American turnbuckle pads was funny. Yano ended the match with the Low Blow/Roll-up on Delirious while Cabana was tied up with someone else. So when Cabana goes to shake Yano's hand as per Code of Honor, Delirious gets mad, Cabana doesn't know why, so Delirious low blows Cabana. Cheeseburger and Delirious walk out as Cabana stays in the ring and Yano checks on him.
Dalton and Will jawed back and forth through most of this match. The whole match stayed in first gear, but it got across that Dalton's back is mostly better and Ospreay's Hidden Blade takes everyone out.
Goto and Cobb have history from last year when Cobb challenged for the NEVER Openweight championship, but lost to Goto. So the roles are reversed, as is the result. But before that we had a good hard hitting match, and even see Goto get aggressive and apply some heel tactics that he doesn't usually do. The crowd responded with a chorus of boos, but Goto has had frustration moments in the last few months. I wonder if this is a slow build to Goto breaking and turning heel?
Not a fan of The Kingdom, but I do like the adjusted audio they came out to via the NJPWWORLD feed. As for the match, it was heavy on the Jay Lethal with just a sprinkle of Okada and Tanahashi. Tanahashi deserved a bit of a break after his losses to Jay White and then at the Giant Baba Memorial show. So Okada and Tanahashi most played clean up while Lethal finished the match. This feels like a big set up for The Kingdom to pile up a few losses and then at the ROH Anniversary show Taven takes the belt off Lethal. I hope not, but that's how it feels to me.
Overall Score: 7/10
Well Night 1 was surprisingly solid. I say that mostly because last year's Honor Rising was kinda lame and fell flat for most of the matches. So starting off with a strong first night when the second night have the bigger title matches, is a great sign. When even the Young Lions put up respectable fights, I can't really complain. AND we should all know how much I love to nit pick, especially about ROH – but – if Night 2 is equally as good, I'll stay happy.
Honor Rising Night 2 Ratings:
Toa Henare & Jonathan Gresham vs Zack Sabre Jr & TAKA Michinoku: Gresham wins via Octopus Hold @12:20 – *** 1/4
Robbie Eagles vs Marty Scurll: Scurll wins via Crossface Chicken Wing @8:55 – ***
Cheeseburger & Delirious vs Colt Cabana & Toru Yano: Cabana wins via Chicago Skyline @10:10- ** 1/2
Hirooki Goto & Will Ospreay vs Jeff Cobb & Dalton Castle: Ospreay wins via Stormbreaker @11:45 – *** 1/2
Matt Taven & Vinny Marseglia vs Shingo Takagi & Tetsuya Naito: Naito wins via Destino @11:50 – *** 1/2
ROH World Championship: Jay Lethal (c) vs TK O'Ryan: Lethal retains via Lethal Injection @10:50 – *** 3/4
IWGP Heavyweight Tag Championship: Guerrillas of Destiny vs EVIL & SANADA (c): G.O.D. wins via Super Powerbomb @20:25 – **** 1/2 – TITLE CHANGE!!!
ROH Tag Team Championship Juice Robinson & David Finlay vs The Briscoes (c): Briscoes retain via Froggy Bow @17:15 – *** 1/4
Night 2 Review:
Henare attacks TAKA after he gets is hype man lines out. Gresham and Sabre have a great technical exchange for a while. TAKA comes in, Henare clears the ring with his power. After kicking out of a Shooting Star Press, Gresham locks TAKA in the Octopus Hold for the submission victory.
Eagles and Scurll was a solid junior match. Could've rated higher if it weren't for moves that were too cooperational. Most notably, the Super Frankensteiner that took forever to set up and nobody seemed to remember they were in a wrestling match as they were trying to get in position for the move. I hate stupid big moves that can't be executed at a pace to continue to make the match look like simulated combat.
So this match was bred from the ending of Day 1's match. Cabana and Yano are a great comedy tag team. This wasn't a great technical match, but it was extremely entertaining. Good comedy spots, Cabana and Yano working great together, this was just good fun.
Coming off of singles matches the previous day, there was still tension in this match. Nice suplexes and strikes. Hell Castle and Cobb even passed Ospreay back and forth at one point turning him from side to side before a suplex. Part of Ospreay's story is seeing if he can Stormbreaker bigger guys, so the fact that he hit Stormbreaker on Jeff Cobb, after Hidden Blade could be hinting towards a Davey Boy Smith Jr match for the NEVER Openweight title.
Good tag match. I don't care much for the bootleg Kingdom, but they played their part well. Naito took a lot of early punishment, Shingo bought enough time for Naito to recover, and then we see Naito and Shingo put together some tandem combinations and swing the match in the LIJ favor. They clear out Taven, then a Pumping Bomber into a Destino gives the fan favorites the victory.
Solid match with a quicker pace. Nothing bad about this match, but it never felt like it really got out of first gear. There was more character work and playing to the crowd, as opposed to in-ring work. Entertaining, nothing bad about it, just didn't tear the house down. This goes down as Lethal's 39th defense of the ROH title, which puts him at the top of the All-Time defenses list.
EVIL and SANADA tend to have G.o.D.'s number in big matches. But damn, this match took a little bit of time to pick up, but when it did, it was great. EVIL and SANADA kept trying to go for Magic Killer, but Tama countered it twice. Guerrilla Tactics took out EVIL and then they finish SANADA with the Super Powerbomb that was given to them by Gedo and Jado. Great tag match. Ain't nobody ready for Guerrillas.
After the Briscoes dominated most of the match, Finlay and Juice started putting together some offense. Double Cannonballs off the apron and into the barricade gave them an opening. But when they hit the Road Warriors' style Doomsday Device, Finlay said he hurt his shoulder. Todd Sinclair runs to Juice and Jay Briscoe, tells them the info, Juice gets dumped out and then Mark hits a Froggy Bow to retain. Not sure if it's a legit injury or just a good sell for the angle, but it looked legit. So the match felt cut short, but it wasn't bad, just kind of a let down from the previous match.
Overall Score: 8/10
Well this was great. From top to bottom the matches were solid, stories made sense and that IWGP Tag match was tremendous. Now I'll be in attendance for the April 6th G1 Supercard, but these events actually made me excited enough to want to catch ROH's Anniversary show. The Briscoes also challenged G.o.D. for the G1 Supercard show, title vs title. So that makes me happy to finally have some confirmed matches for the show.
So yup, damn good shows this year.