DeMarco: Could John Cena Chase #17 At WWE WrestleMania 35?
Could John Cena go for #17 at WrestleMania 35?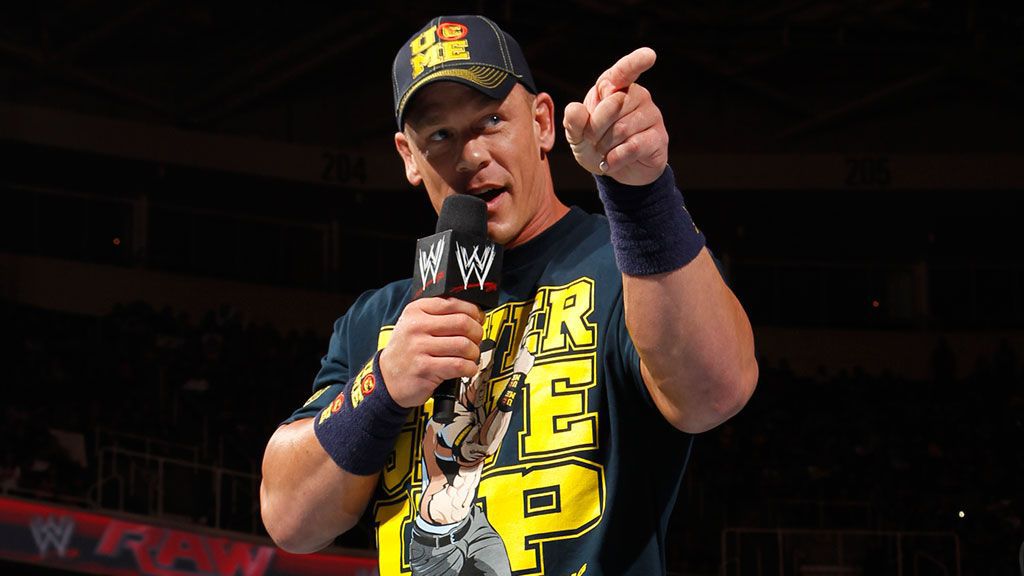 Greg DeMarco chimes in to ask what must be asked: Could John Cena go for #17 At WWE WrestleMania 35?
WrestleMania season is upon us, and everyone is going nuts for the possibility of Becky Lynch challenging Raw Women's Champion Ronda Rousey straight up, and vehemently arguing against the likely addition of Charlotte Flair to the match, giving all three women the chance to close a WWE WrestleMania. One name everyone is ignoring? John Cena.
Former college football player, bodybuilder, part-time movie star and oh yeah former 16-time WWE world champion John Felix Anthony Cena, Jr is being criminally ignored by wrestling fans in the same manner they're quickly dismissing the chance of Charlotte Flair joining the fray with Becky and Ronda–because they don't want it to happen.
Well, face facts folks, you NEED it to happen!
The addition of Charlotte Flair to the showdown between Becky Lynch and Ronda Rousey is another topic for another time. Today I want to go deeper into the fact that John Cena chasing #17 at WrestleMania 35 is a very real possibility that literally no one is talking about.
Let's take a look at the landscape of WrestleMania 35 today:
Brock Lesnar is defending the Universal (Heavyweight) Championship against Seth Rollins in the "main event."
Ronda Rousey is defending the Raw Women's Championship against Becky Lynch in the "main event" and Charlotte Flair is likely to get added.
If Charlotte Flair isn't added, it's likely that she challenges Asuka for the Smackdown Women's Championship in a rematch from last year's event, in another match that could be given "main event" treatment; otherwise I would expect Asuka to defend in a multi-woman match against Naomi, Sonya Deville, and God's gift to women's wrestling, Mandy Rose.
It'd be shocked if the Women's Tag Team Championships aren't defended on the card, and I won't be shocked if it's Nia Jax and Tamina defending against Sasha Banks and Bayley.
There's a lot of predictability–or near predictability–to the Raw side of the WrestleMania card…and almost none to the Smackdown side. Who is going to challenge for the United States Championship at WrestleMania? Are Shane McMahon and The Miz defending the Smackdown Tag Team Championships, or are they wrestling each other? If they wrestle each other, are they doing so as champions, or do they drop them to The Usos at Elimination Chamber? It took me nearly three times the words to describe the Smackdown Women's Championship situation for 'Mania than any other title in the bullet points above!
And what title seems the most wide open? The WWE Championship held by The New Daniel Bryan. THAT is where John Cena could swoop in and become a major story for WrestleMania 35.
John Cena won WWE Championship #16 from AJ Styles at the 2017 Royal Rumble, holding it for a few short weeks before dropping the title in Elimination Chamber Match to eventual winner Bray Wyatt. Wyatt of course went on to drop that championship to Royal Rumble winner Randy Orton at WrestleMania 33. That same 'Mania (in Orlando) saw Cena team with Nikki Bella to beat The Miz & Maryse before dropping down to one knee to propose. We all know what Cena did at WrestleMania 34.
John Cena is tied with Ric Flair in holding 16 world championships (according to WWE calculations, anyway). They are already calling him "The Greatest Of All Time John Cena" on commentary, and he used that to put over Finn Balor (in losing to him) and Drew McIntyre (in having him be the one to take Cena out). But you don't call John Cena the greatest of all time for nothing–it's done for a reason. And on paper, there is only one man who can dispute that claim–Ric Flair.
The New Daniel Bryan is one of the few true heels in wrestling. He truly wants to be hated, and it shows. He's doing what heels to best: he's telling the truth, and rubbing it in our faces. He now has muscle in Rowan The Recycler, One of the most beloved bbayfaces of all time, he's now in position to get anyone else over as a face. That's a huge nod to his talent and abilities.
What's where John Cena comes in. He wasn't in the Royal Rumble, allegedly due to filming a movie. Either way, he didn't need to be in the match, or at the event at all (despite being all over the marketing). Where he could be properly utilized is WrestleMania 35. Imagine if Daniel Bryan gets out of Elimination Chamber still WWE Champion, and then survives whatever is thrown his way at Fastlane. It'd be simple for him to declare that he has no equals, and that no one deserves a shot at him at WrestleMania. Enter John Cena, who declares that he wants a shot at #17, and that the people want to see it. Daniel Bryan would balk, but Triple H (or Stephanie McMahon, or Shane McMahon, or Vince McMahon) makes the match official, and we're off to the races.
You may not like the idea, but you should love it. Every time Daniel Bryan and John Cena have shared a ring the match has been fantastic. There's no reason to expect anything different from WrestleMania 35. There is no clear cut challenger for Daniel Bryan, and there is (still) no bigger name in the wrestling business today than John Cena. It's a story worthy of 80,000 screaming fans at MetLife Stadium, and it's a logical progression for both performers.
Don't want it? That's okay…because you NEED it.