Good, Bad, and Ugly: WWE NXT (2/6/19)
Was there any bad or ugly about this show, or is NXT perfect?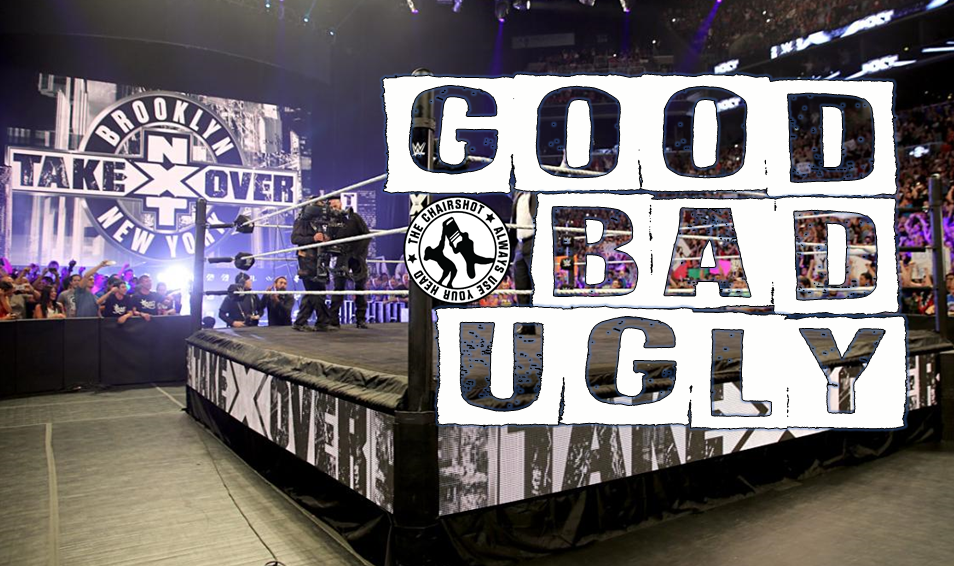 The preferred brand tends to always venture on the side of Good. Was this week the more of the same?
NXT aka Big Money is in the house tonight!  The actual standard on many levels is also on the Road to WrestleMania and needs to continue to pop off and keep everyone on their feet.  We have our weekly episode coming off last week which yielded 2 matches.  Hopefully there will be more this time around. 
The GOOD
NXT North American Champion Johnny Gargano – Opening Scene
With a talent like Johnny Wrestling you can expect much bigger plans ahead.  He is a safe bet, and brings a different look and feel to the show.  He is being a star and holding a torch in his hand.  Old friend and bitter rival The NXT Champ Tommaso Ciampa joined in the praise of Johnny Gargano.  Could there be a DIY renewal?  Gargano says no!  Gargano is now a 1 man show.  And what better way to show off than have Velveteen Dream get involved.  These are Superstars of the highest caliber interacting.  The Dream has some Gold on his mind and can pick whoever he wants.  He chooses The North American Champion Johnny Wrestling, which couldn't be a better choice.  This will be a blockbuster!
Forgotten Sons (Jaxson Ryker) vs. Mansoor
Mansoor shouldn't stand a chance here, especially with the way they have reintroduced The Forgotten Sons.  Ryker is big and physical and carries himself well around the ring.  He controlled this match.  Ryker crushed him and rightfully so, Ryker Wins!  He of course attacked after the match as he just can't seem to get enough.  Good, quick match to further push the Forgotten Sons. 
Drew Gulak vs. Eric Bugenhagen
What a contrast here.  This match was sports entertainment personified.  We have a wizard like Gulak and a showcase of it factor the debut of a rock star.  That's what we had also, Gulak suplexing, twisting and trying to win, which he ultimately did with a "Gulock."  Bugenhagen simply partied and rocked out but was no match for Gulak.  It was fun, entertaining and different for sure.  Gulak wasn't satisfied and felt disrespected by the subpar talent.  So after running his mouth and issuing and open challenge, which The King of Bros Matt Riddle gratefully accepted? 
Drew Gulak vs. Matt Riddle
This is a Great Move all around by NXT.  A real strong opponent and test for both competitors although this is certainly going to be used primarily as a push for Riddle.  This was traditional, grappling and chain wrestling.  Textbook technicians sparring with each other.  This was a close match, both guys taking control from one another.  This got extremely physical.  Gulak literally was grinding Riddle into the mat.  If this is a preview of a long feud it is going to be amazing.  Riddle really did well here which was the point.  Gulak is a sure bet.  Riddle had it won with a sick powerbomb into a knee but it was the "Bromission" that put the submission expert away.  Riddle Wins by Submission!  The showdown ended with a respectful handshake in the middle of the ring. 
The Sky Pirates (Io Shirai and Kairi Sane) & Bianca Belair vs. Shayna Baszler, Jessamyn Duke, & Marina Shafir
This should be fantastic.  After a subpar "divas" style match (Mella and Deville were exceptions) from this past SmackDown showcasing the bulk of the roster, this should renew our faith in the "Women's Revolution."  Everything is expected to click and for this to be on weekly television it's a treat.  Shayna Baszler is pure money!  She just carries herself with total confidence. Belair impressed early with her usual power antics.  Kairi Sane got overpowered and took the brunt of the beating in her opponent's corner, but rebounded and put on her own assault.  Baszler came in though and completely took over.  Duke and Shafir added to the fun and kept Sane down.  Baszler at one point tried to rip Sane's leg right off.  Io Shirai got the tag and came in hot taking out all adversaries.  Shirai was on fire, flying around the ring.  Again Sane and Baszler battled but was quickly neutralized.  Everyone went crazy all going at it, flying everywhere.  It was pure chaos.  Shirai ended up with Baszler hitting a tight "moonsault" pinning the Champion Shayna Bazler, and getting the victory for her team. 
BAD
UGLY
FINAL- GOOD!  Can't make it up, this was a very strong episode of NXT.  Such a fun action packed show and tremendous talent.  The Gulak/Riddle showdown was fantastic and above par even for NXT.  This was just a special show this week.  Full of big names and a lot of Good stuff!
Another week in the books, and overall WWE/NXT had a Win!  Raw and SmackDown certainly will rebound and with Elimination Chamber coming up they will have their chances to play out all roles coming up on the Road to WrestleMania.