Good, Bad and Ugly: WWE Raw (02/11/2019)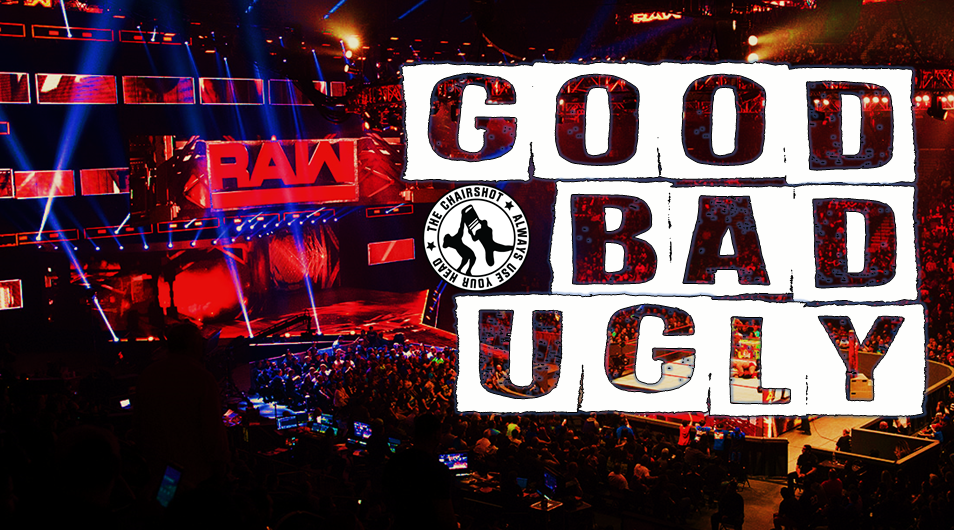 Bobby Fernandes reviews WWE Raw for 2/11/19 in the Good, Bad, and Ugly format. How did the show rank?
With Elimination Chamber approaching, Raw is tightening up everything.  Recent trends say there will be a lot to watch tonight although it doesn't seem like any surprises are in story, anything can happen in the WWE.  Elimination Chamber could have some major changes headed toward WrestleMania.  There is a lot of time left before the big show.  Will they go on auto-pilot, or will they hit us with a stunner? 
GOOD
Stephanie McMahon and HHH w/ Becky Lynch
This according to everyone is being sold as a carbon copy of Stone Cold vs The McMahon's Part 2.  There are a lot of similarities and of course an easy bridge between the two.  It is also appropriate as Becky Lynch, much like Stone Cold has become a firebrand for the current roster and carrying a huge burden by leading the pack as the overall beloved #1 Fan Favorite.  There are no better villains than the McMahons.  Anyone and everyone can get knocked down by them.  The Man loves the fight and her new enemies will oblige.  Lynch doesn't just poke the bear, she slaps it in the face.  Her knee is cleared per HHH.  She is no longer suspended and will face Rousey at Wrestlemania.  But, she will have to apologize to HHH and Stephanie McMahon if she wants her shot.  The Man will not apologize and in fact will fight anyone who wants otherwise.  She will give her final answer by the end of the show.  Either she goes to Wrestlemania or it's gone, and only an apology in her way. 
(Loser Enters Chamber First) Sasha Banks and Bayley vs. Nia Jax and Tamina Snuka vs. Liv Morgan and Sarah Logan
With the Tag Team Championships being a reality, we will see more and more Women's action which isn't a bad thing.  They are really pushing Nia Jax right now, and the other wrestlers are playing along.  They are intimidated and love to instigate.  Sarah Logan looks Good in there.  She really has a lot of energy and a decent style.  Honestly though, it will be plain shocking if Bayley and Sasha Banks lose the whole thing, they were made for those titles but they have to surprise us somehow.  That is of course if Bayley doesn't have to go at it alone the entire time.  The Riott Squad really dominated toward the end of this match but Jax and Tamina overpowered them.  No one could take over, until Bayley not only regained herself but then destroyed all comers, until Nia Jax finally finished her for the win.  Nia Jax and Tamina Snuka Win!  Sasha and Bayley are now 1st team in the Elimination Chamber. 
Finn Balor vs. Drew McIntyre
IC Champion Bobby Lashley with Lio Rush made their way down to ringside before the match to scout his opponent at Elimination Chamber, Finn Balor.  McIntyre and Balor are just insanely Good, and everytime they fight, there is potential for a classic.  McIntyre dominates, and Balor fights back with everything he has.  It is a proven method.  Of course we all knew Balor would get some of Lashley and Rush as he owed them.  Lashley went too far and got McIntyre DQ'd.  McIntyre and Lashley then destroyed Finn Balor until Hall of Famer, Kurt Angle ran in for the save.  Angle took full control but was blindsided by rival Baron Corbin.  Braun Strowman had enough and stormed the ring.  The wrestling Gods have spoken and we sense a 3 on 3 coming. 
Nikki Cross vs. Ruby Riott
Here we go!  We have ourselves some potential here.  A nice little NXT like match that is fun and different with some good raw talent.  It was a little disappointing that they cut to a Rousey/Lynch showdown.  Ruby Riott is just amazing and goes hard in there.  Nikki Cross has been nothing but impressive and seems to be able to go with anyone. Ruby being a great opportunist hit a sudden "Riott Kick" for the Win!  Good, solid match. 
Monday Night Rollins
The Beloved, King Slayer is one of the most over talents in the Professional Wrestling World.  He is to battle the Beast, the Champion, Brock Lesnar at Wrestlemania.  The un-accomplishable feat.  Rollins is hyping his uphill battle, pleading his case.  Truthfully, it is always better to see Rollins fight rather than talk.  The Advisor faked out everyone, as Lesnar was a no-show as usual.  Heyman always has something to say and everyone unapologetically listens.  Heyman hyped as he always does, Rollins stood and waited for his moment.  He again restated his case and got the crowd loudly behind him. 
Dean Ambrose then came out w/ Rollins still in the ring.  Anytime Ambrose and Rollins are involved with each other, there is tremendous potential.  It was quick this time around though with Ambrose grabbing a seat at ringside. 
Dean Ambrose vs. EC3
EC3 is going to always be a welcome Superstar on Raw.  The more the better, this guy needs a big push.  What better person than Dean Ambrose who has as much décor and clout as anyone.  Ambrose went right at him as he lost last week.  EC3 fought back though and would not be denied.  EC3's reputation and history from Impact is well known and respected across the board.  He is a star and needs to be used that way.  EC3 got ahead of himself and Ambrose recovered.  Ambrose got the quick "small package" for the big rebound victory. 
Raw Tag Team Championship Match- Bobby Roode and Chad Gable (C) vs. The Revival
Ever since The Revival voiced their discontent, they have had a lot of TV Time.  The nostalgic, tag team specialist are a plus almost every time.  Roode and Gable are mega talented, Roode being a potential locker room leader if used more.  Being the Tag Team Champions isn't Bad but he should be doing bigger things.  Tag team wrestling at its purest, this was textbook action.  Gable and Roode rallied hitting a series of offense.  These guys make the hot tag look so Good.  Gable came in and went hard against the challengers.  Both teams had close falls and a lot of back and forth action.  After Gable got worked over Roode was ready to go but was pulled off the apron.  Revival still couldn't finish Gable.  Roode finally back in took out The Revival.  Again though back and forth near falls.  It was just insane how many false finishes there were.  Then just when you thought it was over, The Revial hits a huge "Shatter Machine" on Gable to win the Raw Tag Team Championships!  Big Win!  Great Match!  Good Team!
Becky Lynch Apology?
What will "The Man" do?  HHH is a presence himself and with his wife, the "Billionaire Princess" he is even more dangerous.  Becky has aggressively provoked both of them even striking them last week.  She made the smart move and apologized.  Becky made the best move and still stood her ground.  HHH and Stephanie then congratulated her and Lynch took over hyping what will be a showdown.  Rousey then stormed down belt in tow.  This was getting red hot, even Mr. McMahon came out.  Vince is "The Man."  Vince then suspended Becky Lynch for 60 days which takes her out of Wrestlemania.  He then interjected Charlottle Flair into the Raw Women's Championship Match in her place.  Charlotte is Vinnie Mac's Champion.  This is obvious and shocking at the same time.  Speechless.
BAD
Braun Strowman, Kurt Angle and Finn Balor vs. Bobby Lashley w/ Lio Rush, Baron Corbin and Drew McIntyre
There is a lot of beef in that ring.  Tons of fight, guts and talent.  The pace was a little off at times but nothing completely detrimental early on.  A lot of back and forth leaning toward the heels having control.  Bobby Lashley has been impressive and continues going in that direction.  He has taken control and looks sharp in there.  This match was a safe bet.  It showcased a ton of talent in a compacted setting including the Intercontinental Champion, and kept them all fresh due to having a tag setting.  The power stuggle was awesome all around.  McIntyre and Strowman clashing, Lashley dominating, and Finn Balor fighting back.  Lashley got the pin even though Balor had his foot on the rope.  Referee Chad Paton came out and explained what happened and the match restarted. 
This has been a long match, and not smooth sailing considering the talent and format.  Again Finn Balor got beat down and grouped up on.  Lashley vs Balor is shaping up to be pretty Good.  Perfect timing, Strowman recovered, tagged in by Balor and let loose.  Complete Demolition of his opponents.  Strowman killed Lashley and tagged in Balor to finish the job with a "Coupe De Grace."  This was okay but leaned toward the Bad side. 
UGLY
Walk With Elias
Strangely Elias was immediately interrupted by Lynch on the big screen having a promo with Finn Balor.  Balor and Lynch go way back and are always gold in any capacity but what a weird placement.  Follow that up with a commercial break/promo for Seth Rollins and you have horrible production value.  Interrupting Elias is a thing, granted we know and expect it but to do it as if we aren't watching and paying attention, just mangling content together haphazardly is rough to watch.  Third times a charm, except this time he is interrupted by Lucha House Party.  Overkill much.  Elias' Grammy Snub was the last straw.  LHP wants to Walk With Elias.  Elias is such a pure heel but he is over, and the inner struggle amongst the fans is intense.  Lucha House Party led by Kalisto had their fun with Elias but was hit by a guitar for their trouble.  Elias got out of harm's way.  This was not Good by any standards.  Even a bit Ugly. 
FINAL
Good – 8
Bad – 1
Ugly – 1
By the numbers and the action, we all had a pretty Good Raw.  This week flew by, and had a great amount of action, twist, turns and craziness.  Honestly, WWE took the audience for a spin and got our attention.  Successful week so far, and a slam packed Monday Night. 
SmackDown is slated next.  The 2-hour action packed "better" brand of WWE.  They seem to be on the Good side of things almost always and followed the next night by the spectacular NXT Brand.  There is a lot of action left on the agenda this week setting up everything for the big upcoming PPV's, what will happen next?
What Progress Looks Like: Women At WWE WrestleMania
The women's division has changed a lot in ten years.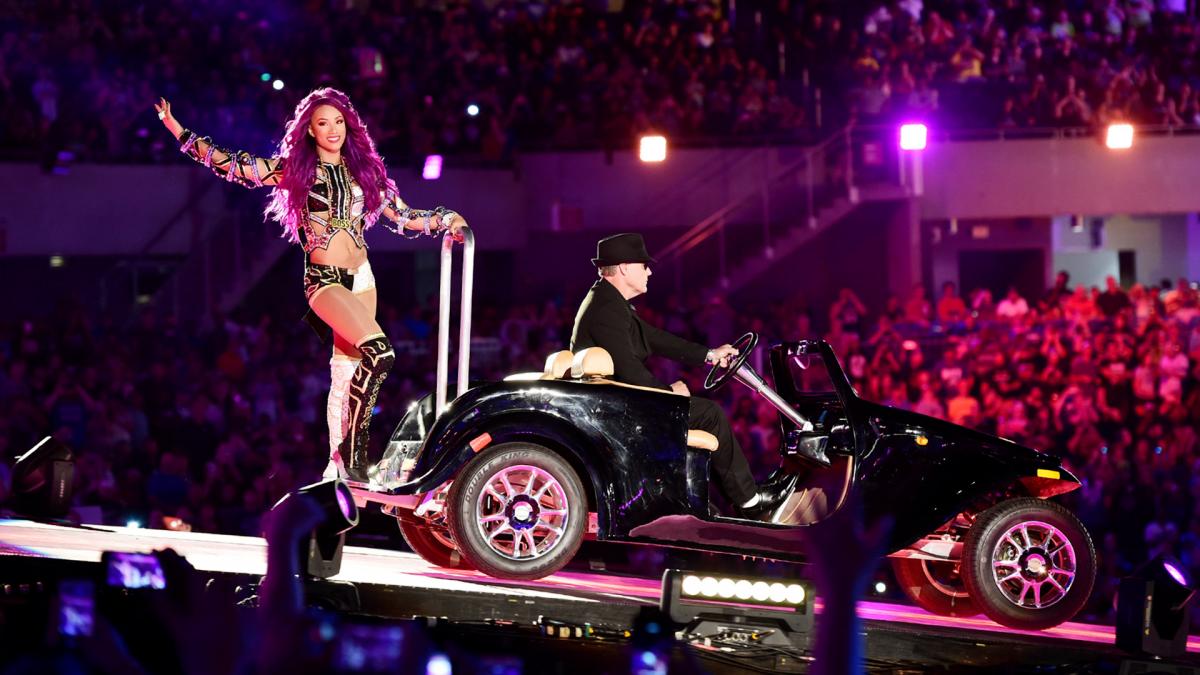 A look at ten years of women's matches at WrestleMania and the progress WWE has made.
To say that the state of women's wrestling in the WWE is nowhere near where it once was is no longer hyperbole, it's a fact.  Even in just a year's time there have been some huge strides albeit among the usual mess that is the business we love.  We're coming off a season now where there has been an all women's WWE pay per view in Evolution (which most people rightfully put on their list for best show of the year in 2018), the women have some of the best segments on RAW and Smackdown every week, and they're even main eventing house shows now.  But despite some really rapid progress it's been a long, slow road to get to this point.  Just look back on the women's matches at WrestleMania since 2010:
WrestleMania 26 : A 10 Diva tag team match that lasts a whopping 3:26.  I haven't watched this match, did all 10 women even get to do anything in the match?  And this was on a show where Bret Hart wrestled Vince McMahon…….in 2010, not 1999.  Good grief.
WrestleMania 27: Mixed Tag featuring John Morrison, Trish Stratus and Snooki (remember her?) vs Dolph Ziggler and LayCool.  I have watched this.  It wasn't terrible, but again they got all of 3 minutes and change here (3:17 to be exact).  Yes you have to protect the TV star but with five other people in the match they could have gotten more time than this.  Please note that on this show Jerry Lawler and Michael Cole got almost 15 minutes for what was a truly terrible farce of a match.
WrestleMania 28: Kelly Kelly and Maria Menouos (the TV show host) vs Beth Phoenix and my first wrestling crush since getting back into it, Eve Torres (please come back for a Rumble or Battle Royal or something…we miss you!).  This one was fine for what it was, they got 6:22 to work with which is fine for a match with a non wrestling celebrity in it.
WrestleMania 29:  The nadir.  No matches at all.  Nothing.  There was a Diva's champion, Kaitlyn, but they decided that a Puff Daddy 'performance' (I'm being nice here) was more deserving than having her defend the title even in a short match.  The Bellas and The Funkettes were scheduled for a mixed tag team match that was cut for time. To be fair, United States Champion Cesaro also didn't have a match. Sheesh…….
Well you couldn't do any worse than that so there was only one direction to go.  And things did go up……a little teeny bit.
WrestleMania 30:  AJ Lee defended the Diva's title in a 14 woman invitational match.  Not a battle royal, or a gauntlet match, or a six pack challenge style elimination match, just a 14 woman one fall match.  LAZY.  On a show where Brock Lesnar and the Undertaker got 25 minutes (about 10 too many for real), no reason that this couldn't have gotten better than 6:48 and something better than a straight up one fall match.  But at least the title got defended on the show.
WrestleMania 31:  AJ Lee and Paige, who'd been feuding over the Diva's title until Nikki Bella won it in November, beat Nikki and Brie Bella in a tag team match that went 6:42.  On the same show where HHH and a 56 year old Sting had a match that went almost 20 minutes and had about 50 run ins, and tacked on another 10 minutes for entrances and a post match staredown.  Five minutes off of that wouldn't have been asking too much.
Now that's just WrestleMania matches; we're not even talking about the weekly embarrassment of sending them out there every week on TV for literal 2 minute matches, even 8 and 10 woman tag matches and battle royals that should never go s short as 2 or 3 minutes.  But things have really taken an upswing since then.  At WrestleMania 32 Charlotte, Sasha Banks, and Becky Lynch had arguably the match of the night to crown the new Women's champion (now the RAW Women's Title).  WrestleMania 33 was a mixed bag in that there were two women's title matches thanks to the brand split but the Smackdown one got cut really short in an unintended consequence of it getting pushed to the main show after originally being on the pre-show (remember folks, 10 to 15 minutes on the preshow is often better than 5 minutes on the main show).
Last year, at WrestleMania 34, we got Charlotte vs Asuka in what was a match of the night contender, another MOTY in the mixed tag with Ronda Rousey and Kurt Angle vs Triple H and Stephanie, the RAW title match with Nia Jax vs Alexa Bliss and the Women's Battle Royal.  For now that's the high point for inclusion.  This year we're sure to get the battle royal, two singles titles matches, a match for the new Women's Tag Team Titles, and possibly an intergender match featuring Nia Jax.  That's almost half the card right there, and it's deserved because the Women's side has been bringing the heat more than the men since the fall.
And to me that's the best part of this.  They've gotten some opportunities, they have consistently outperformed the men, so they are getting to drive the train here.  As someone who has a been a fan for over 30 years this is truly remarkable and I'll admit that if you came to me in 1989 with the notion that one day the women would be the best thing going every week I would have called you crazy.  But here we are.  The job isn't finished yet, though.  This momentum needs to be kept up and maintained.
The women's side of the roster has gotten pretty deep and more of them need the time and exposure they deserve.  (If there's a hour for just the women somewhere in that Fox TV deal that would be great).  We as fans need to reward what's being done here, with our attention and most importantly our financial support so that it proves to be viable over the long haul.  They deserve a spot on the stage and the way they're going now they deserve the bigger one.  The guys had a long run with not so much as an inkling of competition but it is there now and quite frankly they need to step their game up.
All in all, this is a time to be a little happier with the state of professional wrestling.  Leave the Debbie Downers on the internet and social media alone for a bit and enjoy what we're getting here.  Long way still to go but this is a true bright spot.
The Good, Bad and Ugly: Pre WWE Elimination Chamber 2019
Is WWE Elimination Chamber shaping up to be Good, Bad, or Ugly?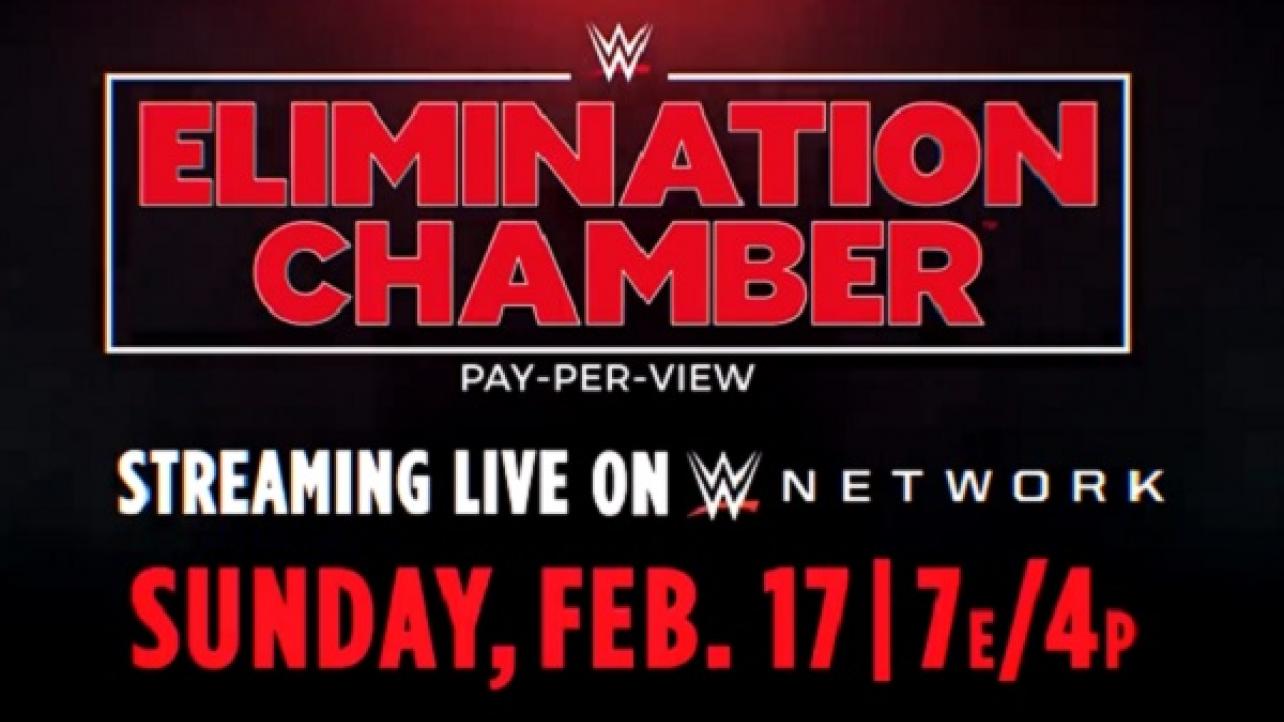 Bobby gives us the Good, Bad and Ugly of how Elimination Chamber looks on paper!
WrestleMania is obviously the big show coming up but we have a couple of pit stops along the way.  This pit stop is a Good one though.  We have potential for a lot of changes, a lot of memories and a lot of action in a jam packed Pay Per View!  Let's find out if the layout is looking Good, Bad or Ugly?
GOOD
WWE Title Elimination Chamber Match– Daniel Bryan vs. AJ Styles vs. Jeff Hardy vs. Kofi Kingston vs. Randy Orton vs. Samoa Joe
Like all Elimination Chambers of the past, we have a lot going on here in this one.  The Chamber itself will lend a hand in this ultra-violent, insane battle for a prestigious Championship.  The participants are also bred for action, as all of them have been in crazy matches almost their whole respective careers.  How do you make it even better than it already could have been?  You add Kofi Kingston after he had a freak of a showing on this week's SmackDown.  This match is going to be non-stop and deliver even to the most outlandish fan.  I expect nothing but Good, in fact, Great things here, and a hell of an effort.  However it will be Daniel Bryan retaining his New Title!  I also expect to see the return of a certain "creepy, kooky family" and I don't mean Gomez.  Follow the buzzards because this match is going to kill it!
WWE Women's Tag Team Elimination Chamber Match– Nia Jax & Tamina vs. Sasha Banks & Bayley vs. Carmella & Naomi vs. The Riott Squad vs. Mandy Rose & Sonya Deville vs. The IIconics
Like the WWE Title Match, this match has the advantage of being in an Elimination Chamber almost guaranteeing success.  It will be entertaining and full of action.  The talent here is 50/50.  Some Good, some Bad, and even some Ugly, however we will see an abundance of Good here as the teams will need to show off, and put the WWE Crew on notice.  These teams have a lot to prove in this historic match.  They will show up and they will beat the hell out of each other until only 1 survives, and it will be Good.  It has to be Good.  The whole world is watching.  Mandy Rose and Sonya Deville Win! 
WWE Raw Women's Title Match– "Rowdy" Ronda Rousey (C) vs. Ruby Riott
Ruby Riott is dangerously underused but this match is to act sort of as a remedy to that.  Riott and her girls bring a ton of entertainment value and the in ring work isn't disappointing either.  This is Ruby Riott's biggest match so far in her career and puts her center stage against one of the most watched athletes of any sport, Ronda Rousey.  With a talent like Ruby Riott, Rousey should be able to keep it together and have a Good, concise match.  Hopefully Riott can control her.  Rousey Retains!
WWE Intercontinental Title Handicap Match– Bobby Lashley (C) w/ Lio Rush vs. Finn Balor
Both guys are rocking out lately.  Finn Balor never loses a step and always delivered.  He simply is one of the best.  Everything he does gets the audience amped up and he constantly outdoes himself putting it all on the line.  Lashley since having Lio Rush has been very impressive.  Not having the pressure of promo's and being able to just be this freak of nature has suited him well.  Not to mention Lio Rush being actively working and being a huge part of the match will benefit the whole thing.  The Man of the Hour is supremely talented and can move around like no other.  With Lio Rush, Lashley certainly deserves his current run and dominance.  Even with Lio Rush in the ring, Finn Balor will shock the world and win the WWE Intercontinental Championship.
WWE Cruiserweight Title Match– Buddy Murphy (C) vs. Akira Tozawa
Another 205 Live match with two underappreciated, great high flyers.  Buddy Murphy's unorthodox style is an acquired taste but a Good one.  And athough Tozawa has become a comedic character he can certainly move around the ring artfully.  It will be a solid match but will not leave any more of an impression than 205 Live ever does.  Most just don't seem to care.  Buddy Murphy Retains!
BAD
WWE Smackdown Tag Team Title Match– The Miz & Shane McMahon (C) vs. The Usos
As Good as the Usos are, and as Good as Shane and Miz are, this match isn't very exciting.  The buildup, the gimmicks and stories are all really unnecessary.  McMiz is obliviously horrible.  Shane McMahon is an incredible athlete and a genius.  He has had some of the craziest matches and high spots as any legend.  The Miz, one of the best and most underappreciated figures in sports entertainment.  The Usos are straight legends.  So why should we be skeptical?  The chances of botched, awkward spots will be aplenty and the match already is pointless.  There are chances for serious injuries to all and a ton of potential for failure.  McMiz will win but that is the biggest loss of the night. So many other teams could have a shot but McMiz with the belts is an unforgivable waste.   
UGLY
Baron Corbin vs. Braun Strowman
Before this gets Ugly, Baron Corbin has been a lot better as of late.  He has improved immensely both on the mic and in the ring.  He has been working hard and getting a lot of tv time to show for it.  Strowman always is a major presence anytime he is on camera but has been horrible lately.  This could be a very ugly, hard to watch match and we will all hope and pray for a quick squash to give more time to some other more deserving matches. 
FINAL
OVERALL
All signs point to Good.  This show looks like it has some big time spots ahead and a lot of potential changes to occur.  No matter the outcomes we can all expect it to be a Good, entertaining pay per view.   Can Elimination Chamber deliver or will it be an Ugly shame?  We will all be watching Sunday Night where all of our questions will be answered.  Enjoy the show!