Good, Bad and Ugly: WWE Raw (02/11/2019)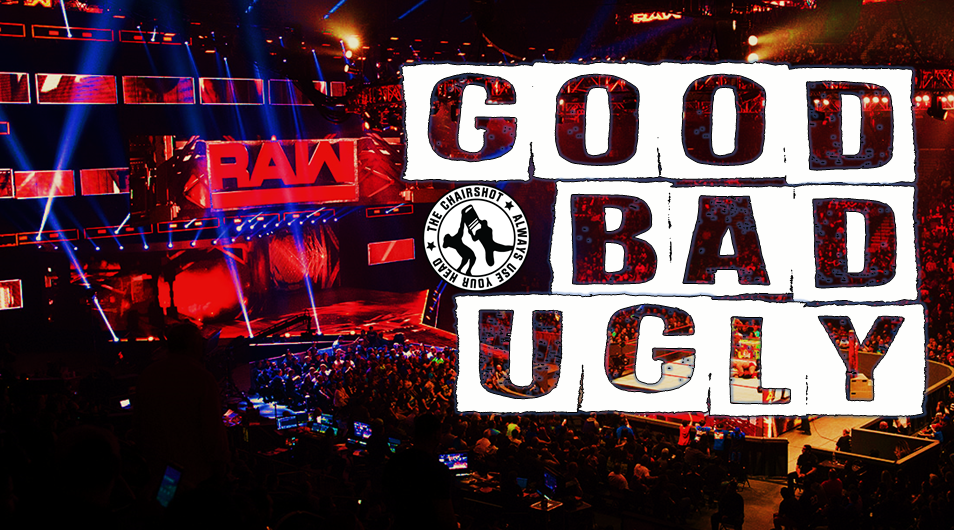 Bobby Fernandes reviews WWE Raw for 2/11/19 in the Good, Bad, and Ugly format. How did the show rank?
With Elimination Chamber approaching, Raw is tightening up everything.  Recent trends say there will be a lot to watch tonight although it doesn't seem like any surprises are in story, anything can happen in the WWE.  Elimination Chamber could have some major changes headed toward WrestleMania.  There is a lot of time left before the big show.  Will they go on auto-pilot, or will they hit us with a stunner? 
GOOD
Stephanie McMahon and HHH w/ Becky Lynch
This according to everyone is being sold as a carbon copy of Stone Cold vs The McMahon's Part 2.  There are a lot of similarities and of course an easy bridge between the two.  It is also appropriate as Becky Lynch, much like Stone Cold has become a firebrand for the current roster and carrying a huge burden by leading the pack as the overall beloved #1 Fan Favorite.  There are no better villains than the McMahons.  Anyone and everyone can get knocked down by them.  The Man loves the fight and her new enemies will oblige.  Lynch doesn't just poke the bear, she slaps it in the face.  Her knee is cleared per HHH.  She is no longer suspended and will face Rousey at Wrestlemania.  But, she will have to apologize to HHH and Stephanie McMahon if she wants her shot.  The Man will not apologize and in fact will fight anyone who wants otherwise.  She will give her final answer by the end of the show.  Either she goes to Wrestlemania or it's gone, and only an apology in her way. 
(Loser Enters Chamber First) Sasha Banks and Bayley vs. Nia Jax and Tamina Snuka vs. Liv Morgan and Sarah Logan
With the Tag Team Championships being a reality, we will see more and more Women's action which isn't a bad thing.  They are really pushing Nia Jax right now, and the other wrestlers are playing along.  They are intimidated and love to instigate.  Sarah Logan looks Good in there.  She really has a lot of energy and a decent style.  Honestly though, it will be plain shocking if Bayley and Sasha Banks lose the whole thing, they were made for those titles but they have to surprise us somehow.  That is of course if Bayley doesn't have to go at it alone the entire time.  The Riott Squad really dominated toward the end of this match but Jax and Tamina overpowered them.  No one could take over, until Bayley not only regained herself but then destroyed all comers, until Nia Jax finally finished her for the win.  Nia Jax and Tamina Snuka Win!  Sasha and Bayley are now 1st team in the Elimination Chamber. 
Finn Balor vs. Drew McIntyre
IC Champion Bobby Lashley with Lio Rush made their way down to ringside before the match to scout his opponent at Elimination Chamber, Finn Balor.  McIntyre and Balor are just insanely Good, and everytime they fight, there is potential for a classic.  McIntyre dominates, and Balor fights back with everything he has.  It is a proven method.  Of course we all knew Balor would get some of Lashley and Rush as he owed them.  Lashley went too far and got McIntyre DQ'd.  McIntyre and Lashley then destroyed Finn Balor until Hall of Famer, Kurt Angle ran in for the save.  Angle took full control but was blindsided by rival Baron Corbin.  Braun Strowman had enough and stormed the ring.  The wrestling Gods have spoken and we sense a 3 on 3 coming. 
Nikki Cross vs. Ruby Riott
Here we go!  We have ourselves some potential here.  A nice little NXT like match that is fun and different with some good raw talent.  It was a little disappointing that they cut to a Rousey/Lynch showdown.  Ruby Riott is just amazing and goes hard in there.  Nikki Cross has been nothing but impressive and seems to be able to go with anyone. Ruby being a great opportunist hit a sudden "Riott Kick" for the Win!  Good, solid match. 
Monday Night Rollins
The Beloved, King Slayer is one of the most over talents in the Professional Wrestling World.  He is to battle the Beast, the Champion, Brock Lesnar at Wrestlemania.  The un-accomplishable feat.  Rollins is hyping his uphill battle, pleading his case.  Truthfully, it is always better to see Rollins fight rather than talk.  The Advisor faked out everyone, as Lesnar was a no-show as usual.  Heyman always has something to say and everyone unapologetically listens.  Heyman hyped as he always does, Rollins stood and waited for his moment.  He again restated his case and got the crowd loudly behind him. 
Dean Ambrose then came out w/ Rollins still in the ring.  Anytime Ambrose and Rollins are involved with each other, there is tremendous potential.  It was quick this time around though with Ambrose grabbing a seat at ringside. 
Dean Ambrose vs. EC3
EC3 is going to always be a welcome Superstar on Raw.  The more the better, this guy needs a big push.  What better person than Dean Ambrose who has as much décor and clout as anyone.  Ambrose went right at him as he lost last week.  EC3 fought back though and would not be denied.  EC3's reputation and history from Impact is well known and respected across the board.  He is a star and needs to be used that way.  EC3 got ahead of himself and Ambrose recovered.  Ambrose got the quick "small package" for the big rebound victory. 
Raw Tag Team Championship Match- Bobby Roode and Chad Gable (C) vs. The Revival
Ever since The Revival voiced their discontent, they have had a lot of TV Time.  The nostalgic, tag team specialist are a plus almost every time.  Roode and Gable are mega talented, Roode being a potential locker room leader if used more.  Being the Tag Team Champions isn't Bad but he should be doing bigger things.  Tag team wrestling at its purest, this was textbook action.  Gable and Roode rallied hitting a series of offense.  These guys make the hot tag look so Good.  Gable came in and went hard against the challengers.  Both teams had close falls and a lot of back and forth action.  After Gable got worked over Roode was ready to go but was pulled off the apron.  Revival still couldn't finish Gable.  Roode finally back in took out The Revival.  Again though back and forth near falls.  It was just insane how many false finishes there were.  Then just when you thought it was over, The Revial hits a huge "Shatter Machine" on Gable to win the Raw Tag Team Championships!  Big Win!  Great Match!  Good Team!
Becky Lynch Apology?
What will "The Man" do?  HHH is a presence himself and with his wife, the "Billionaire Princess" he is even more dangerous.  Becky has aggressively provoked both of them even striking them last week.  She made the smart move and apologized.  Becky made the best move and still stood her ground.  HHH and Stephanie then congratulated her and Lynch took over hyping what will be a showdown.  Rousey then stormed down belt in tow.  This was getting red hot, even Mr. McMahon came out.  Vince is "The Man."  Vince then suspended Becky Lynch for 60 days which takes her out of Wrestlemania.  He then interjected Charlottle Flair into the Raw Women's Championship Match in her place.  Charlotte is Vinnie Mac's Champion.  This is obvious and shocking at the same time.  Speechless.
BAD
Braun Strowman, Kurt Angle and Finn Balor vs. Bobby Lashley w/ Lio Rush, Baron Corbin and Drew McIntyre
There is a lot of beef in that ring.  Tons of fight, guts and talent.  The pace was a little off at times but nothing completely detrimental early on.  A lot of back and forth leaning toward the heels having control.  Bobby Lashley has been impressive and continues going in that direction.  He has taken control and looks sharp in there.  This match was a safe bet.  It showcased a ton of talent in a compacted setting including the Intercontinental Champion, and kept them all fresh due to having a tag setting.  The power stuggle was awesome all around.  McIntyre and Strowman clashing, Lashley dominating, and Finn Balor fighting back.  Lashley got the pin even though Balor had his foot on the rope.  Referee Chad Paton came out and explained what happened and the match restarted. 
This has been a long match, and not smooth sailing considering the talent and format.  Again Finn Balor got beat down and grouped up on.  Lashley vs Balor is shaping up to be pretty Good.  Perfect timing, Strowman recovered, tagged in by Balor and let loose.  Complete Demolition of his opponents.  Strowman killed Lashley and tagged in Balor to finish the job with a "Coupe De Grace."  This was okay but leaned toward the Bad side. 
UGLY
Walk With Elias
Strangely Elias was immediately interrupted by Lynch on the big screen having a promo with Finn Balor.  Balor and Lynch go way back and are always gold in any capacity but what a weird placement.  Follow that up with a commercial break/promo for Seth Rollins and you have horrible production value.  Interrupting Elias is a thing, granted we know and expect it but to do it as if we aren't watching and paying attention, just mangling content together haphazardly is rough to watch.  Third times a charm, except this time he is interrupted by Lucha House Party.  Overkill much.  Elias' Grammy Snub was the last straw.  LHP wants to Walk With Elias.  Elias is such a pure heel but he is over, and the inner struggle amongst the fans is intense.  Lucha House Party led by Kalisto had their fun with Elias but was hit by a guitar for their trouble.  Elias got out of harm's way.  This was not Good by any standards.  Even a bit Ugly. 
FINAL
Good – 8
Bad – 1
Ugly – 1
By the numbers and the action, we all had a pretty Good Raw.  This week flew by, and had a great amount of action, twist, turns and craziness.  Honestly, WWE took the audience for a spin and got our attention.  Successful week so far, and a slam packed Monday Night. 
SmackDown is slated next.  The 2-hour action packed "better" brand of WWE.  They seem to be on the Good side of things almost always and followed the next night by the spectacular NXT Brand.  There is a lot of action left on the agenda this week setting up everything for the big upcoming PPV's, what will happen next?
Tiffany's Takes: WWE NXT (7-17-19)
Who will be the first to challenge Adam Cole for the NXT Championship?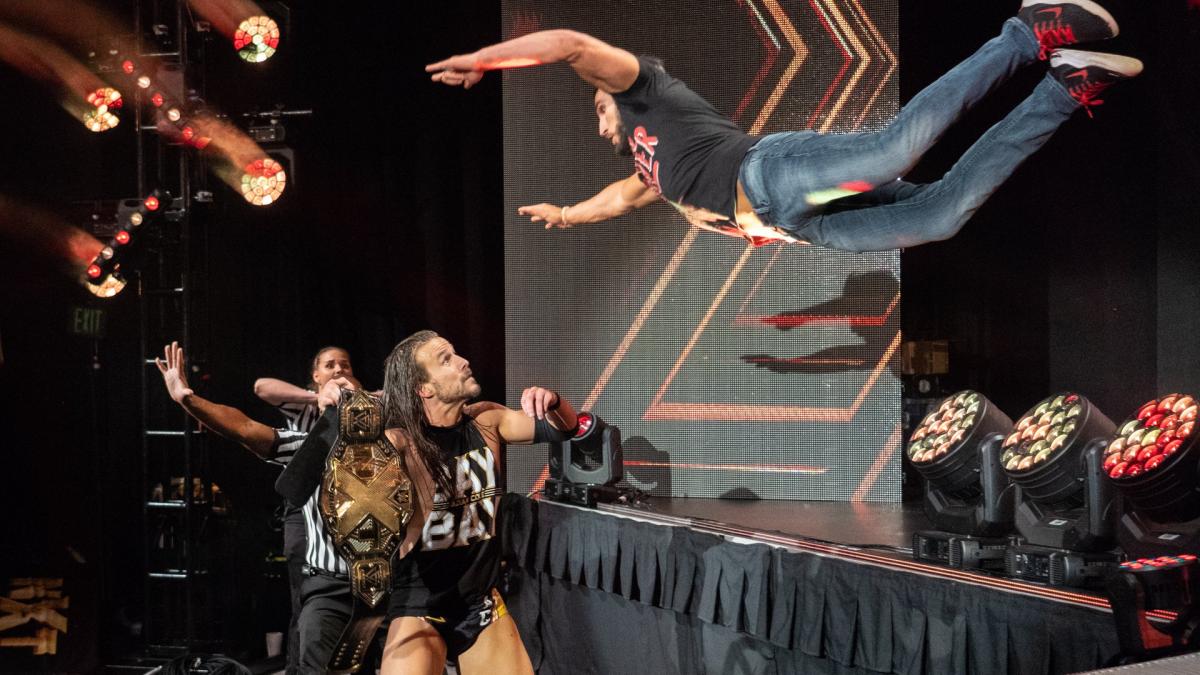 Who will be the first to challenge Adam Cole for the NXT Championship?
Have I ever told anyone that I can't stand Matt Riddle? I have? Okay. I don't even know what it is, but he sets my teeth on edge. I will give him props for having a good match with Arturo Ruas, but I'm not sure what they're doing with his character, except teasing a heel turn after that NASTY beatdown of Ruas. I am here for Killian Dain vs Riddle, that even sounds like fun!
Looks like we are going to Undisputed Era vs Street Profits at some point, but I'm waiting for UE to make a big deal about Street Profits being on the Main Roster for the last couple of weeks.
I love that Mia Yim is learning from everyone's mistakes in dealing with Shayna Baszler and is going after Baszler's friends, who are the real reason she's stayed on top for so long. This feud is going to get nasty in a hurry and I can't wait!
The next match of the NXT Breakout Tournament  had a lot to live up to after two AMAZING matches and one not so amazing. I'm not sure what in the world Australian Strong Styles is, I'm guessing it's like any 'Strong Style' in that it's pretty hard hitting. I also didn't know Australia had a Black Forest, it was never on 'Crocodile Hunter'. I did like this match, however. I can't say it was as amazing as some of the other matches, but it was really good. Bronson Reed won the match for Australia, so we'll see what happens in Round 2.
Someone should tell Tyler Breeze that having a beard doesn't make you a man. I've seen teenagers with better facial hair. I did love the little dig at Forgotten Sons, but I don't think Breeze really wants to pick a fight with Jaxson Ryker, that's not going to end well.
Well, it looks like we'll likely get a confrontation between Io Shirai and Candice LeRae next week, unfortunately for Kacy Catanzaro, she's going to be Shirai's punching bag before that.
I wasn't really into KUSHIDA vs Apollo Crews. I'm just not a huge fan of either guy. The match was really good, but I don' t think anyone really thought Crews was going to beat KUSHIDA, who is getting built into a title contender, but it was a longer match than Crews has been having for most of his WWE run, so there's that.
I'm still not into Keith Lee, I just don't get it, but I'm super stoked  about the prospect of Lee vs Damian Priest, that promises to be a wild match.
So, it's officially official, we WILL be getting Adam Cole vs Johnny Gargano III and it sounds like it's going to be the last one. I did like Gargano comparing his victory tour of trying to inspire young people in Cleveland with Cole's obnoxious antics at the Gargano restaurant. Also, love the 'Johnny Badass' thing, very cool. NXT TakeOver: Toronto II is going to be a wild ride in that Three Stages of Hell match! Thank you, William Regal for booking that!
That's it for Tiffany's Belated NXT Takes! Tune in Monday for Monday Night RAW!
Carol: Are Wrestling Crowds Disrespectful?
Are fans more concerned with getting themselves over than the product in the ring?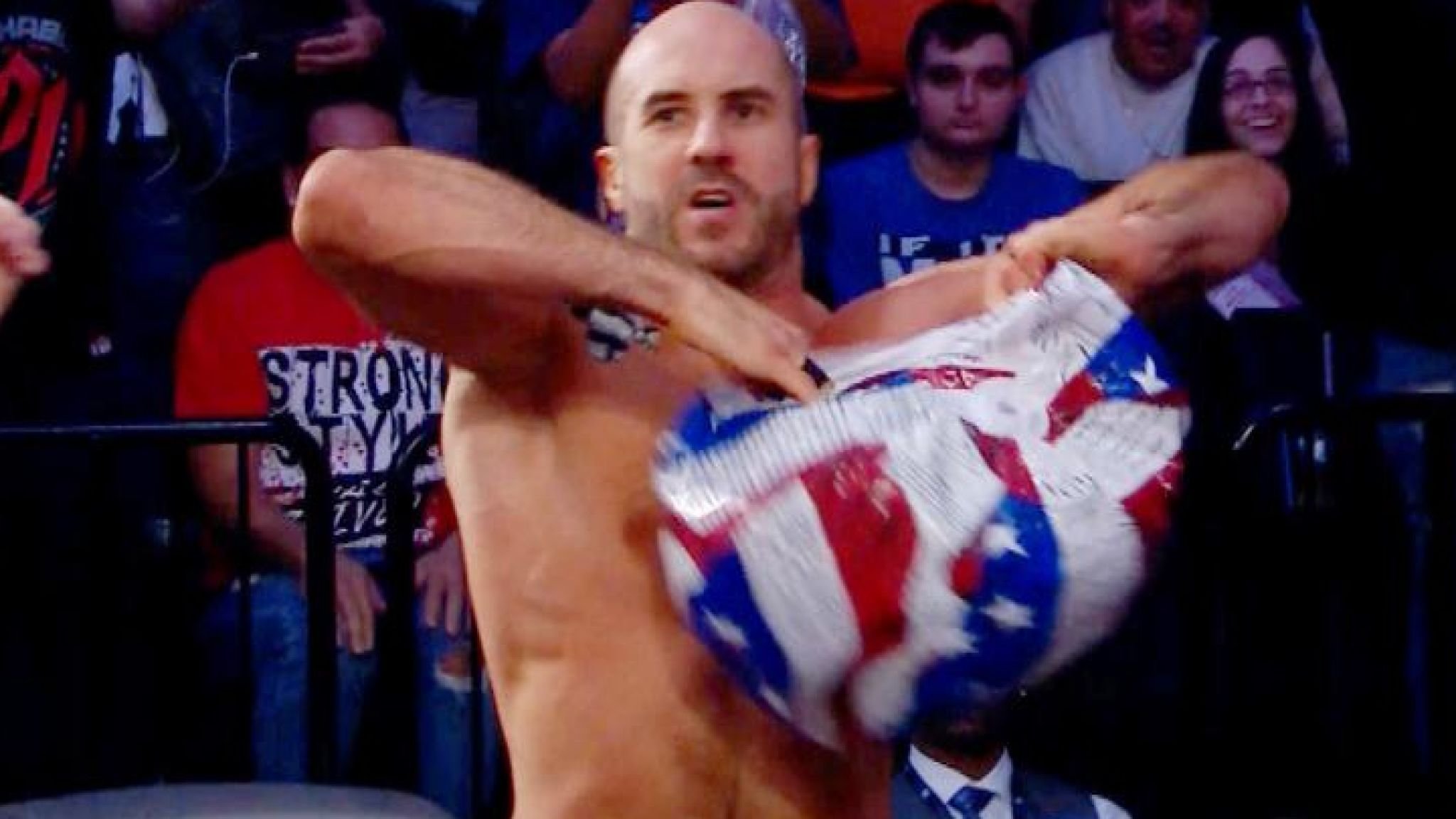 Are fans more concerned with getting themselves over than the product in the ring?
Every week wrestlers put their bodies on the line as they step into the ring to put on a show for the fans. These wrestlers do their best to make sure they put on an entertaining match; however there are some fans who make it impossible to enjoy the show.
This past Monday on RAW was a perfect example of how fans can ruin a show. Alexa Bliss, Natalya, Naomi, and Carmella competed in an elimination match to determine the number one contender for Becky Lynch's championship at SummerSlam. At times, the match moved slowly, but the ladies put on a decent bout that ended with Natalya being declared the winner.
But the women were overshadowed by the crowd, who broke out into a "this is awful" chant. Alexa Bliss took to Twitter after RAW to admonish the crowd for their disrespectful behavior. Many believe that stars like Alexa should stop acting like a crybaby and tough it up.
However, I'm siding with Alexa on this issue and I believe the crowd was very disrespectful.
These days wrestling fans are very vocal in their opinions, and I'm not just talking about the ones on social media. I'm talking about the ones who buy tickets to shows, then try to hijack them by doing stupid stuff to draw the attention away from the wrestlers.
Who can forget during the 2017 SummerSlam PPV when fans began playing with a beach ball?
Cesaro, who was part of the tag match, went into the crowd and ripped the beach ball. The incident sparked outrage with everyone. WWE banned beach balls from their events, while Cesaro and Seth Rollins criticized the fans in attendance.
Aside from the beach ball incident, there's also the fans who continue to chant CM Punk's name during events. CM Punk was a favorite with the WWE Universe because of his famous pipebomb. When he left WWE on bad terms, fans sided with Punk and whenever the company is in Chicago, you can bet there will be plenty of Punk chants in the crowd.
Why fans continue to partake in this type of behavior is anybody's guess. Maybe they want to be cool, but in reality they're looking at idiots.
When you go to a wrestling show, you're supposed to have fun and watch your favorite wrestlers. It's one thing to cheer the babyfaces and boo the heels, or even chant "this is awesome" during a match. But don't chant "this is awful" or play with a beach ball.
Not every match is going to be a five-star spectacular, and you may not like it. But don't act rude during by chanting someone else's name or calling the match awful. The wrestlers are just doing their job and the last thing they need is the crowds breaking their concentration. Imagine how you'd feel if you were performing in front of a big crowd and all they did was tell you how untalented you were.
These types of fans not only ruin the show for the wrestlers, but also the other fans who paid money to enjoy the event.
So my advice to all those fans out there. If you want to talk about how bad a match is or how untalented a wrestler is, stay home and complain about it on social media. Don't spend a lot of money to go to a wrestling show just to act like a jerk and ruin it for everyone else.