Joe's Lucha Libre Weekly: News & Analysis (2/9/19)
What's going on in the world of Lucha Libre?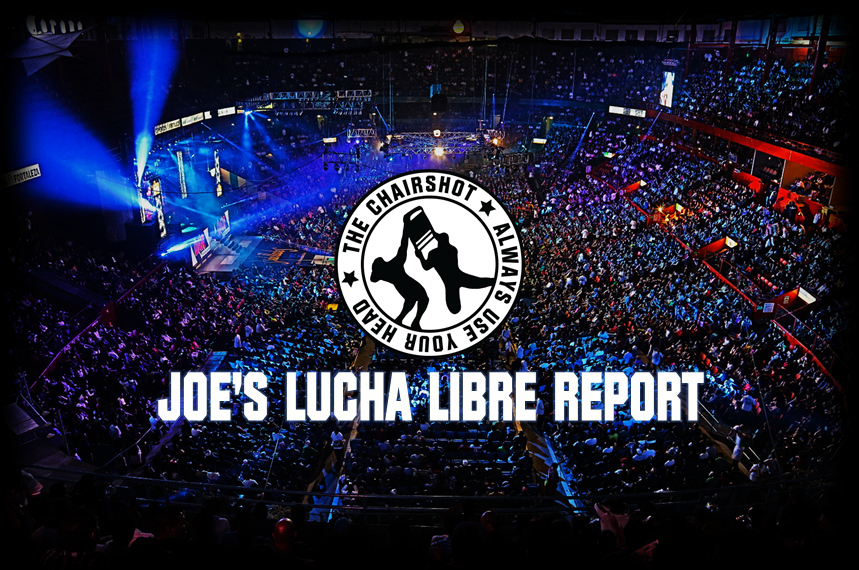 Joe Dinan brings you the best Lucha Libre coverage with his look at the hews & happenings south of the border in Mexico!
CMLL
I put last week's Friday show in my previous edition because I was late on it so there's no need to put it in here.
Arena Puebla Show
The main event of this show was the family, the familia of Mistico, Rush, and Bestia del Ring taking on Sanson, Cuatrero, and Forastero. The latter team won however because Rush likes to get himself DQ'd. Cuatrero challenged Rush to a singles match. I believe for next week's Puebla show. The co-main event was Volador Jr, Angel de Oro, and Soberano taking on Terrible, Stigma, and Vangellys. The former won that match.
Arena Mexico Tuesday
Volador, Stuka, and Kraneo took on Terrible, Cavernario, and Euforia in the main event. This wasn't a very good match but it had some big stars in it which is all that matters. Naturally phase one winner of the champion of the universe tournament got pinned. The former team won this match. The co-main event featured Blue Panther, Titan, and Flyer taking on Vangellys, Luciferno, and Ephesto. Interesting thing here was Flyer actually wrestled after it looked like he had a major knee injury on Friday. Blue Panther got worked over a lot in this match but his team ended up winning. There was a lightning match with Audaz and Tiger in which Audaz won. It was a fun match.
Arena Mexico this Friday
We have phase two of the champion of the universe tournament where Volador, Ultimo Guerrero, Niebla Roja, Sanson, Diamante Azul, Mephisto, Soberano, and Cuatrero will compete. It'll be a battle royal that decides the order of matches. The co-main event will be Caristico, Angel de Oro, and El Valiente facing Rush, Gilbert el Boricua, and Bestia del Ring. Atlantis, Atlantis Jr, and Mistico will face Villano IV, Gran Guerrero, and Hijo del Villano III in the third last match.
AAA
There is news out of AAA that I'll get into below but first we'll discuss there two upcoming shows on Friday and Sunday but before all of that there's a few things. AAA is moving from Televisa to TV Azteca, no word if it'll be on the American counterpart. Televisa were the original owners of AAA but later sold it off but kept it on the network. Another thing is Jeff Jarrett who is now working for WWE is promoted as being on their 2/16 show. Now that leads us to number 3, AAA is in a working agreement with All Elite Wrestling. So I wonder how that affects number 2, since now AAA is technically WWE's direct competition. Konnan has his hand in like four or five different companies now.
AAA live on 2/8
The main event for this show will be Psycho Clown and La Parka vs Killer Kross and Rey Escorpion. Co-main event will be Dr. Wagner Jr, Laredo Kid, and Puma King vs Blue Demon Jr, Hijo del Fantasma, and La Mascara. Drago will face Jack Evans in a special singles match. Maximo, Taya, and Aerostar will face Faby Apache, Taurus, and Monster Clown. There's a triple threat match for the Cruiserweight title between Sammy Guevara vs Flamita vs Hijo Del Vikingo.
AAA live on 2/10
Main event of this show will be Psycho Clown, La Parka, and Puma King vs Rey Escorpion, Hijo Del Fantasma, and Killer Kross. Dr. Wagner Jr will face Blue Demon Jr in a special singles match. There will be a AAA Mega championship match between Fenix vs Flamita vs Laredo Kid. Maximo, Taya, and Aerostar will face La Mascara, Faby Apache, and Monster Clown. Sammy Guevara and Hijo Del Vikingo will take on Jack Evans and Taurus.
Based on these match cards we can surmise that Flamita isn't winning the cruiserweight belt. We can also assume based on the All Elite Press Conference today that Sammy Guevara isn't going to lose until Double or Nothing. These are definitely going to be some entertaining shows. You can tune in live for free on Twitch and 5 dollars on demand. 9 O'clock Eastern time on Friday and 7:30 on Sunday.
AEW
So I guess since these guys have a deal with AAA that I'll be making an All Elite section. Gives me reason to talk about them, which I'm really excited about and I can give my vaunted opinions on things. So they're working with AAA and that's cool. We'll see how this goes since AAA is very unorganized. I suppose guys like Cody and the Bucks will work Mexico occasionally. It also creates the interesting question of AAAs relationship with Impact, or how talents who work AAA and Impact will be affected. For example a guy like Killer Kross. Where can he work? I still feel like it'd be better for the industry if Impact folded up shop and sold their talent contracts to AEW. You have to imagine a guy like Don Callis wants to work with these guys. I'm not saying he will, I'm just guessing. Meltzer reported that 12,000 presale requests were put in, so they're going to immediately sell out Double or Nothing. This makes me think that maybe they should try booking a bigger arena. Maybe they known someone in Jacksonville who own a stadium….
King's WrestleMania Rewind: Charlotte Flair vs. Asuka from WrestleMania 34
Chris king is back with one of the most underrated matches in WrestleMania history–Charlotte Flair vs. Asuka!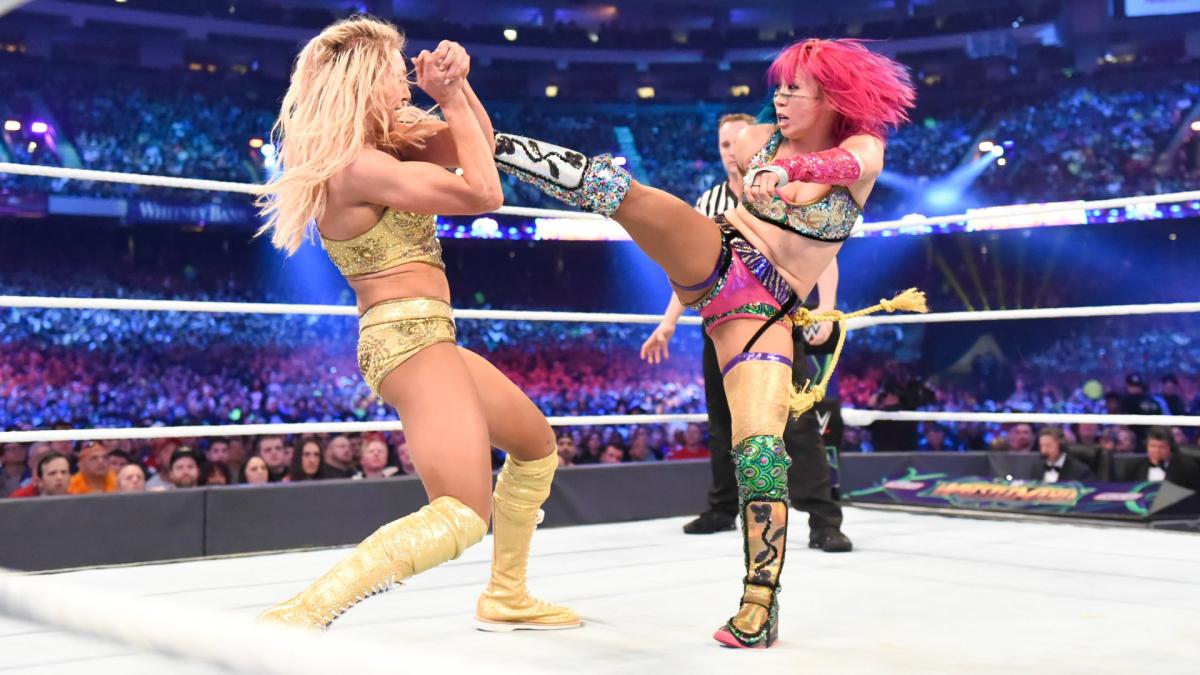 Chris king is back with one of the most underrated matches in WrestleMania history–Charlotte Flair vs. Asuka!
We look back at Charlotte Flair vs. Asuka at WWE WrestleMania 34. 'The Empress of Tomorrow' put her unprecedented and historic undefeated streak of 914 days on the line against 'The Queen's' SmackDown Women's Championship.
For years, this was considered a dream match while Asuka dominated the roster in NXT, while Flair won numerous championships on the main roster on both Raw and SmackDown. The Empress made her long-awaited debut on the September 11th episode of Raw and began to tear through the competition.
Asuka outlasted all twenty-nine other women in the historic first-ever Women's Royal Rumble match to challenge for the title of her choosing. At Fastlane, she made her choice.
The WWE Universe was so excited for this match myself included. Both superstars delivered a fantastic performance on the Grandest Stage of Them All executing counter after counter. Asuka showed off some nasty-looking kicks to her opponent, and Flair hit a thunderous Spanish Fly off the top rope. Flair was seconds away from defeat at the hands of The Empress but she locked in Figure Eight and Asuka was forced to tap out.
I can't even begin to explain how shocked I was at this outcome, as nearly everyone expected The Empress to continue her undefeated streak and walk away with the women's title. This controversial decision was the downfall of Asuka's momentum. She would ultimately win the SmackDown Women's Championship at the 2018 TLC pay-per-view in the triple-threat ladder match.
Fast forward to this year when Asuka has recently returned with her Japanese-inspired persona Kana. Kana is dangerous and ruthless and is heading into a championship with Bianca Belair at WrestleMania 39. The Empress has regained all her momentum and is highly favored to walk away with the Raw Women's Championship. Let's hope that Asuka and Belair can tear the house down and deliver an A+ grade match both women are fully capable of.
King: Dominik Mysterio Needs To Do This At WrestleMania
Chris King is here with what WWE should do with Dominik Mysterio at WrestleMania in his long-awaited match against his father Rey Mysterio Jr.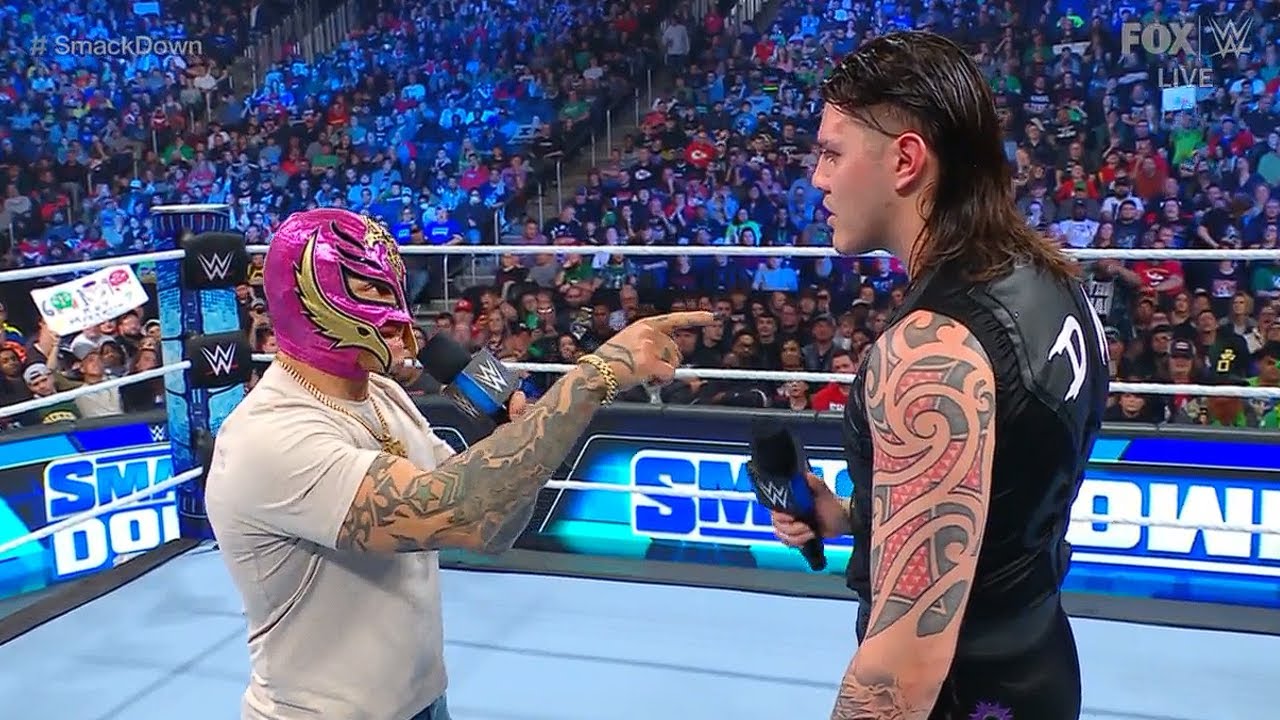 Chris King is here with what WWE should do with Dominik Mysterio at WrestleMania in his long-awaited match against his father Rey Mysterio Jr. 
On this week's episode of Friday Night SmackDown, Rey Mysterio finally snapped and beat some sense into his disrespectful punk-ass kid Dominik. The member of the Judgement Day came out to push his father again for a match on the Grandest Stage of Them All, this time with his mother and sister at ringside. The ungrateful punk told his mom to "Shut Up," as a father even I wanted to jump through the screen and whoop his ass.
Back in October of last year, Mysterio made the emotional decision to possibly quit the company but, instead, Triple H persuaded the Lucha libre superstar to move over to SmackDown to avoid his son. This came after Dominik shockingly turned on his father at Clash at the Castle. Mysterio did everything he could to refuse his despicable son's challenge for Mania but, a man can only be pushed so far. Mysterio will be inducted into the 2023 WWE Hall of Fame and I expect Dominik to embarrass his father during his speech to further this personal feud.
Yes, the WWE Universe hates Dominik and wants to see him get the ever-loving crap kicked out of him but, this feud is missing a special ingredient to capitalize on the biggest heat possible. Throughout this feud, Dominik has made mention of the legendary Eddie Guerrero on several occasions going back to the "iconic" 2005 feud.
I know WWE might not want to go this route but, Dominik MUST come out to Eddie Guerrero's theme at Mania. The disrespectful punk needs to come out in a lowrider to garner nuclear heat. It doesn't matter if The Judgement Day comes out and causes interference for Dominik to get the win, all that matters is that both superstars get the biggest payoff of this nearly year-long feud. Just imagine the Roman Reigns heat after he defeated The Undertaker and multiply that by ten. Dominik portrays the perfect heel and he truly is the missing ingredient that The Judgement Day needed to grow and evolve into a top faction.