Joe's Lucha Libre Weekly: News & Analysis (ending 2/4/19)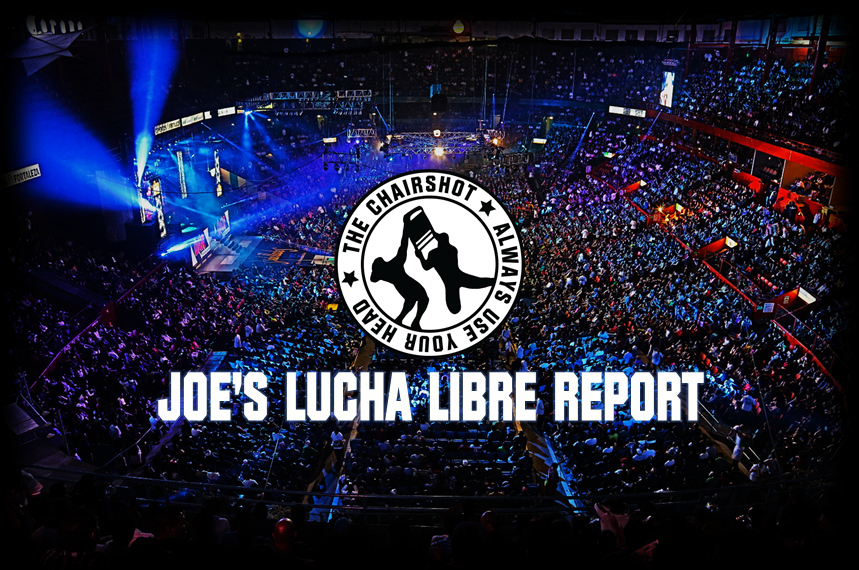 Need your fix of Mexico's finest Lucha Libre? Joe Dinan has it for you in his latest Lucha Libre Weekly!
CMLL
Arena Mexico Last Friday
The main event of this show which was the last show before the Champion of the Universe tournament was Pentagon, Fenix, and Diamante Azul facing Rush, Terrible, and Bestia del Ring. The former won in straight falls. It was a fun match. They unmasked Azul, Fenix, and Penta to build heat while still losing. The co-main event saw Caristico, Atlantis, and Volador beating Ultimo Guerrero, Cavernario, and Gran Guerrero. There was a fun lightning match with Soberano and Templario, which Soberano won.
Arena Puebla Monday
The gimmick for this show was a tag team tournament. How these work is one member of the team goes into a battle royal and the final two go last in the order of the matches. Similar to how they will do it for the champion of the universe tournament. Diamante Azul and Tiger won the tournament. There was a light heavyweight champion match between Luciferno and Niebla Roja. Roja retained his belt.
Arena Mexico Tuesday
The Main event of this show saw Volador teaming with Niebla Roja, and Angel de Oro facing Sanson, Cuatrero, and Forastero. Match went 3 falls with Volador's team winning. Blue Panther, Soberano, and Titan took on Shocker, Nitro, and Hechicero in the co-main event. The former team won but as I highlight in the review, Blue Panther moves very good for a man his age.
Arena Mexico Friday
I'm late on this piece so I'm going to add the arena Mexico Friday show here. The main event was the first phase of the Champion of the Universe tournament. Cavernario and Caristico won the battle royal so their match was last. The first match saw Terrible beating Stuka. Gran Guerrero defeated Valiente. Dragon Lee defeated Forastero. Caristico defeated Cavernario. Terrible then defeated Gran Guerrero, then Dragon Lee beat Caristico. In the main event in a curious move to me, Terrible beat Dragon Lee. This Friday there will be the second phase and then on the 15th they'll square off in a one on one match.
AAA
The important news here is AAA is now off Televisa after a long tenure of being on the network. They still have other Tv deals in Mexico but that's a big one. I believe it was a 27 year partnership. Maybe they have other networks down there in line, we'll have to see, but they still air on Twitch.
*Update* as of writing this LuchaBlog reported on Twitter that people (the announce team I believe) from Televisa believe AAA is heading to TVAzteca so they will have a new home as far as networks go.
AAA Live on Twitch
Pagano and Joe Lider vs Ciclope and Miedo Extremo main evented this show which is interesting, usually the match with Psycho Clown or Wagner main events but that co-mained. It was their typical hardcore match they've been having. A correction I'd like to make as well, I commented how it was weird that Ciclope and Extremo had belts. I had thought they were the AAA tag belts but LuchaBlog informed me they were another federations titles. So in this match there was a ton of spots done on broken glass. There was a nice curb stomp on broken glass but the winning combination was a german suplex onto the broken glass. In the co-main event Psycho Clown, Dr. Wagner, and Aerostar defeated Rey Escorpion, Hijo Del Fantasma, and Monster Clown. The latter team attacked the winners after the match however.
AAA has a few shows coming up, one on the 8th, 10th and 16th. I'm not sure yet the line ups or what's gonna be on twitch but I'll keep it updated when I see it.
Here & There
I'm not sure if there's any news of importance. Pentagon and Fenix are gonna work AEW on a part time basis like they're doing everywhere else so that's by the numbers for them. MLW had another live show this past Saturday. I haven't watched, I'm 4 episodes behind. There's a lot of wrestling to keep up with. AEW had a TV meeting the other day and they have their ticket announcement party on the 7th where we all assume they'll announce Kenny Omega and maybe more. I'm still hoping for TV so I can set my expectation levels. Right now this website and others are talking about what kind of players they'll be, and they are making an impact already but we won't know the length till TV is announced.