The Good, Bad, And Ugly: WWE Smackdown (2/12/19)
Will lots of Charlotte and a big time Gauntlet make Smackdown Good, Bad, or Ugly?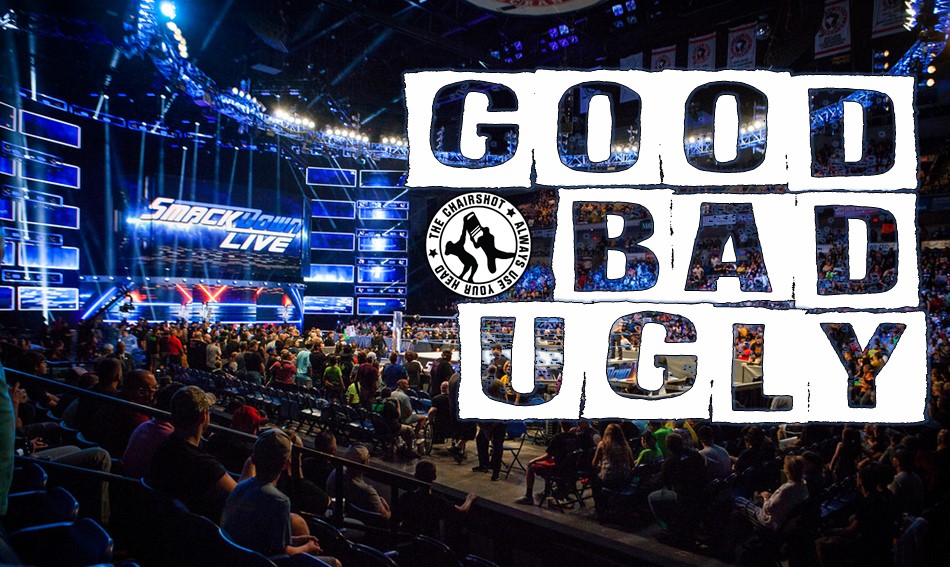 Can Bobby get a rebound from a Raw that ruined the hearts and spirits of many fans on this Good, Bad, or Ugly edition of WWE Smackdown?
Fresh off of a potentially devastating Monday Night Raw, we go to one of our happiest of places, SmackDown Live.  The current deal is Charlotte, not Becky will be facing Champion "Rowdy" Ronda Rousey at Wrestlemania.  Fans are not happy, although I see "The Man" being heavily involved still and this seems to be just a sinister McMahon twist.  Another question swirling about this week is, what about Asuka?  She still hasn't had a solid rival for the big show and there is a lot of well-wishing fans pushing their favorite stars for the job.  Naomi, Carmella, and Sonya Deville all have been mentions and all would be interesting.  How will this play out?  Let's find out on The Good, Bad and Ugly SmackDown Live!
GOOD
Loser Enters First at Elimination Chamber- Carmella and Naomi vs. Sonya Deville and Mandy Rose vs. IIconics
Naomi shined in this one.  The Glowkeeper herself took full control of this match.  She berated and battered around her competition, even getting a piece of Mandy Rose.  Her partner Carmella looked sharp but took a pounding at the hands of Deville and Rose multiple times.  The IIconics stayed back which was a great strategy.  Deville is really starting to come into her own and is gaining popularity with the audience.  However, it was Naomi who was in charge here finishing off Mandy Rose finally with a "split legged moonsault" for the pin.  The IIconics then brutally attacked Naomi and Carmella making a huge statement before the big match at Elimination Chamber.  Deville and Mandy Rose Enter First. 
McMiz TV (SmackDown Tag Team Champions The Miz and Shane McMahon) w/ The Usos
Obviously this was set up for disaster from the start.  The Usos being the upcoming challengers add a ton of tension with someone like The Miz who loves to instigate his enemies.  The Usos played the card that they have a ton of history and are a real team.  They are brothers and know each other, work together and more importantly win together.  McMiz is brand new even if they have the titles.  Things got tense and boiled over with double superkicks on McMiz dropping the Champs and making a statement by the very dangerous and decorated Usos. 
Gauntlet Match (Winner Enters Elimination Chamber Last)- AJ Styles vs. Samoa Joe vs. Randy Orton vs. Jeff Hardy vs. WWE Champion Daniel Bryan vs. New Day's Kofi Kingston
Match 1- Daniel Bryan (C) vs. Kofi Kingston
Kofi Kingston was a bit of a surprise although any member of New Day would have been Good.  He definitely is talented and in a match like Elimination Chamber he should be a hit.  Another hit is in this match, starting out with Daniel Bryan.  We saw some incredible action here, some real high end work.  A lot of technical wrestling and counters without boring the audience.  Considering how long this match can go, the two starters did not hold back.  Back and forth flying around both guys laying it all on the line.  This could have been a standalone match and was Good enough for the whole show to be carried on.  Either guy could have won here but both were exhausted.  No matter what Daniel Bryan would do, Kofi would not quit.  Unexpectedly New Day, not Rowan was sent to the back, and barred from ringside.  Finally, Kofi shocked everyone and pinned Daniel Bryan.
Match 2- Kofi Kingston vs. Jeff Hardy
After a hell of a fight with the Champ, it is surprising Kofi Kingston could stand let alone continue to fight.  Hardy was fresh and a very dangerous veteran to face when full strength let alone already beaten down.  Luckily Hardy does most of the damage to himself.  Hardy beat himself up quickly in this match, giving Kofi a lot of breathing room.  Kofi hits an SOS and continues on.
Match 3- Kofi Kingston vs. Samoa Joe
Kofi has a lot of heart and Samoa Joe loves to hurt people.  Kofi already beaten up had Samoa Joe seeing red.  This looked to be bad news for Kingston.  Kofi was putting up a fight but got devastated by a sick "enziguri" by Joe.  Samoa Joe capitalized on Kofi's time in his previous matches and continued to tire him out and wear him down.  Kingston still would continue to fight.  Joe fought his hardest, completely exhausting his means finally trapping Kofi in the "Coquina Clutch" but was suddenly pinned by Kingston.  This was a shocker.  Samoa Joe was furious and beat down Kofi for his efforts trapping him again in his painful submission. 
Match 4- Kofi Kingston vs. AJ Styles
Styles instantly attacked Samoa Joe saving his now opponent Kofi Kingston from further damage.  AJ relentlessly attacked Joe refueling their rivalry prior to the violent PPV Elimination Chamber.  Kofi didn't stand a chance but still was part of this match.  Styles who is legendarily respectful let Kofi get back to his feet for a fair fight.  Kofi didn't appreciate the break and brought it to AJ Styles.  Styles not to be disrespected brought it to Kingston and dominated.  Styles hit Kingston with precision and continuously hit big moves trying to finish his opponent.  Styles literally crushed Kingston's back with a whip-like backbreaker that made Kofi scream out in pain.  Kofi still trying to come back ended up slamming hard in the outside turnbuckle with his knees.  Kofi recovered and hit a huge splash onto the back of a standing AJ Styles.  Styles kicked out and managed a "calf crusher."  Great Match and Epic showing by Kofi Kingston.    
Match 5- AJ Styles vs. Randy Orton
The show is at the 10pm hour and they are still at it.  Kofi Kingston fought over an hour.  Anyone who watches already knew what was next.  "RKO" outta no-where!  Randy Orton Wins!  Cannot do any better than that. 
BAD
Opening Segment Charlotte Flair
The most hated performer on the planet right now, opening SmackDown like salt in the wound.  WWE lives for times like this.  So much heat with so many different people.  Charlotte trampled the fans to start the show.  Charlotte was over the top here.  She had a very easy job but the only way to ruin it is by going to long.  Short and sweet and let the crowd hum.  Charlotte just kept poking the crowd and did her job, it just was kind of crap way too obvious of a move.
UGLY – Nothing that Bad
FINAL
OVERALL
Pretty Good SmackDown.  Wasn't perfect but a lot of action.  Kofi Kingston alone was impressive enough for this week to get a Win in the Good Column.  SmackDown seems to know what they are doing and are doing it very well.  The Elimination Chamber take home show has been a successful one! 
We are one step closer to Wrestlemania, and even closer to Elimination Chamber.  NXT is up next, and after a dynamite show last week, can they possibly continue at this pace?  We shall see, but no matter what, NXT is the best out there.  Please Like, Comment, Share. Enjoy!  Thank you for your support. 
RIP- Pedro Morales